The Tar Heel state is known for many things. We've found some favorites to be savory barbecue, beautiful beaches, rich history, majestic mountains, stunning scenery, and craft beer culture to name a few. Another thing that people may not recognize are the great cities in North Carolina.
North Carolina is home to many cosmopolitan communities that combine the old school charm of the South with the amenities of the modern day. From the mountainous town of Boone to thriving Charlotte, we're digging into some awesome NC cities to check out.
---
Notable Cities in North Carolina to Visit
---
Asheville
Asheville is one of the coolest cities on the East Coast and the heart of the Blue Ridge Mountains. It's full of fun and unusual activities to try. With more breweries per capita than any other city in the country, you'll always have a good time! Its vibe is equally adventurous and laid back, with a focus on the spectacular scenery and sustainability that we all adore.
Cultural attractions range from the epic, like the Biltmore or Folk Arts Center, to the eccentric, like the Pinball Museum or Sliding Rock, to the ethereal, like Pisgah National Forest or Craggy Gardens. There's plenty of Asheville waterfalls nearby, and the adventurous should definitely try a hike or two before hopping on the Blue Ridge Parkway.
---
Chapel Hill – Carrboro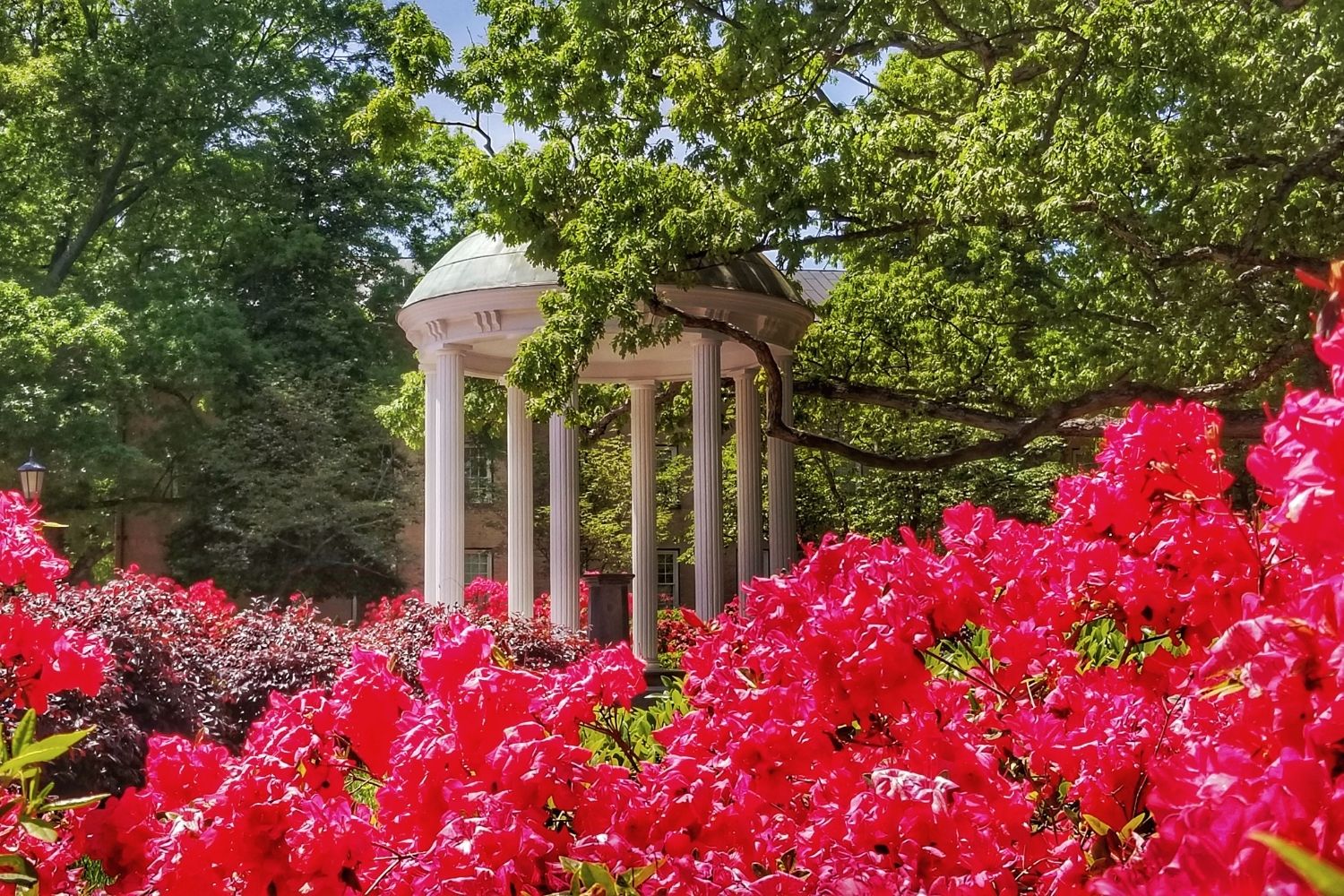 Chapel Hill, and its smaller, hipper neighbor Carrboro, make for a splendid North Carolina adventure. As the two areas have grown they've merged seamlessly, creating a beautiful blended bubble of Southern charm and alternative artistry.
Chapel Hill is a college town with a campus that fell out of a fairytale. A wander down Franklin Street charms any visitor. Catch a band at Cat's Cradle, a taco at Cosmic Cantina, and a school spirit fever at any sporting event.
Carrboro presents an easygoing and eco-friendly energy to explore. A stroll down Main Street reveals cute cafes, antique shops, thriving thrift stores, and burgeoning breweries.
---
Durham
One of the biggest cities in North Carolina is Durham. Durham's recent renaissance has made it an attractive destination for Carolina travelers. The American Tobacco Historic District is a renovated Lucky Strike Factory that has become a cultural haven for the city. The Museum of Life and Science has wonders to behold for adults and kids alike.
Duke Gardens is a flower-filled oasis for a day of appreciating natural beauty or an intimate picnic on the stunning grounds. Eno River State Park provides scenic forested trails which weave their way along the sparkling, flowing river. Visit Ninth Street for culinary delights and charming storefronts.
---
Hickory
Hickory is chock full of historical and cultural heritage sites. Located in the foothills of the Blue Ridge Mountains, it's home to a warm welcoming community that helps you to feel right at home. The roots of the city lie in craftsmanship, hence the Hickory Furniture Market, a hotspot for handmade, one-of-a-kind pieces.
For top-notch wining and dining head to Union Square, and be sure to double back there for the weekly farmers market, always full of fresh fares. Bakers Mountain Park and Lake Hickory offer outdoor exploration in exquisite natural environments. The Hickory Aviation Museum is a must-visit for both history buffs and flight enthusiasts.
---
Boone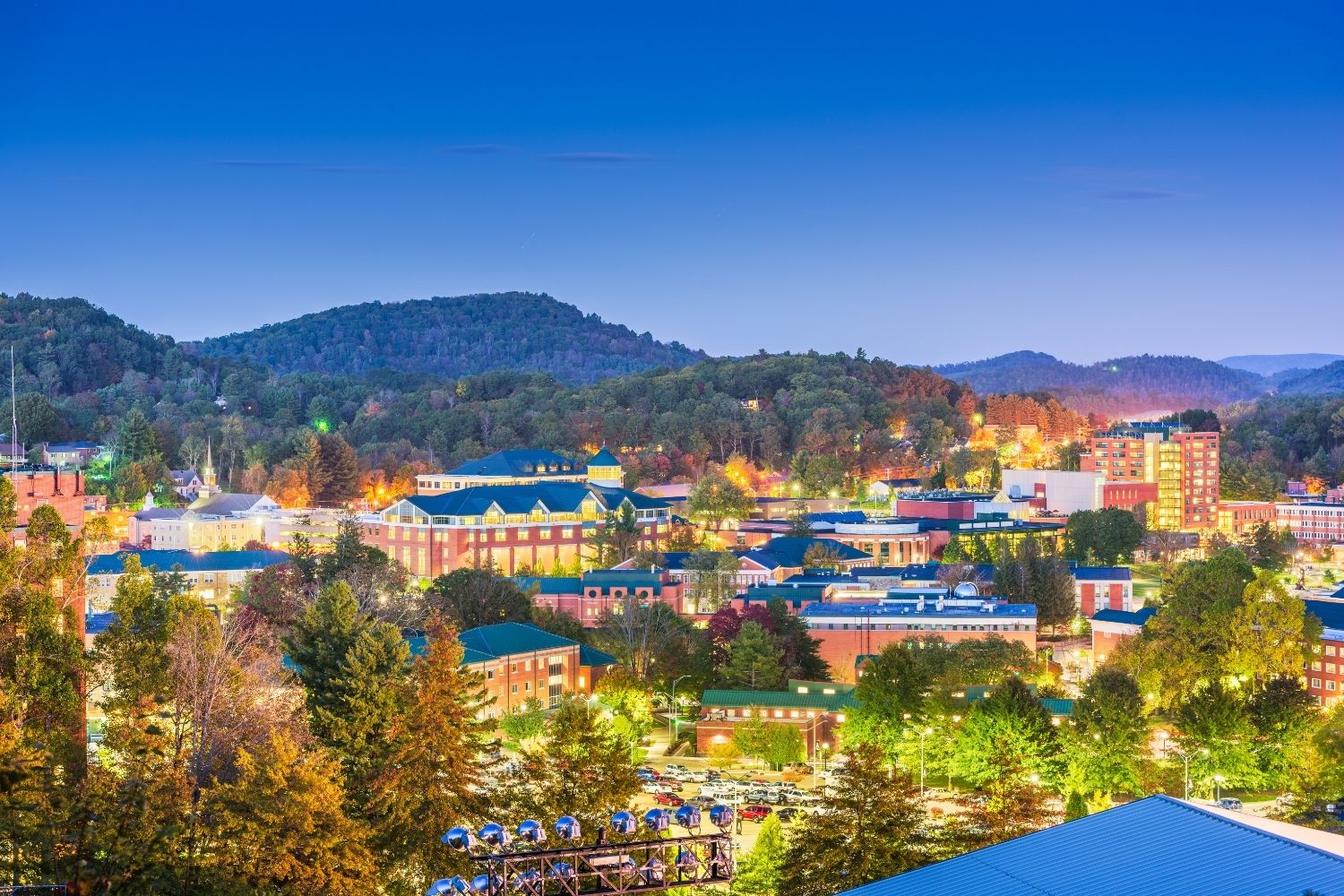 One of the best things to do in North Carolina is head to this mountain town! Boone is a favorite candidate for cities in North Carolina you should visit. It boasts a laid-back Mountain vibe with plenty of outdoor adventure to be had. A hotspot for rock climbers, this is a great place to try your hand or challenge your skills in the craggy terrain. Lucky for us, there are several breweries to taste test the local libations, the perfect refreshing reprieve after an active day in Boone.
If you're interested in hiking or biking, stop at some of the most breathtaking natural sights the North Carolina Mountains have to offer: Grandfather Mountain, Howard's Knob, and Greenway Trail. Skiing is the other popular pastime, with Appalachian Ski Mountain and Sugar Mountain Resort both serving up snow-covered slopes to experience.
---
Wilmington
We have a special soft spot for this North Carolina city as we went to UNCW and I'll forever consider it one of the best cities in North Carolina. Wilmington is an eclectic beachside city with something for everyone. It's home to Cape Fear Museum of History and Science, Wilmington Railroad Museum, and Cameron Art Museum. For a more unique education, you can also venture to Bellamy Mansion Museum or the Museum of the Bizarre.
The historic district is home to many classic architectural achievements, while the live oaks dressed in Spanish moss make for some dreamy strolls. The downtown Riverwalk is a tranquil way to see the sights and explore the shops. Take your pick between Wrightsville Beach, Kure Beach, and Carolina Beach each with their own special, sweet seaside scene.
---
Winston-Salem
Winston-Salem weaves the old and the new, creating a wonderful city of historic charm and modern marvels wrapped up in Carolina culture. Visit SECCA, a contemporary art space featuring rotating exhibits of avante garde works. We recommend attempting a craft draft crawl to try all of the fresh delicious brews being created here.
The North Carolina Barbecue Trail celebrates the traditional and iconic culinary creations of the South. Be sure to take in the street art when on your adventures in the city, there's a spray-painted surprise around every corner.
---
Topsail
Topsail Island is a beach retreat to beat the heat and the crowds just off the coast of North Carolina. There are miles of undisturbed sandy shores to enjoy here. It's also known as a sea turtle sanctuary. Serenity Point has been the site of many a stunning sunset.
See if you can find Blackbeard's treasure, legend has it it's buried somewhere on the island. The Missiles and More Museum is a great in-depth look at the area through time. Quarter Moon is a cafe, gift shop, book store, and wine bar all in one. Jolly Roger Fishing Pier is the perfect place for a big catch.
---
Charlotte
Charlotte is a bustling metropolitan city with many amenities on offer. It is the largest city in North Carolina, with a metro population over 2.5 million. Here you'll have your choice of a diverse range of restaurants, shopping, museums, and gardens. The Mint Museum is the oldest art museum in the state and home to an impressive collection. The NASCAR Hall of Fame is suited to all with a need for speed.
McGill Rose Garden is a dreamy and romantic excursion for all lovers of lush flora. The downtown is the cultural center of Charlotte. The Charlotte Museum of History and the self-guided Liberty Walk are great ways to explore the heritage here. Freedom Park has hundreds of acres for outdoor activities in the warm Carolina sunshine. To make matters better Charlotte's brewing and dining scene is alive and well!
---
Cherokee
Nestled in the majestic Smoky Mountains lies Cherokee, an often overlooked oasis of origins. Hit up Mingo Falls for a waterfall hike in North Carolina that will take your breath away. The Museum of the Cherokee Indian is an educational celebration of the rich indigenous heritage of the city. Qualla Arts and Crafts features an array of traditional Cherokee works.
Oconaluftee Indian Village will allow you to observe and interact with what these cultural practices look like, all within a wooded wonderland. Paul's Family Restaurant serves up the slow-cooked classics of Cherokee that you won't find anywhere else, like their famous fry bread.
---
Greenville
A thriving college city of North Carolina, Greenville brings all the leisurely fun you need. The first order of business in Greenville should always be Barbecue. The Brews and Cues Trail will set you off on the right path for all the crave-worthy craft beverages and cuts of meat you could ask for.
The Tar River is a sparkling waterway offering spectacular views, native wildlife, hiking trails, and kayaking adventures. The antique market is full of vintage treasures just waiting to be found. Greenville is also known for extreme sports, especially BMXing. Extreme Park is the perfect space to check out local talent or try your hand at some tricky tricks.
---
Nags Head
Nags Head lies on the beloved Outer Banks and is one of the cutest Outer Banks towns there is. It's known for coastal recreation at its finest. Any beach pastime you can think of is lauded here. Surfing, swimming, sailing, paddleboarding, fishing, kiteboarding, jet skiing, and so much more. Nags Head Woods is a drier land alternative for any nature lovers.
Jockey's Ridge State Park is home to the largest sand dune on the East Coast, and a plethora of activities to enjoy its otherworldly allure. Historic cottages line the sunny sandy shores, creating an idyllic landscape for a seaside sojourn.
---
Lake Lure
Frequented for its Dirty Dancing acclaim to fame, Lake Lure has so much to enthrall us. Its man-made lake of the same name is one of the most beautiful in the country. It has many unique attractions, such as an interactive toy train museum.
Surrounded by towering mountain peaks and a rushing river, there's plenty of lush nature to explore here. Go for a hike, ride a bike, climb a jagged boulder, paddle away in a kayak, or simply relax on the beach of the serene, sparkling lake. Take a trip to understand the allure of Lake Lure.
---
Bald Head
You can reach Bald Head by a short ferry ride, forcing you to leave your car and all your worries behind. Here you will find some of the best beaches in North Carolina! Covered with protected natural wonders, the flora and fauna of the island are in a thriving ecosystem ripe for adventure. It's home to one of the largest maritime forests on the East Coast; see if you can spot any native wildlife here.
Bald Head Lighthouse is a striking structure, which when climbed provides sweeping views of the landscape below. Take part in a traditional oyster roast or simply revel in the secluded shores of the seaside.
---
Raleigh
Raleigh consistently ranks as one of the best cities to live in North Carolina. Known as the city of oaks, Raleigh is the capital of the Tarheel State. You'll find a foodie freefall at Transfer Co. Food Hall, so indulge in all kinds of culinary creations here. Or check out some of Raleigh's excellent breweries! The North Carolina Museum of Art has sprawling grounds of acres of sculpture pieces, fields of flowers ideal for photo ops, and wooded trails. It offers a lovely balance of modern and quaint.
Umstead State Park is our favorite of several green spaces provided by the city. Raleigh is a mecca of the performing arts, as it's home to many well-loved venues such as North Carolina Theater, North Carolina Opera, Carolina Ballet, and North Carolina Symphony.
---
New Bern
New Bern is a vibrant waterfront community, and the birthplace to Pepsi. It's one of the earliest cities in the nation and, as such, there are many historic homes and verdant gardens to wander through. Tryon Place is a beloved beacon of local history explored through extensive displays.
New Bern lies at the heart of the Twin Rivers, Trent River, and Neuse River, which allows for miles of paddling trails. The downtown is chic with an eclectic collection of shops. The city is covered in whimsical bear statues, see if you can spot them all.
---
Pinehurst
The fabled and famed golf courses of Pinehurst live up the hype. It's also ranked as one of the safest cities in North Carolina. Whether you're a putting guru or a novice on the links, these greens do not disappoint. There are nine world-class courses to choose from. Take a moment to stop and smell the pine, the fresh air will have you feeling like new.
Pinehurst encourages a slowed pace of living that is ideal for a relaxing getaway. The village holds modern and vintage boutiques and galleries that are a delight to browse. Lake Pinehurst is a natural oasis to enjoy. From down-home fare to gourmet feasts, there is a diverse range of eateries available.
---
Hendersonville
One of our favorite Western Carolina haunts, Hendersonville ranks high on the cities in North Carolina you should visit. The historic downtown has quaint streets lined with adorable shopping options and al fresco dining. It's known for its many fabulous wineries. Visit the vineyards for tours and tastings and enjoy a stunning day out among the groves.
Sometimes referred to as Apple Alley, Hendersonville is the place to check out an orchard and pick your own fresh produce. Home to Dupont State Forest, as well, there are many tranquil trails and cascading waterfalls to be found. Places like the Appalachian Pinball Museum are a nod to the quirk of the area.
---
Beaufort
It's no surprise that beautiful Beaufort is included in our roundup of North Carolina cities. A beloved fixture on the Crystal Coast, this is paradise hidden in plain sight. Front Street is a picturesque hotspot for perusing local goods in beachy boutiques, and finding fresh seafood with a salty breeze. There's plenty of things to do in Beaufort, NC for all.
The General Store is a shrine to kitsch and Taylor's Creek Antiques has an abundance of relics. The North Carolina Maritime Museum is the best place to learn about the nautical heritage of the coast. Known as the town which inspired A Walk to Remember, Beaufort is a whimsical wonder by the sea. Certainly one of the fantastic coastal cities in North Carolina!
---
Southport
For a romantic weekend getaway in North Carolina try heading to Southport. A charming city on the mouth of Cape Fear, Southport is a little slice of heaven that's full of surprises. The energy is bright here, as it's known for being an especially happy city. It has become a popular filming location, so see if you can spot any scenery from your favorite movies.
Southern hospitality is alive and well in this seaside oasis. It's part of the Brunswick Islands, which are steeped in a rich coastal history. Every street is walkable and every store is special. The scenery of the waterfront and surrounding marshlands is enchanting. 
---
Cities in North Carolina Map