Bull City boasts an array of amazing attractions and activities with plenty of things to do in Durham for all! A contemporary hub of culture for North Carolina, Durham has a small Southern town feel with the amenities of a much bigger metropolis. Once rooted in the tobacco industry, Durham is now home to a thriving arts community and a fantastic foodie scene.
In this North Carolina city you can enjoy outdoor adventures, fascinating museum tours, and sporting events with a die-hard fan base. It's an innovative and vibrant atmosphere that offers a fun time for everyone. Below are all the best things to do in Durham.
---
Where is Durham?
Before we dig into the best things to do in Durham, let's delve a little deeper. Durham is the fourth most populous city in North Carolina. It's located in the northern section of the state and is under an hour's drive to Raleigh, Chapel Hill, and Greensboro.
Durham is best known for being home to Duke University, and its well-known basketball team. It's part of the Research Triangle Region and home to many tech companies and scholarly institutions.
---
The Best Things To Do In Durham
---
Duke Gardens
Address: 420 Anderson St (GPS)
Hours: 8:00 am – 6:30 pm
Cost of Admission: free to explore Duke Gardens
This lush and beloved botanical garden spans 55 acres in Durham. It's been around since the 1930s and offers breathtaking ornate and natural displays of both local and exotic flora. Spend a day wandering among the beautiful blossoms for a true taste of total relaxation. There are five miles of trails to traverse, as well as guided tours, classes, and lectures.
Buy some duck food to feed the feathery friends or see how many fish you can count in the tranquil koi pond. It's often referred to as one of the best public gardens in the country. Be sure to see the Big Easy sculpture and the demonstration on bees and pollination. It's an ethereal Bull City experience to be sure.
---
Ninth Street
Address: Madhatter's Cafe and Bakeshop – 1802 W Main St (GPS)
Hours: 7:00am – 4:00 pm
This quaint little street in the west of the city provides adorable shopping with a side of character and charm. It's super walkable and a funky spot to explore the spirit of Bull City. This street has been a haven for independent businesses in the area for decades.
All kinds of boutiques and specialty stores sell eclectic gifts, handmade crafts, arts, clothes, and home goods. You'll have a blast browsing the day away. The Duck Shop, Zola Craft Gallery, and The Regulator Bookshop are iconic institutions worth popping into.
If you need a refuel, check out Madhatter's Cafe and Bakeshop or the Blue Corn Cafe for a delicious bite and a beverage.
---
Museum of Life and Science
Address: 433 W Murray Ave (GPS)
Hours: 10: 00 am – 5:00 pm
The Museum of Life and Science provides plenty of phenomenal indoor and outdoor interactive educational exhibits. It's a place to really have fun with science no matter what age you are. Enjoy such installations as the human bubble, tornado maker, butterfly house, and space station.
It sits on 88 acres, so there's plenty to keep you busy here all day long. Get your kid on in the soundscape garden, local wildlife petting park, and sailboat playscape. They aim to inspire and educate and offer plenty of classes and events to increase accessibility to science for everyone.
---
Eno River State Park
Address: 6101 Cole Mill Rd (GPS)
This vast wilderness wonderland is over 4,000 acres of North Carolina nature. You'll find 24 miles of hiking trails traversing the towering trees of dense forest, sparkling waterways, and native plants and wildlife.
There are many access points around the park so depending on which one you use you can fish, canoe, kayak, camp, picnic, swim and more.
This state park offers plenty of verdant peace away from the city for a relaxing respite in the scenic surroundings. Some of the fan favorites to hike here are Cox Mountain boasting a cool footbridge, Cole Mill with stunning river vistas, and Pump Station for wildflowers galore.
---
Durham Bulls Game
Address: 409 Blackwell St (GPS)
Set in the heart of downtown Durham, the Durham Bulls Athletic Park is an iconic venue beloved by many locals. It's a great way to spend some time like a native and hopefully see a homerun or two. The stadium seats 10,000 and all the vantage points are excellent.
You can even grab a lawn seat for cheap and make it a cute picnic with a baseball backdrop. If you're lucky, you may get to meet the loveable mascot Wool E. Bull himself. There's plenty of fun fan interaction throughout.
There are also not your typical sporting event foods found here. Partake in some of the tastiest local eats and craft brews catered from around town.
---
Nasher Museum of Art
Address: 2001 Campus Dr (GPS)
Hours: Tuesday – Wednesday : 10: 00 am – 5:00 pm, Thursday : 10: 00 am – 9: 00 pm
The Nasher Museum of Art is a renowned establishment that displays and honors progressive contemporary art and pre-Columbian works, and is home to over 13,000 pieces. There are numerous galleries to discover, with everything from Peruvian textiles and Mayan ceramics to modern large scale sculpture installations.
There are an abundance of mediums about, including paintings, murals, drawings, photographs and more. Nasher offers classes, lectures, and film series programs to act as a learning intuition, as well. It's set on the stunning Duke University campus.
---
Drink at the Breweries
Address: Fullsteam Brewery – 726 Rigsbee Ave (GPS)
Hours: Monday – Thursday: 12:00 pm – 10: 00 pm, Friday- 12:00 pm- 6:00 pm, Sunday – 12:00 pm – 9:00 am
Bull City is home to a number of creative craft breweries. Fullsteam Brewery is a celebration of all things Southern and one of the best breweries in Durham. They brew by the credo "plow to pint" and partner with nearby farmers and local foragers. The Rocket Science IPA is a crowd pleaser and the Carver Sweet Potato Lager is a delightful surprise representative of their unique use of iconic native ingredients.
Ponysaurus Brewing offers an outdoor space with a lush lawn perfect for gathering in the warm Carolina sunshine with a cold beer. The Don't Be Mean to People Golden Rule Saison is a strong contender for a perfect pint and the Cherry Sour Ale is always a delicious choice.
You can even get snacks by the scoop, including wasabi covered peanuts, crispy fried okra, bugles or Swedish fish.
---
The American Tobacco Campus
Address: 300 Blackwell St, 104 ( GPS )
Hours: 8:00 am – 11:00 pm
The American Tobacco Campus is the center of cool in downtown Durham. It's a historic Lucky Strike cigarette factory complex from the 1800s recently renovated to create a cultural hotspot of entertainment options. It encompasses 40 acres of Durham dining destinations, happening bars, unique boutiques, independent movie theaters, galleries galore and more.
There's plenty of green space if you just want to wander and then relax in the area. It's also the site of the beloved Burt's Bees headquarters. There are often community events held beneath the smokestack, so be sure to check the schedule while you're in town.
---
Cameron Indoor Stadium
Address: 115 Whitford Dr (GPS)
It's hard to hear the name Durham without talking about Duke. If there's anything to experience while in this captivating city, it's a Duke basketball game. College basketball is somewhat of a religion in this region (just don't walk around wearing any UNC garb) so it's fun to partake in this bit of the madness if possible.
The area right outside the stadium is known as Krzyzewskiville, and students will camp out for days here to obtain tickets to the more popular games being played. Inside they're called the Cameron crazies and they have all sorts of antics to pull out throughout the game. This is one of the more uniquely local things to do in Durham.
---
DPAC
Address: 123 Vivian Street, Durham (GPS)
The Durham Performing Arts Center is one of the largest venues in North Carolina. It can hold 2,700 guests and hosts about 200 performances every year. The productions range from Broadway shows to international musical acts to dance recitals.
The building itself is a work of art, boasting modern architecture with clean lines and gorgeous glass walls. It's renowned throughout the country as one of the best centers of its kind. They've had the likes of Hamilton, the Carolina Ballet, and North Carolina Opera grace their stage.
---
Brightleaf Square
Brightleaf Square is set in a pair of historic tobacco warehouses called Watts and Yuille, that have since been revitalized into a trendy area for foodie favorites and locally owned shops. The buildings are a beautiful sight to behold. Inside you'll find a diverse variety of delectable eats from Italian, to Japanese, to Mexican.
Sit outside on the brick-lined boulevards for al fresco fares of your choosing. The shops are trendy yet unique, try Indio for artisan wares, James Kennedy Antiques for vintage finds, and Bull City Olive Oil for all your specialty cooking needs. 
---
Duke Lemur Center
Address: 3705 Erwin Rd (GPS)
Hours: Monday – Sunday – 9:00 pm- 4:00 pm
Duke Lemur Center is a wildlife sanctuary for a wide range of endangered species of this special primate. There are 14 different species and over 200 individuals, making up the largest population of lemurs anywhere outside of their native land Madagascar.
It's 85 acres and offers plenty of opportunities to see these wild and cute creatures up close and learn about their plight to stay in existence. This center works on conservation efforts around the world and does research on-site to try and save these exotic animals.
---
Enjoy the Delicious Restaurants
Address: Elmo's – 776 9th St (GPS)
Hours: 7:00 am – 3:00 pm , Saturday-Sunday: 7:00 am-3:30 pm
Durham is a haven for cool culinary creations and has some fantastic restaurants. Picnic is the go-to spot in town for some authentic Southern eats. It's a legend among locals and a mandatory meal for any out of towner.
The atmosphere offers the casual comfort of a family cookout or mama's kitchen, with a hip and rustic flair. They're serving up elevated down-home classic Southern country cooking. The Barbecue Plate with all the fixings is the best bet to really experience this eatery.
Elmo's has been an institution in Bull City for decades, and always lives up to its beloved stature. It has that quaint and homey feel you hope for from a neighborhood diner. The menu boasts an array of American classics, as well as their famous breakfast food which is served all day long.
Every dish is delicious and made completely from scratch. Scoot into a cozy booth and order up any of the time honored eats available, such as the Biscuits and Gravy or Greek Grilled Cheese.
---
Stroll Through the Duke Forest
Duke Forest consists of 7,000 acres of forests and fields. It exists as a research site and a protected area to advance knowledge around natural resources. It represents a number of different ecosystems, tree types, and soils throughout the terrain.
For access to wilderness recreation there are many trails and paths to trek into the native landscape full of streams, flowers, woods, and wildlife. The Al Buehler Cross Country Trail, Piney Mountain Trail, Shepard Nature Trail, and Mrs Brown's Trail are all popular picks for the Durham section of Duke Forest.
---
Satellite Park
Downtown Durham is home to an abundance of colorful murals and cool street art and one of the most unique things to do in Durham. The most weird and wonderful of these, however, would have to be Satellite Park. It's set on the grounds of the Duke Art Annex and has somehow managed to still be one of the city's best kept secrets.
It consists entirely of eight decommissioned satellites all intricately painted by local artists.
It's a one-of-a-kind experience that is sure to impress. They were actually painted live at a community event after the town got tired of looking at the old technology left there by Tel Com in the 1990s. Each large scale work represents different backgrounds and mediums for an electric and exciting art outing for all.
---
The Scrap Exchange
Address: 2050 Chapel Hill Rd (GPS)
Hours: Friday & Saturday : 11:00 am -5:00 pm
The Scrap Exchange is so much more than your average thrift store. Their motto is reuse, create, educate, and repeat. It's a nonprofit creative reuse center that promotes community and environmental awareness. Everything inside is donated, affordable, and best of all usable. They save over 850 tons of waste from entering landfills every year.
They host many DIY workshops and other valuable and interactive classes. Plus the vast amount of vintage finds and cool knick-knacks to see here is really a must for any arts and crafts lover, antique aficionado, or eco warrior. It's a place unlike any other where imagination, sustainability, nostalgia, and creativity run wild.
---
21C Museum and Hotel
Address: 111 North Corcoran St (GPS)
Hours: Check in time -4:00 pm, Check out time: 11:00 am
A hidden gem of Bull City is the 21C Museum and Hotel. It's a part art museum and part boutique accommodation. There are only eight in the entire country. The first floor is open to the public for free and at all times. It hosts a few different galleries of rotating contemporary works. The site-specific installations strive to reflect the global nature of art today.
They're also the first museum in the country dedicated only to art created in the 21st century. It was once a Suntrust Bank and the old vault has since been refurbished as a hip mini lounge, but you have to head to the basement to find it. See if you can spot the secret passageway, which adds a bit of extra intrigue and excitement.
---
Day Trip to Raleigh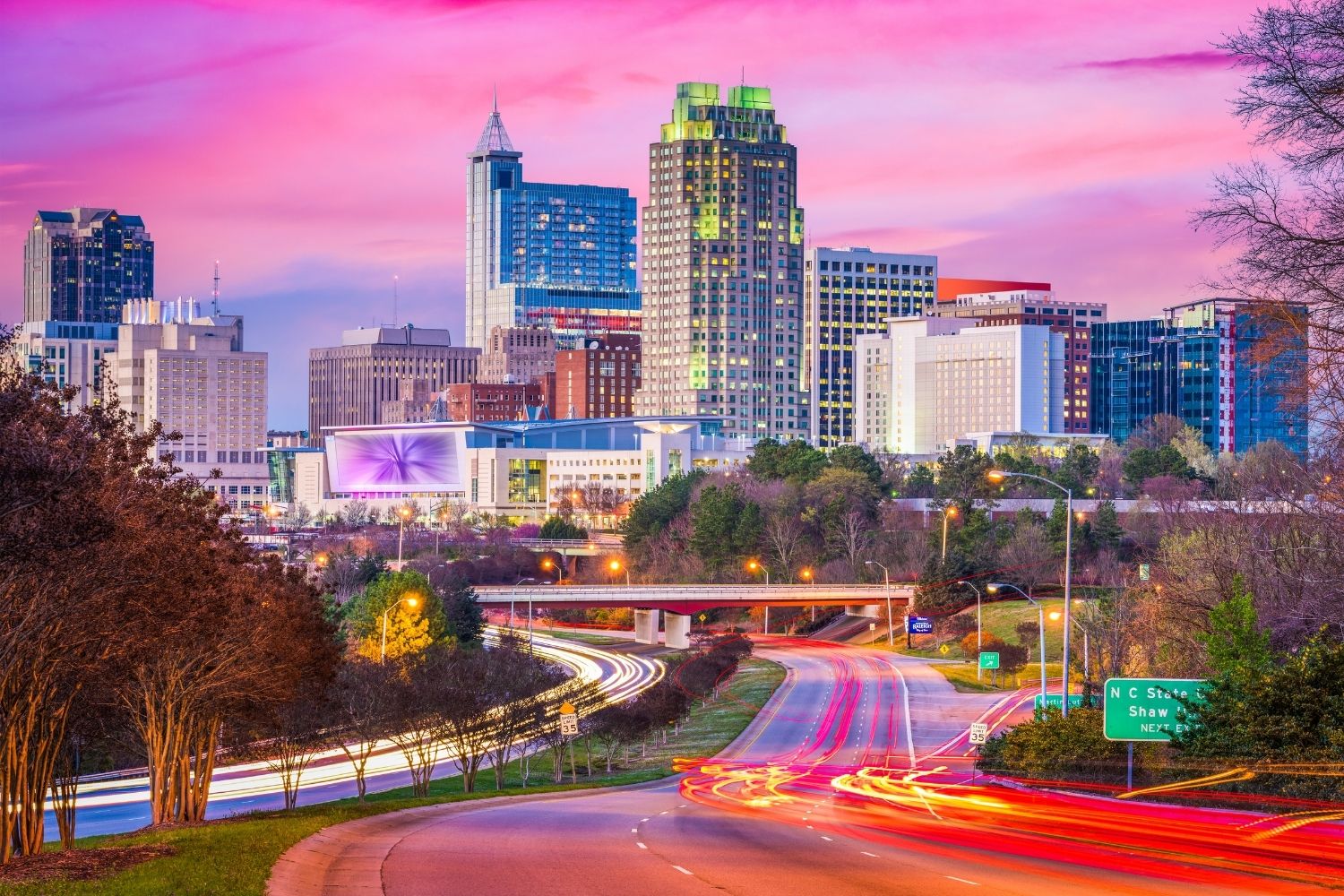 The exciting capital of North Carolina is just 30 minutes away from Durham, so one of the best things to do is make a day trip there! There are plenty of things to do in Raleigh like head to the North Carolina Museum Of Art, visit the Videri Chocolate Factory, or catch the Yates Mill at sunset. There are also some nice food halls and amazing restaurants in Raleigh to try!
---
Best Things to Do in Durham, NC Map
---
Where to Stay in Durham?
In between doing all these fun things to do in Durham, you're going to need somewhere to lay your head. Here's a few recommendations from budget to luxury.
---
Where to Eat in Durham?
Picnic: This is the go-to spot in town for some authentic Southern eats. It's a legend among locals and a mandatory meal for any out of towner.
Vin Rouge: A French Bistro that boasts all the culinary classics from this esteemed culture, eating here is a transportive experience.
Goorsha: Delicious Ethiopian food and a fantastic experience if you dine in! (Although you can get take out)
Amazing Durham Restaurants You Have to Try