About Us
We're Cameron Seagle and Natasha Alden, and on this site, you'll find our experiences, photography, and informative travel guides from around the Carolinas. We have a passion for traveling, eating delicious food, being outside and active, taking photos, and many other random things.
Cameron is North Carolina, born and raised. At the same time, Natasha moved from Michigan to Wilmington, NC, when she was 19 years old. In search of a different lifestyle in the South and a college degree. Wilmington became her home while attending the University of North Carolina Wilmington. It took her one day in Wilmington to realize she picked an excellent state to call home.
---
Latest Blog Posts
Apple picking at one of the best apple orchards in North Carolina is a fantastic thing to do in the state. Come fall, the apple orchards in North Carolina are…
The Tar Heel state is known for many things. We've found some favorites to be the savory barbecue, beautiful beaches, rich history, majestic mountains, stunning scenery, and craft beer culture,…
Greensboro is a charming Southern city that's often overlooked. It's an American metropolis steeped in rich history from significant Revolutionary and Civil War events and a bustling era of industry…
---
Popular Articles
Originally settled by a group of German Moravians, Winston and Salem were two separate towns that merged to form the cultural hub of Camel City.
Greenville is a gorgeous getaway within the great state of South Carolina. It's a bustling metropolis beloved by all – old and young, locals and tourists.
There's the coast and plenty of beaches, but there are also plenty of lakes in North Carolina to enjoy year-round (but especially in the summer).
---
Historic coastline
The island is known for its pristine sandy beaches and world-class golf courses, but there is more to discover and many things to do in Hilton Head.
Beaufort, North Carolina, is a small town that is home to plenty of southern charm and maritime history.
The coast of South Carolina is home to some of the best beaches in the entire country.
---
The Smoky Mountains
Asheville is known for many enticing attractions and a treasure trove of accessible natural wonders, in particular some stunning Asheville waterfalls.
It's 469 miles in total, starting with the stunning Shenandoah National Park and ending with the gorgeous Great Smoky Mountains.
North Carolina isn't all beaches! There are beautiful mountains, waterfalls, and hiking trails to explore.
---
Come Hungry
Home to over 1,500 eateries, the culinary scene of this coastal city is vast, with an array of diverse dining destinations everywhere.
If you're a foodie searching for the best restaurants in Wilmington, North Carolina, we have got just the beach town bites for you.
As a hip and happening hotspot of the Palmetto State, the foodie scene here is full of fantastic fare and there are plenty of amazing Hilton Head restaurants to try.
---
Come Thirsty
The charming town of Winston-Salem has joined the ranks of other hip hoppin' Carolina boroughs with a brewery boom of their very own.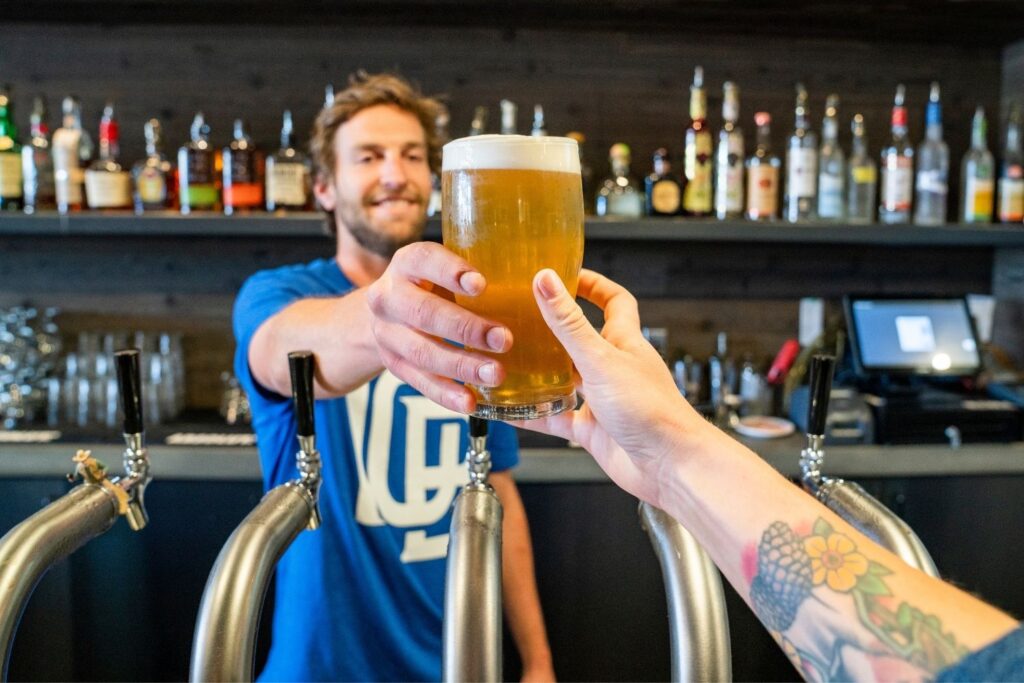 Wilmington has earned the moniker America's beeriest beach town (it also has some of the best beaches in North Carolina). Enjoy a cold pint with a side of sea breeze.
Asheville has more breweries per capita than any other city in America. It's the craft capital that our delicious drink dreams are made of.
---
Reader Favorites