Greenville is a fantastic getaway within the great state of South Carolina. It's a bustling metropolis beloved by all – old and young, locals and tourists. Greenville boasts many attractions to enjoy, from museums to performance art to nature parks and fantastic food and beverage.
Often referred to as the friendliest city in the country, the hospitality of this upcountry cultural haven knows no bounds. This South Carolina city perfectly balances Southern charm and urban amenities and entertainment. If you happen to find yourself in the city, here are all the best things to do in Greenville, South Carolina to get up to.
---
Where is Greenville, South Carolina?
Greenville is a city in the northwest part of South Carolina, United States, situated in the foothills of the Blue Ridge Mountains, it makes for a great base for any mountain adventure in the Carolinas.
Greenville is approximately halfway between Atlanta and Charlotte, taking about two hours to reach either city.
Greenville is known for its vibrant downtown area, scenic parks, outdoor recreation opportunities, and strong economy driven by manufacturing, healthcare, and technology industries. Although it may seem like just another US city, there are plenty of things to do in Greenville for everyone to enjoy!
---
best Things To Do In Greenville, SC
---
Falls Park on the Reedy
This urban oasis is a lush landscape in the heart of the city, and walking around here is one of the best things to do in Greenville, SC. It's home to acres of stunning scenery easily accessible for tranquil exploration. There are gardens, walking trails, waterfalls, and art installations throughout Falls Park. Head on over to Passerelle Bistro afterward for a fantastic French eaterie if you get hungry exploring the park.
It's also where Liberty Bridge lies, a single suspension over 300 feet long and the only one of its kind in the western hemisphere. It provides some of the best panoramas in town. Pack a picnic and spend the day enjoying the outdoor opportunities to engage with Greenville's local ecology and natural beauty.
---
Swamp Rabbit Trail
The iconic Swamp Rabbit Trail is 20 miles long and runs alongside the Reedy River. It goes from downtown Greenville to the town of Travelers Rest. Go where hundreds of thousands have hiked or biked before you, down this lovely and well-maintained paved path of picturesque Greenville.
It is the chance to see all the city has to offer, and you will travel through parks, cityscapes, and even a charming college campus. You can find the Bike Skills Flow Park and a full-service bicycle repair shop along the route for some added excitement and convenience.
---
Greenville County Museum of Art
Address: 420 College Street (GPS)
The Greenville County Museum of Art is an extensive exploration of life in the South from the colonial period. As such, it's considered the premier venue of its kind in this part of the country. The building itself is a work of art and a refreshingly modern one. They represent an eclectic array of styles and mediums, from impressionism to abstract.
Set on the scenic art and cultural campus of the city called Heritage Green, there is plenty to enjoy around the museum as well. The claim to fame of their permanent collection is the most significant number of public watercolor works by renowned American artist Andrew Wyeth and an impressive anthology on Palmetto State native Jasper Johns.
They have a host of rotating exhibits that come through as well, so there is always something exciting and new to discover on display here.
---
Centre Stage
Address: 501 River Street (GPS)
Centre Stage is a hidden gem of performing arts in Greenville. It's a year-round professional theater that features around eight mainstage productions annually, and seeing a show here is one of the best things to do in Greenville. With only 285 seats, it's an intimate setting that adds to the charm and personality of this dramatic community.
As theater with a purpose, they aim to cultivate and inspire diverse artistry and collaboration. Check the schedule, and you'll find everything from comedy to drama to musicals happening here. They offer a wide range of other entertainment, such as concerts and outreach events.
---
Paris Mountain State Park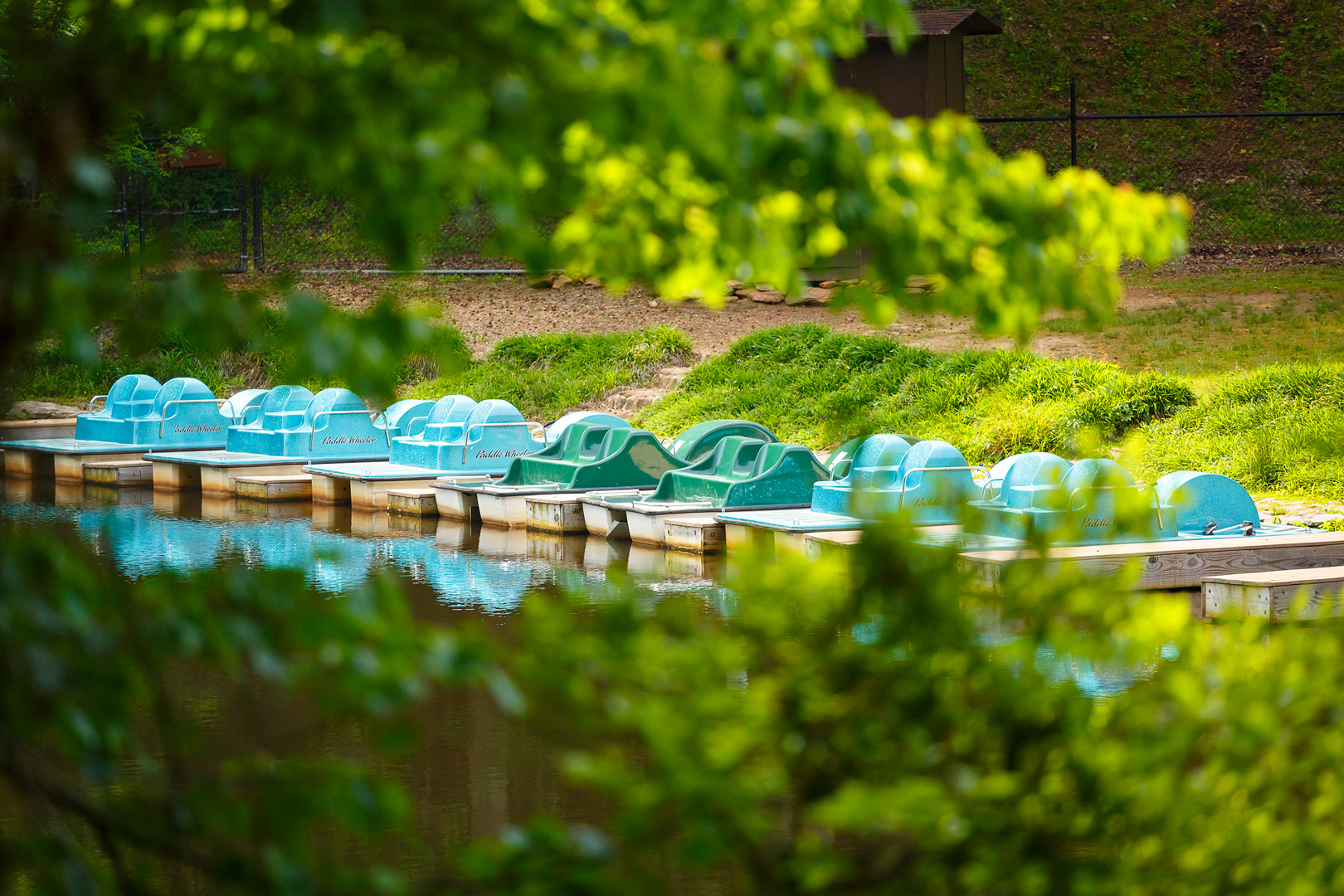 Address: 2401 State Park Rd (GPS)
Hours: Monday: 8:00 a.m.- 6:00 p.m., Tuesday: 8:00 a.m. -8:00 p.m., Wednesday -Sunday: 8:00 a.m -6:00 p.m.
Fee: $6 adults; $3.75 SC seniors (age 65 & older); $3.50, child age 6-15; Free for children 5 and younger.
Paris Mountain State Park is an ideal destination for outdoor recreation in the city center. It's home to a 15-acre lake that offers plenty of wet and wild fun opportunities. Grab a paddle and head out over the clear, shimmering surface in a kayak, canoe, or pedal boat. There's even a swimming area for a cool dip that helps beat the heat.
There are historical exhibits to learn about the past of this land and campsites and picnic shelters to relax within the serene natural setting. Sulphur Spring Trail is one of the many popular treks to make as it takes you around the lake for some lovely vistas.
---
The Peace Center
Address: 300 S Main St (GPS)
Hours: Monday- Friday: 10: 00 am – 5:30 pm
The Peace Center is an innovative venue and an impressive cultural hub for Greenville. It consists of an arena that seats 2,100 guests, a theater that holds 400, and outdoor performance space. The architecture spread across the six-acre campus is a sight to see.
In addition to landing many Broadway plays on these stellar stages, they are home to the Greenville Symphony Orchestra, the Greenville Chorale, two prestigious ballet companies, and South Carolina Children's Theater. There is always an exciting show to catch here while you're in town.
---
Roper Mountain Center
Address: 402 Roper Mountain Rd (GPS)
Hours: Tuesday- Friday 1:30 pm-4:30 pm, Saturday & Sunday- Closed
This ethereal attraction appeals to everyone, regardless of age or interest. It covers a diverse range of life and natural science subjects, from space to ecology. On-site, you'll find an expansive arboretum full of both native and exotic blossoms. There is a planetarium and observatory to look at the celestial skies above.
A mile-long nature walk takes you through the dense forest of the mountainside and to an enchanting butterfly garden and pond that's teeming with local wildlife. There is also a living history farm and a dinosaur adventure trail. They host many educational events year-round, including summer camps for kids and starry night tours.
---
Try the best Greenville Restaurants
Address: (The Lazy Goat) 170 River Place (GPS)
Hours: Monday -Closed, Tuesday- Thursday: Dinner – 5:00 pm-9:00 pm, Friday & Saturday: Lunch – 11:30 am – 3:00 pm, Dinner: 5:00 – 9:00 pm
If you want to get a taste of everything this city has to offer, check out Gather Greenville. It's an open-air array of over a dozen divine dining destinations with something for every preference. You'll find lobster rolls, plates of pasta, tacos, and cheesesteaks. UP on the Roof offers picture-perfect panoramas overlooking the city. It's dining with a view at its finest.
Whether it's a boozy brunch with friends or a romantic dinner date, this eclectic artisan menu paired with handcrafted cocktails is the ideal local experience.
The Lazy Goat is one of the best Greenville restaurants and brings the delicious taste of the Mediterranean with an elegant flair. Set right along the Reedy River, you can dine in an idyllic setting. The highly recommended restaurant serves dynamic dishes such as the Moroccan Lamb and Lazy Paella. Soby's is an institution of the area.
If you're looking for authentic Southern fares home-cooked with a modern twist, then you've come to the right place. Each plate has classic and complex flavors, even from old favorites like fried chicken or shrimp and grits.
---
Shoeless Joe Jackson Museum
Address: 356 Field Street (GPS)
The Shoeless Joe Jackson Museum is unique as the entire focus is on the legendary baseball player Joe Jackson. Its location is the former home of the home run champion—the address is 365 in honor of his iconic lifetime batting average.
If you find yourself in the city with baseball lovers on the weekend, this is one of the best free things to do in Greenville. As one of the most beloved ballplayers in history, this space provides an authentic way to learn more about the man behind the bat.
You'll find displays with extensive collections of personal photographs, memorabilia, artifacts, and records from his life and career. He holds an important place in the history of America's pastime, and this is a unique way to learn about it.
---
Have a Drink at the Breweries
There are over 15 craft breweries to choose from in Greenville. Fireforge Brewery is a must-visit in your adventures around town and one of the best breweries in South Carolina! What better way to cool off than with one of their cold flagship pints or seasonal specialty beers. There is always something inventive on tap here. Try the Perlin's Ghost Pepper Pale Ale.
This small-batch brewery has a rustic feel and is set in a renovated warehouse space and decked out with vintage furniture and natural wood. The beer garden is great for gathering and relaxing with some tasty drafts.
Birds Fly South is a gem for enjoying expertly crafted brews. They focus on farmhouse and Saison styles but offer a full-ranging roster, including IPAs, lagers, and stouts. This refurbished urban farmhouse has plenty of space, including two bars inside serving separate taps. Deemed progressively old school, they brew beers using traditional styles with a modern twist.
You can always find a local food truck on-site for snacks, and the outdoor garden is perfect for sipping pints while you soak up the Carolina sunshine.
---
Greenville Zoo
Address: 150 Cleveland Pa Drive (GPS)
Hours: Spring hours: Daily 9:00 am-5:00 pm, Fall / Winter hours: 10: 00 am -5:00 pm
Fees: Adults: $12, Children ages 3 -12, $9, Active or retired military and their spouse (with military ID), $11, Children of active or retired military (with military ID):$8, Senior 65 ( with ID):$11.00
One of the best things to do in Greenville, SC with the family is enjoy the zoo. Learn about local and exotic wildlife from one of the foremost conservation organizations in the region, Greenville Zoo.
It strives to promote an appreciation of nature and science through education and connection. You'll find a diverse range of species in state-of-the-art habitats, from lions and giraffes to frogs and snakes.
Spend the day leisurely exploring the expansive grounds and observing behaviors to learn more about all sorts of creatures, from primates to penguins. It's a fun and interactive way to get to know the world's animals in a place renowned for its research and species protection efforts.
---
Conestee Nature Preserve
Address: 840 Mauldin Road (GPS)
Hours: Open daily: Sunrise to Sunset
Fees: $3 suggested donation
This wildlife preservation site is the perfect way to interact with the native flora and fauna of the upcountry. Keep your eyes peeled for such creatures as deer, beavers, turtles, and foxes in their natural habitat. They have over 400 acres to traverse and plenty of trails to do so on, and most are easy to navigate for any skill level.
It's a birding hotspot and an Important Bird Area of Global Significance. You'll find many different terrains, including hardwood forests, evergreens, swamps, and recently revitalized wetlands. The designated Learning Loops offer an opportunity to understand more about the history of the land.
---
Upcountry History Museum
Address: 540 Buncombe St (GPS)
Hours: Monday – Closed, Tuesday- Saturday: 10 am – 5: 00 pm, Sunday – 1:00 pm- 5:00 pm
If you're still wondering what to do in Greenville, consider adding this museum to your itinerary! The Upcountry History Museum provides a trip back in time.
Educational and interactive displays take you on a journey through the centuries of history in Greenville and a total of 15 other counties within the state that make up the upcountry region of the Palmetto State. Begin before the arrival of the earliest settlers, go through the Civil War, and up to the 20th century.
You'll be able to engage with artifacts, murals, and life-size models that represent the heritage of this significant Southern region. They hold special events like lectures on local myths and legends and summer camps focused on STEM. Get to know the material, social, cultural, and spiritual history of the South Carolina upcountry.
---
Go Shopping!
Address: (M Judson Booksellers)-130 S Main St (GPS)
Hours: Monday – Thursday: 7:30 am- 7:00 pm, Friday- Saturday: 7:30 -10:00 pm, Sunday – 11: 00 am- 5:00 pm
Greenville provides a plethora of places to get your shop on. If you wander down the charming Main Street, you can browse various boutiques and specialty storefronts.
There is something for everyone with over 120 shops and restaurants for souvenirs and snacks. Don't miss Mast General Store or M Judson Booksellers. It's a beautiful way to wander the wide and well-maintained sidewalks while picking out the perfect souvenir.
The Village of West Greenville is also excellent for local handicrafts and art galleries. It's an offbeat neighborhood that offers an accessible way to see the more creative scene in Greenville.
TD Saturday Market is a vibrant and lively setup selling fresh, local, and seasonal goodies. Over 75 vendors offer any and everything grown or made only in Greenville. You'll find fruits, vegetables, herbs, plants, jewelry, clothing, and so much more.
---
Art in Public Places
The Greenville Public Art Tour is a self-guided walking tour you can do to take in all of the artistic works in place around the city. Be sure to check out the Beach Company, which commissioned an impressive large-scale mural across its entire eight-story building facade to honor the diversity of Greenville.
Aria is an abstract sculpture in Sue Simpson Garden. This shiny sapphire blue structure draws inspiration from an operatic melody and appears as a tumbled skein of twisted ribbon. The Mice on Main are a unique and fun art scavenger hunt in Greenville.
Secretly scattered around Main Street are nine tiny statues of mice, inspired by the beloved children's tale Goodnight Moon. See if you can spot all these hidden bronze creatures as you adventure.
---
Poinsett Bridge & Campbell's Covered Bridge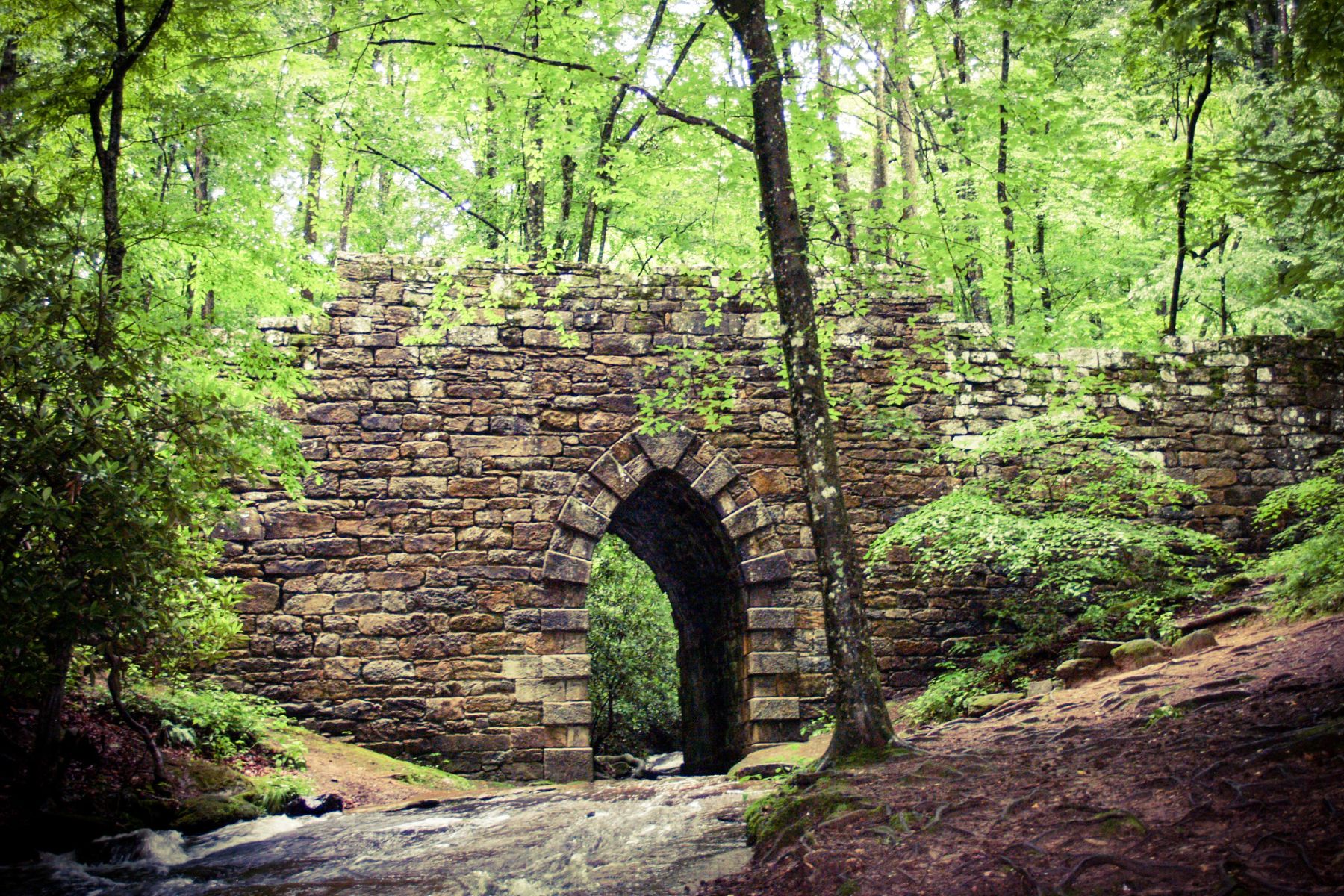 Just a 30 minute drive from Greenville you can find yourself surrounded by nature. Visiting these two historic bridges in northern Greenville County can transport you back in time.
The Poinsett Bridge, stretching 130 feet over Little Gap Creek, is a 14-foot Gothic arch-stone structure and is believed to be the oldest surviving bridge in the state. Historians attribute the bridge's design to Robert Mills, the architect of the Washington Monument.
Nearby, Campbell's Covered Bridge is the only remaining covered bridge in South Carolina. Guests can wander around the area surrounding the bridge and explore the remnants of the old grist mill and home site that once stood there.
---
South Carolina Botanical Garden
The South Carolina Botanical Garden, situated in Clemson, only a short drive away from Greenville encompasses 295 acres of lush gardens, serene trails, and a remarkable and highly acclaimed collection of nature-based sculptures.
If you're there, don't miss the chance to check out the Bob Campbell Geology Museum – it's truly an impressive experience, and admission is free!
---
Tour Greenville by Segway
Explore the vibrant city of Greenville in a unique and entertaining way with Greenville Glides' Segway tours. With tours available seven days a week throughout the year, you can discover various parts of the city on your Segway.
A popular option is the Historic West End and Falls Park Tour, which takes you on a thrilling ride through downtown Greenville to the historic West End. You'll also get to meander along the Swamp Rabbit Trail and visit the picturesque Falls Park, all while soaking up the lively atmosphere of Greenville. If you are up for a spooky time, make sure to book their Haunted Greenville tour, it's one of the best things to do in Greenville!
---
Poppington's Gourmet Popcorn
No trip to Greenville is complete without stopping for a treat. At Poppington's Gourmet Popcorn, you can find finest handcrafted gourmet popcorn. They have a diverse range of flavors catering to a wide range of palates and dietary requirements.
Their products are entirely nut free, and they also offer gluten free, vegan, and dye free treats! You'll be able to find a flavor for the whole family here!
---
Where to Eat in Greenville
Greenville has some great local restaurants that present a wide range of cuisines and traditional southern staples. It's no wonder one of the best things to do in Greenville is to enjoy all of the fabulous restaurants. Here are a few of the best restaurants in Greenville.
Soby's — It's known for modern, fine dining fares that honor the area, including succulent seafood and slow-smoked meats. The Bacon Wrapped Pork Tenderloin and Crab Cakes are delectable dishes.
Kitchen Sync — Kitchen Sync is famous for its sustainable practices, and it makes a meal there that much more enjoyable.
Halls Chophouse — The place to go in Greenville for any special occasion, or if you just want to treat yourself.
Asada — This is our favorite place for fun fusion fares in Greenville. The menu is globally influenced, with a strong foundation in Latin American food.
---
Where To Stay in Greenville
---
Best Things To Do In Greenville Map
Plan For Your Trip to the South!