Greenville is a bustling cultural hub of the South Carolina up country. It's packed with artistic attractions, endless entertainment, and of course, impressive eclectic eats and is one of the best places to see in South Carolina.
Boasting both urban amenities and Southern hospitality, the charm of this municipality is captivating and there are plenty of amazing restaurants in Greenville, SC to try. There are actually around 20 "Greenvilles" throughout the country, hence this South Carolina city's nickname, "Yeah That Greenville."
After a foodie-filled adventure around the vibrant town, we must say they've set themselves apart from all the rest. The toughest part is choosing which culinary creations you want to indulge in, from acclaimed downtown destinations to new hidden gems nestled in the historic western village.
Inside the wonderful world of endless craveable options you'll find classic comfort foods, farm-fresh fares, and exotic enticements to try. Here are the best restaurants in Greenville, SC to chow down at.
Best Restaurants in Greenville – Quick Answers
Best Greenville Restaurants for Date Night – Halls Chophouse & Sobys
Best Breakfast Restaurant in Greenville – Biscuit Head
Best Cheap Eats in Greenville – Gather Greenville
Best Latin Restaurant In Greenville – Asada
Best Pizza Restaurant in Greenville – Trio
---
The Best Restaurants in Greenville, SC
---
Soby's
Soby's has been an iconic fixture of the food scene in Greenville for decades and one of the best restaurants in Greenville, SC. Still set in its original warehouse location on South Main Street downtown, this institution is one for a reason. The facade itself was once a cotton mill in the 1800s and has since been renovated to reflect a warm and rustic atmosphere.
It's known for modern, fine dining fares that honor the area, including succulent seafood and slow-smoked meats. The Bacon Wrapped Pork Tenderloin and Crab Cakes are delectable dishes.
They offer over 500 old and new world wines from their state-of-the-art cellar. Every artisan offering is farm-to-table fresh and honors classic up country flavors. It's a must for any culinary enthusiast in Greenville.
---
Kitchen Sync
Kitchen Sync is famous for its sustainable practices, and it makes a meal there that much more enjoyable. The menu is vegetable-forward, with a focus on comfort foods made with all local and seasonal ingredients from scratch. Many are grown right on their very own rooftop. Take a trip up to the top to check out the produce and picturesque panoramas.
This is one of the best dining spots for vegans, vegetarians, and gluten free foodies around town. Pizzas, the Tomato Pie, and a Bahn Mi Salad always shine here. Independently owned and green certified, they're fixated on co-creating a world worth inheriting one bite at a time.
The ambiance feels like a cute and friendly neighborhood joint. Plenty of craft beer and creative cocktails are always on deck, as well.
---
The Trappe Door
Trappe Door is a speakeasy-style Belgian beer bar and eatery that sits under a pizza joint and eating here is one of the best things to do in Greenville. Between bottles and drafts, there are over a hundred brews organized by type and region and all worth a try. It's a dimly lit cellar that fits the vintage vibe and cozy ambiance.
The menu focuses on simple but hardy old-world foods that warm the soul and always hit the spot. The Mussels and Frites plate can be ordered five different ways and they all pair perfectly, especially the White and Bleu served with Belgian white ale broth, bleu cheese, bacon, and dijon. The beer battered cod and pork and cherry sausages are just as carefully curated and cooked.
---
Halls Chophouse
Halls Chophouse is the place to go in Greenville for any special occasion, or if you just want to treat yourself. It's set in two stories with giant glass walls that look out over all of downtown and the scenic Reedy River. However, the view only comes second to the savoy fares served up here.
The menu offers a selection of 28-day dry-aged steaks, grass-fed beef, and some more exotic carnivore cuisines, such as bison, veal, and quail. The decor is elegant dining at its finest, right down to the crisp white tablecloths.
---
The Anchorage
It's a farm-focused and produce heavy menu at The Anchorage. Everything is ethically sourced and grown locally which isn't always the case in this South Carolina city. The name refers to something that provides a strong connection, and as such it serves as a gorgeous gathering place for all.
It's set in the heart of the cool community called "Village" in West Greenville. Each plate is interesting and innovative, crafted with care and creativity.
The tasting table is the recommended way to approach this special eating experience, five courses curated by the chef. Many of the plates are made to be shared, and the Jefferson Red Rice Congee and Merguez Albondigas have quickly become fan favorites in the area. The cocktail program here is always impressive, with beautiful beverages like: It's Not the Heat, It's the Humidity.
---
UP on the Roof
For an al fresco feast, UP on the Roof has the best outdoor dining in Greenville. The sweeping vistas of the city skyline from the top of the Embassy Suites are stunning, and an ideal backdrop for a beautiful meal with the Blue Ridge Mountains behind it all.
An extensive menu and long wine list make this place a great pick for any preference or taste. It's mostly Southern-inspired, with dishes like the Grouper N' Grits and Swamp Wings. There's a lovely weekend brunch to enjoy as well, along with plenty of local craft beers and curated beverages like bottled cocktails and tap wines.
---
The Lazy Goat
Set in the West End of Greenville, the Lazy Goat is the hottest spot for Mediterranean cuisine around. The fares are influenced by flavors from the Middle East, Greece, Spain, Morocco, Italy, France, and Africa.
The decor is vibrant and classic, with lots of natural light, wooden features, and antique adornments. The dining room looks out over the Reedy River and the back patio is an enchanting spot to eat.
With a motto like "laziness is just the habit of resting before you get tired" what better place could there be to enjoy a long and leisurely grazing session with loved ones than this. The Lazy Paella and the Duck Duck Goat Pizza are divine individual dishes.
You can also order up family-style which includes a first, second, and third course. Slow down and treat your taste buds at the Lazy Goat.
---
Gather Greenville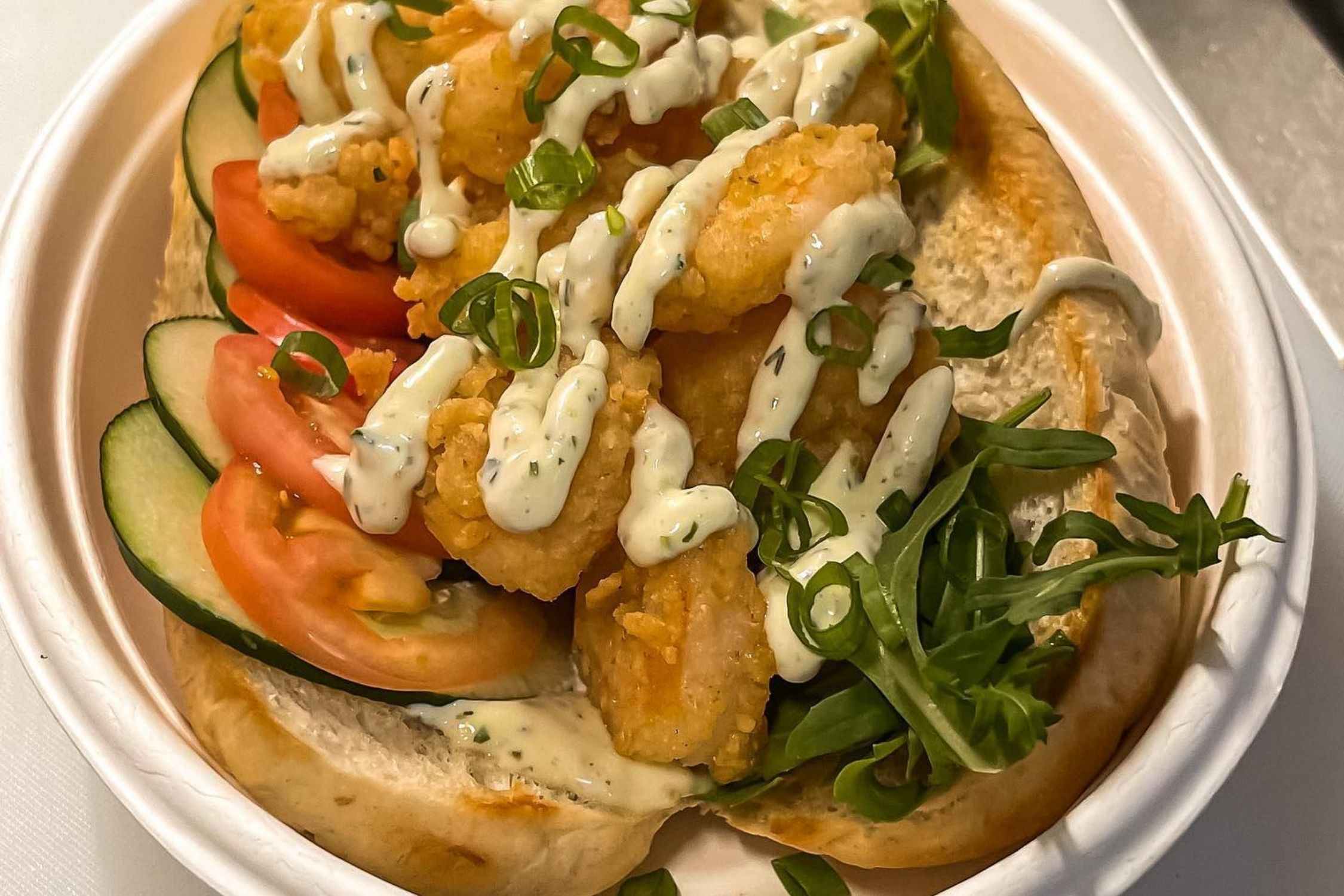 If you want to get a taste of everything this city has to offer, check out Gather Greenville. It's an open-air smorgasbord of over a dozen divine dining destinations. Each location is hosted in its own shipping container, and there is something served up for every preference. You'll find lobster rolls, plates of pasta, tacos, and cheesesteaks just to name a few.
It's a pet-friendly place, so feel free to bring a furry friend along for a day out in the sunshine testing out tasty treats.
There is live music on the weekends for an added allure to the ambiance. It's always lively and a fun spot to people watch and soak up some of the local culture. This is one of the best Greenville restaurants and a unique way to dine out in the city.
---
Asada
This is our favorite place for fun fusion fares in Greenville. The menu is globally influenced, with a strong foundation in Latin American food.
It started as one of the first food trucks in the upcountry area with mission-style tacos. Since then, it has developed some exciting offerings that always keep its guests and their palettes guessing.
Try the Nicaraguan Style Churrasco, the Lomo Saltado Poutine, and the Arepa Burger for a whole new look into the world of culinary wonders. The space is casual and modern, with delightful artwork made by one of the owners adorning the walls. Their Saturday brunch has become a beloved tradition for many locals.
---
Smoke on the Water
Smoke on the Water serves up some of the best barbecue in Greenville, which is quite the claim to fame. It's got all the glorious goods, like pulled pork, beef brisket, and beer butt chicken. With exposed brick walls and intimate booths, this cozy joint is always buzzing with a packed crowd. The outdoor area often hosts events as well.
They're a self-proclaimed saucy Southern tavern, and we really must agree. The Pimento Cheeseburger has become a very coveted concoction.
All of the sauces and seasonings are made in-house from scratch. They have a heavy community focus as the bar is stocked with local beers and the ingredients are all sourced from farms in the area.
After dinner here consider checking out Double Stamp Brewery, it's one of the best breweries in Greeville!
---
Trio
Trio is a brick oven cafe set in the heart of historic downtown Greenville. They're cooking up gourmet, wood-fired pizzas with always fresh and intriguing toppings and it's a fantastic place to head before going to Lake Placid nearby.
There's an extensive range of wine for pairing with each pie, and the patio offers idyllic dining conditions for enjoying them.
The decor is rustic and charming, featuring exposed brick walls and gas lanterns. They offer other traditional Italian eats such as pastas and calzones, as well. Try the B.L.T pie or the Roasted Chicken for a fun and mouthwatering meal. It's great for a casual lunch or cute dinner in town.
---
Willy Taco
Located in the mecca of Midtown, Willy Taco was once a 1930s feed and seed store, but now one of the best restaurants in Greenville, SC. The restoration was an epic reimagining that maintained the original trussed ceiling along with other special furnishing features.
The cocktail program features fresh juice and tequila offerings, a delightful combination for many drinkers. Their zero waste focus charms every eco warrior in search of sustainable eats in Greenville.
The decor has a strong day of the dead theme, ideal for a fiesta and a Mexican feast. Many offerings add a Southern flair as well, like the Chipotle Pulled Chicken and Flock Style Tacos. Don't be afraid to try the torta offerings as well, it's not all about tacos here. They've considered vegan eaters too, with choices such as the Cauliflower Power Tacos.
---
Sassafras Southern Bistro
Set in downtown Greenville, Sassafras Southern Bistro is an award winning southern restaurant in downtown Greenville, SC.
Their restaurant offers a unique blend of American Southern cuisine with French influences, presented with a consistent level of quality. While their core menu items remain constant, the chef always has a surprise in store for daily specials.
Both local diners and business travelers have praised the range of options on our menu, from the classic Fried Green Tomatoes to our selection of fresh seafood. Our favorite side though, are their delicious sweet potato friends!
Make sure to try their Blue Crab and Pepperjack Fondue Nachos and Pecan Crusted Rainbow Trout! There's a wide range of beverages to wash it all down with, from wine to cocktails to beer.
---
Passerelle Bistro
Passerelle Bistro is a francophile's dream. A fully Parisian affair, this spot serves up fresh French food prepared daily using seasonal ingredients and traditional recipes. All the flavors are expertly balanced here, for a subtle yet scrumptious meal. It's located in the lovely Falls Park, a stunning place for an outdoor adventure in the city.
The name translates to "foot bridge" a homage to the Liberty Bridge which provides a beautiful dining backdrop. The ambiance is quaint and charming, and the dishes are both rustic and modern while still feeling casual.
There are plenty of wines to pick from here, so be sure to ask about a pairing. The Bouillabaisse and Duck Cassoulet are divine. It's definitely a spot to save room for some dessert, as well. It's truly a hidden gem in the heart of Greenville.
---
Biscuit Head
If breakfast is the most important meal of the day, then a visit to Biscuit Head while in Greenville is mandatory. They boast a sustainable brand, with ingredients from local farms, an impressive recycling program, and a spectacularly small carbon footprint.
They are inspired by the classic Southern cooking that we've come to know and love, with a contemporary take that warms the heart and fills the belly.
With five options for types of gravy, including vegetarian and vegan ones, what more could we ask for? The Pulled Pork Biscuit, Mimosa Fried Chicken Biscuit, and the Filthy Animal are some show stoppers on an all round enticing menu.
If you're in the mood for something sweet, the Biscuit Donuts are not to be overlooked. The buffet of homemade jams are reason enough to make this spot a priority on any foodie itinerary in Greenville.
---
TRAVEL AROUND THE GREENVILLE AREA
Plan For Your Trip to the South!