Known as Hub City, Spartanburg is a charming cultural city nestled in the foothills of the Blue Ridge Mountains in South Carolina. This warm and welcoming metropolis boasts a rich history, a thriving arts scene, stunning scenery, and Southern hospitality to spare. While you may think this city doesn't boast the hip restaurants like other American cities, you'd be surprised as some of the restaurants in Spartanburg rival those of the larger cities.
In recent years the delightful downtown has also become a bastion for phenomenal fares fit for foodies anywhere. You'll find high-end eateries, down-home local haunts, and cute culinary hotspots all independently owned. You'll surely want to savor every mouthful at all of these best Spartanburg restaurants.
---
The Best Restaurants In Spartanburg
---
Cribbs Kitchen
Cribbs Kitchen cooks up decadent American fare and has a claim as the perfect place for an indulgent lunch or dinner while in town. Many come for the impressive menu of craft cocktails and local beers but stay for the masterfully prepared meals of fancy comfort foods in a modern atmosphere.
There are small plates to share, like the Buttermilk Fried Calamari and the Not Your Grandma's Deviled Eggs, but if you're craving something more, the creative and massive burgers and sandwiches are all out of this world.
The Belly Dancer Burger, with crispy pork belly, wasabi aioli, slaw, and sweet soy glaze has made a name for itself in particular and all come together to make this one of the best restaurants in Spartanburg. Black bean patties can even be substituted in so it's easy to find vegetarian options here as well.
---
Wade's Restaurant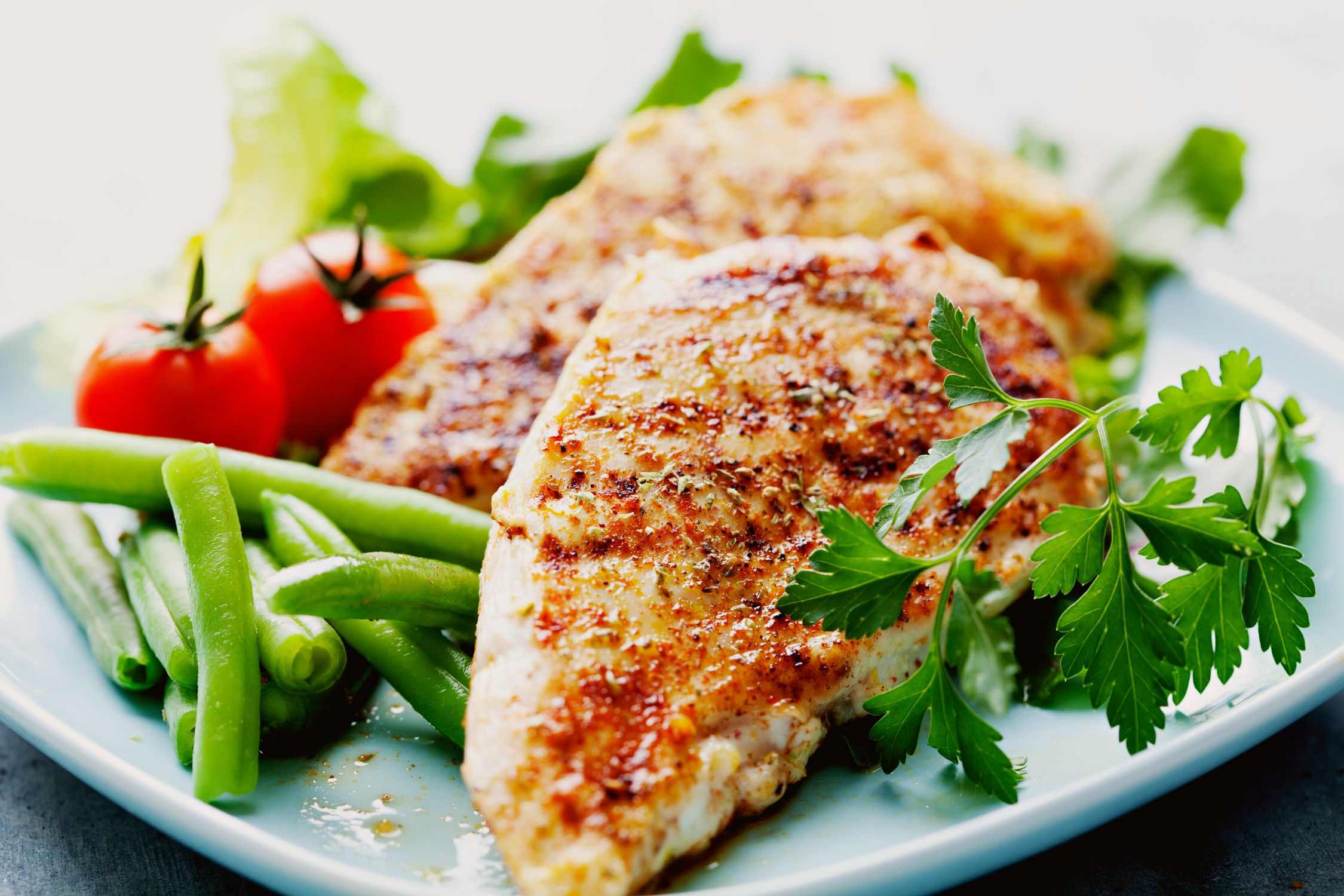 Wade's is an iconic fixture of the food community in Spartanburg. It first opened its doors way back in 1947 and has been serving up classic Southern comfort fares ever since.
Every dish is handmade from scratch using recipes that have been passed down for generations. Don't let the no-frills front fool you, this little hole in the wall is the place to be for some seriously flavor-packed plates.
It's an a la carte menu where you pick your meats and your veggies, though choosing can be the hardest part. Fried Flounder and Hushpuppies, Country Style Steak, or Wade's Famous Fried Chicken tend to get top billing, and you can't go wrong with any of the fixings from the black-eyed peas to the sweet potato souffle.
---
Mon Amie
This vibrant and adorable cafe offers the finest French cuisine in town. Mon Amie, meaning my friend, transports you straight to the sidewalks of Paris, complete with al fresco dining under a striped awning and black and white checkered flooring brightened up by rustic yellow walls.
Go for breakfast, brunch, or lunch, and choose between a variety of delightful sweet and savory treats made fresh.
The crepes here are really the star, with the station set right in the middle of the space so you can watch the mouthwatering magic happen before your eyes. The Betty's Perfect Breakfast Crepe and the Meyer Lemon and Blueberry Crepe come highly recommended.
Be sure to check for the daily special here as well. There can be a wait, but trust us, that special je ne sais quoi is well worth it.
---
Venus Pie
Ask any local where to find the best slice in Spartanburg, and you're sure to hear rave reviews about this little haunt. Some may even consider it a crime to go anywhere else to cure your pizza cravings while in this small southern town.
They've been a beloved institution since 1995, and the old-school charm is half the fun of walking through the door here. They cook up New York-style pies and are known for selling slices bigger than your head. They have local craft beer to help wash down the Italian eats, and the menu has some sides to go with their (perfect) pies as well.
There are a few specialty options, like the Hot and Now for fans of spice or the Hunter for meat lovers, but otherwise it's a straightforward menu where you can choose whatever fresh toppings you prefer.
---
Willy Taco
This is the original Willy Taco, though they now have two other locations in South Carolina. Set on East Main Street is a Tequila Cocina, home to the best Mexican eats in the area. It's a spacious, funky setting that's always bustling with vibrant activity for a guaranteed good time.
They take it way beyond tacos, offering up all the classic cuisines cooked as authentically as possible, including tortas, quesadillas, and shareables like Elote. The Sunday Funday Brunch features a few outstanding options, like the Breakfast Chimichanga and the Huevos Rancheros.
The Taco Fusion menu is so much fun to try as well, with creative concoctions such as the Southern Tide with bacon and pimento cheese or the Blackened Salmon topped with wasabi avocado crema. There are even a few vegan pickings, and some impressive cocktails like craft margaritas.
---
Carolina Barbecue
Carolina Barbecue is home to the succulent hickory-smoked meats that this great state is famous for. Choose between a variety of perfectly slow-cooked mains, from ribs and beef brisket to pulled pork and chicken. Any combination of sides is sure to complement these eats well, but the okra and slaw really stand out.
The Pig Out Plate option is always tempting here so that you get to try a little bit of everything that makes this Spartanburg spot special. You can dine in or take out from this down-home fixture.
The dip here is heavenly and makes all the meat tender and juicy, plus it adds to the magical aroma that hits you as soon as you arrive. Everything is made from scratch and has been for decades here, and it doesn't get much more authentic than that.
---
The Kennedy
The Kennedy is a modern bistro for fine dining in Spartanburg. The art deco decor here is stunning, giving it a very trendy and charming atmosphere. Each plate on this carefully curated seasonal menu is made with fresh and locally sourced ingredients.
The cuisine takes inspiration from New American and Southern flavors, though the range of dishes often feels quite eclectic. The oyster service is remarkable here when available, and otherwise, the Duck Confit and Carolina Grouper are very popular.
There's a lovely outdoor patio, and it's conveniently located in the heart of the city. The weekend brunch is also well worth stopping in for.
---
Monsoon Noodle House
Monsoon Noodle House is the mecca of all Asian cuisine in the city. Convenient, affordable, fast, and above all else absolutely delicious, any of the noodle dishes here are nourishing. The flavor inspiration comes from the fares of Thailand, Japan, Vietnam, and more.
The menu features classic snacks, bowls, and stir frys, and what's nice is that you really can't go wrong. Seared Ahi Tuna and Tom Kha Soup are a great way to start here. Specialties include Curry, Pad Krapow, and Sesame Chicken. It's easy to see why this spot is one of the long-time favorite Spartanburg restaurants.
---
Gerhard's Cafe
Cuisine: German, Steak and Seafood
Address: 1200 E Main St, Spartanburg (GPS)
Price: $$
Website: Link
Gerhard's cafe is most famous for their gourmet German fares, but offers an eclectic range of elevated European style eats as well, a delightful surprise to find in Spartanburg.
Seafood and steak dishes also reign supreme here, but we always prefer to go for something like the Knackwurst or Weisswurst, any kind of wurst really, it's the best, served with sauerkraut and dijon of course.
Enjoy this foreign feast al fresco, or dine inside for the cozy digs. The Farmer's Plate is always a popular pick, to try a bit of all the delicious delicacies, though there really is a hearty meal awaiting any preference or palette here.
---
The Beacon Drive-In
The Beacon Drive-In just may be the quintessential Spartanburg experience that is not to be missed. Easily the most recognizable of all the Spartanburg restaurants, it's been a beloved institution since 1946. Here you can enjoy all the favorite no-frills fast foods, in a super fun environment.
They serve up good old-fashioned chili burgers, hot dogs, catfish sandwiches, fried chicken, and grilled cheeses. The Beacon Burger is their signature creation, but be sure to come hungry if you plan to take on this monstrous meal. Plus, if you make your order "a plenty" it'll come with a big pile of fries and onion rings.
It's set up canteen style, with a charming retro flair. Be sure to wash it all down with their iconic sweet tea as well. It's the best spot to go if you're craving easy American eats with a heaping side of nostalgia.
---
The Peddler
If you're looking for a fancy meal of the finest meat in Spartanburg, then this is the chophouse for you. The Peddler is known best for its charcoal-grilled beef. It's a slightly upscale environment, full of warm woods and a lovely courtyard. Whether you get the filet mignon, rib eye, or prime rib, your plate here is sure to impress with every mouthful.
You can go for something lighter and order from their extensive seafood selection as well, with everything from fresh oysters to salmon to scallops. It's a great place to try and save some room for dessert, especially if you pick their famous Peddler Pie.
---
The Tulip Tree
Set in Morgan Square, the Tulip Tree is everything we love all-in-one; part restaurant, part bar, and part art haven all wrapped in warm hospitality. Over 100 pieces of artwork are showcased here at any given time.
The walls are adorned with rotating displays from local galleries, which makes for a very special space. The cuisine features refined Southern fares, all thoughtfully curated based on season using fresh regionally sourced ingredients in a casual fine dining atmosphere.
To pair with your plate there's an extensive wine selection and creative handcrafted cocktails. The Blue Crab, Collards, and Ricotta Crepe Cannelloni is to die for here. The weekend brunch is a very popular pastime in the city as well.
---
FR8Yard
FR8Yard is one of the coolest restaurants in Spartanburg. It's the first fully outdoor biergarten in the whole state and is made entirely out of repurposed shipping containers.
So much more than just a boozy good time awaits here, although that can certainly be part of it. It's always full of fun, with yard games, fire pits, a movie projector, and live music.
The menu matches this playful energy, focusing on some street fair favorites like brats, pretzels, smash burgers, and even funnel cakes all made in-house. Get some cans of local craft brews or cocktails on tap, and enjoy downtown Spartanburg to the fullest extent at FR8Yard.
---
Heirloom
Housed in the refurbished headquarters of Spartan Mills, the entire eatery is inspired by the rich textile history of the city. A bit off the beaten path, you may actually have to leave downtown to hit up this heavenly haunt, though it's well worth the journey.
They create elevated takes on classic Southern comfort foods, and everything is made with fresh locally farmed ingredients. Vibrant flavors meet refined cooking techniques in delicious dishes like the North Carolina Trout or the Pork Belly, simple plates that let the ingredients sing.
They aim to foster a sense of community through food, complemented by signature cocktails and local beers. The decor has a rustic-chic style that feels very cozy for spending a few hours savoring a slowed-down meal.
---
Flock Shop
Flock is just the shop to make all of your fried chicken dreams come true. It has a funky and casual atmosphere complete with a screened porch, the preferred setting for relaxing in the South. Order the fried chicken sandwich with a hot honey drizzle if you want to really see what put this place on the map.
Otherwise, there's plenty to choose from, even if you're meat-free like the crispy tempeh served over grits and greens. The full bar has a fantastic frozen cocktail selection that adds to its retro feel.
There are always rotating specials here so don't count on being able to order the same thing twice. All the sides are worth an order, but if you have to just pick one, please consider the Cowboy Caviar. You can also custom order, just choose your sauce, spice level, and style of meat to enjoy your very own fried chicken creation.
---
BEST Restaurants in Spartanburg, SC
---
The Best Things to Do in Spartanburg
Spartanburg is a vibrant city with plenty of things to see and do, here are just a few ideas to get you going!
Visit Croft State Park: This 7,000-acre park offers a range of outdoor activities, including camping, hiking, fishing, and horseback riding.
Check out the local art scene: The Chapman Cultural Center is home to several art galleries, theaters, and museums, including the Spartanburg Art Museum and the Ballet Spartanburg.
Take a stroll through downtown: Spartanburg's downtown area has a variety of shops, cafes, and galleries to explore and it's easily to spend at least an afternoon here strolling.
Visit the Spartanburg Science Center: This interactive science museum is perfect for families and has exhibits on space, robotics, and more. It's one of the best things to do in Spartanburg with kids!
Take a brewery tour: Spartanburg has a growing craft beer scene, with several breweries offering tours and tastings. Ciclops Cyderi & Brewery is one of our favorites!
---
Plan For Your Trip to the South!
*Featured photo courtesy of VisitSpartanburg*