While there are so many great things to do in Raleigh, sometimes it's nice just to escape the capital city for a bit. Whether you're looking for another North Carolina city to change it up, an escape to the ocean, or after some hiking in nature there are plenty of day trips from Raleigh to enjoy!
It's amazing how many activities are within a short driving distance from Raleigh, offering opportunities to explore museums, gardens, beaches, restaurants, wineries, and a wealth of other options! These amazing places to visit near Raleigh all offer something unique for visitors!
---
Best Day Trips & Places to Visit Near Raleigh
---
Durham, North Carolina
Distance from Raleigh: 25 miles
Driving Time: 30 minutes
A 30-minute drive from Raleigh will take you on one of the best day trips in Durham. With state-of-the-art research facilities and scholarly institutes located inside neo-gothic buildings, Durham is a haven for dark academia fans, history buffs, and tech aficionados.
In fact, Durham caters to the interests of every visitor with a wide array of offerings. From engaging in thrilling sports activities to embarking on historical tours and immersing oneself in artistic displays, this city gives a sense of belonging to everyone.
Also, the city has a top-tier food scene. Among its myriad of attractions, the Museum of Life and Science, Duke University Chapel, The Sarah P. Duke Gardens, and The American Tobacco Campus stand out as must-visit destinations.
---
Hillsborough, North Carolina
Distance from Raleigh: 38 miles
Driving Time: 42 minutes
Take a 40-minute drive from Raleigh and you'll find yourself in the idyllic small town of Hillsborough right next to the Eno River. It's the perfect destination for those who only have a day to unwind before going back to the daily grind. Not only is it close by, but Hillsborough has a lot of fun-filled activities to offer, and it has those small town vibes that exude serenity.
Although small, the town is packed with history and your first stop should be the downtown historic district that has well-preserved edifices from the 18th and 19th centuries. The town is filled with artists and writers, and weekends come with lots of musical events, art displays, and celebrations.
We suggest finishing off your trip with a leisurely stroll in Eno River.
---
Wilmington, North Carolina
Distance from Raleigh: 130 miles
Driving Time: 2 hours
Wilmington is an enchanting port city on the Cape Fear River and is only two hours from Raleigh. There's a long list of fun things you can do on your day trip to one of the oldest cities on the east coast, and topping that list is the Carolina Beach State Park near Carolina Beach, walk the Riverwalk, visit the Fort Fisher Aquarium, and see the endless number of homes and gardens from the Victorian era.
We love spending the day at Wrightsville Beach before making reservations at one of the best Wilmington restaurants.
---
Roanoke, Virginia
Distance from Raleigh: 155 miles
Driving Time: 3 hours
Roanoke, Virginia, nestled in the breathtaking Blue Ridge Mountains, offers an idyllic escape from Raleigh for avid road trippers and autumn enthusiasts seeking rustic splendor.
The two hours and 50 minute-long drive may seem long, but it unfolds like a visual feast as you cruise alongside the streams, waterfalls, mountains, and green rolling hills.
Upon arrival, a world of adventure awaits. Begin your journey at the iconic Roanoke Star, a luminous, man-made beacon at the top of Mill Mountain. Make sure to explore the captivating Virginia Museum of Transportation, the Taubman Museum of Art, and the Roanoke Pinball Museum, where interactive games ensure fun-filled times for the entire family.
---
Greensboro, North Carolina
Distance from Raleigh: 80 miles
Driving Time: 1.15 hours
A little over one hour of driving on I-40 from Raleigh and you'd be in the city of Greensboro. The city is teeming with all types of attractions such as American Discovery Zoological Park, Greensboro Science Center, the Miriam P. Brenner Children's Museum, and the iconic Guilford Courthouse National Military Park.
The latter is the location of a real battle that took place during the Revolutionary War. The city also has a buzzing nightlife scene and a food culture that will awaken your taste buds.
---
Duke Forest, Durham
Distance from Raleigh: 25 miles
Driving Time: 30 minutes
One of the best places to visit near Raleigh that many people don't think about is this enchanting forest. When you only have a short part of the day left for a getaway, we recommend grabbing your outdoor gear and making a beeline for Duke Forest.
Located just 30 minutes from Raleigh, this privately owned forest, managed by Duke University, is open to the public. Spanning 7,000 acres, the forest offers a serene escape with its natural woodlands, flowing streams, and open fields—a perfect remedy for rejuvenating the mind and soul.
Leashed dogs are welcome to accompany you on your exploration. We recommend exploring the various trails and immersing yourself in nature through activities such as running, hiking, mountain biking, or even horseback riding.
---
Myrtle Beach, South Carolina
Distance from Raleigh: 180 miles
Driving Time: 3 hours
If you are craving a proper destination vacation but only have a day or two to spare, we suggest packing your car and making a little over three hours' journey to the Atlantic Coast and its resort town, Myrtle Beach. It's doable as a long day trip, but we highly recommend trying to stay for a weekend!
Myrtle Beach offers everything that is needed for an unforgettable weekend getaway. There are cruise dinners accompanied by pirate-themed shows, malls, and boutiques for shopping galore, and 60 miles of breathtaking coastline for you to take in.
Don't forget to visit Bookgreen Gardens, Broadway at the Beach, Ripley's Aquarium of Myrtle Beach, and the Sky Wheel.
---
Salisbury, North Carolina
Distance from Raleigh: 125 miles
Driving Time: 2 hours
Salisbury is only two hours from Raleigh and offers a perfect change of scenery for those craving it. It is the birth city of Cheerwine and is renowned for its famous Cheerwine Festival in May!
It is also home to five historic districts, offering a lot of things for visitors to explore and enjoy. Make sure to stop by the historic Hall House, test your courage at Piedmont Skydiving, and enjoy the novelty of Lee Street Theater.  
---
Chapel Hill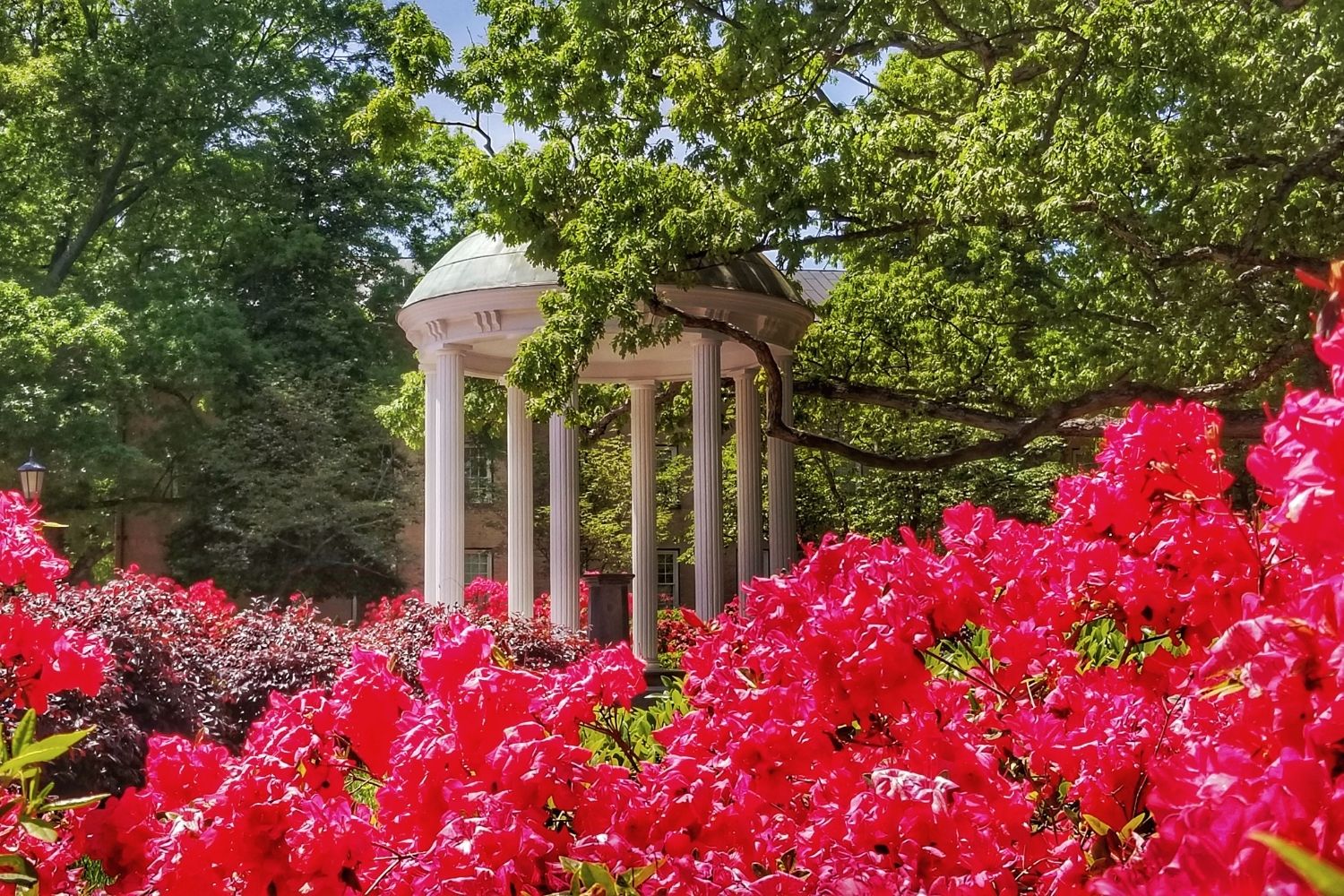 Distance from Raleigh: 30 miles
Driving Time: 35 minutes
The legendary college town of Chapel Hill is only 30 minutes from Raleigh. It is indeed home to America's oldest public university. The center of the town called TOPO is the place to be, where you can grab a coffee, some snacks, and enjoy the contagious liveliness of the town.
For all the good food, head over to Historic Franklin Street. Don't forget to pay a visit to the Ackland Museum of Art, and you'd miss your chance to see 19,000 historic pieces from a mere distance away.
The city has something exciting going on throughout the year. Spring and summer bring Beer Month at the breweries, and street parties take over the city where music, art, and food are celebrated by locals and tourists alike. July is for fireworks and August drives everyone towards the UNC campus where a life-sized puppet show becomes the talk of the town. 
September is for welcoming all the new students flocking to the city. The festivities are arranged by the locals to help the students get familiar with the local businesses. The year ends at Chapel Hill with legendary Festival Arts Festivals, Film Fest 919, and the Twelve Days of Christmas at the Carolina Inn!
---
Great Dismal Swamp, North Carolina/ Virginia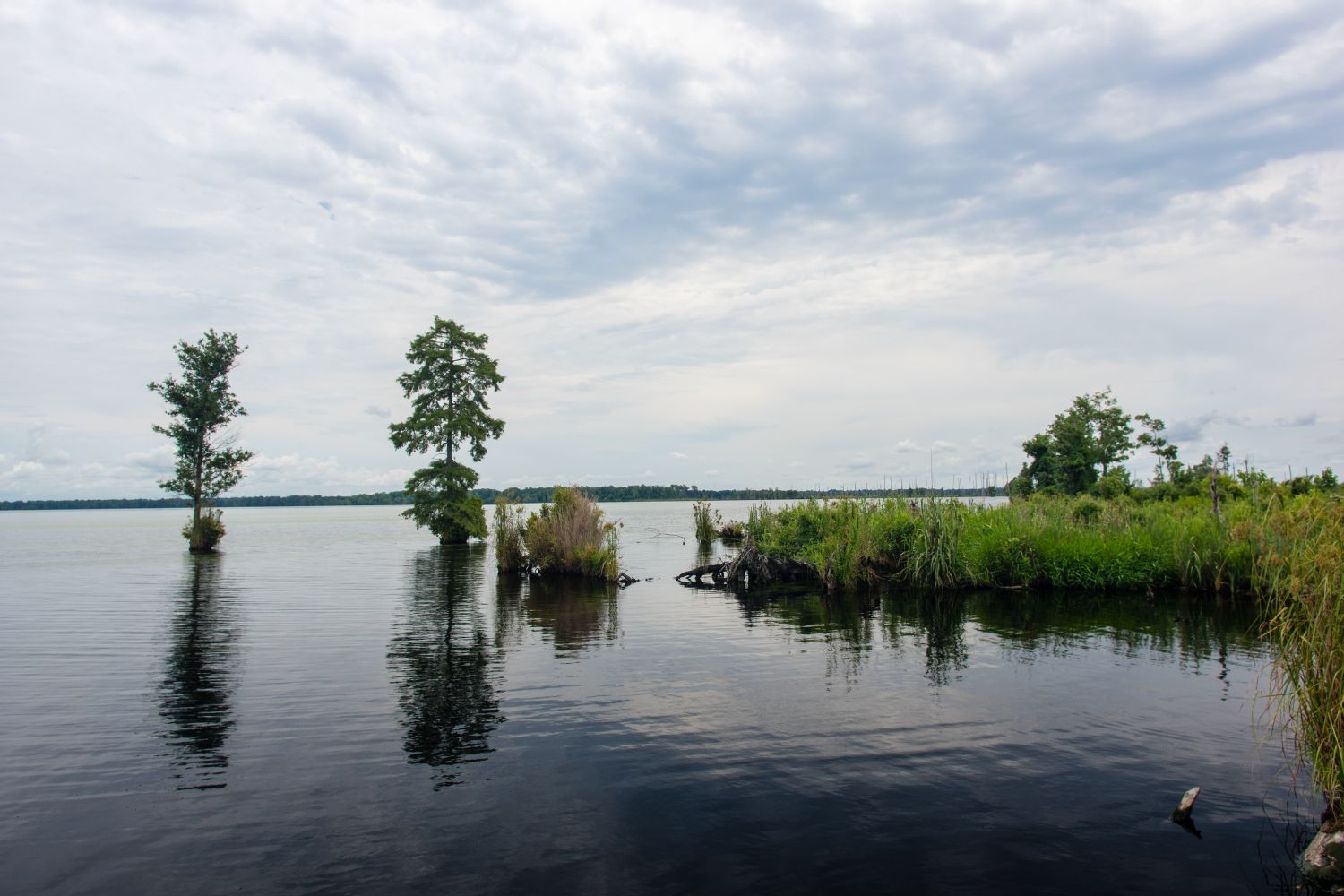 Distance from Raleigh: 160 miles
Driving Time: 3 hours
Escape the concrete jungle and immerse yourself in the beauty of nature with one of the best day trips from Raleigh – to the Great Dismal Swamp. Just a three-hour drive away, this National Wildlife Refuge spans both North Carolina and Virginia. 
As you venture into this enchanting sanctuary, you'll encounter dense forests, 25-foot-deep swamps, and a plethora of unique plant species. The swamp teems with wildlife, including American Black Bears, bobcats, white-tail deer, river otters, and a variety of bird species such as warblers, ducks, geese, swans, and the red-cockaded woodpecker.
Embark on hiking or biking trails or enjoy guided tours and family-friendly birding classes.
---
The Biltmore Estate
Distance from Raleigh: 246 miles
Driving Time: 4 hours
A nearly four-hour drive from Raleigh might sound daunting, but it's worth it because, at the end of it, you'd be standing before America's largest home, The Biltmore Estate.
Constructed in 1889, this architectural marvel showcases the remarkable French Renaissance style. The estate's historical significance is palpable, adding to its allure.
Once you step foot inside, you'll be captivated by the sheer vastness and intricate details of the Biltmore House. The house was built by George Washington Vanderbilt II and to this day, belongs to his descendants. If you want to rest a bit and explore the surrounding areas, you can even book a cottage at the Biltmore Village and book a stay at one of these Asheville cabins.
---
Southern Pines, North Carolina
Distance from Raleigh: 70 miles
Driving Time: 1 hour
Escape the hustle and bustle of the city with a delightful day trip to Southern Pines, located just an hour away from Raleigh. You have the option to drive or hop on the Amtrak line to reach this charming town.
Southern Pines offers a serene retreat, boasting vast green spaces and a tranquil atmosphere. Immerse yourself in the beauty of the area by visiting the iconic Mid Pines Inn and Golf Club, where you can enjoy a round of golf amidst stunning surroundings.
Don't miss the breathtaking Weymouth Woods, home to majestic century-old pines, and the enchanting Sandhills Horticultural Gardens.
---
New Bern, North Carolina
Distance from Raleigh: 115 miles
Driving Time: 2 hours
Looking for a classic family road trip with snacks on the road and a beautiful riverfront destination at the end of it? Head off to New Bern. A two-hour drive from Raleigh will take you to this European-American colonial town that was once the capital of North Carolina.
Discover the city's relaxed charm as you stroll through its streets, where the iconic Pepsi-Cola was born. Immerse yourself in history at the Tryon Palace, now a fascinating museum. Spend the remainder of the day exploring picturesque parks, Civil War battle sites, and art galleries, and savoring southern cuisine while sipping on an authentic Pepsi.
---
Eno River State Park
Distance from Raleigh: 40 miles
Driving Time: 40 minutes
Eno River State Park near Hillsborough, a mere 36-minute drive from Raleigh, is a haven for outdoor enthusiasts. With its many trails catering to all skill levels, this day trip offers an experience that will make you feel like the "George of the Jungle" for a day.
Embark on invigorating hikes, exhilarating biking adventures, or set sail in a canoe or kayak. If you have a North Carolina fishing license then cast your line and enjoy a peaceful fishing expedition, or simply bask in the serenity of nature while dipping your toes in the cool river waters.
---
Wrightsville Beach
Distance from Raleigh: 130 miles
Driving Time: 2 hours
If you are already going to Wilmington, you must add on Wrightsville Beach! Experience unparalleled tranquility and rejuvenation at the magnificent Wrightsville Beach, just a two-hour drive from Raleigh. T
his coastal gem offers a serene escape like no other and Wrightsville Beach is easily one of the best beaches in North Carolina! What sets Wrightsville Beach apart is its ability to retain its small-town beach charm, despite its huge popularity.
Here, you can have the beach all to yourself, with only the locals and a handful of tourists on the shores, especially if you visit outside the summer months. You can spend your day playing in the water, sunbathing under the North Carolina sun, or having a drink at the Wrightsville Beach Brewery – one of the best Wilmington breweries!
---
Winston-Salem, North Carolina
Distance from Raleigh: 103 miles
Driving Time: 2 hours
An hour and a half drive from Raleigh will take you to one of the most interesting North Carolina cities – Winston-Salem. Especially popular amongst children, the city offers tons of fun activities that will keep you busy and entertained. S
tart off with a visit to the immersive science center, Kaleideum North. Don't miss out on the family entertainment and reserve a portion of your day for Adventure Landing. Then there's the Reynolda House, ARTivity on the Green, the Old Salem, and lots of eateries and art galleries for you to enjoy this vibrant city.
---
Rocky Mount, North Carolina
Distance from Raleigh: 60 miles
Driving Time: 1 hour
Just under an hour from Raleigh is a highly underrated city of Rocky Mount. Families should head straight off to this day trip destination for some fun times. No matter where you go, you just can't skip the Imperial Centre for the Arts & Sciences, the Rocky Mount's Children's Museum, and Science Center.
History buffs will love the city just as much as the youngsters as it's home to Stonewall Manor, a 19th-century plantation house that will take you back in time. Rocky Mount Mills, Books and Beans, Sunset Park, and so many wholesome attractions are found in this beautiful city.
---
Fayetteville, North Carolina
Distance from Raleigh: 65 miles
Driving Time: 1 hour
If you are under a time constraint but your heart desires freedom and fun, make an hour's drive to Fayetteville, one of the best places to visit near Raleigh.
Here you can lose sense of time at the ZipQuest, get interactive at Fayetteville's Fascinate-U children's Museum, expand your knowledge at the Airborne & Special Operations Museum, and find tranquility at the Cape Fear Botanical Garden.
---
Hanging Rock State Park
Distance from Raleigh: 125 miles
Driving Time: 2.15 hours
The stunning Hanging Rock State Park is about a two-hour drive from Raleigh and one of the best state parks in North Carolina. During all months it offers the most exquisite scenery, with its towering cliffs, waterfalls, and lush forests. The 7869-acre park has plenty of hiking trails for all levels of experience. 
Make the most of your time here and hike to the top of Hanging Rock, go horseback riding, mountain biking, swimming, or paddling in one of the park's waterfalls.
---
Occoneechee Mountain State Natural Area
Distance from Raleigh: 40 miles
Driving Time: 45 hours
Only 40 minutes from Raleigh, Occoneechee Mountain State Natural Area offers a quick getaway into the wild. It also happens to be the only place in Central North Carolina where you will find a mountain peak. 
Climb the mountain so you check off being at the top of Central North Carolina off your bucket list. Embark on one of the many hiking trails, enjoy a peaceful picnic, and catch some fish at the State Natural Area to cook on the weekend.
---
Pilot Mountain State Park
Distance from Raleigh: 90 miles
Driving Time: 1.5 hours
Replace car fumes and noise pollution with fresh air and nature sounds with one of the best day trips from Raleigh – Pilot Mountain State Park. Located just over an hour away from Raleigh, it offers a variety of activities for all ages. 
The iconic Pilot Mountain is the cornerstone of this park, which is a quartzite dome that rises over 1,400 feet above sea level. In the past, the landmark was used for navigation by Native Americans.
Visitors can climb to the top of the mountain for stunning views, or they can take a hike from Pilot Mountain to the Yadkin River. The park also offers a campground, picnic areas, an equestrian trail, boat launches, fishing piers, paddle boats, and a visitor center.