North Carolina is known as a land of natural wonders. None more alluring than the cascading falls found in mountain towns, and there are plenty of North Carolina waterfalls to enjoy.
Nestled within the Blue Ridge and Smoky terrains are stunning feats of rushing waters sure to captivate. You can explore these beautiful bounties while traveling the Carolinas, here are our favorite waterfalls in North Carolina to check out!
---
Beautiful North Carolina Waterfalls To Visit
---
Looking Glass Falls
Located near the tiny town of Brevard, these falls are breathtaking. They are visible from the scenic road of the Blue Ridge Parkway, so you can do a quick pass by or pop out to enjoy the stunning sight up close and personal.
At 60 feet tall, these falls are a force of nature. The walk to the overlook is easily accessible and you can even take a quick dip to cool off in the shallow pool at the base.
ULTIMATE Guide to Looking Glass Falls in North Carolina
---
Whitewater Falls
Get ready to take a gander at North Carolina's largest waterfall tucked away in the lush Nantahala National Park. The Upper and Lower Falls are each over 400 feet tall, and a popular hotspot for photo ops.
From the parking lot to the observation deck is only a quarter mile. If you have time, you can head down some stairs for an even better vantage point below and take in the immense power and allure of these falls in their entirety.
---
Sliding Rock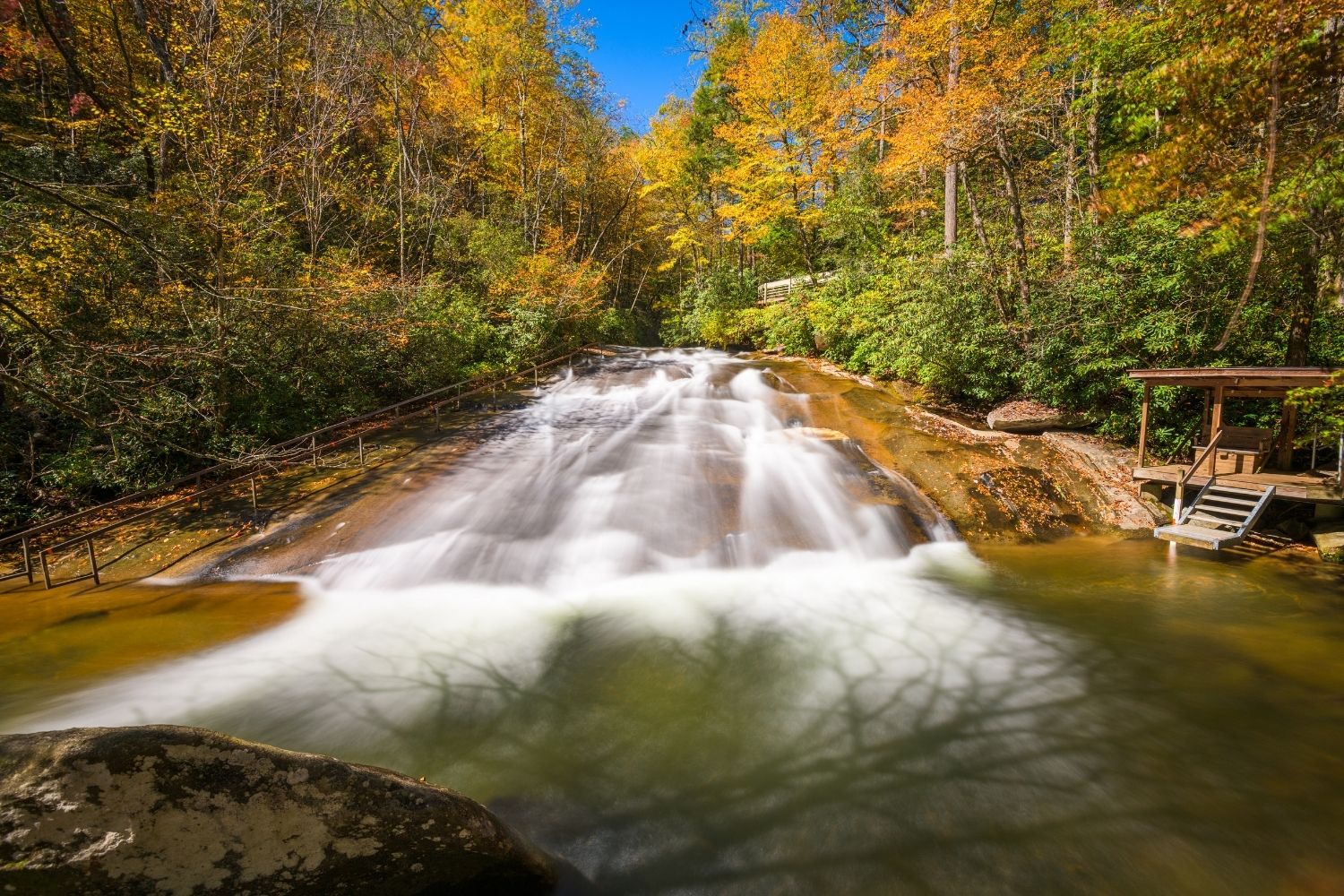 This waterfall is a very special North Carolina pastime. It flows down 60 feet of very smooth rock, creating one of the world's most wonderful natural waterslides. The incline isn't very steep, and it leads right into a refreshing pool of clear waters at the end.
It's the perfect way to cool off in Pisgah National Forest and get a good rush of adrenaline for all the adventure seekers. There are also observation platforms if you prefer to stay dry while enjoying these falls.
Guide to Visiting Sliding Rock Falls in North Carolina
---
Crabtree Falls
These waterfalls in North Carolina are named after a lone tree which grows at their base. Here the journey to get to the spectacular cascades is just as stunning. The natural scenery surrounding this Blue Ridge Parkway is enchanting in any season, from wildflowers blooming to fall foliage.
It's a three-mile trek round trip with a fair amount of elevation gain as well. The bridge before the waterfall offers an idyllic vantage point to view all 70 feet of these rushing cascades.
---
Dry Falls
Dry Falls are an unforgettable experience located in the quaint hamlet of Highlands. It's an easy quarter mile hike to get to them with a verdant and vista filled walk along the way. They provide a rare and unique opportunity to actually walk behind the waterfall itself, hence the name.
Though you may be met with a bit of mist spraying from the cascading waters, it's all part of the fun. It's really an up close and personal encounter you won't find anywhere else. It's only about 75 feet tall, but it feels impressive nonetheless, especially when viewing the intense river rushing over the rocky cliff from below.
---
Rainbow Falls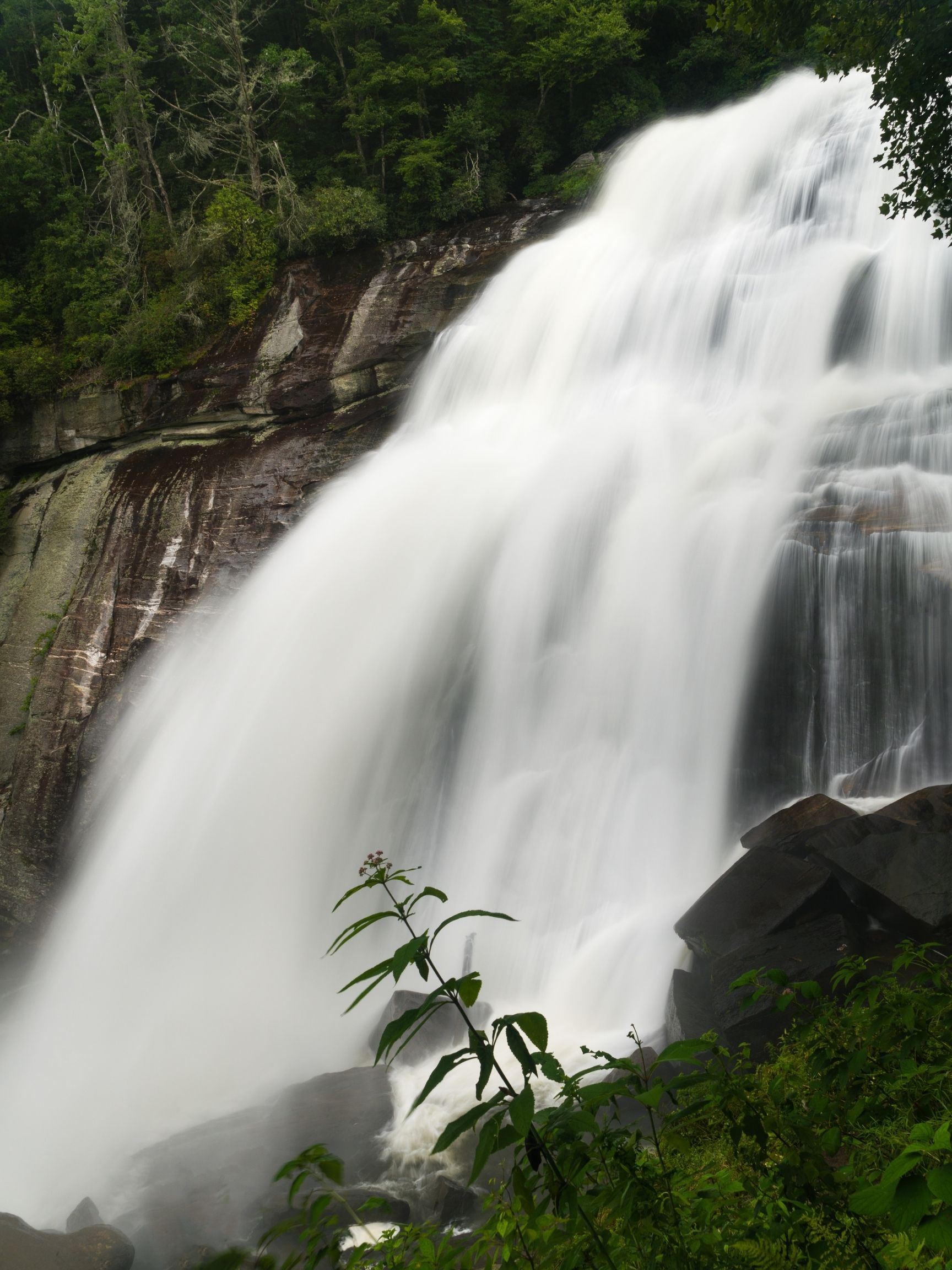 Rainbow Falls is one of the best waterfalls in North Carolina set in the gorgeous Gorges State Park. The water flows down 150 feet over the mountainous ledge. In doing so, the sunshine hits the mist creating a captivating sight of rainbow colors bouncing off the water.
It's easiest to see during midday, and you're sure to come out with some stellar photographs. The trail is strenuous with a steep descent but worth it, at one and a half miles long each way. Pack a picnic for post hike or go for a swim a bit farther down the river. See if you can spot the lesser-known Hidden Falls along the way.
---
Skinny Dip Falls
Though the name may be misleading for just how scantily clad you should be at these falls, they do offer several scenic swimming holes for a refreshing dip in nature. They're nestled high in the majestic Blue Ridge Mountains, and the trail is only about one mile there and back.
The setting here is pretty and peaceful, for a serene way to soak up the Carolina landscape. There are several wooden platforms to look out over the waterfall before you plunge into one of the pools. The trailhead is not marked, so just find the Mountains to Sea Trail sign at the Looking Glass Rock parking lot.
---
Courthouse Falls
Nestled in a picturesque cove, these Asheville waterfalls offer a lush backdrop surrounded by thriving flora. The 45-foot cascading chute spills into a pristine, crystalline pool, making it an ideal spot for a refreshing swim.
The trail to the falls spans approximately one mile and maintains an easy level of difficulty. The mist from the falls provides a refreshing coolness, even on the hottest summer days, and it's possible to have this secluded oasis all to yourself.
---
Moore Cove Falls
Set near the town of Brevard in Pisgah National Forest, these freestanding falls provide a pristine and rugged peek into the natural wonders of North Carolina. Often overlooked at only 50 feet tall, the magic of Moore Cave lies in beautiful cliffs and secret cave just behind the falls. c
You can venture in to explore and enjoy the experience of listening to the gentle cascade echoing inside. This is a magical escape from reality into the wonderful world of waterfalls.
---
Mingo Falls
Mingo Falls is one of the most scenic waterfalls in the Great Smoky Mountains, nestled near the small town of Cherokee, North Carolina. It's about 120 feet tall, it streams down the craggy rock face giving it a graceful and grand appearance.
A small footbridge over Mingo Creek offers a fantastic vantage point to take in the views of this beauty. The trail is only half a mile there and back, making it a very accessible pick. It's best to visit after some big rains.
---
Pearson's Falls
One of the most stunning waterfalls in NC. Set in Saluda, Pearson's Falls are a 90-foot cascade flowing down a set of boulder made stairs for a dramatic picture. The paved trail is short and easy, running alongside the babbling brook that creates the falls, making for a very tranquil journey.
There are even several benches to stop for a relaxing respite in this peaceful reserve. It's maintained by the Tyson Garden Club, who present this excursion as a botanical garden, so be sure to keep your eyes peeled for native and rare flora species, there are over 200. As it's one of the few private waterfalls, be sure to check the schedule for admission hours.
---
Bridal Veil Falls
Bridal Veil Falls are found in Nantahala National Forest. Located right on the roadside, they're hard to miss and easy to enjoy. There's a short spur loop trail to try as well, that will take you behind the falls for a unique vista, either by car or by foot.
It's about 45 feet tall, and quite popular among passersby. The volume of water is less intense than others, making it safe to walk around and stand behind, a rare and idyllic waterfall encounter to be sure.
---
Tom's Creek Falls
Tucked away among the Asheville waterfalls, this particular cascade is a hidden gem. Though less crowded, it's equally awe-inspiring and offers a peaceful, tranquil experience as many of the other North Carolina waterfalls on this list. The double-tiered fall spans 60 feet, making it perfect for effortless photography.
The trail leading to the waterfall spans less than a mile and offers an opportunity to witness the old mica mine along the way. On sunny days, the rocks glisten brightly, providing a dazzling sight. Enveloped by dense forest and numerous small streams, this destination is perfect for those seeking to reconnect with nature.
---
Dill Falls
Nestled within the serene Nantahala National Forest, Dill Falls boasts both Upper and Lower falls, each 50 feet tall, and can be easily accessed via a one-mile round trip hike.
Although the trails are straightforward, they are often unmarked, making it one of the less visited destination. This means a peaceful opportunity for uninterrupted photo-ops and a chance to immerse oneself in the beauty of nature, taking in all the awe-inspiring sights and sounds.
---
Soco Falls
Just east of Cherokee, you'll find the magnificent Soco Falls. It's a two for one special, as it's the magical meeting point of separate rivers that conjoin to make twin falls flowing 120 feet down rocky cliffs and coming together as a single stream.
You can spot it from the road, so it's easy to pull over for a pretty pic. There's also a short trail that takes you to an observation deck for a bit of a better view. If you're feeling very adventurous there's a more strenuous North Carolina hike that ends at the bottom of the waterfall.
---
Hickory Nut Falls
Hickory Nut Falls, is one of the tallest North Carolina waterfalls, located in Chimney Rocky State Park, this beauty cascades almost 400 feet from its apex to its base and was featured in the classic film "The Last of the Mohicans."
The trail leading to this breathtaking sight is less than a mile long and located in sublime nature. Visitors can spend a whole day in Chimney Rock State Park and hike in the lovely forest, smell vibrant wildflowers, and numerous picturesque vistas. Chimney Rock is also one of the best places to head to during the fall in North Carolina.
---
High Falls
Close to Asheville, a great jumping off point for many of these falls, is the dazzling High Falls in Dupont State Recreational Forest. It's 150 feet tall and very wide. This Asheville waterfall makes quite a splash, literally.
The trek to arrive is a little over a mile and moderately difficult. The trail here extends to take you past several other waterfalls on this list as well, including Bridal Veil Falls and Triple Falls. It's a great option for a winter visit as well, since the icy formation from the falls appear as actual works of art.
---
Triple Falls
Triple Falls is located on the Little River in Dupont State Recreational Forest. Aptly named, it does have three distinct tiers flowing into the cascade from different angles. In total the drop is 125 feet.
The start of the trail follows along the river and turns into a steep ascent towards the end. You may recognize this waterfall from its brief appearance in the film Hunger Games.
However, even more exciting is the fact that you can have the rare chance of standing right in the middle of the falls on a flat rock plateau below. The surface can be slippery and the current strong so be careful here. From the trailhead, this trek is a little over two miles round trip with the option to extend to see its neighboring cascades.
---
Hooker Falls
While these falls are on the shorter side, at only 15 feet tall, they are incredibly wide offering a unique rectangular shape you won't find at other cascades. It's worth seeing, especially if already visiting the Little River at Dupont State Recreational Forest.
The trail to these falls is only a quarter mile on its own. You can take in the scenic setting from many viewpoints here, from the side, from above, and from the front. They offer an added historical allure as they're said to be named after Edward Hooker who ran a mill on the river in the 1800s.
---
Glen Falls
Ensconced in Nantahala National Park near Highlands, Glen Falls are a secret gem of all the best waterfalls in North Carolina.
This Blue Valley triple waterfall offers three separate and stunning sections. The upper falls are the most impressive, dropping at 70 feet. The middle falls from 60 feet and the lower portion flows down just 15 feet more.
The hike is two miles round trip, and it offers an array of awe-inspiring surroundings. There is an elevation change of 400 feet throughout, however with plenty of switchbacks the trail never gets too strenuous.
---
Linville Falls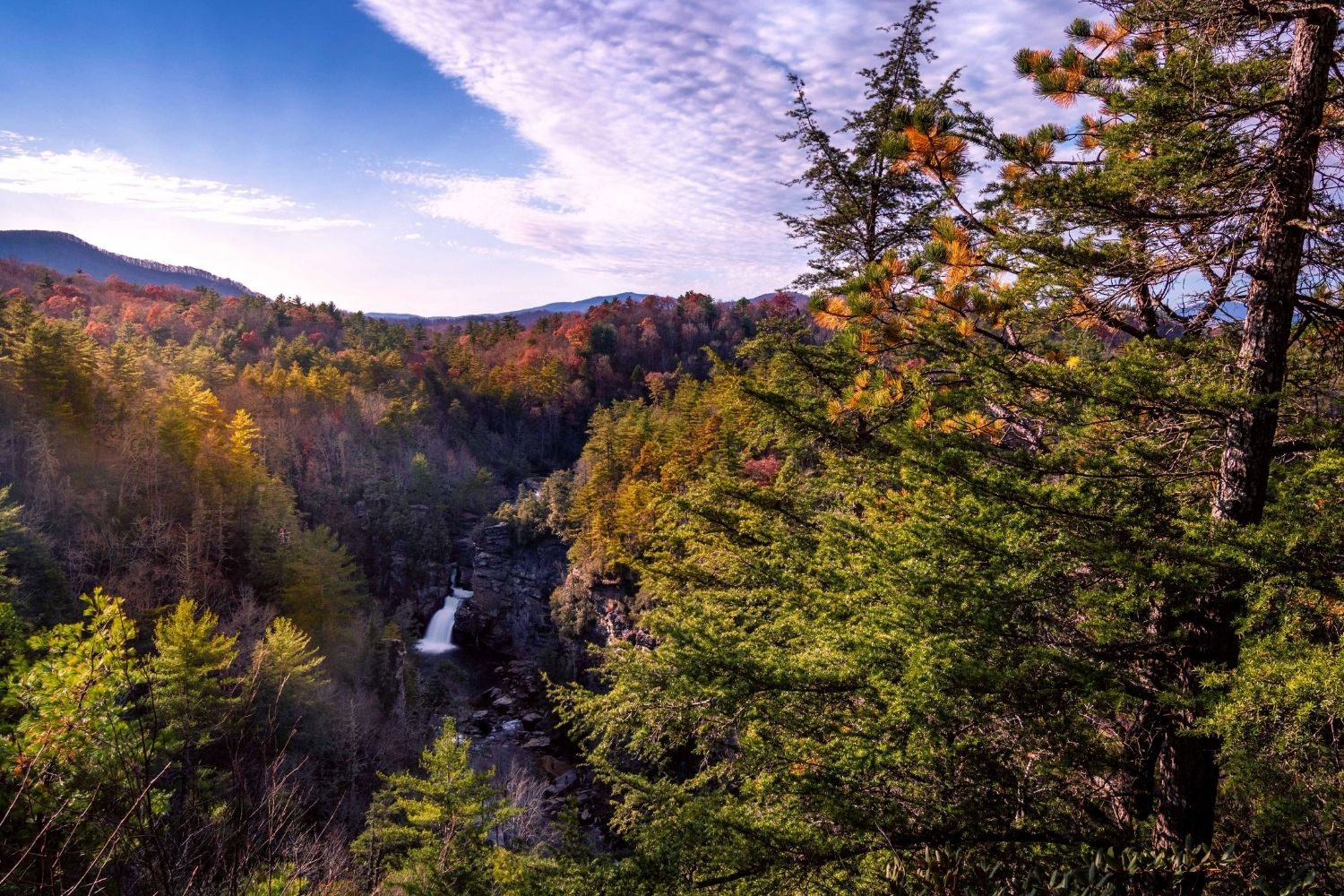 Linville Falls are famously popular for their spectacular setting at the Linville Gorge, often referred to as the Grand Canyon of the Southern Appalachians. Right off the Blue Ridge Parkway, these falls are 90 feet high.
The hike is a little under two miles round trip, with several sweeping lookouts along the way. The Chimney View Overlook lets you take in this captivating three-tiered beauty in its entirety. Jagged cliffs and dense forest add to the allure of this natural attraction.
Ultimate Guide to Visiting Linville Falls in North Carolina
---
Setrock Creek Falls
Located near Burnsville, in Western Carolina in Pisgah National Forest. The trail to the falls is open to all visitors, and Setrock Creek Falls can be reached via a relatively easy route that takes less than a half hour to walk, covering just over a mile of distance.
Situated at the foot of Mount Mitchell, Setrock Creek Falls is a breathtaking waterfall that ranks among the most stunning natural wonders in the state. Moreover, it's conveniently accessible, making it one of the best North Carolina waterfalls to walk to with kids.
---
French Broad Falls
The Forest Heritage Scenic Byway, boasts several impressive waterfalls that wind through the Pisgah National Forest between the Blue Ridge Parkway and US Highway 64. Among these natural wonders are four picturesque waterfalls and cascades along a riverside hiking trail located at Living Waters, a religious retreat in Balsam Grove community.
Although the signs reading "Private Property, Enter at Own Risk" may discourage some, visitors are welcome to marvel at the falls and may find some room for roadside parking nearby. A short trail leading to the riverside trail lies just left of the signs and offers an easy walk that waterfall enthusiasts of all ages can appreciate.
Once on the river trail, turn right and take a few steps to witness a stunning twin waterfall featuring French Broad Falls and Mill Shoals (also known as Shoal Creek Falls), each measuring approximately 15 feet high!
---
Roaring Fork Falls
Roaring Fork Falls, also called Roaring Creek Falls, is a waterfall in the Pisgah National Forest and not far from Setrock Creek Falls mentioned earlier. Meaning you can hit two North Carolina waterfalls in just a short amount of time. Depending on who you ask, these North Carolina waterfalls are as high as 100 feet!
Nestled at the foot of Mt. Mitchell and adjacent to the Mount Mitchell Golf Club Resort, this location is merely two miles away from the Blue Ridge Parkway via NC Highway 80.
---
Lower Falls at Graveyard Field
This is a perfect pick to soak up the scenery of the surrounding mountains. The trek is a mere third of a mile, and it's easily accessible from the Blue Ridge Parkway. The Yellowstone River flows 60 feet down a series of ledges into a deep clear pool at the base.
You can hike down to the bottom for a serene swim or simply enjoy the sights from the observation deck provided. You can also continue onto a longer trail that will take you to the much smaller upper falls. The area is named for its tree stump filled appearance resulting from large storms and logging over the course of several centuries.
---
Bust Your Butt Falls
Bust Your Butt Falls is a renowned swimming hole near Highlands, known for its very unique name and popularity among visitors who come from all over to slide, jump off, and dive into the frigid waters from the smooth boulders.
Bust Your Butt is also known as Quarry Falls, and accessing it is very easy making it one of the best North Carolina waterfalls!
While the site features a "jump off" rock for those seeking an adrenaline rush, one must exercise caution with the slippery boulders. It's also essential to check water depth, as rainfall can impact water levels.
---
Secret Falls
While in the Highlands region, make an effort to get to Secret Falls. Secret Falls is one of the most beautiful waterfalls in the Highlands area and it's easy to get to. The easy trail is less than one mile long so you can get to these falls in no time.
Once there, you'll enjoy incredible views of this 50-foot waterfall with cascading waters falling into a fairly large and deep pool at the bottom. On hot days, you can even swim in that pool to cool off before making the hike back to your car.
---
Biltmore Waterfall
The Biltmore Estate may not be one of the most exciting North Carolina waterfalls, but it is one of Asheville's best things to do. A stroll through the iconic Biltmore Estate will lead you to one of the few waterfalls that lie within Asheville city limits. It's part of a dam located at Bass Pond on majestic grounds.
For a short but magical stroll, take the Azalea Garden Trail. And for a longer hike, you can use the Deerpark Trail to end up at the same stunning site. There are plenty of great photo-ops from the bridge above or the viewing rocks below.
---
Catawba Falls
Catawba Falls are found in Pisgah National Forest. They offer upper, middle, and lower sections, for breathtaking panoramas all around. The trail is two miles and takes you right to the base of the majestic 100-foot falls, where there's a calm and cool pool for a summer swim.
A stunning sight to behold, the Catawba River cascades over a wide mossy and boldered scene, appearing as if there are dozens of smaller waterfalls making up this magnificent marvel.
---
Elk River Falls
Set close to the border of North Carolina near the charming town of Banner Elk in Beech Mountain, Elk River Falls are a 50-foot cascade rushing over rockface. The wide oval plunge pool at the bottom is certainly a highlight here, surrounded by smooth rock perfect for sunbathing on after a swim in the calm wading waters.
The hike is short but steep and leads right to the breathtaking base of these falls. There's an easy trail that takes you to the top of the falls as well for a beautiful bird's eye view.
---
North Carolina Waterfalls FAQ
---
What is the tallest waterfall in North Carolina?
Whitewater Falls, near the mountain town of Cashiers, is the highest waterfall east of the Rockies, falling 811 ft.
Which of these North Carolina waterfalls is the most beautiful?
All of these waterfall in North Carolina are stunning and you will be impressed with a visit to any of them. If I were to narrow down my personal favorites they would be Crabtree Falls, Hickory Nut Falls, and Looking Glass Falls.
---
I want to go chasing waterfalls – What area has the best waterfalls in North Carolina?
Pisgah National Forest and Nantahala National Forest have the highest concentration and most beautiful waterfalls in the state.
When is the best time visit waterfalls in North Carolina?
Unlike places where it gets incredibly cold and waterfalls freeze in the winter, North Carolina waterfalls stay flowing strong most of the year. That being said the best times to visit are during a North Carolina autumn, when the foliage will take your breath away, and in during the summer when you can take refreshing dips or get splashed in the water after your trek to many of the falls.
---
Best Waterfalls In North Carolina Map