Looking Glass Falls is one of the most popular and picturesque waterfalls in North Carolina. It's easily accessible from the roadside making it a convenient cascade to see. It's named after its appearance in the winter months when the water freezes and reflects sunlight off of the iconic craggy formation so that it looks like a mirror.
---
About Looking Glass Falls
Looking Glass Falls are a 60-foot-tall drop, a single stream that plummets stunningly over a rocky cliff into a deep, clear basin. These famous flowing falls can be viewed from many awe-inspiring angles here.
It's an alluring natural attraction and a spectacle in every season, covered with green moss and wildflowers in the warmer months and turning into fantastical glistening icy formations in the colder season. 
---
Where is Looking Glass Falls
The Looking Glass Falls is a natural treasure tucked in the Blue Ridge Mountains of western North Carolina. Looking Glass Creek winds its way through the scenic Pisgah National Forest before reaching the dramatic drop. The falls are set on the park's southern side in the Cradle of the Forest area.
It's located alongside Highway 267, the Forest Heritage Scenic Byway, very near to Brevard, North Carolina. Only about 15 minutes from the downtown area. The drive from Brevard to Looking Glass Falls is a stunning sight in its own right.
Roughly 5.5 miles upon entering the national forest from Brevard, the falls will appear on the right. It's easy to get here from the iconic Blue Ridge Parkway as well. 
---
Looking Glass Falls Hours and Admission
It's recommended to visit Looking Glass Falls in the afternoon hours for the ideal photography conditions. The sun rises right over the falls in the early morning, which can make it hard to get that Insta-worthy shot.
However, if you're hoping to avoid crowds, then the opposite can be true. Our pro tip is to visit right at sunset for the best of both worlds. There is no entrance fee to see Looking Glass Falls, and it's always open at any time. This is unless the weather conditions are unsafe, such as extreme flooding after a storm. 
---
Looking Glass Falls Parking Information
The parking lot is set up as a spacious section for parallel parking along the side of the road. It's set just south of the corner on Highway 26. There are plenty of easy to see signs before and after the lot, so it's hard to miss. The bad news is that it's such a highly trafficked attraction that the parking lot can often be full.
The good news is that many people view the falls quickly, so there's a high chance of something opening up if you just circle back. The view from the parking lot is actually super stunning, so if you're in a rush or need something accessible for everyone, this is a great option. Be sure to pull all the way off the road into the designated area when parking, don't just stop in the street or on the side. 
---
Where to Eat Near Looking Glass Falls
In the quaint town of Brevard right nearby, there are so many options for adorable eateries. Rocky's Grill and Soda Shop is the epitome of an all-American joint. It was originally a luncheon that served as the town square's soda fountain and drug store and maintains much of that same retro charm today. They serve up all the nostalgic classics, with delicious dishes like the Chili Cheeseburger.
The Square Root is another tasty treasure with an eclectic menu and Ecusta Brewing is the best for pairing some hardy plates with a refreshing pint post-hike.
Pisgah Fish Camp is located in Pisgah National Forest and has been serving up fresh seafood and fried fares in a down-home family atmosphere for over 50 years.
We also love to pack a picnic to enjoy from the lower viewing platform at Looking Glass Falls. Find a comfy rocky outcrop and set up a shady spot for snacking with the beauty of the waterfall as your backdrop. 
---
Facilities to Use at Looking Glass Falls
There aren't any restrooms available on the Looking Glass Falls grounds. If you need bathrooms, head back to the entrance of Pisgah National Forest and you can find a few at the ranger station.
There isn't any drinkable water either so be sure to come prepared, with any snacks or beverages you may want. Plus wearing good shoes is always a must, especially since walkways and overlooks near the falls can be slippery.
Pets are welcome as long as they are on a leash. There is no lifeguard on duty so if wading or swimming at the lower portion of the falls, be very careful and follow all the rules.
As always leave no trace and make sure the natural terrain is left just as you found it! While there aren't any campgrounds at Looking Glass Falls, you'll find several options nearby, including Big Bear Pen and Davidson River Campground. 
---
When is the Best Time to Visit Looking Glass Falls
Looking Glass Falls is open year round, and is busiest during the summer months. On a beautiful summer weekend day you can expect the falls to have plenty of people ambling about.
For fewer crowds we recommend visiting in the early morning or evening. Weekdays outside the times of 10-5pm will be the quietest time. If you are chasing fall colors in North Carolina we recommend visiting Looking Glass Falls during the month of October for stunning colors.
---
Destination Hikes Near Looking Glass Falls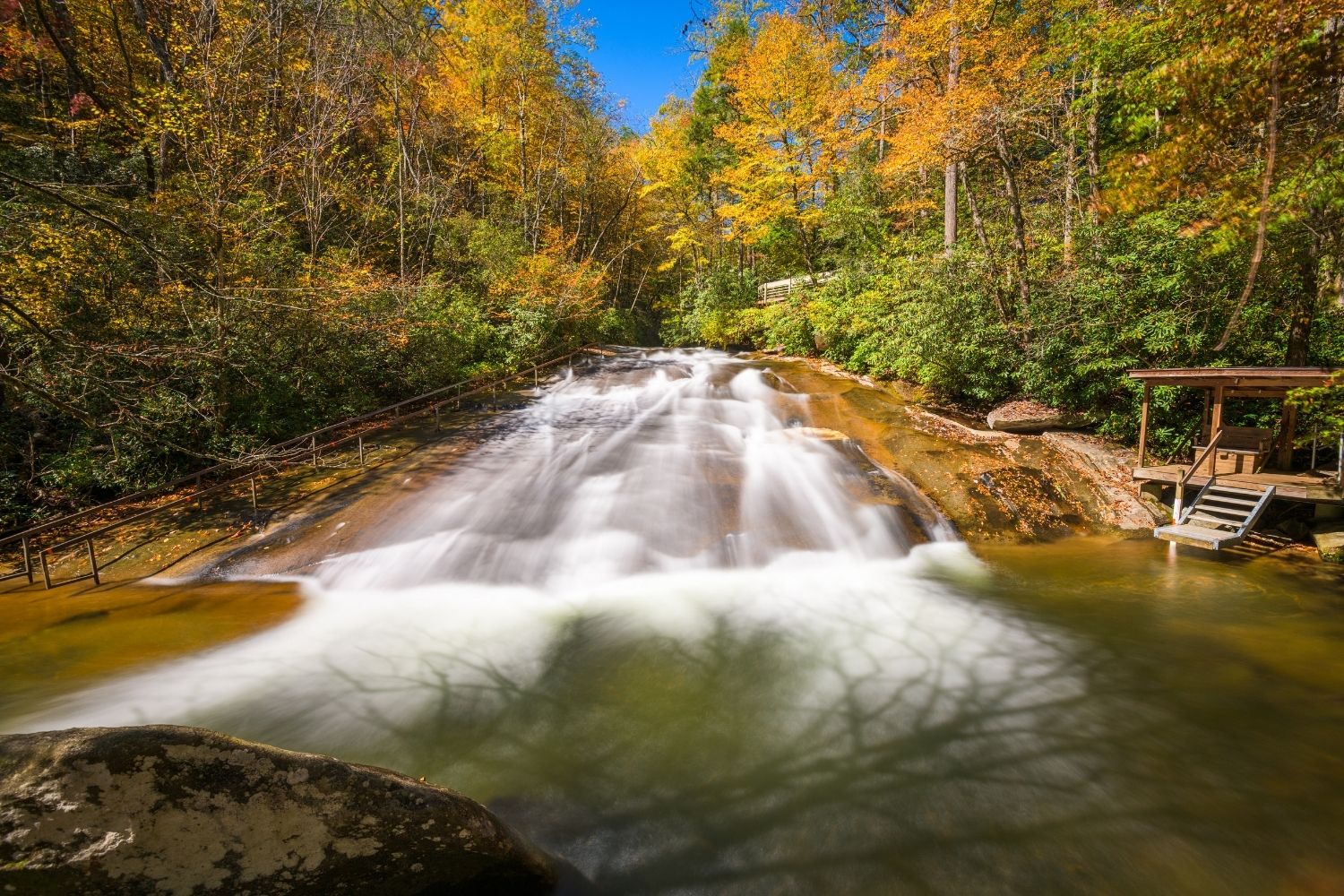 Set deep in a scenic cove only two minutes away from Looking Glass Falls are the majestic Moore Cove Falls. A less popular pick, this 50-foot cascade is just as breathtaking, though it offers a bit of a lighter flow. It's far less crowded than some other neighboring hikes in Pisgah. You can even stand right under the falls for a rare and special experience. The trail is a 1.5-mile loop that makes for a fairly easy trek. 
Of course, when visiting Looking Glass Rock Falls, it only stands to reason that hiking up to the eponymous summit via Looking Glass Rock Trail should be the next stop. It's one of the more strenuous trails in Pisgah, climbing a staggering 1,700 feet in elevation in only three miles. There are plenty of switchbacks that help to make the trek a bit more manageable. The sweeping panoramas from the top are always well worth the effort. 
Sliding Rock Falls is probably the closest other option to Looking Glass Falls in the area. The trailhead is just five minutes away. It's one for the thrill-seekers to be sure. It's a natural 60-foot rock water slide with an eight-foot-deep pool at the end.
Sliding along with the rushing 11,000 gallons of water each minute is a great way to beat the summer heat here. The cool cascades stay at about 50 degrees for an always refreshing experience. If you're not feeling like such a daredevil, there are plenty of observation decks to view the waterfall from and cheer on other plungers.
The Pink Beds hike is also within the Cradle of Forestry and is a five-mile loop full of stunning terrains, including high elevation wetlands, mountain bogs, and several different forest types. It also happens to be an idyllic spot to enjoy a picnic, so be sure to pack a snack if you pick this one. There isn't much elevation change and plenty of shade, so it's a fairly easy hike despite its length. Its name comes from the bright and breathtaking rhododendrons and mountain laurel covering the landscape. 
The Black Balsam Knob hike takes you to a tree-free bald that provides those quintessential sweeping vistas across the Blue Ridge Mountains. It's only about 30 minutes from Looking Glass Falls and one of the best hikes in North Carolina. Balds are unique features in the Carolina landscape of the area. They occur at high altitudes but are covered in grass and other small plant life. Black Balsam has an elevation of 6,214 ft. There is less shade than most other trails and it can also be quite a bit colder, so prepare accordingly. This trek is part of a larger path called the Art Loeb Trail, which you can always continue if you wish to extend the hike for up to as much as 30 miles. 
You'll find Skinny Dip Falls along the Blue Ridge Parkway not too far from Looking Glass Falls. It's another great place to go for a swim in the area, with a deep crystal-clear pool at the base of the falls. However, despite the name, it's best to go fully clad. It's nestled high in the majestic Blue Ridge Mountains, and the trail is only about one mile out and back that is actually part of the Mountain-to-Sea Trail.
There are several wooden platforms to look out over the waterfall before you plunge into one of the several refreshing pools here. There's a fun jump off rock for any adventure seekers out there, but again, no lifeguards are on duty so it's best to be careful. 
---
Things to Do Around Looking Glass Falls
Many consider Looking Glass Falls more of a roadside stop than a true hike, but there is a short trail to trek in order to soak up the scenery from every possible angle. There is first the large viewing platform from the roadside.
Then a short and easy walk on a trail paved all the way down to the middle and lower observation decks offer even better views. It consists of a switchback of about 100 steps, over 0.3 miles. It's an easy out and back trek with only a 36-foot elevation gain. You can climb onto the rocks from the bottom of the falls, feel the cool spray of mist from the powerful plummeting waterway, and wade into the cool sparkling pool. 
Ice Climbing
Ice Climbing is a popular outdoor adventure endeavor here in the winter months. The frozen streams of water make for some gorgeous gandering, and it's even more fun to scale and scramble up if you're a bit of a daredevil that is. As a high-volume set of falls, the temperature has to hit quite a low to freeze here, leaving only a small window each year for this exciting sport. 
Swimming
Looking Glass Falls is a superb spot for swimming, especially in the scorching summer months of this southern state. From the lower observation deck, it's easy to venture out onto the rocks and into the stream below the falls for some refreshing wading or a leisurely dip. You can even swim out under the falls when the water flow is low from lack of rainfall. Even though swimming is allowed and a widely practiced pastime here, always be extremely careful and dive in at your own risk. 
Pisgah Astronomical Research Institute
PARI stands for the Pisgah Astronomical Research Institute. It's an internationally acclaimed science learning center located within the national forest. The former NASA campus is over 200 acres and boasts little to no light pollution or radio interference due to its remote location.
It's mostly known for its massive radio telescopes and is one of only two certified dark sky parks in the entire state. They display space artifacts, minerals, meteorites and host stargazing events that are out of this world. 
Rock Climbing
Pisgah National Forest boasts three designated areas for some seriously superior rock climbing. There are routes for every skill level from easy to expert. Table Rock has some of the best routes around.
Named for its flat summit, this rock cliff rises high above the horizon at over 3,500 feet, and its vertical walls are easily accessible all year round. A few popular climbing routes in Pisgah are Peek-a-boo, Cracker Jack, Second Stanza, and Devil's Cellar Chimney. Peregrine Falcons are also known to nest in this area, so check the rules and restrictions before climbing, and keep your eyes out for this speedy soaring species.  
Mountain Biking
Mountain Biking is a favorite activity in Pisgah for cycle fanatics and general outdoor enthusiasts. Bent Creek often attracts hundreds of riders every day that is ready to explore the expansive system of over 30 miles of diverse terrain trails. Bennett Gap is one of the best picks for any advanced bikers due to its fast and rough conditions.
It can even be combined with Avery Creek and Black Mountain if you want to make a challenging and thrilling day. The single-track path of Laurel Creek/Pilot Cove can also be difficult, but the rewarding views along the way are well worth it. For a quicker excursion, try Squirrel Gap, which is only a few miles long. 
---
Other Waterfalls Around Asheville
Looking Glass Falls is one of the most famous waterfalls near Asheville. Some other great waterfalls to visit are:
Hickory Nut Falls
Triple Falls, High Falls, Hooker Falls 
Bridal Veil Falls
Catawba Falls
14 Best Hikes Near Asheville: Best Blue Ridge Parkway Hikes