A quaint and peaceful mountain town, Brevard is known as North Carolina's land of waterfalls, with plenty of things to do. Located at the entrance to Pisgah National Forest, it's the doorway to the riches of a natural wonderland. Brevard is a cultural hub for the high country, with a vast array of attractions outside of the alluring landscape as well. Downtown you will discover antique shops, art galleries, museums, breweries, eclectic eateries, and boutiques to browse.
Set in the heart of Transylvania County, Brevard is often touted as one of the scenic cities to visit in the Carolinas. You're certainly in store for plenty of outdoor adventures here. Hike, bike, or climb to take in the stunning scenery of this hidden away and happening hamlet.
Brevard is a special spot nestled in the Smoky Mountains and chock full of charm. It warms the hearts of all who venture to vacation to this veritable and verdant paradise. Here are all the best things to do in Brevard.
---
Best Things To Do In Brevard, North Carolina
---
Head into Pisgah National Forest
Pisgah National Forest is 500,00 acres of rugged mountain terrain, cascading waterfalls, rushing rivers, dense forest, lush landscape, picturesque panoramas, and tremendous trails to traverse. Hike to some of the highest peaks in the East, and keep your eyes peeled for local wildlife thriving in these pristine preserved ecosystems.
Witness the many wonders of countless waterfalls flowing over rock faces many feet high down into cool pooling basins beneath and returning again to the rivers that meander through the majestic old growth trees and mountain sides.
Some of the top-rated trails are Catawba Falls Trail, Graveyard Fields Trail, Mount Mitchell Trail, Art Loeb Trail, Black Balsam Knob, Max Patch Trail, Looking Glass Rock Trail, and Craggy Pinnacle. There are also plenty of designated points for boating, swimming, tubing, and fly fishing if you also want to get wet while immersed in this wilderness.
There are three main districts, the Pisgah District, the Appalachian District, and the Grandfather District. As much of the climate is temperate rainforest, the exceptionally high rate of rainfall each year has created some 250 stunning waterfalls. Some of the most popular to visit are:
Looking Glass Falls
Rainbow Falls
Cathey's Creek Falls
Slick Rock Falls
Catawba Falls
White Waterfalls
Each is exciting and ethereal in its own right, so it's best to try and see as many as you can on the hundreds of miles of trails to choose from.
---
Slide Down Sliding Rock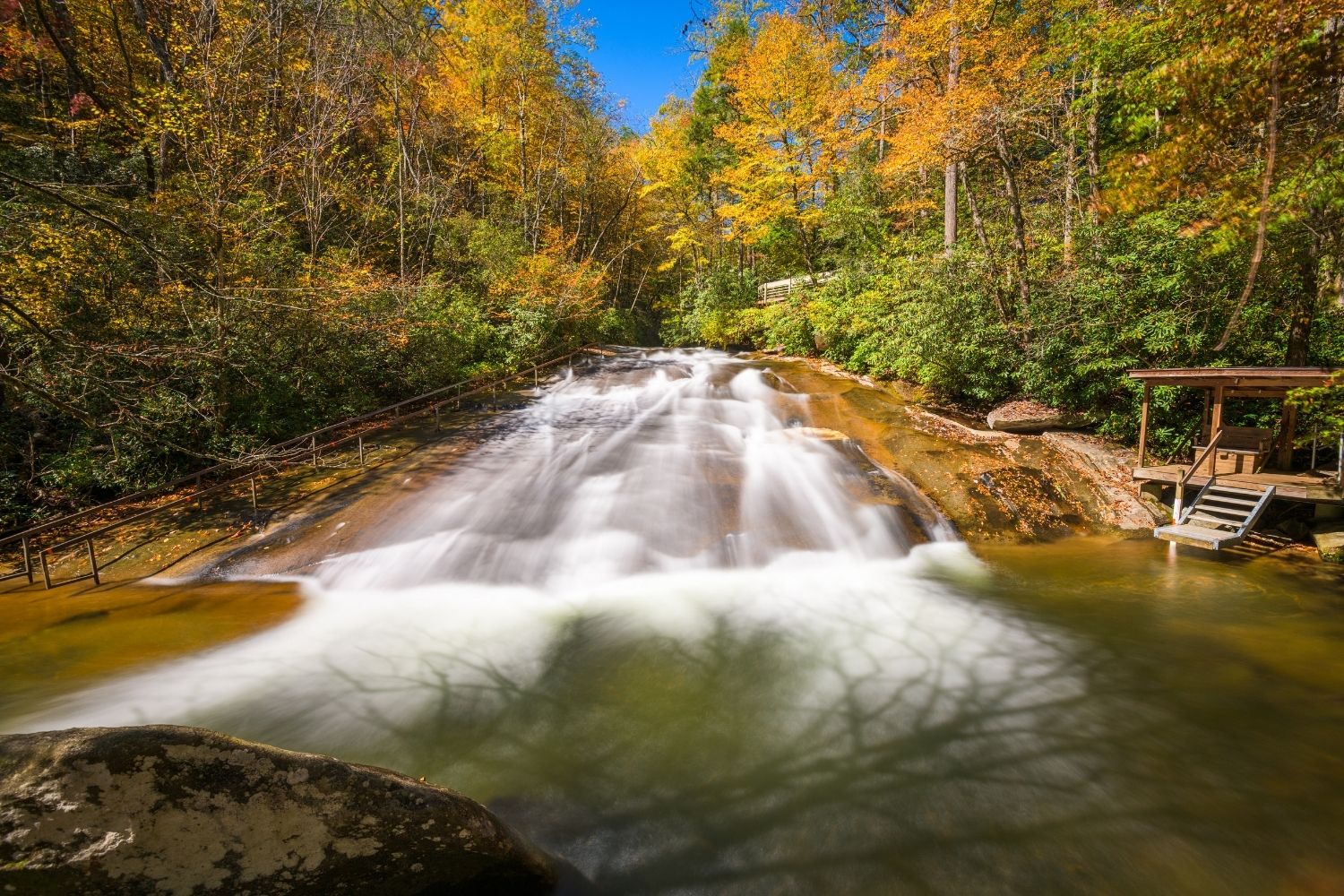 Speaking of waterfalls anyone visiting Brevard should head to Sliding Rock. Sliding Rock is a fan favorite attraction in this area among locals and tourists alike. 11,000 gallons of water flow across smooth granite every minute, creating the coolest (literally and figuratively), all-natural waterslide you'll ever find.
---
Have a Drink at the Breweries
The local craft beer scene in Brevard is booming. Brevard Brewing Company is an iconic, family-owned institution of the area, brewing up the most beloved beverages around. They aim to offer the best of both beer worlds, making brews that are both drinkable and flavorful. They specialize in lagers which are cold fermented and aged longer than other styles creating clean, smooth, and crisp tastes.
These high-quality crafts are delicate yet refined and often German inspired. The Munich Dunkel and Bohemian Pilsner are a few of the flagship favorites. BBC was the first of its kind in the county, and in doing so, they paved the way for other microbrew makers in this mountain town.
Ecusta Craft Beer lives by a credo created by the scenic surroundings, inspired by the outdoors and crafted for adventure. They have a wide range of beers in their roster, from hoppy IPAs to tangy sours, to malty stouts. Try the Points North Porter, Section Hiker India Pale Lager, or the Pink Beds Sour to taste test all the taps.
You're sure to find the brew for you at Ecusta. Oskar Blues has made a national name for itself, and it happens to have a home base in little old Brevard. The Mama's Little Yella Pils and Dale's Pale Ale are among the most popular. However, their specialty selection leaves nothing to be desired, with drafts such as Guava Rodeo and Death by Flapjacks. The taproom is set in an industrial space and features a full menu as well.
Address: Brevard Brewing Company – 63 E. Main Street Brevard, NC ( GPS )
Hours: Monday-Sunday: 2:00 pm – 10:00 pm
---
Venture into Historic Homes
Brevard offers a rich history, and it's the site of many historic homes. Allison-Deaver House was built in 1815, and as such, it's the oldest standing frame house in western North Carolina. Preserved almost in its entirety for two centuries, it's now the site of the House Restoration Museum.
Modeled after the popular row house style of the time, the mountain architecture offers a unique glimpse into the heritage of the area. Set on four acres, it's a lovely way to spend the day touring the interior full of antique furnishing and wandering the expansive and exquisite grounds.
Silvermont Mansion was created in the Colonial Revival style and dates back to the early 1900s. On the outside, it's a five-bay brick dwelling and inside you will find a total of 33 rooms to explore. The top floor of the mansion functions as a museum, displaying unique artifacts once owned by the Silvermont family. Across the way are the Woodland Gardens, which boasts a beautiful bounty of native plant life.
There is also the Learning Garden which grows pollinator plants as well as fruits and vegetables, the Rain Garden which manages the storm water on the property, and the Conifer Garden which features ornamental flora. The sprawling eight-acre land also offers tennis and basketball courts as well as a playground for public use.
Address: Silvermont Mansion and Park – 364 E Main St, Brevard, NC 28712 ( GPS )
Hours: Monday – Friday : 8:00 am – 4:00 pm
---
Mountain Bike on the Many trails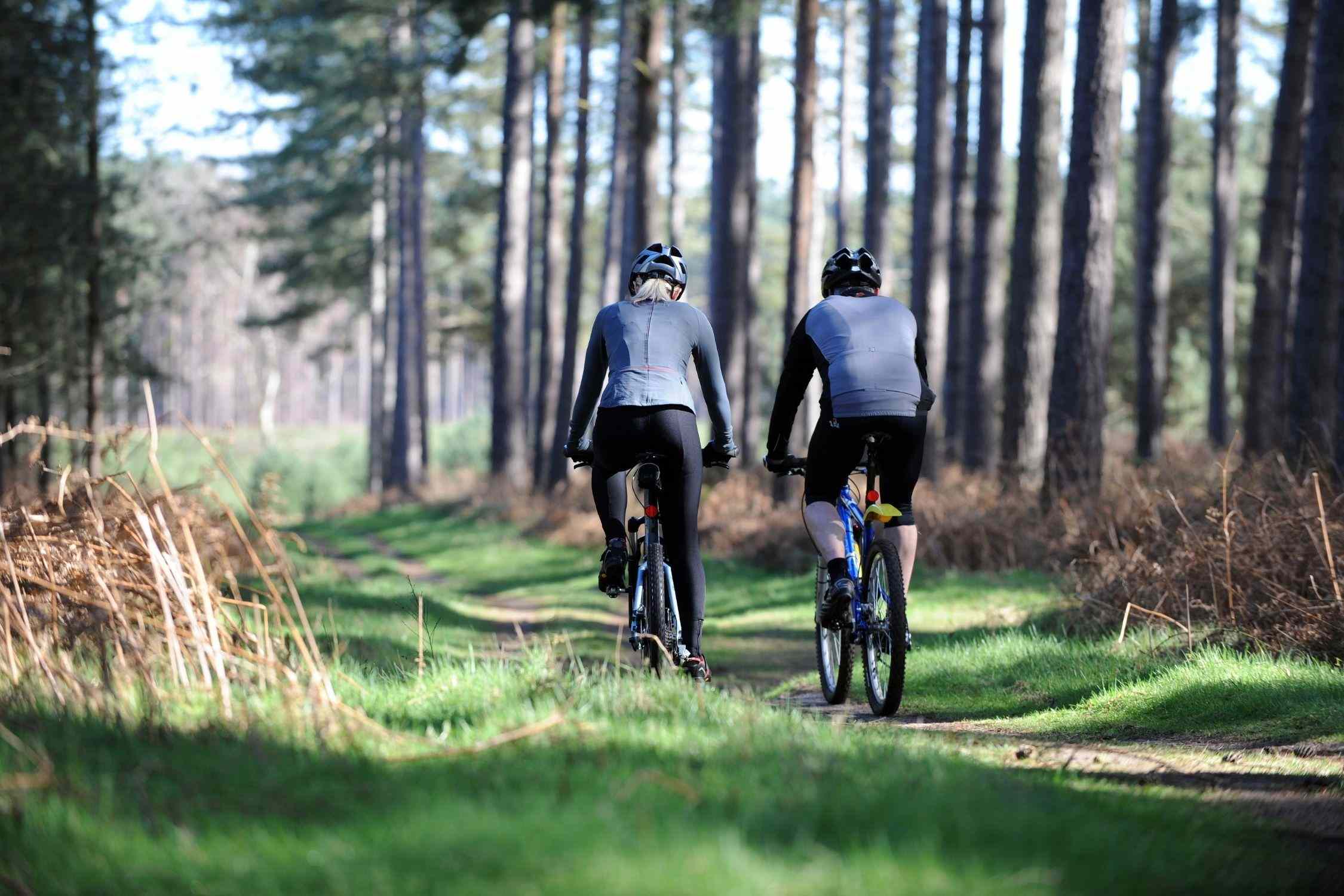 Brevard happens to be one of the top destinations for mountain biking in the entire country. Bikers travel from all around the globe to traverse these trails. There are over 300 miles of epic single tracks throughout Transylvania County. Many are in Pisgah National Forest, and you can find a quite a few in the surrounding areas as well. The Bracken Mountain Trail System takes you and your two wheels through some of the most stunning scenery imaginable.
There are plenty of options for all skill levels, from novice cycler to expert biker. Downtown you will be able to find plenty of shops offering gear and guides for exploring the terrain in the best way possible. For many the Parkway Loop provides top notch road cycling around town as well. From quick trips to epic all day adventures, choose your trail and get to biking, it's one of the best things to do in Brevard.
---
Delve into the brevard Restaurants
Rocky's Grill and Soda Shop is just the dose of good time nostalgia this tiny town loves to conjure up and one of the best restaurants in Brevard. The curb appeal alone is enough to draw anyone in, it's the epitome of an all-American joint. Grab a seat outside or at the lunch counter that dates back to the 1940s. It was originally a luncheonette that served as the town square's soda fountain and drug store.
The authentic retro atmosphere is one-of-a-kind. They serve up all the classics with a varied selection of sandwiches, burgers, and hot dogs. They even make their own pimento cheese from a family recipe that's been passed down from generations. Be sure to save room for something sweet like the famous moon pie sundae.
The Square Root is a tucked-away treasure with an eclectic menu. Set in a restored historic building, the decor features exposed brick and wooden beams creating an artistically chic atmosphere. This eatery truly provides a plethora of choices. Take a seat at the vintage bar, an intimate table for two, or the breezy covered patio and dine on delightful dishes from around the globe.
The meals aim to please every palate from the pickiest eaters to the most adventurous taste testers. Every bite is divine, from the Rabbit Gumbo to the Chicken Marsala, to the Eggplant Parmesan. Regional flavors are featured as well, and they always offer an array of local beers on draft.
Address: Rocky's Grill and Soda Shop – 50 S Broad St, Brevard, NC 28712 ( GPS )
Hours: Tuesday – Saturday : 11:00 am – 6:00 pm , Closed: Sunday & Monday
---
Brevard Music Center
The Brevard Music Center is the cultural center piece of the town. It's a world-renowned venue hosting a diverse range of concerts and events all year-round. Many focus on classical performances including chamber music, orchestra concerts, symphonies, and operas. There are a few more contemporary concerts thrown in as well, such as bluegrass, pop, and jazz. The Summer Music Festival is their coup de grace, a cultural culmination of performance art.
It's hailed as one of the premier places for musicians to learn their craft. Set in a wooded landscape of 180 acres, it includes the open-air Whittington-Pfohl Auditorium and Parker Concert Hall. They've churned out prodigies for over 80 years and paired them with celebrated musicians from all over the world such as Yo Yo Mama and Joshua Bell.
Check the schedule, and don't miss the chance to see a sensational show at this iconic international institute while in Brevard.
Address: 349 Andante Ln, Brevard, NC 28712 ( GPS )
Hours: Monday -Friday : 8:00 am – 4:30 pm
---
PARI
One of the best things to do in Brevard that many visitors don't think about is to visit PARI. PARI is the Pisgah Astronomical Research Institute. It's an internationally acclaimed science learning center located within the national forest. As a former NASA campus, there is so much to explore on a tour at this special site. The facility is over 200 acres and boasts little to no light pollution or radio interference due to its remote location. They host stargazing events that are out of this world, so be sure to check their schedule.
Here you will find displays featuring space artifacts, minerals, meteorites, and so much more. It was formed in 1952 originally to track satellites and manned space flights. Today it functions as a nonprofit for research and education. It's mostly known for its massive radio telescopes, and it's one of only two certified dark sky parks in the entire state.
They offer STEM programs to students as well as science themes camps of many different kinds. It's an engaging experience unlike any other. You can tour the grounds, try out the telescopes, and immerse yourself in the world of science at this extremely unique space center. Check their tickets here.
Address: 1 Pari Dr, Rosman, NC 28772 ( GPS )
---
Stroll Downtown Brevard
The downtown of Brevard is just as charming as you'd expect. Full of quirky shops and quaint vendors, it's an ideal Americana attraction. The most famous local residents of the area are the town's population of white squirrels. You're sure to spot a few as you wander the historic streets filled with storefronts. They escaped from a traveling carnival in the 1950s and have flourished here ever since.
The town even hosts a festival in their honor every year. Haen Gallery is a contemporary art space with a focus on large-scale sculpture. Their collection features works by local, regional, and national artists. You can browse to buy or simply to enjoy, but either way, it's worth popping in.
Stop into a local cozy coffee shop such as Cup and Saucer for a quick pick me up of a tasty treat and caffeine fix. Their homemade baked goods are to die for. The self-proclaimed coolest toy store in the world also calls downtown Brevard home. O.P. Taylor's Toy Shop offers a wonderland of interactive fun for the little ones or to bring out the big kid inside you.
Co-Ed Cinema is a small movie house that first opened its doors in 1939. It has maintained its original art deco architecture, making it a beloved fixture of downtown. They feature first run films on a single screen, so be sure to catch a flick while you're in town.
Address: Cup & Saucer – 36 E Main St A, Brevard, NC 28712 ( GPS )
Hours: Monday – Saturday : 7:00 am – 5:00 pm, Closed : Sunday
---
Dupont State Forest
Dupont State Forest is yet another wonderland of wilderness near Brevard. It spans over 10,000 acres and offers more than 80 miles of trails to meander through the lush landscape. It's well known for being featured in a few famous films, for example Last of the Mohicans or the Hunger Games.
There are, as you may have guessed, several waterfalls to witness here as well. Among the most sought after are Triple Falls, High Falls, Hooker Falls, Bridal Veil Falls, and Grassy Creek Falls.
There is also a trove of tranquil NC lakes to trek to, the largest of which is Lake Julia at 99 acres. Pack a picnic and find the perfect place to enjoy a snack with a stunning view or underneath the cool, shaded sanctuary of an epic hardwood. Pack a suit too, as you will have plenty of opportunities to go for a refreshing dip among the majestic mountain terrain.
There are trails for all skill levels, so choose your adventure accordingly, and remember some are specifically used for horseback riding or mountain biking as well.