North Carolina is blessed with abundant natural treasures, from the Pisgah National Forest to the Blue Ridge Parkway. Some of our favorite treasures happen to be the state's beautiful lakes. Trust me when I say that there are plenty of lakes in North Carolina to enjoy. While the coast and its beaches get a lot of glory, the lakes in North Carolina are a special place come summertime.
There's no better way to cool off than jumping in one of the best lakes in North Carolina. We're showcasing a few of our favorites to kayak, fish, or float lazily in a tube with a beer!
---
The Best Lakes in North Carolina
---
Hyco Lake
You can get away from it all at Hyco Lake near Semora, one of the best small towns in North Carolina. An artificial power plant cooler, this northern North Carolina lake has over 65 campsites spread around its shores, a plethora of cabin rentals, and not much else. Pick up supplies before you get to the beaches, and once you arrive, prepare for tranquility.
Hyco Lake doesn't support much traffic. A weekend spent in one of the lake's many coves offers a rare chance at solitude while on the water. Watersport enthusiasts will love the slalom course set up in the middle of the lake, as well as plenty of acres to tube across.
The quiet lake doesn't pop up on many maps or lists, but it provides a unique charm thanks to the lack of development around its edges. For a different lake experience, spend the week at Hyco Lake and enjoy only the company of the folks who were in the car with you.
---
Lake Norman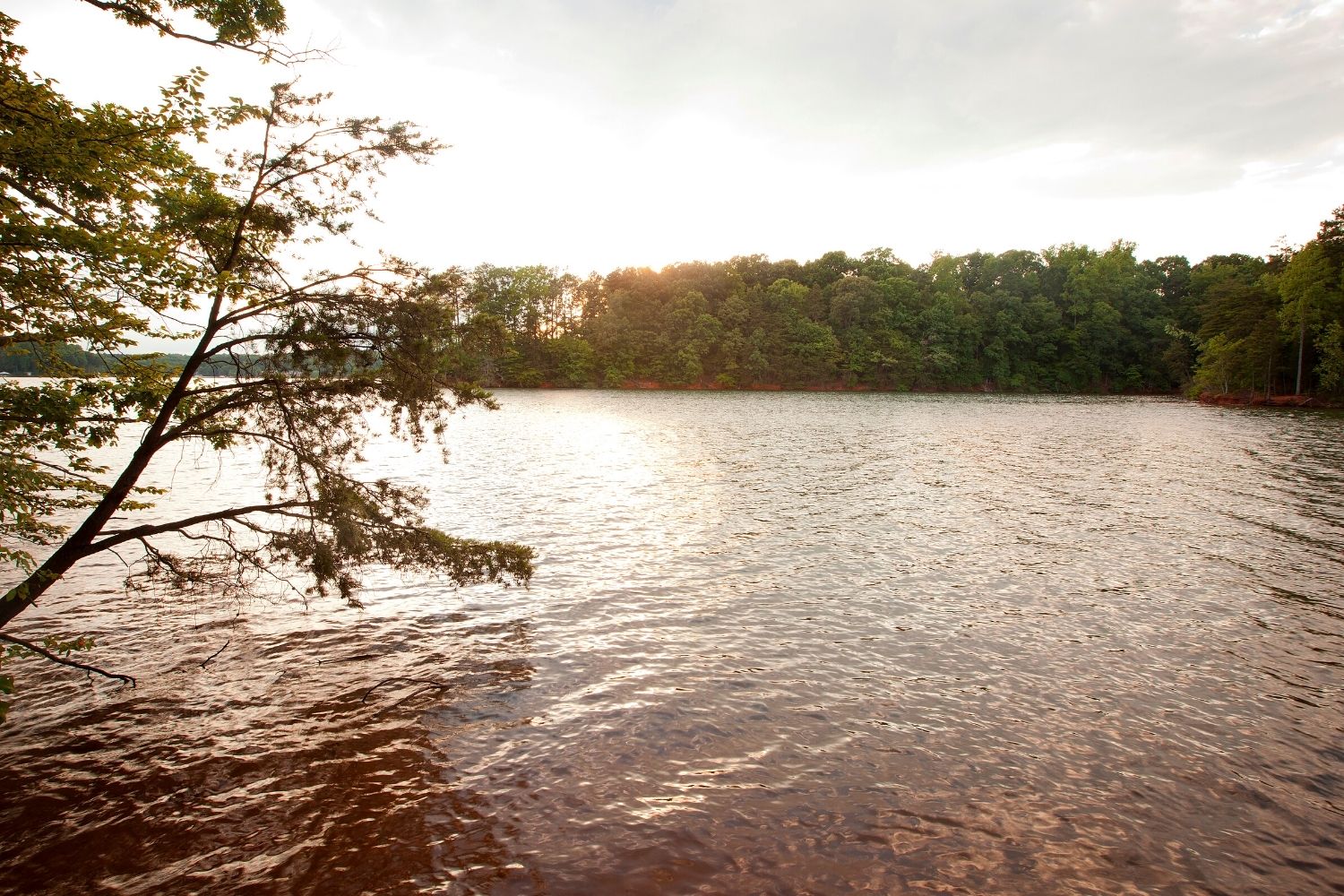 Lake Norman's size and central location have made it a local favorite, and now it's known as one of the best lakes in North Carolina. Within minutes of Charlotte, North Carolina's largest city, lies Lake Norman, North Carolina's largest artificial lake. The lake runs through popular suburb towns of the big city, creating a unique ecosystem blend of natural beauty and myriad activities.
Annual festivals are commonplace on this body of water; heading here is one of the best things to do in Charlotte. Come to Lake Norman in the summertime, and you'll surely find some events popping up.
Its proximity to urban centers has made the lake a hotbed of options. You'll find plenty of boat rental options, stunning NC hiking trails, and golf courses to fill up your time between dips.
---
Lake Mattamuskeet
One of the greatest lakes in North Carolina, Lake Mattamuskeet, is the largest natural lake in the state, but the depth of this body of water rarely gets deeper than three feet. This sizable chunk of shallow water is home to various plants and animals that thrive in the not entirely aquatic but not terrestrial ecosystem.
Due to Mattamuskeet's close neighbor, the Atlantic Ocean, freshwater mixes with salty air. The lake area is a National Wildlife Refuge because of the large winter populations of migrating birds, establishing Lake Mattamuskeet is a birdwatcher's paradise.
You don't have to know the difference between a Northern Pintail and a Green-Wing Teal to enjoy a day on these intrepid waters. Children of all ages will get a one-of-a-kind experience heading to this boggy slice of North Carolina.
---
Fontana Lake
Hanging on this lake is one of the best things to do in North Carolina! Once you get past Bryson City, you're getting deep into the heart of the Smoky Mountain National Forest. Lake Fontana represents the laid-back area by offering up a fantastic backdrop for a day's pontoon and plenty of multi-day trails that get you into the thick of things.
There are cliff jumps scattered about the shoreline of this lake that seem a bit too high to handle, but Lake Fontana is the deepest lake in the whole state, so hold on tightly to the rope swing and jump away.
This lake's location offers the chance for multi-day hikes around the lake that will take walkers towards incredibly remote sections of this body of water.
For a vacation experience like no other, you can rent a houseboat on this lake and spend some time on the water.
---
Lake Lure
Lake Lure is where you can have one of the best lake vacations in NC. You may recognize the Blue Ridge mountains in the backdrop of this mountain lake from Dirty Dancing. A favorite viewpoint for Hollywood directors and locals alike, visitors can see lake Lure from atop Chimney Rock, and once you clamber down from the mountains, the lake offers a beautiful spot to make a splash and freshen up.
Twenty-five miles from Asheville lies this North Carolina mainstay. It's close enough to several quaint mountain towns and craft beer capitals to always be within reach of your vacation. Cabins, hotels, and campgrounds scatter the lakeshore that is best enjoyed during a North Carolina fall.
Lake Lure is a great stop on a more extensive trip, and enough is going on in the water here for the lake to be your weekend headquarters.
---
Lake Toxaway
Near Brevard, this is one of the best lakes in the NC mountains. This manufactured North Carolina lake is for recreation. Clean streams feed the lake to create crystal clear waters. Most of the shoreline is private property, but you can find inns and beaches for public use.
Bask in mountain waters and solitude once you've launched your watercraft, and enjoy a unique mountainous day out.
---
High Rock Lake
High Rock Lake occupies prime real estate amid North Carolina's wine country. Local vineyards rely on the waters of the second largest lake in the state to harvest sweet muscadine grapes, and local anglers flock to the water's edge for various fresh catches.
The Lake's fishing acumen is known far and wide, leading to many Bassmaster Classic fishing derby competitions held at High Rock. There are several campgrounds along the shoreline, so you can set up your camp and get to fishing at first light.
There are no boat restrictions across the lake, and there are numerous put-in locations. If you want a laid-back destination with plenty of fish to catch, as well as a charming local scene, this second largest lake is the first lake in the hearts of many Carolinians.
---
Lake Waccamaw
Head to this unique body of water for one-of-a-kind wildlife sightings for your next trip. Lake Waccamaw is a favorite resting spot for alligators, 52 species of fish, and many plants featured on the state's rare plant list.
Environmentalists designated the lake as a North Carolina state park that offers a primitive experience and lets explorers get further out there.
All campsites are primitive, hike in locations. Stop by the visitors' center to check out the exhibit hall and learn more about the area's history. In here, you'll find guidebooks that layout the various plant and animal species that call the area home, and you can spend the day seeing what kinds of critters pop up.
---
Lake Glenville
This tiny space is the highest lake east of the Mississippi at 3,492 ft. A day in the boat on Lake Glenville will allow travelers to marvel at three waterfalls that feed into the alpine lake, only reachable by boat.
It's not the biggest or most spectacular North Carolina lake on our list, but its unique features make it worth a trip.
---
Price Lake
If you head to Price Lake in the winter, bring a pair of skates. The alpine lake sits at the foot of Grandfather mountain, deep in the Appalachian mountain region on the state's western front. Every winter, the lake freezes over and becomes an opportunity for cross-country skiing.
Price Lake offers an ever-changing landscape for the other three seasons that makes the lake feel different every time you step onto its shores. Springtime brings Mountain Laurel blooms to the water's edge. Summers spent on this lake beat the heat with the cool water and fresh mountain air.
The real treat is in the fall when the leaves around the lake turn into a collage of yellows, oranges, and reds.
---
Bass Lake
Now far from Blowing Rock, newly restored bass lakes will always have something to fish. Holly Spring locals stock up the small lake with 1,500 pounds of fish each month, and there are enough naturally occurring Largemouth Bass to give the lake its name.
This North Carolina lake is built for outdoor fun, highlighted by a trail that loops around the entire lake to give you a glimpse at the local animal and plant life. Large oak and pine trees flank the path to offer shade, and once the sun starts to heat things, you'll never be far away from an excellent place for a soak.
---
Belews Lake
Built to give Greensboro hydroelectric power, Belews lake isn't trying to be anything fancy. If you want a lovely stretch of cool water to spend a day on, the lake is low-key and has plenty of marinas on the water's edge to get your fill of fun in the sun.
The lake is wide open, without any problematic coves or sharp turns to manage. This geography has made it a favorite for local water sports enthusiasts. Any time you head past Belews lake, you'll see a few water skiers and tubers out having fun.
Cottages and campsites combine with the marinas to provide plenty of food and sleeping options for your next grand weekend out. If you're in Winston Salem or Greensboro this is one of the best North Carolina lakes for a weekend day trip.
---
Falls Lake
A benefactor of infrastructure revival projects, Falls lake, was built by the army corp of engineers to provide water and power solutions to NC's Triangle region.
Boaters from the state's central region have plenty of launch points at this lake, and five designated swimming areas provide plenty of spaces to take a dip.
---
Nantahala Lake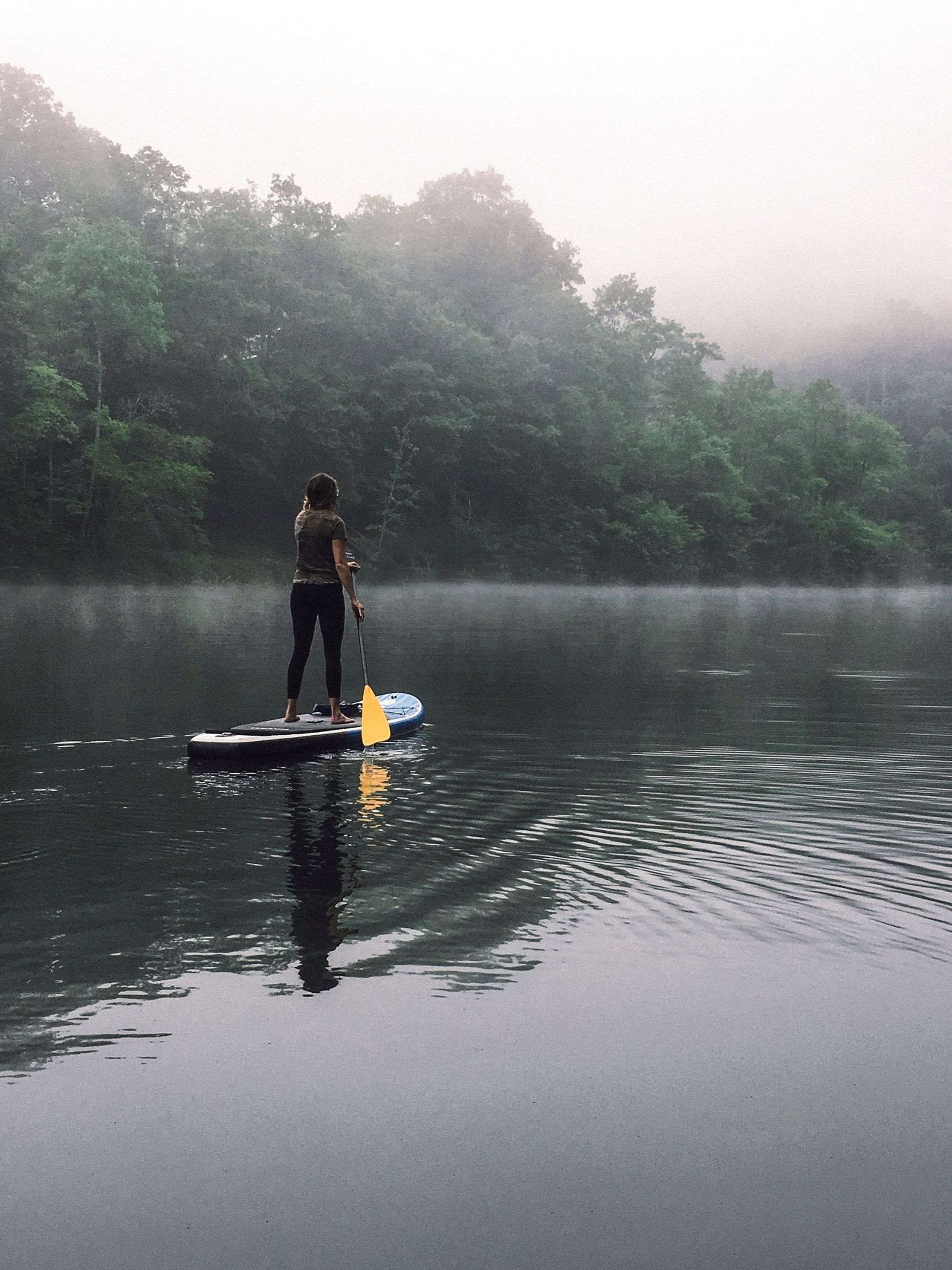 The Nantahala National Forest features some of the most rugged, untouched outdoor spaces in the state. Nantahala Lake is in the middle of that action. Burgeoning whitewater rafters often use the lake as a training ground to prepare for runs down the nearby Nantahala River.
The lake is 18 miles from the nearest town in the middle of nowhere. There are scattered cottages and camping options nearby, as well as a few high-quality roadside shacks serving up milkshakes and NC BBQ.
You'll find plenty of fishing, boating, and tranquility across the waters of this lake. Outdoorswomen looking for a lake that allows them to explore old-growth forests and surround themselves in nature deeply will feel at home here.
---
Lake Wylie
Swim across the border in Lake Wylie, 325 miles of shoreline that spans between North and South Carolina not far from Rock Hill. Locals from both states love the calm waters and shoreline filled with shade. Another lake close to Charlotte supports a sizable full-time community of inhabitants eager to share their little slice of waterfront heaven.
You'll always be able to find bass, catfish, and crappie in the waters here, as well as plenty of places to rent paddleboards and kayaks.
---
Jordan Lake
The natural jewel of the piedmont region, Jordan Lake sits in the heart of the most developed area of North Carolina and offers a breath of fresh air from cities like Durham and Raleigh. The largely undeveloped shoreline is perfect for weekend camping trips, and the number of put-in spots and clay-covered beaches creates the recipe for a great day.
If you're packing the s'mores, you'll have your pick of over 1,000 campsites. Be sure to extend your campsite booking long enough to cover some ground. Thirteen miles of hiking trails grant visitors up-close looks at bald eagle species.
Folks flock to the shores of Jordan Lake for many reasons, from swimming, hiking, birdwatching to boating. The lake's visitors enjoy the slice of nature in the research triangle.
---
Bay Tree Lake
Canals connect Bay Tree Lake to various other local bodies of water, offering visitors unique ways to spend a day on the water. The lake is part of a larger community of lakes in North Carolina, and no one knows how they got there.
Scientists speculate that meteors or icebergs carved large holes in the earth to form these anomalies. Scattered across the edges of the lakes are other craters that never filled in with water instead of taking an ovular shape filled with sand.
The artificial canals provide every home in the area a pathway directly out to the lake, so renting a cottage in this area guarantees a beautiful day's kayak.
---
Lake Hiwassee
The National Forest Service has taken care of Lake Hiwassee's shoreline to develop a natural experience ripe for water sports. Anglers and boaters love these quiet waters, and a few marinas scattered across the shore guarantees you're never too far from a put-in.
The Lake occupies a space cherished by the area's original Cherokee inhabitants, and a historical museum recognizes the tribe's contributions to the lake's development. A nice blend of modern convenience and historical peace creates a beautiful relaxing space at Lake Hiwassee.
---
Lake James
Near Morganton, three dams converged in the Blue Ridge Mountains to form Lake James, and the local community has capitalized on the development to establish an excellent spot for a day on the water. A thriving beachfront features showers, changing rooms, and restrooms to give you more tools for your day on the lake.
The beachfront even offers simple concession services to ensure you won't have to leave before sunset. A lifeguard watches over protected swimming areas, and plenty of drive-in camping options have come together to ensure there are always others to play with at Lake James.
---
Lake Gaston
Up near the Virginia border lies some of the state's best fishing. The Lake Gaston Community provides a weekly fishing report to keep visitors constantly updated about what's on the menu, and plenty of lodging and boat rental options set the scene for your greatest catch yet.
The largemouth bass population loves the aquatic vegetation where the shoreline has merged with the water.
---
Best Lakes in North Carolina Map
---
Best Lakes in North Carolina Quick Answers
What is the Largest Lake in NC? Lake Mattamuskeet is the largest natural lake in North Carolina while Lake Norman is the largest man made lake.
What are the Best Swimming Lakes in NC? Lake Lure and Lake Norman are some of the best swimming lakes in North Carolina.
What are the Cleanest Lakes in NC? As far as clean lakes in North Carolina go you can't beat Lake Toxaway!
Where are the Best Lake Towns in North Carolina? For great lake living and lake town vibes Lake Toxaway and Lake Glenville are two of the most charming southern towns you can find.
What are the Best Natural Lakes in NC? Most of North Carolina's natural lakes are in the eastern part of the state. Some of the largest ones are Lake Mattamuskeet, Lake Waccamaw, Alligator Lake, and Pungo Lake.
---
Plan For Your Trip to the South!