The Blue Ridge Parkway is known as "America's favorite drive." It's 469 miles in total, starting with the stunning Shenandoah National Park and ending with the gorgeous Great Smoky Mountains. It runs through 29 counties in both Virginia and North Carolina. Amidst them, there are countless breathtaking and thrilling stops to make to appreciate the charm of small-town life and its surrounding scenery.
Regulations like a speed limit of 45 miles per hour, two lanes, and the ban of any large trucking vehicles help to make this drive an even more delightful and relaxing experience. It provides access to hundreds of hiking trails, vistas, and natural wonders and is certainly one of the best road trips in the USA.
Driving the Blue Ridge Parkway is easily one of the best things to do in North Carolina. Depending on your time frame and how many of these charming pauses you want to make along the Blue Ridge Parkway, we recommend planning for a three-to-seven-day drive. It's definitely one of the most picturesque journeys you can make in the entire country! Let's dig into the best stops on the Blue Ridge Parkway.
---
Stops to Make on the Blue Ridge Parkway Drive
---
Shenandoah National Park (milepost 0)
This national wonderland is the start to the iconic Blue Ridge Parkway drive. It's home to plenty of wild wonders such as waterfalls, wetlands, rocky peaks, and wildlife. Almost 200,000 acres, there is plenty to explore here if this is where you wish to start your journey.
It's a tranquil landscape of wooded hollows to wander. There are more than 500 miles of trails leading to breezy summits and cascading waterfalls. Big Meadows is ideal for spotting local wildlife, including the elusive black bears. Overrun Falls is the tallest waterfall in the park and the highest peak is Hawksbill Summit.
---
Natural Bridge (milepost 61.6)
Natural Bridge is one of the most unique stops and a great first hop-off destination on the drive. This impressive geological formation spans 90 feet at a height of over 200 feet – it's an iconic limestone landmark.
It serves as an archway to the Cedar Creek Trail which hosts a variety of outdoor recreational activities and leads to Monacan Indian Village and Lace Falls. It resides in a limestone gorge carved out by the creek itself over hundreds of years. Overall, it's a spectacular display of nature's splendor with mountain views, rolling meadows, and lush forests.
---
Mabry Mill (milepost 176.1)
Mabry Mill is the most photographed site along the parkway. It boasts gorgeous natural surroundings in every season for the perfect snap. There is an easy hike around the mill to explore the local history of Appalachian culture. The mill was home to a blacksmith shop and sawmill which can still be visited.
If you're in need of a roadside refreshment, Mabry Mill Restaurant cooks up some mean country fare. Rocky Knob is right nearby for some added bonus camping, hiking, and overlooks if you're so inclined. There are local gatherings of folk music on Sundays that always promise fun festivities for all.
---
Fancy Gap (milepost 199.5)
The coolest little community along the Blue Ridge Parkway drive, Fancy Gap is absolutely worth a quick visit. It has plenty of boutiques, garden stores, antique shops, delicious dining destinations, and quaint abodes to rest for the night, not to mention plenty of charm to spare.
It also happens to be home to Devil's Den, a mountainous nature preserve with an old cave famous for its daring drop inside. We recommend Peaceful Heart Alpacas Farm Store for a sweet and soft addition to your experience.
---
Blue Ridge Music Center (milepost 213)
A renowned venue and museum, the Blue Ridge Music Center promises a rollicking good time. The spacious outdoor amphitheater hosts a steady stream of bluegrass, old time, americana, and blues performances. They are known for their midday mountain music sessions.
The Roots of American Music Museum takes you on an historical journey through the musical and cultural heritage of the region. It preserves and promotes the heart of traditional American music roots for anyone who yearns to hear the sweet sounds of a fiddle or banjo.
---
The Blowing Rock (milepost 291)
The Blowing Rock is the oldest attraction in North Carolina and one many visitors are still flocking to see with their own eyes along the Blue Ridge Parkway drive. It's a 4,000-foot cliff over a gorge. The channels of the rock create a flume of upward and forceful wind where objects will be returned to you if cast over the rocky abyss and snow falls upside down.
The town itself is a lovely destination for a cute and rural shop, bite, or hike. They have other popular attractions such as the Art and History Museum and Moses H. Cone Memorial Park, which features a preserved country estate and mansion. It's the perfect idyllic mountain town, which is why it's known as the crown of the Blue Ridge.
---
Rough Ridge (milepost 302.8)
This is a lookout point at Grandfather Mountain that has been the scene of many an iconic adventure photograph. It's a short but steep uphill trail that ends with hot photo op spot at Lion King Rock.
The trek on the wooden paths opens up into a sweeping panorama of Grandfather Mountain and Linn Cove. The total elevation is 480 feet. The trail itself lies within Pisgah National Forest and is part of the famous Mountain-to-Sea Trail.
This is one of the best short distance hikes you can find in the state and has the most pay off with its dramatic viewpoints. It's a great place to stretch your legs and even enjoy a picnic with a scenic backdrop.
---
Linville Falls (milepost 316.4)
This is the most popular and spectacular waterfall in the Blue Ridge Mountains and is easily accessible off of the parkway. Three tiers of cascading, glittering water plunge 90 feet into the equally stunning 12-mile-long Linville Gorge. It's a great choice for a nature-filled pitstop.
There are five viewpoints to explore via two different trails. Both under two miles, one is moderate and the other quite strenuous. They meander through hemlock groves and fields of wildflowers. The falls themselves are a breathtaking wonder to experience and the gorge is known as the Grand Canyon of the Appalachians.
---
The Orchard at Altapass (milepost 328.3)
This stop feels like a step back in time. They work to preserve tradition, land, and culture. You can tour the forest of apples, self-proclaimed home of the best heirloom apples with the least chemicals. There are plenty of goods to purchase at the general store and educational, entertaining activities for all ages.
You can enjoy walking trails full of native birds and butterflies, music and dancing at the pavilion, and hayrides. The restaurant makes fare from fresh and local farm produce. It's over 100 years old and celebrates the people and heritage of the mountain area.
---
Little Switzerland (milepost 334)
Aptly named the jewel of the Blue Ridge Parkway, this charming town has a population of just 46. It started as a mountain resort inspired by the style of the Swiss Alps. Emerald Village is a cluster of real historic mines that you can explore. Switzerland Cafe and General Store offers amazing local fare.
There are several trails in the area with gorgeous views and impressive waterfalls, Wiseman's View, Crabtree Falls, and Grassy Creek Waterfall Trail. There are also several quaint Inns to stay in for the night. Little Switzerland Books and Beans is an adorable bookstore and gallery featuring work by local artists. If you're up for it, you can even drive the Diamondback, a winding road notorious for motorcycle and sports car enthusiasts.
---
Mount Mitchell (milepost 355.4)
At 6,684 feet, this is the highest peak in the Appalachian Mountains and the country east of the Mississippi. To explore this natural wonder you can drive almost all the way to the summit or make the steep six mile trek to the top. The observation deck offers some of the most incredible 360-degree views in the area where you can see as far as 85 miles out.
There's plenty of wildlife to spot as you make your way through the fresh balsam forest. A small museum explores the cultural and natural history of the mountain. The views here truly are unmatched.
---
Craggy Gardens (milepost 364.1)
A twisted and jagged subrange of the Blue Ridge Mountains, this is a special stop along the parkway. There's the Craggy Garden Trail to the Craggy Flats for colorful, abundant displays of rhododendrons. You can also hike to Craggy Pinnacle for sweeping jaw-dropping views. The Garden Trail is filled with native wildflowers covering the grounds of the area and expansive fields of rhododendrons surround the rocky formations creating the magical visuals that the Craggies are known for.
The Pinnacle trail is less than two miles and leads you through veritable fairy wonderland to a breathtaking 360-degree view. These vistas from the summit offer forested rolling peaks as far as the eye can see.
---
Folk Art Center (milepost 382)
This is an ideal stop for all the art lovers. Folk Art Center exhibits, sells, and celebrates traditional and modern crafts of the Appalachians. The gallery spaces feature over 250 works from the last century. They hold many events and craft demonstrations, as well as maintain an extensive free library for exploration and education.
They have a hiking trail on the property and access to the Mountain-to-Sea Trail from the center. There are a variety of creations from hundreds of local artists to browse and buy, everything from accessories to home furnishings. It is recognized as the oldest craft shop in America.
---
Chimney Rock State Park (milepost 384.7)
This is an all-around ideal nature lover experience. It offers the best of outdoor adventure with plenty of North Carolina hiking trails and climbing opportunities. The 500-million-year-old monolith is quite the draw along with dramatic scenery, native wildlife, and one of North Carolina's highest waterfalls.
To reach the summit, it's a windy drive and a short climb ending in an open, breathtaking stretch of space that includes views of Lake Lure and Hickory Nut Gorge. There are different trails offering a variety of terrains and difficulty levels for every skill set and interest.
If you're interested in birdwatching, this is just the place, so be sure to bring your binoculars. At the base of the park is the village of Chimney Rock, which has many cute shops and local restaurants to wander and enjoy. We would say you should plan to spend at least half a day here.
---
Biltmore Estate (milepost 388.8)
The Biltmore is America's largest home as well as a museum and estate worth exploring for a day or more. It's a chateau-style mansion with 250 rooms residing on an 8,000-acre grounds. The gardens are elaborate and include one of the most complete collections of azaleas and a gorgeous network of forested trails. It's also home to one of the most visited wineries.
You can take a self-guided or guided tour of the grand home with all the original preserved architecture and furnishings. The library is especially impressive. There are six restaurants on site and a working farm open for visitors. You can truly tailor this experience to whatever you wish it to be.
---
Sliding Rock (milepost 411.8)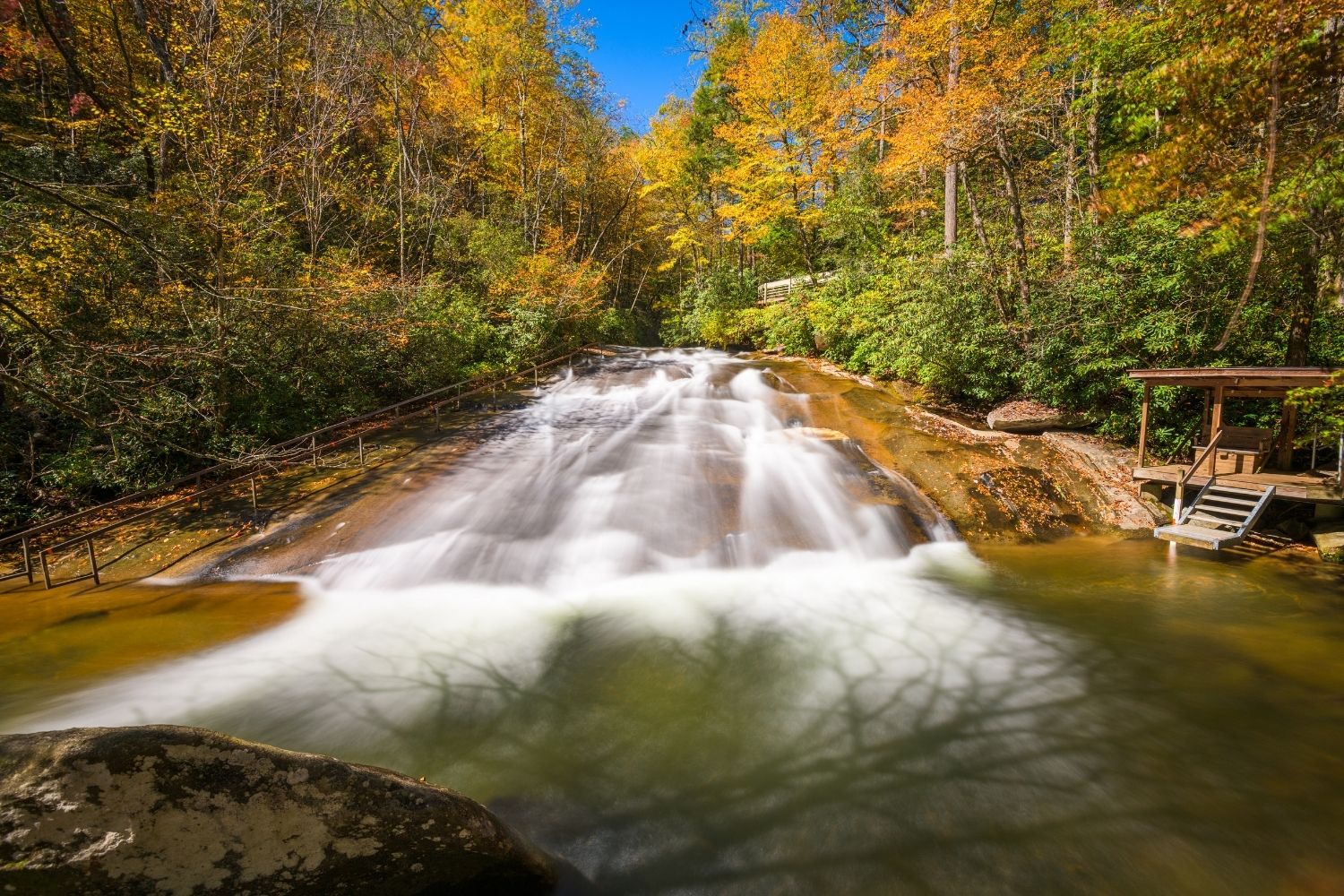 Located on Looking Glass Creek within Pisgah National Forest, Sliding Rock is perfect waterfall near Asheville for adventure lovers. It's a natural 60-foot rock water slide with an eight-foot-deep pool at the end. Sliding along with the rushing 11,000 gallons of water each minute is the best way to beat the heat.
At about 50 degrees, this is always a refreshing experience. If you're not feeling like such a daredevil, there are plenty of observation decks to view the waterfall from and cheer on other plungers. If you want to explore more in this area there are a variety of other hiking trails and falls to enjoy such as Looking Glass Falls and Moore Cove Falls. This is a one-of-a-kind stop along the Blue Ridge Parkway drive.
---
Great Smoky Mountains National Park (milepost 469)
This destination is a utopia of nature known for its rich diversity of life. There are boundless forested ridges to observe and explore. It's the country's most visited national park straddling the border between North Carolina and Tennessee. There are hiking trails of lush greenery and colorful, rare flora, streams and waterfalls, and summit peaks with landscapes stretching out across a majestic mountainous skyline.
It's known for its blue mist that rolls in and hangs around the rocky scenery creating a dreamy landscape. Deep Creek is best for waterfalls, Cataloochee Valley has a bustling population of Elk you can observe and learn about, and Clingman's Dome is the highest point in the Smokies for incredible views.
The Blue Ridge Parkway ends at US 441 which is milepost 469
---
When is the Best Time to Drive the Blue Ridge Parkway?
The Blue Ridge Parkway is its most spectacular in the fall when all the leaves start to turn shades of amber, red, orange, and yellow. However, keep in mind this is the busiest time to drive the parkway when all the "leaders" head this way. Come mid to late September and October and certainly won't be the only one on the road, but the scenery is mesmerizing enough so that you won't care.
Parts of the Blue Ridge Parkway are closed during the winter months, so this route should not be planned in the winter. Summer and spring are great times to visit, with spring being one of the quietest times to enjoy the drive.
---
What is Driving the Blue Ridge Parkway Road Like?
The Blue Ridge Parkway is not like a normal highway. It's very scenic with plenty of pull-offs. The Parkway is a two-lane road with twists and curves every few hundred feet. It's meant to be driven slow so drivers can enjoy the view and stop frequently. Some areas of the parkway do not have cell service.
---
Biking the Blue Ridge Parkway
Grabbing the road bike and cycling the Blue Ridge Parkway is a popular thing to do. However, it should be left for experienced cyclists as it's not your normal road, and there is no bike lane. Vehicles need to watch out for cyclists, especially at blind spots. A helmet should always be worn, and it's best to only cycle during periods of great visibility.
---
How to Get on the Blue Ridge Parkway
There are many opportunities to hop on the parkway in both North Carolina and Virginia. Many visitors come from Asheville. There are five entrances onto the Blue Ridge Parkway in the Asheville area, and it makes a great day trip adventure. If you drive the parkway in one day, consider taking the scenic drive and then taking the highway back for a fast Asheville return.