There are a plethora of charming small towns nestled among the majestic Blue Ridge and Great Smoky Mountains of western North Carolina. Each village brings its own delightful draws and unique allure. From stunning scenery to outdoor adventure to quirky shops and quaint eateries, the North Carolina mountain towns have plenty to offer visitors.
These magical enclaves' simple and slowed-down atmosphere makes for an ideal relaxing respite from the real world. Below are the best North Carolina mountain towns for your next gorgeous getaway.
---
Beautiful North Carolina Mountain Towns
---
Hendersonville
Known as the apple capital of the Blue Ridge Mountains, Hendersonville is a great central stop for all the scenery of the area. You'll find stunning waterfalls and spectacular North Carolina hikes all right outside your doorstep in this small mountain town.
The population is larger than most of the area, and as such, the downtown provides plenty of quaint amenities without any of the hustle and bustle of bigger city crowds. You can enjoy an array of eateries, breweries, boutiques, and galleries on Main Street, and the historic buildings add an additional old-school charm.
---
Blowing Rock
Blowing Rock offers a beautiful balance between the new and the old. Its surrounding landscape makes it one of the prettiest mountain towns and also one of the most popular. There is a draw for every season, with plenty of outdoor adventure opportunities to partake in.
Often called the crown of the Blue Ridge, it boasts both the oldest tourist attraction and a current vibrant visitor scene. There are also plenty of Blowing Rock Restaurants to grab a bite to eat at! It's a picture-perfect pick with plenty of kitsch to go around.
---
Banner Elk
With a population of just over 1,000 people, the village atmosphere of Banner Elk makes it an appealing attraction. Its proximity to many NC ski resorts makes it especially alluring for the winter seasons as well. Just outside the town, you can find the famous Grandfather Mountain and its Mile High Swinging Bridge.
With Watauga River running through, it's also a haven for anglers seeking out that coveted rainbow trout. The selection and quality of its culinary scene are impressive given its size, so be ready to enjoy some fine foodie fares during your stay here.
---
Mt Airy
Mount Airy is a tiny town at the foothills of the Blue Ridge Mountains and one of my favorite North Carolina mountain towns. Its reputation for charm precedes it, known mainly as the hometown of Andy Griffith and the inspiration for the idyllic neighborhood his show was set in, Mayberry.
It is easily one of the best mountain towns in North Carolina and is less than an hour away from Winston Salem, making it a fabulous day trip.
Streets here are rampant with a retro nostalgia, for a unique feel unlike anywhere else. Sit down and have a meal at a diner, or visit the Andy Griffith Museum!
---
Hot Springs
This tiny North Carolina mountain town is a hidden gem of the high country. With only about 500 people living here, its main draw is the eponymous natural thermal mineral baths. It's located at the junction of the Appalachian Trail and the French Broad River, making it a great jumping off point for some excursions into nature.
The Lovers Leap Trail offers sweeping views over the entire town. This is the best of the North Carolina mountain towns to soak all your worries away.
---
Boone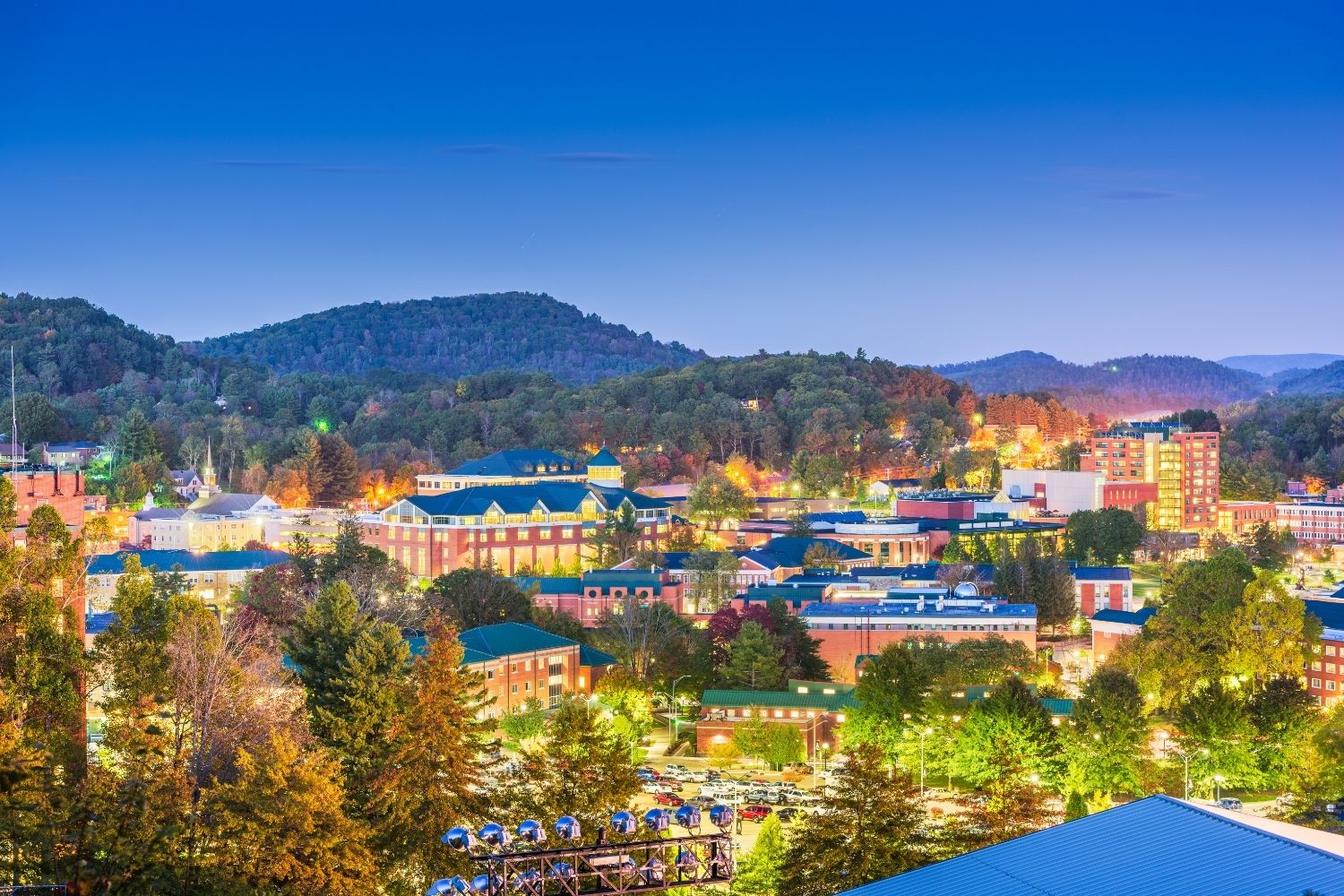 Boone boasts a vibrant and active outdoor adventure scene and is one of the most popular North Carolina mountain towns to visit.
As a university town, the population reaches heights of around 20,000. This gives the area a hip youthfulness that many find appealing.
There are many opportunities for phenomenal hikes, waterfalls, climbing, watersports, and winter sports to engage in here. There is a happening scene of Boone breweries and Boone bistros to indulge in and an overarching focus on sustainability.
---
Burnsville
Burnsville is an authentic mountain experience with an artistic flair. It's home to the highest peak east of the Mississippi, the majestic Mt. Mitchell. The heart of the area is the quaint town square. Check out Toe River Arts, the Design Gallery, and the Quilt Block Trails.
Each year, they hold several celebrated events, like the Carolina Mountains Literary Festival and the Mt. Mitchell Craft Fair, adding to their creative haven atmosphere.
---
Sylva
Sylva is a special little destination of the North Carolina mountain towns that makes for a romantic trip in the state. It's known for its iconic courthouse; an ascent to the entrance often offers an excellent photo op of the picturesque surroundings.
It's also home to the only fly-fishing trail in the country on the Tuckasegee River, making this activity quite a draw. Among its many quirky independent storefronts, its downtown is teeming with independent and adorable book stores, and charming restaurants. If you're a literary lover, Sylva is a great getaway.
---
Brevard
Ensconced at the base of the Blue Ridge Mountains, you'll discover the beauty of Brevard in its bounty of waterfalls. Among the top contenders is the beloved Sliding Rock. An all-natural water slide, you can rush down this smooth rapid for a refreshing thrill ride unlike any other. Looking Glass Falls and Moore Cove Falls are stunning sites as well.
The downtown is chock full of charming shops, restaurants, and Brevard breweries. Be sure to spot their most famous residents as well, the thriving population of White Squirrels.
---
Cherokee
Just outside of the Great Smoky National Park sits the home of the eastern band of the indigenous Cherokee tribe. It's a town with a rich cultural heritage and an amazing area to learn more about these native peoples.
You can tour exciting educational museums and villages and browse many locally hand-made arts and crafts. It's also where you can see the spectacular Soco Falls, one of the most beautiful waterfalls in North Carolina.
---
Waynesville
Waynesville is the largest town in its county and is a hopping spot to host any mountain traveler. Browse the bustling Main Street; brick sidewalks dotted with historic homes and many storefronts ideal for a day of shopping until you drop.
It's a hotspot for entertainment, with music at the Folkmoot, the acclaimed HART Theater, and Mountain Street Dances every Friday night. Make sure to enjoy a meal at one of the best Waynesville restaurants before heading out!
The Museum of NC Handicrafts offers distinctive displays of work by a range of North Carolina artists.
---
Bryson City
Bryson City is a great gateway if you're looking to explore the expansive Great Smoky Mountains. Surrounded by rolling hills, it has many hikes for sweeping sights, such as the Nantahala Gorge. The Tuskegee River runs right through town, offering ample opportunity for tubing, rafting, and paddleboarding.
Ride the trains through majestic mountains on the local railroad. For local beer and live music, hit Nantahala Brewing, one of the best breweries in North Carolina, before enjoying some amazing Bryson City restaurants. For rare historical mountain artifacts, check out Swain County Heritage Museum.
---
Tryon
Tryon's reputation as an equestrian haven and arts enclave is revered. Tryon Fine Arts Center is a cultural institution of North Carolina, hosting eclectic exhibits, community events, TEDtalks, performing arts, classic films, and live music.
You'll encounter galleries galore downtown, among specialty shops, fine fares, and craft beverages. Tryon International Equestrian Center is a world-class facility for horse racing and riding. They hold the renowned Steeplechase each Spring.
---
Little Switzerland
Little Switzerland is one of those very tiny North Carolina mountain towns that packs big personality. Named for its likeness to the Swiss Alps, the Switzerland Inn is a century-old resort catering to this concept. Its historic and Swiss-style architecture adds to its charm.
With the smallest population of all, the town consists of just a few quaint shops. It's also known for The Diamondback, a road full of dangerous curves and beautiful vistas, popular among many daring drivers.
---
Lake Lure
The sparkling North Carolina lake of the same name is the main draw for this mountain town. With its very own beach, you can relax on the sandy shores of Lake Lure and enjoy a refreshing dip into the cool, shimmering waters.
Trails are abundant for hiking and mountain biking to take in the scenic landscape. Climb to the top of Chimney Rock nearby or stroll over the Rocky Broad River through the blooming flora of Flowering Bridge.
---
Weaverville
Right next door to the happening city of Asheville, Weaverville has become its own desirable destination. It has just enough diversity within its quaint downtown to attract plenty of visitors, from eclectic eateries to art studios to specialty shops.
These studios open twice a year for Weaverville Art Safari, for which art lovers and makers alike travel from all over to be a part of. Lake Louise Park and Main Street Nature Park are beautiful spaces to explore and enjoy the local wilderness here.
---
Saluda
Set right alongside the Green River, Saluda is a hotspot for water adventures, such as tubing, kayaking, and rafting. At 90-feet high, Pearson's Falls is an exciting natural attraction.
As a former railroad outpost, the town's historic charm offers a vintage vibe, enhanced by establishments such as Pace's General Store, the oldest grocery store in the state. It's been a retreat for tourists since the 1890s and continues to be as refreshingly retro as ever.
---
Beech Mountain
This is the highest town in elevation in all of the east. At over 5,000 feet above sea level, you can expect some of the most breathtaking views from this mountain town. There are several ski resorts here if you're looking to hit the slopes and fantastic beer at Beech Mountain Resort.
Emerald Outback has plenty of trails to trek through dense old-growth forests, lush fields, and babbling mountain brooks in the warmer months. It also offers some of the best birdwatching around.
---
Bakersville
Home to less than 500 people, Bakersville was founded to mine its wealth of mica deposits. The annual Rhododendron Festival is what brings many visitors to this town today. The iconic flower is an abundant symbol in this region of the state.
With Pendleton School of Craft nearby, there's also a thriving community for local art and handicrafts here.
---
Black Mountain
Black Mountain has a little bit of something for everyone. There are museums, an arts center, a variety of shops, and over 30 restaurants, all quite impressive for their small stature.
There are three breweries making some of the finest mountain drafts around. It's also home to one of the coolest distilleries in the state, Oak & Grist.
---
Cashiers
Cashiers is the gateway to Bear Lake Reserve. A walk around the Village Green reveals gardens, outdoor sculptures, and a plethora of pleasing storefronts.
They have a tiny population of residents but a vast number of visitors each year. Set on a high plateau, some of its surrounding peaks boast breathtaking views.
---
Dillsboro
Dillsboro is one of the coolest mountain towns to discover. Set on the banks of the Tuckasegee River, it's a tiny treasure trove for local art, as this community lives and breathes creativity.
Art festivals are held here year-round and an impressive array of galleries and funky shops to browse. You can find works from hundreds of artists, all in this small scenic setting.
---
Maggie Valley
Since way back, Maggie Valley has been a mountain resort and maintains its allure through vintage motels and gift shops. Visit Tour Wheels Through Time for a unique display of classic cars and motorcycles.
Annual celebrations like the Elk Fest and Hillbilly Jamboree are reason enough to visit. The old-fashioned charm of Maggie Valley is a refreshing escape to a slowed-down era of simplicity.
---
Old Fort
Old Fort is set at the foot of the Black Mountains and surrounded by Pisgah National Forest. As such, it offers an amazing assortment of natural feats to discover.
It includes some of the top wild places in western North Carolina, such as Catawba Falls, Andrews Geyser, and Point Lookout. Visit the Old Fort Arrowhead Monument to get a peek into its interesting past.
---
Valdese
Valdese was settled by 19th-century Waldensians from Italy, giving it a unique identity apart from its neighbors. The Trail of Faith explores this heritage through a collection of preserved monuments and buildings.
Stop into Myra's 1950s style diner for a taste of the good old days. If you're feeling adventurous, you can even visit the nearby ghost town of Henry River.
---
West Jefferson
If you've heard of the Ashe County Cheese Factory, then you already know why West Jefferson is on this list. It's also home to New River Brewing for the finest craft beer and pub grub.
The downtown is decked out with colorful murals, reflecting the artistic spirit of the town. Climb to the top of Mount Jefferson to take in the views overlooking the iconic Blue Ridge Parkway.
---
Wilkesboro
Known as the moonshine capital of the world, this foothills haven is spirited in more ways than one.
Set on the edge of the Yadkin Valley, there are also an array of award-winning wineries nearby. It's also known for its four-day roots music festival, Merlefest, for which people travel from all over to see legendary performances.
---
Franklin
Franklin is known as the gem capital of the world. The Franklin Gem and Mineral Museum is a testament to this moniker, set in a 19th-century jailhouse.
The Macon County Gemboree is one of the most widely known gem shows in the entire country. It's a setting rich with rocks and minerals, ideal for any geology buffs looking for a scenic retreat.
---
Murphy
Murphy is loaded with natural wonders, with mountains, lakes, and rivers all around it, and is one of the best mountain towns in North Carolina. It's an ideal setting for any wild wanderings in the local landscape.
The Murphy River Walk is an idyllic stroll around the scenic town. For any theology or history buffs, the Field of the Woods is a massive monument representing the 10 commandments. If you want to look like a local, hit up the popular watering hole, the Daily Grind & Wine.
---
Highlands
This is an isolated outpost at a high elevation and a hidden gem of the high country. The Dry Falls are the claim to fame of the Highlands, a stunning waterfall you can walk behind and stay completely dry.
Take in the views overlooking the charming downtown from Sunset Rock. Head here for one of the most romantic weekends in North Carolina. In Highlands you will also find high-end dining and bustling boutiques downtown. If you prefer to spend your day being pampered, there are some excellent spas in the area.
---
Morganton
Morganton is a town nestled amongst the foothills is rich in history and architecture. The old brick buildings have been restored in a thriving downtown that offers all the amenities you could need.
Table Rock Mountain is one of the best hikes around. Linville Falls and High Shoal Falls are both close by and worth a visit. Don't forget Catawba Brewing is based here for a cold refreshing craft pint post-adventure.
---
Asheville
We're ending this list of beautiful mountains towns in NC with perhaps the most well known – Asheville. It's not so much a town, and is definitely a city in North Carolina. Nevertheless a gorgeous one and one of the most romantic places to travel in North Carolina.
Asheville is a city that's well known across the country for its charismatic charm, fantastic breweries, grand estate, proximity to waterfalls, and delicious restaurants. It's easy to spend a week here at a coxy Asheville cabin and never get bored!
---
North Carolina Mountain Towns Map