Nestled in North Carolina's Blue Ridge Mountains, Boone is a quaint and charming borough with surprisingly plenty of things to do! Boone is a haven of natural wonders offering an array of outdoor adventures for active enthusiasts. Boasting some of the highest elevations in the area, this high country hamlet holds delightful surprises in every season.
Steeped in history, it shines with a lively spirit and a flourishing arts and culture scene and is one of the best places to visit in North Carolina. Chow down on classic and creative Carolina cuisines and wash them down with your pick of heavenly pints. Get swept away by the lovely landscape and laidback lifestyle of this majestic mountain town. Below are all the best things to do in Boone.
---
The Best Things To Do In Boone NC
---
Daniel Boone Native Gardens
These lush landscaped gardens at Daniel Boone offer a rare and extensive array of native plants, trees, and wildflowers. Not overly manicured, it's carefully curated in a way that allows for natural growth, creating an atmosphere that's all the more magical. It's centered around the conservation and education of local and exotic flora.
You can always find something blooming year-round as you wander your way through the three acres of wild wonderland. Different sections display unique species, such as the fern garden, bog garden, or rhododendron garden. Be sure to see the reflection pool and rustic bridge, as well, in your journey to discover all 200 species of special plants on-site.
---
Hickory Ridge Living History Museum
One of the best things to do in Boone is see this living history museum! The Blue Ridge Mountains, and Boone in particular, are home to a rich history of Cherokee tribes and early colonial settlers, such as the eponymous Daniel Boone. Travel back in time to the early 1700s, when this town first began. It's a truly immersive attraction and a great way to learn about the significance of a bygone era.
It features several original cabins dating back to the American Revolution, as well as interpreters dressed in period clothing. Depending on the day, you will discover a variety of demonstrations surrounding different settler skills, including candle dipping, weaving, blacksmithing, and shooting. This nonprofit really lives and breathes its motto, keeping yesterday for tomorrow.
---
Turtle Island Preserve
The Turtle Island Preserve is an Appalachian heritage farm focused on preservation and education. They host a plethora of programs ranging from wilderness camps for kids to promote positive growth to survival skills workshops and folk music jamborees. It's a living and working farm where everything comes from the land, and those so inclined live in harmony with the wilderness around them.
From simple handmade shelters, to gathering herbs in the woods, to milking goats, they strive to achieve an enhancement of appreciation and respect for life as stewards of the earth. They also offer private guided tours to explore the grounds of the remote hidden valley. Turtle Island Preserve truly reflects the sustainable spirit of Boone.
---
Howard's Knob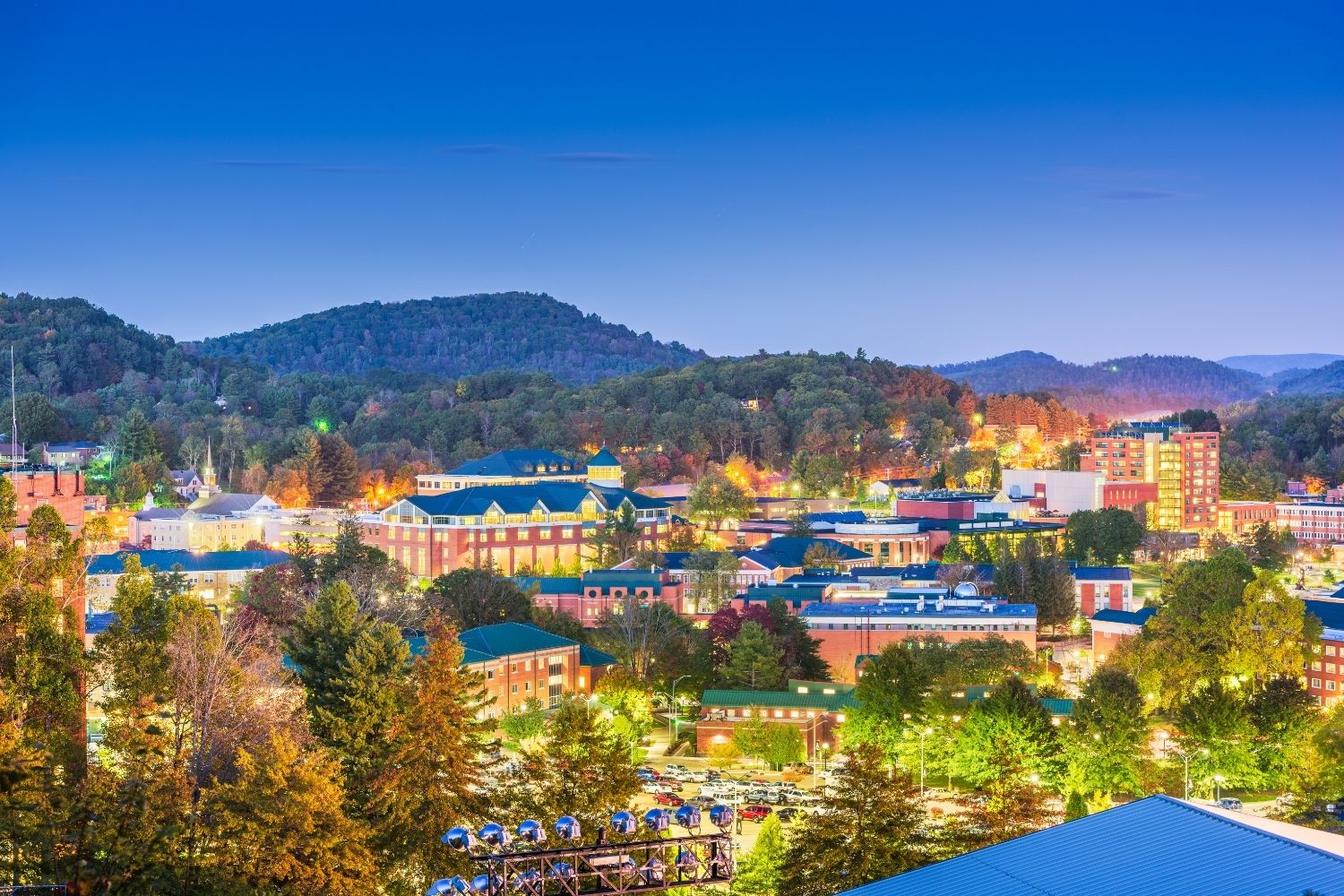 Howard's Knob refers to both a specific mountain and the park area that surrounds it. A little under 5,000 feet above sea level, this elevation offers a special and spectacular vantage point to take in the sights of Boone. There are 46 acres of protected wilderness here, with many hiking trails to traverse throughout.
The scenery and the sweeping panoramas are stunning to say the least. They wind their way up to the summit through verdant forests and flora filled fields. Be sure to bask in the beauty from such heights before hiking your way back down to the ground. This is one of the most idyllic things to do in Boone.
---
Watauga County Farmer's Market
This expansive outdoor fresh market has been an essential community-based space since 1974. Everything under the sun is sold here straight from the farms. It's often considered the town square of the high country, working to promote agriculture, horticulture, and the crafts of Watauga County and its surrounding areas.
You can find soft artisan breads, fresh eggs, flowers, handmade cheeses, sustainable honey, roasted coffee, local jams, apothecary products, and plenty of crafts from the creators of Boone. There is even a mini kids section, where children can sell their own wares. They host plenty of events, including live music, art workshops, and cooking demonstrations. See their hours here.
---
Turchin Center
Set in the heart of the city, Turchin Center is a dynamic space for displaying eclectic visual arts. Seamlessly blending the old with the new, it features works by local, regional, and international artists all exhibited on a rotating basis. Ethical care and preservation is at the foundation of all they do within the community.
The permanent collection currently boasts just under 2,000 objects of great cultural significance. The center creates an accessible experience for all to engage with art in an active way, through viewings, discussions, and workshops. There are six galleries in total, exhibiting contemporary pieces in an array of mediums.
---
Enjoy the Boone Restaurant Scene
If you're having a romantic weekend in North Carolina, you should plan for a date night out at a great restaurant! For a small town Boone has a lot of great restaurants to try. Melanie's Food Fantasy is the perfect way to start your day in Boone. The breakfast here always brings a smile, with farm-to-fork seasonal plates of all the American and Appalachian classics.
For fresh pasta, Basil's boasts the best. Everything is high quality, fresh, and most importantly made from scratch. You can even bring it home by the pound. If you're looking for fine dining or French fare, Joy Bistro is an elegant eatery that's not afraid of flavor.
Coyote Kitchen is a staple of the culinary scene in Boone. A fusion of Southwest and Caribbean cuisines, the dishes are just as vibrant and lively as the decor. Each savory plate is carefully created to cure all soul food cravings. However, for down home country cooking just the way mama makes, Proper is the only place for a proper slice of Southern-style meals.
---
Horn in the West
The inception of this Appalachian performance art was in 1952. As such, it is the oldest outdoor drama in the whole country. The Horn in the West show was written by Kermit Hunter about the American Revolutionary War. It details the affairs of life for the first settlers in western North Carolina.
The story centers around a British loyalist torn between the love of his country and the love for his son. Dr. Stuart is led into the mountains by Daniel Boone after escaping the Battle of Alamance in 1771. Appropriately performed every year in the Daniel Boone Amphitheater, be sure to partake in this time honored tradition, as it's one of the most historically heartwarming things to do in Boone.
---
Get out on the water
Known for its abundance of adventures, there are many ways to get out on the water in Boone. White water rafting on the wild rivers of Watauga or Nolichucky is always a thrilling ride. There are trips to take for every level of difficulty, and it's certain to make memories you won't soon forget.
Canoeing, kayaking, and tubing often offer a more relaxed but equally exciting experience on the New River. Check out River and Earth Adventures, High Mountain Expeditions, and Wahoo Adventures to take a guided eco-tour or rent some expert equipment. Boone is one of the best mountain towns to get wet and wild in nature.
---
The Greenway Trail
The Greenway Trail is a gorgeous and popular local hike. Easily accessible from the city, it doesn't take long to find yourself in a natural oasis that feels a million miles away. It's a well maintained path that is mostly flat and partially paved. It follows alongside the south end of the New River. It winds its way through many terrains of native wilderness, like dense forests and lush meadows.
There are plenty of opportunities to rest and relax on the way in order to soak up the idyllic scenery. It's an easy hike made for admiring the simple beauty of Boone. There are two main loops to try, one is ideal for birdwatching and the other for spotting plant species. It's the perfect setting for some peace and quiet.
---
Have a Drink at the Breweries
This tiny mountain town is actually known for its booming high country craft beer scene and has a few fantastic Boone breweries that locals love. Booneshine Brewing Company boasts one of the most beautiful taprooms and beer gardens in Boone. Built on a philosophy of community sharing and caring, the brews here are mostly high quality ales such as the Sub Tropic or the Squatchy.
Appalachian Mountain Brewery is the largest around, with a wide range of tasty taps to try. Inspired by the local culture, their Low and Hazy IPA and Honeydew Honeysuckle Wheat brews are full of flavor.
Lost Province Brewing Company is a hip and happening space with live music and wood fired pizzas to pair with your pints. Their brews are both authentic and innovative while representing classic Southern hospitality and progressive sustainability. Try the local libations, the Kiss My Grits Lager or the Boone Moon Belgian.
Address: Lost Province Brewing Company -130 N Depot St, Boone, NC 28607 ( GPS )
Hours: 11:30 am – 9:00 pm

---
Foggy Mountain Gem Mine
Gem mining has been a significant section of high country history. The area is rich in rubies, sapphires, and emeralds. This site has been run by the same family for generations. You can learn more about the heritage of this local pastime through educational displays around the mine. It's fun for all ages, and you're sure to walk away with a twinkling treasure or two.
At Foggy Mountain you can buy buckets of soil and rocks straight from the mine that are guaranteed to contain gemstones of different kinds. Sifting through the earth, you can experience the magical moment of finding a gem. You can even have your stones cut and set however you like in the store on-site.
---
hit the slopes
Credit: ExploreBoone
Appalachian Ski Mountain was the first of its kind in the region beginning over 50 years ago and is one of the best ski resorts in North Carolina. Here you will find fresh conditions all season long on 11 different slopes and three terrain parks with five chairlifts. It's also the only space in the southeast that provides late night skiing for a snow filled adventure under the stars.
Sugar Mountain Resort is set just southwest of Boone within the pristine Pisgah National Forest. With peaks over 5,000 feet in the air, these powdery slopes are sure to satisfy your need for speed and scenery. There are 21 runs in total, ready for any skill level. The resort also offers superb snowboarding, snow tubing, ice skating, and snowshoeing.
---
Stroll King Street
Downtown Boone is chock full of shopping, from sweet boutiques to antique shops and specialty stores. Check out Busy Bees and Common Good Co for fabulous home furnishing finds. Foggy Pine Books is one of the best little independent shops in the state. They offer an incredible selection of reads and programs to give back to the area, such as Free Books for Boone.
The Mystery Book package is available to purchase as well, you just give a small description of the reader and they get sent a surprise assortment of titles.
Mast General Store is home to all sorts of old fashioned goodies. They provide a plethora of treasures, from homemade crafts to candy barrels to custom outdoor gear. 641 RPM is a local record seller, with vintage and new vinyl in store. There are several quaint cafes for a quick rest and refuel as well, like Kindly Kitchen.
Jones House is a cultural and community center that has one of many King Street galleries, along with plenty of porch concert performances all held in a quintessential historical building.
---
Rough Ridge Trail
Right off the iconic Blue Ridge Parkway is one of the best trails to hike near Boone. This trail takes you to the summit of one of the highest and most rugged peaks around. From this overlook there are sweeping views of both Grandfather Mountain and Linn Cove Viaduct. It's also home to one of the oldest ecosystems in America, so be sure to not disturb the surroundings as you meander through.
Climb the wooden walkway until you are ensconced in picturesque panoramas as far as the eye can see. Take in the breathtaking vistas of the high country stretching out at almost 5,000 feet of elevation. Pack a picnic to bust out on one of the large boulders that juts out near the top. This North Carolina hiking trail itself is fairly short, making it one of the most satisfying hikes in the area. 
---
Best Things to Do in Boone, NC Map