North Carolina isn't all beaches and suntans! There are beautiful mountains, waterfalls and hiking trails to explore. We love hiking in this stunning part of the world and had to put together a list of the best hikes in North Carolina ranging in difficulty from easy to hard.
Getting outside in the mountains is one of the best things you can do in North Carolina. If you're looking to get out and adventure, here are a few of the best hikes in NC that will get your heart rate going.
---
Where to Go Hiking in North Carolina
---
1. Profile Trail
Length: 3.6 miles
Elevation Gain: 1,775 feet
Difficulty: Hard
Location: Grandfather Mountain State Park
The pinnacle of high difficulty hiking in North Carolina, this profile of Grandfather Mountain climbs almost 2,000 feet in just under four-miles and is one of the best hikes in Western North Carolina.
The Profile Trail begins as a relaxing march through seasonal wildflowers under cover of old-growth oak before quickly turning into a scampering climb through tumble-down rock.
Any adventurers who brave this harrowing ascent will be rewarded with 360-degree views of the Blue Ridge Mountains atop Calloway Peak, the highest mountain in the entire range. Relax under spruce-fir alpine forests at 5,964 feet before beginning your descent.
---
2. Looking Glass Rock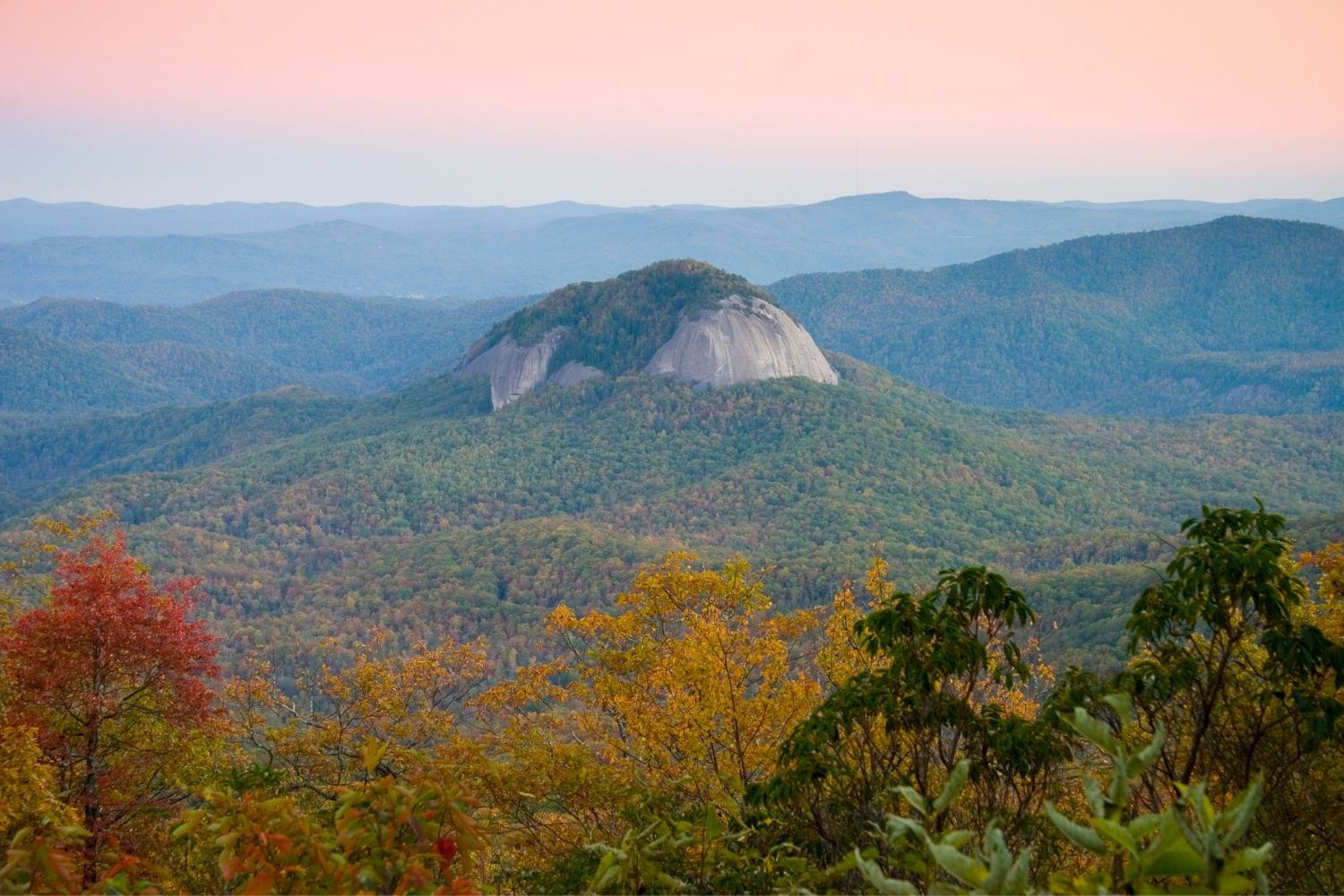 Length: 6.1 mi
Elevation Gain: 1,729 ft
Difficulty: Moderate
Location: Pisgah National Forest
Six-miles of moderate tramping encompass one of the favorite routes in Western North Carolina. There are a few technical sections to the climb but nothing a good pair of hiking boots can't handle. The pathway meanders along a creek until it turns into switchbacks and wildflower fields towards the summit.
Stop at the helipad to soak in views of the mountains' lower balds, but the best sight comes last. On top of the rock, hikers find themselves surrounded by panoramic views of the Appalachian Mountains. Make sure to plan some time for lunch atop the rock before heading back down to see it all.
---
3. Rainbow Falls Trail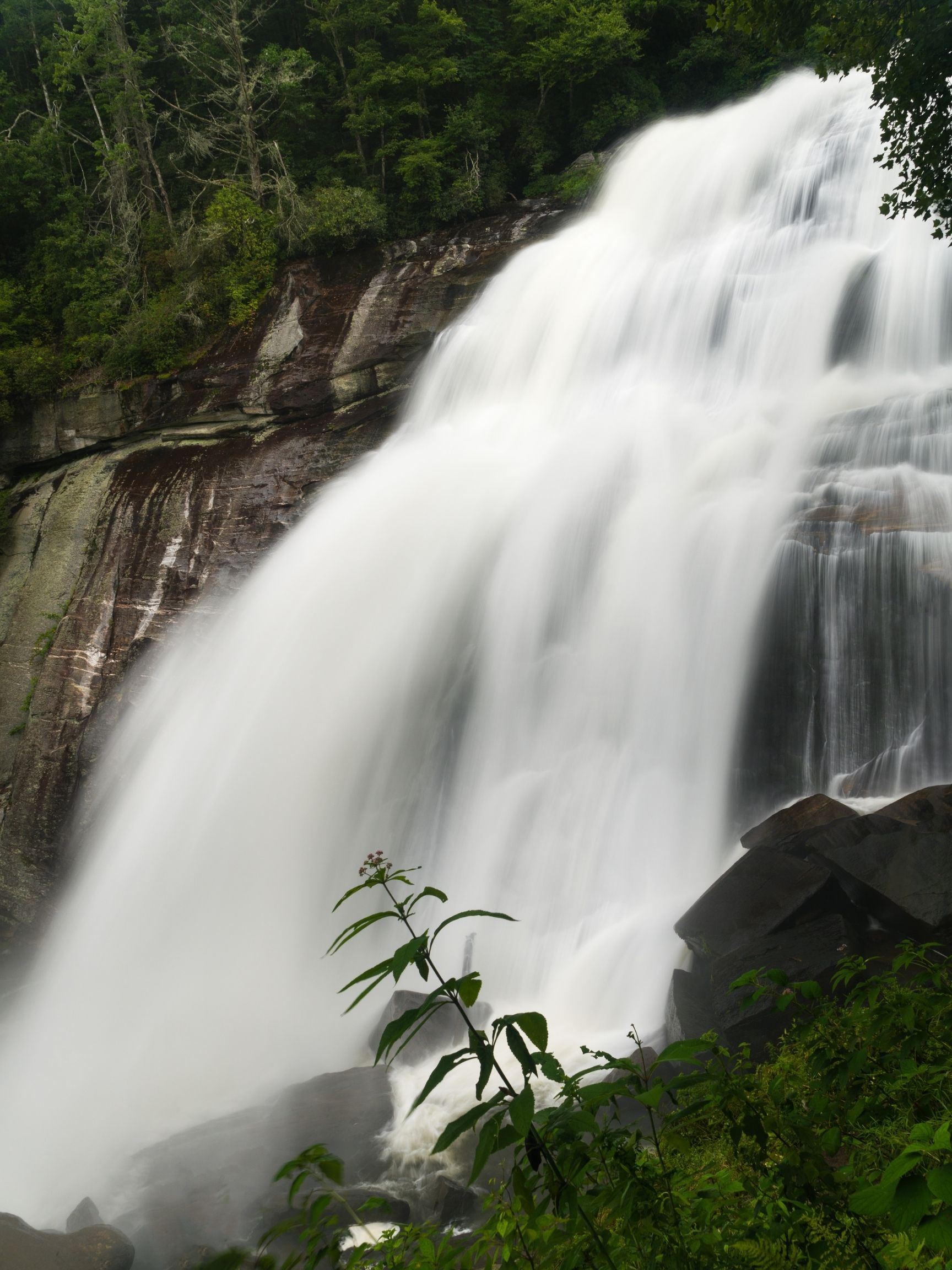 Length: 3.9 miles
Elevation Gain: 770 feet
Difficulty: Moderate
Location: Gorges State Park
Hikers often find a full day of exploration awaiting them in the Rainbow Falls trailhead in one of North Carolina's best state parks. The four-mile path follows a roaring river to one of the most scenic waterfalls in North Carolina.
Along the way, myriad other waterfalls, gully's, and natural wonders sit just off the beaten path. Smooth rocks await your arrival for swimming and sliding, and each time you go, you'll find a different pathway to an entirely new set of wonder.
Mountain bike and pet friendly, this trail has something for everyone making it a fantastic day hike in North Carolina. After a rainstorm, expect to see water cascading over 150 feet from the top of the falls. Sunny days combine with mist caused by the water colliding with the rock below create the rainbow colors the area is known for.
---
4. Hawksbill Mountain Trail
Length: 2.1 miles
Elevation Gain: 685 feet
Difficulty: Easy
Location: Linville Gorge Wilderness
An excellent choice for a shorter trek, this mountain pathway is barely two-miles, taking explorers through rhododendron forests to the Linville Gorge view. Don't let the short distance make you think there isn't still a grand payoff at the trail's end. On a clear day, you can see as far as the skyline of Charlotte, over 90 miles away.
Any day you choose to get to the top of Hawksbill mountain will provide 360 degrees of the best Pisgah National Forest has to offer. As you get near the top, you'll find two branching pathways. On the right is a longer route with less daunting inclines.
Straight will get you there faster, though with a bit of a climb. If you happened to pack your tent, you could camp right at the top of this viewpoint to catch the sunrise.
---
5. Paradise Falls
Length: .5 miles
Elevation Gain: 216 feet
Difficulty: Easy/Moderate
Location: Tuckasegee
A fantastic waterfall hike in North Carolina. If you just want to get to falling water, this hike can be completed in less than 30 minutes, enough time to build up a sweat. Locals love this trail on hot summer days, as the falls provide one of the Southeast's best swimming holes. The falls have carved out multiple deep holes at the top and bottom of the falls, ensuring room for everyone.
The path is short but relatively tricky, with steep ascents and tumbled rocks. Those looking for a thrill have access to a cliff jump next to the falls, while others looking for a more leisurely soak can continue to the very top of the falls. This hike is an excellent choice for a picnic lunch, as there are hours of fun to be found exploring the various swimming holes.
---
6. Grassy Ridge Bald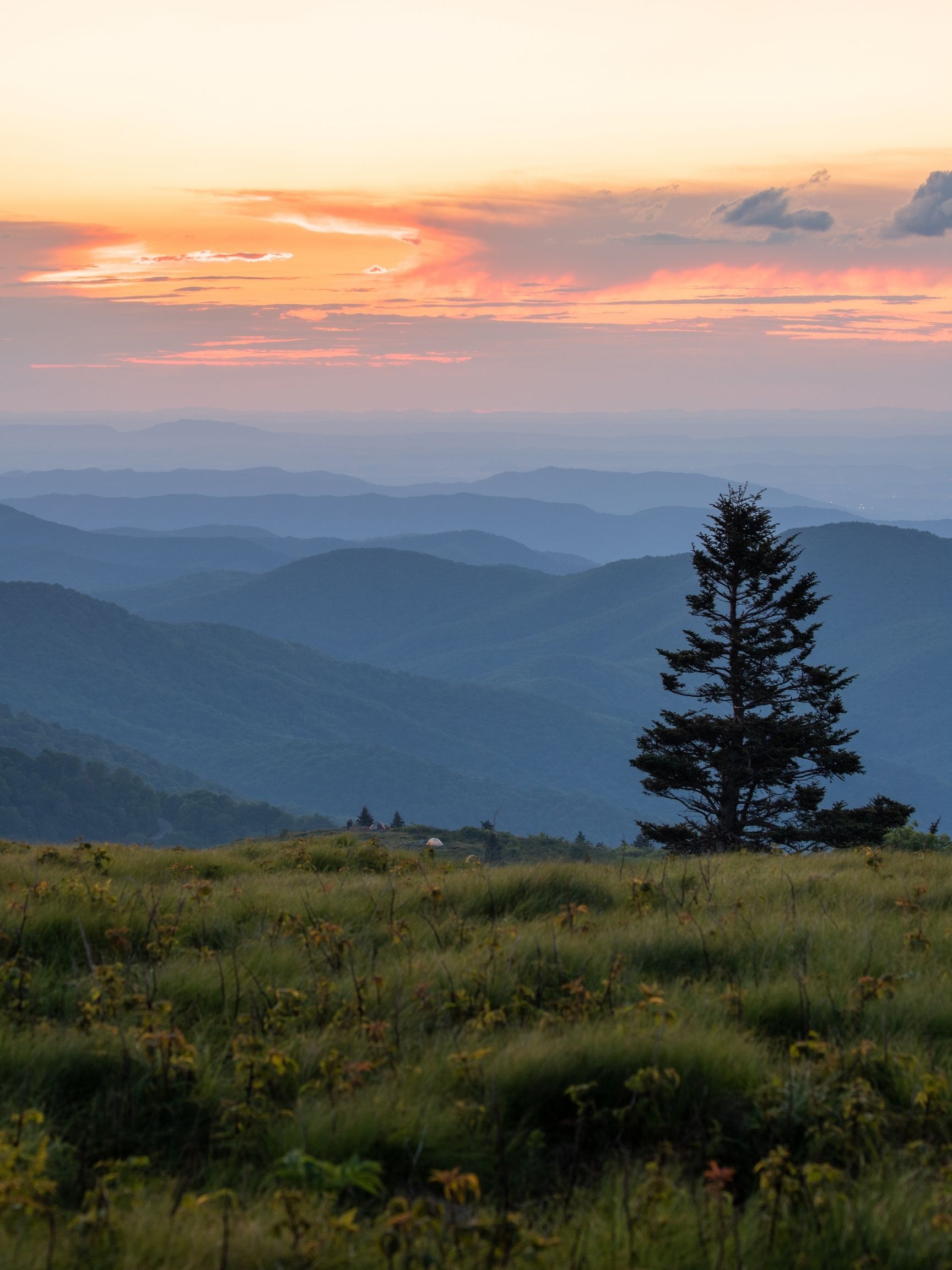 Length: 4.7 miles
Elevation Gain: 1,033 ft
Difficulty: Moderate
Location: Pisgah National Forest
An out and back trail with a satisfying pay-off, Grassy Ridge is 4.5-miles of easy mountain hiking through a rare grassy section of the Appalachian Mountains. Parts of the course intertwine with the Appalachian Trail, the famous through hike from Maine to Georgia. It's one of the top hikes in North Carolina and pretty well known!
Luckily, you don't need to cover 1,000's of miles to find beautiful views of the Appalachians and this mountain summit is a testament to that. The trail, east of Carvers Gap, provides access to three peaks. Head to this pathway in the fall to find yourself immersed in a kaleidoscope of colors brought on by the changing seasons.
---
7. Mount Mitchell Trail
Length: 11.1 miles
Elevation Gain: 3,710 ft
Difficulty: Hard
Location: Mount Mitchell State Park
Hiking in North Carolina doesn't get much better than this. Mount Mitchell Trail is known as one of the most strenuous day hikes in North Carolina. Eleven miles long, anyone planning to tackle this ascent should be sure to bring back up snacks.
The trail eventually winds up at the highest peak east of the Mississippi River. To get there, you'll have to hike up miles of switchback trail and ford the occasional stream.
The summit features an observation point, museum, and snack stand if you ran out of granola bars on the way up. If 11-miles isn't enough for you, there's an extra three-mile loop through the Deep Gap trail that takes you to Mount Craig.
---
8. Green River Cove
Length: 6.5 mi
Elevation Gain: 1,040 ft
Difficulty: Moderate
Location: Green River Gameland
Home of the steepest railroad grade east of the Rocky Mountains, this is one of the best hikes in North Carolina! You'll find it winds along a river and abandoned railroad tracks for six-miles of wilderness. Located in a more remote section of Western North Carolina, the path has a variety of highlights along the way, as well as plenty of natural pools to splash in.
This out and back option doesn't have to be fully traversed to be enjoyed. Cutting the route in half still yields serene views.
---
9. Big Creek Trail
Length: 10.4 miles
Elevation Gain: 1,312 ft
Difficulty: Moderate
Location: Great Smoky Mountains National Park
These big creeks start with a bang. Several of the area's best waterfalls are within the first few miles of the four-miles out and back adventure. The trail stops at Mouse Creek Falls and is a family-friendly option. The pathway is wide and easy to navigate, following an old railroad grade once used to haul timber.
It follows the river throughout, so you're never too far away from another glimpse at falling water. The trail is also a choice for horseback hikers, as the pathway never dissolves into single-track trekking.
---
10. Rattlesnake Lodge Trail
Length: 3.7 miles
Elevation Gain: 902 ft
Difficulty: Moderate
Location: Blue Ridge Parkway
Rattlesnake Lodge is a one-of-a-kind pathway along the Blue Ridge Parkway. A loop of only 3.7-miles, the trail avoids significant elevation gains or technical hiking, so it's suitable for hikers of all ages.
Bird watching and exploring wildflowers are prevalent reasons to take this route but what makes this path stand out are the remains of Rattlesnake Lodge; a resort that burned down almost 100 years ago.
The hike takes you right through the ruins of the once famous lodge, which was privately owned until entrepreneurs converted it into a resort. The pathway is also part of North Carolina's Mountains to Sea Trail that takes hikers across the state.
---
11. Craggy Pinnacle Trail
Length: 1 mile
Elevation Gain: 242 ft
Difficulty: Easy
Location: Blue Ridge Parkway
Another great short trail that is also one of the best hikes in North Carolina, the Craggy pinnacle trail is just one-mile of out-and-back trekking and it doesn't skimp on beauty. The track is best in springtime when wanderers get an up-close look at the Rhododendron bloom.
Visitors find themselves lost in a sea of magenta and purple flowers juxtaposed with the lush greens of the Blue Ridge Mountains.
As well as all this, there are 360-degree scenic lookouts across the Mountain Ranges and a watershed lake below. Three different lookout points make themselves known throughout the short journey, all suitable stops for a picnic lunch. If you're staying in nearby Asheville, this is a fantastic day out!
---
12. Lower Cascade Trail
Take your time meandering through this one-mile out and back trail highlighted by a 35-foot waterfall with an accompanying swimming hole. The path takes you through iconic Eastern old-growth forest complete with mountain laurel and the occasional turkey sighting.
It's a well-maintained addition to Hanging Rock State Park, perfect for family outings and a great escape from the city of Winston Salem.
Mixed in with the forest views are rough-edged boulders and beautiful quartz walls surrounding the flowing water. The trail is a favorite choice for guided nature trips and you'll find plenty of informative signage along your route.
---
13. Stone Mountain Loop
Length: 4.5 mi
Elevation Gain: 938 ft
Difficulty: Moderate
Location: Stone Mountain State Park
Stone Mountain's summit is unlike any other geological offering in the area. Rough flat rocks encompass the peak of this 4.5-mile climb, allowing for undeterred views of the surrounding wilderness.
Along the way, you'll find roaring rivers and a waterfall cascading down a massive wall of granite. The hike is the main attraction of Stone Mountain State Park and takes wanderers through a historic homestead, falls, and summit all in one afternoon.
Just off the Blue Ridge Parkway, the hike is the perfect choice for a day in the mountains. Visitors can explore historic buildings and old-growth pine trees before hitting a steep scamper through flat stone to make it to the top.
---
14. Hemphill Bald
Length: 17.1 miles
Elevation Gain: 3,467 ft
Difficulty: Hard
Location: Great Smoky Mountains National Park
One of the smoky mountains' prime viewpoints awaits you at the top of Hemphill Bald but it won't be a simple task to get there. The pathway is a 13.5-mile loop that climbs over 1600 feet before planting you in front of all-encompassing views of the Great Smoky Mountains National Park, which is one of the most beautiful North Carolina National Parks. Frequented by humans and herds of elk, the trail has something to offer year-round.
The trek begins following an old railroad grade, slowly climbing through the treeline until the pathway opens up at Hemphill Bald. The vantage point is coated in lush green grass and scattered wildflowers, giving you a unique open area to explore on top of the mountain. Head back to the car by crossing streams and wandering through another shady forest section back to Polls Gap.
---
15. Clingmans Dome
Length: 1.2 mi
Elevation Gain: 331 ft
Difficulty: Easy
Location: Great Smoky Mountains National Park
Tennessee and North Carolina are joined together by the Great Smoky Mountain National Park, and this domed observation tower lies right at the state line. Only a .7-mile trek from the park Visitor Center is the third highest peak east of the Mississippi River.
The dome marks the highest point along the entire Appalachian trail, its height giving it incredible views of the sunset and sunrise.
On clear days visitors swear they can see over 100 miles of mountains unraveling before their eyes. This dome is a great stop at the end of a day of driving through the mountain ranges. The hike's short length will guarantee you're home for supper and the views won't disappoint.
---
16. Triple Falls Trail
Length: 2.9 miles
Elevation Gain: 439 ft
Difficulty: Easy
Location: Dupont State Park
One section of falling water is a spectacular sight but this short trek offers more. Tall trees sit on either side of three tremendous waterfall sections. Wide rock ledges formed by years of abuse by the river roaring through its cracks. The three-mile loop takes you through all three falls, as well as filming locations for scenes from The Hunger Games.
All that cascading water has carved out deep grooves in the rocks below, giving you a few swimming hole options if you're looking to take a break and cool off. This falls trail is one of the DuPont State Forest highlights, following along the little river. However, in this particular section, the river is anything but little.
---
17. Hanging Rock Trail
Length: 2.4 miles
Elevation Gain: 603 ft
Difficulty: Easy
Locaiton: Hanging Rock State Park
It can feel nauseating to take a peek over the edge of Hanging Rock, a geographical phenomenon that has left a large chunk of granite rock hanging thousands of feet in the air. Two-miles of out and back trail take you to the open-air top of the rock, where you can soak in views standing on top of Hanging Rock.
The hike is no easy feat, trampers climb up 600 feet for a mile from the trailhead but the reward is a plethora of rock cliffs, all suitable for having lunch on. This incline doesn't make it too strenuous for the whole family to enjoy and the payoff on top brings nothing but happy campers.
---
18. Art Loeb Trail
Length: 30 miles
Elevation Gain: 8,257 ft
Difficulty: Hard
Location: Shining Rock Wilderness Area
The Art Loeb Trail name provokes fear in even the most dedicated cross country runners and hikers. Thirty strenuous miles along peaks and ridges, the trail provides some of the state's best scenery but it won't be easy to get there. Art Loeb's paths are so intense that Brevard area cross country trainers spend all summer long trying to tackle its rough inclines.
While you don't need to be a professional distance runner to give the trail a try, it is not a trek that hikers should take on lightly. Expect to spend the entire day, and your whole body, traversing the various mountains that comprise the pathway. The trail has been split into four sections and is a popular choice for a more extended backpacking adventure.
---
19. Huckleberry Knob
Length: 2.2 miles
Elevation Gain: 344 ft
Difficulty: Easy
Location: Nantahala National Forest
The sunrise from Huckleberry Knob has inspired countless North Carolinians to wake up before dawn and head out on a 2.4-mile loop. A pathway wanders through an old dirt road, slowly dissolving and becoming part of the forest around it.
A few scattered bald spots allow for views on the way up but the top is in a league of its own. A fire pit sits atop Huckleberry Knob and camping is allowed on top of the mountain if you want to turn your hike into a real outdoor adventure.
---
20. Grandfather Trail
Length: 4.1 mi
Elevation Gain: 1,341 ft
Difficulty: Hard
Location: Grandfather Mountain State Park
Two centuries ago, Andre Michaux wandered along this ridgeline pathway, thinking he had found the highest point in North America. Another option for feeling the wind in your hair at Calloway Peak is to scale the ropes and ladders installed in the more harrowing sections.
It's not for the faint of heart or first-time hikers but the 2.5-mile pathway takes you through some of the best mountain settings North Carolina has to offer.
---
21. Sugarloaf Trail
Length: 3 mi
Elevation Gain: Minimal
Difficulty: Easy
Location: Carolina Beach State Park
For a bit of a unique hike in North Carolina head to the coast. Enjoying Carolina Beach State Park is one of the best things to do in Carolina Beach. Here you can hike in sandals if you prefer as you'll be walking in the sand, with a fresh coastal breeze on your skin.
This trail states at the marina parking lot and has fantastic birding opportunities. Keep your eyes out for pelicans! Along the trail you'll pass evergreen forests, tidal cypress gum swamp, and longleaf pine savanna. The highlight is the top of Sugarloaf Dune where you get great views of the Cape Fear River.
---
Fall in North Carolina
Fall in North Carolina hits a bit later than most of the US. If you're expecting fall colors in September, keep the bathing suit on and keep waiting. It all depends on the year and location, but in general you can expect fall colors to be the most vibrant in late October through November.
Fall is a wonderful time to go hiking in North Carolina, especially along the Blue Ridge Parkway!
---
Leave No Trace
When hiking in North Carolina always remember to practice Leave No Trace principles. This means to respect wildlife, don't feed any wild animals. Leave the area how you found it, dispose of waste properly, and always pack out what you bring in. Be considerate of others on the trail and be good custodians of the earth.
---
Best State Parks in North Carolina
It's hard to believe there are 41 state parks in North Carolina (34 parks, 4 rec areas, and 3 staffed state natural areas)! A few of our favorites to hike in are:
Hanging Rock State Park
Carolina Beach State Park
Gorges State Park
Grandfather Mountain State Park
Best State Parks in North Carolina to Visit
---
Fantastic National Parks in North Carolina
There are 12 total parks in North Carolina when you include National Military Parks and Historic Sites! Fantastic hiking can be found in:
Great Smoky Mountains National Park
Overmountain Victory Trail