Looking for the best hikes near Asheville? We have handpicked all our favorite hikes in Asheville and along the Blue Ridge Parkway to give you the best of the best Asheville has to offer. Every hike has something special, with accessibility for all skill levels and a balance between exertion and payoff that falls right in that sweet spot.
These hikes will take you through all types of terrains, as well as give you marvelous mountainous views and maybe even a stunning Asheville waterfall. We recommend bringing layers as the weather can change quickly at different elevations in these landscapes.
Depending on the hike you choose you may need additional gear, but always remember to pack the essentials: snacks, water, and good shoes, to have the most enjoyable adventure in the wild wonders of Asheville.
---
The Best Hikes Near Asheville
---
Craggy Gardens
Length: 1.2 miles
Elevation Gain: 242 feet
Difficulty: Easy
Parking: Craggy Gardens Visitor Center
Ask any local and they'll tell you Craggy Gardens is one of the best Asheville Hikes. It's super close to Asheville and still provides all the dramatic scenery you desire. If you want a quick and satisfying hike experience, this is the one.
It's easily accessible and leads straight to the summit for 360-degree vistas of foliage and rock formations. At the highest point it reaches a 5,892 foot peak. Straight from the entrance, you will enter a dreamy thicket of rhododendron and emerge from it only near the end. This results in great sun cover on warmer days.
As this is a short hike, its moderate rating comes from its steep nature. This hike is an easy way to access views over the wild blue yonder.
---
Rattlesnake Lodge
Length: 3.7 miles
Elevation Gain: 902 feet
Difficulty: Moderate
Parking: Rattlesnake Lodge Parking Area
This hike will take you through gorgeous mountain ridges to a shimmering lake overlook. It's a great opportunity to experience a section of the famous Mountain-to-Sea Trail, which connects The Great Smoky Mountains to the Outer Banks.
The Rattlesnake Lodge Hike is named for its highlight, which is the home of local doctor and activist Dr. Chase Ambler. It was destroyed in a 1920's fire but the ruins remain to explore. It was an ideal rustic Asheville home of the era, so it's a trek back to nature but also back in time.
The Rattlesnake Lodge Hike is very close to downtown Asheville making this a very convenient choice if you're based there. The hike itself is on a well-maintained path with plenty of switchbacks through thick forest. Expect an all-round an enjoyable and pleasant journey that's close to the Folk Art Center if you wish to add that into the same excursion.
---
Hard Times Loop
Length: 6.4 miles
Elevation Gain: 505 feet
Difficulty: Easy
Parking: Hard Times Trailhead parking area
Don't let the name of this hike scare you off, The Hard Times Loop is one of best Asheville hikes and not too difficult. It's only 15 minutes from downtown, so very easy to access. The trail meanders through Bent Creek Experimental Forest, North Carolina Arboretum and Lake Powhatan; with some views of mountain ridges and the Biltmore.
The trail is gravel and climbs at a steady incline for its entirety. The Hard Times Loop can intersect with other trails throughout, so make sure to use a map to stay on course.
---
Mount Pisgah
Length: 5.3 miles
Elevation Gain: 550 ft
Difficulty: Moderate
Parking: Mount Pisgah parking area
Mount Pisgah takes you to the top of one of Asheville's most classic peaks, as it is easily spotted from the city. The summit is at about 5,721 feet, giving sweeping views of the rolling landscape, including Cold Mountain to the west; and Frying Pan Mountain and Looking Glass Rock to the southwest, and of course Asheville itself.
It's a fairly steep ascent through hardwood forest and mountain laurel. The views here make this one of the best hikes in North Carolina as they are some of the most stunning in the area, just be ready for a bit of a climb.
---
Graveyard Fields
Length: 3.3 miles
Elevation Gain: 450 feet
Difficulty: Moderate
Parking: Graveyard Fields parking area
This rugged route is home to exceptional beauty. High-elevation meadows and a stunning waterfall make this a picturesque experience and one of the best waterfall hikes near Asheville. Depending on the time of year, it is also an ideal destination for foliage, wildflower fields, or wild blueberry picking. The name comes from back when the forest was devastated by logging and the tree stumps appeared like gravestones.
The landscape now appears as pure sun-soaked wilderness, both verdant and gnarled. Streams intersect the trail throughout the journey, and there are lower falls and upper falls of cascading, glittering water chuting over boulders and cliffs.
---
Black Balsam Knob
Length: 1.5 miles
Elevation Gain: 347 feet
Difficulty: Easy to moderate
Parking: Marked spaces on Black Balsam Knob Road
This hike takes you to a tree-free bald with those quintessential rolling Blue Ridge views and a great winter hike. Balds are unique features in the Asheville landscape, they occur at high altitudes but are covered in grass and other small plant life. As such, we love this spot for picnicking. Black Balsam has an elevation of 6,214 feet, but is still considered an easy Asheville hike.
There is less shade than most other trails and it can also be quite a bit colder, so prepare accordingly. This trail is part of a larger one called Art Loeb, which you can always continue onto if you wish to extend the hike to up to 30 miles. The Art Loeb is considered one of the best hikes in North Carolina!
---
Devil's Courthouse
Length: 1 mile
Elevation Gain: 272 feet
Difficulty: Easy
Parking: Devil's Courthouse parking area
There are many legends about how the name of this hike came to be. Perhaps it's that the rock itself resembles a frightening face or that the devil resides in a cave beneath the rock. Either way, this imposing climb lives up to its hype as one of the best hikes near Asheville.
The trail is paved, however, it's an uphill walk with no level breaks. At 5,270 feet the observation deck at the finish boasts surreal panoramas stretching all the way to Georgia. We especially love this view for sunset before heading back to our Asheville cabin.
---
Looking Glass Rock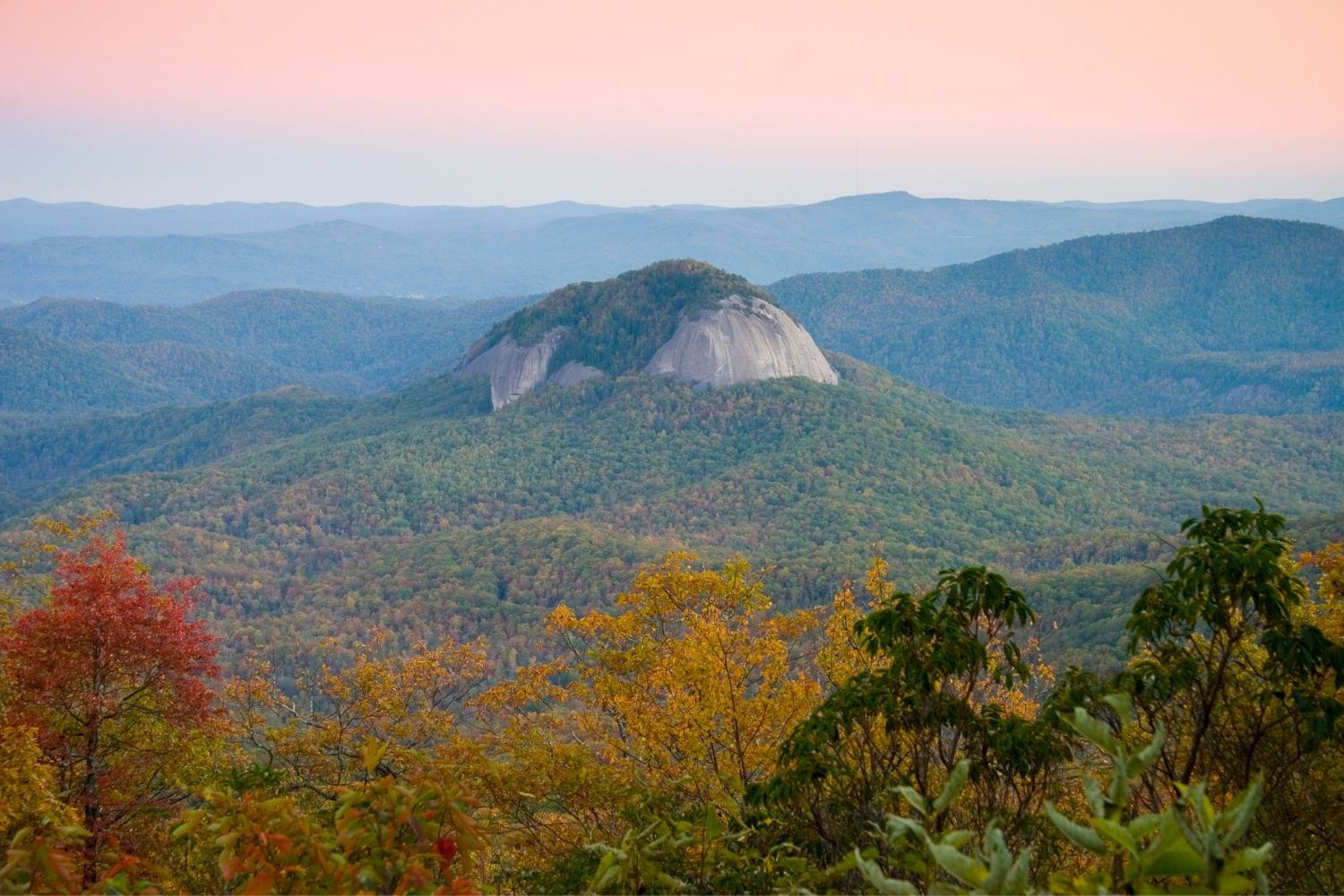 Length: 6.1 miles
Elevation Gain: 1,729 feet
Difficulty: Strenuous
Parking: Looking Glass Rock Trailhead
This is the perfect Asheville hike for those looking for a challenge, but definitely one of the best hikes in Asheville. It is an extremely steep rocky monolith within Pisgah National Park. The summit is not particularly tall, at less than 4,000 feet, but is flat and forested with a thrilling vertical drop just over the granite edges.
You will find yourself engulfed by the surrounding ranges, as opposed to other peaks where you are overlooking them.
The singular trail up the seemingly insurmountable rockface has plenty of switchbacks making it quite doable in the end. Its curved rock formation often reflects light, hence the name, especially in the golden rays of the sunrise. After this hike, you can decide if you prefer views of the mountain or those from the mountain. The route back down is a refreshing respite from the steep ascent.
---
Mount Mitchell
Length: 11.1 miles
Elevation Gain: 3,710 ft
Difficulty: Strenuous
Parking: State Park office parking area
This hike is difficult but rewarding and considered one of the best things to do in North Carolina. Old Mitchell Trail reaches the highest peak east of the Mississippi at Mount Mitchell and is a famed Blue Ridge Parkway hike. It's a loop that starts off at above 6,000 feet and takes you into the clouds high above scenic hills. The trail winds through balsam forests for crisp, fresh mountain air and is home to many species of native wildlife and rare plants. We recommend bringing binoculars for bird spotting.
This is a must-visit of all the best hikes near Asheville, and is less frequented than some of the other Mt Mitchell options, making for a peaceful experience. The terrain of the trail itself can be difficult, so prepare for some mud and a few tricky drop-offs.
---
Table Rock Mountain
Length: 1.4 miles
Elevation Gain: 544 feet
Difficulty: Moderate
Parking: Table Rock State Park parking area
The trail itself is short but very steep, however, the spectacular 360 views over Pisgah National Forest are well worth it. It's the best place to take in the sights of Linville Gorge, as well. It is one of the best destinations in the area for climbing. The trail is very well maintained and signposted. The peak looks flat from afar, hence the name, but feels more like a ridge once you get to it.
Keep your eyes peeled for the Peregrine Falcon as they live in protected cliffside nests seasonally in the area. They're the fastest bird in the world, so try to catch a glimpse mid-flight. It's also easy to continue onto Hawksbill Mountain from here if you wish to extend your hike, or you can just enjoy seeing it from the Table Rock summit.
---
The Grandfather Trail
Length: 4.8 miles
Elevation Gain: 1,872 feet
Difficulty: Strenuous
Parking: Top Shop parking area
John Muir famously described this trail as, "the face of all heaven come to earth." While this quintessential Asheville hike is breathtaking, it is probably the most active trail in the area. It hosts a complex system of ladders and walkways. There are three separate peaks at Grandfather Mountain, each more stunning than the next. The third is the tallest at 5,946 feet, with unparalleled panoramas.
Be prepared for lots of hoisting, scrambling, and climbing on this rugged route. The trail feels like an adventure unfolding before your eyes, weaving in and out of dense forest to rocky ridges to open overlooks. We recommend this mostly for experienced hikers. This is a longer hike, so make sure to quench your thirst at one of the many Asheville breweries after!
---
Sam's Knob
Length: 2.2 miles
Elevation Gain: 570 feet
Difficulty: Moderate
Parking: Black Balsam parking area
With an elevation of 6,045 feet, the sunny bald summit of Sam's Knob gives sweeping 360-degree vistas. The trail winds gradually up the steep slope and features fields full of wildflowers and fern forest for a wonder-filled out and back trek.
The trail goes from gravel, to boardwalk, to a bouldered singletrack. There are plenty of large rocky outcrops at the finish, the perfect place to rest and soak up the scenery. It's one of the better quick and simple hikes for a stunning payoff in an uninterrupted panorama. This hike will steal your heart.
---
Max Patch
Length: 1.5 miles
Elevation Gain: 450 feet
Difficulty: Moderate
Parking: Max Patch parking area
The trail is part of the famous Appalachian Trail and is a favorite of all the best hikes near Asheville. There are two paths to choose from, one goes straight up and the other winds around the mountain. We recommend the latter loop to really enjoy the landscape. It's often called the "crown jewel of the Appalachian Trail."
The summit is a lovely bald with some of the most jaw-dropping views. It's a great place for a picnic or other activities like kite flying or yoga. The scenery is idyllic and it's great for any skill level. There are vast grassy meadows full of sunshine and wildflowers, and by the time you reach the peak you will feel as if you're on top of the world.
---
John Rock
Length: 4.9 miles
Elevation Gain: 1,082 ft
Difficulty: Moderate
Parking: Pisgah Center for Wildlife Education parking area
Located in Pisgah National Forest, this trek is popular among seasoned Ashville hikers. The scenery is gorgeous in every season and it takes you on a journey of different terrains, from waterfalls to lush forests.
It begins at a fish hatchery at Cat Gap. It crosses many creeks and has a set of cliffs for breathtaking views and a break partway through the adventure, as it is a longer trail. See if you can spot Looking Glass Rock from here.
The Center for Wildlife Education is a fun and interesting visit before or after the journey to learn about the area as well. This is a longer day out, so make sure to plan a great meal at an Asheville restaurant after.
---
Tips For Asheville
---
Our Favorite Restaurants
There are some wonderful restaurants in Asheville. That comes in a wide variety of price points and cuisines. The city makes for one of the best vacations in North Carolina and the East Coast. Asheville residents are spoilt for choice when it comes to dining, but it can be a little overwhelming for visitors.
Jargon — Jargon is housed in an intimate, cozy space with an upscale, modern feel. They boast detailed dishes inspired by a variety of international cuisine with a gourmet American base.
Bouchon — Bouchon serves up all the French favorites. Asheville is known as the Paris of the South, and what better way to celebrate this apt moniker.
Tupelo Honey — When visiting Asheville, it's important to partake in the scratch-made Southern comfort fares of the region.
---
Our Favorite Hotels
Various accommodation options in Asheville will be sure to work for any visitor. The right place to sleep at night only makes a trip to one of America's best mountain towns even better. Everything from luxury resorts to boutique hotels and romantic cabins in Asheville.
---
Our Favorite Breweries
Asheville is considered one of the beer capitals of the United States! Its craft brewery scene has been thriving for decades now, and with all that competition, the brewers here really step up their game. There are a ton of the new breweries in Asheville that have popped up around the city, but if you're looking for the three OGs in Asheville, it is Green Man, Wicked Weed, and Highland Brewing Company.
Highland Brewing Company — When investigating the best breweries in Asheville, it's essential to pay homage to the original brewmasters, Highland Brewing Company, who paved the way for the rest. Their Highland Gaelic Ale is a fixture on the craft beer scene and one of my favorite beers of all time.
Green Man Brewery — Green Man Brewery was one of the original beer halls of Asheville in 1997, but they are always bringing something new and exciting to the beer scene in honor of their namesake.
Wicked Weed — Wicked Weed has four separate facilities in the city – a brewpub, a production facility, a fine-dining space, and, of course, the Funkatorium. They have been pushing the envelope of unique craft flavors since 2012.
---
Best Hikes Near Asheville Map