Asheville is known for many enticing attractions – a thriving art scene, a foodie haven, breweries galore, and of course a treasure trove of accessible natural wonders, in particular, some stunning Asheville waterfalls.
This staggering scenery of Asheville is so alluring. We find ourselves strongly disagreeing with TLC and recommending that you should go chasing waterfalls in Asheville.
There are hundreds of spectacular rushing rapids to visit in and around Asheville, so choosing your dream cascade destination can be hard. The good news is that there are scenic falls for every fondness, and we've carefully handpicke our favorite waterfalls around Asheville for you to enjoy too.
---
The Best Asheville Waterfalls
---
Looking Glass Falls
This spectacular sight is easily accessible. Only 45 minutes from downtown Asheville, Looking Glass Falls is right off of the highway and even has a roadside observation deck for easy viewing. Nestled in the mountains of Pisgah National Forest, it's a 75-foot fall of cool, clear, gushing water.
If you choose to trek in for a closer look, you'll find the water is shallow enough to wade in and splash around. It's considered one of the most beautiful waterfalls in the Asheville area. Seeing this magnificent waterfall is one of the best things to do in North Carolina.
ULTIMATE Guide to Looking Glass Falls in North Carolina
---
Hickory Nut Falls
The water at Hickory Nut falls almost 400 feet from its apex to its base, making it one of the tallest Asheville waterfalls. You may even recognize it from its moment of fame in the classic film "The Last of the Mohicans."
The trail to reach the astounding vision of the rushing river is less than a mile long. It's in Chimney Rock State Park, which offers a beautiful forest, plenty of wildflowers, and many scenic views.  
---
Triple Falls, High Falls, Hooker Falls
Triple Falls is a frequented trailhead within the gorgeous Dupont State Forest. About an hour from Asheville, many visitors make the trek to see three waterfalls for the price of one. It's a beautiful North Carolina hike well worth the effort.
The hike is about two miles out and back to view all three Asheville waterfalls. It's a moderate-level path with some steep sections. The winding trails are full of old-growth fir forests for a fresh and crisp adventure.
The first waterfall you will come across is High Falls. It's 150 feet tall and arguably the most impressive of the bunch. A covered bridge overlooks the High Falls that offers an excellent vantage point and extra charm.
Next is Triple Falls, a three-tiered 125-foot natural wonder. It's famous for its popular series "Hunger Games." The last is Hooker Falls. It's only about 12 feet high, but it has an impressive volume, and at the bottom, there are some rocks for resting and a pool for swimming. The current is feeble here, so it is one of the few spots safe for a dip.
---
Biltmore Waterfall
Visiting the Biltmore Estate is one of Asheville's best things to do. A stroll through the iconic Biltmore estate will lead you to one of the few waterfalls that lie within Asheville city limits. It's part of a dam located at Bass Pond on majestic grounds.
For a short but magical stroll, take the Azalea Garden Trail. And for a longer hike, you can use the Deerpark Trail to end up at the same stunning site. There are plenty of great photo-ops from the bridge above or the viewing rocks below.
---
Bridal Veil Falls
This waterfall is also within Dupont State Forest. It's a bit farther out, so if you're up for long and adventurous hiking in Asheville, NC, waterfalls, you can hit it with the other three, or you can make a separate trip just for this beauty.
It's a four-mile round trip route with several viewing options to witness the 120 footfalls from all angles. It is a particularly great trail for mountain biking if you prefer that exploration method.
The waterfall is great to enjoy a picnic atop a rock in the serene landscape. After you complete the journey, make sure to eat at one of the best Asheville restaurants to refuel.
---
Catawba Falls
Catawba Falls are 100 feet of glorious and gushing water. There is a three-mile round trip hike through the magical Pisgah National Forest, full of dreamy green moss and lichen-covered woodland. It's easy to moderate and ends at some of the most picturesque views in the region. It's only about 30 minutes from Asheville.
Much of the trail follows a babbling brook, making for a calm and tranquil nature-filled fun day. It's a great choice if you want to bring a furry friend as well.
---
Pearson's Falls
Pearson's Falls is an excellent option if you're looking for Asheville waterfalls with easy and short hikes. The trail is about half a mile through lush landscape finishing at a 90-foot cascading waterfall down a rugged rocky staircase.
It's a lovely stroll with a great payoff and doesn't require all the exertion of some more strenuous treks. A garden club privately owns it, so it does require a small fee to view. The falls are in an ecological preserve, so plenty of beautiful flora and fauna to spot.
---
Dill Falls
Dill Falls is a one-mile, round trip, easy hike to see both Upper Dill Falls and Lower Dill Falls. They are both 50-foot falls within the idyllic Nantahala National Forest. The trails are simple to follow but are often not marked.
Due to this, it is one of the less frequented attractions, so it's a good chance for some uninterrupted photo-ops and to feel lost in nature, soaking up all the majestic sights and sounds.
---
Rainbow Falls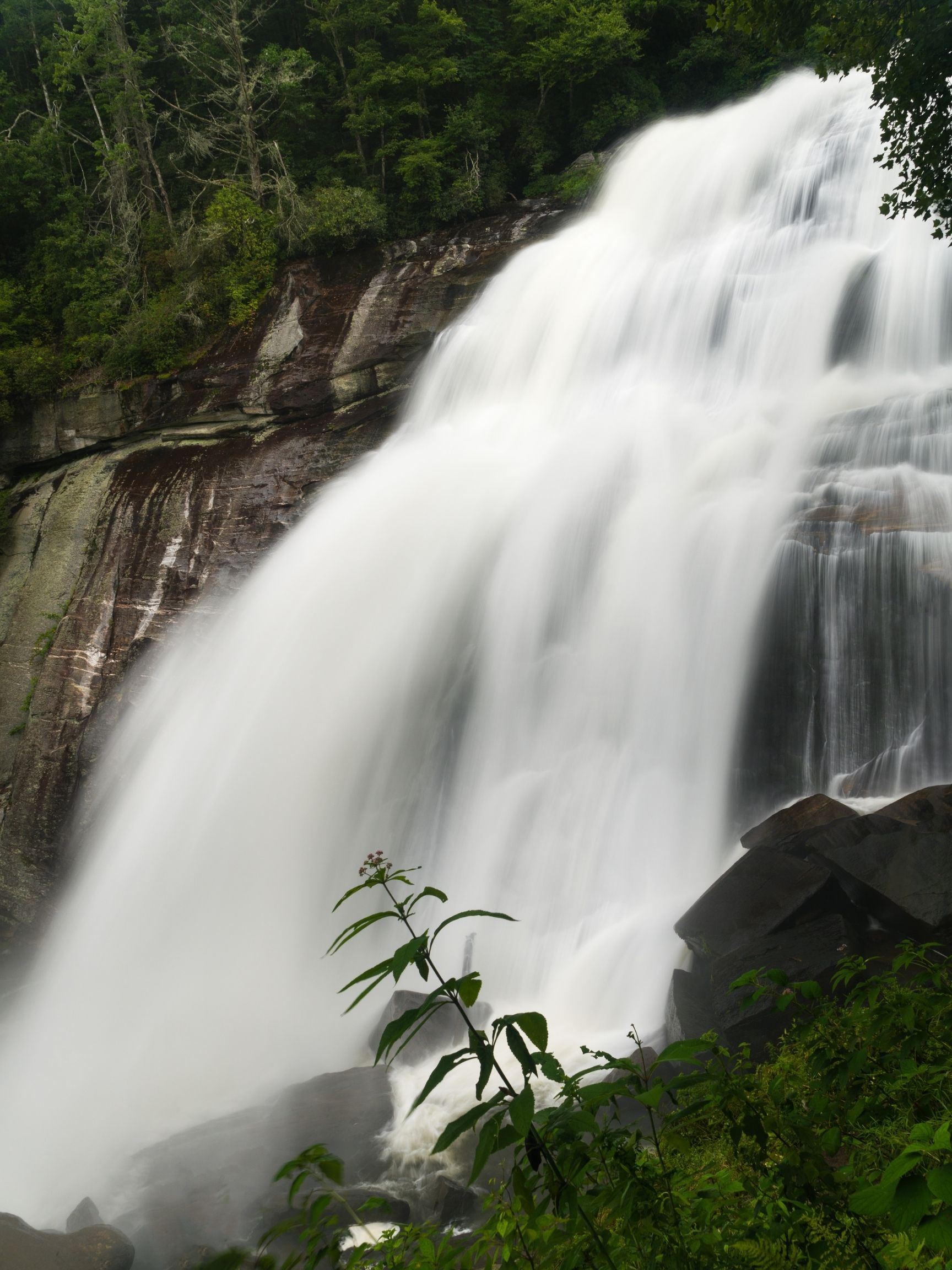 The 150-foot falls are a vertical feat of nature located in Gorges State Park, makes Rainbow Falls a gorgeous sight. To reach the falls requires hiking along a trail under two miles through giant trees and wildflower meadows.
You will hear the massive falls before you see them. Named for its propensity to create beautiful rainbows in its mist, be sure to view it from several angles to try and catch a glimpse of one.
There are two smaller bonus waterfalls right nearby as well. Keep your eyes open for Hidden Falls on the way to Rainbow Falls for a lovely wading pool. Turtleback Falls is just a bit further and has an excellent spot for picnicking. It is a beautiful spot in the area, and there are a few cozy Asheville cabins to stay nearby.
---
Courthouse Falls
These Asheville waterfalls provide a verdant setting, tucked in a scenic cove surrounded by wild flora. It's a 45-foot chute of cascading water that lands in a deep, clear pool perfect for a refreshing dip.
The hike is about one mile long and stays at a relatively easy level. The fall's mist keeps this spot cool, even in the warmest parts of summer. It's even likely you will have this hidden retreat all to yourself.
---
Little Bradley Falls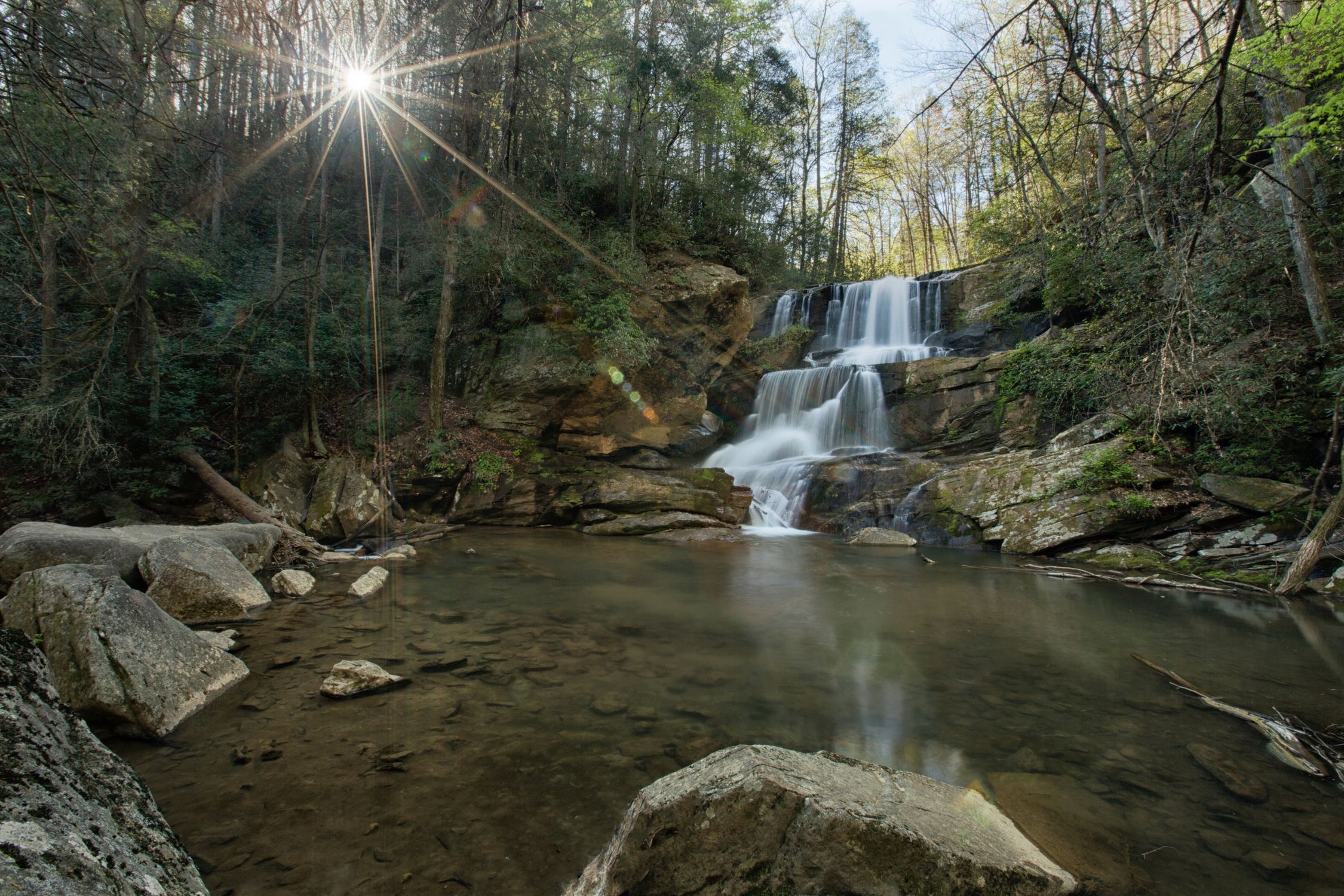 This 50-foot waterfall is multi-tiered, adding exceptional beauty to its fast-flowing streams. It's a two-mile round trip to view it on a relaxed trail with lots of tree canopy cover.
It's located on Cove Creek and has a charming swimming hole with a small beach area at its end. It may seem enticing to climb here, but the rocks are very slippery, so it can be pretty dangerous.
---
Daniel Ridge Falls
Daniel Ridge Falls is located in Pisgah National Forest and can go by the other monikers of Tom's Spring Branch Falls or Jackson Falls. At 150 feet, it's a remarkable display. There are two different trails, with tiny waterfalls and sweet streams along the journey.
One is a four-mile loop, and the other is just a mile out and back if you're looking for a more leisurely adventure. About an hour outside of Asheville, these trails are favorites of the locals and less frequented by visitors.
---
Crabtree Falls
Crabtree Falls is a famous and pretty waterfall an hour from downtown Asheville. There is an easy trail that's two miles out and back and a more difficult two-and-a-half-mile loop that travels along a ridge above the waterfall.
Both trails tend to be a bit muddy, so prepare accordingly. The water flows from a 60-foot rock cliff creating a dramatic cascade. There's a small bridge that is perfect for viewing the falls.
---
Dry Falls
Dry Falls offers a unique feature that most do not, making it a popular waterfall. The falls flow directly over a cliff at a high volume, creating its unique characteristic where you can walk inside the waterfall and stay dry. The 75-foot waterfall is in Nantahala National Forest.
Its roadside location makes it easily accessible, and it has an observation deck for effortless and excellent viewing. If you are looking for a more intensive experience, there is a longer eight-mile trail that takes you along the Cullasaja River to several other falls in addition to Dry Falls.
---
Skinny Dip Falls
If you're hoping for a more interactive waterfall experience, Skinny Dip Falls is just the spot. Multiple cascades and pools allow plenty of swimming, climbing, and jumping off rocks into deep pools of clear, cool water. If you don't want to get wet, there are several dry places to rest and relax near the falls.
Despite the name, we do recommend bringing a bathing suit. It's at the end of a short trail right off of the Blue Ridge Parkway and is a spectacular sight all year-round.
---
Upper Whitewater Falls
The Whitewater Falls are the highest east of the Rockies, at 811 feet. The Lower Falls is accessible from South Carolina, but the staggering Upper Falls are less than an hour from downtown Asheville. They are nestled in the Nantahala National Forest and plummet 411 feet.
A short paved walkway leads to an overlook for a dazzling view above the falls. There's a staircase that meanders down to a lower vantage point that's just as wonderful. The rest of the trail will take you down to the bottom of Upper Whitewater Falls for a rest with a view or a revitalizing swim.
---
Linville Falls
Linville Falls requires a bit of a longer hike and is farther out at an hour and a half from Asheville, but these falls are worth it. There are two trails about four miles long. One is more strenuous than the other. The falls plummet down 90 feet, and you will find several incredible vistas to take it all in throughout the hike.
It's one of the more famously photographed sites in the area, and it's obvious why. The flowing, sparkling water jutting out from the mountain rock formations surrounding foliage creates a magical scene.
---
Soco Falls
Soco Falls is the site of the rare twin waterfalls located on the edge of the Cherokee Indian Reservation. It's only about half an hour from Asheville and has several short trails for viewing both falls at different points.
It's right off the highway, and there are only a couple of minor signs for it, so be sure to keep your eyes peeled, so you don't miss it.
---
Tom's Creek Falls
This waterfall is a hidden gem of the Asheville waterfalls. It tends to be more serene and less frequented than the others, but it's just as breathtaking. It's a double-tiered, 60-foot fall and perfect for easy photographing.
The trek is less than a mile, and you can stop to see the old mica mine along the way. If it's sunny enough, you can catch the rock glittering brightly here. With dense forest and several small streams, this is a perfect choice for those craving to commune with nature.
---
Sliding Rock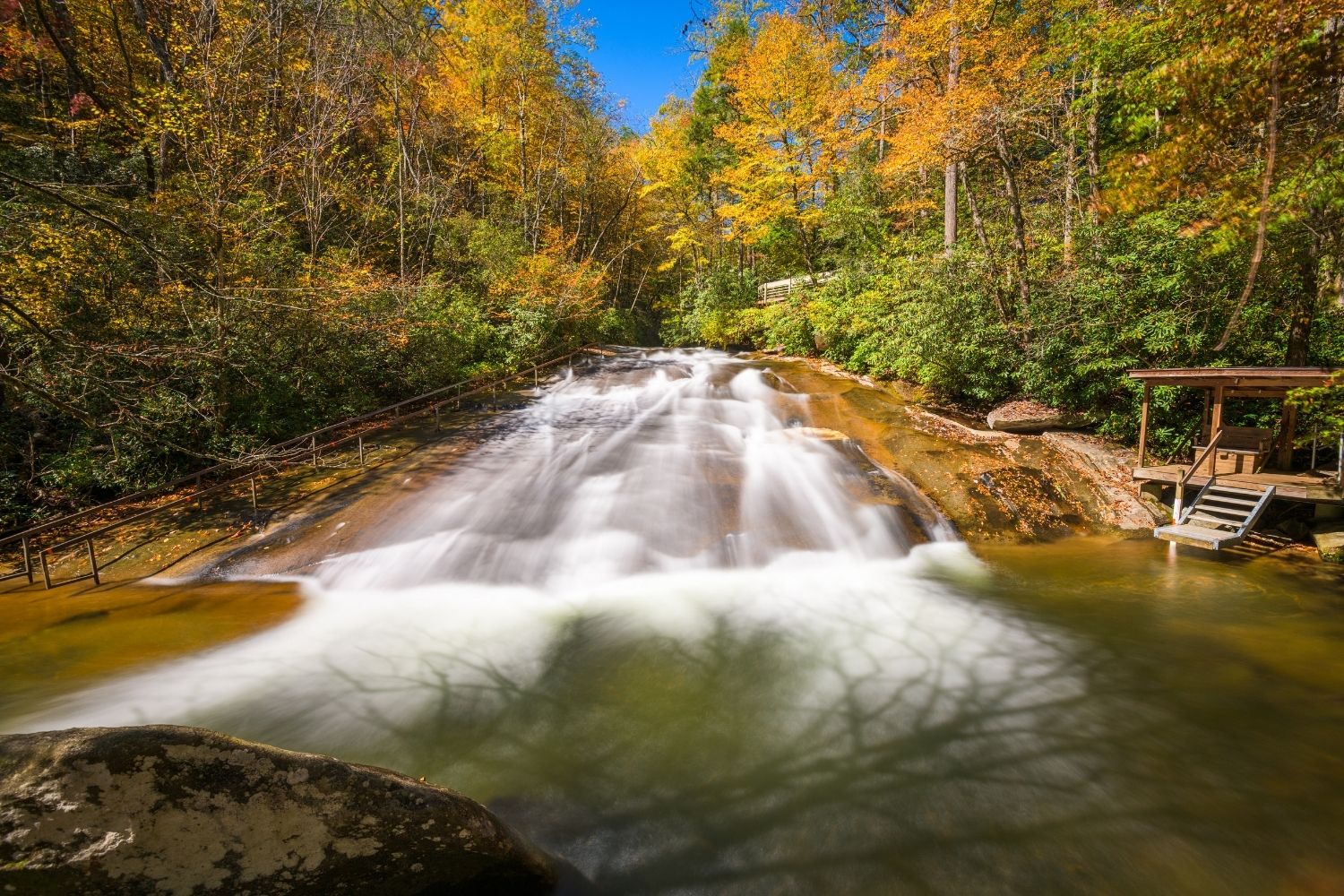 Part scenic waterfall and part thrill ride, Sliding Rock is perfect for the adventure seekers not far from the town of Brevard. It's a 60-foot flat yet sloping mountain waterfall in Pisgah National Forest. Quite the attraction, this site receives many visitors from all over waiting to slip and slide down this natural phenomenon.
Eleven thousand gallons of water rush through every minute, and it's undoubtedly the most exciting way to beat the heat in the area. It's less than an hour from Asheville, and there are several spots to view the falls and cheer on the sliders if you prefer to stay dry.
Guide to Visiting Sliding Rock Falls in North Carolina
---
Tips For Visiting Asheville
---
Our Favorite Asheville Restaurants
There are some wonderful restaurants in Asheville. That comes in a wide variety of price points and cuisines. The city makes for one of the best vacations in North Carolina and the East Coast. Asheville residents are spoilt for choice when it comes to dining, but it can be a little overwhelming for visitors.
Jargon — Jargon is housed in an intimate, cozy space with an upscale, modern feel. They boast detailed dishes inspired by a variety of international cuisine with a gourmet American base.
Bouchon — Bouchon serves up all the French favorites. Asheville is known as the Paris of the South, and what better way to celebrate this apt moniker.
Tupelo Honey — When visiting Asheville, it's important to partake in the scratch-made Southern comfort fares of the region.
---
Our Favorite Asheville Hotels
Various accommodation options in Asheville will be sure to work for any visitor. The right place to sleep at night only makes a trip to one of America's best mountain towns even better. Everything from luxury resorts to boutique hotels and romantic cabins in Asheville.
Private Island Cabin: Want a romantic cabin in Asheville on a small secluded private island in the French Broad River? This Asheville VRBO is the ultimate unique glamping getaway.
The Omni Grove Park Inn: The historic Omni Grove Hotel is the quintessential place to stay in Asheville. It provides legendary guest service in an unforgettable setting that offers some of the best views in Asheville. It's worth a visit even if you don't stay here!
Foundry Hotel Asheville: This hotel features upscale decor, modern with a nod to the historical context of the building and district.
Cambria Hotel Downtown Asheville: Modern hotel with a fantastic location in downtown Asheville.
14 Unique Asheville Glamping Sites to Get Cozy in
---
Our Favorite Asheville Breweries
Asheville is considered one of the beer capitals of the United States so after you are done exploring these Asheville waterfalls it's best to hit a brewery up! Its craft brewery scene has been thriving for decades now, and with all that competition, the brewers here really step up their game.
There are a ton of new breweries in Asheville that have popped up around the city, but if you're looking for the three OGs in Asheville, it is Green Man, Wicked Weed, and Highland Brewing Company.
Highland Brewing Company — When investigating the best breweries in Asheville, it's essential to pay homage to the original brewmasters, Highland Brewing Company, who paved the way for the rest. Their Highland Gaelic Ale is a fixture on the craft beer scene and one of my favorite beers of all time.
Green Man Brewery — Green Man Brewery was one of the original beer halls of Asheville in 1997, but they are always bringing something new and exciting to the beer scene in honor of their namesake.
Wicked Weed — Wicked Weed has four separate facilities in the city – a brewpub, a production facility, a fine-dining space, and, of course, the Funkatorium. They have been pushing the envelope of unique craft flavors since 2012.
---
Stunning Asheville Waterfalls Map