There's no doubt about it, you can find some beautiful cabins in Asheville, NC. It's hard to find a better feeling than waking up in the middle of the woods, and overlooking the Smoky Mountains while sipping hot cup of coffee.
Staying at a cabin is one of the best things to do in Asheville, so we're breaking down some of the most pet friendly, luxurious, and romantic cabins in Asheville you can find. Get ready to be inspired by these amazing VRBOs in Asheville.
---
Best Cabins in Asheville
---
Tiny House in the woods
Location: Hendersonville
Beds: 1
Guests: 2
Price: $69/night
Have you ever wondered what it's like to live in a tiny house? This is your chance to try it out at one of the cheap cabins in Asheville on this list. The Tiny House movement has been sweeping the nation, and these sweet, small-style homes show us how we can live in ways that are minimalistic and sustainable.
This quaint abode is set in a meadow with an extensively landscaped yard to look out onto from the front porch. It has a clean and comfy design that feels modern.
It's semi-private and super close to several orchards. It's only 340 square feet but has everything you need for a relaxing getaway that won't break the bank. There's a shared fire pit available to use with plenty of wood supplied.
---
Miller High Life Cabin
Location: Old Fort
Beds: 3
Guests: 6
Price: $215/night
After you enjoy a delicious Asheville restaurant head to this amazing accommodation. If Miller High Life is the champagne of beers, this is the champagne of log cabins in Asheville. The stunning sun porch is absolutely the highlight of this airy wooden abode. There are views of Lake Lure and the many ranges of the picturesque Blue Ridge Mountains. You could spend all day relaxing in the Adirondack chairs taking in these sights.
The cabin provides a private getaway as the property itself is tucked away on windy roads. Each bedroom has its own floor and bathroom, with a full bath in each. It's only 35 minutes from Asheville, and many other attractions are easily accessible, such as Biltmore, Chimney Rock, Lake James, and Linville Cavern and Falls.
The cabin is well-equipped and features a clean simple decor that allows the view from each room to speak for itself.
---
Large Log Cabin
Location: Leicester
Beds: 4
Guests: 8
Price: $325/night
If you are after one of the best pet-friendly cabins in Asheville NC, look no further. The outdoor space on the property leaves nothing to be desired. With a large, stone fireplace complete with plenty of freshly chopped wood, a relaxing hot tub, strings of lights for evening ambience, and surrounding green forest, this is the cozy cabin vibe you've been dreaming of.
Only 15 minutes from downtown, it's convenient without feeling too close. If you have a bigger group there is plenty of space here for everyone.
It has three floors with two covered decks and a delightful porch swing, as well as a fenced-in backyard perfect for pups. Within the house, you can enjoy such amenities as a clawfoot tub and billiards table.
---
Private Pond Cabin
Location: Alexander
Beds: 2
Guests: 4
Price: $225/night
The biggest draw for this property is right in the name. The home has a light and airy, country chic feel.
It's the perfect sanctuary for relaxation with a clawfoot tub, cozy fireplace, pastoral front porch, and private dock that goes right out onto your very own lake. The peaceful beauty of the surroundings will envelop you so that you may never want to leave.
The pond is perfect for fishing or resting and there is everything you need for an idyllic stay. With the city only 20 minutes away, it wins our vote for one of the best cabins in Asheville.
---
Working Farm Cabin
Location: Marshall
Beds: 2
Guests: 4
Price: $365/night
Get a cozy taste of farm life! Friendly pigs, calm grazing cows, and a curious donkey who enjoys treats will all be your neighbors at this cabin.
You can gather your own fresh, free chicken eggs from the coop in the mornings. The screened-in sun porch boasts beautiful mountain scenery and the decor is quintessential, old-fashioned country cabin.
Stargazing in the hot tub is a rejuvenating experience as it's filled with mountain spring water. There's also plenty of available hiking on-site, allowing for true communing with nature.
There are 100 acres of fenced-in land around the cabin, and it's hidden about half an hour from Asheville—if you can ever bring yourself to leave quaint farm life.
---
Infinity Ridge Cabin
Location: Hendorsonville
Beds: 2
Guests: 6
Price: $208/night
Cuddle up by the fire and let the serene solitude and stillness envelop you. Infinity Ridge Cabin is located right on a mountain ridge, providing it with spectacular views. The wrap-around deck provides breathtaking sunset scenes every night.
The log cabin sits on five acres of nature. A steep 20-minute hike downhill takes you directly to a large on-site waterfall. You can even hear it from the home which adds an extra touch of relaxation.
Having this magical feat of nature so close and all to yourself is a definite perk of the property. All the main attractions are nearby as well.
---
Large Cozy Cabin
Location: Leicester
Beds: 3
Guests: 13
Price: $358
If you're looking for one of the best luxury cabins in Asheville that comes with every amenity, this Large Cozy Cabin has got them all.
A true log cabin, its floor to ceiling wood paneling gives the ideal cozy, natural vibe with plenty of space. It has plenty to keep everyone entertained on the property, so can be a great option if you're traveling with children.
There's a games table, as well as several hammocks for outdoor lounging, and a popcorn machine for movie nights. There's a Jacuzzi bathtub inside and a very relaxing hot tub outside for all your soaking needs.
The fire pit seats many for communing together with a beer and a story in the sequestered surroundings. If you're looking for an escape, this is the complete package.
---
Private Island Cabin
Location: Alexander
Beds: 1
Guests: 3
Price: $150/night
Want a romantic cabin in Asheville on a small secluded private island in the French Broad River? This Asheville VRBO is the ultimate unique glamping getaway.
With wilderness touches, like the rain barrel outdoor shower and wood stove, you will feel like you've escaped into the wilderness, while only being about 25 minutes from downtown Asheville.
It's an ideal retreat for free-spirited adventurers. Relax on the private riverfront beach, catch fresh fish for dinner—or some lightning bugs for fun—roast marshmallows on an open fire, and fall asleep to the soothing sounds of local wildlife.
You can even tube or kayak on the river from the site. The cabin is small with a woodsy Americana style.
---
Johnson Carriage House
Location: Black Mountain
Beds: 2
Guests: 4
Price: $199/night
This newly constructed luxury cabin boasts vaulted ceilings, antique wood beams, and lots of natural light flowing into the spacious and open abode.
It has a very sleek, modern, and chic atmosphere, which feels like an upscale experience. There's a state-of-the-art kitchen, and it's extremely clean and extra comfortable. This is the cabin to choose if you're looking to treat yourself on your Asheville excursion.
There are front and back porches. The back has a screened-in dining area and a built-in grilling station. The front has spectacular views of Rattlesnake Mountain year-round and rocking chairs to soak it up.
It's an easy walk into the nearest cute mountain town, and there are plenty of excellent hiking trails in the area. It's only 30 minutes or so from Asheville.
---
Garden Cabin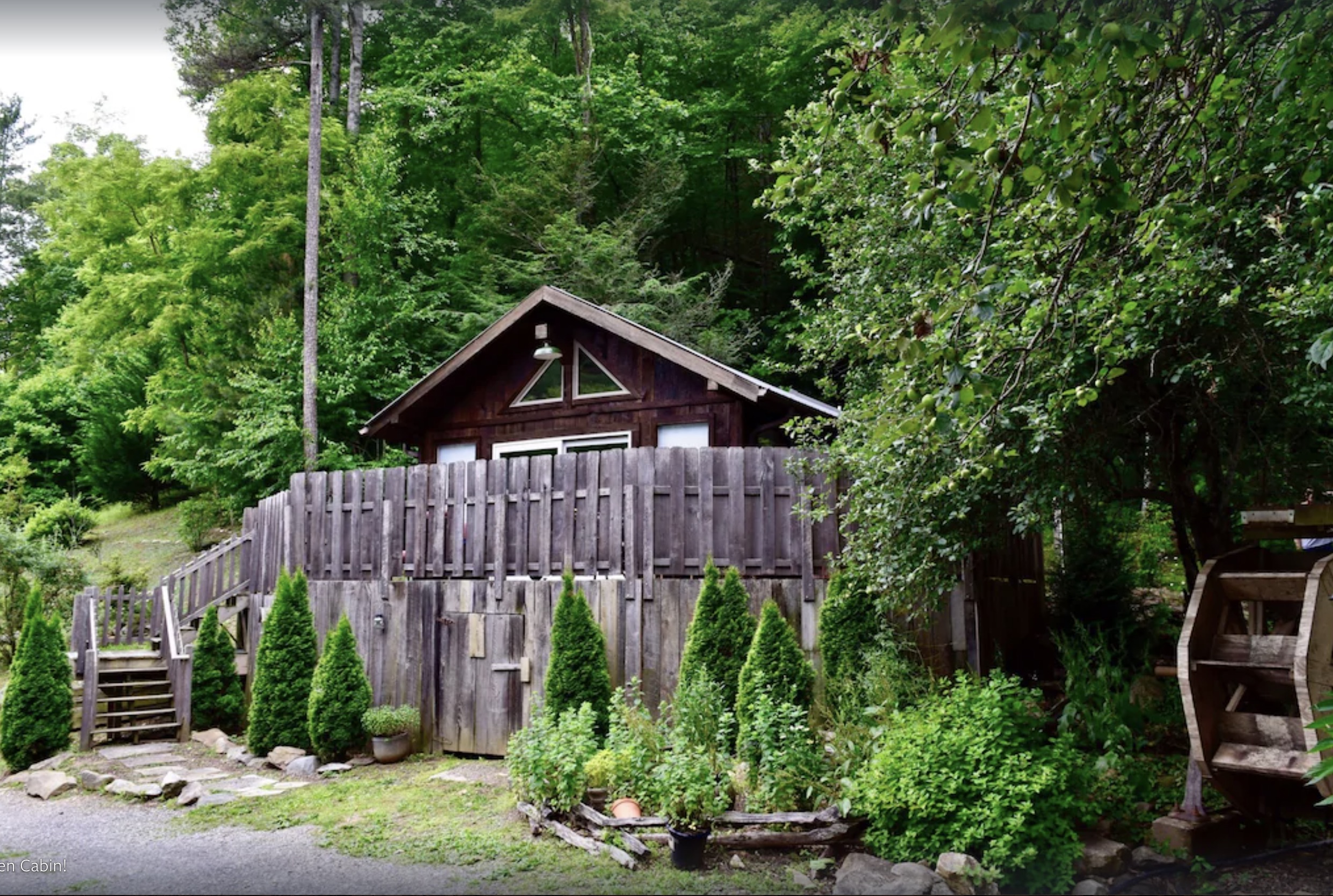 Location: Fairview
Beds: 1
Guests: 3
Price: $190/night
Garden Cabin features a dark, rich wooden interior using refurbished oak and chestnut, and a lovely landscaped exterior with many tranquil features.
This is the place to have a relaxing retreat full of rustic elegance. It's located just 15 minutes from downtown Asheville, which you have to enjoy as it's one of the best things to do in North Carolina. There are two koi ponds with several small waterfalls and lotus flowers, creating a very peaceful space.
There are two horses on-site, who are very friendly and always hoping for a carrot treat, and the chickens lay fresh eggs for your breakfast. You can gaze out at the moon over the mountains from the hot tub, and read and rest in the hammocks overlooking the scenery.
There are also breweries and hiking right nearby, what else could you need?
---
Mountain Bungalow
Location: Asheville
Beds: 3
Guests: 6
Price: $177/night
This is the trendy, retro-chic cabin of our collective aesthetic dreams. The floor plan is open, the furniture is vintage, and the style is simple and thoughtful.
There is a screened-in front porch and a large fenced in backyard, with flowers, picnic tables, a fire pit, and a grill. Each bedroom has a unique color palette for coziness.
The cabin was built in 1903 as the neighborhood dance hall and has since been renovated to maintain its original charm. Firewood is provided for the stove and there is a record player to use for an added nostalgic delight.
As it's located in Asheville, everything is conveniently close, while you still get to feel like you are on a bungalow break. If you love design, this space is perfect for you.
---
Secluded Cabin
Location: Burnsville
Beds: 1
Guests: 4
Price: $125/night
This is a private mountain getaway ensconced in pristine forest, perfect for the wilderness lover.
There are many hiking trails, a small pond, and plenty of native flora and fauna on the surrounding 45 acres. You will be engulfed by greenery. It's a great place to disconnect from the outside world, as it's a little further out.
The home is over 100 years old and has been restored to a state of rustic cabin glory. There's a large deck for lounging, wildlife sightings, and stargazing. The inside is spacious and open, and very comfortably outfitted. The hot tub and wood-burning fire will keep you cozy all year-round.
Watch hummingbirds from the rocking chairs, listen to the sound of the bubbling creek, and pick a title from the stocked bookshelves.
---
Hip Cabin
Location: Asheville
Beds: 1
Guests: 2
Price: $225/night
Welcome to one of the best cabins with hot tubs in Asheville NC. This newly-built cabin ticks all the boxes, with a sleek and modern design featuring hip furnishings.
It has a hot tub, fire pit, and fireplace, as well as creekside seating. There is a large yard with hammocks and outdoor games, and it sits on one acre of land. It's definitely a favorite of the all the best cabins in Asheville.
It's conveniently located for all the popular attractions and has the amenities for a fun-filled nature vacation. You can hear the relaxing sounds of the babbling creek right beside you as you rest and relax on the cozy front porch.
Comfy robes, bathroom products, and s'mores ingredients are all provided. This is a particularly Instagrammable cottage, if you're setting out for photo-ops.
---
Asheville Lodge
Location: Asheville
Beds: 5
Guests: 21
Price: $692/night
If you are traveling with a large group of friends or family, we recommend this spacious grand cabin, it can sleep up to 21 guests with ample area for everyone to enjoy.
It's very close to downtown and many local hiking trails. It provides stunning views of the scenery from the open deck, as well as all the cozy cabin classics, such as a fireplace, hot tub, foosball table, and grill.
The high-beamed ceilings and light wood floors provide the perfect rustic feel. The clawfoot tub adds a special touch of woodland luxury. It feels like a true American lodge experience.
There are plenty of picturesque gathering spaces to share time together. The home is at 3,000 feet of elevation, creating breathtaking vantage points for the mountain ranges, wildlife, sunsets, and stargazing.
---
Gorgeous Mountain Home
Location: Asheville
Beds: 1
Guests: 4
Price: $290/night
This luxury post and beam home is settled on 55 acres of private wilderness, and the cabin itself is an impressively crafted structure.
It's technically a protected wildlife sanctuary, meaning the ecosystem is thriving and ideal for wildlife spotting and hiking one of the many trails right outside the door. If your main objective is to hike on your stay away, we recommend this Gorgeous Mountain Home.
There are truly inspiring views from every window in the home, make a fun challenge out of trying to choose your favorite. There are two porches for viewing the majestic Blue Ridge Mountains.
Despite being shrouded in nature, it's only 10 minutes from downtown. It provides a very warm atmosphere for a tranquil escape and is well-stocked with everything you need. 
---
Tips For Asheville
---
Our Favorite Restaurants
There are some wonderful restaurants in Asheville. That comes in a wide variety of price points and cuisines. The city makes for one of the best vacations in North Carolina and the East Coast. Asheville residents are spoilt for choice when it comes to dining, but it can be a little overwhelming for visitors.
Jargon — Jargon is housed in an intimate, cozy space with an upscale, modern feel. They boast detailed dishes inspired by a variety of international cuisine with a gourmet American base.
Bouchon — Bouchon serves up all the French favorites. Asheville is known as the Paris of the South, and what better way to celebrate this apt moniker.
Tupelo Honey — When visiting Asheville, it's important to partake in the scratch-made Southern comfort fares of the region.
---
Our Favorite Hotels
Various accommodation options in Asheville will be sure to work for any visitor. The right place to sleep at night only makes a trip to one of America's best mountain towns even better. Everything from luxury resorts to boutique hotels and romantic cabins in Asheville.
The Omni Grove Park Inn — The historic Omni Grove Hotel is the quinessential place to stay in Asheville. It's provides guest legendary service in an unforgetable setting that offers some of the best views in Asheville. It's worth a visit even if you don't stay here!
Foundry Hotel Asheville — This hotel features upscale decor, modern with a nod to the historic context of the building and district.
Cambira Hotel Downtown Asheville — Modern hotel with a fantastic location in downtown Asheville.
---
Our Favorite Breweries
Asheville is considered one of the beer capitals of the United States! Its craft brewery scene has been thriving for decades now, and with all that competition, the brewers here really step up their game. There are a ton of the new breweries in Asheville that have popped up around the city, but if you're looking for the three OGs in Asheville, it is Green Man, Wicked Weed, and Highland Brewing Company.
Highland Brewing Company — When investigating the best breweries in Asheville, it's essential to pay homage to the original brewmasters, Highland Brewing Company, who paved the way for the rest. Their Highland Gaelic Ale is a fixture on the craft beer scene and one of my favorite beers of all time.
Green Man Brewery — Green Man Brewery was one of the original beer halls of Asheville in 1997, but they are always bringing something new and exciting to the beer scene in honor of their namesake.
Wicked Weed — Wicked Weed has four separate facilities in the city – a brewpub, a production facility, a fine-dining space, and, of course, the Funkatorium. They have been pushing the envelope of unique craft flavors since 2012.