Despite being a resident of North Carolina for over a quarter-century, until a few weeks ago I'd never been to the Smoky Mountains. Even though I knew there are an insane amount of things to do in Asheville!
Asheville is a city that's well known across the country for its charismatic charm, breweries, grand estate, waterfalls, and scenic Appalachian Mountains. When you add it all together it makes for the perfect place to visit in North Carolina.
Here are all the must-do activities in Asheville, as well as our favorite restaurants, breweries and places to stay!
---
Best things To Do in Asheville
---
Chase Waterfalls
One of the most outdoorsy Asheville getaways is to go hike to a waterfall. The smoky mountains are some of the oldest mountains on earth and, at one point, reached as high as the rocky mountains. Now, after centuries of erosion, we have their present landscape or rolling hills and thousands of rivers and streams.
Within a short distance of Asheville are dozens of waterfalls that are all a short drive from the city center. Just make sure to bring a bathing suit as the waterfalls are perfect to take a cool swim in the summer.
One of the best spots to head close to Asheville is The Dupont State Forest. Trails are well marked and it's possible to do a short three waterfall hike in under two hours. Some of our favorite waterfalls are:
Looking Glass Falls
Hickory Nut Falls
Triple Falls, High Falls, Hooker Falls
Catawba Falls
Pearson's Falls
---
Take a Hot Air Balloon Ride
If you're truly looking for a spectacular Asheville attraction, then a hot air balloon ride over the mountains will do the trick. Asheville is one of the best places in North Carolina for a hot air balloon ride!
We've taken hot air balloon flight a handful of times and cannot recommend them enough. However, they often come with a high price tag so it may not be the best value activity.
If you are celebrating a special occasion while in Asheville, Asheville Hot Air Balloons will get you high up for epic views. You'll be able to see the stunning mountains near the Pisgah National Forest at sunrise.
---
Have a Picnic in Pisgah National Forest
Enjoying the fabulous US national park system is one of the best things to do in the USA. Head to the Pisgah National Forest in the area and bring a packed bag for a beautiful Asheville getaway. The Blue Ridge Mountains have long brought vacationers looking to escape the heat in search of beautiful vistas, they are even wheelchair accessible so everyone can easily enjoy!
Pisgah National Forest is a short drive outside of Asheville and it's an amazing place to explore for the day. Find rolling mountain fields and dense Appalachian Blue Ridge Forests along winding trails.
When packing a picnic we always go light. Classic staples for a successful picnic include a light wine like Sauvignon Blanc, Rose, or Pinot Grigio. Then we like to pair it with two great kinds of cheese like aged clothbound cheddars, chevre, aged gouda, brie, or aged sheep's cheese. When it comes to fruit go seasonal and pick up some local items like berries in the spring/summer and apples/pears in the fall/winter. Pick up some bread or crackers and add a pre-made tapas like dolmades for the perfect romantic picnic in the sun.
---
Enjoy the Biltmore Estate
You're likely to see the Biltmore Estate mentioned in anything you read about Asheville and it's for good reason. It's one of the best things to do in Asheville! The famous estate is the largest private residence in the United States and built by George Vanderbilt, heir to railroad fortune. His massive home sits on a grand estate adjacent to the city and has been entertaining guests since it first opened its doors in 1895.
We spent a whole day on the estate and would suggest at least several hours to fully enjoy the Biltmore too! Start the day with a tour of the 178,926 square foot house with 250 rooms. After you finish up the tour go explore the gardens and the rest of the estate designed by famed landscape architect Frederik Olmstead. For those of you who don't know, that's the guy who designed Central Park in Manhattan.
Afternoon tea at the Biltmore Inn is another amazing experience to have. We've done Afternoon tea at other hotels and have been disappointed, but the Inn managed to thoroughly impress us. If you're looking for a special experience filled with loose leaf tea, fresh pastries, and macaroons this is something we highly recommend. Also make sure you leave time in your day to check out the Biltmore Winery with your free tasting ticket.
---
Cruise Along the Blue Ridge Parkway
Take to the road and spend a few hours or a full day exploring one of America's most scenic drives. Seriously, just driving around should be on any Asheville getaway itinerary. The 469-mile scenic road passes right through Asheville and makes for a fantastic place to road trip. I'd recommend starting in the afternoon after a morning hike to catch it in the evening light along the Blue Ridge Parkway.
Or you can make a full day, or two, out of it touching on hundreds of trails and various viewpoints that are located along the beautiful road. If you're visiting during the fall season, be prepared for a crowded road as ten's of thousands "leafers" are in search of the stunning fall colors.
---
Indulge in Fancy Chocolate at the Chocolate Lounge
What's more romantic than tasting decadent chocolate? The French Broad Chocolate Lounge offers an amazing selection of sweet temptations. We just followed the line out front to find a tasty liquid truffle. They also offer tours of their factory and you can see how they handcraft their wonderful chocolate.
---
Catch Sunset at the Omni Grove Park Inn
Head to the top of Asheville's most famous hotel for some sunset drinks. The iconic Inn has sat atop Sunset Mountain for over a century, and offers an amazing view of the western mountains. The old hotel was built using giant boulders from the surrounding mountainside. All sorts of famous guests have stayed at the grand lodge including ten U.S. Presidents.
We recommend that you catch the sunset while dining al fresco or unwind in their subterranean spa experience. There's no better way to spend a romantic weekend in North Carolina than this.
---
Catch a Show at one of the many venues
Although it may not be Nashville, Asheville is still considered one of the "Greatest Music Cities" in the United States. There are a number of music halls like The Orange Peel, neighborhood bars, and even the streets of downtown play host to some of the best in local and national touring musicians.
---
Enjoy One of the Many Breweries
Asheville is the mecca place for craft beer enthusiasts on the East Coast. Actually, Asheville boasts more breweries per capita than any other US city. Yes, you'll find over 30 breweries in the city and over 45 in the mountain region!
The secret ingredient is the mountain-filtered water, making for some of the most sought-after ales, stouts, and sour beers in the southeast. There are so many Asheville breweries to choose from, you can choose one for each night of your stay!
---
Stroll Through the River Arts District
The River Arts District is an arts area close to the French Broad River. Here you can come and shop in former industrial buildings on Riverside Drive and buy handmade products made by local artists. It's where many artists come to display their work. Even if you are not planning on buying anything, it's a neat area to come and window shop. You can also take an art class before grabbing a beer and bite to eat. A few notable places to stop at are:
Ultra Coffeebar
North Carolina Glass Center
Wedge Studios
Wedge Brewing Company
Broken Road Studio
---
Go on a Foraging Tour
No Tastes Like Home operate foraging tours in the Asheville Forests. For $75 you can meet with some of the cities best guides to take you out and search for the best mushrooms and wild fruits. Their tours will last about three hours as you forage plants.
Right on the trail, they'll whip up a snack with your findings, and you'll be able to take the rest home with you! Tour locations are chosen the day of – mushrooms can not be guaranteed but are foraged often.
---
Hike on one of the many hiking trails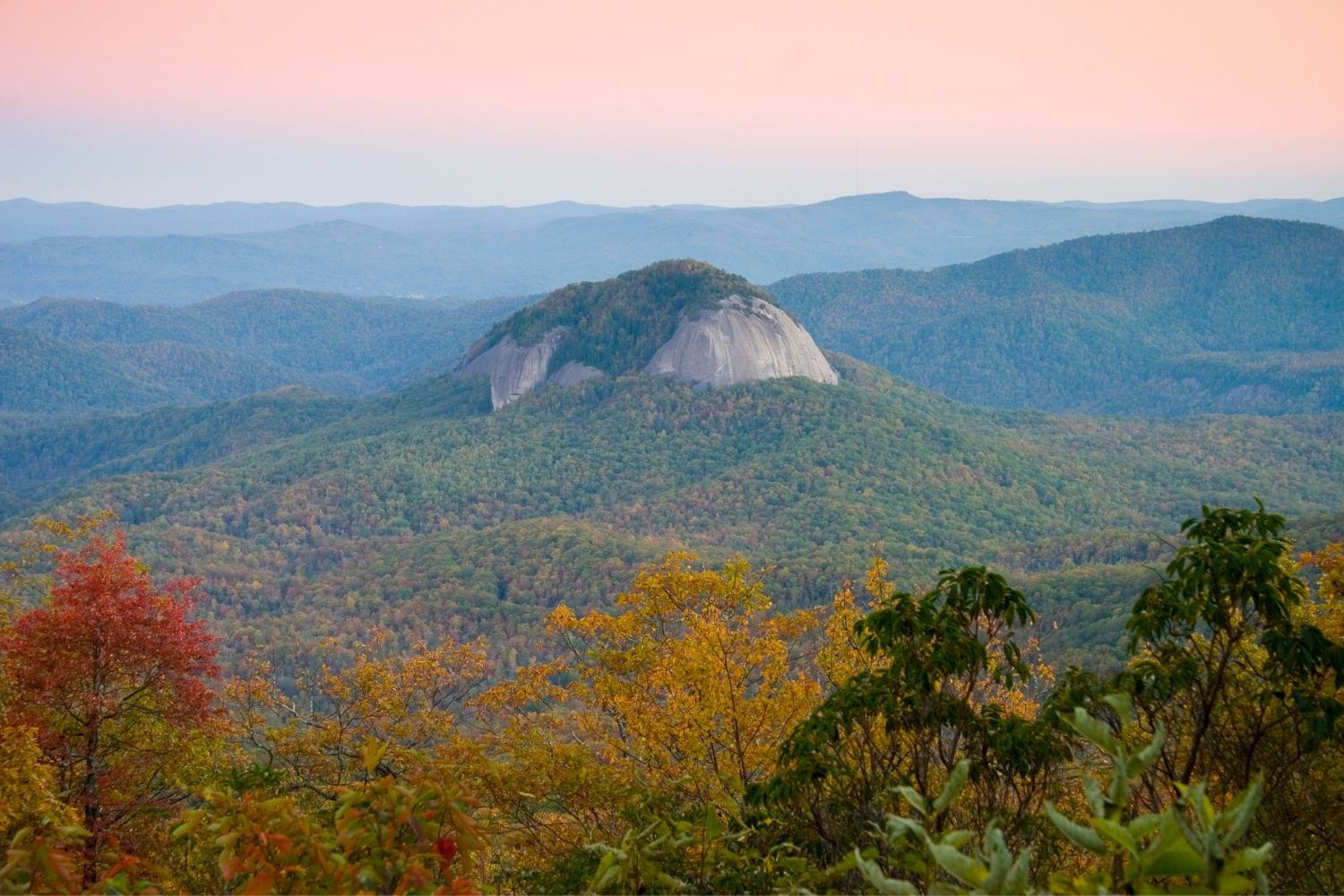 Asheville serves as a great base for hiking in the Great Smoky Mountains, Pisgah National Park, Table Rock State Park, and plenty of other areas. You could spend a whole month in the area and never see all the hiking trails there are on offer. Some of the most notable hikes are along the Blue Ridge Parkway and can be combined with a road trip, while others are all-day outings, and some require summiting a mountain. A few of my favorites are:
Craggy Gardens: Close proximity to Asheville. Easy hike with minimal elevation gain but will get you 360-degree vistas of foliage and rock formations.
Hard Times Loop: Not actually too hard at 500 ft of elevation gain and less than 6 miles round trip. This loop is close to downtown Asheville and meanders through Bent Creek Experimental Forest, North Carolina Arboretum, and Lake Powhatan.
Looking Glass Rock: one of the most well-known hikes in the area as it gets you superb views of Looking Glass Rock. It's not the hardest hike ever, but will certainly get your heart pumping to reach the top.
Mount Mitchell: Of course you can drive right up to Mount Mitchell, but where is the fun in that? This is a strenuous hike to the top of North Carolina's tallest peak, but the views are worth the effort. With 3,710 ft of elevation gain make sure to pack properly for this trip.
---
Slide Down Sliding Rock
Heading to Sliding Rock for a thrilling slide down a natural waterslide is known as one of the best things to do in Asheville. Located in Pisgah National Forest, this Asheville waterfall is a 60-foot flat yet sloping mountain waterfall. It's safe to slide down, perhaps making it the world's best waterslide. Come early or late in the day to beat the crowds – it's a popular Asheville attraction.
---
Guided Segway Tour
It may sound cheesy, but this 2-Hour Guided Segway Tour is one of the most well-reviewed and sought-after tours in the whole area. There is a lot to cover in Asheville and using a segway ensures you see as much as you can in as little time. The guides on this tour are extremely knowledgeable and share all they know about the history of many of the buildings and establishments.
---
Explore Historic Downtown Via Bike
If a segway doesn't sound like your cup of tea you can explore Downtown Asheville via bike instead! This 2.5-hour tour is all done via electric bike so you never had to worry about keeping up with other riders and navigating the hilly terrain in Asheville.
On this tour, you'll hit city streets, cute neighborhoods, and greenways. It's a popular thing to do in Asheville for families. On this tour, you'll get to see some of the best viewpoints in Asheville and hear a few stories about the area. I love doing tours like this as it helps me understand what I'm seeing and see as much as I can in a short amount of time. It's the perfect tour for those low on time.
---
Horseback Through the Fern Forest
Not too far from Asheville in a town called Cullowhee adventurous souls have the opportunity to explore the Blue Ridge Mountains via horseback. See the fern groves and wild flame azaleas in the most natural way possible! It's perfect for beginner riders and children.
---
Go On a Hunger Games Tour
Asheville was the main filming location of the popular Hunger Games series. Many of the arena scenes were filmed in DuPont State Forest. Much of the District 12 scenes were filed at the Henry River Mill Village which is a small textile village in Burke County, and the forest that Katniss sits in before the games is the Big Ivy Area of Pisgah. You can try and do a self-guided tour or book a spot on the official Hunger Games tours.
---
Kayak the French Broad River
The French Broad River runs through Asheville and is a popular place for locals and visitors to head for a day by the water. One of the best things to do is actually get out on the water on a 1.5 hour kayak tour. A knowledgeable naturalist will pick you up at your hotel and take on the winding river which runs by the Biltmore Estate. It's an informative yet adventurous tour!
---
Mountaintop Yoga Session
Yoga is great, but there is nothing better than yoga with a view. In Asheville, you can stretch and breathe deep on a mountaintop. The Namaste in Nature tour has you hiking two miles round trip to a beautiful view (try to book the sunset tour). They'll provide the mats you just need your legs!
---
Get Spooked on a Ghost Walk Tour
There's a lot of history in this old city! Haunted Asheville runs tours every night and will leave you with some very interesting and true stories of downtown Asheville! Tours last about two hours. Want more? Make sure to check out their Biltmore Village Mystery Tour too!
---
Trail Run/Backpack the Art Loeb Trail
The Art Loeb Trail is one of the best hikes in North Carolina. Although be forewarned it's a long one and is best done as a trail run or multi day backpacking trip! At 30 miles it's best saved for serious long-distance runners or multi day hikers. The trail provides some of the state's best scenery. The trail is split into four sections to help break it up! You can find all the information here.
---
NC Arboretum
The North Carolina Arboretum offers 434 acres full of botanical wonders. Cultivated gardens and groomed trails make it a majestic space to explore. Here you can wander some of the most beautiful and botanically diverse grounds in the entire state all in one place.
They also provide plenty of events, educational programs, guided walks, and rotating exhibits, so be sure to check their online schedule to see what's happening while you're there. The Bonsais in particular are one of our favorite spots to spend some time in the whole city.
Address: 100 Frederick Law Olmsted Way (GPS)
Hours: April – October Property Hours: 8:00 am0 – 9:00 pm Daily, November – March Property Hours: 8:00 am – 7 pm-Daily
Cost of Admission: For ticket informations, click here.
---
Wine Tasting
It may come as no surprise that Asheville is rich with lush vineyards growing some of the best grapes in the state. Located in the foothills in and around the city, there's nothing quite like kicking back with a glass of hand-crafted wine while soaking up mountain views. You can create your own tour or pay to go on one that's already organized, there's plenty to pick from.
Whether you prefer red or white, a few of the most highly regarded places include Pleb Urban Winery, Souther Williams Wines, Marked Tree Vineyard, Burntshirt Vineyards, and of course the Biltmore Winery.
Address: Pleb Urban Winery- 289 Lyman St (GPS)
Hours: Monday-Thursday: 3:00 pm -8:00 pm, Friday-Saturday: 1:00pm -9:00 pm Sunday: 1-7pm
Cost of Admission: To book a tour reservations, click here.
---
Apple Picking
When planning excursions to Asheville's many nature-filled outings, we recommend adding a few orchard visits to that list. Depending on the season, a visit to a farm just outside of the city will bear all kinds of fruits.
In the Autumn in particular, this region is known for having the country's top apple picking spots. Along US Highway 64 you'll find what's been deemed Apple Alley growing over 40 varieties of delicious red fruits. Head to Justus Orchard, Grandad's Apples, or Sky Top Orchard to wander the farm, find the perfect specimens, and take them home to turn them into tasty treats of your own creation.
Address: Justus Orchard-187 Garren Rd, Hendersonville (GPS)
Hours: Monday-Friday 8:30 am- 5:00 pm, Saturday & Sunday 8:30 am- 6:00 pm
---
Western North Carolina Farmers' Market
Hitting up a farmers' market is one of our preferred ways to shop local and really get to know a town. The one in Asheville happens to be the largest and most scenic in the region. It's located on 36 acres, conveniently just outside of the city. It's open all year-round and seven days a week, making it easier than most others to check out. Also, admission and parking are both free.
There's always an impressive bounty of fresh produce, as well as artisan wares and gourmet products that can make for the perfect Asheville souvenir.
Address: 570 Brevard Rd (GPS)
Hours: Monday – Friday : 8:00 am -5:00 pm
---
Find the Food Trucks
We all know Asheville is a culinary mecca famous for foodie feasts. Well, that doesn't apply to only brick and mortar dining destinations in this hip town. There are 120 eateries active and on the go at any given time to be found throughout the city. Many have devoted cult followings for a good reason, including Melt Your Heart, Purple People Feeder, Bun Intended, Tin Can Pizzeria, and Appalachian Chic.
There's an online schedule that tracks where the trucks will be each day. Though sometimes the magic of happening upon your favorite mobile kitchen while wandering the streets makes the fares even tastier than ever.
Address: Kindly check out the trucks weekly schedules online.
---
Asheville Pinball Museum
The Asheville Pinball Museum is an iconic city stop that's packed full of kitschy retro charm. Trust us, it's way more fun than your average educational institution. There are over 35 vintage pinball machines here, most of which are still playable, and you won't even need any quarters! If you prefer other classic video games, they've got a bunch of those too, 25 to be exact.
It's located in the historic Battery Hotel downtown. Some machines date all the way back to the 1940s. You'll also be able to learn a thing or two about the past of these beloved arcade games, each one has its own little plaque detailing its significance.
Address: 1 Battle Square Ste 1b (GPS)
Hours: Sunday,Monday – 1:00pm-6:00pm, Wednesday – Friday : 2:00 pm- 9:00 pm, Saturday: 12:00 pm -9:00 pm, Sunday: 1:00 pm -6:00 pm
Cost of Admission: $15 per person
---
Asheville Museum of Science
The Asheville Museum of Science, often referred to as AMOS, is the home to all kinds of science based experiential learning, discovery, and exploration. It's a setting sure to spark the imagination of all visitors, regardless of their age!
There's a wide range of hands-on exhibits focused on everything from space to nature and complete with a STEM lab, mineral collection, dinosaur skeletons, and virtual climate display. Often, they also host summer camp events, guest speakers, and community classes like star stories, so be sure to check the schedule.
Address: 43 Patton Ave, (GPS)
Hours: Sunday : 1:00 pm – 5:00 pm , Monday, Wednesday –
Saturday : 10:00 am-5:00 pm, Closed: Tuesday
Cost of Admission: 3 years old and over: $10.00, Children 2 & under are always FREE
---
Montford Park Players
Asheville is home to a long-standing tradition of free outdoor theater. It's always a joy to partake of this pastime and watch an al fresco performance while in the city. The most renowned providers of this dramatic entertainment are the Montford Park Players.
They're famous for putting on shows like A Midsummer Night's Dream, The Sword in the Stone or Grimm's Fairy Tales, all of which are always of an outstanding caliber. They're actually the longest run Shakespeare company in the state as well, first starting out in 1973.
Address: 92 Gay St (GPS)
Hours: Season 2022- Fridays, Saturdays and Sundays at 7:30 pm
Cost of Admission: Montford Park Players' events at the Amphitheatre is FREE of charge.
---
Grove Arcade
Grove Arcade is located in the heart of downtown Asheville. Don't let the name fool you, it's not a hotspot for video gamers, it's actually an expansive architectural monument. Over the years, this ornate space has gone through several iterations, like a base for military operations or the National Weather Records Center, though today's seems like it's easily the best. It's known as the original mall of the city.
It houses an eclectic mix of restaurants and shops that reflect the spirit of Asheville. Some of the coolest ones include Battery Park Book Exchange and Champagne Bar, Serenity and Scott Apothecary, and Mission at the Grove.
Address: 1 Page Ave (GPS)
Hours: Monday-Sunday :10:00 am -5:00 pm
---
Street Art
You don't have to go to the galleries or even the arts district to see some beautiful works of art in Asheville. The streets around the city are covered in bright murals and impressive installations. If you know where to look, you will find yourself admiring large-scale urban pieces in any neighborhood here!
Keep your eyes especially peeled for Gus Cutty's tribute to Dolly Parton or the Dude on the West side of town, the ceramic wallside scene named Daydreamer downtown, and our personal favorite, Chicken Alley, an eclectic homage to the agricultural history of the city.
Address: Chicken Alley – 41 Carolina Ln (GPS)
Hours: 24 hrs
---
Spas
Asheville is commonly considered a beacon of health and wellness. It's the perfect place to enjoy some much-deserved relaxation and rejuvenation by trying out one of their many spas. Restorative treatments like massages, facials, sound therapy, saunas, pools, yoga, and more are available at therapeutic establishments throughout the city.
Asheville Salt Cave and Spa is a one-of-a-kind oasis offering a salt enriched microclimate for healing. Sauna House is a Nordic-style bath house. Shoji Spa has hot hydrotherapy tubs for soaking the stress away in the Japanese tradition.
Address: Asheville Salt Cave and Spa- 473 Hendersonville Rd (GPS)
Hours: Monday, Tuesday : 11:00 am – 5:00 pm,
Thursday & Friday : 10:00am -7:00 pm, Saturday : 9:00 am – 8:00 pm , Sunday : 10:00 am – 4:00 pm
Cost of Admission: For prices per services, click here.
---
Folk Art Center
The Folk Art Center is located along the renowned Blue Ridge Parkway. Their mission is to highlight and honor the handmade crafts (and their crafters) of the Southern Highlands to share, preserve, and educate. It first started in the 1930s. This includes pottery, furniture, jewelry, textiles, glass, and more, all of which are available to browse or buy. It's also home to the oldest recognized craft shop in the country.
The center is surrounded by idyllic scenery as well and has a few fantastic nature trails to enjoy it. Twice a year, they hold a fair that draws crowds from all over the world.
Address: 382 Blue Ridge Pkwy (GPS)
Hours: Monday – Sunday :10: 00 am -5:00 pm
---
Botanical Gardens at Asheville
The Botanical Gardens at Asheville is a 10-acre urban oasis that's been around for over 60 years. It's an independent, donation based, non-profit institution that's dedicated to the study and promotion of native plants.
The natural habitat of the Southern Appalachian region is home to an abundance of fantastical flora, and this is the best place to see and learn about it all. It's also a wildlife friendly space, so you can often spot some cute local creatures while wandering the trails here.
Address: 151 WT Weaver Blvd (GPS)
Hours: 7:30 am – 7:30 pm Daily
Cost of Admission: Free
---
Thomas Wolfe House
The Thomas Wolfe House is a state historic site and museum. It's the childhood abode of the eponymous literary giant. Tours of the home are offered every half hour, although it's best to make a reservation in advance for one. You can learn all about the life of this prolific novelist, including that many of his works were autobiographical and inspired this very facade.
It was built back in 1883 and was actually a functioning boarding house when Wolfe grew up here. Today, it has been carefully preserved to reflect its authentic 20th-century roots.
Address: 52 N Market St (GPS)
Hours: Monday – Friday : 10:00 am -5:00 pm, Closed: Saturday and Sunday
Cost of Admission: Adult – $5.00, Student (ages 7-17) – $2.00,
Adult Group (10+) – $2.50 each, Student Group – $2.00 each, 6 & under – Free
---
Moog Factory
Among Asheville's many claims to fame, it's also the birthplace of the Moog Music Synthesizer. They are designed and made at the factory downtown, which you can now take tours through. Learn all about the history of these innovative instruments and even watch the craftspeople as they carefully construct them. At the store you can play the specialty gear too.
The Moogseum explores the pioneering legacy of Mr. Moog himself and his musical talents through interactive and immersive exhibits as well.
Address: 160 Broadway St (GPS)
Hours: Monday – Friday 10:00 am – 6:00 pm, Saturday: 12:00 pm -5:00 pm
Sunday: Closed
---
Antique Tobacco Barn
The Antique Tobacco Barn in Asheville is a one-of-a-kind shop for vintage wares. It may be the most eclectic shopping experience in the area, with over 75 dealers in a 77,000 square foot space. There's truly something for everyone here, regardless of price point or furnishing goals.
There's so much to rummage through for anyone interested in memorabilia, collectibles, or retro home goods. It was originally where tobacco auctions were held, which is how the spacious spot got its unique name. Check their site for specialty events as well.
Address: 75 Swannanoa River Rd (GPS)
Hours: 10:00 am -6:00 pm Daily
---
Pritchard Park Drum Circle
Possibly one of the most Asheville things you can do is visit the drum circle at Pritchard Park. A beloved local tradition, it's held every Friday night in the summer season at the outdoor amphitheater.
An event that's free to all, it's certainly a sight, and sound, to behold. Hundreds gather to create an harmonious rhythm for the masses to join in by dancing, playing an instrument, or simply watching and enjoying the free-spirited spectacle. It starts around 6:00 pm and has been known to go on for hours.
Address: 67 Patton Ave (GPS)
Hours: Daily: 6:00 am 10:00 pm
---
WNC Cheese Trail
If you're anything like us, cheese is always a selling point in any activity. Well, with this one, it's the main event! There are so many artisan cheese makers of Western North Carolina, finely crafting all kinds of delicious dairy-based bites to try, from cow to goat to sheep.
This designated trail points you to all the best spots to indulge in gourmet goodies, both pasteurized and raw, both fresh and aged. They also host a wide range of events from festivals to wine and beer pairings. The stops range from creameries to farmsteads to dairies.
Address: For the cheesemakers informations and operation hours , click here.
---
Black Mountain College Museum and Arts Center
The Black Mountain College Museum and Arts Center is known as a creative hub within the city. The college itself has a rich past of progressive education. Many famous thinkers throughout the years have experimented and made masterful work here. The exhibits range from historical to contemporary.
It's an intimate space and free to go in, so it's always worth a quick stop to see what artwork they have on rotation. It spans two floors and has an on-site library and store. Guided tours are available for all ages and there are often community events here as well.
Address: 120 College St (GPS)
Hours: Monday – Saturday : 11:00 am- 5:00 pm, Sunday: Closed
Cost of Admission: BMC Campus Tours at Lake Eden-$15/person, free for kids 16 and under. For group bookings, you may inquire online.
---
Odditorium
The Odditorium is a hidden gem that really represents the weirdness which makes Asheville such a special city. It's much more than just your average dive bar, though it's that too. It's also part morbid museum! Any fans of strange curios will feel right as home here, much like they might in the Addam's Family abode.
There's something happening here pretty much every evening, often live music from local bands, drag shows, or open mic comedy, with an occasional freak show style performance thrown in. Abstract murals, taxidermized creatures, doll heads, jars of dirt, and other such quirky decor makes this one of the most unusual places in the whole city, plus they have the cool cocktails to match.
Address: 1045 Haywood Rd (GPS)
Hours: Daily: 12:00 pm -2:00 am
---
Where to Stay in Asheville
---
Asheville Cabin
One of the best places to stay in Asheville is a cabin! There are plenty around the area and it gives you a chance to really feel like you are on a mountain getaway. Staying at a hotel downtown is great, and you will be central to all the action. However, in my opinion, you can do that anywhere – but there are so many places to stay in a cabin! We've broken down the best Asheville cabins here.
---
Windsor Boutique Hotel
Located in a former office building that was built in 1907 this hotel will be sure to set the mood of a romantic trip. The old building has been converted into a boutique hotel with large suites for each guest. Despite having a modern facelift all of the charm of a century old building seems to have remained with beautiful floors and windows.
Each room at the Windsor is more of an apartment with a full kitchen, private bedroom, washer and dryer, and living room. We loved the attention to detail throughout the hotel and found the overall artistic design gorgeous. The best part about the Windsor, however, was the location. Situated right on Broadway street The Windsor is within walking distance to all the best shops, breweries, and restaurants in Downtown Asheville.
Regardless of the duration of your stay, the Windsor will make you feel at home.
---
Hotel Indigo
If you're looking for a no fuss option for your stay in Asheville then check out Hotel Indigo. Hotel Indigo is a modern hotel with some trendy design elements. The hotel is located downtown and is within walking distance to all of the restaurants, art galleries, and shops. Hotel Indigo features cozy and airy main lobby and inviting guest rooms with massive beds, unique murals, and large bathrooms. There's even a fitness studio with cardio equipment and free weights to keep in shape in case you don't have time to hike.
The hotel is a great option as it has all the creature comforts one could want at an affordable price. At less than $200 a night, it comes in at about half the cost as The Windsor and a sixth of the Biltmore Inn. There's on site valet parking here, a business center, bar, and even a restaurant. One of the best things about Hotel Indigo is that it is pet-friendly – perfect for those traveling with their furry loved ones. We were super comfy our entire time at the Hotel Indigo and thought the staff and rooms were fantastic. Can't wait to return one day.
---
Where To Eat in Asheville
Wicked Weed Brewery – A much loved local brewery with the perfect taproom in the back to relax with a cold brew.
White Duck Taco – Taco shop serving up some delicious and innovative double corn tortilla tacos.
Highland Gaelic Brewery – The first craft beer in Asheville and one of the first in the state. There Gaelic Ale has long been one of my favorite beers made in NC.
Curate – This is the "it" place in Asheville right now serving up Spanish tapas. Dinner reservations are advised. We showed up without one on a Tuesday night and were turned away.
Trade & Lore – The best coffee shop in Asheville.
Green Man Brewery – Great brewery with some fantastic options.
Rhubarb – Amazing farm to table cuisine with a James Beard Award winning chef at the helm.
Top of The Monk – Cocktail bar that serves up fresh cocktails above the Thirsty Monk a great brewery in downtown Asheville.
Green Sage Cafe – Great cafe for fresh lunches and breakfast.
Biltmore Inn – Their fine dining restaurant is perfect for a memorable romantic dinner. And their lounge serves up an amazing afternoon tea with a piano player.
Biscuit Head – The name says it all. Come prepared for some awesome southern biscuits and clogged arteries.
---
Tips For Traveling Asheville
Many breweries are within walking distance from each other around the downtown area. However, when heading to the more remote breweries don't worry about driving as the Brews Cruise will safely deliver you.
Every Friday night between 6pm – 10pm there is a drum circle in Pritchard Park. Anyone is invited and it's a fun atmosphere for all.
There are two seasons to know in Asheville. That is when the wildflowers bloom between April and June and the fall foliage season begins around September/October.
The Biltmore Estate is one of the most popular tourist attractions on the East Coast, and certainly the most popular for Asheville. That can mean big crowds in the summer and Christmas season. If you want photos of the famous estate without people in them then head there early in the morning.
If you want to try your hand at the Appalachian Trail it's not far from Asheville.
---
Fun Things To Do in Asheville Map