Charlotte is a bustling cultural hub of the Carolinas. Queen City is chock full of wonders to discover and a plethora of pastimes to indulge in. There are museums galore, glorious nature spaces, a rapidly growing arts scene, and plenty of unique attractions you won't find anywhere else. All of this combined makes it a fantastic city to visit in North Carolina.
As the largest city in the state and the seventeenth-largest on the continent, it's really come into its own in recent years, sporting an identity of Southern metropolis that's both sleek and charming.  Here are the best things to do in Charlotte for an enjoyable escape.
---
The Best Things To Do in Charlotte, NC
---
NASCAR Hall Of Fame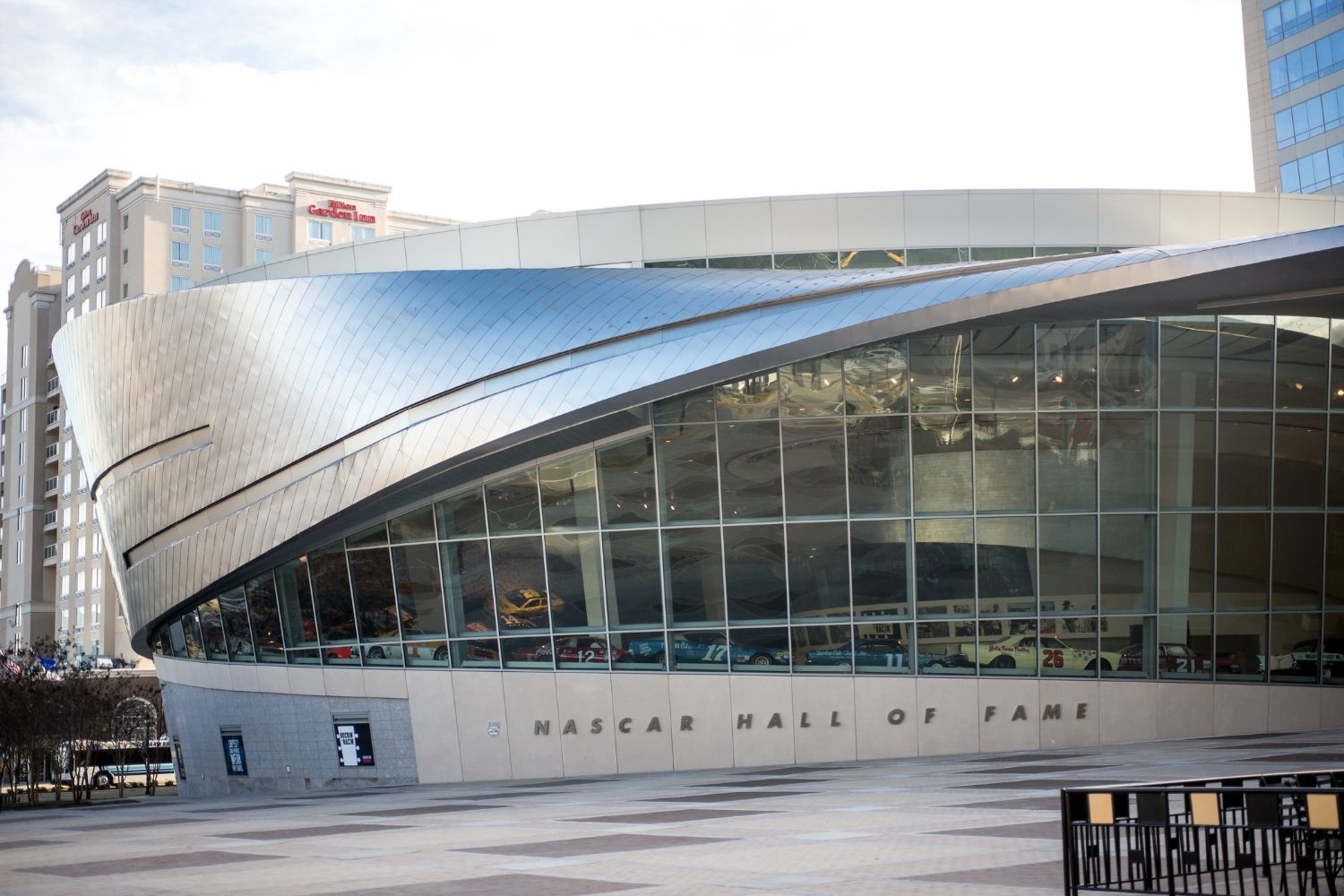 This attraction entices visitors from all over the world. The shape of the building itself mimics that of a racetrack. It's an interactive space where you can make your own driver identity card, try out one of the many racing simulators, practice a pit stop, and explore displays of physical cars from famous racers.
There are authentic artifacts on display to take you through the history of NASCAR. Learn about its most beloved champions in-depth, such as Dale Earnheart and Fireball Roberts. Whether you feel the need for speed or not, this is an engaging and exciting visit for all. It's best to purchase tickets online before your visit.
---
Blumenthal Performing Arts Center
This center is home to Belk Theater, Booth Playhouse, and Stage Door Theater. This allows for an extremely extensive roster of performances on deck at any given time. They host every type of medium imaginable, from music and dance to theater and comedy.
The acoustics in each venue is amazing, so you'll be in for a top-notch performance experience. Catch shows such as the Carolina Symphony, the Van Gogh Exhibit, or Wicked all in the same space.
---
Daniel Stowe Botanical Garden
This dreamy botanical garden is home to over 100 acres of rare and exotic flora and fauna. Be sure not to miss the conservatory, a grand greenhouse full of orchids and tropical plants.
There is always something in bloom in any one of their seven themed gardens, from the perennials to the four seasons. Find yourself ensconced in beauty as you wander the manicured pathways. It's a refreshing escape from the bustling city.
---
Lake Norman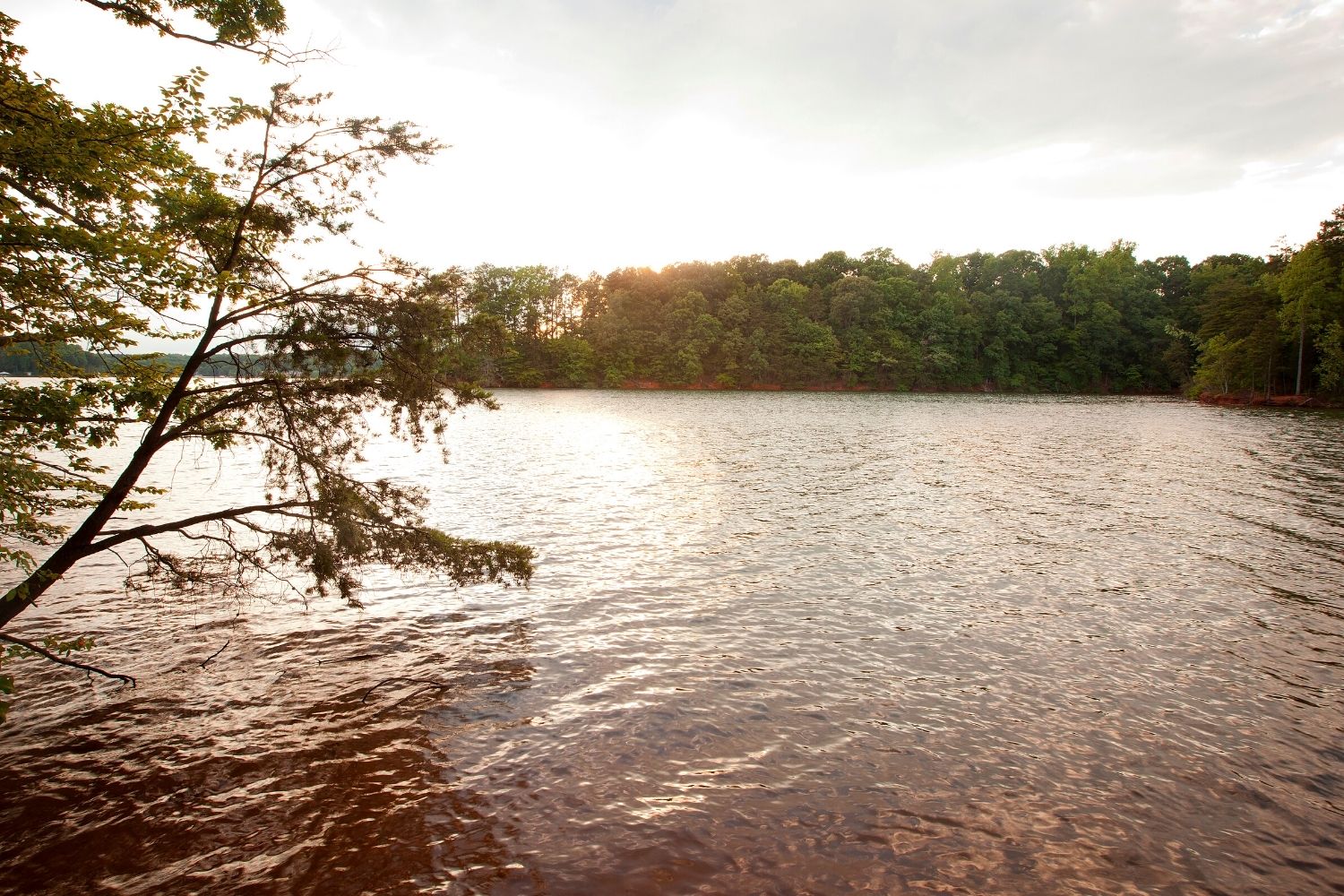 The largest manmade lake in the Carolinas, it feels like a nautical oasis away from the city. It's an idyllic space not just to relax on the shore but to get out onto the water in any way you wish. There are boats of all sizes, from pontoons to yachts.
Rent a brightly colored kayak or try your hand at paddleboarding across the calm, clear water. If you're an angler at heart, feel free to fish the day away. It's also encouraged to check out the local favorite, cycleboats, where you can pedal with friends and even bring your own drinks on board.
---
Levine Center for the Arts
This arts complex is home to three cultural gems in one; Bechtler Museum of Modern Art, Harvey B. Gantt Center for African American Arts and Culture, and Mint Museum. Bechtler features important and influential works from the mid 20th century that have been rarely displayed in an elegant and intimate space.
The Center for African American Arts and Culture works to expertly preserve, present, and promote the history and heritage of the African American community within Charlotte and the country. They create displays using many mediums and tackle modern day discourse on social justice as well. The Mint Museum is an innovative institution for international art and design in order to inspire through the power of creativity.
---
7th Street Public Market
This is a bustling haven of curated craft foods, beverages, and artisan goodies to peruse. It has a vibrant but laidback energy, perfect for a day of browsing. It was created for locals by locals, adding a nice sense of community to the environment.
All of the eateries are independent ventures with funky fares. You'll find everything from crepes to acai bowls to gourmet cheeses as you forage your way, along with the endless array of delicious options.
---
U.S. National Whitewater Center
This is the ideal outdoor play park for active adventurers. As the largest man-made white water river in the world, you won't find rapids like this anywhere else. They use this course to train for the Olympics, so be ready for a wild ride. If rafting isn't your thing don't fret, there are also 50 miles of mountain biking trails and many rock climbing opportunities available here as well. This is one of the most thrilling things to do in Charlotte.
---
Charlotte Museum of History
This nonprofit seeks to preserve and interpret Charlotte's special history, and contribute to the community through educational displays and dialogues. They hope that an understanding of the past will inspire progress for the future. It also has the Hezekiah Alexander Homesite, the only surviving pre-Revolutionary War abode.
Parts of the home are refurbished and open to exploring. They always have several series on the show, such as the Chas Fagan Retrospective and the Charlotte Neighborhoods exhibition. It's a great place to engage with the spirit of the city; past, present, and future.
---
Little Sugar Creek Greenway
Little Sugar Creek Greenway is just as delightful as its name suggests. It's an extensive network of trails, paths, parks, and streams that run from uptown Charlotte all the way to the border of South Carolina.
It was created for nature lovers and outdoor enthusiasts to traverse around the area by hiking, biking, running, or strolling and seeing another side of the city. It's a lovely way to enjoy a picnic and some scenic peace.
Address: 1133 Metropolitan Ave, Charlotte, NC 28204, ( GPS )
Hours: Opens 24 hours

---
Check Out the Breweries
Triple C Brewing is a staple in the South End and one of the best breweries in Charlotte. If you dare, try their famed Babymaker brew, a delicious double IPA with a 9% ABV. They also provide an active community space with plenty of athletic activities and environmental events, along with many favorite food trucks always on-site.
Olde Mecklenburg is the original brew institution of the area and boasts an urban oasis of a beer garden. Located in LoSo there are eight acres to gather with loved ones and sip refreshing German style pints in the Carolina sunshine.
---
Freedom Park
Known as the Central Park of Charlotte, there are almost 100 acres of vast nature to discover here. It's lousy with recreational resources, such as several baseball fields, basketball, and tennis courts, batting cages, soccer fields, volleyball courts, and various walking and biking paths.
It's home to many seasonal festive affairs, so be sure to check the city's schedule. It's scenic in every season and a great spot for insta worthy photo ops, especially at the large, lovely lake.
---
NoDa Arts District
NoDa's reputation precedes it, as Charlotte's quirkiest neighborhood. A hot spot for the arts scene, a stroll around this part of town is a pleasant exploration of the cool culture in the area. Many buildings are adorned with colorful and creative murals, plus there are galleries galore.
It's also a central concentration for tattoo parlors, artisan shops, cafes, and dive bars. It's named after the main street, North Davidson, and is definitely the place to be for hip and fun arts and entertainment.
---
Carolinas Aviation Museum
This museum is located inside of the Charlotte International Airport. The displays are diverse and interactive, ranging from the history of aviation to modern-day feats of flight. Inside the hangar, you'll find commercial aircraft, military aircraft, civil aircraft, and helicopters. You can get up close and inside many of these historical planes and try out the flight simulator as well.
You can even check out the plane my mother was on, Flight 1549. The famous plane that Captain Sullenberger completed a successful water ditching in the Hudson River.
---
Indulge in the Food Scene
Good Food on Montford is a cult classic in the Charlotte culinary scene and one of the best restaurants in Charlotte. The setting is rustic and the menu eclectic. They serve up creative cuisine inspired by both local and global fares. Haberdish is cooking up down home Southern dishes in a cool and chic setting.
Their brunch biscuits are the stuff of legends. Pinky's is vibrant, funky, and full of diner charm. Famous for it's fried foods, this is the spot to indulge.
---
Crowders Mountain State Park
Contrary to its name, this is an idyllic escape from the crowds of the city. With over 5,000 acres, 11 trails, and two mighty tall peaks, Crowders Mountain is a nature lovers paradise. The vistas from these steep cliffs stretch over the landscape for 25 miles, a whole new way to view the skyline of Charlotte.
Backcountry camping is available, as well as rock climbing and bouldering. The terrain is spectacular but rugged, so prepare for challenging hikes accordingly.
---
Carolina Raptor Center
Carolina Raptor Center is a one-of-a-kind visit to a refuge for sick, injured, and orphaned raptors. Get up close and personal with these majestic birds to learn about them and the best way to help conserve their habitats. With over 35 species, it's the largest bird of prey sanctuary in the entire country.
You will be able to see barred owls, peregrine falcons, vultures, and magpies to name a few. This is one of the most unique things to do in Charlotte.
---
Carowinds
Known as the thrill capital of the Southeast, this famed amusement park is a must-visit. Beloved by many, people travel from all over to seek adventure here. There are 14 rides for all the daredevils out there, including Fury 325 the world's fastest and tallest giga coaster and the first coaster in the world to try four inversions, the Carolina Coaster. They also have an on-site water park, Carolina Harbor, complete with water slides and wave pools.
---
Discovery Place
Discovery Place is certainly the place to discover all things science-related. There are hands-on,  interactive exhibits for everything from conservation to physics. Design and carry out your own experiments or engage in every ecosystem on earth. You can also always find an interesting and exciting film on deck at the largest IMAX screen in the Carolinas. Fun for all ages, it's a great way to explore the world around us. 
---
Charlotte Motor Speedway
A classic destination to immerse yourself in NASCAR culture, this speedway is a favorite of the die-hards. The 2,000 acre facility is state-of-the-art, and many historic races have been won on these grounds.
You can also take the Feel the Thrill Speedway Tour, which gives you an exciting behind-the-scenes look at the world of racing here. Be sure to book your tickets in advance.
---
Wing Haven Gardens
Wing Haven Gardens are a serene spot to enjoy the beauty of local nature. Created in 1930, this space was intended to be a sanctuary for birds to come and feed nest, and fly freely in the manicured foliage and flora. The walls are high in order to keep in the peace, and you are likely to spot many species calmy feeding or bathing around the grounds.
Address: 260 Ridgewood Avenue , Charlotte NC 28209 ( GPS )
Hours: Wednesday – Saturday 10 am-5 pm, Wellness Wednesdays: 8am-10am
Cost of Admission: For admission fees, check here.
---
VisArt Video
This charming relic of a bygone era serves as both a unique nonprofit movie museum and a nostalgic blast from the past. There is a collection of 35,000 titles here for rent, from the most popular blockbusters to the rarest arthouse films. They are home to a microcinema as well, a small theater that holds only 28 people for private screenings.
They act as a community center for the process of filmmaking, with a plethora of memorabilia and resources available. Take a trip back in time to the pre-streaming days at VisArt.
---
Touch My Building
A large-scale interactive installation hidden among the other buildings of Charlotte's city center, this parking garage is a musical masterpiece. Created by an American sound artist and architect, it's intended to encourage urban dwellers to interact with their physical surroundings more.
Covering the exterior of a nine-story structure, if any of the tall red fins are touched, the building lights up to play a song. It will also offer random performances as it pleases. See if you can find the plaque that lays out a riddle to solve. If you do, magic is sure to follow.
---
The Sleepy Poet's Antique Mall
Sleepy Poet's is a true treasure trove of vintage and collectible items. There are 250 booths to browse, each with their own unique assortment of gems. You will find an array of antique clothing, furniture, jewelry, books, plus specialty knick knacks and odds and ends.
There are endless items here, and they even host food trucks on-site in case you work up an appetite scouring your way through the aisles.
---
McGill Rose Garden
This secret oasis began as a private project of prominent philanthropists in the area, the McGills. They would only open it to guests on Mother Day every year, which became a beloved Charlotte tradition. It's now open for everyone all the time, to revel in the sweet smells of blooming rosebuds.
The garden is over an acre, and houses more than 1,000 rose bushes to explore and enjoy. Wander the winding paths to admire the variety of beautiful blooms along with many fountains and sculptures.
---
Metalmorphosis
This spectacular sculpture is an astounding sight to see in the city. It's a 23 foot tall head which is made up of stainless steel plates. The plates move horizontally, continuously rotating and splitting to form new shapes and recreate the same head again.
Creating an incredible illusion, intrigue often overwhelms all who visit. Water flows down the sides into a sparkling, clear pool below. This morphing masterpiece is a feat of innovation. 
---
Davis General Store
Davis General Store is a classic country style shop that's been around for over 100 years in Charlotte. Considered a legendary institution, it's always worth a stop in to get a peek at the city's past and pick up absolutely anything you may need. It was originally opened to offer farmers with the supplies they could need, from work boots to bovine feed.

Today it's still run by the same family and set in the same building. While you can get some of the same goods as well, there's also an amazing selection of handmade local goodies to buy, like their famous boiled peanuts.
---
Carrigan Farms
Carrigan Farms is a fifth-generation family owned acreage set in the far northern region of the city. It's a secret spot perfect for nature lovers, with rolling verdant hills, waterfalls to hike to, ponds for fishing, and a spectacular natural quarry for swimming.
They've been growing fresh produce here for over 100 years, and generally consider themselves to be just a super big garden. They often host community events and educational tours, though it's a delightful space to simply explore on your own.
---
Big Rock Nature Preserve
This 22-acre nature preserve is tucked away in a South Charlotte residential neighborhood and has been a long standing favorite to those in the know. Its name comes from the huge granite boulders that can be found here. It also boasts plenty of tranquil privacy and solitude, making it the ideal, accessible, urban escape.
There are thick wooded trails to trek, so be sure to keep your eyes peeled for local wildlife living here. Fun fact, an excavation back in 1987 recovered an abundance of Indigenous artifacts, likely pointing to the fact that these grounds were used as a campsite and observation point over 12,000 years ago!
---
Anne Springs Close Greenway
Anne Springs Close Greenway offers another way to get outside and enjoy the Southern sunshine in Charlotte. It's a locally beloved spot in the Southern end of the city. With over 2,000 acres it's home to several beautiful lakes and hardwood forests with meandering trails to hike, run, or bike through. You can get out on the water with a kayak or paddleboard here.
There's a place to enjoy horseback riding, a community garden, and a dog park. We also always love to pack a picnic and check out a few of the fun community classes like sunset yoga.
---
Copperhead Island
Copperhead Island is certainly a hidden gem in Charlotte. What it lacks in size it makes up for in natural beauty. It has such a remote and scenic feel that it's so fun to spend a whole day here and escape the hustle and bustle of city chaos. There are a few boat ramps, some small bridges for fishing, and a pier for launching kayaks and stand-up paddle boards.
There are loop trails perfect for any skill levels and opportunities for wild camping as well. The floating dock out in the lake offers refreshing summertime relaxation at its best and shelters picnic areas for barbecuing or simply enjoying the sweeping views.
---
Camp North End
Camp North End is a one of a kind, one stop shop for Charlotte culture. It's an expansive open air warehouse neighborhood. With over 75 acres of industrial chic space to explore, it's home to some of the city's finest restaurants, shops, and businesses. It's basically a mecca for local innovation and inspiration. It was actually once used for Model T assembly and military missile production.
There's so much to do that you could easily spend a whole day here. Hit up gourmet bakeries, fancy coffee shops, boutique fitness outposts, art galleries, cinemas, farm-to-table bistros, design fairs, coworking spaces, global street food vendors, independent bookstores, cocktail carts, and more.
---
Plaza Midwood
Plaza Midwood is a quirky neighborhood and one of Charlotte's best kept secrets. It was originally a streetcar suburb but now is commonly considered the hippest part of the city. You can forget about downtown or NoDa, this district is known for its offbeat cultural coups and inclusive community spaces all with a traditional Southern flair.
We love to wander the day away here under a canopy of century old oaks, popping into eclectic eateries, funky thrift stores, quaint local watering holes, and admiring all the street art.
---
The Green
Located in Uptown in the heart of Charlotte, the Green is a lush one-and-a-half-acre urban park. It's surrounded by restaurants and shops, so enjoying a picnic here has never been easier. The sprawling space is adorned with interesting statues of literary giants and even a fountain for the kids to play in.
There are plenty of shady spots to find and relax in, plus it's excellent for people watching. Spending a few hours here is a great way to get a real feel for the spirit of the city.
---
The Mint Museum
The Mint Museum has two locations, one in Uptown and one in Randolph. It's also commonly referred to as Charlotte's Great Lady. The building was the original location for the United States Mint, which is how it got its unusual name. Today, it's an internationally renowned art institution.
The rotating exhibits that roll through here are always on the cutting edge of contemporary culture and it has one of the largest permanent collections in the Southeast. Impressive displays from the past and present include immersive works from Georgie Nakima, Anna Sui, and MyLoan Dihn just to name a few.
---
Charlotte Liberty Walk
The dedicated Charlotte Liberty Walk is spread all throughout Uptown. It's a collection of bronze monuments and plaques that commemorate the city's significance during the American Revolution as well as the key players in the growth and development of the area. It's an amazing way to explore the city through an educational and historic lens, and it's totally free!
You can even download their specialty app which will serve as a visual aid and guide to understanding the formative past of this Southern metropolis.
---
Farmers' Markets
Charlotte is home to over five farmers' markets just in the city alone! As such, odds are you'll be able to find a vendor filled haven any day of the week. The biggest of the bunch is Charlotte Regional Farmers' Market, with an impressive selection of locally grown produce, fresh flowers, baked treats, handmade goods, and artisan crafts.
There's also the North End Farmers' Market, South End Market, Kings Drive Farmers' Market, and the Davidson Farmers' Market. Check the online schedules for seasonal availability and location.
---
District 57
District 57 is an immersive (and massive) entertainment complex in downtown Charlotte. The entire space is based around the story that in the year 2085 there was a global power outage and a subsequent fall of civilization. The futuristic setting makes it feel like entering another world altogether.
It's geared toward both teenagers and adults, with a wide range of games and concessions to partake in. The main draw is called the Grid, which consists of 30 rooms that each present a unique challenge to complete. It's best to make reservations in advance here.
---
Reedy Creek Nature Center and Preserve
Reedy Creek is a protected park that offers just under 1,000 acres of natural forested habitat. There's a variety of terrains to navigate in this natural wonderland, including small lakes, meadows, and streams. You can visit the on-site nature center to learn about the local wildlife here as well.
They have plenty of amenities to enjoy, like picnic shelters, a disc golf course, volleyball courts, a playground, a swing garden, soccer fields, and more. There are several trails for either long or short hikes among the restorative wilderness.
---
Day Spas
While in Charlotte, why not enjoy some well-deserved rest and relaxation at one of the city's state of the art day spas. Urbana Wellness Spa is a modern spot for massage and other alternative body work options such as reiki. Re Salon and Med Spa is both a medical and therapeutic facility offering a variety of physical treatments for all your senses to enjoy.
Clean Your Dirty Face is one of our favorite spots for quick and easy facials that leave you feeling glowy and radiant. Who knew Charlotte was one of the best cities around to get your self-care on?
---
Attend a Festival
As a major metropolitan area in the Southeastern region, Charlotte is home to an abundance of festivals throughout the year. Aside from the usual holiday fan fare, you'll be able to attend all kinds of celebrations. There's the food and drink-based festivities like the Moo and Boo, honoring regional craft beers and burgers, the Taste of Charlotte, and of course the famous NC Brewers and Music Festival.
For outdoor enthusiasts, check out the Tuck Festival, a celebration of active, nature filled lifestyles. Kings Drive Art Walk, Carolina Pride, and the Renaissance Festival all bring some bright and colorful culture to the city. For something with a more international flair, head to the Charlotte Dragon Boat Festival, the Yiasou Greek Festival, or the Festa Italiana.
---
Charlotte Roller Derby
We all know Charlotte is home to all kinds of beloved sports teams, like the Carolina Panthers or the Charlotte Hornets, meaning there's no shortage of games to attend in any season. However, one of the coolest events to attend falls a bit under the normal major league radars. Buy a ticket to see the Charlotte Roller Derby and we promise you won't be disappointed!
They're a women's flat track roller derby league with three adult home teams: NoDa Narwhals, Ballantyne Bombers, and South End Sirens. They're all a blast to watch compete in person. Any fans of the film Whip It should feel right at home as well.
---
Take a Cooking Class
Charlotte is of course coveted as a culinary mecca in North Carolina. So why not learn to make some of this legendary grub for yourself while you're in the city? Get your hands dirty at Chef Alyssa's Kitchen. Here you can sign up to learn about making all kinds of fine foods from ice cream or ramen.
They're based around fresh and seasonal ingredients and classes are available at any ability level. You can also check out the Foodie School where you will be taught how to craft dishes under the expert instructions of some of the best chefs in the city, hands on seminars and observation only demonstrations are both available.
---
Airport Overlook Park
Airport Overlook Park is a hidden gem that many locals still have yet to discover. It's located just above one of the busiest airports in the country, CLT. Over 1,500 flights arrive and depart from these runways each day, and this is the most scenic spot to watch all that aviation magic in action.
The Overlook offers an unobstructed view from a large, landscaped park, complete with the city skyline in the background. We recommend packing a picnic and heading over for sunset.
---
SEA LIFE Charlotte-Concord Aquarium 
SEA LIFE is an aquarium technically located right next door to Charlotte in Concord. It's the perfect place to learn all there is to know about underwater life. It offers a wide range of engaging exhibits centered around majestic marine creatures like the touch tank, walk through tunnel, and giant shark tank.
There are over 5,000 animals housed here from stingrays to seahorses. Be sure to go during a scheduled feeding time and get to know more about their conservation and rescue efforts.
---
Fourth Ward
The Fourth Ward may be a bit off the beaten path from the other famous bustling districts in Charlotte, but it's well worth a wander. It's a charming suburb chock full of spectacular historic homes and is renowned for its rich and eclectic past. You can take a free walking tour here to learn more about the interesting heritage of this part of the city.
You can also use a map as your guide and make your way around to see iconic sights such as the Old Settlers Cemetery, the Overcash House, Fourth Ward Park, and St. Peter's Hospital.
---
Best Things to Do in Charlotte, North Carolina Map