The Linville Gorge is often referred to as the Grand Canyon of the Southern Appalachians. Linville Falls is the spectacular three-tiered cascade of powerful sparkling water plunging into said gorge is the most popular waterfall in the Blue Ridge Mountains.
It's an iconic destination of Western North Carolina, with about 350,000 people visiting annually. The drop is a staggering 90 feet and the sheer volume of the Linville River makes for a captivating sight.
The Cherokee tribes of the region call it "Eeseeoh" meaning river of many cliffs, a reference to the abundant rocky outcroppings of the steep and cavernous gorge.
Right off of the famously scenic Blue Ridge Parkway, these falls are easily accessible and surrounded by lush landscape, making for an all round lovely outdoor excursion. Stunning in every season, you'll find bountiful wildflowers or enchanting foliage among the virgin hemlock forest full of towering white pines, oaks, hickorys, and birches.
There is a thriving ecosystem in this protected paradise with plenty of native wildlife to spot. It was actually one of the nation's first officially designated wilderness areas.
Explore one of the best natural wonders in North Carolina yourself with this guide to Linville Falls.
---
Where is Linville Falls?
Linville Falls is nestled in the majestic Blue Ridge Mountains of North Carolina. They're located in Burke County at milepost 316.4 along the Blue Ridge Parkway on Linville Falls Road.
It's only about 60 miles from the beloved city of Asheville, making for an easy day trip. They're under an hour from the quaint towns of Boone, Banner Elk, and Blowing Rock as well.
Linville Falls are also accessible from US 221, NC 181, and NC 183 if coming from an alternate direction, such as from the nearby charming hamlets of Marion, Morganton, Burnsville or Little Switzerland.
The falls themselves are set within the 12,000 acre Linville Gorge Wilderness Area which is part of picturesque Pisgah National Forest.
---
Linville Falls Hours and Admission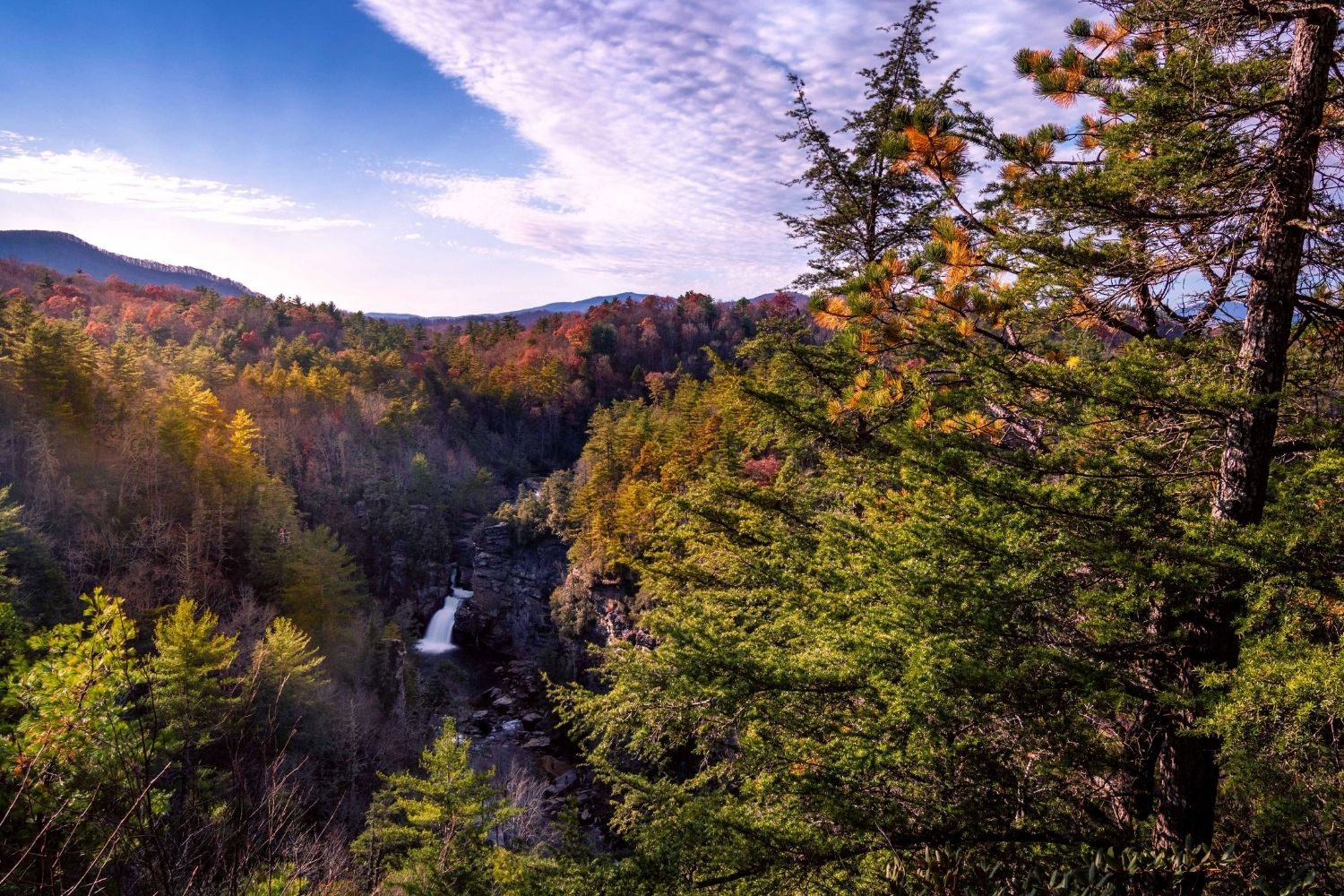 Linville Falls are open all year-round from dawn until dusk. The Linville Falls Visitor Center is open from 10 a.m. to 5 p.m. during the months of May through October. There is no admission fee to enter as it's part of the National Park Service.
However, be aware that permits are required ahead of time for certain activities within the area. Remember there's a strict Leave No Trace policy to adhere to while exploring the immense wonders of this acreage. It's also important to follow all safety guidelines and stay on the designated paths. Swimming is not safe or allowed here.
---
Parking Information or Linville Falls
The Linville Falls Visitor Center is the best place to park as there's plenty of space, it's easy to find, and it's the perfect jumping off point for any adventures in the area. Parking lot accessibility can depend on the season as well.
In the winter if the roads are covered in snow and ice a section of the Blue Ridge Parkway will be closed. This means that the Linville Gorge Wilderness parking area off of US Highway 221 must be used to access the site instead.
---
Nearby Picnic Spots
Conveniently located at the Visitors Center is an expansive picnic area to enjoy. It's open from April to October and is set along the scenic Linville River, only a short walk on a loop path from the entrance and trailheads. There are three sections, each with tables and restrooms, and one with a covered pavilion.
The land is level and there's plenty of shade around. Charcoal grills are provided at some and every area is available on a first come first serve basis.
You can also pack some snacks to enjoy at a secluded spot post hike. There are many large flat rocks at the base of the falls that are ideal for a bite while basking in their beauty, the Gorge Trail is the best bet for this option.
---
Facilities at Linville Falls
At the main entrance of Linville Falls you'll find restrooms and a gift shop. The Visitors Center provides a wealth of information on the ecology and history of the land through educational displays, informational handouts, and rangers readily available to answer any questions. You will also find the Linville Falls Campground here.
There are several privately owned campgrounds, Asheville cabins, and vacation rentals you can book nearby alternatively, as well.
At the campground there are 64 sites with bathrooms, tables, grills, and campfire rings at each and costs between $20-$35, depending on the site you book. It's open only in the warmer months, from May to November. There are sunny and shaded spots for both individuals and groups. Tents and RVs are welcome.
It's best to book one of the 39 sites in advance as this is one of the more popular campgrounds along the Blue Ridge Parkway. The other 25 are available on a first come first serve basis only. From here you will have easy access to all the trails.
---
Fun Linville Falls Hikes
There are a total of three trails to traverse at Linville Falls, each offering its own unique vantage point to soak up the spectacular cascading scenery. The network of paths offer 39 miles of nature to explore. There are many sweeping panoramas to enjoy from several overlooks along the way.
Erwin's View Trail
Erwin's View Trail is a moderate ridgetop hike at 1.6 miles round trip. It's the most popular trail as it offers a total of four overlooks of the Linville Falls throughout, meaning it can get quite crowded.
The first is at the Upper Falls, about a half mile into the breathtaking journey. There's a slight loss of elevation on this section. Here the wide waters rush into a narrow canyon before falling over the craggy cliffs. They begin as two twin falls joining in a small pool that precedes their plunge. The overlook lies on a spur trail just off to the left after the bridge crossing when the path turns to dirt.
The subsequent overlook is called Chimney View. From here the magnificent Lower Falls come into view for the first time. This is the best spot to take in the entire falls in all their glory, and get some seriously stellar photo ops for your feed. This section is short but involves strenuous elevation gain. It's named for the rocky outcrops next to the waterfall.
The final observation point is the eponymous Erwin's View Overlook. This provides a sweeping panorama of the gorge itself, with the cascading falls in the distance. It's the highest point of the hike at 3,300 feet above sea level.
Linville Gorge (Plunge Basin) Trail
Linville Gorge (Plunge Basin) Trail is another popular pick for an outdoor adventure at Linville Falls. It begins at the Visitors Center, as well. It's the more challenging choice, as it meanders down into the gorge for 1.4 miles round trip with many strenuous steps and steep climbs.
It's the best way to get up close and personal with the falls, and bask in their bouldered beauty at the base. It will take you past a small veer off for the Plunge Basin Overlook, a vast vista looking down over the falls and pool. It's a rough and rugged excursion, but well worth the effort.
Dugger Creek Falls
Dugger Creek Falls is an easy loop that only takes 20 minutes. It can be accessed as an offshoot from the Linville Gorge Trail or from where it connects at both ends to the parking lot.
This picturesque path takes you to another small cascade that's lovely to visit in its own right. It's only ten feet tall and tucked into a beautiful verdant cove. The path wanders to a small wooden bridge that offers awe-inspiring views of both the captivating creek and the falls. We highly recommend adding this simple sojourn to your itinerary here.
---
Other Things to Do Near Linville Falls
Visit a Winery
Linville Falls Winery is an amazing NC winery on a 40 acre farm just minutes away from the charming cascades themselves. It's family-owned and operated and has been for generations.
Order a glass, bottle, or flight to try any of their delicious varietals ranging from sweet to dry and made right on the estate. There is a patio overlooking the verdant rolling hills of the vineyard, a bar set inside a rustic red barn, and a Tuscan-inspired tasting room that's truly transportive.
On the weekends you'll find local food trucks on-site serving up classic Italian eats to pair with your pinots. Check the schedule for events and festivals, like yoga classes or the Harvest Hoedown.
The Linville Caverns
The Linville Caverns are actually the only show caverns open to the public in North Carolina. They are privately owned and have been accessible for the enjoyment of locals and travelers alike since the 1930s. The first documented discovery was in 1822 by some local fisherman.
A magical display of limestone formations, this is an ethereal experience to be sure. They're located in McDowell County, just south of the falls. Take a guided tour through the subterranean world and gaze in wonder at the stalactites and stalagmites. There is plenty of historical lure to learn about, as well. It's a rare opportunity to delve into the inside scene of a majestic mountain.
Table Rock Mountain
Table Rock Mountain is another famous fixture of western North Carolina. It's a distinctive summit that towers above the Linville Gorge at almost 4,000 feet above sea level. To reach the peak there's a 2.2 mile trail that can be strenuous with some steep ascents involved. It's set in the same Pisgah National Forest, about 15 miles away. This trek to a bouldered peak offers sweeping vistas over the gorge for a breathtaking haven of the high country.
Hawksbill Mountain
Hawksbill Mountain is a fantastic hike in North Carolina and can be hiked at the same time as Table Rock for an added bonus of natural beauty only a few miles adjacent. It boasts an elevation of over 4,000 feet. The hike has an elevation gain of 700 feet, and is not for the faint of heart.
The payoff is a dramatic panoramic picture of the deep craggy canyon below. The views are uninterrupted and unparalleled, stretching out, over the Piedmont, Mount Mitchell, Grandfather Mountain and to the city skyline of Charlotte on a clear day.
Go Rock Climbing
Rock climbing at Linville Gorge is a beloved pastime of adventurers in the area. Top roping at the Chimneys is a great pick.
Hawksbill and Table Rock both have plenty of opportunities, as well, and are considered some of the best climbing spots in the state. They range from easy multi pitch to hardman sandbags and everything in between. With a wide array of fun routes to learn, practice, or challenge yourself, Linville is an ideal destination for climbing.
Get Out on the Lake
Lake James is a large reservoir nestled nearby in the North Carolina mountains. It's an expansive and sparkling body of water with 10 square miles of surface area and 150 feet of shoreline to enjoy. This is the best waterfront destination nearby for swimming, boating, fishing, and other sports, such as jet skiing.
Largemouth bass and walleye are the ideal catches in these waters. There's a sand beach with plenty of amenities around, perfect for a relaxing respite in the warm sunshine. It's set in Lake James State Park, about 30 miles away from the falls at the base of the Linville Gorge.
It has an abundance of nature to explore, as well, including 15 miles of mountain biking trails. Paddy's Creek and Catawba River within allow for many picturesque paddling opportunities, like kayaking or canoeing.
Bare Dark Sky Observatory
The only sky park in the state is conveniently close to Linville Falls, right off the Blue Ridge Parkway in a shallow valley surrounded by towering mountains. The Dark Sky Observatory, hosted by ASU, is a designated space for gazing at the celestial bodies above using four giant telescopes, including the largest one in the entire Southeast.
It's used for scientific research, but they also host regular public events that teach all about the galaxies. They intentionally restrict artificial light pollution around the area to allow for the best possible viewing experience. See the wonders of the night sky unlike ever before.