Biltmore Estate in Asheville, North Carolina is a historic property and the largest home in the United States. This enormous estate, which is 178,926 square feet, was built for George Washington Vanderbilt II in the late 1800s.
It was designated a National Historic Landmark in 1963 and, since then, it has gone on to become one of the most visited tourist attractions in North Carolina. It has around 1.4 million visitors per year. Today, the house is worth around $37 million. If you include the entire estate and surrounding 2,194-acre property, it's worth a whopping $64 million.
The first thing you notice about the house is the beautiful French Renaissance, Chateau-style architecture and Victorian-style grounds that were custom-designed by famed architect Richard Morris Hunt. The adjoining Biltmore Village once included all the services and amenities of a small town including a church, post office, school, doctor's office and shops.
One thing's for certain about the house; it's a stately place with 250 rooms and 65 fireplaces. Its location, tucked away in the Blue Ridge Mountains, is just as impressive!
Today, the property is still owned by Mr Vanderbilt's descendants, but it serves a much different purpose than it did when it housed the family through the earlier part of the 1900s.
It's open to the public so you can spend a day exploring the iconic property. Visiting is one of the best things to do in Asheville! There's so much to see and do at the Biltmore Estate that we've outlined everything you need to know about it so you can get the most out of your visit.
---
History of the Biltmore Estate
After repeated visits to his mother who lived in the Asheville area, George Washington Vanderbilt fell in love with the city and its scenery and peaceful atmosphere. This fondness of the region made him decide to build a summer home there and in 1889, construction began on what became known as the Biltmore Estate. 
The name mainly comes from De Bilt, which is the name of the place his ancestors came from in the Netherlands. The project was so grand that it required more than 1,000 workers and a factory producing over 30,00 bricks per day had to be built on the construction site. It was officially completed in 1895. 
Upon his death, parts of the property were sold and his widow lived there part-time in an on-site apartment. It wasn't until 1930 that their daughter Cornelia opened the estate to the public. It was closed during the war and used as a private residence until 1956 when its days as a private residence ended.
From that point on, it functioned as a museum. On the 100th anniversary of the estate, ownership was passed down to Vanderbilt's great-grandson, Bill Cecil Jr.
Besides being a top tourist attraction in Asheville, Biltmore Estate also captured the attention of movie producers. Over a dozen movies were partly filmed on-site including Patch Adams and The Last of the Mohicans.
---
What to See at Biltmore Estate
When you visit Biltmore Estate, you're not just visiting an old home and admiring the period furniture and expensive artwork. Many historic houses allow visitors to walk through and see how the former owners lived but at the Biltmore Estate, you get to do this and so much more!
To get an initial understanding of just how much there is to see and do, consider this; the entire estate is 8,000 acres and the property is home to the main house, gardens, walking trails and Antler Hill Village where you'll find shops, restaurants and even overnight accommodations. 
The best way to experience the estate is to start with a self-guided or guided tour of the main Biltmore House. As you make your way around, you'll see original furniture and decor, priceless art and artifacts and a banquet hall with 70-foot ceilings. 
The on-site gardens are a lovely place to spend some time outdoors and it's in these gardens that you'll find one of the biggest Azalea collections in the country. There's also an expansive rose garden and exotic plants that are housed in the Conservatory Greenhouse. 
The Bass Pond Trails are another great place to enjoy some fresh air. See an old boathouse, relax on one of the benches near the pond or admire the pretty waterfall (one of the best Asheville waterfalls). There are 22 miles of trails out there, so while you might not be able to cover them all during your visit, you can explore a few before heading to Antler Hill Village.
There's so much to see and do at Antler Hill Village. One of the top attractions is the Biltmore Winery where your admission ticket gets you a free wine tasting. Like what you taste? There are over 20 handcrafted vintages to choose from so you can purchase some to take home with you. You can also take a guided tour of the beautiful vineyards. 
Antler Hill Village also features six restaurants and there's something for every budget and taste.  Whether you're a family with young children seeking a casual, affordable meal or a couple looking to sit down to a romantic fine dining experience, you'll find it here! The best thing about the food is many of the ingredients are fresh and local – right from the property's working farm. You can visit that farm and meet some of the friendly farm animals too.
Searching for a gift for a special someone or a nice home addition? The delightful little shops at Antler Hill Village have everything including handcrafted ornaments, clothing, art, books and Christmas items. Many of the items are unique and can't be found anywhere else.
Other attractions at Antler Hill Village include The Biltmore Legacy Museum and an ice cream shop. Throughout the year, a variety of events take place including art shows, concerts and the much-anticipated Biltmore Blooms that take place every spring.
While exploring Biltmore Estate, there are many exciting outdoor pursuits to enjoy as well. Fishing, kayaking, river rafting and cycling are popular on-site. You can also embark on a Segway tour, horseback riding tour, or Land Rover Adventure.
---
Biltmore Estate Admission Price and Hours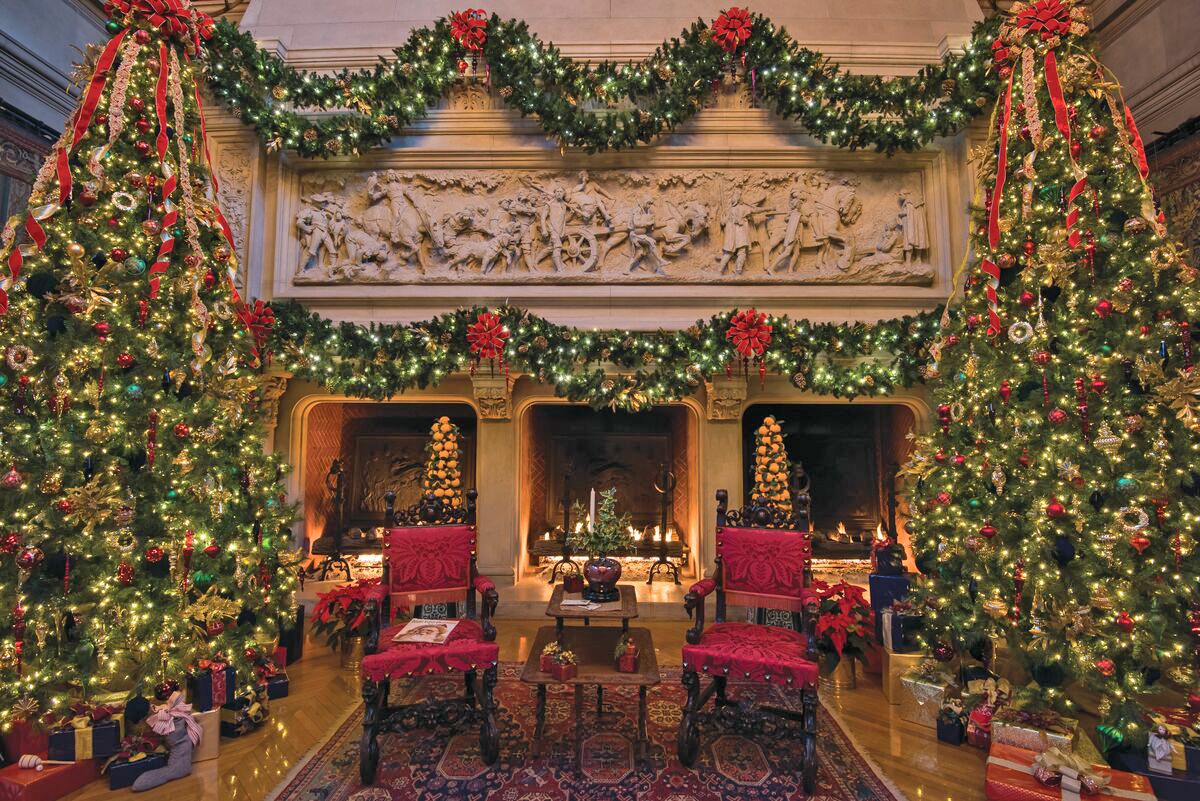 The Biltmore Estate is open every day of the week, but the hours vary so it's best to check the website ahead to make sure they are open when you plan to go.
To be admitted to the property, you need to present a Biltmore Admission Ticket and it's best to purchase this ticket online or at the Asheville Visitor Center in advance because some days, particularly around Thanksgiving and Christmas, they do sell out. Purchasing in advance also gets you a discount so that's a nice bonus!
The price of admission starts at $89 depending on the time of year and day of the week you wish to visit and where you would like to go. Children under the age of 9 can enter the property at no cost. Children between 10 and 16 can enter for free during the summer months and at half-price during all other times.
Your admission ticket allows you access to all of the property's attractions including the winery, village, grounds and trails. Guided tours of the main house are not included in the admission ticket price. The ticket options for Biltmore are as follows:
Biltmore House Admission Audio Guided Tour
Audio Guided Tour Plus
Expert Guided Visit Plus
You may also just purchase a Gardens & Grounds admission, which does NOT include Biltmore House entry, but is good value as you have access to 75+ Acres of formal and informal gardens, 20+ Miles of hiking, biking, and walking trails, Antler Hill Village & Winery, Complimentary Wine Tastings and parking.
---
Tips for Visiting Biltmore estate
How Long Do You Need at Biltmore Estate
When it comes to how long you should spend exploring the Biltmore Estate, that's completely up to you. There are no restrictions on how long you can stay onsite between opening and closing hours but generally, it takes a minimum of two hours just to go through the main Biltmore House itself.
Most people plan on spending one full day at Biltmore as there is so much to see and do on the 8000 acre estate. The house, gardens, farm, and winery are enough to keep entertained for the day.
If you wish to shop, grab a bite to eat, go on a tour, visit the museum or hang out in the gardens, you'll need to put more time aside. You want to get your money's worth and see everything that the admission ticket allows you to see.
What to Wear/Bring at Biltmore Estate
Although a dress code isn't enforced, it's recommended that business casual attire be worn at The Dining Room at The Inn. Resort casual attire is suitable for the other on-site restaurants.
If you want to take pictures of your visit, that's fine, but they can only be taken without a flash and are not to be used for commercial purposes.
If you want to have a picnic outdoors during your visit, be aware that any kind of tents, large coolers, grills and camping furniture are not allowed on the estate grounds. Inside the Biltmore House, you're only permitted to have beverages in clear plastic bottles.
Parking at Biltmore Estates
You won't be able to drive your car directly to the estate. You'll need to park at the Central Parking area and take a free shuttle to the Biltmore House. Alternatively, you can park in one of the Central Parking lots that are closest to the property and walk to the house. Parking is free with admission ticket.
Pets at Biltmore
Pets are allowed on Biltmore Grounds, but only service animals are allowed in Biltmore House.
Accommodation Near the Biltmore
If one day isn't enough at Biltmore Estate, or you just need a place to stay the night in Asheville, there's a variety of accommodation options available on-site.
The Village Hotel, situated next to the winery, is a laid-back option popular with families and budget-conscious visitors. During your stay, you'll have access to a fitness center, a cafe, a heated outdoor swimming pool and a spa. Rooms have televisions, Keurig coffee makers, refrigerators and free Wi-Fi.
The Inn on Biltmore Estate is a chic four-star property featuring mountain views, 24-hour concierge service, a cocktail lounge, a spa, a fitness center, a heated outdoor pool and laundry service. Each room has complimentary Wi-Fi service, a Nespresso coffee machine, bathrobes, slippers and a television. Nightly turn-down service is available. 
The historic Cottages at Biltmore Estate offer a more exclusive and luxurious experience. At one of these lovely cottages, you'll enjoy many amenities including a 24-hour concierge, floral service, laundry service and access to the gym, pool and spa at the nearby inn. In your room, you'll find free Wi-Fi, a Nespresso coffee machine and custom bathrobes and slippers.
---
Other Nearby Asheville Attractions
While you're in Asheville, there are many other great attractions to check out in the city and surrounding region. The North Carolina Arboretum features 434 acres of lovely gardens and nature trails while the Pisgah National Forest makes for a great escape into the natural side of the area.
At the Western North Carolina Nature Center, you'll observe over 60 animal species and Southern Appalachian crafts are showcased at the Southern Highland Craft Guild and Folk Art Center. The Thomas Wolfe Memorial highlights the life and times of the acclaimed writer and the Ashville Art Museum is where you'll see many works of modern American art.
Learn about a well-known local poet at the Carl Sandburg Home National Historic Site and spend a rainy afternoon playing nostalgic pinball games and learning about the history of pinball at the Asheville Pinball Museum.
If you are driving the Blue Ridge Parkway, Biltmore Estates makes for a lovely day stop nearby!