Maggie Valley beckons travelers with its undeniable charm and captivating natural beauty. Surrounded by the Great Smoky Mountains, this picturesque destination in North Carolina promises an enchanting escape from the hustle and bustle of everyday life.
Stunning landscapes, outdoor adventures, and a rich blend of cultural experiences, Maggie Valley has become a sought-after gem for those seeking a mountain getaway in North Carolina.
From the thrilling slopes of Cataloochee Ski Area to sipping wine at a local NC winery, there are plenty of things to do in Maggie Valley for all! Let's dig into a few of the best Maggie Valley attractions!
---
Best Things to Do in Maggie Valley
---
Explore Enchanting Landscapes at the Blue Ridge Parkway
The 469-mile-long Blue Ridge Parkway holds the honor of being the longest linear park in America. It is also one of the most scenic parkways in the country. Fortunately for the residents and visitors of Maggie Valley, the town is only a few minutes away from the Parkway's most frequently used entrances. 
Here, you can bask in the true Appalachian beauty and its breathtaking world of changing colors, waterfalls, lush green hills, expansive meadows, and much more.
At the parkway, you can plan a week-long adventure of hiking, fishing, camping, bird watching, photography, watching wildlife, or simply driving along the parkway. The park has so much to offer, and you don't want to miss any of it.
Some of the most noteworthy attractions near Maggie Valley on the Parkway include Mount Pisgah, Mount Mitchell, Waterrock Knob, and Grandfather Mountain. The trails and the view from these spots will take your breath away.
---
Climb the Soco Craft & Tower
A thing to do in Maggie Valley is to climb a 9-story observation tower and enjoy one of the best views of the town.
The view might have changed over the years, but the observation tower has been in operation since 1947. Almost every local has climbed this tower at one point in their lives, and visitors cannot miss this opportunity either. 
---
Cataloochee Valley
The Cataloochee Valley is just off the major highway and nestled in the Great Smoky Mountains. It is a perfect spot for hiking trails, camping, and taking photos of the beauty of the landscape. 
Check out old buildings that tell stories about the past. You can see wild animals in the valley such as birds, elk, and many more. Enjoy the beauty of nature and the history of the area with many other options in the Valley to explore!
---
Go Skiing
Whether you've been skiing all your life or have never set foot on a slope, you can't come to Maggie Valley in the winter and not try your hand at skiing.
This Appalachian Mountain town offers endless opportunities for you to enjoy the sport to its full extent. There's no shortage of skiing resorts in the town, but if you're looking for the top one, we recommend the Appalachian Ski Mountain, locally known as Blowing Rock. This resort features three beginner slopes, six intermediate slopes, and three advanced slopes with an elevation of 4,000 feet. They have also included an ice rink in the mix to guarantee an overall fun day for all friends and family.
If you are on a skiing trip to Maggie Valley, then don't stop at one. Not when you have the amazing Beech Mountain Resort, with even a higher elevation than Blowing Rock, and a 700-foot-long tubing park.
Other honorable mentions include Cataloochee Ski Area and Wolf Ridge Ski Resort. Ski Sapphire Valley, and Sugar Mountain Resort.
The Best North Carolina Ski Resorts
---
Wheels Through Time Museum
If you want to rekindle your love for motorcycles or want to take your first steps into the fandom of two-wheel wonders, there isn't a better place than the Wheels Through Time Transportation Museum in Maggie Valley.
Located on Vintage Lane, just 5 miles off the Blue Ridge Parkway, this eclectic museum has an elite collection of some of the rarest and oldest American motorcycles, memorabilia, and limited editions of American automobiles. With a collection of over 300 motorcycles, this museum offers you a chance to get up close and personal with one-of-a-kind automobiles that few people know even exist.
These engineering beasts aren't just for display either. They are kept in 100% working condition and you can witness a 1937 Harley-Davidson Knucklehead Bobber or a one-off Packard and Lincoln model running and operating in real time.
---
Maggie Valley Rock Shop and Gem Mine
Located in the heart of the valley, Maggie Valley Rock Shop and Gem Mine is a super interesting spot to visit. It's all about rocks, gems, and minerals from around the world. You can see beautiful stones while learning about their different colors and shapes.
The attractions offer an exciting experience where you can sift through dirt and gravel to uncover colorful gemstones and crystals. Equipped with tools and guidance, you'll enjoy a hands-on experience.
They even have some interesting fossils and a shop where you can take home souvenirs from your visit. This is a great place if you're into rocks and gems or want to experience somewhere new.
---
Step into an Artist's World at Mountain Mike's Whetstone Woodworks
Discover the remarkable talents of a local artist through his extraordinary collection of chainsaw-carved sculptures at Mountain Mike's Whetstone Woodworks.
Meet Mike Ayers, a true artisan known for his exceptional skills and remarkable speed in his craft. Notably, he holds the world record for carving the most bears in under an hour. With a wealth of natural wood at his fingertips, Mike creates lifelike sculptures that have taken him across the globe to compete in renowned events. If you're fortunate, you might even witness this masterful artist at work during your visit to the Woodworks.
---
Bring the Family Together at Maggie Valley Carpet Golf
Maggie Valley Carpet Golf features two 18-hole championship courses and a 36-hole outdoor miniature golf course. The championship course attracts pro golfers, whereas the miniature course is where friends and family rendezvous for a fun-filled, lighthearted competition.
Located on Soco Road, this family-owned golf club welcomes players of all ages and guarantees a fun-filled day at Maggie Valley.
---
Find your Wine at B&C Winery
One of the best things to do in Maggie Valley for wine lovers is hit up B&C. If you like to get daring with your wines and love to explore flavors and blends that have been unheard of, B&C Winery is just your speed.
Located on Soco Road, the winery is dedicated to pushing the boundaries of wine creation. With nearly 40 distinctive varieties, including limited editions, their vineyard journey spans the globe with grapes being sourced from California, Australia, Washington State, Italy, Chile, and Argentina.
Their commitment shines in their extensive selection. Red wine enthusiasts can savor rich flavors like CA Merlot, Old Vine Zinfandel, Argentine Malbec, Chilean Malbec, and Italian Chianti. Dessert wines like Blackberry Blast Merlot, Strawberry White Merlot, and others cater to sweet cravings, while white wine lovers can explore options like Washington Riesling, Italian Pinot Grigio, and more.
There are many other wineries to check out just outside of Maggie Valley, including Biltmore Winery in Asheville and Burntshirt Vineyards in Hendersonville. Both are around an hour outside of Maggie Valley, but great to travel to if you're craving a sip or two!
---
Soco Falls Trails
Soco Falls are 100-foot twin cascades located between Maggie Valley and the Cherokee Indian Reservation. The North Carolina waterfalls face each other at a slight angle, offering the most refreshing and stunning views to the spectators.
From Maggie Valley, it's 1.5 miles past the crossing of Blue Ridge Parkway. Follow the signs from there, leave your car in the parking area, and enjoy the short, beautiful hike to the falls, which you can hear from miles away.
---
Maggie Valley Golf Club and Resort
Maggie Valley Golf Club and Resort is situated right in the heart of Maggie Valley. A great place to play some golf as well as enjoy the scenery. Tee off on 18 holes, or you can also have an extended stay and enjoy the resort.
Besides golf, the Club and resort have many other amenities. Enjoy heated pools, restaurants, tennis courts, a fitness center, and many more great amenities. So, whether you want a relaxing holiday or visit for a golf game, there's plenty of fun for everyone.
---
Maggie Valley Puzzle Room
Maggie Valley offers endless outdoor adventures, but when you are in the mood to spend quality time with friends and family and test their sleuthing skills, head over to Maggie Valley Puzzle Rooms.
The Puzzle Room boasts five themed escape rooms and promises exciting fun times and loads of laughter with friends and family.
---
Fish at Jonathan Creek
Also known as J Creek to many of the locals in Maggie Valley. This river runs through Maggie Valley, so there are many access points. It is a great place to fish in the spring or summer seasons. During these seasons, the river is filled with fish, mostly trout. Make sure to bring your bait, fishing rod, and a friend!
Outside of Maggie Valley, you can find other fishing spots just a short drive away. Lake Junaluska and Sunburst are popular attractions for fishing. Always remember to check local fishing regulations or necessary permits before you go.
---
Great Smoky Mountains National Park
This incredible park offers a chance to explore the breathtaking landscape, just 30 minutes by car from Maggie Valley. It's a wonderful destination for outdoor enthusiasts and families. You know, probably just about anyone would enjoy it!
As you venture into the park, you'll follow trails that lead you through forests, lovely waterfalls, and majestic mountain views. The park's huge territory provides a unique opportunity for birdwatching and wildlife spotting. Keep an eye out for black bears, deer, and various bird species that call this park home.
Visitors can enjoy picnicking in designated areas, taking stunning photographs, and even camping out if they would like to stay the night! The Great Smoky Mountains National Park is also rich in history, with historic buildings to explore. It's a must-see and worth the trip from Maggie Valley.
---
Deep Creek Trails
Deep Creek Trails are another must-see in Maggie Valley. They're easy to get to, and the scenery is picturesque. You can find them near the Deep Creek Campground, not far from the center of Maggie Valley.
The trails go through the Appalachian Mountains and along a creek called Deep Creek. There are different paths you can take, and each one shows off the mountains, trees, and the sound of the creek flowing. On the trails, you'll see waterfalls such as Juney Whank Falls and Tom Branch Falls that make your hiking experience extra special.
You can also enjoy some fun summer activities with nice weather, like having a picnic or tubing down the river. Deep Creek Trails are a simple and fun way to enjoy the beauty of Maggie Valley's nature.
---
Visit Maggie's Mountaineer Crafts
Maggie Mountaineer Crafts is a neat shop in Maggie Valley full of handmade crafts made by local artists. You can find all sorts of neat things like wooden art, pretty pottery, soft fabrics, and exceptional jewelry. 
When you go inside, you'll see lots of things that show how talented the local artists are. It's a great place to find unique gifts or souvenirs that will help remind you of your trip to Maggie Valley.
---
Take a 20-minute Drive to Waterrock Knob
Waterrock Knob is located 20 minutes from Maggie Valley and is totally worth a visit. You get to see awesome views of the Blue Ridge Mountains from up top. The best part? You can take a hike up the Waterrock Knob Trail to reach the summit. It's a bit of a challenge, but the views make it all worth it. The view from the top is like a painting of mountains and valleys.
Whether you love hiking or want to see amazing views, Waterrock Knob is a spot you don't want to miss.
To get there from Maggie Valley, take US-19 South and follow the signs for the Blue Ridge Parkway. The drive itself is pretty. Once you're on the Blue Ridge Parkway, keep going until you see the Waterrock Knob Visitor Center. That's where you start your hiking.
---
Enjoy a night at the Stompin' Ground
One of the best things to do in Maggie Valley at night is dance! If you want to get to know the Appalachian community better, make your way to the Stompin' Ground Dance Hall, and see how the locals dance their weekends away. Stompin' Ground offers a lively Western-themed experience where you can watch fun outdoor shows with cowboys, horses, and stunts. While watching the show, you can enjoy yummy Southern food and drinks. 
The hall hosts many live performances and evenings are spent spectating and dancing to the Appalachian music. The hall has stadium-like seating where you can enjoy the lively atmosphere, or you can step on the foot dance floor and try to learn bluegrass, square dancing, or their specialty, clogging. 
It's a fun place to eat, watch, and have a good time with your loved ones. The place gets packed as it's only open from 7pm onwards on Saturdays! The place only has two floors of seating, so make sure to get there on time.
---
Race Downhill at the Tube World
The locals don't stay in when the snow falls at Maggie Valley. They head out to Tube World and have the most fun-filled times at the tubing lanes.
Located at the base of Fie Top Road, the Tube World features up to 10 tubing lanes where you can let go of all reservations (and control) and let the slopes push you down. You can go back up on their carpet lift to do it all over again.
Where to Go Snow Tubing In North Carolina
---
Cataloochee Ranch
There's no shortage of adventure spots in Maggie Valley, and Cataloochee Ranch makes sure to elevate the experience with its many amenities. The ranch is located on Fie Mountain, offering undisturbed views of the Smoky Mountains.
The highlight and the most anticipated activity at Cataloochee Ranch is horseback riding. They offer guidance to all riders, regardless of their level of expertise, and trails with the most exquisite views. The magical combination of riding and mountainous landscape creates an unforgettable experience.
At the ranch, you can also take leisurely walks across the mountaintop, swim in the heated outdoor pool, take a wagon ride, and enjoy a peaceful fishing experience in the trout pond.
---
Try Local Cuisine
Maggie Valley is a great destination for trying southern cuisine. A must-try is hearty Southern comfort food, often served in cozy diners and family restaurants. There are many places that are enjoyed by both travelers and locals.
Joey's Pancake House is one of them, where you can indulge in fluffy pancakes and classic breakfast delights. For a taste of smoky barbecue, head to Butts on the Creek BBQ. If you're in the mood for a juicy burger, J. Arthur's Restaurant is a popular spot.
And there are many more family-run restaurants that you will truly enjoy. Southern food is considered some of the best, and Maggie Valley is no exception.
---
 Bring the Pets to Brickhouse Burgers & Pizza
This dog-friendly pizza joint on Soco Road is one for the books. You get endless sandwich and pizza options on their menu and whatever expectations you have; their food almost always exceeds it.
You won't find a single dry patty on their burgers. They cater to a diverse audience by offering vegan, gluten-free, and vegetarian options.
---
Visit Maggie Valley Wellness Center.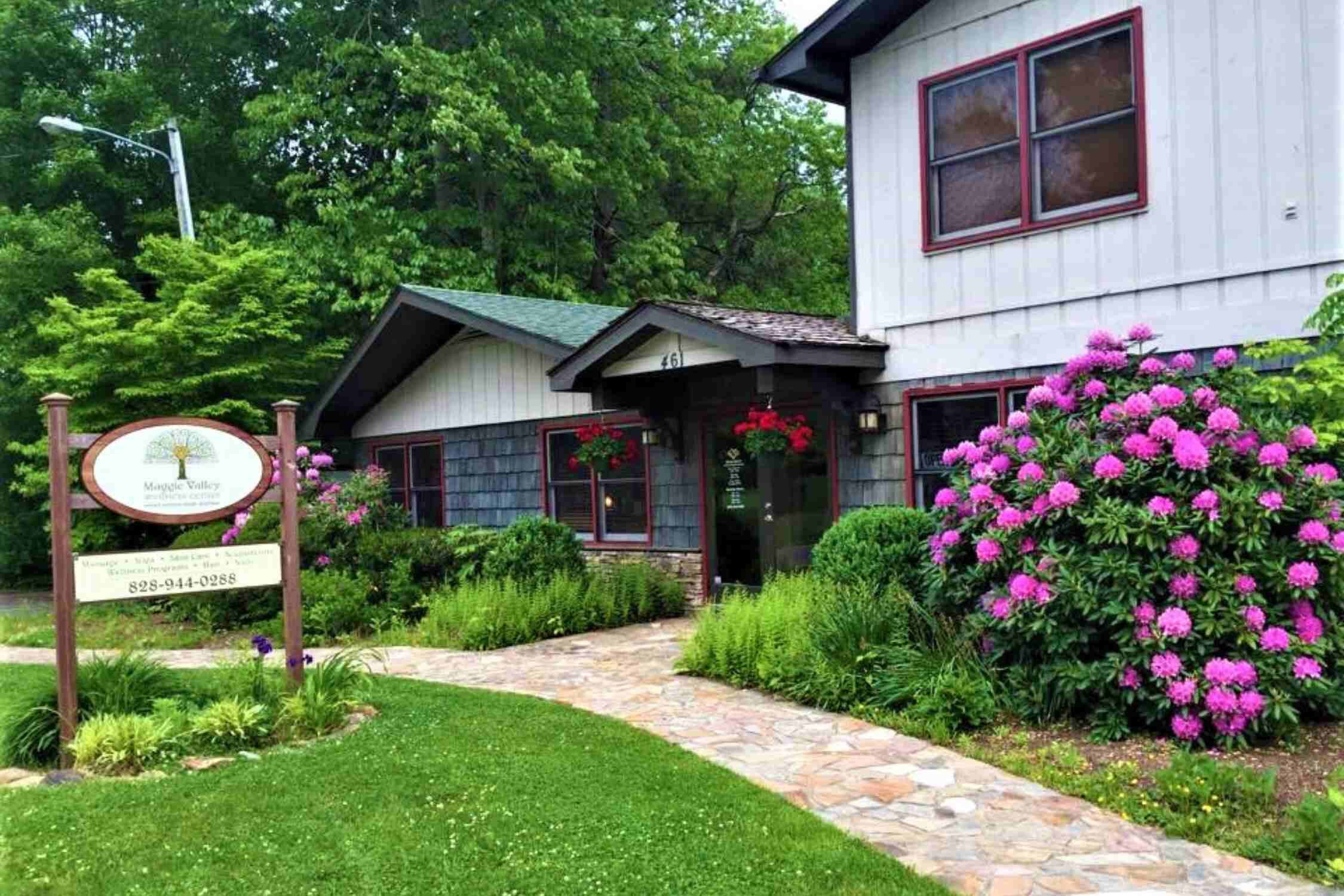 Feeling stressed or like you need a break from reality? Maggie Valley Wellness Center is nestled in the mountains. It offers a beautiful escape for relaxation and rejuvenation. With services like massages and yoga, you can unwind and feel better.
They also offer wellness workshops and classes to help you learn and incorporate healthy practices into your routine. Located in Maggie Valley, it's the perfect place to unwind. The staff is welcoming, and the peaceful ambiance enhances your stay. It's a go-to for a peaceful, relaxing visit.
---
 Join the Town's Festivities at Maggie Valley Festival Grounds
We all love festivals, but have you ever been to one surrounded by mountains, green hills, woods, and breathtaking natural beauty?
Maggie Valley Festival Grounds adds to the festivities with its stunning scenery. The grounds are almost always hosting an arts & crafts event or a major concert, so make sure you check out their event calendar. 
Some of the most popular events include the Hillbilly Jam, Maggie Valley Ice Festival, Annual Southeastern Mini Truckin' Nationals, and BOHO Hippie Fest.
---
Hike the Scenic Black Balsam Knob Trail
Black Balsam Knob Trail is one of the most easily accessible trails from Maggie Valley, and it's not something you'd want to take for granted. The 4.6 miles of trail is one of the best moderate hikes near Asheville and offers views that will leave you in awe of Appalachian beauty.
Once you reach the summit, you can hang out and photograph the unique landscape around you. The green grassy hills are a different color during different seasons, so you can look at miles and miles of green hills or witness the fall's orange, brown, and red colors from your perch on top of Black Balsam Knob.
---
Visit Cherokee
Cherokee is located just minutes away from Maggie Valley. There are a lot of things to do in Cherokee, such as exploring the waterfalls. Soco Falls, mentioned earlier, as well as Mingo Falls.
Mingo Falls is a 120-foot-tall waterfall just 10 miles outside of Maggie Valley, and it takes just a short hike to get there. Many locals and tourists also come to visit the Harrah's Cherokee Casino Resort. You can also visit many places to learn about history, such as the Museum of the Cherokee Indians or the Oconaluftee Indian Village.
---
Visit Lake Junaluska
Waterfalls are beautiful gems of nature no doubt, but they are also deafening. On the days when you are craving a special kind of quietness, head over to Lake Junaluska. The water is surrounded by a walking trail that borders the entire lake and is open for public use.
If you are especially impressed by the lake and don't want to leave quite yet, there are numerous lakeside hotels, cottages, campsites, and apartment rentals that will allow you to turn this visit into a retreat.
At Lake Junaluska, you can stay in rooms with windows that open to views of the lake and its mountainous backdrop. Cafés and eateries are within walking distance, plus you can enjoy numerous recreational activities to rejuvenate the body and soul.
---
Learn History Through Art on Haywood Quilt Trails
It's difficult to understand the charm of Haywood Quilt Trails unless you are there but imagine a car drive where you see art meeting history, and vibrant quilt patterns breathing life into a private neighborhood of Maggie Valley.
Haywood Quilt Trails is an outdoor gallery on public county roads that showcases the area's rich heritage. With 80 unique quilt block designs adorning local barns and buildings, each quilt block tells a story, reflecting the history and traditions of Haywood County.
---
Jump Aboard the Waterfalls Ride
Maggie Valley is home to numerous waterfalls, each one so special and stunning that you often wish to see them all at once. With Waterfalls Ride, you can.
This popular activity is a scenic 165-mile loop ride that takes you past more than a dozen roadside waterfalls in a day. The waterfalls are so magnificent and so great in number that you wouldn't want to hurry past any of them, which is why many town visitors break this ride into two days.
---
Have a Creekside Picnic at Parham Memorial Park
Located in the heart of the town, Parham Memorial Park is the go-to place when the weather's nice and you only want to rest and unwind under the open skies.
Although not small, the park offers the residents a chance to enjoy nature without driving to the Blue Ridge Parkway or heading over to one of the trails. It offers numerous picnic benches right next to a creek, offering a quick respite and serenity from the daily grind.
---
EXPLORE MORE NC MOUNTAIN TOWNS
These are just the best things to do in Maggie Valley, but there is so much more around the region!
Plan For Your Trip to the South!