Long before the age of beach umbrellas and sunscreen, the Cape Fear Indians roamed the land that is now Carolina Beach State Park. But in the mid-1720s, European explorers arrived and turned the area into a bustling commercial port that thrived for almost two centuries.
Fast forward to the 1880s, and a new kind of visitor had their sights set on Carolina Beach. Vacationers began flocking to this pristine stretch of sand and sea, and soon enough, the first beach cottages began popping up like sandcastles.
But as more and more people began to appreciate the natural beauty of Carolina Beach, there was growing concern about preserving the fragile ecosystems that made it so special. In 1969, a state park was established to protect the area's unique waterways and wildlife for future generations to enjoy.
Besides being an outdoor coastal paradise, the park is mostly known for its marina and boating facilities and for being one of few places where the carnivorous plant known as the Venus Flytrap is found. The park is also home to various habitats including wetlands, forests with pine and oak trees, marshes, ponds and dunes such as the massive Sugarloaf Dune.
Popular outdoor activities in the park include fishing, cycling, hiking and paddling.  As you explore the area, you may even spot some of the wild creatures that make their home there including alligators, frogs, snakes and many species of birds including osprey, woodpeckers and finches!
Today, Carolina Beach State Park spans a whopping 761 acres and is one of only a handful of such parks along the North Carolina Coast. From hiking and fishing to camping and kayaking, there's no shortage of outdoor recreation to be had here. So grab your sunscreen and get ready to experience the natural wonder of Carolina Beach State Park!
---
Where is Carolina Beach State Park?
Carolina Beach State Park is situated on State Park Road in New Hanover County only 20 minutes away from the city of Wilmington and minutes from the town of Carolina Beach. It sits on Pleasure Island. The park is located in an area between the Atlantic Ocean and the Cape Fear River.
---
Carolina Beach State Park Hours and Admission
If you're only planning to use the park for day use, there are no fees. You would only have to pay fees if you plan to use the boat slip (There is a boat launch fee of $7), the campground to stay overnight, or to book multiple picnic tables for a gathering.
The park's hours vary depending on the time of year. During winter and early spring, it closes between 6 PM and 9 PM. Starting in May, it's open until 10 PM and in October, the reduced hours start again. The park opens at 7 AM all year round. The on-site visitor center is open every day all year round from 8 AM to 5 PM.
---
When is the Best Time to Visit Carolina Beach State Park?
The best time to go to Carolina Beach State Park depends on many factors. If you want to go there when the weather is really warm and sunny, June, July, August and September are the best months. Keep in mind that this is also high season in the area so it's also the most crowded time of year. Also summer on Coastal Carolina always means high humidity.
If the weather isn't much of a factor and you're happy with cooler, milder temperatures, late fall, winter, and early spring are great times to visit. This is when there are fewer crowds however, the exception to this is January which is one of the most crowded months of the year.
Be aware that fall (August-October) is also hurricane season and although hurricanes don't hit the region often, it's always a possibility! A good thing about visiting in the low season is you'll get cheaper rates on hotels, rental cars and flights.
All in all, if you enjoy hiking and enjoying the great outdoors, Carolina State Park is a great place to visit any time of year.
---
Things to do in Carolina Beach State Park
---
Check out The Visitor Center
This is where you can find out anything you want to know about the park including activities, weather, trail conditions and area information. There are also some exhibits on site that showcase the history of the park and there are some snacks, beverages and souvenirs available for sale.
---
Go Boating
If you have your own boat, you can use the boat ramps for a $7 fee, but you don't need your own boat to enjoy the Cape Fear River, Myrtle Grove Sound, and the Atlantic Ocean. The park has kayaks, canoes, and paddleboards available for rent. Or you can enjoy the views from the shore.
---
Try Your Luck at Fishing
Fishing is a very popular activity in Carolina Beach State Park. Fishing is done mostly from the riverbank, and you'll need a North Carolina Coastal Recreational Fishing License to try your luck at reeling in some sheepshead, trout and flounder.
---
Enjoy Birdwatching
Pelicans, warbles, yellowthroats, finches and woodpeckers are just some of the bird species you can observe in Carolina Beach State Park.
---
Embark on a Hike
While you can hike on your own at any time in the park, guided hikes take place from time to time. Some of these hikes include the Biological Wonderland Hike, the Carnivorous Plant Hike and the Fourth Wednesday Bird Walk. Check the events page on the park's official website to see if any of these guided hikes will take place during your visit.
---
Try and Spot the Venus Flytrap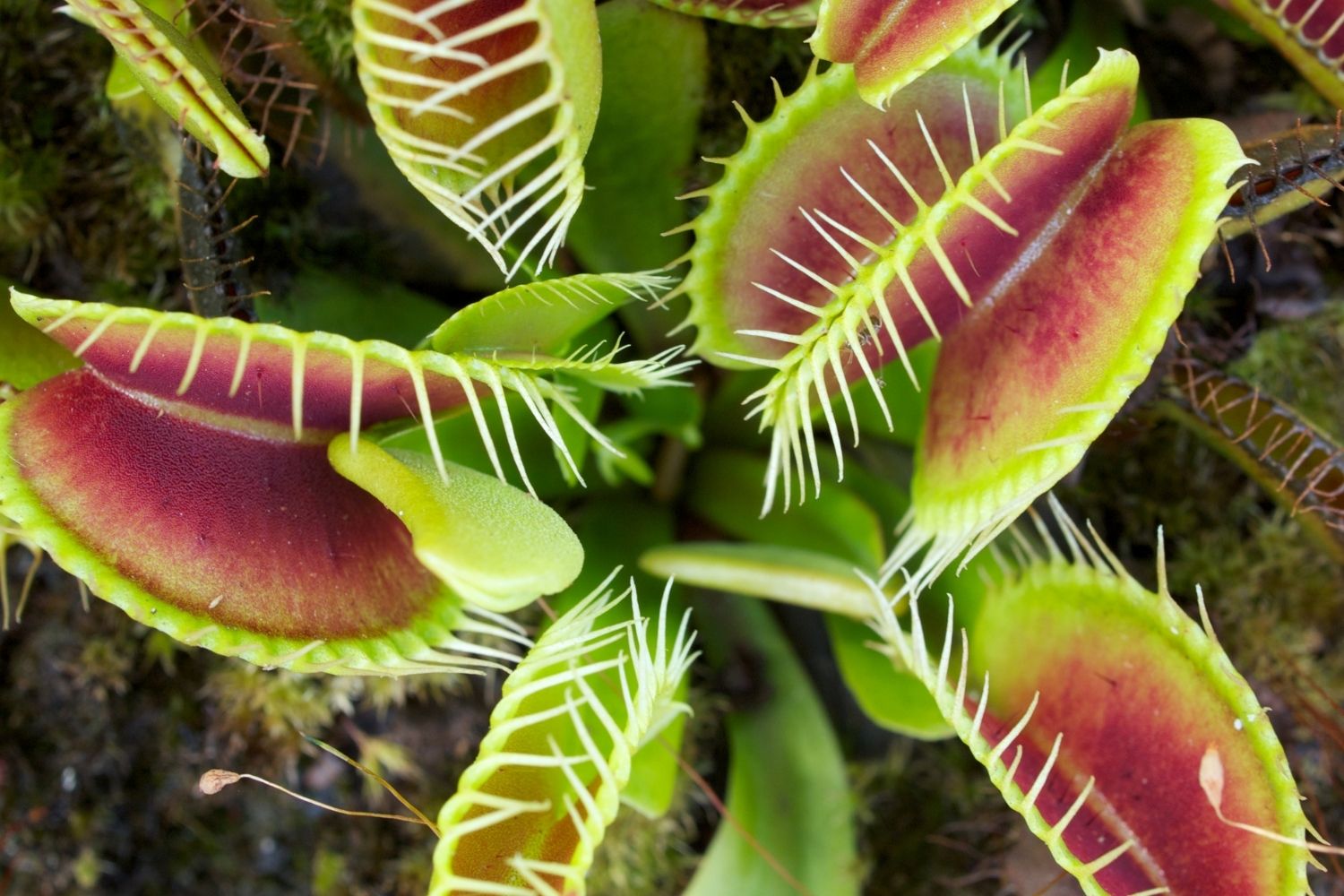 The Venus Flytrap (Dionaea muscipula) is a carnivorous plant native to the wetlands of North and South Carolina. It is a small plant, with leaves that are modified into traps that snap shut when triggered by an insect. The traps are lined with sensitive hairs that detect movement, and when an insect brushes against them, the trap will close, trapping the prey inside. The Venus flytrap is able to digest insects using enzymes produced by glands on the inner surface of the trap.
Venus flytraps are small, herbaceous plants that grow in damp, nutrient-poor soil. They have small white flowers that appear in the spring and summer. The traps are usually green, but can turn red or purple depending on the plant's environment.
There's not many places in the world the Venus Flytrap grows, but Carolina Beach State Park is one of those places. Keep an eye out for them (though they are very hard to spot as they are quite tiny.)
---
Where to Eat at Carolina Beach State Park
The picnic shelters in Carolina Beach State Park are free to use on a first-come, first-served basis but if want to reserve one or more tables for a specific day and time, you'll need to pay a fee. That being said, there's usually a table available but if not, there are plenty of nice spots to sit under a tree or out in the open where you can enjoy your lunch. You can grab picnic supplies at the nearby Food Lion.
If sitting down in a restaurant is more to your liking, the area around Carolina Beach is home to many fantastic Carolina Beach restaurants.
Burritos are a popular lunch item, and you can find many varieties of them at Flaming Amy's Burrito Barn in Carolina Beach! If you fancy a Tiki Bar atmosphere, Salt Fish Restaurant is the place to go in the area and you'll enjoy delicious seafood and cocktails too!
Bowman's at the Beach is a laid-back place where fried seafood is the specialty. At Hang Ten Grill, you'll find classic American far on the menu and if you're craving something simple like a hot dog, Nauti Dog and its beachy ambiance is a favorite with both locals and visitors.
---
Destination Hikes in Carolina Beach State Park
There are nine official hiking trails in Carolina Beach State Park. Most of the trails are very short but some join up with others if you wish to embark on a longer hike.
Campground Trail, Fitness Trail, Flytrap Trail, Snow's Cut Trail, Track Trail, Oak Toe Trail and Swamp Trail are all under a mile, so they are easy to do if you're pressed for time or traveling with kids. Sand Live Oak Trail is a little longer at 1.5 miles and the longest trail in the park is the Sugarloaf Trail which is 3 miles.
All of these trails are different, but you can expect to see a variety of things as you explore them including sandhill forest, Venus Flytraps, ponds, dunes, marshes and spectacular ocean views.
---
Things to Do Near Carolina Beach State Park
---
Explore the town of Carolina Beach
The area's namesake is more than just a beautiful sandy beach. Wander around the streets of this seaside town and dine at lively restaurants, shop in quaint stores and admire the scenery. Make sure to enjoy some time at Carolina Beach (this is separate than Carolina Beach State Park) – it's one of the best beaches in North Carolina!
---
Check Out Kure Beach
Situated about ten minutes drive away from the state park, Kure Beach is a quieter beach town with a more peaceful beach vibe if you want to get away from the crowds of Carolina Beach for a day. Besides the beach, the town is mostly known for its brightly colored homes and the oldest fishing pier on this side of the country. If you get hungry while at Kure Beach, Freddie's is one of the best restaurants in all of Wilmington!
5 BEST Kure Beach Restaurants to Try
---
Fort Fisher State Historic Site
If you're interested in the area's Civil War History, Fort Fisher State Historic Site is a must-see. This fort played a significant role in two major battles toward the end of the War Between the States. While you can only see some of the original fort, there are some recreations to fill in the blanks. Fascinating exhibits detail the story behind the fort and the battles in which it was involved. Guided tours are available.
---
North Carolina Aquarium at Fort Fisher
The North Carolina Aquarium at Fort Fisher is easily one of the top attractions in the area. The purpose of this facility is to educate visitors about the natural world beneath the surface of the water through interactive displays and fascinating exhibits. Eels, sharks, alligators and turtles are just some of the marine creatures you'll spot during your visit. Look out for Luna, the famous albino alligator!
---
Walk the Carolina Beach Boardwalk
Known as one of the country's most beloved boardwalks, this is an amazing place to go to enjoy the refreshing sea breeze and stunning sea views.
As you stroll down this iconic boardwalk, you'll find many attractions including eateries, ice cream stands, tiki bars, amusement rides, retail shops and an arcade. Sometimes, there's even live music and fireworks.
---
Enjoy a Night on the Town
When the sun goes down, Carolina Beach transforms into a lively nightlife destination with live music, dancing and copious amounts of beer and cocktails.
Enjoy a memorable night on the town at one of the popular watering holes including Fat Pelican, Sea Witch Café and Tiki Bar and one of the best breweries in Wilmington – Good Hops Brewing
---
Where to Stay Near Carolina Beach State Park
Within the park, you have the option to camp overnight at the on-site campground which offers tenting sites, trailer and RV sites and also camper cabins.
Camping Options At Carolina Beach State Park
Tent, Trailer, and RV Camping – Some Full Hookups: $26
Camper Cabins: $58
Group Camping – Primitive Walk-In Tent Campsites: $45-$55
If you'd prefer to stay in a hotel or bed and breakfast, there are many options nearby. The Windstar Hotel at Carolina Beach is a laid-back property featuring an outdoor swimming pool and rooms with kitchenettes.
The Savannah Inn in Carolina Beach is a beachfront property with an outdoor pool and free Wi-Fi. The Hampton Inn & Suites Carolina Beach Oceanfront is an eco-hotel with spacious rooms, an outdoor pool, a bar and complimentary breakfast. Carolina Beach Inn has a beautiful garden and BBQ facilities. Some of the rooms and suites have kitchens.
At the Courtyard, guests enjoy access to a private outdoor pool and beach access, a restaurant, an indoor pool, and a fitness center. The suites are well-equipped with free Wi-Fi, dining areas, wet bars and some kitchen facilities and regular cocktail hours are held on site.
Or if you have a larger group and prefer a VRBO, check out our 20 Best Carolina Beach VRBO Vacation Rentals.
---
Carolina Beach State Park Rules and Safety Tips
Being a state park and a protected area, there are a few rules that visitors must follow to keep the park safe and clean for everyone and to keep the area as pristine as possible to protect the delicate ecosystems.
If you're traveling with a pet, be aware that although they are allowed in the park with you, they are not allowed inside any of the park's buildings. They also must be kept on a leash at all times.
Alcohol and any glass bottles or containers are not allowed to be used inside the park. When it comes to garbage, the expectation is that visitors must pack out what they pack in. In other words, dispose of garbage in designated bins or take it home with you! Please don't litter.
When hiking, biking, or exploring the park, stay on designated trails. Failing to do this can endanger delicate habitats for plants and animals. If you spot wildlife, keep a safe distance, do not approach and never feed any wild animal.
Despite the park's name, there is no designated swimming area in Carolina Beach State Park because there are strong rip currents and steep drop-offs. If you want to do some swimming, you can head to Carolina Beach which is only a short distance away.
---
TRAVEL MORE OF THE WILMINGTON AREA
Plan For Your Trip to the South!