If there's a petition to change the name of Bull City to Beer City, we're ready to sign on the dotted line. North Carolina has become one of the top contenders for stand-out brewing beverages in the country, with visitors flocking to the likes of Asheville and Charlotte. However, there are many newcomers to the microbrewery madness popping up all across the state. One such hop hotspot has become the new hip hamlet of Durham, and there are some fantastic Durham breweries to try!
Durham has often been known for its thriving sports scene, academic institutions, science and technology centers, and museums. Durham has had a downtown renaissance in recent years, resulting in a craft culture craze taking over. Each taproom touts its enticements – from special small batches to robust rosters, there is a brew for every beer lover here.
---
The Best Durham Breweries
---
Bull City Burger and Brewery
Bull City is Durham's oldest brewpub and one of the finest around. They focus their offerings on love for local agriculture – from fresh and juicy pasture-raised beef to sustainably brewed beer made with the freshest of ingredients. The results are delicious on both fronts.
The Parish Street Pale Ale, an homage to their community roots, is a favorite of frequenters. They also do some fun and funky creations like the Watts Oatmeal Stout. Everything is farm-to-fork and plants to pints. They aim to leave the smallest possible energy footprint, with initiatives such as utilizing leftover frying oil to fuel cars and a brewing process that uses no additives, only water, yeast, malt, and hops.
They have eight tasty taps at any time, with rotating seasonals throughout the year. It's the first certified B Corp brewpub in the world. Bull City Burger and Brewery is a home for anyone who loves good beer and great people.
Signature Beers
Parrish Street Pale Ale – Pale Ale | Rattelade RyePA – Rye IPA
---
Bull Durham Beer Co.
It is one of the first breweries in the country inside a sports stadium. In our opinion, it's one of the best breweries in North Carolina! It beautifully brings together the two passions of the city, baseball and beer. The Durham Bulls are a beloved baseball institution in the area, truly reflecting the spirit of Durham. The beer is brewed right at the stadium so that you can purchase it during the games or at bottle shops around the state.
Their IPA is an impressive offering and something about the refreshing crisp taste of the Kolsch that goes perfectly with a day of baseball in the Carolina sunshine. Everything is fresh, handcrafted, and small batch. It holds a special place in the hearts of the locals as an essential representation of the breweries in Durham. Every pint at Bull Durham Beer Co. is a home run.
Signature Beers

Kolsch Style Ale – Kölsch
---
Durty Bull Brewing Company
Durty Bull has a 15-barrel production in an expansive industrial space tucked away in downtown Durham. They use bourbon barrels, wine barrels, and oak foeders to age their special brews. Their sours program is inspiring. 
With a quirky Simpsons theme, the taproom is full of memorabilia, such as pinball and old-school games on an available console. They use old-world techniques and combine them with creative flavors. We can't get enough of their Shiny Things IPA, Extra Crcan'tilsner, Sippy Cup Peach, and Pink Guava American Wheat Ale. 
At certain times of the month, they offer free tours for their patrons to get a peek at the process behind the scenes. If you miss it, try the virtual option on their website. Durty Bull always brews to impress.
Signature Beers
Oak-Aged Blonde Sour – Wild Ale | In Search Of – Hazy IPA
---
Barrel Culture Brewing and Blending
Barrel Culture is a unique brewery located in an old Counter Culture headquarters. This Durham brewery creates oak-fermented sours and wild ales aged in barrels with various fruits. The beverages often have intense flavors and exciting combinations of tastes. On the 18 taps, you'll get gems such as the Lunar Farmhouse Ale Saison, Pie Time Strawberry Rhubarb American Wild Ale, and Heavy Jams: Little Beach Boi Sour. 
The barrel room is often open to wander through, pint in hand, and peer at the casks containing crafts that have been fermenting for 12 to 18 months. The brews are brightly colored, and the space is sleek and welcoming. The outdoor garden is a stunning spot to sip your favorite drafts. The beers at Barrel Culture are diverse and carefully curated, creating a fun and brew-loving experience for everyone. 
Signature Beers
Daze -Imperial IPA | Summer Jam: Pineapple Beets – Fruited Sour
---
Fullsteam Brewery
Fullsteam Brewery is a celebration of all things Southern. They brew by the credo plow to pint. By partnering with nearby farmers and local foragers, they have formed strong connections within the community. Often, they will use experimental native ingredients to create unique and exciting brews, such as pawpaws or hickory.
They are transparent about their spending, always attempting to return resources to the start. The Rocket Science IPA is a crowd-pleaser, and the Carver Sweet Potato Lager is a delightful surprise that represents them well. They have created a strong sense of Southern beer culture and economy by supporting the area's farm and food traditions. 
Their small-batch beers are made with local grain to create a one hundred percent North Carolina craft concoction. Fullsteam Brewery takes the cake of the best Durham breweries!
Signature Beers
Coffee Is For Closers – American Porter | Rocket Science – American IPA
---
Hi-Wire Brewing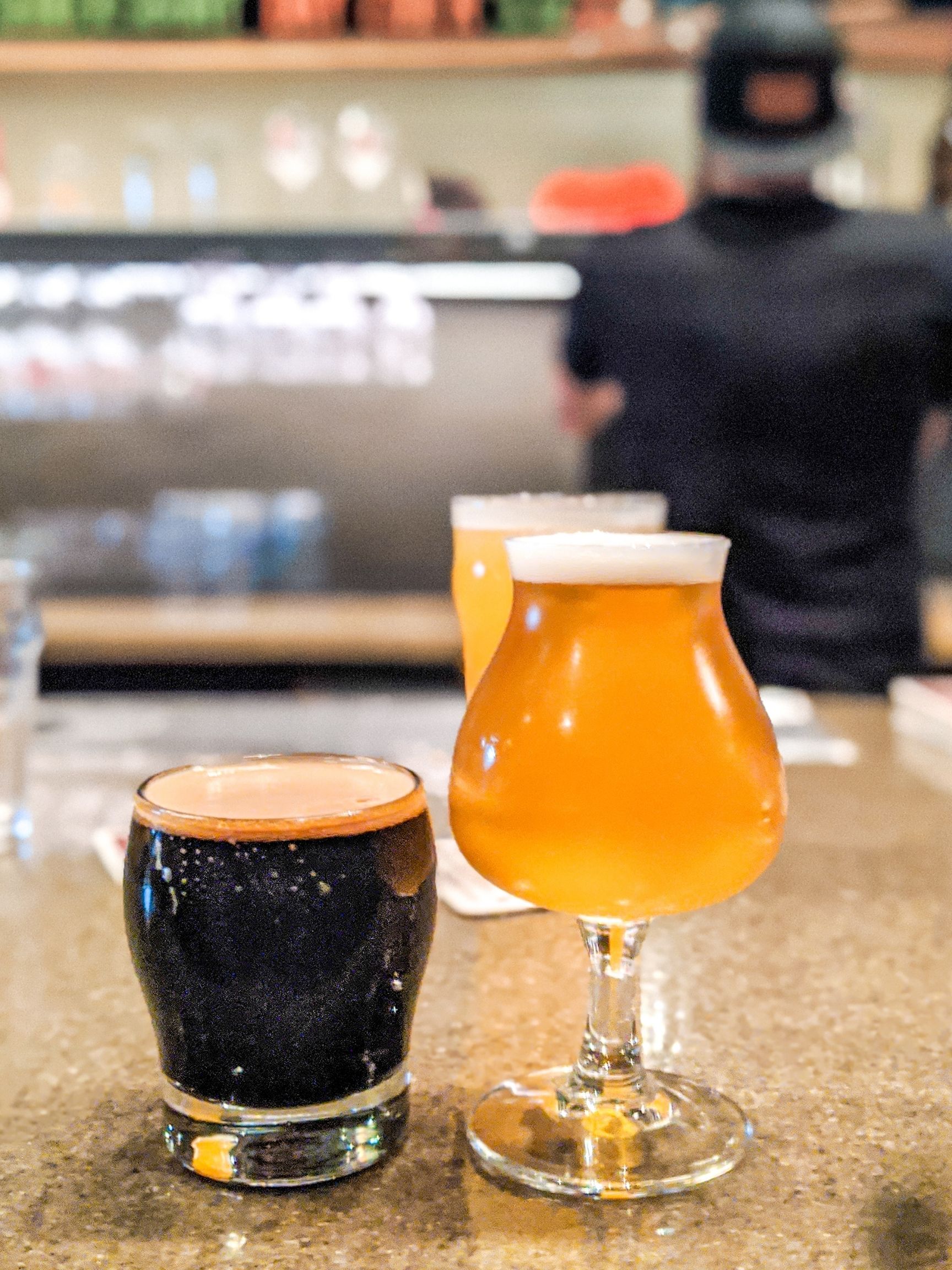 Hi-Wire Brewing is home to a whole host of lovely libations. They have 24 taps with a rotating selection of flagships, seasonals, and specialty brews. The walls are adorned with colorful murals, creating a vibrant and lively atmosphere for all to enjoy.
The brewery began in Asheville, and after a smashing success, they chose Durham as the next frontier (they also have a location in Wilmington too). They use traditional styles to experiment and create inventive beers. The Hi-Pitch Mosaic IPA is a fan favorite, and the Pink Drink Tart Wheat Ale is as refreshing as it is sweet. The taproom is massive, with plenty of space for everyone to gather and share some brews and some laughs.
There is plenty to do both indoors and outdoors here, with a shuffleboard court, soccer pool tables, ping pong, and more. The covered patio and beer garden are a lush escape to kick back with a few cold ones. Hi-Wire is where to go for hi-quality beers in a fun and funky setting.
Signature Beers
Bed of Nails – Brown Ale | Strongman Coffee Milk Stout – Stout
---
Clouds Brewing
German-inspired and American-made Clouds is a favorite fixture of the breweries in Durham. They offer options galore with 50 taps to taste. Thirty are their brews, and 20 are guest taps from the rest of the NC beer scene. The space also features the Down Pour wall, a fun fixture with ten taps where you can pick and pour your drafts. 
The patio is pup-friendly, so feel free to bring Fido along for fun. The core lineup includes the Blood Orange Hop J.A.M. IPA and the Midnight Delight Milk Stout. The specials are always exciting, with selections like the Mango Weisse Fruited Hefeweizen. The pints here have proudly won many awards, and we recommend sipping on these champion crafts. 
They host several community events regularly, such as Cause for Paws. Their brewhouse is 15 barrels, and there are plenty of TVs adorning the walls, so you won't miss the big game while you're out. They serve classic Southern pub grub that pairs well with the drafts, with choices like beer cheese, wings, and fried pickles. Clouds has the best of both worlds with classic and creative crafts.
Signature Beers
Hop J.A.M. – IPA | El Hefe – Hefeweizen
---
Ponysaurus Brewing
This brewery's" d out in an attic and has since blossomed into a 6, "00 square foot facility. They create experimental American, European, and Belgian brews. As they like to say, it's "the beer would drink if beer could drink beer." 
The outdoor space is an expansive lush lawn perfect for gathering inDon'twarm sunshine with a cold beer. There are plenty of fire pits for when it gets a little chilly, and the upper deck patio covers inclement weather. The Don't Be Mean to People Golden Rule Saison is a contender for the perfect pint, and the Cherry Sour Ale is always a safe and delicious bet. 
You can even take your beers to bounce with their drive-thru option. If you've worked up an appetite from trying out all the taps, don't worry. There are plenty of bites to nibble on hand. Some days, local food trucks stop by to serve some local cuisine Little Box Pizbrewery's ordered on-site. 
You can get snacks by the scoop, including wasabi-covered peanuts, crispy fried okra, bugles, or swedish fish. You can even rent one of the brewery's many outdoor grills to make a fun day with smoked savory treats to go with your tasty pints. Depending on your fitness activity of choice, they host a Pony Run and Pony Ride. The brewery is everything you'd hope for from a spot with a cited pony dinosaur creature as a mascot.
Signature Beers
Bière De Garde – Farmhouse Ale | Scottish Ale
---
Starpoint Brewing
Starpoint, which has partnered with Beer Study to create a taproom space, combines all the best things. It's a brewery, bottle shop, and arcade all in one. There are 38 It's to try, many guest taps, and the rest brewed out back at Starpoint. With offerings like the Tekno Boy West Coast Imperial IPA and the Duh! Double IPA, it's a haven for hop heads everywhere. It's an ideal hangout spot, with a comfy, laid-back vibe and plenty of delicious beer to go around. 
What started as a garage in Carrboro dedicated to IPAs has become a community classic for creative crafts. They love to give back to the community by supporting local charities pouring at festivals to raise donations. Recline on the leather sofas in front of the fake fireplace between rounds of Pac-Man or pinball. There is always a diverse selection of drafts, so you won't find something you love. 
Signature Beers
Surfin' Buddha – American IPA | Hipster Or Hobo? – Pale Ale
---
The Glass Jug Beer Lab
The beers brewed on-site are often small batch experimental offerings, meaning there is always something new on tap to try, and odds are you won't see it again. They also have a bottle shop to take home any of their diverse and specially curated selections of beer and wine. The nano-brewery has been dubbed the Beer Lab for its fun and inventive scientific techniques. The names often reflect this, with beers such as the Standard Deviation Imperial Stout or the Pi Gose.
Some of the most renowned creations are the Piper Roselle Brett Saison with hibiscus and white peppercorn or the Maple and Oak oak-aged brown ale with candy cap mushrooms. The beer garden outside is a beautiful space, perfect for relaxing with these creative crafts.
They contribute to many STEM-related community projects and research efforts. They host many events such as outdoor movies, the Hops and Blues Festival, and Disc Golf Tournaments. Every draft is of the highest quality, and the Glass Jug always brings a surprise to the table.
Signature Beers
Opacity – Hazy IPA | Donut Touch My Coffee – Blonde Ale
---
Bull City Ciderworks
This cidery is a refreshing departure from the norm and makes the perfect beverage for that sweet spot between beer and wine. They challenge the trends of mainstream ciders, proving that different is genuinely delicious. The Steep South is a honey-sweetened black tea cider that gives us that front porch feels. The Smooth Hoperator is a hopped cider that never ceases to amaze. 
It is a great place to get a flight to test out all the inventive flavors, each more crisp and delicious than the next. Every cider contains pure apple juice with no added sweeteners. The taste highlights the natural fruit flavor without being too sweet. They use gluten-free yeast and honey, tea, ginger, cherries, bacon, and hibiscus to create all kinds of creative cider concoctions. 
You can always find delicious dishes around from local food trucks visiting or by getting a nearby restaurant to deliver. They often host events such as team trivia or arts and crafts nights. There is plenty of space inside and outside, and it's a charming and modern atmosphere. There are many board games to play, perfect for a relaxed hangout. Delightfully refreshing, Bull City Ciderworks offers a breath of fresh air for those in need of a break from the beer-laden breweries of Bull City.
Signature Beers
Cherry Tart – Cider | Rhize Up! – Herbed Cider