North Carolina is home to some amazing breweries. North Carolina boasts the most amount of breweries in the American South with over 350! If you are visiting a city, beach town, or small mountain town, chances are there's one of the best breweries in North Carolina somewhere nearby. Even the mountain town of Asheville is known as "Beer City USA!"
Having a beer at a craft brewery is easily one of the best things to do in North Carolina. If you are in search of the best breweries in North Carolina. From Boone to Charlotte, we have you covered.
---
The Best North Carolina Breweries
---
Hickory Nut Gorge Brewery (Chimney Rock)
Hickory Nut has carved out a brewery deep in the heart of the North Carolina Mountains and is one of the best North Carolina breweries. The brewery is right on the bank of the French Broad River.
Folks come from near and far to cool off in the gentle mist of the river and drink a cold beer. The unique location is close to Chimney Rock to offer an unmatched natural setting for your refreshment.
The local brewery set up shop to bring an English-style brewery and taproom to the foothills of North Carolina in combination with a local theater. There's no better way to cap off a day in the woods than a splash in a river with one of their signature Stout beers in hand.
---
Boojum Brewing (Waynesville)
The Boojum holds a unique place in Southern Folklore. The mythical creature, fueled by local moonshine, terrorized miners and early settlers in the area. The boojum legacy lives on in this unique offering in Waynesville. Local legend states that the beers on the menu here are a direct descendant of the Boojum's personal Brown Ale recipe.
The large taphouse and brewery have built out the establishment as a homage to the spectre, with strange paintings and photos of alleged sightings making up most of the walls in the ample interior space.
Boojum's brewers have made an effort to become a part of the local community, and you'll be hard-pressed to find many nights of the week without any action at the taproom. For a local brewery that is also the town's hotspot, plan a stop in Waynesville and live the legend of the Boojum.
---
Natty Greene's Brewing Company (Greensboro)
Natty Greene has made its mark by dedicating its signature IPA to the local mountains. The company embraced its roots, and Greensboro took notice, and the brewing company quickly became a local favorite.
You'll love their constantly rotating beer menu. The company is continuously adjusting its recipes based on the season. We love to get there at the end of berry season to drool over their passion fruit-infused Hazzy Hoppy Happiness IPA. Natty Greene's plan is simple; they care about every product they create.
Stop by their downtown location and let the beer and food speak for themselves.
The Best Restaurants in Greensboro, NC to Try!
---
Appalachian Mountain Brewery (Boone)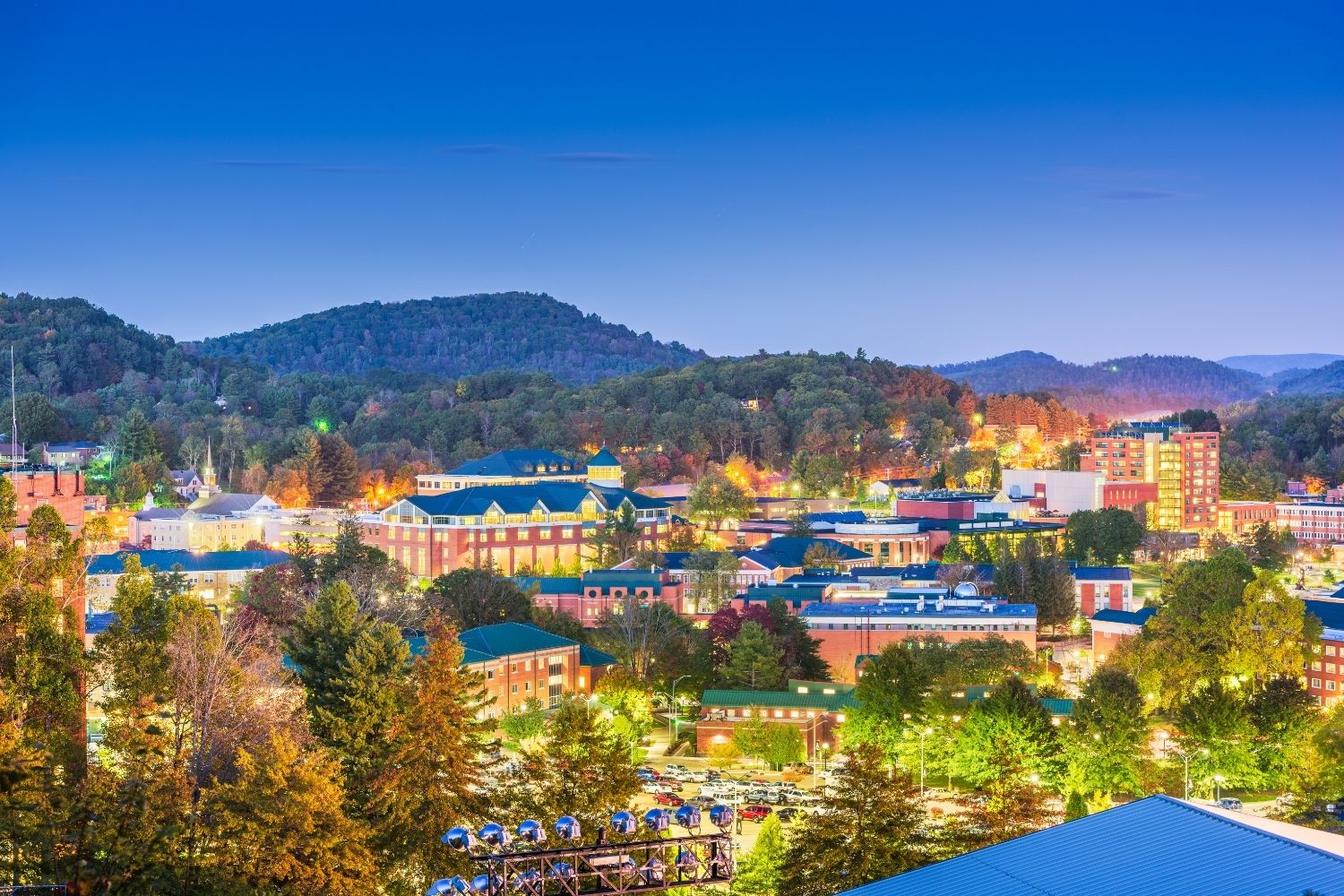 Appalachian State University became one of the first colleges in the country to offer a four-year degree in beer brewing. Some of the first-ever graduates of that program opened up this craft brewery to show the world what the program can do.
The students instantly began giving back to the community that raised them, and the brewery has now become a state-wide favorite for IPAs and quality products.
While you can find the tallboys in grocery stores across the state, the headquarters in downtown Boone is worth a visit. A two-story wooden meeting space naturally developed around the brewing station for fresh samples and good times.
Each year the brewery teams up with local ski resorts to offer a snowboarding competition, a unique high country experience.
3 Amazing Breweries in Boone, NC to Have a Beer At
---
Carolina Brewery (Chapel Hill)
Craft beer enthusiasts can find one of the first breweries in the state in Chapel Hill, home to North Carolina's largest university. The brewery seeks to represent the entire state and encompasses ideals felt from the mountains to the sea to develop its product.
It has grown up a lot since its beginnings as a game-day hotspot, influencing local businesses from Waves, NC to Columbia, SC. Through it all, the brewery always put flavor over hype and teamed up with world-renowned brewmasters to provide a top-quality beer with a unique North Carolina Flavor.
---
Green Man Brewing (Asheville)
The haunting face can be seen in the hands of young professionals across the Carolinas. The Green Man is a figure made from leaves, thought to represent renewal and the coming of spring. Brewers set up shop in Asheville to turn the leafy figure into a year-round craft beer headquarters.
Stop by at the height of the green leaves to enjoy a fresh, light ale or swing on while the leaves turn yellow and seek the warmth of "The Rainmaker" double IPA. Their growth has led to them becoming one of the largest breweries in Asheville, with a three-story taproom that overlooks the Blue Ridge Mountains. After you adventure on one of these amazing hikes in Asheville you'll love heading to Green Man for a cold one.
The Best Breweries in Asheville to Grab a Beer
---
Barrel Culture (Durham)
A team of beards assembled a Barrel Culture Brand to grow alongside North Carolina's burgeoning craft beer scene. A group of eight craft beer enthusiasts traveled the country, sampling any local beers they could get their hands on before heading back home.
They weren't entirely done tasting beers yet and set out to create their mark on the industry. Now, with quirky cans and plenty of local flair, the company offers an extensive microbrews that will satisfy the whole crew. Heading here is one of the best things to do in Durham, especially on a nice summer day!
11 Durham Breweries to Check Out!
---
Catawba Brewing Co. (All Over North Carolina)
Catawba stepped up on the craft brew scene with a peanut butter and jelly stout that was as delicious as it was outrageous. They built their company around highlighting the local area as well as favorite lunch options of elementary schoolers, offering up flavors like their 'peach of mind' that wields locally grown peach in an intoxicating manner.
You can't go wrong with a selection from the brewing company that is constantly experimenting and providing new flavors ripe for a sample. Catawba have multiple locations in popular areas like Asheville, Wilmington and Charlotte and are among one of the best breweries in North Carolina!
---
Booneshine Brewing Company (Boone)
As the brewing program at Appalachian University expanded, so did the local offerings. This option is another local brewery out of Boone that has recently opened up a large outdoor beer garden with plenty of green grass to roam in.
Booneshine has sought to highlight its upbringing by hosting local events to mix in with its local flavors. The company ponders 'what makes Booneshine?' around every turn in their development, and the beers on offer here do their best to answer the question.
---
Highland Brewing (Asheville)
The state's first legal brewing operation is now the largest, churning out 60,000 barrels a day, five days a week. Constantly expanding, the brewery recently installed a rooftop bar, and the first floor makes the most of its location in the heart of Asheville's industrial district.
Western North Carolina has a significant connection with Scottish Highlanders who migrated to the area, and the beers on tap here retain this traditional style in a homage to home. Plenty of stout drinkers flock to the site in the fall time to enjoy Highland's darker offerings. Don't miss it – it's one of the best breweries in Asheville!
Where to Find the Best Coffee in Asheville
---
Fullsteam Brewery (Durham)
Tobacco Road often had several trains churning through the epicenter of North Carolina's agricultural prowess. Fullsteam has developed its version of a Southern Beer Economy to continue its close ties to the farming pride that raised them.
The Durham area has gone through rapid recent development, and Fullstream now sits at the center of a thriving social scene. For an authentic night out in North Carolina, your first stop should be to sample the culturally relevant beers at Fullsteam.
9 Amazing Durham Restaurants You Have to Try
---
NoDa Brewing (Charlotte)
NoDa considers itself at the forefront of Charlotte's beer scene and one of the best places to visit in Charlotte. The Queen City has carved out a space for plenty of different North Carolina breweries, none more iconic than the flavors offered at NoDa. Their Hop Drop N Roll IPA won a gold medal at the World Beer Cup, and the brewers have consistently raised the standard of Charlotte's thriving brewery market.
Their controversial favorite is a jalapeno-infused imbibe that packs plenty of spice. Adventurous tasters will always find something new on the menu here, and local favorites are never out of rotation.
15 Best Charlotte Breweries To Check Out
---
Foothills Brewing (Winston Salem)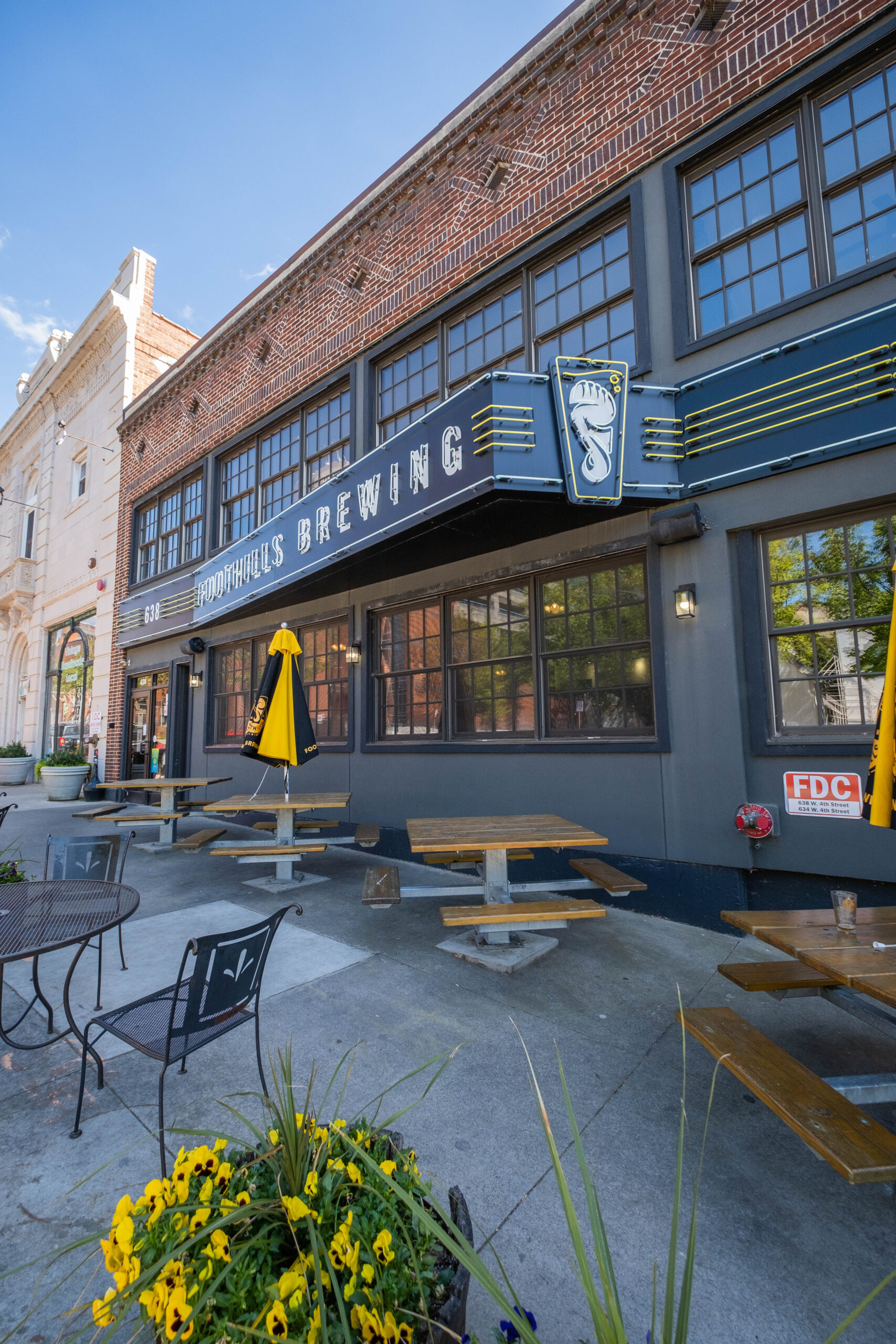 Foothills brew cart is always a popular stall at North Carolina's Beer Festivals. The unique art employed on their beers is surpassed only by the flavor for a memorable tasting experience. With two friendly downtown Winston-Salem locations, the brewery is worth enjoying an afternoon.
Foothills has quietly released an extensive offering of full-time craft beers into grocery stores throughout the state, each one receiving a better response than the last. If you want to head to a brewery where you can close your eyes, order any random beer on the menu, and enjoy a refreshing taste, this could be the joint for you.
We consider heading here one of the best things to do in Winston Salem on a beautiful summer evening!
8 BEST Breweries in Winston Salem, NC for a craft beer
---
Carolina Brewing Company (Holly Springs)
Quietly churning out quality, easy-drinking ales, Carolina Brewing Company is a no-frills-attached brewery that just wants to give the people something good to drink. The signature purple and gold lion watches out over every beer crafted in-house.
The brewers have been sending the beer across North Carolina since the '90s and are now enjoying statewide distribution. Stop by their taproom for a taste of it all, combined with fresh local food.
---
Beech Mountain Brewing Company (beech Mountain)
You won't find many brewing companies like this one. Beech Mountain Brewing is atop a mountain and part of Beech Mountain resort; a combination mountain biking and skiing destination in the Appalachian Mountain Range.
There's no better feeling after a long day on the slopes than a warm fire and a cold beer, and the offerings at this local hotspot are best enjoyed after a ride in a ski lift.
---
Hi-Wire Brewing (Around North Carolina)
A flagship member of the North Carolina brewery scene that now has locations across the Carolinas, this brewery makes beers that elegantly walk the line between classic taste and new era innovation. The original brewery is in Asheville, but there are now locations in the mountains, piedmont, and coastal plains seeking to give balanced refreshment to everyone.
The walls of High-Wire breweries are adorned with colorful artworks and murals to lighten up the mood, while their beers range from summer refreshment to dark wintery companions to give you a full day's worth of tasting.
---
Raleigh Beer Garden (Raleigh)
If you plan to set records on your next brewery tour, check out this beer garden, which has filled the walls with 366 individual beer taps. The taps are split between three stories, each with a unique theme. Head downstairs for the 144 taps reserved for beers brewed in the state, or climb to the rooftop bar for premium selections and a view of the city.
They have recently expanded into downtown Charlotte if you're not planning on stops in both cities. You can plan on meeting here for dinner, as the beer selection is as abundant and heralded as the pub fare.
15 Best Raleigh Breweries You Need To Check Out
---
Waterline Brewery (Wilmington)
Waterline boasts an array of well-balanced beers "brewed under the bridge." This credo refers to their historic location in a restored warehouse just under the majestic Cape Fear Memorial Bridge.
Their beer garden is big and beautiful, one of our favorite settings for sipping in the city. Whether you're in the mood for traditional or experimental, light and refreshing or bold and dark, they've got it all on tap. It's one of the best places to head in Wilmington as the sun is setting downtown – you can often get those beautiful coastal Carolina sunsets too.
12 BEST Wilmington Beaches to Visit
---
Steel String Brewery (Carrboro)
For a smaller locale, head to Carrboro to sample Steel String's funky selections. This calm brewery isn't trying to do anything out of the box. They seek to serve the community with a variety of fresh tastes and a free-spirited taproom that resembles the quirky Carrboro community.
Steel String wants to embody the space between North Carolina's mountains and sea, and serve a thriving agricultural piedmont community. It may not attract attention, but this middle area is essential for North Carolina as a whole. The beer here has adopted modern techniques to produce a wonderful evening's entertainment, albeit quietly.
---
Bull City Burger and Brewery (Durham)
While the beer at this Durham brewery is exceptional, the dining experience is one of a kind. Most breweries sling some sort of pub fare to fill bellies between IPA's, but Bull City Burgers and Brews weren't satisfied with basic pub fare.
The brewery has enforced a farm-to-table mindset in its taproom. The food on offer is so good the brewery was selected as North Carolina's small business of the year in 2018. The grain from the brewing process feeds the chicken and pigs that become a part of the menu.
For a sustainable evening of handmade food and high-quality craft beers, this is some of the best North Carolina has to offer.
---
Nantahala Brewing (Bryson City)
The gateway to the great smoky mountains wouldn't be complete without fresh, local beers as cool as the roaring waters surrounding. Nantahala brewing works out of Bryson City. Between rides on the Great Smoky Mountain Railway, visitors flock to the large open venue to sample the freshest craft beers Western North Carolina has to offer.
The beers are all brewed using Smoky Mountain Water, so plan a stop at this iconic mountain brewery to get a full taste of the majestic mountains surrounding the establishment.
15 Best Bryson City Restaurants You Need to Try! (NC)
---
Front Street Brewery (Wilmington)
This is Wilmington's original brewery, and it's also a fantastic Wilmington restaurant, making its start in 1995 and creating craveable craft concoctions ever since. It's become quite the pillar of the Wilmington beer community. On any given day, you can find tourists, locals, and college students soaking up the vibes downtown.
It's also open late and serves a full menu. They have extensive offerings of all the classic Carolina cuisines – we particularly love their nachos!
17 BEST Breweries in Wilmington, NC to enjoy a beer
---
best Breweries in North Carolina Map