The charming city of Winston-Salem has joined the ranks of other Carolina boroughs with a brewery boom of their very own. Many now form a bustling beer district downtown that is home to some of the best breweries in Winston Salem.
Due to the breweries' proximity, it's easy to create your own self-guided craft beer crawl, or you can choose a favorite and hunker down for a few pints. Having a brew is one of the best things to do in Winston Salem!
Side note, they all allow dogs, so feel free to bring a furry friend to enjoy your brew with you. Here are our top choices for the best breweries in Winston Salem. 
---
Best Breweries in Winston Salem
---
Incendiary Brewing
Incendiary Brewing has taken home in the renovated Bailey Power Plant, giving the space an electrical and industrial feel. Their flagship beers are Shift, a New England IPA, and Shade of Lies, an Imperial Stout with Counter Culture coffee, toasted coconut, maple, and cinnamon.
However, their taps constantly rotate with an exciting selection of porters, pilsners, and weiss beers. Get a flight to try a taste of their more innovative flavors, such as the Habanero Pale Ale or the Key Lime Coconut Sour.
The unique outdoor space is called the coalpit, and it's the best patio in town, a reason why many think this deserves number one on a list of best Winston Salem breweries. Incendiary often hosts concerts and comedy shows, but mostly it's where beer drinkers sit to enjoy the sunny, hip surroundings just below the old railroad tracks. It's a family-friendly establishment, so kids are welcome and often play while adults sip their stress away.
If you feel hungry, don't fret, there are plenty of restaurants in the heart of Winston Salem, and you are welcome to order from any of them. We recommend the NY Pizza place just next door as the perfect combo for your cold one.
Signature Beers
SHIfT: BLUE – Hazy IPA | Shade of Lies – Imperial Stout
---
Wise Man Brewing
We believe Wise Man is not just one of the best breweries in Winston Salem but in the whole state. You can tell the moment you enter that it's something special. The walls at the brewery feature colorful street art-style murals from local artists, and they generate power from solar panels on the roof.
The century-old building used to be the Angelo Bros. warehouse, but it now serves some of the city's best beer thanks to extensive renovations. The beers have labels and names to match this vibrant and vibey decor. Each beer is in the spirit of a wise man, for example, the Mountain Calling by John Muir or Body Electric by Walt Whitman.
The brewmaster has a Ph.D. in chemistry, giving them a unique perspective on brewing. The brewery's name is after the famous quote and sentiment, "He was a wise man who invented beer."
They have many local food trucks frequenting their space, so there's always plenty of good food to enjoy. They even have an Art-o-mat, an upcycled retro cigarette vending machine, selling small art pieces for a few dollars. There are less than 200 of them globally, and each is unique. An art installation in themselves, they were created right in Winston-Salem.
Wise Man also offers complimentary brewery tours on Sundays, so go to get a peek into the science behind their best beers.
Signature Beers
Body Electric – Imperial IPA | Tropical Shirts – Sour
---
Fiddlin Fish Brewing Company
Fiddlin Fish has grown quite the following since their 2017 opening in downtown Camel City. The brewery is inside a renovated tobacco warehouse and filled with an artistic flair. The taproom interior is decked out with art from the area and reclaimed wood. A new guitar mural adorns the wall as the centerpiece, painted by local legend Hieronymus.
You can peer into the steel frame windows to watch the magic happen behind the beer scenes. "That Fish Cray" IPA is a beautiful hoppy IPA. It's a 15 barrel brewhouse. On tap, you'll find traditional offerings and their flagship brews, along with a selection of seasonal and more experimental styles.
Go for a gulp of each, with a flight served on a hand-carved fish tray. The Slanted Shed food truck is often outside, serving up Carolina-style seafood favorites. The owners have a passion for craft beer, cultivating community, and paddling your path.
With many big screens, it's a great spot to catch the game with a cold pint. Taproom Trivia is a regular occurrence and always a rollicking good time. They also host live music on their spacious covered patio. Fiddlin Fish embraces the Carolina spirit, and we love what they're creating.
Signature Beers
That Fish Cray – Hazy IPA | Black Mountain Chocolate Stout – Stout
---
Radar Brewing
This brewery began with three friends from different backgrounds in the beer scene and had a daring dream. Joining the ranks of Wise Man and Fiddlin Fish, this newcomer has added to the brewery-dense arts area, now named Industry Hill.
A garage for old NASCAR race cars is now a hip haven for hop heads. The decor is minimal and feels like a breath of fresh air, with a bright and airy ambiance. The two-toned bar top is stunning in the space. They have a rotating food truck lineup, with plenty of local heavy hitters on the roster, such as Don Express.
They focus on open fermentation techniques and feature many Belgian-style beers. We have to say. We're a sucker for a cute can, and boy, do they deliver. Their culture of artists of many mediums works to elevate the brand and pioneer the industry.
Try the Wild Child Farmhouse IPA or the Illuminator Doppelbock, two of their tastiest creations, while the beer garden is perfect for enjoying a laid-back pint on a sunny day.
Signature Beers
Beacon – Hazy IPA | Cipher – Farmhouse Ale
---
Foothills Brewing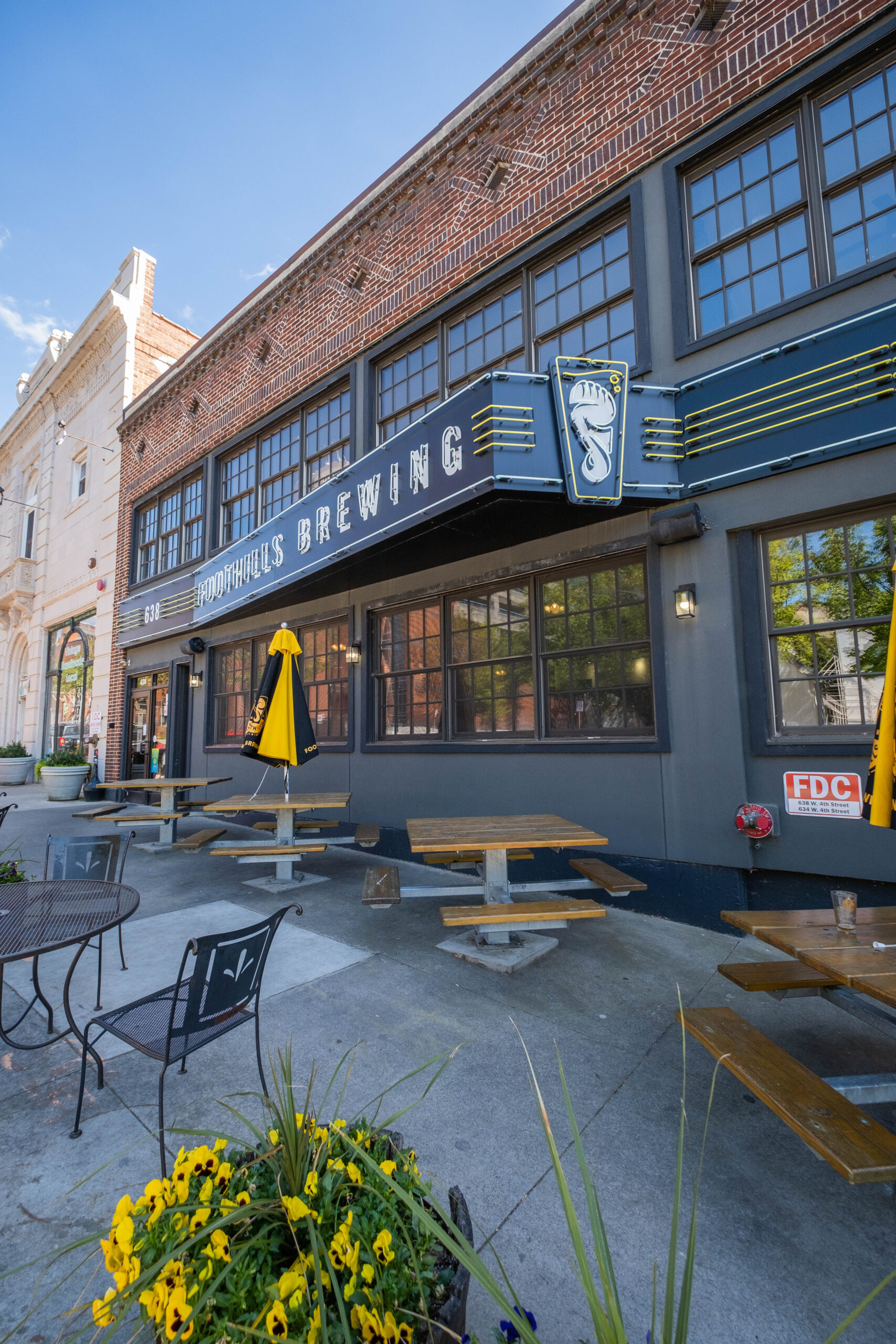 Foothills is the godfather of brewing in the area and has three beloved locations around town. It's one of the best breweries in North Carolina, so you need to make your way here when in the city. It easily holds down the title of one of the best breweries in Winston Salem. They have a brewery and tasting room just outside of downtown, a brewpub in the heart of downtown, and a cafe next door called Footnotes.
Each one has its own unique identity and delights to discover. The majestic neighboring Bue Ridge Mountains inspired their name. Their artwork is iconic and can be spotted all over the southern East Coast.
The brewery and tasting room offers a free tour of the production facilities to learn more about their unique brewing process. It's in an old manila envelope factory with an expansive 48,000 square feet of space. They store tens of thousands of barrels in such a large area, bottle everything on-site, collaborate with other local breweries and roast their coffee beans for footnotes.
The tasting room has a warm and familiar feel, like walking into a big craft family. They often make beers to benefit their favorite causes and constantly host community events and donate dollars to local efforts. You will also find games, food trucks, and live music at this location. There are 28 different taps to try here.
The brewpub features a full menu and a relaxed atmosphere. There are plenty of fun weekly events, like open mic night and trivia challenges. We especially love to stop in for Sunday jazz.
This location is known for its seasonal releases, particularly the famed Sexual Chocolate Imperial Stout or Good Ship Wit. Their Hoppyum IPA is the stuff of local legends, and their taps are constantly rotating an extensive selection, including People Porter and Craft Happiness.
Footnotes are the cozy cafe of your dreams. With a laid-back lounge feel, they offer a selection of their beers, coffee, tea, wine, and signature cocktails. It's the perfect place to sit back and relax with a good book or a few close friends.
In the morning be sure to try Footnote Coffee And Cocktails, run by the same company – it's one of the best coffee shops in Winston Salem!
Signature Beers
Jade IPA – IPA | People's Porter – English Porter
---
Small Batch Beer Co.
Small Batch began as Winston-Salem's nano-brewery in 2014 right near some of the best Winston Salem hotels. Though they have grown in size and support, each beer is still brewed in limited quantities and with love. Every brew uses locally sourced ingredients such as Blood Orange IPA or Percolator Mocha Stout. 
There is always a vast and ever-changing selection on deck. The energy of the establishment is easygoing yet elevated. It feels quaint and hip simultaneously, with plenty of vintage flairs and reclaimed wood.
Small Batch makes everything in-house fresh daily, with a focus on feeling specialty and handcrafted and an added reminder that you're worth it. They stand by the belief that superiority comes from simplicity.
The menu is full of creative pub food favorites. Their burgers are beloved by locals and visitors alike. Also, their milkshakes are out-of-this-world; the Insta-worthy concoctions taste just as good as they look. It is our favorite place to say goodbye to self-control and indulge.
Signature Beer
Percolator – American Stout
---
Joymongers Barrel Hall
Located in Winston-Salem's West End in a converted garage, we love the small-town feel and big flavors at Joymongers. True to their name, they are serving up pints full of joy daily in an open and relaxed industrial space. Long shared tables line the inside, inviting strangers and friends alike to share a laugh and a pint.
The charming quirk comes in the form of a large mighty mouse flying from the wall, one of three in the world and the only one whose actual location is known. Initially started in Greensboro, this is their second Joymongers location, and it's just as big of a hit as the first.
There is always a rotating selection of beers and food trucks at Joymongers. With a focus on unique infused flavors, many fruit profiles are perfect for a refreshing pint, such as the Foederbier with Cherries and Blueberries. They also serve up the classics, and they do it well with options such as the Brux IPA.
It's one of the few breweries dedicated to barrel-aged beers. They use fresh bourbon and wine barrels to create over 17 available craft beverages. Less interested in production than other breweries, 95% of their product is served fresh every day in the garage. You can sit inside with the garage door open, giving a fresh breeze, or outside in the beer garden, soaking up the sunshine. Either way, you are sure to feel the joy.
Signature Beer
Double IPA – Imperial IPA
---
Hoots Beer Co.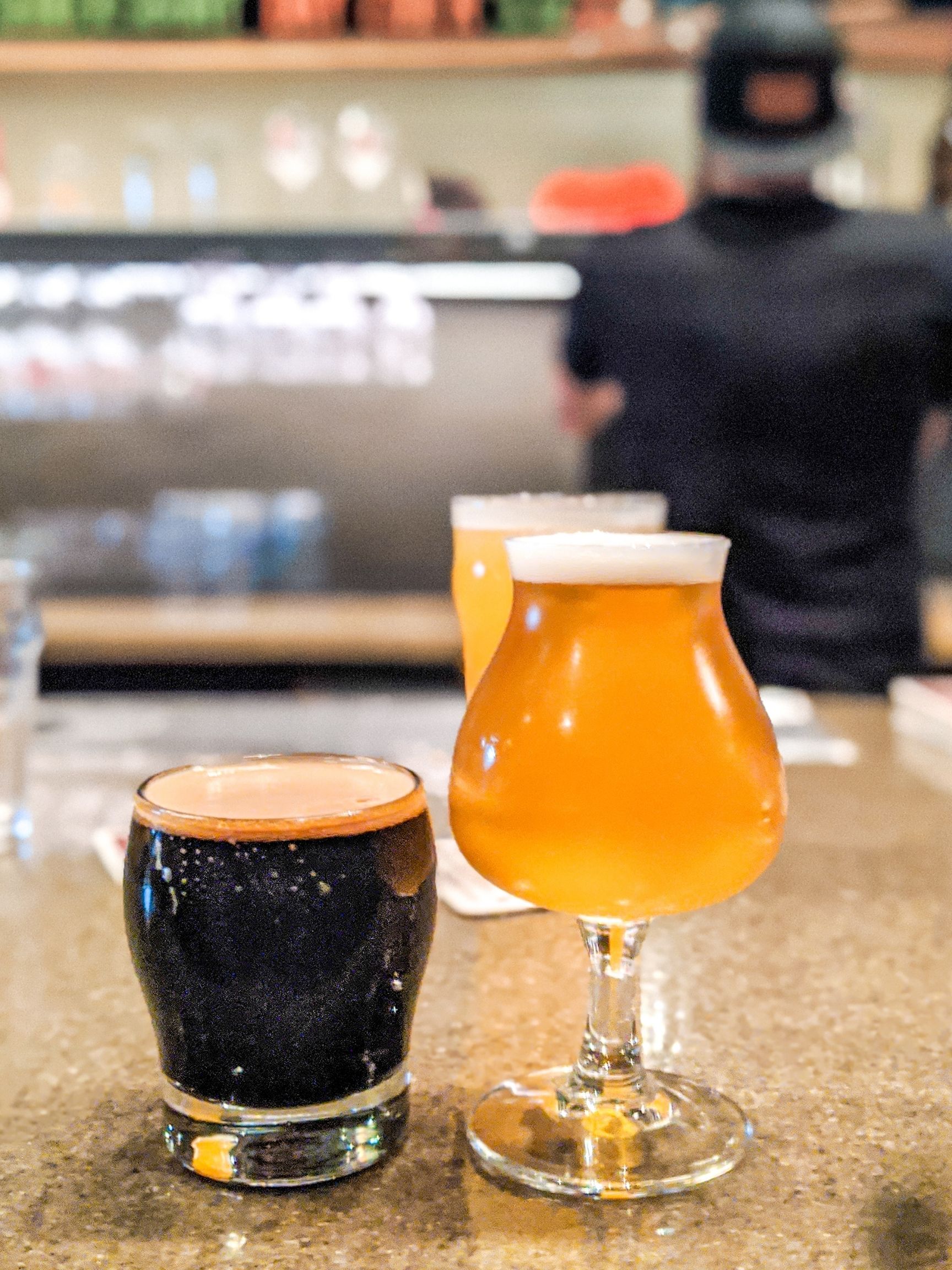 Hoots Beer Co is an unexpected gem of West End Winston-Salem. They reflect the dynamic community of the area by honoring old-world traditional styles to create blue-collar brews. It boasts a mellow wood and brick environment, featuring vintage arcade games, video games, and board games.
Peak into the portholes in the wall to see your favorite beers brewing. They also have a downtown satellite bar featuring a scrap metal art piece and an expansive patio for sunshine sipping.
They aim to make beer with love and magic, shrouded in mystery, and all with one goal to fulfill the prophecy, "you will enjoy the beer you were born to imbibe." They see no boundaries when it comes to beer and wants to pioneer new American classics and foster creativity in the science and art of beer. The building was originally the Hoots Roller Mill.
The GasHopper IPA is a new fan favorite. However, we're still dreaming of the Coconut Cream Ale. They host local food trucks like JJ's Cuban Kitchen and Burger Supreme to pair perfectly with your nice cold pints.
This Winston Salem brewery is open late, so you can easily enjoy a day at Old Salem or in Hanging Rock State Park and finish with a beer.
Signature Beer
Morning Stout – Stout
---
Winston Salem Brewery Map