We're ready to share a bit about the fantastic breweries in Boone. It's a beloved college town home to the Mountaineers and some good beer. So, it shouldn't be surprising that we have a soft spot for the town as many friends and family attended the university. We may have even spent a few boozy nights in our college years in Boone.
It's one of our favorite mountain towns in North Carolina, as there is more than just the college and breweries. For now, let's talk about the town's beer. Several bastions of brewing are tucked away in this Blue Ridge Mountain borough.
From hoppy to malty or crisp, there is a perfect pint for every preference. With stunning natural scenery and sweeping views, what better setting could there be to kick back and tuck into the best bites and brews Boone has to offer? Below are the best breweries in Boone, NC, perfect for ducking into after grabbing a bite at a nice Boone restaurant.
---
The Best Breweries in Boone, NC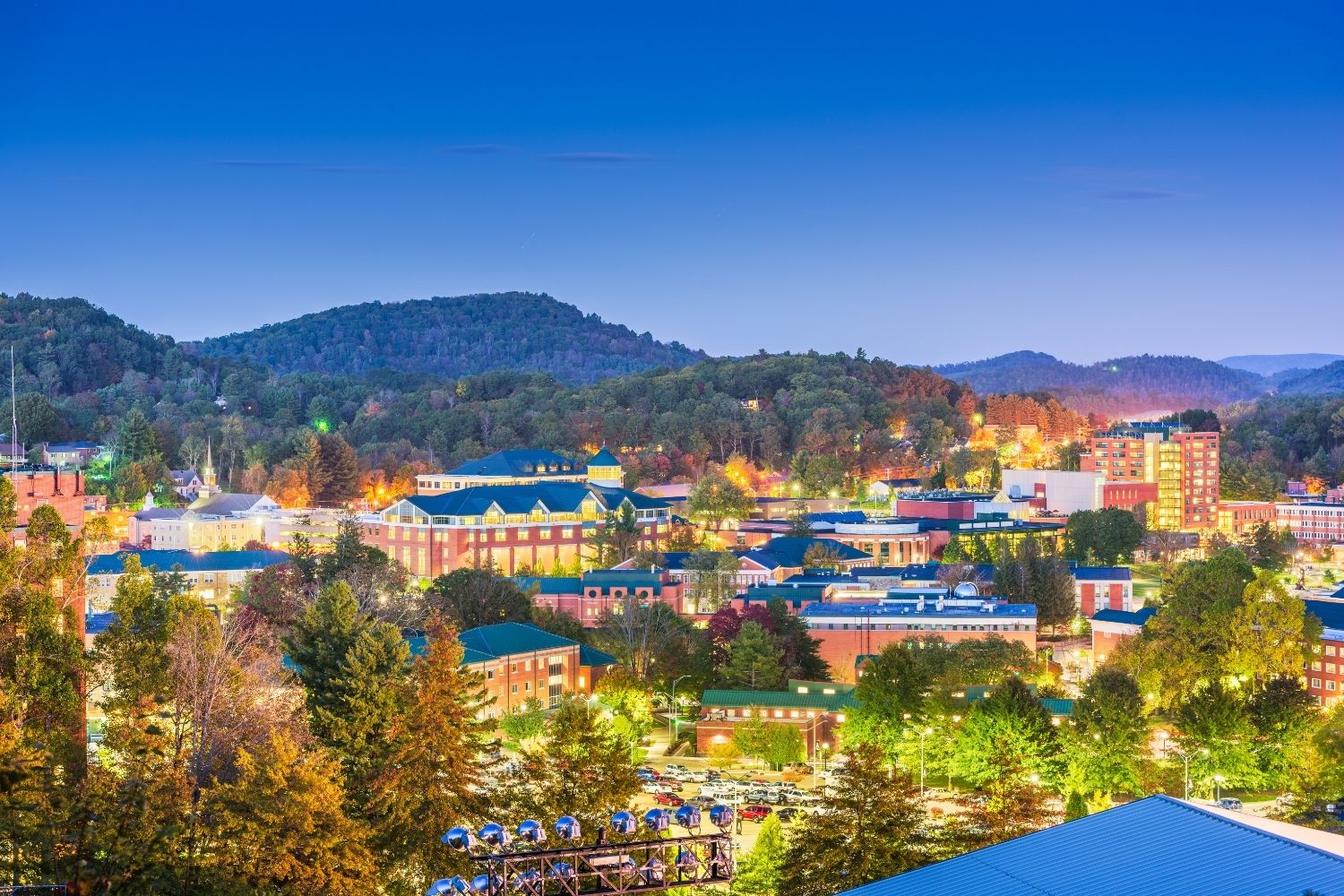 ---
Lost Province Brewing Company
Who would have thought this small North Carolina town would have an excellent place to drink? Lost Province is a local frontrunner of Boone's best restaurants and breweries. Set in the heart of downtown, its name pays homage to its home base. The three counties of Ashe, Allegheny, and Watauga are known collectively as the lost province due to the historic geographic isolation of the area. 
The large copper-clad wood-fired oven is a centerpiece in this mountain mecca for delightful dishes and drafts. Their gastropub fares are made with local and organic ingredients. Everything is handmade in-house, including po'boys, pita wraps, pork chop sandwiches, and Neapolitan-style pizzas. They partner with several local farms to support their regional economy as well.  
Their microbrewery consistently churns out authentic and innovative craft beers with various styles. They distribute statewide and are known for their colorful designs and funny names. The Sour to the People is a Sour New England Style IPA that has impressed the masses. The Kiss My Grits Southern-style lager is an instant classic in its own right. 
The decor is relaxed and open for a down-home feel, making it easy to relax comfortably. The spacious taproom has plenty of seating, which is often lively and full of friends and families sharing a laugh and pint. They host many community events, such as trivia night or Beer 101 classes. 
---
Appalachian Mountain Brewery
Appalachian Mountain Brewery puts out pints with a purpose and is one of the best breweries in North Carolina! They support over one hundred local nonprofits by selling their expertly crafted brews. This display of community commitment is what makes this brewery such a significant and integral institution in the beer scene of Boone. 
They support the We Can So You Can Foundation, protecting and revitalizing local people, mountains, and rivers. In addition, they work closely with Bee Downtown, the Longleaf Alliance, and the Hunger and Health Coalition. They often host events and live music performances. The beer garden is a verdant oasis with plenty of fresh mountain air, perfect for enjoying your beer in peace. 
The Panic Water Hoppy Pilsner is always a crowd-pleaser, and the Fog Juice Hazy IPA is just as dangerous as it is delicious. With over 12 rotating taps, there is always something tasty to try here. If you crave something besides a cold draft, try their specialty ciders or seltzers series, crafted just as carefully as their main brews. The Farm 2 Flame food truck is always on-site to provide sustainable wood-fired pizzas to pair with your pints. 
A true beer pioneer of the area, you can't talk about Boone's best restaurants and breweries without mentioning Appalachian Mountain Brewery.
---
Booneshine Brewing Company
Booneshine is a beacon of all good in craft beer and fine cuisine. They care about their local community, which shines through in all they do. The tasting room at this Boone brewery has a warm and welcoming atmosphere that feels modern and cozy, perfect for sharing some laughs and libations with loved ones. 
Their beer garden is a lush landscape for the same, underneath the warm Carolina sunshine. Craft drafts are deliciously diverse, with Pilsners, IPAs, Pale Ales, Porters, and more options. The Golden Hour IPA is a refreshing take on a double IPA style, and it's a smooth drinking homage to the high country landscape. The South Fork Grapefruit Gose references one of the oldest rivers in the world and a beloved waterway in Boone. It's light and flavorful, often described as Summer in a glass. 
They offer a full menu from small plates to main courses. Everything is artisanal yet unpretentious at the same time. The Bacon Barbecue Popcorn is addictive, and the Blue Collar Charcuterie Board tastes as good as it looks. If you're looking for the perfect snack to pair with your pint, you're in for a top-notch treat if you try the housemade pretzels and beer cheese. 
Their partnership with the iconic local Stick Boy Bakery ensures fresh and fantastic bread as a part of many of these plates. Between the Flatbread Pizzas and Southern Style Sandwiches, the menu at Booneshine brings mouth-watering meals to the table every time. 
---
There's More To Boone!
What else can you do in Boone besides exploring the local breweries? Some of our favorite options include hiking the Rocky Knob, hitting the mountain bike park, browsing the historic Mast General Store, and going back in time at Tweetsie Railroad. Check out our post on the best things to do in Boone for more ideas.
If you want to branch out a bit from Boone, check out the nearby towns of Banner Elk or Blowing Rock. The Appalachian mountains also have some hidden waterfalls that are well worth finding.