Winston Salem has many coffee institutions spread out throughout the city, but only a few can be named the best coffee shops in Winston Salem. We tested out many cappuccinos and lattes to bring you this list of our favorite Winston Salem coffee shops!
---
Amazing Coffee Shops in Winston Salem
---
Moji Coffee Shop
Moji Coffee Shop has a special place not just in our bellies but in our hearts as well. They've cultivated an inclusive space that provides people with developmental disabilities enriching employment experiences. As they say, it's coffee that's one-of-a-kindness! Every sip and snack is made fresh and it's one of the top coffee shops in Winston Salem to stop by!
It's a fun, brightly colored space, and the addition of the Moji Museum in the corner is too cute, selling arts, crafts, and trinkets. The Nitro Cold Brew comes highly recommended here. For a meaningful mission and ambiance, Moji really steals the coffee shop show in Winston-Salem.
---
Footnote Coffee and Cocktails
A cool modern twist on the classic cafe, Footnote is a fun stop to make in Winston-Salem. It's part of the famous Carolina Foothills Brewing family and is also one of the best Winston Salem breweries, and in the afternoon their menu expands to include craft beer, wine, and curated cocktails. Their coffee is actually roasted in-house, and the Cafe Misto, classic roast with steamed milk and foam, is a fan favorite. 
There are always a few fresh-baked pastries or small snack plates to pair with your beverage of choice as well. They often host community events such as music bingo in the evenings. The atmosphere is industrial chic with a touch of whimsy, and it's really an enjoyable spot to kick back with a nice cup of joe if nothing else.
---
Camel City Coffee
There's a Camel City Coffee location on either side of town, so it's pretty convenient regardless of where you're galavanting in Winston-Salem. It's owned by a mother-daughter team and is a beloved institution of the caffeine scene here. Cute handcrafted coffees and teas are the focus, and they offer an extensive range of tasty drinks to indulge in. 
Everything is made in-house, such as the chai which uses all fresh spices. Seasonal selections are always enticing here like the Rose Bae Latte or the Campfire Frap. The patio is pet-friendly and a lovely little haven for soaking up some sunshine as you sip. All in all, it's a warm and inviting atmosphere, making it easy to see why it's such a popular pick.
---
Coffee Park Airstream
This is Winston-Salem's original, local, drive through, walk up coffee park. We love to go for the novelty, and they also happen to brew up some of the best java around. The Burnt Caramel Macchiato is to die for or if you're more of a purist go for the Americano.
Everything here feels super high quality, carefully curated, and thoughtfully made by talented baristas just for you.
There's a bit of seating inside the airstream or you can pull up a scenic seat outside and enjoy the view. They have a bring your own cup discount so it does actually pay to be sustainable here! On the weekends there are fun food trucks parked up as well, so you can pair a bite with your beverage.
---
Ardmore Coffee
Ardmore Coffee is a hidden gem of the area and one of our favorite Winston Salem coffee shops. It has a down home, super relaxed vibe with comfy couches and wooden crates stuffed with good reads to borrow. Out front, you'll find a few wooden benches as well. It feels like such a local spot, filled with regulars who all know each other and probably pop in every day. 
Their pour over coffees are impeccable and they're always rotating in amazing new beans and blends to try. The menu often boasts creative concoctions as well, like the Girl Scout Cookie Latte or the signature herbal blends for hot teas.
---
Melrose Cafe
Melrose Cafe is a California inspired coffee and wine bar. It's a super modern and minimal space that honestly feels like a breath of fresh air, with dark walls, neon lighting, white tile, and plenty of plant life. They always have a few treats on deck, like macaroons or muffins. 
This is the place to go if you're looking for a drink that's almost too pretty to down. You'll want to snap a pic first and then savor every sip. They offer signature lattes including an Espresso Lemon Drop, Dalgona, or Vanilla Rose Latte. If you've reached your caffeine limit you can also enjoy one of their Refreshers like the beautiful Butterfly Lemon Spritz.
---
ByGood Coffee
ByGood Coffee makes a mean cup of joe. They have an eclectic ambiance with walls covered in local art and low key furnishings, plus the outside space is lovely. We love to get the Chemex pour over for two here for a guaranteed no fuss fantastic brew. 
Otherwise, the Handshaken Summer teas are refreshing and the Avalanche is a delicious drink. There's always a seasonal selection as well. Everything is handmade on-site from the whipped cream to the vegan and gluten free pastries.
---
Sayso Coffee
Sayso Coffee is set inside of West Salem Public House and is a curated cafe for the cool caffeine aficionado. The oat milk cappuccino has garnered a cult following here. Their specialty drinks include the Florida Man, orange, basil, and two types of coffee topped with bubbles, and the Vietnamese Iced Coffee made in a traditional fashion with condensed milk. 
The atmosphere is modern and minimal with an overall vibe that feels effortlessly cool. The painted picnic tables outside sit under the shade of large trees and are surrounded by colorful flowers. The pastries here are all delicious as well, try the Orange Cardamom Bun. It's such a quaint and relaxing spot that you'll never want to leave.
---
Krankies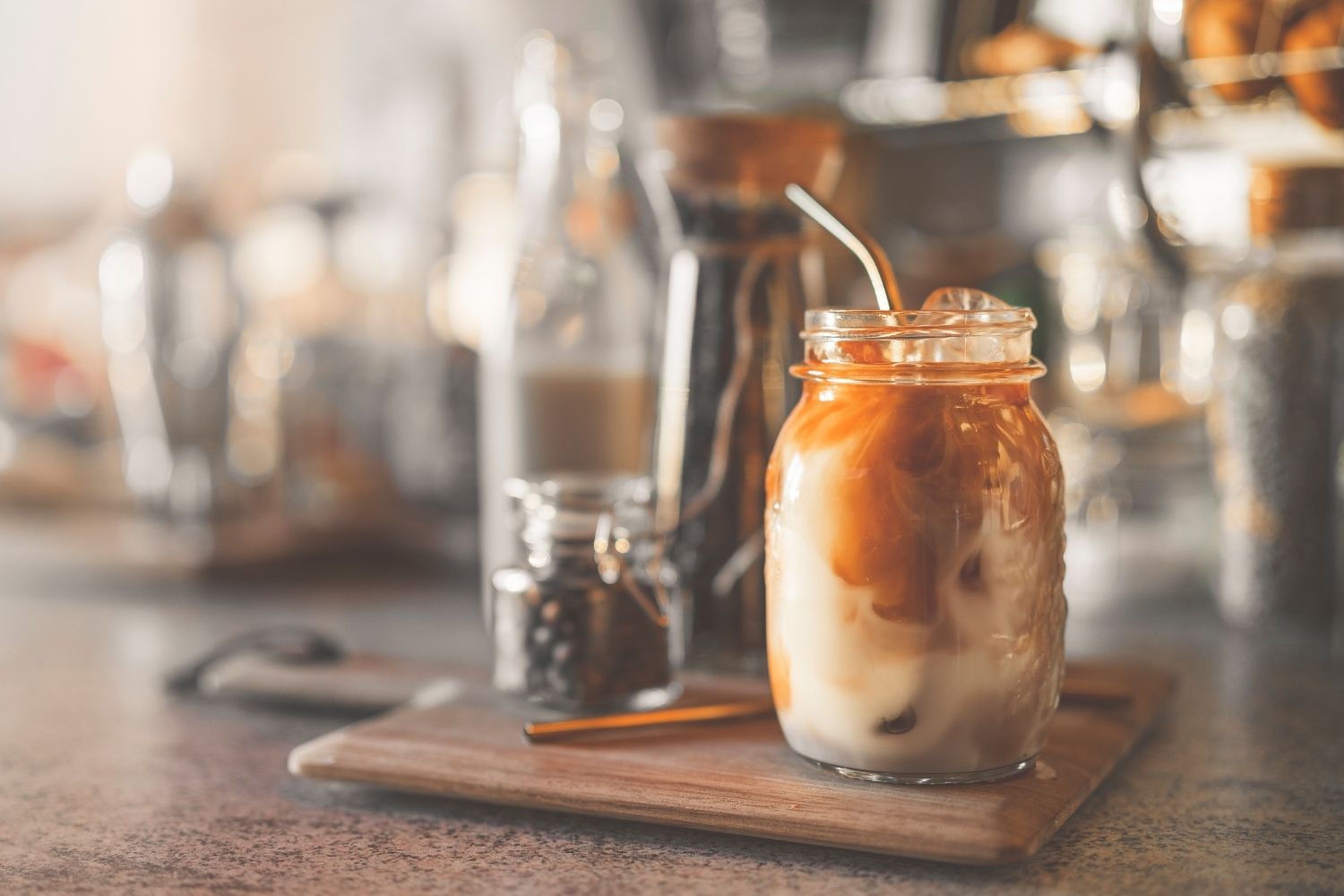 Krankies has been a beloved local institution in the city for decades, and is a must for breakfast in Winston Salem. They're famous for their biscuits, and you really can't get a better rep than that in North Carolina.
The signature sandwiches include the classic, fried chicken with texas pete and honey or smothered in sausage gravy. There's a weekly special that never ceases to surprise and delight.
The space is cute and cozy both inside and out. They've got amazing coffee and a full bar so all your beverage needs are covered. It's a no brainer for a beautiful and delectable brunch any day of the week in Winston-Salem.
---
Lavender and Honey Kitchen
Lavender and Honey Kitchen is a haven for coffee consumers in the city. The Bourbon Apple Cider Latte and the Mexican Mocha are just a couple of their inventive creations. The sweet treats here can be quite a draw of their own, with freshly baked decadent cakes, pies, and more, all made with seasonal ingredients from heirloom recipes. 
Every order offers a cozy nostalgic feel with a modern European twist that we just j'adore. There can be a wait on weekends, but it's well worth it, if only for the Instagrammable interior alone. The patio gives Parisian vibes with forward-facing chairs and sweet string lights. Inside, the environment is bright and airy with a rustic flair.