North Carolina has many islands along its coast, ranging from small, uninhabited islands to larger, more developed islands. According to the North Carolina Coastal Federation, there are approximately 300 named islands along the coast of North Carolina.
Some of the more well-known North Carolina islands include the Outer Banks, which consists of a series of barrier islands, and the Crystal Coast, which includes several islands and coastal communities.
North Carolina's islands are home to a variety of ecosystems and wildlife, including salt marshes, wetlands, and dunes, as well as a range of plant and animal species. Many of the North Carolina islands are protected by state and federal agencies, and are home to a number of nature preserves and conservation areas.
In addition to their natural beauty, North Carolina's islands are popular with travelers due to their beautiful beaches, recreational opportunities, and charming coastal communities. Whether you're looking for a peaceful getaway or an action-packed vacation, there is an island in North Carolina that is sure to meet your needs.
---
Beautiful North Carolina Islands to Visit
---
1. Pea Island
If you're a bird watcher you'll love the Pea Island National Refuge because it's a refuge for many species of birds including raptors, geese, osprey, sanderlings, terns, herons, egrets and falcons. Loggerhead sea turtles are also common visitors. If beaches are something you seek, the beach on Pea Island is a fantastic place to swim and participate in a variety of water activities.
As you explore the rest of the island, you'll find various ecosystems including dunes, brackish waters and marshes. A visitor's center is available where you can learn about the surrounding nature areas and hike a few nature trails.
If you visit at certain times of the year, you might catch one of the festivals that take place there including the Crabbing Rodeo and Wings over Water.
---
2. Masonboro Island
Masonboro Island is right off the coast of Wilmington and has the distinction of being the state's longest barrier island at 8.4 miles. Much of the island consists of the Masonboro Island Reserve which is a North Carolina State Natural Area.
As you explore these natural areas, you'll see various ecosystems including sand dunes, salt marshes, shrub vegetation and tidal flats and these areas are home to many bird species, nesting sea turtles, raccoons, foxes and deer.
The island is only accessible by boat but once you're there you can camp overnight at several sites that are situated on the island.
---
3. Bird Island
If you're expecting Bird Island to live up to its name as a potential place to see lots of birds, you won't be disappointed! This barrier island, located on the state's southwestern coast, is a favorite among nature lovers.
It features a nature preserve that's home to sea turtles and many species of birds including horned grebes, painted buntings, black skimmers, wood storks and American oystercatchers. Bird Island Nature Reserve can only be accessed by boat but once you're there, you'll enjoy access to a scenic boardwalk, stunning stretches of beach and a day-use area where you'll get up close with a variety of ecosystems such as grasslands, salt marshes and dunes.
Fishing is also a popular activity and anglers have the chance to reel in some redfish, grouper and sea bass. Don't forget to jot down your day's thoughts and hopes for the future and drop them in the Kindred Spirit Mailbox before you leave!
---
4. Shackleford Banks
Whether you're seeking outdoor adventure or a laid-back seaside escape, Shackleford Banks has something for everyone! This 8.5-mile island is part of the Cape Lookout National Seashore and is a favorite stop for people looking to immerse in nature.
Search for beautiful seashells on scenic beaches, catch some waves when the surf's up, observe the many bird species that are found in the area and try to catch a glimpse of the wild ponies that roam the island. Care to do some kayaking or paddleboarding? There are plenty of opportunities to do these activities as well!
---
5. Cedar Island
Much of the four miles that make up Cedar Island is part of the Cedar Island National Wildlife Refuge, which means it's an excellent place for observing nature and escaping in a pristine seaside wilderness area.
The island is known for its beaches and exciting outdoor pursuits which include fishing, horseback riding, hiking, biking, kayaking, bird watching and sailing.
---
6. Figure Eight Island
Figure Eight Island is one of the most secluded North Carolina islands that it's an almost eerie place. If you want to escape the crowds and disappear into a peaceful seaside paradise, this is the place for you! The best way to enjoy the island is to make your base at one of the lovely vacation homes that are for rent.
Spend your days looking for seashells, fishing, swimming, kayaking, or biking. Don't forget to watch for various species of birds that are often spotted in the area.
---
7. Emerald Isle
Like the bigger Emerald Isle on the other side of the Atlantic, Emerald Isle, North Carolina is known for its lush greenery. Situated on the Crystal Coast, this island has everything you'll need for a fabulous vacation!
The beaches are beautiful with clear waters, there are fewer crowds than on other nearby islands, the views are incredible and there's so much to see and do! Salty Water Park, Bogue Inlet Fishing Pier, Emerald Isle Woods Park and Fort Macon State Park are a few of the island's attractions.
Care for some snorkeling, kayaking, jet skiing, paddleboarding, scuba diving, sailing, or windsurfing? You can do all of these activities and more during a visit to Emerald Isle. After a full day out, make sure to check out one of the best Emerald Isle restaurants!
---
8. Roanoke Island
Roanoke Island is one of the oldest communities in the Outer Banks region so during your visit, you'll get a history lesson going back as far as the 1500s along with shopping excursions and incredible culinary experiences.
If you visit in the summer, one of the best ways to learn about the history is by attending an outdoor performance of The Lost Colony.
Some of the top attractions on Roanoke Island include the Roanoke Island Maritime Museum, Fort Raleigh National Historic Site, the Roanoke Island Aquarium, the North Carolina Maritime Museum, Roanoke Island Festival Park, Elizabethan Gardens and Roanoke Marshes Lighthouse.
---
9. Knotts Island
It's small, it's scenic, it's remote and it has charm but don't let this description trick you into thinking that there isn't a whole lot to do on Knotts Island! Visit the Martin Orchard and Vineyard and learn about the island's wild side with a visit to the Mackay Island National Wildlife Refuge.
Take a hike along the Charles Kuralt Trail and go to the top of the Currituck Beach Lighthouse. Go for a scenic drive along the Marsh Causeway and pick up some fresh, local produce at the Knotts Island Market.
Learn about local history at the Flyway Lodge and spend the night camping at Sandy Point Rest Campground. If you happen to be in the area in July, check out the Peach Festival. Just be aware that the island is only accessible by ferry so be prepared for seclusion and relaxation without the mainland crowds.
---
10. Oak Island
If you're seeking a quintessential North Carolina beach vacation, look no further than Oak Island! With warm, clear waters, long sandy stretches and plenty of places to escape the crowds, it's perfect for families. With over 60 beach access points, you'll have no trouble finding your perfect slice of paradise by the sea.
When you tire of lying in the sun or swimming in the ocean, check out the many attractions including the Oak Island Lighthouse, Oak Island Nature Center, Ocean Education Center, Oak Island Pier and Ocean Crest Pier.
The island is also home to some delicious restaurants, old-fashioned ice cream shops, mini-golf courses and a golf and country club. Fishing, canoeing, kayaking and paddleboarding are just some of the popular water sports available.
---
11. Pleasure Island
Pleasure Island is where you'll find Carolina Beach, Kure Beach, and Fort Fisher – all connected via N Lake Park Blvd. The natural side of Pleasure Island features unspoiled beaches with soft sand and clear waters but if you're looking for fun attractions for all ages, there's plenty of that too!
At the Carolina Beach Boardwalk, you'll find a variety of thrilling amusement park rides and arcade games and at the Kure Beach Fishing Pier, you'll find a relaxing place to cast your line. Other island attractions include the North Carolina Aquarium at Fort Fisher and Ocean Front Park.
---
12. Topsail Island
At 26 miles long, there's much to be explored on Topsail Island! In the three towns that are located on the island. (North Topsail Beach, Surf City, and Topsail Beach), you'll find many unique retail shops and great restaurants.
As you explore the island, you'll find many attractions including the Missiles and More Museum and the Karen Beasley Sea Turtle and Rehabilitation Center. You can also go paddleboarding or sailing in the Intracoastal Waterway, fishing from the Jolly Roger Pier, or sunset-watching at Serenity Point.
10 Beautiful Topsail Beach Rentals You'll Love
---
13. Hatteras Island
One of the best things to do in the Outer Banks is visit Hatteras. As the biggest island in the Outer Banks, you can bet there's much to see and do at Hatteras Island! Much of the 48 miles that make up this island consists of beautiful, sandy beaches and vast sections of the Cape Hatteras National Seashore.
Whether you want a laid-back escape or an adrenaline-pumping adventure, you'll find it here. Surfing, kiteboarding, windsurfing, kayaking, bodyboarding, snorkeling and sailing are just some of the exciting activities available but if you just want to lie on a remote beach free from crowds, well, there's that too!
---
14. Lea-Hutaff Island
Undeveloped, beautiful, natural, wild and exciting. These are just some of the words people have used to describe Lea-Hutaff Island. Here, the beaches are long and there are various ecosystems to explore including dunes and marshes.
The island is only accessible by boat which means it's quite remote and less crowded than some of the other barrier islands. This remoteness makes it a great place to observe the local plant and animal life.
---
15. Bald Head Island
Situated in Brunswick County, Bald Head Island isn't only beautiful, it also has an intriguing past. This little piece of paradise consists of 12,000 acres of beaches and virtually untouched natural areas where birds and sea turtles nest.
Take a hike along the M. Kent Mitchell Nature Trail and explore unique ecosystems at the Bald Head Island Conservatory. Up for something a little more adventurous? Sail around the island with Riverside Adventure Company or embark on a ghost walk where you'll learn about the more sinister side of the island.
For those interested in learning about the island's history, you can take a tour of Old Baldy Lighthouse which was built in 1817 and visit the Smith Island Museum. Bald Head Island is also home to the Bald Head Island Golf Club and the luxurious spa at the Island Retreat.
---
16. Portsmouth Island
Portsmouth Island is the ultimate escape for outdoor lovers who prefer to be immersed fully in nature rather than pampered in a 4-star hotel. There are many places to camp on the island and there are many things to see and do.
With an intriguing Civil War history, there are opportunities to learn more about that. Shelling is another popular activity and you'll find some of the most beautiful seashells on the entire east coast here! With 13 miles of sandy beach, sunbathing, swimming and fishing are always on the table.
---
17. Bodie Island
Untouched, natural seaside paradise is how one might describe Bodie Island. With fascinating attractions, stunning scenery and ample things to do, this 10-mile-long island is a top draw for ocean lovers, birdwatchers, anglers, swimmers, sunbathers, kayakers, boaters and nature observers.
Cast your line from the fishing pier, camp overnight at the Oregon Inlet Campground, and visit the attractions which include the Bodie Island Lighthouse which was built way back in 1872, the Wright Brothers Memorial and Jockey's Ridge which happens to be the tallest sand dune on the east coast.
20 Outer Banks Vacation Rentals You'll love (Oceanfront VRBO!)
---
18. Ocracoke Island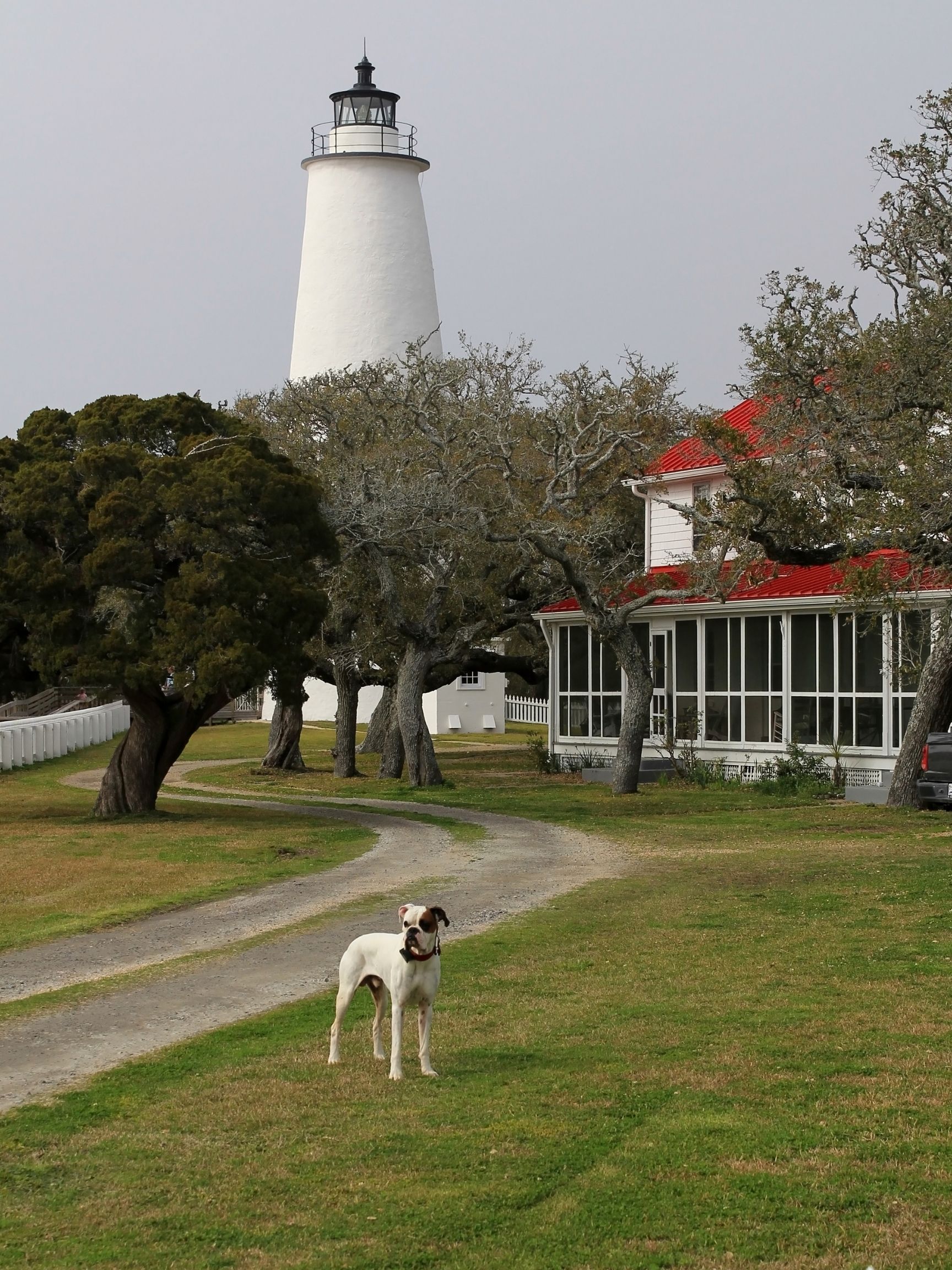 Ocracoke Island is best known for being one of the North Carolina islands that make up the Cape Hatteras National Seashore but it's known for many other things too. Secluded, sandy beaches, wild ponies that roam freely around the island and spectacular sunsets are just a few more of the things Ocracoke Island is known for.
As you explore this 16-mile-long barrier island, you'll also find many attractions including Ocracoke Island Lighthouse, Springer's Point Nature Preserve, Teach's Hole Blackbeard Exhibit and Pirate Store and Hammock Hills Nature Trail. Kayaking, surfboarding, paddleboarding, fishing and surfing are popular activities in the area.
---
19. Ocean Isle Beach
Yes, Ocean Isle Beach has beautiful beaches that are its claim to fame but it has so much more! There are plenty of outdoor activities, including kayaking, biking, jet skiing, wildlife viewing and fishing. The Museum of Coastal Carolina and Ingram Planetarium are top attractions on the island.  
---
20. Harkers Island
Harkers Island is so unique that the people who live there even have their own dialect thanks to their having descended from the original settlers in the 1700s. The island's most popular attraction is the many species of seabirds that thrive there.
In fact, bird-watching is so popular that there's even a festival that takes place every December called the Core Sound Waterfowl Festival. The second thing the island is known for is its beaches where activities such as shelling, fishing, swimming and sunbathing are popular.
Other area attractions include The Core Sound Waterfowl Museum and Heritage Center, the National Park Service Visitor Center, Cape Lookout Village Historic District and the Willow Pond Trail. Keep a lookout for the wild horses that call the island home!
---
North Carolina Islands to Visit Map
---
How Many Islands Are in North Carolina?
Would you believe that North Carolina has over 4,000 islands along its coastline? The most famous among them are the Outer Banks, which are a chain of barrier islands, often abbreviated to OBX.
Which North Carolina Islands Are the Most Beautiful?
Comparing the most beautiful North Carolina islands can be subjective and can vary depending on personal preferences. That being said, many people consider the Outer Banks, particularly the areas of Cape Hatteras, Ocracoke Island, and the beaches of Corolla, to be among the most beautiful in the entire state.
These areas are known for their pristine beaches, scenic dunes, and picturesque landscapes. Bald Head Island is one of the most exclusive areas in the state while Shackleford Banks offers untouched natural beauty for everyone – including wild resident horses, called Banker horses, that roam freely on the island.
Which Island in North Carolina Does Not Allow Cars?
Bald Head Island is the car-free haven of North Carolina. Head here and you'll be offered three primary modes of transportation: walking, biking, and golf carts. Many vacation rentals actually provide bicycles or golf carts as part of their rental package so travelers have ease of mind and convenience when visiting. However, if these amenities are not included, you have the option to rent a golf cart locally or obtain a bicycle rental.
Which North Carolina Island has Wild Horses?
Shackleford Banks, situated as the southernmost barrier island within Cape Lookout National Seashore, is the habitat for over 100 wild horses! To get here and see them for yourself embark on a boat or passenger ferry.
---
More Coastal Carolinas Travel Guides
Plan For Your Trip to the South!