The Outer Banks is a beloved stretch of barrier islands off the coast of North Carolina. With over 200 miles of sandy shore, there are endless exciting opportunities for exploration awaiting you here.
There are 15 tiny towns each with a unique charm all their own. Below are the best 25 things to do in the Outer Banks to enjoy all this scenic setting has to offer.
---
The Best Things to do in the Outer Banks (OBX)
---
Jockey's Ridge State Park
This is the tallest living sand dune system, an otherworldly experience. Jockey Ridge offers sweeping views of both the sea and the Roanoke Sound and is one of the best things to do in the Outer Banks. If you stroll along the boardwalk and nature trail, it will take you through the ethereal ecology of the area as you explore wetlands and maritime thickets.
You can take in some of the most spectacular sunsets from the top of these dunes. Feeling nostalgic? This is one of the best North Carolina state parks to relive some simpler times and fly a kite. For those feeling a bit more adventurous, fly with the kite and take a ride through the sky by hang gliding. Try your hand at a newer pass time and grab a board to soar down the sandy dunes.
---
Wright Brothers National Memorial
This historic monument is a celebration of the first ever successful airplane flight. Whether you're an aviation aficionado or just a supporter of dreams, the Wright Brothers National Memorial site offers some beautiful inspiration to all. Visit the site where the Wright Brothers achieved a sustained, powered flight in a-heavier-than-air machine and changed the world forever.
You'll find to-scale replicas and reproductions of the famed flyers themselves, the hangar where these dedicated self-taught inventors lived, and the wind tunnel they used for testing in their years of attempts before triumph.
---
Cape Hatteras National Seashore
70 miles of protected coastline serve to partially preserve the natural wonders of these beautiful barrier islands. This is the best stretch of shore to simply enjoy the beaches of the Outer Banks. Search for the perfect seashell, bask in the warm Carolina sunshine, and cool off in the salty waters.
These picturesque landscapes offer thriving and undisturbed habitats for a lot of native wildlife. It extends from the low tide line to the borders of the actual towns. This prevents both commercial and private development, meaning miles and miles of pristine public beach.
---
Currituck Beach Lighthouse
This iconic lighthouse is located in the small OBX town of Corolla. It's a stalwart structure that stands tall at 162 feet, still working to prevent shipwrecks and protect the shores. Its light shines bright, stretching miles into the sea. It's known for its distinctive red brick exterior – try to count how many were used.
It was built in 1872 and first went electric with a fresnel in 1933. You can view educational exhibits on the lighthouse landings, and the Victorian era renovated keeper's quarters. If you climb all the 220 steps, you'll be rewarded with unparalleled views of the Currituck Sound and Atlantic Ocean.
---
Jennette's Pier
Jennette's Pier is a favorite feature of Nags Head and one of the oldest attractions in the Outer Banks. If you're looking for good views and great fishing, you've found the right place. It was built in the 1930s and has been a hotspot for local and visiting anglers ever since.
The entire pier has a blanket fishing license and a conveniently located tackle shop, so everything you need for a day of reeling them in. The ocean views are stunning as well, so feel free to sit and settle in to watch the waves and wait for the catch of the day.
---
Lost Colony
The Lost Colony is an outdoor performing arts theater that is famous for celebrating the mystery and history of the Outer Banks. You can find it in charming Manteo, where a play has been put on every summer since 1933, the second longest running outdoor drama ever.
It's a masterful piece of musical theater about Sir Walter Raliegh's attempt to establish an English colony on Roanoke Island in 1508 and its subsequent disappearance. It's an elaborate and high-quality production spanning over three stages and encompassing over 200 actors and technicians.
---
Wild Horses of Corolla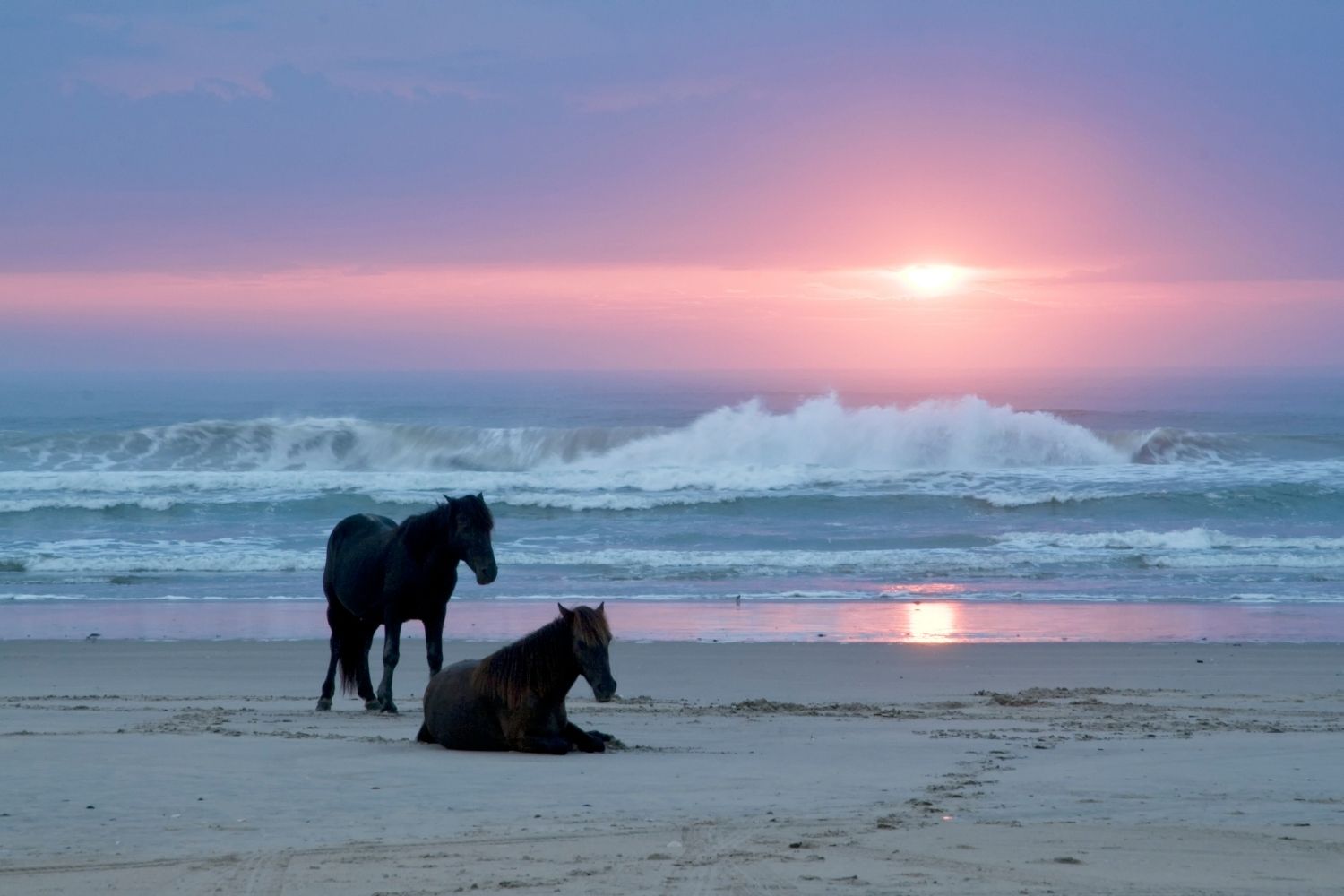 The natural wonders and native wildlife of the Outer Banks knows no bounds, and one of the most magical features are the roaming herds of wild horses. This population began in the 1500s when Spanish explorers brought them to these shores.
They are currently preserved and protected by a local non-profit organization. You can take a guided tour to learn more about these unique residents or you can wander the landscape and hope to get a glimpse on your own. Just remember they are truly untamed, so just admire their wild and free beauty from afar.
---
Duck Boardwalk
A stroll along this mile long wooden structure is a great way to spend the day exploring local storefronts. Duck is an upscale enclave of the Outer Banks, and its waterfront shopping is spectacular.
You'll find an array of fine retail establishments and eateries. Appreciate the stunning scenery of the sound as you browse boutiques. Stop into Duck Cottage Coffee and Bookstore for a quick bite or beverage. Nearby you'll find Duck Town Park, offering 11 acres of natural beauty to bask in.
---
Breweries
Outer Banks Brewing Station is a vision of sustainable craft beer creation and one of the best breweries in North Carolina. Powered entirely by a wind turbine in their backyard beer garden, this brewery is the first one of its kind in the country. Their taps provide a range of styles, and they're always using seasonal ingredients to create a rotating roster. They also offer upscale pub grub and live music to pair with your pints.
Lost Colony provides delicious craft creations in a charming and cool streetscape setting. They focus on British style beers, using imported English malt, hops, and yeast to concoct authentic and inventive flavors. They serve eclectic gastropub fares featuring fresh seafood.
---
Restaurants
The Blue Point is a laidback local haunt in Duck, serving fresh seasonal, and sustainable southern seafood favorites. Set right on the sound, the setting is scenic and retro chic. Tortuga's Lie is famous among inhabitants and visitors alike. Creating classic Carribean cuisines in Nags Head – the atmosphere and the food are bright, vibrant, and beachy.
Kill Devil Grill makes traditional American dishes with an upscale twist. Dine out on derivatives of diner delicacies such as the cheese steak eggrolls. It's a foodie favorite of the area for sure. There are so many OBX restaurants you have to try multiple when you are visiting!
---
Roanoke Island Maritime Museum
Set in the downtown waterfront of Manteo, this maritime museum focuses on the nautical heritage of the Carolina coast. It's a functional boatshop that restores, preserves and constructs historic ships.
There are many educational and interpretive exhibits to engage with such as a replica of the vessel that brought the Lost Colony to Roanoke Island in 1587. It's a quaint museum that celebrates the spirit of the town and boasts beautiful views of the bay.
---
Elizabethan Gardens
These enchanting and elaborate gardens were designed in the English Elizabethan style, to honor the colonists of centuries ago. You'll find native and ornamental plants along with perennials and historic herbs as you wander these lush walled landscapes.
They host many seasonal events and festivals and house an indoor butterfly garden. The grounds cover over 10 acres, see if you can spot the ancient live oak, and find a gazebo for a relaxing respite amongst the roses. This is one of the most romantic places to visit in North Carolina.
---
Graveyard of the Atlantic
The Outer Banks has been the host of over 2,000 shipwrecks. The Graveyard of the Atlantic Museum is set in Hatteras village and pays homage to these disasters throughout maritime history. There are extensive displays of artifacts recovered from these events often caused by piracy, war, or weather.
You'll enjoy unique and enthralling exhibits such as the Evolution of Diving or one detailing the dramatic incident when a massive container washed ashore spilling thousands of Dorito bags onto the shores of Frisco.
---
Bodie Island Lighthouse
This OBX lighthouse is a historic structure was built in 1872 and has since gone through three iterations. It's surrounded by gorgeous marshland and maritime forest making it beautiful land to meander through. Its frame is 156 feet tall with a light that reaches 19 miles out to sea.
You can climb all the way to the top to take in sweeping panoramas of the Atlantic Ocean and Pamlico Sound. The keeper's quarters remain intact and now function as a ranger station and information center. Its striped black and white exterior has become a significant symbol of the area.
---
Oregon Inlet fishing
From this marina, you'll find a fleet of over 50 ships waiting to whisk you out to sea. Charter any vessel and cast away inshore or in the sound. Head offshore for a full day out on the waters of the Gulf Stream.
You can hook a wide variety of species depending on the season, and angles travel from all over to test their skills in these parts. You don't need your own license and tackle and bait are provided. If you're not interested in a big catch, climb aboard a dolphin watching cruise instead.
---
Pea Island National Wildlife Refuge
This is a protected 13 mile stretch of pristine barrier island shoreline. The Pea Island visitors' center gives a great informational overview about the ecology of the area and the best ways to traverse the trails. Enjoy the serene seclusion of the beaches here.
There is a lot of local wildlife providing plenty of places perfect for birdwatching in particular. Partake in other eco-friendly outdoor activities such as paddling. Be sure to take in the picturesque views overlooking the North Pond and the Salt Flats.
---
Whalehead Club
This expansive estate in historic Corolla overlooks the sparkling Currituck Sound and covers 39 acres. It's a 1920s mansion admired for its art nouveau architecture and period decor. Restored to its former glory, it currently functions as a museum representing a bygone era.
You'll find such opulent furnishings as Tiffany lights, a Steinway piano, and other antiques. Some even say the grounds are haunted, so enter for a self-guided tour at your own risk. It's a beautiful way to enjoy a sunset on the waterfront as well.
---
Ocracoke Lighthouse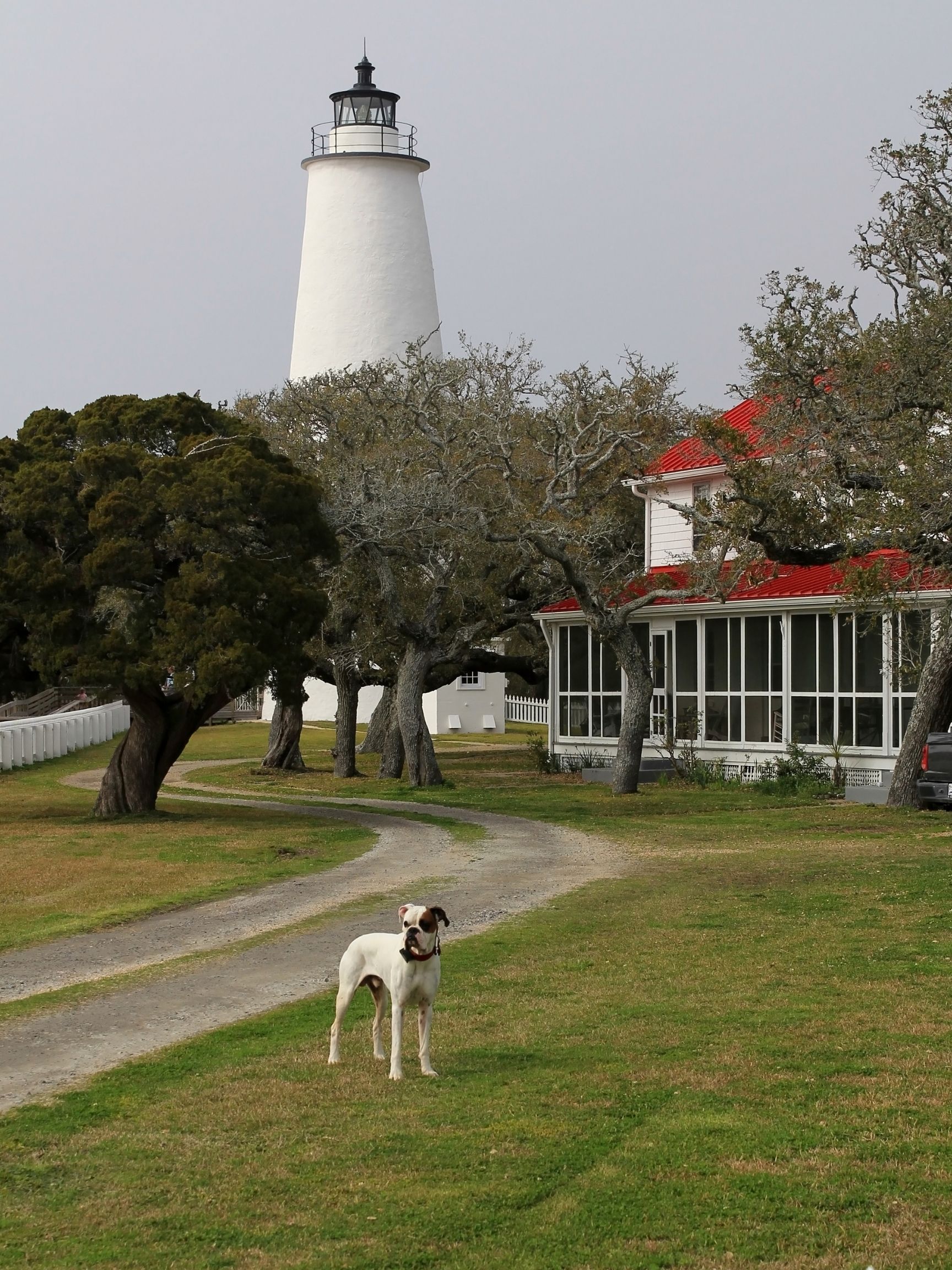 This is the oldest lighthouse still operating in the whole state. Constructed in 1823, it's walls are five-feet thick, and it reaches to 75 feet above sea level.
Though you cannot climb it currently, it's still an exciting piece of Outer Banks history to explore. Its unique white color sets it apart and is made from a combination of lime, salt, rice, water, and glue. It's a beautiful backdrop for some charming photo ops.
---
Frisco Native American Museum
The Frisco Native American Museum is an educational space honors the original inhabitants of the Outer Banks. It serves to preserve art and artifacts of local indigenous culture. You'll discover baskets, headdresses, jewelry, and more.
They often host community events to teach about or engage with the practices of this heritage. The grounds feature several acres of nature trails that wind through maritime forest, streams, and ponds. The gift shop is filled with unique handmade crafts you won't find anywhere else.
---
Surfing at Kitty Hawk
Kitty Hawk is one of the best spots for surfing on the East Coast. There are swells for seasoned surfers reaching heights up to four feet as well as for those just beginning to learn.
One such spot is locally known as Laundromat, most likely for its rough waves which break closer to shore sending surfers into the wash. Check near the Avalon Pier for some gnarly barrels. Even if you don't feel brave enough to paddle out, grab a sandy spot and watch the hang tens in action.
---
Island Farm
Island Farm is a living museum that offers a whole host of immersive attractions, from live interpreters to period costumes and hands-on skills workshops. Take a trip back in time to the mid-1800s and get a peek at what life was like back then.
They lived on the bounty of the surrounding waters and often farmed to feed their families as well. It was a simple existence for these hardy islanders. Enjoy demonstrations of traditional blacksmithing, weaving, and cooking.
---
Galleries
In the Galleries of the Outer Banks there is an eclectic selection of art available, from high-end oil paintings to handcrafted jewelry. Hang 12 Art offers an open studio space for engagement through an array of workshops.
Kill Devil Hills Co-op is an artist operated gallery featuring works in a wide variety of mediums from metal to acrylic. Sea Green Gallery in Nags Head is chock full of funky art recycled from antiques and found objects.
---
The Mother Vine Manteo
This is believed to be the oldest grape vine in all of North America. Estimated at 400 years old, it's a twisted knot of tangled branches that takes up a total 120 feet. You can visit a tasting room in downtown Manteo at The Mothervine as well, to enjoy a glass of sweet yet mildly acidic red made from this majestic mother vine.
Probably planted by Croatian Native Americans or the settlers of the Lost Colony, it's often referred to as the origin for all Scuppernong Grapes, the state fruit, helping to produce wine for centuries. It's one of the most unique historic attractions in the banks.
---
Watersports in Waves
Waves is one of the small villages on the northern end of Hatteras Island, and a haven for getting active out on the water. It offers the largest selection of watersports in the area. It's a great way to enjoy the natural playground of the Outer Banks.
Kitty Hawk Kites and REAL Watersports are just a couple of the bigger outlets available to get you equipped and enjoying the waves. Try stand up paddleboarding, jet skiing, parasailing, kayaking, sailing, diving, windsurfing, or kiteboarding.
---
Portsmouth Island
This uninhabited island is a rugged and remote escape from reality. Wander the secluded shores for a slice of pristine wilderness. It's one of the last undeveloped islands anywhere along this coast and one the best spots for shelling.
The village is a ghost town, once a thriving community in the 1700s and since abandoned over the course of hundreds of years as the economy shifted. Get a taste of old island life by visiting the restored church, school house, and coast guard station. 
---
Things to Do in the Outer Banks Map