The Outer Banks goes by many monikers. Off the coast of North Carolina, it's a haven of untouched natural seascape and quaint, small-town charm. The Outer Banks, or OBX for short is renowned for its rich history, from pirates to planes to pilgrims. Many frequent this area of the world to discover beautiful Outer Banks beaches.
As a long chain of barrier islands, it's surrounded on all sides by sparkling sea and still sound waters. Famous for fish, OBX is full of fresh seafood to savor. Most of all, OBX is home to hundreds of miles of pristine sandy shores – perfect for a dream beach getaway!
Whatever your desires may be, you can find them in the Outer Banks. For a secluded and slowed down escape from the everyday, there are some of the most relaxing and paradisiacal villages. For a fun-filled adventure, take your pick of water activities to try out, and kitschy seaside shops to visit in sunny and charming towns. A true gem of the East Coast, the banks aren't your average destination for a beach vacation.
Each town has its own identity and unique thrills to discover, and heading here is one of the best things to do in North Carolina. Join the ever-growing club of OBX diehards. As they're sure to tell you, once you've visited the Outer Banks, they will hold a special place in your heart for all your years to come.
---
The Best Outer Banks Beaches
---
Kitty Hawk
In the 1900s the Wright Brothers famously carried out experiments in flight right in our very own Outer Banks. Kitty Hawk's name has spread far and wide in unison with the beginnings of aviation. The architecture of the area is centered on historic beach homes, offering a quaint, small-town charm. As it rests on such a wide section of the Outer Banks, it was originally home to much of the development in the area. It's still known as the heart of and a jumping off point for the rest of the Outer Banks beach towns. This development of the town was designed to be in harmony with its stunning surrounding nature.
It's believed that its name comes from an indigenous phrase meaning "a place to hunt geese". While there is now much more here attracting visitors every year, the goose population is still holding strong. The Kitty Hawk Woods Coastal Reserve has many cute residents, namely otters and sea turtles. It's a 461-acre maritime forest – perfect for enchanting walks on long meandering trails to explore these protected ecosystems. This is also the town where you will find some of the largest waves in the Northern Outer Banks. Due to this, Kitty Hawk is very popular for both surfing and skimboarding. Whether you want watersports or woodland wanders, Kitty Hawk has it all.
---
Nags Head
This stretch of sandy coastline is home to a vibrant community and a wealth of natural beauty. Nags Head is known for having the longest public pier in North Carolina, a charming wooden structure that provides the perfect sunset stroll. There is an abundance of beachside amenities here, making it an Outer Banks vacation hotspot. Nags Head is known as one of the best beaches in the Outer Banks, and one of the best beaches in North Carolina for that matter. Be sure to see Bodie Island Lighthouse, an impressive seaside structure from the 1870s which offers sweeping views over the banks. The former keeper's house here has since been turned into a quirky and informative museum.
There are many boat trips available for an on-the-water adventure, both for a fun day filled with beautiful views or a foray into fishing. Nags Head Woods Preserve boasts many tranquil treks for journeys into stunning forested scenery. Find the secret beach by taking Roanoke Trail through picturesque salt marshes. Jockey's Ridge State Park is home to otherworldly sand dunes that you can explore via all-terrain vehicles, hang gliding, or hiking. There are plenty of shops and restaurants – grab a snack with a sea breeze or browse the bohemian boutiques. Nags Head is home to the largest array of galleries in the Banks – perfect if you're interested in engaging in some artistic exploration!
---
Kill Devil Hills
Kill Devil Hills is just the busy, bustling beach town that you may expect. It's home to all of the usual beachfront shops, selling trinkets to tourists with just the right amount of kitsch. There are many hotels and resorts in the area for a luxury stay. There are eateries and bars galore, so take your pick for delicious oceanfront dining and drinking. Kill Devil Hills is the most populated town in the Outer Banks, and it's also the oldest official town. With plenty to see and do, you'll never be bored in Kill Devil Hills. For this reason, it's one of the most popular Outer Banks destinations.
One popular theory for the name of the town is that their rum was strong enough to kill the devil – be sure to keep that in mind when ordering your pina colada! The National Wright Brother Memorial is here, as they used the local sand dunes to take off. There are miles of public beaches here, perfect for any shoreline activity you desire – bask in the warm sunshine or practice those sand castle skills. Check out the Avalon Pier for fishing, crabbing, surfing, or parasailing. Alternatively, have a look at Seascape Golf Links for a challenging game on a gorgeous course.
---
Southern Shores
Here, you will find stunning, sweeping views across the Atlantic Ocean making it one of the best Outer Banks beaches. There is little commercial development in this area, resulting in a more undisturbed beach-going experience. Southern Shores is almost entirely residential, and it has an overtone of secluded charm. The shores are quiet and calm – ideal for a tranquil escape away from it all. There is a paved trail that extends the length of the entire town making it a great space to enjoy a relaxing stroll or bike ride.
The golf course Duck Woods is located here and beloved among links enthusiasts for its up-scale facilities. There are a few adorable seafood spots here with fresh fish every day. It boasts a friendly neighborhood feel. There are a couple of convenient shopping centers for anything you may need, but your time will undoubtedly be spent on the pristine sandy shores for some elusive and essential R&R. Southern Shores is secretly one of the best beaches in the Outer Banks.
---
Duck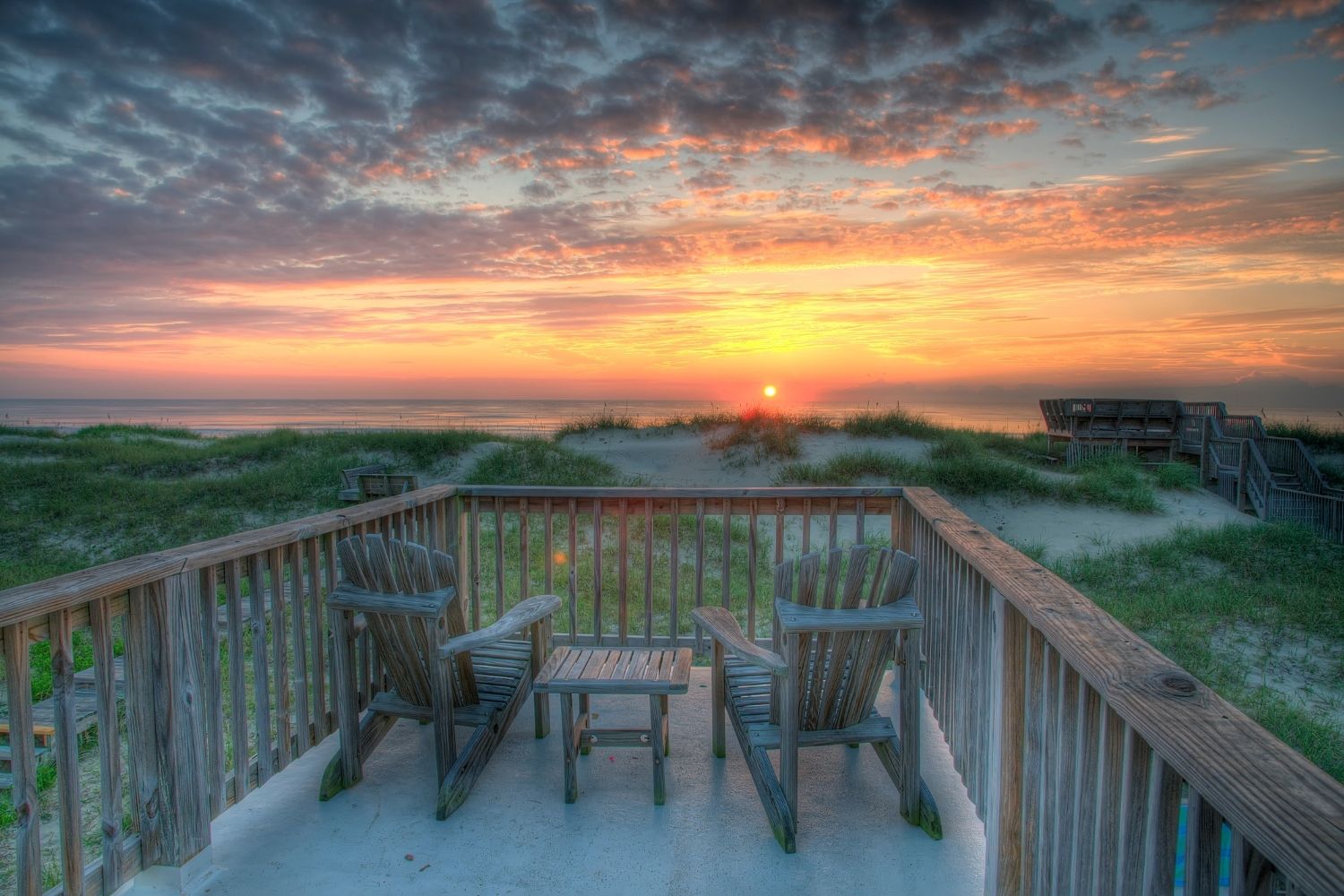 If you have a furry friend in tow this vacation, Duck is the perfect place for you. Not much of a resort town, you will probably need to rent a cozy beach cottage, or possibly extravagant beach estate for your stay. Duck is also home to the original Duck Donuts. We recommend a breakfast stop here at least once while you're in town. There are also some of the best shopping and culinary destinations here in Duck. They host several festive events throughout the year, and you will easily find live music to enjoy regularly.
The town is welcoming and friendly – ask a local for their favorite pizza joint or seafood spot. Named after its abundant waterfowl population, the beaches here are also known for their impressive shell collecting opportunities. The boardwalk stretches out along the calm, lapping waves of the sound, and is dotted with eclectic storefronts. There are also several acclaimed spas in the area if you're looking to be pampered.
---
Corolla
Corolla is a special beach town in the Outer Banks. Its name means the collection of petals on a flower, and its atmosphere is just as delightful. Corolla's main draw is the population of wild horses which roam the coastline here. Be sure to appreciate the beauty of the Spanish Mustangs from a safe distance as they have been living free for centuries!
Sandwiched between the ocean and the sound, you get a great mix of salty waves, or calm waters on either side. This means you really have your pick of water activities – try your hand at kayaking the sound, or grab a board and hang ten. Its diverse range of activities make it one of the best beaches in the Outer Banks.
Corolla moves at its own laid-back pace, so expect to slow down and really soak up each moment here. There is an overflow of seafront community charm with plenty of little stores and cafes to puruse and enjoy. The Whalehead Club is a historic attraction in the area, frequented for its architecture and antique furnishings. Currituck Lighthouse boasts sweeping panoramas and interesting educational exhibits to learn more about the surrounding sea.
Currituck National Wildlife Refuge shelters many species of local wildlife and stunning scenery. Be sure to visit the Center for Wildlife Education to learn more about the lovely flora and fauna. The Grass Course is miniature golf on an all-natural grass course – it's guaranteed great beach time fun for everyone!
---
Ocracoke
Located on the Cape Hatteras National Seashore at the far southern end of the banks, Ocracoke is accessible only by boat. This adds to the mystique and seclusion of the space. It's a quaint and historic town with calm and quiet beaches. Hop aboard a ferry and make your way to this magical haven. Keep your eyes out for plenty of native wildlife here such as bears, birds, and ponies. This island is known as one of the best shelling spots on the Outer Banks, so be ready to do some sandy searching.
The atmosphere is both casual and carefree – ideal for an out of the way getaway. Everything is accessible once there, and every business is locally owned. There is a plethora of eclectic shops and cute restaurants to choose from. Ocracoke Island Lighthouse is the second oldest in the nation, a beacon of the historical significance of the area. Ask the locals about the legend of Blackbeard, the man who gave the island its unique name. Ocracoke definitely stands out in the banks, and that's why we love it. 
---
Hatteras Island
If you're hoping to fish on your Outer Banks excursion, then you'll be hooked on Hatteras Island. It's home to several small villages and long stretches of shoreline. It's an often uncrowded and charming beach break to take. Over the centuries it has been the site of over 600 shipwrecks as the sandbars here can shift due to rough waves and currents. As such, it's often referred to as the graveyard of the Atlantic. It also happens to be one of the best birding spots on the East Coast, so be sure to bring your binoculars.
With much of its land protected, its untamed nature and historical charm can often feel like not only an escape from the everyday, but an escape from the modern day as well. The villages are Rodanthe, Waves, Salvo, Avon, Buxton, Frisco, and Hatteras are each with their own draws and delights to discover. Explore the lush landscape full of pristine woodlands, dunes, and marshes. An oasis for travelers looking to step back in time and enjoy the basics, you won't find the kitschy frills that often come with other beach towns. Hatteras is one of the longest islands in the country. Surfing and kiteboarding have also become popular pastimes here.
---
Roanoke Island
Roanoke Island is shrouded in history and mystery as it was the site of the first English colony in the New World. It's also the site where the 120 settlers of this colony simply vanished. There are many theories of the Lost Colony, as it's now known, but to this day it remains a legend of intrigue and uncertainty. It's also famously the birthplace of Virginia Dare, the first English person born in America. There are many sites dedicated to learning about this phenomenon on the island. The North Carolina Aquarium is also located here, a favorite visit of many who head to Roanoke.
Roanoke has the largest concentration of attractions in the Outer Banks, so if you're looking for a busy and active trip, this is the place for you. Buffered from the Atlantic Ocean, this island lies between the mainland and the chain of barrier islands that make up the rest of the banks. Instead, the waters which surround it are the Roanoke Sound and the Croatian Sound. Its landscape is wooded with ancient pines and hidden marshland. Its distinctive island geography really sets it apart from the pack. Wanchese and Manteo are the two towns on the island – one a sleepy fishing village and the other packed with plenty to see and do.