A chain of barrier islands off the coast of North Carolina, the Outer Banks boasts many cute and charming towns to visit. Often ensconced in natural scenery and shrouded in maritime history, these tiny towns are treasure troves of alluring and adorable attractions. 
Each of these cute Outer Banks towns offers unique delights ready for you to discover—climb spiral staircases of iconic OBX lighthouses for sweeping seaside scenery; browse locally owned beach boutiques and wander quaint wooden boardwalks; sort through soft sands for seashells on a sunny shore. 
Get lost in the expansive marshes and maritime forests to find native wildlife; learn the legends of ancient shipwrecks and scallywags; indulge in fresh seafood and comfort cooking of the Carolinas; scope out the surf and sail the seas; traverse sand dunes, and search out softly colored cottages. 
Does all this sound good to you? Visiting the OBX is one of the best things to do in North Carolina and the cute coastal charm of these Outer Banks towns has something for everyone.  
---
Cute Outer Banks Towns to Visit
---
Duck
The tiny town of Duck is easy and enjoyable to explore. It offers a casual coastal vibe that encourages a slowed down relaxation of all who step foot there. Ancient live oaks, sunny shores, and sparkling waters surround it. 
Scarborough Faire is the shopping hotspot for unique boutiques. With meandering walkways and tiny wooden bridges, the hand-painted signs direct you toward artisan craft shops, galleries, bookstores, BBQ joints, and gourmet grocers. If you prefer wheels to wanders, rent a bike from Duck Cycle and ride leisurely through the paved paths. 
Named for its abundant waterfowl, what's cuter than ducks quacking around town? The Duck Boardwalk runs along the sound for one mile, providing scenic views as far as the eye can see. You will also see plenty of people opting for some wet and wild fun in the sun, with an array of options like kayaking, canoeing, surfing, paddleboarding, sailing, and fishing. It's also a delight to just spend hours combing the coast for striking shells.
Of course, no visit is complete without a trip to Duck Donuts. Make your own tasty creation at this community staple. Paper Canoe is an enticing eatery full of the freshest seafood and locally grown ingredients, all with a waterfront view. Duck also hosts an annual jazz festival, the sweet sounds of melodious music mingle with the salty sea breeze for an enthralling summer event everyone will swoon for. 
---
Corolla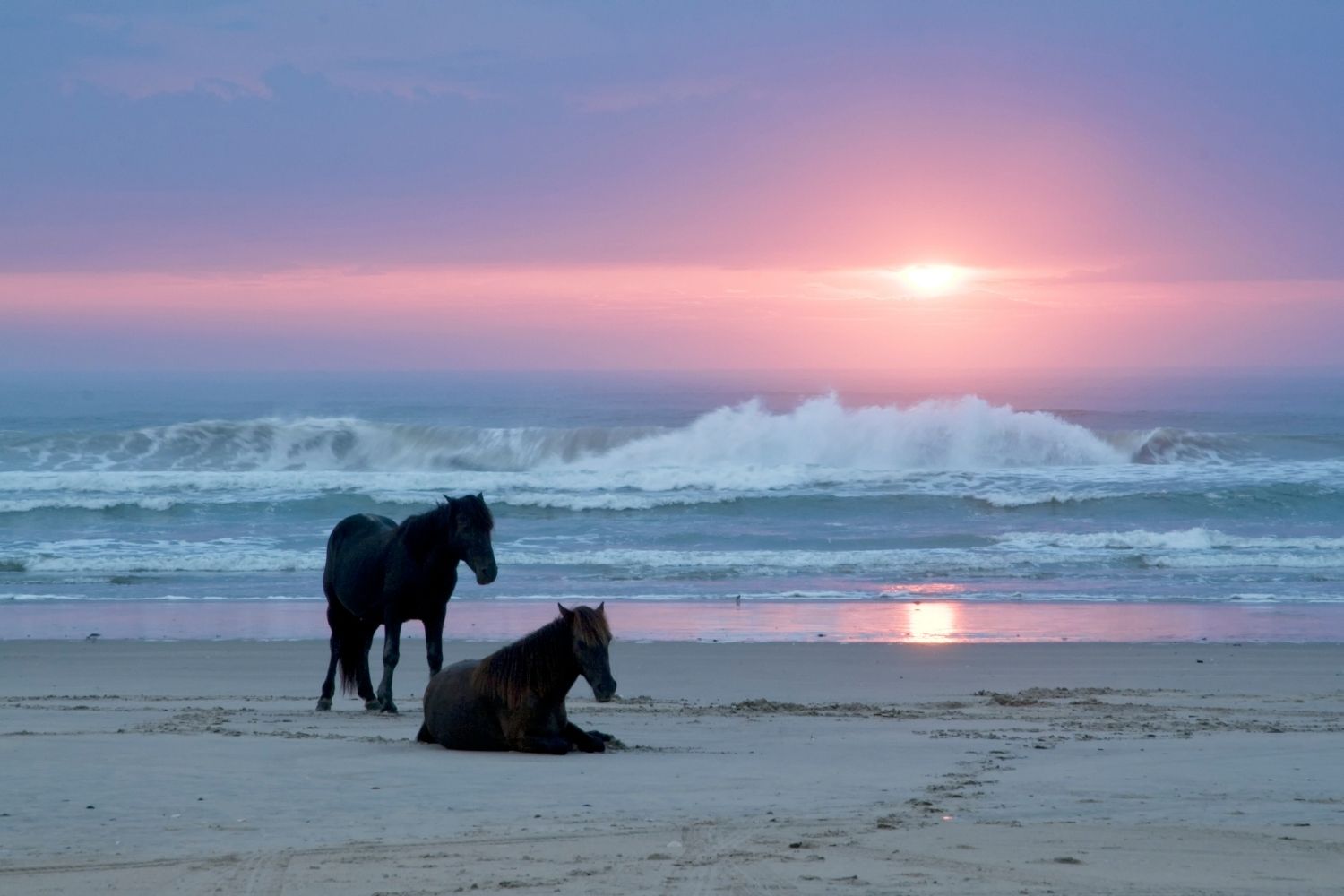 For a romantic weekend in North Carolina head to Corolla. Corolla is hands down one of the cutest Outer Banks towns. Located in the northernmost part of these barrier islands, Corolla is packed with coastal charm. It's a quaint little seaside oasis nestled between the Currituck Sound and the Atlantic Ocean.
The sandy shores here stretch on for miles, offering plenty of peace and quiet. We especially love to catch the sunrise here as we often have the whole waterfront expanse to ourselves. 
Old Corolla Village is an enchanting haven of adorable shopping and dining destinations. Idyllic for strolls past beach-chic storefronts, its sweet small town feel will have you falling for Corolla. The Shack Coffee Shop & Beer Garden is a favorite hangout for locals and visitors alike. It's a locally owned gem serving up a little bit of everything in a rustic space with a sunny green garden.
Just when you think Corolla can't get any cuter, you find out they are home to a population of wild horses that have been roaming free for centuries at the southern end of the island. These Spanish Mustangs are stunning to observe and an unforgettable sight.
The Currituck Beach Lighthouse provides a different perspective of the tiny town with sweeping views of the whole of Corolla. The red brick beacon is iconic in the banks, surrounded by a beautiful natural landscape, and shrouded in the nautical history of the area.
---
Southern Shores
I absolutely adore this OBX town. Southern Shores is known for its untouched natural beauty and having some of the best beaches in the Outer Banks. A pristine and private getaway awaits you in this adorable Outer Banks oasis. It is mainly residential, full of quaint cottages, and is only a few miles long, which only adds to its charm. The town itself is interwoven with incredible maritime forests, sand dunes, and canals.
Relax out on the oceanfront deck of Streamers, the best dining option in town andone of the best OBX restaurants. Serving up down-home North Carolina classics with a coastal twist, the calabash shrimp jambalaya is sure to delight any diner. You can even order a Steamer Pot to go and cook up your very own Outer Banks style clambake.
Coastal Provisions Oyster Bar is another seaside seafood staple in the area. A wide selection of oyster and wine pairings give us all the sweetest beachy feels, especially if you venture there for sunset on the waterfront. 
ArtSpace is a creative haven for the community featuring handmade masterpieces of every medium. Browse and explore these artistic expressions to get in touch with your own inner inspirations. Sandy Run Park is a natural wonderland featuring wooden boardwalk paths through stunning native scenery. Find the quaint gazebo for a restorative respite among the wilderness.
Connect with nature here by feeding the turtles and spotting local species of herons, frogs, butterflies, and more. If you are seeking sun, surf, and serenity this well-kept Outer Banks secret is for you.
---
Nags Head
Nags Head is a more popular Outer Banks escape. There are a plethora of local restaurants and retailers to explore. With an array of waterways around, the aquatic activities abound.
The architecture is classically coastal, and it's all-around this quintessential beach-chic town, with one of the best beaches in North Carolina. Jennette's Pier is an eco-friendly outing. Wander out on this wooden wharf to watch for the fishers' catch of the day, or the surfers' sickest wave. See if you can spot the majestic wild dolphins swimming in the Atlantic. Inside are state-of-the-art aquariums with education exhibits about the local marine life.
Nags Head Fishing Pier is one of the oldest, longest boardwalks in the banks. Captain Andy's offers the best views here to make all your tiki dreams come true. Bodie Island Lighthouse is a famous fixture of the North Carolina coastline and one of the most beautiful lighthouses in the state. Its black and white striped facade completes the charming landscape of Nags Head. It resides among the marshes in a wonderland of nature and has a beautiful observation deck, perfect for photo ops.
Jockey's Ridge State Park is one of the best state parks in NC and is where you can find the largest living sand dune system in the eastern United States. This otherworldly landscape is a thrill to discover with formations created over the course of centuries. Climb the soft hills to take in the sweeping views from the ocean to the sound, you'll feel on top of the world. You can also hike the wild nature trails or wade in calm waters of the sound-side beach. 
One of our favorite things to do here is fly. Whether you want to dreamily soar a kite high into the air or try your hand at hang gliding above the dunes, it's the cutest Outer Banks adventure spot around. 
---
Manteo
Resting on Roanoke Island, Manteo is a hidden gem in the barrier islands. As one of the oldest towns in North Carolina, it's chock full of cuteness. On the banks of Shallowbag Bay, it's a picture perfect seaside town. Andy Griffith even made his home here for many years, and it has more bed and breakfasts than any other Outer Banks town. It also boasts many quaint community traditions to celebrate their unique coastal identity.
The Lost Colony is the oldest outdoor symphonic drama in the country and is performed every summer like clockwork in Manteo. The downtown is historic, full of antique architectural surprises.
The boardwalk winds along the marina past waterfront eateries, a charming gazebo, and ending at the adorable Roanoke Marshes Lighthouse. The smallest one of all, it appears more like a coastal cottage, and is a restored representation of the nautical heritage of the area.
Elizabethan Gardens is an opulent experience of English style gardens, it feels like an ancient sanctuary of natural extravagance. We recommend packing a picnic to enjoy on the verdant grounds.
Island Farm is a beloved site of living history. This trip will take you back in time to experience life as it was on Roanoke Island over 100 years ago. Poor Richard's Sandwich Shop is a neighborhood favorite, serving up deli delicacies with a maritime theme. Outer Banks Distilling is just the swashbuckling stop for your itinerary. They craft small batch rum and offer tours and tasting.
Pioneer theater is a family-run establishment dating back to 1918. It shows one movie a night inside of a quaint vintage space, it's a cinematic treasure to be sure. Chock full of charm, Manteo tops our list for cutest Outer Banks towns. 
---
Rodanthe
Outer Banks towns have never had tons of real estate, which is partly what makes the OBX beaches so ideal. Most of these areas are one, two, or three roads wide, flanked on one side by a sound and the other by the Atlantic Ocean. Some of these blips are barely more than resort towns, but others, like Rodanthe, are full of flavor. You can camp right on the sand or right on the sea; every side is waterfront. 
There's a dramatic dining scene once you've completed your check-in in Rodanthe. Expect to find usual favorites, plenty of pizza, and fresh seafood. The small communities have teamed up with nearby Waves and Salvo to work together on development.
With Rodanthe as a convenient base camp, you can head either north or south along the Outer Banks and find a great way to spend the afternoon.
---
Hatteras
One of the best things to do in the Outer Banks is visit Hatteras. As the biggest island in the Outer Banks, you can bet there's much to see and do at Hatteras Island! Though we're not just talking about the whole island, we recommend actually visiting the small town of Hatteras!
Whether you want a laid-back escape or an adrenaline-pumping adventure, you'll find it here. Surfing, kiteboarding, windsurfing, kayaking, bodyboarding, snorkeling and sailing are just some of the exciting activities available but if you just want to lie on a remote beach free from crowds, well, there's that too!
---
Buxton
Buxton lies at the elbow of Hatteras Island, 20 minutes away from the town of Hatteras. It's an enhancing oceanfront community, and a favorite of beachcombers who delight in the treasure trove of special shells lying just beneath the soft sands.
It is also home to Cape Hatteras Lighthouse, the icon of the island and the country. It's one of the most recognizable sea structures and protects the treacherous Diamond Shoals. Climb the spiral stairs for impressive vistas of the surrounding landscape. 
Buxton Woods boasts dense protected maritime forest to explore endlessly. It's home to a diverse range of native flora and fauna. Wander through dreamy swamps and marshes, and lush forests of pines and oaks. Buxton is home to bountiful fishing as well as some super swell for surfing. Try your hand at either or simply gaze as others do so on the picturesque seas. If you visit Buxton, the Apple Uglies from Orange Blossom Bakery are a time-honored traditional treat.
Fatty's Treats N Tours Eatery is a beloved all-in-one joint of the area. Their menu is described as crazy on purpose, offering a wide range of kooky indulgent creations too delicious to imagine. They do kayak tours focusing on the rich ecology of the area, and of course have 24 flavors of ice cream on deck for a cold creamy treat to beat the heat. For extra cute points, go horseback riding along the beach at sunset.
---
Ocracoke
Ocracoke is a paradise hidden away from the hustle and bustle of everyday life. Take a step back in time, let go of all your worries, and wiggle your toes in the warm sand. It prides itself on being a bit removed from the rest of the banks, both physically and ideologically. The pace is slower and the attitude carefree. The ferry required to reach the shores provides a scenic ride. The town itself is filled with an aura of historical charm and secluded magic.
Ocracoke Village is at the south end of the island around Silver Lake. Enjoy a laid back browse of eclectic, independent storefronts offering everything from local coastal art to hand-made home goods. It's also an idyllic place to soak up the scenes of the harbor. With a focus on the simple pleasures of life, Ocracoke is perfect for a restorative retreat. The beaches are uncrowded and a tranquil way to spend the day. With over one hundred historic homes dotting its pristine landscape, it's a delight to just wander the island and take in the sights.
There are a diverse range of restaurants to try out. Back Porch Restaurant serves up local, fresh produce and seafood with an always seasonal and creative menu. You can also spot several scrumptious food trucks around town. Keep your eyes out for Eduardo's Taco Stand or Old Salt Sandwiches and Such.
Ocracoke Preservation Society is an old island home turned museum, exhibiting antique artifacts to educate about the area. Ocrafolk Opry is a treasured community pastime for sharing folk music and tall tales in a back porch setting. The National Parks Service hosts an oceanfront campground, if you prefer to commune with nature instead of getting cozy in a cottage. Ocracoke is just the place to get back to basics and one of the absolute cutest Outer Banks towns.
---
Kitty Hawk
You've likely heard of Kitty Hawk before. In the 1900s, the Wright Brothers famously carried out experiments in flight right in our very own Outer Banks. Kitty Hawk's name has spread far and wide in unison with the beginnings of aviation. The architecture of the area is centered on historic beach homes, offering a quaint, small-town charm.  
It's believed that its name comes from an indigenous phrase meaning "a place to hunt geese." While there is now much more here attracting visitors every year, the goose population is still holding strong. The Kitty Hawk Woods Coastal Reserve has many cute residents, namely otters and sea turtles.
It's a 461-acre maritime forest – perfect for enchanting walks on long meandering trails to explore these protected ecosystems. This is also the town where you will find some of the largest waves in the Northern Outer Banks. Due to this, Kitty Hawk is very popular for both surfing and skimboarding. There are also a few great restaurants and eateries right in Kitty Hawk!
---
Kill Devil Hills
Kill Devil Hills is home to all of the usual beachfront shops, selling trinkets to tourists with just the right amount of kitsch. There are many hotels, resorts, and OBX Oceanfront Vrbos in the area for a luxury stay and is where you'll find plenty of development out of most of these Outer Banks towns. There are eateries and bars galore, so take your pick for delicious oceanfront dining and drinking.
Kill Devil Hills is the most populated town in the Outer Banks, and it's also the oldest official town. With plenty to see and do, you'll never be bored in Kill Devil Hills. For this reason, it's one of the most popular Outer Banks destinations so if you are trying to escape crowds, Kill Devil Hills might not be the spot for you.
---
EXPLORE THE OUTER BANKS
We hope you get a chance to make it to all of these charming Outer Banks towns, for more travel in the area, see below:
Plan For Your Trip to the South!