The Outer Banks Lighthouses have become a significant symbol over the centuries. A symbol of hope, strength, and romance. Each one dons different colors, patterns, and lights in order to help ships sail safely. There are five historic and majestic lighthouses scattered throughout the Outer Banks that are definitely worth a visit.
A celebration of the nautical heritage of the banks, as well as grave cautions of shifting currents, a visit to any of these Outer Banks lighthouses is truly a trip through time. You will find a home here for every history herald, architecture aficionado, coastal connoisseur, and landscape lover.
Each Outer Banks beacon has its own tale to tell. Legends surround these tall towers, shrouding them in intrigue and importance. A climb to the top of these stalwart structures reveals sweeping panoramas of the surrounding coastal scenery and a new lens with which to view the shores of the infamous Outer Banks.
From steep spiral staircases, to exciting educational displays, to natural wonders of wildlife – there is something awaiting everyone at these charming coastal monuments. All are uniquely alluring, exuding charming connections to maritime mystery and memory. Here are all of our favorite lighthouses in the Outer Banks to see.
---
How Many Outer Banks Lighthouses Are There?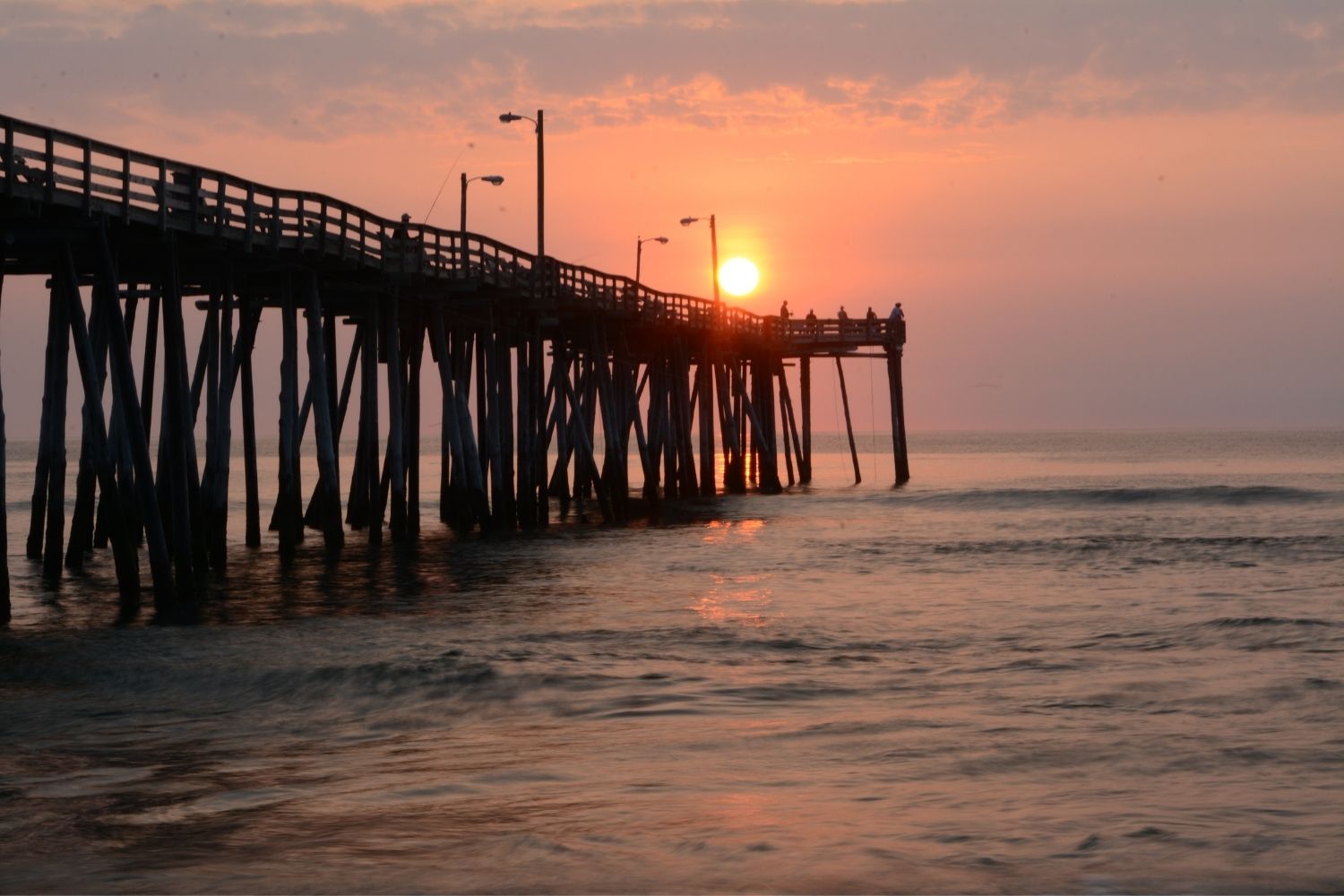 There are four technical Outer Banks lighthouses: Bodie Island, Cape Hatteras, Currituck, and Ocracoke Island Lighthouse. The Roanoke Marshes Lighthouses is often included as it is on the island of Roanoke, bordered by the Outer Banks.
There are only five Outer Banks lighthouses on this list, and that is because this is all the lighthouses there are on the Outer Banks. The most northern one is in Corolla, and the most southern lighthouse is in Ocracoke.
---
Can You Climb the OBX Lighthouses?
The Currituck Beach Lighthouse, Bodie Island Lighthouse, and the Cape Hatteras Lighthouse are all climbable to the top.
---
Outer Banks Lighthouses to Check Out
---
Currituck Beach Lighthouse
Tucked away in idyllic Corolla, this Outer Banks lighthouse stands 162 feet tall and is one of the best things to see in North Carolina. It was left unpainted intentionally for visitors to marvel at the one million bricks used to create it. This was also done in order to set it apart visually from its neighboring Outer Banks towers with its natural striking red color.
It takes 220 steps to reach the top where you will be rewarded with uninterrupted vistas of the Currituck Sound, Atlantic Ocean, and Corolla itself. It can be windy at the very top so plan accordingly for your visit. There are plenty of spots to stop off and rest as you make the steep ascent. Remember to take your time on the iconic spiral stairs.
The Currituck Beach Lighthouse was made to rectify a 40-mile blind spot as boats struggled to navigate the Carolina coast. It was built in 1875 and is still going strong today. It can be seen for 18 nautical miles and its first order Fresnel lens rotates at 20 second intervals.
There is a quaint, Victorian-style home on the grounds, originally for the lightkeeper, which has since become an information center and gift shop. At the base of the lighthouse and on the first two landings are excellent educational exhibits to learn more about this beautiful beacon. The grounds are well-kept with plenty of surrounding coastal scenery to take in.
---
Bodie Island Lighthouse
Located just south of Nags Head, the Bodie Island Lighthouse is easy to spot with classic black and white striped color scheme peaking up just above the pines on the sound. Recently renovated, the structure stands tall at 156 feet. If you want to sound like a local in the know, be sure to pronounce it correctly, exactly like "body." This area was chosen specifically for the lighthouse as it was the site of more shipwrecks than anywhere else in the Outer Banks.
However, it took two failed attempts to finally succeed in 1832 at constructing the Bodie Island fixture that we know and love today. In 1932 the light was electrified, which did away with the need for a full-time lighthouse keeper to live on-site. It takes 214 steps to reach the top. The light shines out 19 miles and turns at 27.5 seconds rotations. It's also one of the most easily accessible lighthouses in the banks.
It's surrounded by a natural wonderland of maritime forest, marshland, and saltwater ponds. As a result, many native species can be spotted visiting the lighthouse as well – wildlife worshippers unite! There is an alluring nature trail which leads through the marshes to an elevated observation deck. Here you will find ideal photo ops to flaunt to your followers.
The Bodie Island Lighthouse is impressively stunning at all times of day – sunrise, sunset, and glowing moonlight certainly won't disappoint your camera. In a darker detail, legend has it that this island got its name from its reputation as the Graveyard of the Atlantic and all the bodies lost to savage shipwrecks. With natural beauty and a harrowing history, it's one of the best Outer Banks lighthouses to see.
---
Cape Hatteras Lighthouse
Cape Hatteras is one of the most well-known and recognizable lighthouses in North Carolina and in the world, mainly for its black and white, candy cane pattern. It protects a particularly dangerous part of the coastline, and it's the tallest brick lighthouse ever at 208 feet, it's also the talles lighthouse in America. Sporting several superlatives, it is also the tallest lighthouse in North Carolina. The Cape Hatteras Lighthouse was constructed in 1870, and its life saving light reaches 20 miles out into the ocean.
Originally, the lamp of this lighthouse was powered by whale oil, before graduating briefly to kerosene, and then to the first order Fresnel lens. This used refraction and reflection to create a much stronger beam, a desperately needed feature for seafaring sailors. Fun fact – it actually needed to be moved half a mile inland due to erosion in 1999, completed through an impressive feat of engineering. It's the tallest brick structure to have been moved that far to date.
The climb of 257 steps to the top is well worth the effort and is fun to do after an afternoon at the nearby Outer Banks beaches. The vistas from here are breathtaking. It has the most visitors per year, but is still known for being an uncrowded and tranquil attraction. It's an absolute classic Outer Banks lighthouse to see. Interestingly, there is said to be an optical illusion at certain angles due to its stripes where it appears the tower is leaning, even though it is not.
It offers a self-guided tour with plenty of docents on deck happy to answer any specific speculations you may have. There is an on-site museum and gift shop full of memorabilia and souvenirs to explore and learn from. There is access to the beach nearby, as well as many delicious dining options if you worked up an appetite on the steep climb.
---
Ocracoke Island Lighthouse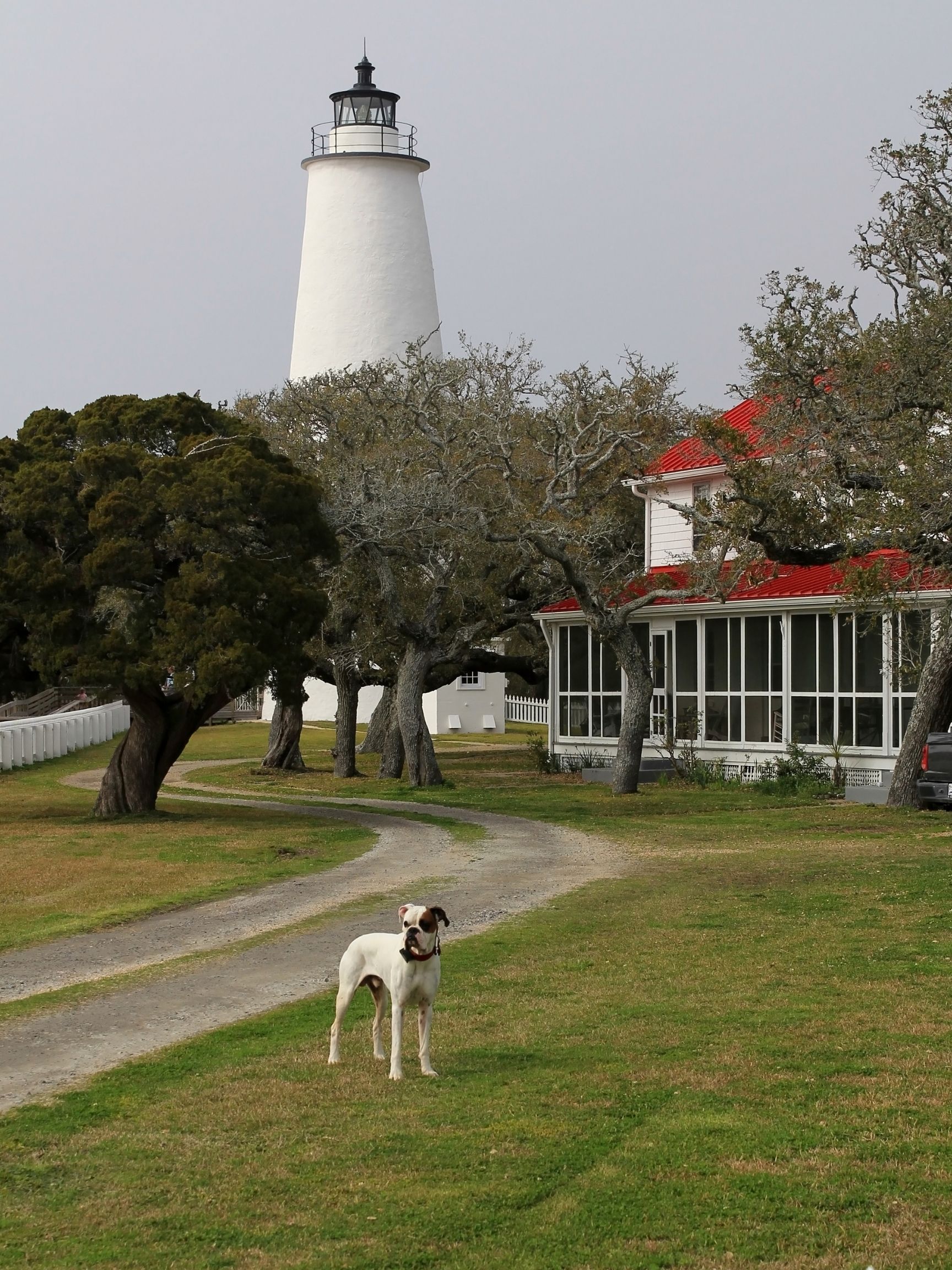 One of the most romantic things to do in North Carolina is see the state's oldest lighthouse in operation – built in 1823, it's also the second oldest in the entire country. It's by far the smallest in the banks at 65 feet tall, but is still beloved by many. Its light stretches 14 miles out when it shines bright on sparkling waters. While it's not open to climb and you won't find any exhibits or gift shops here, the grounds are a delight to explore and maintain much of the original charm from when it was constructed.
See if you can find the old lighthouse keeper's quarters tucked away in the pines. The Ocracoke village itself is a quaint and adorable destination to discover, so be sure to stop in to browse beachy boutiques or try a tasty bite.
You will need to take a ferry to arrive at the site, which is a lovely journey to make in its own right. The photo ops here are aplenty as well, so have your camera ready. It's the only white lighthouse in the area, giving it that sweet and special touch. Its bright light actually does not flash or rotate at all. This is because it's primarily used to guide boats in the Ocracoke Inlet and Pamlico Sound, so it does not need to be as tall or as powerful.
It's often said that this was Blackbeard's favorite stop to make, so there are many stories about this famous pirate's swashbuckling escapades. The stripes of a lighthouse are used as what is called a day mark, a way for passing ships to distinguish between which lighthouses they can see during the daytime hours. At night, the different flashes of light do this same job. However, in the case of the uniquely special Ocracoke, it's the absence of both.
---
Roanoke Marshes Lighthouse
The Roanoke Marshes Lighthouse is often overlooked, but it has plenty to offer any interested visitor. It sports a white surface with black shutters and a red brick top. It's tucked away on the east end of the island in the Roanoke Sound. The waterfront here is spectacular, complete with a wooden boardwalk for serene strolls around the structure. It's a classically picturesque coastal excursion, and ideal for sunset viewings.
Two other lighthouses in the 1800s carried this same name, but they were lost to dysfunction or disrepair. The original served as both a home for the keeper and a useful light tower to assist in navigation. It was a screw pile structure on the south end of the island. Some say this is why it resembles more of a coastal cottage than a traditional lighthouse. 
Fascinatingly, the third, a replica of the original lighthouse was built in 1877. In the 1950s, it was no longer needed with the advancement of other technologies, and was sold to a private owner. In a devastating attempt to move it, this owner lost it in the sound.
The current replica was completed in 2004 as a representation of the history of Manteo and its maritime significance. The interior features exhibits about the area, packed with artifacts celebrating a bygone seafaring era up to modern day education of the natural surroundings. It's certainly the newest and most distinct Outer Banks lighthouse.
Its sweet facade stands at 37 feet tall, as it was only intended originally to protect the inland river and harbors. It's used today as a navigation tool for any vessel venturing into Shallowbag Bay. A hidden gem in the banks, Roanoke Marshes Lighthouse is a sight to behold. See if you can spot Pirates Cove in the expansive views of neighboring coastlines from the boardwalk it sits on.
---
Outer Banks Lighthouses Map
---
---
How to Get to and Around the Outer Banks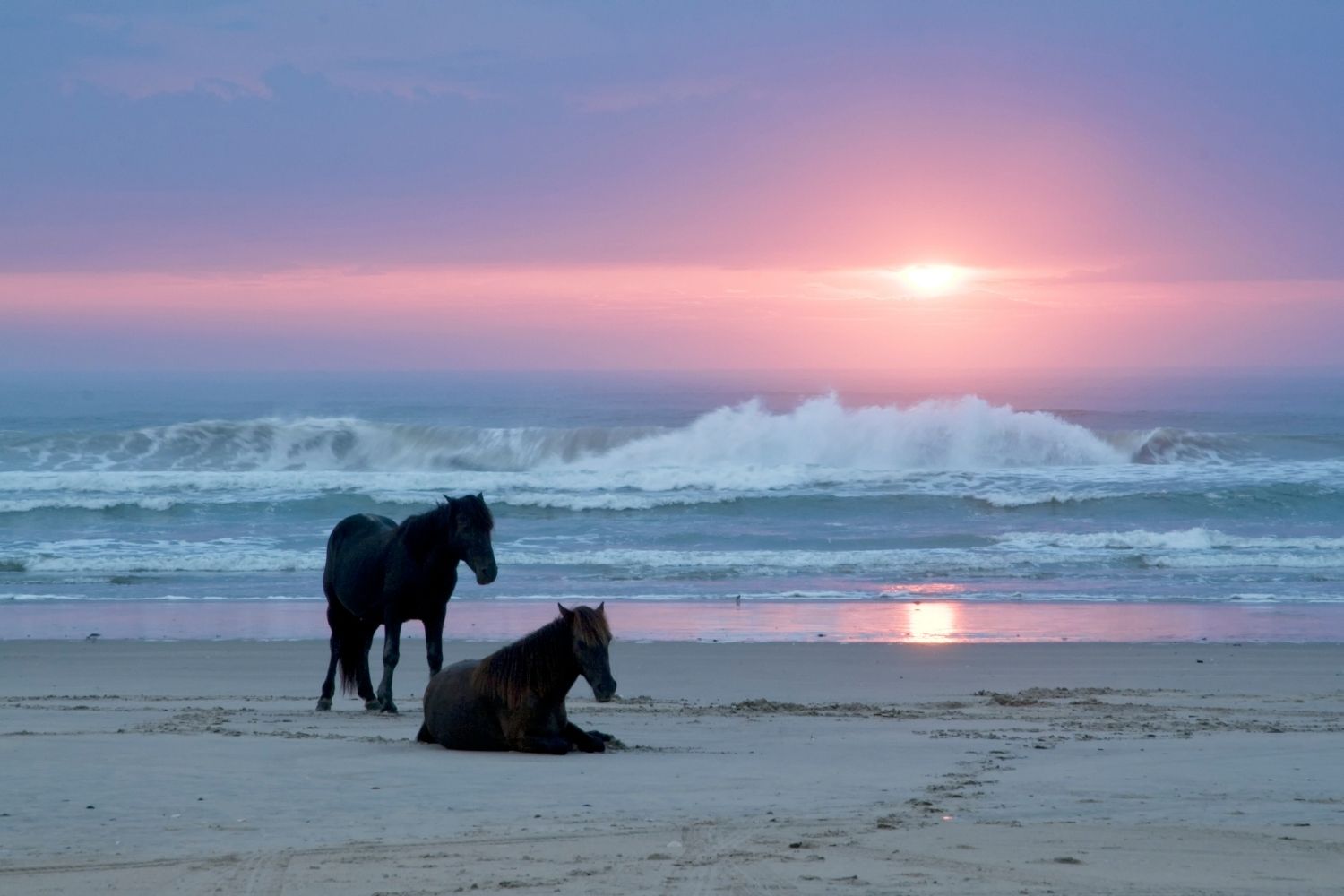 Flying In
The Outer Banks are easily accessed from several airports. Depending on where you are wishing to venture, you can fly to one of the two large international airports nearby – either Norfolk International Airport (ORF) or Raleigh International Airport (RDU). RDU is about a four-hour drive and will offer the most direct flights from other US cities. ORF is much closer at only two hours away and is the most popular choice, however it's a smaller airport so direct flights may be harder to score. Once in one of these spots it's easy to rent a car and finish the adventure on the road from either one of these airports.
If you prefer a direct drop off, there are also several smaller regional airports, which will get you closer to the islands. Try Dare County Regional Airport, Ocracoke Island Airport, Kitty Hawk Airport, or Currituck County Regional Airport, which are all open for public use.
Rental Car
Having a car is our recommended way to get to the Outer Banks and also to get around within the Outer Banks. It gives you the most freedom to choose your own adventure and make stops along the way, and it will be the easiest way to explore all the charming coastal communities and these treasured OBX lighthouses.
There are only a few roads that follow north and south along the coastline, so it's easy to navigate your desired path to the banks. The two main roads running north and south are NC 12 and US 158. Head as far east as you can get, and stop before you hit water. Many of the drives are scenic and enjoyable journeys. However, we recommend avoiding driving on a Saturday as that's often when the traffic is at its worst, especially peak summer.
By Ferry
Once you've arrived in the Outer Banks, one of the most exciting and beautiful ways to make your way around the barrier islands is by ferry. The NC DOT ferry schedule and services will provide you with all the up-to-date information you need.
There are 13 terminals around the North Carolina coast in total with seven regular routes. These are Cedar Island – Ocracoke, Swan Quarter – Ocracoke, Bayview – Aurora, Currituck – Knotts Island, South Port – Fort Fisher, Cherry Branch – Minnesott Beach, Hatteras – Ocracoke.  
Biking the OBX
Finally, if you are looking for a more active manner in which to travel around the Outer Banks once you've landed in them, it's possible to bike around the islands. You can rent one there or bring your own. There are plenty of bike rental operations on OBX. It's very flat and there are many bike paths throughout. If you're up for the challenge, this can be a very fun and freeing way to discover the natural beauty of the area.
---
More OBX Travel Guides