It's no secret that there are some stunning North Carolina beaches. Many always ask what the best North Carolina beaches are, but narrowing them down is hard. The Tar Heel State is blessed with so many beaches, well worth a visit.
Spending time at a beach is one of the best things in North Carolina. One of life's great joys is to feel the sand between your toes, smell the salty air, and hear the ocean waves. To help you do that, we've covered the best beaches in North Carolina, from southern NC to the Outer Banks, in no particular order.
---
The Best North Carolina Beaches
---
Ocracoke Island
Take the ferry to Ocracoke, North Carolina, for a beach vacation. Separated from the rest of the Outer Banks by a (free!) one-hour ferry ride, Ocracoke houses a small, resilient beach community where visitors have their run of the whole island.
There are typically more golf carts than cars on this slight stretch of land, and the outskirts of the town are entirely untouched patches of sand. The island has borne the brunt of several large hurricanes, and the fact that the city remains so strong is a testament to its value. It's little wonder it's one of our favorite small towns in North Carolina.
---
Emerald Isle
The jewel of North Carolina's mainland coast, Emerald Isle, is a popular beach with something for everyone. The scenic Bogue Inlet Fishing Pier stretches into the ocean and presents a great fishing location for visitors. At the same time, many dining options allow visitors to spend an entire week on vacation without figuring out how to turn on the oven.
There are even a few adventure parks for amusement when the beach gets tiring. Granted, I don't believe we've ever tired of beach days. Check out The Point for one of the best sunsets on the east coast, and take walks through the maritime forest that shades the island in green.
Emerald Isle's central location on the coast also makes it a remarkable home base for further exploration. I grew up with a family vacation home on the island and still fondly remember the beach.
---
Oak Island
Close to the border with South Carolina, this stretch of vacation homes has everything you need to spend a week on the island while being close enough to both states' major hubs to always be within reach.
Oak Island is a thriving area with fresh seafood restaurants, and quirky privately owned homes are abundant. Make sure to stroll through charming Southport after your visit to the beach.
The North Carolina Aquarium and easy access to Myrtle Beach and inland airports are just across the bridge. What's most charming about Oak Island is that it's small enough to bike around.
---
Bear Island
If you are looking for quiet beaches in North Carolina look no further. Bear Island is a bring-your-own hammock establishment only reachable by boats, and the four miles of pristine barrier island are scattered only with primitive campsites. Brave travelers can paddle their kayaks to the island shores, and the park's service also offers a ferry service.
Once on the island, you'll be surrounded by natural elements in the untouched maritime forest. Programs and exhibitions of the park's natural features are spread along the shores and one visitor center.
Bear Island is an excellent stop for those seeking a North Carolina beach that gets them out into nature.
---
Avon Beach
Stretches of sand mix with rolling dunes to create a stunning backdrop to this beach in the Outer Banks of North Carolina. The area was developed consciously, meaning there aren't big resort hotels or large buildings to obscure any views of the Atlantic Ocean. Each day, visitors can walk through pathways carved out in the dunes to get to the shoreline.
A nice mix of local restaurants and bars coalesce around the Avon Fishing Pier on the inland side of the dunes. Like many North Carolina beaches, the pier marks the center of town and serves as a hub for visitors.
---
Surf City
A small slice of Topsail Island, waves are constantly crashing into the piers at Surf City. The area isn't trying to be anything it's not, as it simply offers a quiet vacation space with plenty of local restaurants and shopping choices. No grandiose amusement parks or adventure lands are here, just unspoiled beaches.
Sandwiched between the Atlantic Coast and the Intracoastal Waterway, many houses in Surf City have docks that lead straight into the body of water. It allows launching boats, fishing, or going for a kayak from the comfort of the vacation home. For a great embodiment of North Carolina Beach life that doesn't try to do too much, head to Surf City for a relaxing visit.
---
Sunset Beach
Visit this stretch of sand at the right time of year, and you can start your day catching the sunrise and end it underneath a beautiful sunset. The south-facing beach is surrounded by water, leading to a unique opportunity. A lack of development aids in the double sunset views. You won't find any boardwalks or high-rises here, just unfettered marshland surrounded by sand.
Walk far enough down Sunset Beach's shores and find the Kindred Spirit Mailbox. Sunset Beach invites you to share your experiences and reflection in the notebooks enclosed. The beach encompasses so much wonder that it was featured as one of National Geographics' 21 Best Beaches In The World.
---
Rodanthe
Rodanthe has embraced the Outer Banks' laid-back charm to offer a great stop as you head down this unique section of the Atlantic Coast. Full of outdoor activities and nature preserves, Rodanthe is one of the best OBX beaches and allows you to explore everything the beach offers within walking distance of plenty of accommodation options.
Most Outer Banks visitors don't make it this far down the peninsula, giving you more freedom to roam across the unique beachfront. National Wildlife Refuge is home to over 400 bird species, inviting visitors to wander in a natural beach refuge.
With the Atlantic Ocean on one side and the Pamlico Sound on the other, a week in Rodanthe allows you to explore it all.
---
Holden Beach
Holden Beach promises to be one of the best beaches in North Carolina and one of the most family-friendly beaches in the US. A slice of the Brunswick Islands provides wide-open spaces, calm waters, and tranquil sandy shorelines.
Local building regulations have kept a small-town feel to this beach paradise. You'll find no skyscrapers here, only family homes available for rent and quirky restaurants across the water.
It's a quick trip from Wilmington, one of the largest metropolitan areas along North Carolina's coast, so a stay here will ensure you aren't too far away from the action and delicious Wilmington restaurants. Holden Beach offers plenty of enticing options for families that want a peaceful place to rest their heads but plenty of enticing options to fill their days with activities.
---
Nags Head
Just north of the Outer Banks National Seashore is Nags Head. It's the most developed town along the Outer Banks, which isn't necessarily bad as it provides many entertainment, dining, and accommodation options.
OBX is well known for being sleepy, which may not be for everyone! So the offerings around Nags Head are a welcome relief. The town does all this without sacrificing beauty, with charming beach-box homes in many colors.
Jockey's Ridge State Park is close to the town and offers some humongous dunes to explore. Visitors can spend a day wandering through the area, which feels like a desert next to the sea.
---
Cape Lookout
Finding another destination in the United States, like Cape Lookout, is tough. The beloved island is notably difficult to reach as there are no bridges to the island. The only way to access the island is by a ferry that departs from Harkers Island, near the coastal town of Beaufort.
The island presents the unique opportunity to explore a barrier island in its natural state. You won't find any hotels, restaurants, shops, or fishing piers on Cape Lookout. Instead, the barrier island is managed by the National Park Service as the Cape Lookout National Seashore.
Park rangers have erected cabins and accommodation options, and the whole area is open to primitive camping. A stay in Cape Lookout brings visitors away from any signs of their life back home. There are 56 miles of wild beach to explore, and the only marker of humanity is the Cape Lookout Lighthouse.
Feral horses roam the area, and there are more animal species than human residents on its shores. Cars can drive on the beaches here, and there are plenty of options for fishing or just relaxing on the beach. It's arguably the best beach in North Carolina to enjoy nature and unwind.
---
Corolla Beach
Corolla is one of the most charming OBX towns on the Northern Stretch of the Outer Banks. As with many barrier islands, visitors can enjoy views of the Atlantic Ocean and western views of the Currituck Sound. Corolla is a great base for exploring as it has much more to offer visitors than a beach and hot sand.
Various bars and restaurants are tucked away in the dense maritime forests along the island. The town benefits from many full-time residents, which makes the vacation destination feel more like home.
Several resorts and accommodation options exist on the beach, but visitors can still find plenty of seclusion around the area. Corolla marks North Carolina Beaches' northern end and ensures that the coastline stretch goes out with a bang, full of historical significance and natural wonders.
---
Cape Hatteras
The highlight of Cape Hatteras is a candy-striped lighthouse that marks the Eastern Most point in North Carolina. Seventy miles of untouched beaches stretch out from the lighthouse, and camping options exist on the oceanfront throughout the area.
Its eastern location makes it a frequent target for big waves and high winds, resulting in a unique geographical landscape and a resilient local population. It's one of the most notable surf breaks on the entire Eastern Seaboard.
Natural beauty coexists as vacationers spread across the beaches, always with a watchful eye for sea turtles. They've been known to nest right under the OBX lighthouse during nesting season. On full moons, the lighthouse opens, allowing visitors to enjoy the nighttime views from the top.
---
Topsail Beach
Known more for its sea turtle residents than human inhabitants, Topsail Beach is home to the Karen Beasley Sea Turtle Rescue and Rehab Center. Visitors can cheer on the rehabilitated turtles as they head back to sea. Stay at one of the locally owned Topsail Beach beach rentals that offer beachfront views.
Every fall, the beach celebrates the end of the high season with an art crawl. Local artists flock from across the state to display the best of art beach life offers. A public marina and fishing pier provide even more options for entertainment.
---
Wrightsville Beach
Wrightsville Beach is one of the most popular beaches for locals from across the state and has one of the best North Carolina beach towns. It's only two hours from Raleigh, North Carolina's capital city, making it one of the most popular day trip destinations state-wide. It's a gorgeous sandy beach, and the water can get dazzling clear when the gulf current swings toward the coastline.
Most notable is its proximity to Wilmington, one of our favorite cities in NC. Which also happens to be home to our alma matter. The city has everything to offer visitors, with plenty of dining options, accommodations, golf courses, events, bars, and an excellent brewery scene (We've got a huge list of Wilmington breweries). Aside from Asheville, you'd be hard-pressed to find more breweries per capita.
Intrepid explorers with a watercraft can cross the inlet to Masonboro Island, a wildlife reserve adjacent to Wrightsville Beach's southern shore. This island is an eight-mile stretch of untouched beachfront and one of the best Wilmington beaches. Visitors can camp on the island and enjoy a night under the stars with no one else around. If camping is not your thing, book a night at an oceanfront Wrightsville Beach rental!
---
Masonboro Island
Masonboro provides a unique experience for a beach in North Carolina. Only a few secluded stretches of sand remain so accessible and untouched. That's not to say reaching it is easy as it requires a watercraft and work. The result is often blissfully empty beaches, aside from the epic 4th of July party on its northern shores.
To access Masonboro Island, you'll need to take a boat. You could try making friends with a local boater, hiring the Masonboro Water Taxi, or paddling over in a kayak or canoe. Once you arrive, you can pitch your tent in the sand, immersing yourself in the island's unspoiled beauty and abundant wildlife.
Researchers and university students flock here to study the island's delicate ecosystem. If you're searching for a raw and unfiltered coastal getaway, Masonboro Island is not to be missed. Masonboro holds a special place in my heart, as I have fond memories of the island during my college years. Even now, my family lives across the Intracoastal waterway from the island, and we take frequent family picnics on the beach.
---
Atlantic Beach
Atlantic Beach is great for visitors who want to get close to the action. It's one of the most developed beaches in North Carolina. It features wonderful walking trails, an aquarium, restaurants, a cinema, boat rentals, and beach rental shops. There is something for everyone, making it a great beach in North Carolina for families.
It's close to all other beaches on the Crystal Coast, but with everything, there is to do in Atlantic Beach, you could spend a week here without ever leaving. If you hop in the car, you'll be close enough to Fort Macon State Park and Pine Knoll Shores to see both sights in one day and still be back in time to enjoy some local seafood for sunset.
Atlantic Beach encompasses 85 miles of shoreline in what is sometimes referred to as the Southern Outer Banks. On one side are the warm salty waters of the sea, and on the other is the calm, clear expanse of the Bogue Sound. It's a great family-friendly destination or a place to spend a romantic weekend eating at one of the best Atlantic Beach restaurants.
---
Carova Beach
If you've seen the photos of wild horses on a North Carolina Beach, it was likely taken in Carova. The beach is regarded as one of the most secluded beaches in America, and its famous horses have roamed along the shore for centuries. It's a small community with only a few vacation rentals but plenty of pristine beaches.
No roads lead to Carova Beach; instead, off-road vehicles can only access the beach. It is a great day as you can drive across the vast, sandy beach to find the perfect spot to fish, picnic, or spend the day. If you want to drive on the beach but don't have a 4×4 several businesses offer rentals to explore the open shoreline.
---
Waves
Waves is an apt name for this outdoor activities hub on the Outer Banks. The water and wind combine here to provide endless entertainment if you're ready to get wet. Flanked by a sound, first-time windsurfers can learn the sport's ins and outs in safe conditions before heading out to the Atlantic Ocean.
It's far enough from the North Carolina beaches' main tourist hubs to offer up a more local flavor, and most of the people you'll meet here live in the area year-round. Planning your vacation in Waves will help you understand life in the Outer Banks.
---
Kitty Hawk
There's only one place in the world that can lay claim to "First in Flight," and that is Kitty Hawk. The Wright Brothers choose the area due to its miles of open beaches and the gentle onshore breeze. It was the ideal location for their experiments, and since that day, the town has not forgotten its history.
A national memorial to the brothers' efforts is central to the city, with golden sand beaches and plenty of dining options surrounding it. There are plenty of public beach access points, and if you want more options on your vacation, Kitty Hawk also offers extensive dune areas ripe for exploration.
Its central location in the Outer Banks allows you to explore many nearby beaches and enjoy fantastic OBX restaurants while returning from sunset.
---
Duck Beach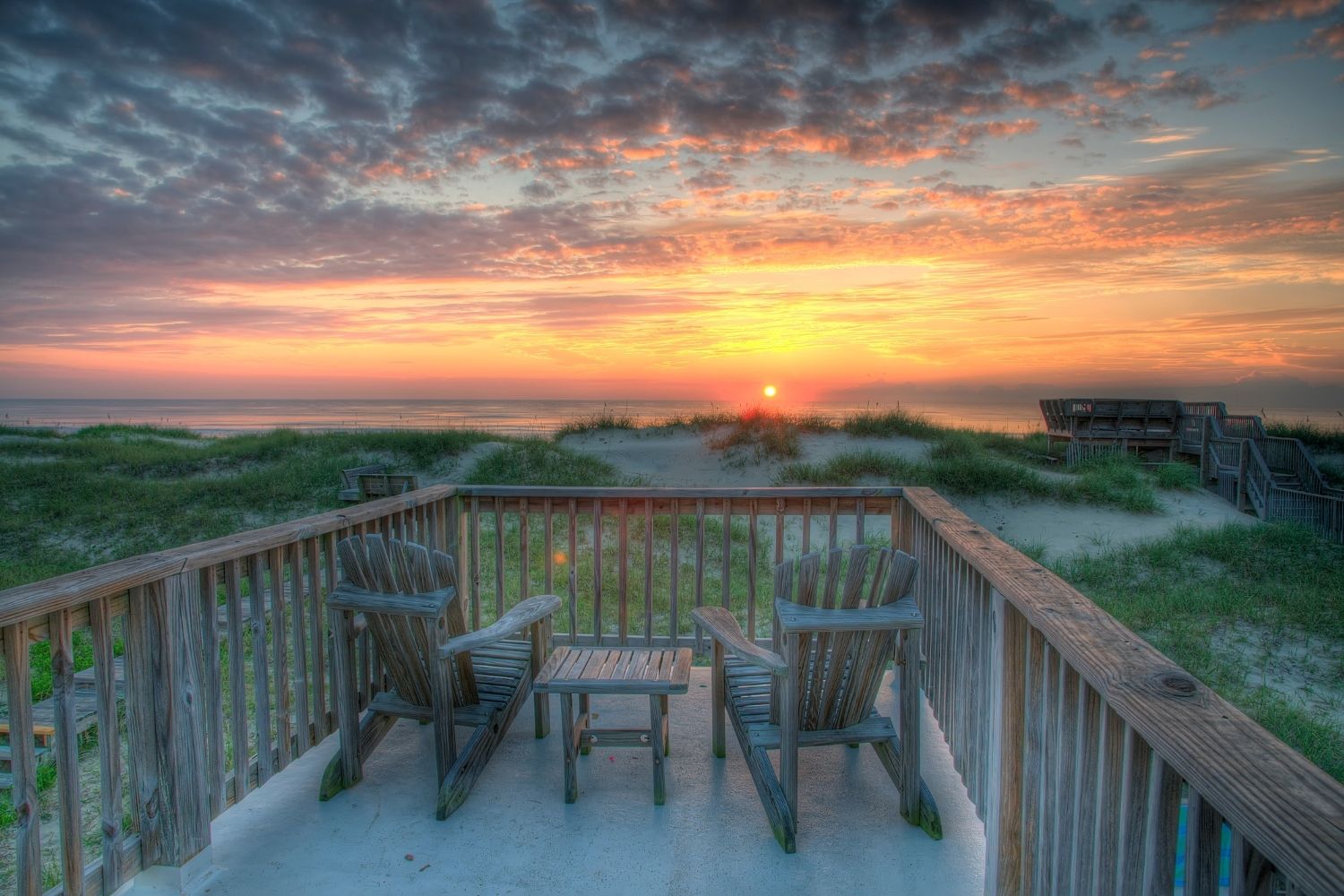 If you're traveling with a furry companion, Duck Beach is one of the best beaches to visit in the Outer Banks, as dogs are allowed on Duck's beach year-round. The beach itself is idealistic, but it's the cute town of Duck that also makes it a great vacation destination.
There's a charming boardwalk and an amazing community vibe in Duck. Duck is also famous for being the birthplace of Duck Donuts, one of the most iconic breakfast spots in the OBX.
If donuts and dogs aren't already calling you, then maybe the people will. The locals are friendly and welcoming, so don't hesitate to ask for their recommendations on the best pizza or seafood spots in town.
---
Bald Head Island
What makes Bald Head Island genuinely unique is the fact that no cars are allowed on its shores. Once you take the ferry to the island, the only traffic you'll run into is golf carts, typically hopping from the beach to the golf courses to one of the fantastic dining options on the island.
There are 12,000 acres on this island, and developers have committed to leaving a large majority untouched, giving any trip here access to pristine natural settings. fIf you don't want to spend your vacation in traffic, leave the keys on the mainland and enjoy a different vacation experience.
---
Shackleford Banks
Shackleford Banks act as an eight-mile barrier between Beaufort and the Atlantic Ocean. The banks protect Beaufort from the Atlantic Ocean's full brunt and protect various plant and animal species, some of whom wound up on its shores in shipwrecks.
The island is open for anyone to roam but is only accessible by boat. If you journey, you will find pristine beaches and the widest variety of seashell activities in North Carolina.
---
Carolina Beach
Outside of Wrightsville Beach, the next most conveniently located beach to Wilmington is Carolina Beach. Carolina Beach is connected to the rest of Wilmington via Snow's Cut Bridge. Carolina Beach is on Pleasure Island between the Cape Fear River on the west and the Atlantic Ocean on the east.
While many consider nearby Wrightsville Beach an affluent beach, Carolina Beach has a much more laid-back and relaxed vibe. Here you'll see brightly colored pink and yellow buildings, tiki bars, and more golf carts on the roads than convertibles.
If you want to feel like you are in an All-American beach town, consider booking a Carolina Beach vacation rental and staying here for the week. Get ready to walk during your trip and make it a requirement to stroll the boardwalk. The boardwalk is where you'll find plenty of Carolina Beach restaurants, bars, and even an amusement park in the summer.
---
Kure Beach
A 10-minute drive past Carolina Beach is the much quieter Kure Beach, one of my favorite Wilmington beaches. So if you arrive in Wilmington and check out Wrightsville Beach and Carolina Beach and decide the crowds are too much, continue driving down Fort Fisher Blvd to Kure Beach.
Here you can enjoy all the beautiful sand, water, fishing, and boardwalk at other beaches without the amusement park rides and busy tiki bars. Kure Beach has a much more laid-back attitude and brings you back to what North Carolina beaches are all about. Walk the Kure Beach Pier and watch the fisherman wrangle one in. The 711-foot-long pier is one of the oldest on the Atlantic Coast.
If you want to fish yourself, you can easily rent a rod and get some bait and tackle from the shop at the pier – with a small fishing admission fee, your fishing license on the pier is included in the rate. Don't miss getting a reservation at Freddie's; it's one of the best restaurants at Kure Beach!
---
Ocean Isle Beach
Less than an hour from Wilmington is Ocean Isle Beach, just south of Holden Beach but north of Myrtle Beach and the South Carolina border.
Ocean Isle Beach sees a fraction of the visitors of other nearby North Carolina. This small seaside beach is family-friendly and great for those who want relaxation and things to do for the kiddies. Go zip lining at The Swamp Park, or enjoy a kayak in the marsh!
There are plenty of beach restaurants and even a brewery! Makai Brewing Company has all the best tropically flavored IPAs!
---
Best Beaches in North Carolina Map
---
Best Beaches in North Carolina Quick Questions
What is the prettiest beach in North Carolina? We get asked this question often, and while everyone's opinion differs, our favorite beaches are along the 85 Miles of Coastline that make up the Crystal Coast. Most notably, Emerald Isle Beach is a quiet beach with lower tourism numbers than other beaches in North Carolina.
What is the clearest beach in North Carolina? While you won't find clear beaches like in the Mediterranean, some areas of North Carolina are exceptionally clear. Most notably, the Shackleford Banks in the Cape Lookout National Seashore! It's here you can find the clearest water in North Carolina. This area is also home to over 100 wild horses!
What is the least crowded beach in North Carolina? One of the most overlooked beaches in North Carolina is Holden Beach on the southern coast of North Carolina. It's a true escape from the rest of the world with very few commercial properties and businesses. If you want to get away from the business of the Wilmington area, head here!
Are there white-sand North Carolina beaches? If you come to North Carolina looking for sand that you get in the Maldives you'll be disappointed. Nevertheless, Carova is where you will find the whitest sand in North Carolina.
Can you swim on these North Carolina beaches? You can swim in any of the waters around the NC coast. The best months for swimming are July, August, and September, when the air is warm and dipping in the ocean is refreshing. If you are not a strong swimmer best to stay close to shore as rip currents are the leading surf hazard for all beachgoers. According to The U.S. Lifesaving Association, most surf rescues are related to rip currents.
---
More Coastal Carolina Travel Guides
We hope you enjoyed this article on the best North Carolina beaches. Read on for more Carolina travel information.