Myrtle Beach is often referred to as the Grand Strand – sandy playground full of fun in the sun for everyone, and there are plenty of things to do in Myrtle Beach for everyone. It's a popular vacation destination with no shortage of entertainment and activities – an Atlantic coast gem ripe with possibilities. Heading here is one of the best things to do in South Carolina!
See a show, relax on the sand, go for a sail, shop until you drop, stroll down the bustling boardwalks, score a hole in one, and take in the scenery. There are eclectic excursions to explore galore!
---
Things to do in Myrtle Beach!
---
Brookgreen Gardens
In a seamless blend of art and nature, the Brookgreen Gardens sculpture garden is over 9,000 acres of flora filled wonderland. It's the oldest and largest of its kind in the country. There are miles of paths to meander through ornate botanical displays and intricate sculptures. It's also a historical preservation site with Oaks Plantation on site.
Take a large pontoon boat to visit this haven of heritage, and discover the old rice mill, Civil War fort, family cemetery, and the plantation house itself. A wildlife sanctuary as well, the grounds are home to a swamp, an aviary, and a butterfly house. This is the perfect tranquil oasis to wander away a day in.
---
SkyWheel
This observation wheel stands tall at 187 feet up into the sky. Located at Pavilion Park, it's the sixth tallest in the whole country. The panoramas are unparalleled – enjoy the sweeping sights of the sparking seas and shores.
A slow ascent is serene, offering plenty of opportunity to relax and appreciate the scenery, as well as simple and stunning photo ops. Each gondola can hold up to six people and will complete three rotations in total. You will fall in love with the landscape as seen from the SkyWheel.
---
Relax on the Beach
One of the best things to do in Myrtle Beach is to obviously relax on the beach! This beach is the most popular in South Carolina and one of the most famous beaches in the United States. It can get very crowded, especially in the summer, but there is always somewhere to place your towel! If you would like some beach and quiet, try heading to Pawley's Island or Murrels Inlet.
---
WonderWorks
WonderWorks is a novel adventure park of interactive exhibits all organized by topic. They cover themes such as space exploration, extreme weather, and light and sound without resembling the traditional science museum setting.
Each exhibit is hands-on, innovative, and educational. The space is engaging for all ages – we promise no one is too old to enjoy the giant Lite-Brite or big bubbles. Try your hand at the 360 Extreme bike experience or the glow in the dark ropes course.
---
Broadway at the Beach
Broadway at the Beach is a popular hotspot, home to a whole host of activities. The outdoor complex boasts shopping, dining, and plenty of entertainment. Take Old Thyme Portraits, a tour of the wax museum, or a helicopter ride up in the sky.
There are extensive eateries around, whether you're craving fresh seafood or a juicy burger. The paddle boats are a picturesque way to see the sights of Broadway. You can also wander among the bridges that stretch over the Intracoastal Waterway.
---
Warbird Park
Warbird Park is set in a former Myrtle Beach Air Force Base, and it has since become an educational space for historical aircrafts. History buffs and aviation aficionados are in for a treat. Each plane on display was once a part of active operations and details their specific significance.
The wall of service is an on-site memorial to all who served at the base. Some of the more impressive occupants include a F-100 jet fighter and a A-10 Warthog Thunderbolt.
---
Mini Golf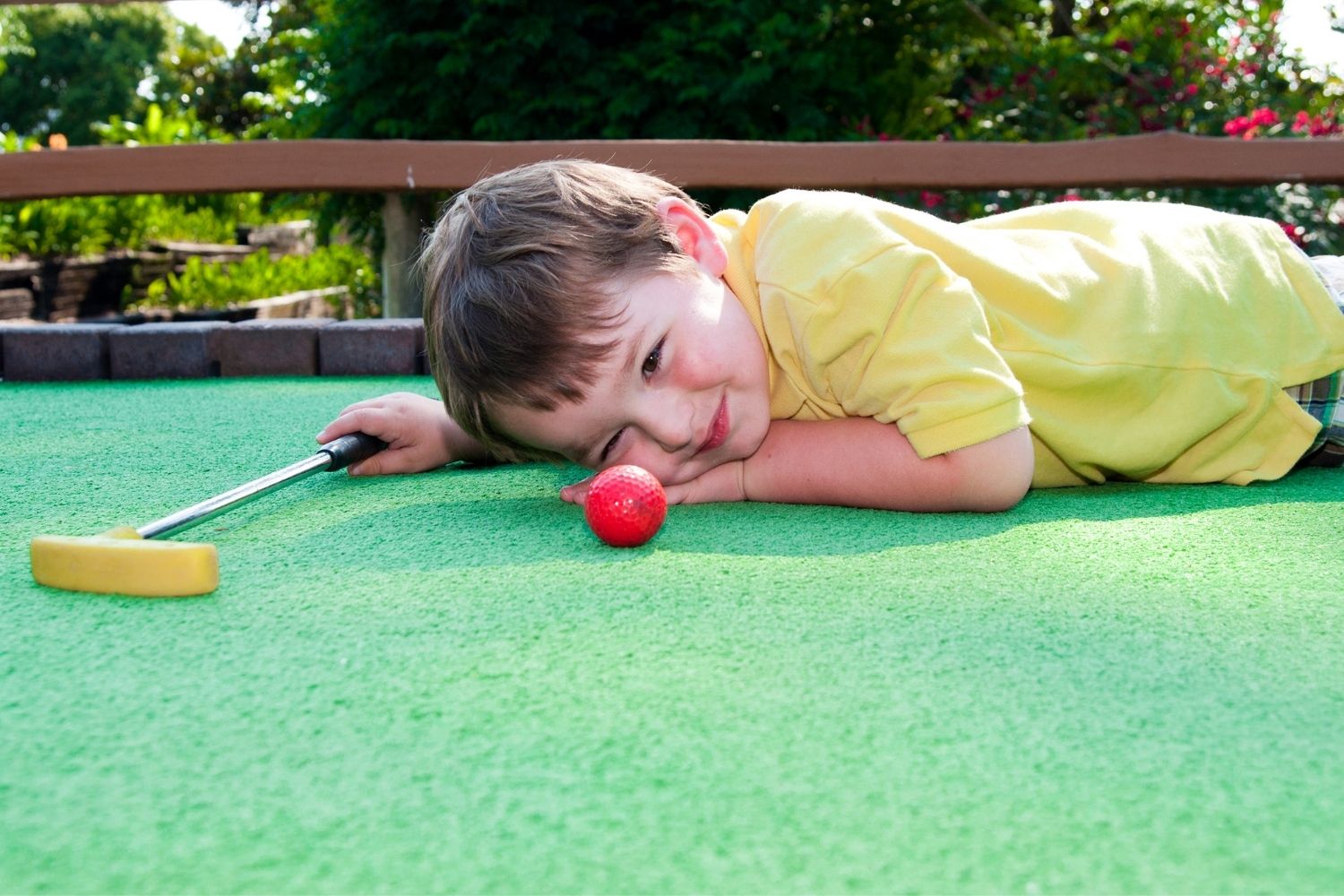 Myrtle Beach is a haven for the pastime of putt putt, each course is complete with beachy charm and whimsical features. Mt. Atlanticus Miniature Golf is a particularly popular choice, known for its majestic locale on the side of a mountain.
The course itself rises 75 feet in the air, each hole is tiki-themed and increases with difficulty as you ascend. Check out Captain Hook's Adventure Golf for a treasure trove of swashbuckling surprises or Jurassic Mini Golf for a roaring round.
---
The Carolina Opry
Home to the biggest shows in the Grand Strand, this is one of the best things to do in Myrtle Beach. Every production put on features talented singers, dancers, and musicians, all with exciting displays accompanying them.
There is a show for every genre, from gospel to country to rock n' roll. Check the schedule as the shows are constantly changing and evolving. If you're looking for live music in the area, Carolina Opry is the quintessential venue.
---
Myrtle Beach State Park
An idyllic maritime forest lies just south of the bustling Myrtle Beach shores. With trails weaving their way through the preserved scenery, it's a stunning setting to experience the ecosystems and landscapes of the area. You can even rent a campsite overnight to really commune with nature.
Discover the sandy beach here which is normally much less crowded than in the heart of the city. Learn about the local wildlife at the nature center on-site.
---
Myrtle Beach Golf
If you're looking to ditch the kitsch for the real deal, look no further. Myrtle Beach is somewhat of a golf capital within the country, as it's home to over one hundred greens.
The relaxed landscape allows for beautifully manicured courses with options for every skill level. The Dunes Golf & Beach Club is a popular pick among the pros. Hit the links and enjoy the surrounding scenery which has attracted golfers from around the globe.
---
Huntington Beach State Park
A peaceful respite from the clamoring crowds of vacationers, Huntington Beach State Park provides a private three mile stretch of sandy shore, ideal for relaxing. There are trails to traverse for biking and hiking, picnic grounds, campsites, and a nature center.
The jetty is ideal for fishing and birdwatching, so be sure to bring your gear. Keep your eyes out for endangered flora and fauna. There is also the Moorish-style Atalaya Castle here. Take an historical peek into the lavish lives of the 20th century railroad tycoon family who once occupied it.
---
Family Kingdom Amusement Park
The Animal Kingdom Amusement Park is a 13-acre park boasts 38 rides and the perfect oceanfront location. Take in the views from the ferris wheel, a nostalgic icon of Myrtle Beach. There are roller coasters, go-karts, carousels, and water slides. It's great for the thrill seekers or the calmer crowd.
There is a plethora of carnival games to try out adding to the kitschy charm of the place. Wandering the seaside grounds are magicians, clowns, balloon sculptors, face painters, and tilt walkers. It's sure to both amuse and delight.
---
Ripley's
A classic cultural staple of Myrtle Beach is Ripley's. Ripley's Believe it or Not is an Odditorium full of all that is weird and wonderful. Check out the displays that are chock full of quirk, such as shrunken heads, surprising sculptures, exotic animal skeletons, and a mirror maze.
You will also find Ripley's 5D Moving Theater, a fun twist on the typical cinematic experience. Ripley's Aquarium is just as beautiful as it is educational. Get a unique peak at exotic aquatic environments from the inside. Thousands of marine species swim through the expansive environments, ranging from sting rays to sharks to sea turtles.
---
Myrtle Waves Water Park
This is South Carolina's largest water park. It's 20 acres of slides, rides, chutes, and rafts for some wet and wild fun in the sun. If you're feeling adventurous, try the Turbo Twisters, Night Flight, or Super Chute.
Ditch the sticky sand and cool off while having a blast. There's a lazy river and the Racin River, for those who have a need for speed. Catch some surf in the wave pool or take a turn at tubing.
---
Myrtle Beach Pinball Museum
Considered a fan favorite of the things to do in Myrtle Beach, the Pinball Museum is a vintage wonderland is also a top-notch arcade. There are two dozen games inside, ranging from the 1970's classics born of the arcade heyday, to more modern machines that are newer on the scene.
Each machine sports a retro theme, so pick your preference and play to your heart's content. It's set in a prime spot for other tempting attractions making it a perfect pitstop for a quick trip back in time.
---
Myrtle Beach Piers
Who would have thought this South Carolina city has one of the most amazing piers in the state. The piers of this paradise are a sight to behold. The Apache Pier is the longest wooden pier on the entire East Coast. Springmaid Beach Pier, Cherry Grove Pier, and Garden City Beach PIer are some other well-loved wooden landmarks.
Enjoy several casual dining destinations here. Savor a cold beer or fresh dish served up with a side of sea breeze. Try fishing off the pier or simply observe as others make the catch of the day. Play in the sand, relax in the sun, or cool off with a refreshing dip. You can even rent a board to try out the swell firsthand. At night, there's often live entertainment to enjoy – Apache even boasts a covered bandshell half way down.
---
Watersports
There is a variety of ways to explore and enjoy the vast sparkling sea of Myrtle Beach. Many companies dot the shores to provide you with everything you need to partake in your favorite water-based pastime, such as Express Watersports. Fly high above the oceanfront by parasailing away for jaw-dropping views.
Jet Skiing is a hands-on way to move through the sea with the greatest of ease. Kayaking in the Atlantic Ocean or the inland waterways of lowcountry is an enjoyable way to get up close with the wild scenery.
---
Myrtle Beach Promenade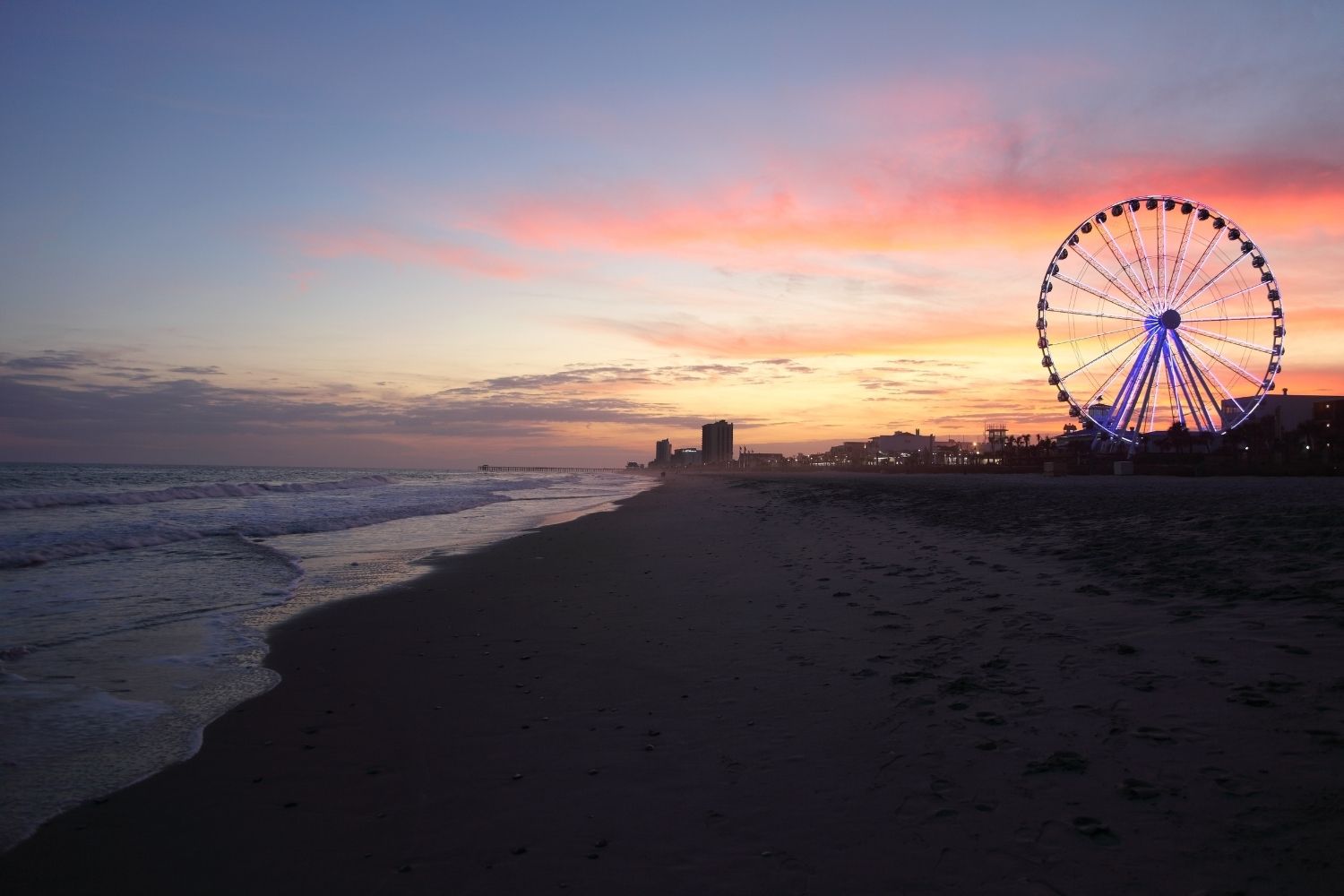 One of the most iconic things to do in Myrtle Beach is peruse the promenade. It's often referenced as one of the best boardwalks in America. Over a mile long, it stretches across the coastline providing a plethora of beachy treats to try. With gift shops galore and many delicious spots to dine, it's a hub of action for the area.
There are festivals seasonally, such as Sun Festival or Boardwalk Fright Nights. The north section is a rustic ramp raised over lush vegetation, the middle is busy with beachfront bustle, and the south side is home to a scenic seaside park.
---
Myrtle Beach Art Museum
Technically called the Franklin G. Burroughs – Simeon B. Chapin Art Museum, the Myrtle Beach Art Museum is home to ten galleries, an art studio, and a resource library. Focused on Fine Art, it's housed in a 1920s style villa with an ocean view. The exhibits feature work from the likes of Ansel Adams and Norman Rockwell, along with many other rotating selections of masterpieces in almost every medium, from traditional Southern styles to contemporary Arts and Crafts.
---
Breweries
New South Brewing has been a beloved local fixture for decades. The Dirty Myrtle IPA has become a coveted craft beverage in the area. There is something for every pallet here, from a nut coffee brown ale to a blood orange session ale.
You can tour the facilities to learn more about their process for making these legendary libations. Independent Republic Brewing Company boasts a beautiful beer garden to enjoy a pint along the Intracoastal Waterway. The Water Malone American Wheat Ale is as flavorful as it is refreshing.
---
Wheels of Yesteryear
A museum for classic cars, there are hundreds of vintage automobiles to check out here. An oasis for car connoisseurs, the inventory is changing every year to showcase new and exciting retro mobiles.
With a focus on American made craftsmanship, you will get to inspect such models as the 1963 Corvette Split Window Stingray Coupe. It's one of the biggest collections of the Southeast, and it's definitely worth a sweet nostalgic visit.
---
Broadway Grand Prix
If you have a need for speed, the Broadway Grand Prix is a network of go-kart tracks will fulfill all your driving dreams. There are seven different raceways, some with speed limits of up to 20 mph. It was formerly known as the Nascar Speedpark, and now features other entertainment such as a rock-climbing wall, race themed mini golf, sky coaster, and a snack bar. A refreshing break from the heat of sunny beach days, cool off with the wind in your hair as you race your worries away.
---
Fishing Charter
Whether you're an experienced angler or just looking to try your luck, there is plenty of top-notch fishing to be done on the shores of Myrtle Beach. There are dozens of species of game fish and even more ways to charter a vessel to catch them.
Go offshore for Tuna or inshore for Flounder. Try out Voyager Deep Sea Fishing, Myrtle Beach Sport Fishing, Little River Fishing Fleet, or any friendly faces around the marina.
---
The Market Common
This lifestyle center provides everything you may need for a day out around town. It's a bustling space of over one hundred acres complete with eateries, shopping, and entertainment. See a movie, shoot a game of pool, go for some bowling, cure any craving, or bike around the commons to explore. There are many fashion retailers and Myrtle Beach restaurants, all with the big names you know and love. Get a taste of local life by exploring this scene.
---
Flea Markets
There are plenty of treasures to be discovered within the Grand Strand. The Hudson Surfside Flea Market is a staple of collectors, thrifters, and bargain hunters from all over. The market is open-air and houses over 400 vendors selling goodies of all varieties.
Antiques, clothes, and crafts abound to browse endlessly. Everything Under the Sun Flea Market is aptly named. It's an indoor space accumulating jewelry, toys, and anything you could imagine collecting all under one roof.
---
Soar + Explore
Soar + Explore offers the opportunity to do just that. A network of zip lines and rope courses, this adventure amusement mecca is sure to thrill and excite. The perfect outdoor active excursion, these towering obstacles are a playground for the unafraid. You can glide for 1,000 feet while 50 feet in the air, you will feel like you're flying. The higher you climb on the rope courses, the harder they get, a challenge ripe for triumph.
---
Pirate's Voyage
A one-of-a-kind experience, Pirate's Voyage is a barrel of laughs. The epitome of dinner and a show, it includes many different live performances and a four-course meal you won't find anywhere else. Each show changes depending on the season for a truly festive feel. They include plays, acrobatics, and reenactments. The food is phenomenal – it's sure to have you hooked after the first dish.
---
Best Things to Do in Myrtle Beach Map