Holden Beach is a charming seaside town located in Brunswick County and a popular destination for those after a peaceful and relaxing beach vacation. This pristine NC beach stretches for 8 miles along the Atlantic Ocean, meaning there are plenty of things to do in Holden Beach for swim, surf, and fishing lovers.
If you prefer to sunbathe, read a book, and watch the sunset Holden Beach is also a fantastic place for that as well.
In addition to the beach, visitors can explore the town's natural beauty by visiting the Holden Beach Marsh Walk, a wooden walkway that meanders through the marshes and provides a great opportunity to observe wildlife.
Whether on a day trip, or visiting for a week, here are the best things to do in Holden Beach!
---
Where is Holden Beach?
Holden Beach is a small coastal town in Brunswick County, North Carolina. Located on the barrier island of Holden Beach, this is a popular vacation destination known for its beautiful beaches, clear waters, and family-friendly atmosphere.
While the town has a small commercial district with a few restaurants, shops, and grocery stores, it is primarily a residential area and vacationers venture there to experience a quiet, laid-back community with a relaxed atmosphere away from the partiers at Carolina Beach.
Holden Beach is approximately halfway between Wilmington, NC, and Myrtle Beach, SC. Even though it is in North Carolina it is considered part of the Myrtle Beach Metropolitan Area.
---
Best Things to Do in Holden Beach
---
1. Enjoy Sun & Sand at Holden Beach
The seaside town of Holden Beach, located in Brunswick County, is named after its most popular attraction, which shares the same name. At Holden Beach, visitors can enjoy a variety of beach-related activities, including swimming, sunbathing, boating, and water sports.
The sandy beach is clean, quiet, and for most of the year, relatively uncrowded. If you're in Holden Beach, chances are you are going to find yourself here many times over.
Seafood is also very popular at Holden Beach, and many restaurants serve delectable seafood cuisines and a range of tasty thirst-quenching beverages.
---
2. Catch Waves at the Carolina School of Surf
One of the best things to do in Holden Beach is try out surfing. Those who want to learn how to surf like the pros should pay a visit to the Carolina School of Surf, located on Ocean Boulevard, which offers a four-day surf camp that covers all the basics of surfing. The camp costs $275 (which includes equipment rental) and runs from Monday to Thursday, from 9 AM till 11 AM.
If you're looking for private lessons, you'll need to make a 20-minute drive to Ocean Isle Beach, the school's second location. The Ocean Isle Beach branch also offers standup paddleboarding classes for ages 13 and up.
Classes cost $45 an hour and equipment rental is included in the price.
---
3. Charter a Boat and Go Fishing
Deep sea fishing is a popular activity in Holden Beach and visitors can find plenty of options for boat charters that will take them out to the best fishing spots. This is the best way to enjoy the waters surrounding Holden Beach, as the views of the island and its beaches when out at sea are simply stunning, especially during sunrise and sunset.
One of the more popular charter companies is Oak Island Charters. They offer charters to the various other islands of the region as well as a delicious onboard seafood BBQ experience.
With nearshore, offshore, and backwater fishing trips, visitors also have the best chance of catching Wahoo, King Mackerel, and Red Drum amongst many other species.
---
4. Visit the Museum of Coastal Carolina
Located in Ocean Isle Beach on East Second Street, the Museum of Coastal Carolina is a natural history museum that showcases several impressive exhibits. The museum features live animal exhibits and various displays of local maritime history.
It also includes exhibits of indigenous Native American tribes and pictures and artifacts that date back to the booming shipbuilding period in the region.
One impressive diorama that stands out is an ocean reef with life-sized models of whales, sharks, sea turtles, and rays. Entry to the museum costs $10 and kids aged two and under have free entry.
---
5. Catch a Show at the Ingram Planetarium
Located just four miles away from the Museum of Coastal Carolina, on High Market Street, is a magical spectacle known as the Ingram Planetarium. With laser shows and sky theaters, both kids and adults will be caught in wonderment as they find themselves amongst the stars.
Prices for the experience are also reasonable at $10 per ticket for adults. Seniors and children pay a bit less and it's free entry for children aged two and under. You can get combo tickets for entry to both the Planetarium and the Museum of Coastal Carolina and there are even tickets available for catching both the planetarium shows on the same day.
---
6. Spend a Night at Fort Caswell
Built in 1825, Fort Caswell is 2,800 acres of pure American History and scenic beauty. Originally built to defend against naval attacks from Blackbeard and other notorious pirates of the time, the fort was further fortified during the Civil War, and World War 1 and WWII.
Today, the fort is a coastal retreat and convention center where guests can relax. Per night accommodation costs can range from $25 to $100, depending on the type of room you get and the season you plan on visiting.
---
7. Fish on Scenic Piers
Given the popularity of fishing in the area, there are a few scenic piers in the area where one can take a stroll, toss in a line, and enjoy a quick bite to eat while looking out at picturesque views of open water and far-off islands.
There's always the Holden Beach Pier, which you can't miss. Another spot that stands out is the Ocean Crest Pier, located on East Beach Drive, which is open from March through to December each year.
Visitors can purchase daily, weekly, or seasonal fishing passes and can rent any equipment they need from a variety of nearby shops. You will find everything from rod rentals to items like bait, tackle, snacks, and drinks for a relaxing and enjoyable pier fishing experience.
---
8. Blow Off Some Steam At Ocean Isle Beach Super Track & Batting Cages
The Ocean Isle Beach Super Track is a go-kart track right by the beach. The track has decent twists and turns that make for an exciting lap and they also offer double-seater karts as well for some added family fun. Go-karting tickets start at $9 and each ride lasts for about 5 minutes.
You can also buy bundles, up to 20 tickets for $150. For double-seater karts, juniors under a height of 5'6" can take a ride for $5.
The batting cages are also great fun, even if you've never given it a try before! You can take a swing at 18 pitches for $2 or 108 pitches for $11. The place is a lot of fun for both children and adults alike. If you want to blow some steam, this is the place to visit!
---
9. Hike Through the Environmental Overlook Trails
Located on Oak Island, nature lovers, and wildlife enthusiasts will love the Environment Overlook Trails. This collection of trails leads hikers through a variety of landscapes and offers a quiet and relaxing nature walk across the Davis Canal.
Birdwatchers and wildlife enthusiasts can enjoy scenic spots on the trail where they can keep an eye out for spotting wildlife such as red foxes, blue herons, fiddler crabs, and loggerhead sea turtles. The best paths are behind the Oak Island Recreation Center, but all of the routes and trails lead back to the beach.
---
10. Immerse Yourself in Art and Culture at the Sunset River Gallery
This 10,000 square feet gallery is the perfect spot to visit for art lovers. The Sunset River Gallery in Calabash showcases artwork from renowned local and regional artists, as well as, hosts regular art shows, talks, and auctions of various types of artwork. There are also art classes for those wanting to take up a new hobby to add to their skill set.
Sunset River Gallery is located on Beach Drive Southwest, Calabash, and is open from 11 AM to 5 PM, Mondays to Saturdays. The Gallery also offers custom framing services for any artwork you may want to purchase and frame to spruce up your home and office decor.
---
11. Explore Bald Head Island and Climb a Lighthouse
Bald Head Island offers 12,000 acres of pristine natural beauty and is only a two-mile journey by ferry or private boat across the Cape Fear River from the town of Southport. The island is filled with charming neighborhoods, untouched beaches, and maritime forest preserves.
It is also home to Old Baldy, North Carolina's oldest lighthouse. Tourists can climb to the top of Old Baldy, where they can capture scenic views of the entire Island and its many attractions. The island also has several restaurants, a golf course, a shopping district, a marina to dock private boats, and several historical sites to explore.
---
12. Day Trip To Ocean Isle Beach
If you're looking for more beautiful beaches nearby, look no further than Ocean Isle Beach. Here you can enjoy white sand beaches and tons of outdoor recreational activities. Along the beach are also several open-air restaurants, cafes, and arcades to keep visitors entertained.
Ocean Isle Beach also hosts several year-round events and is a family-friendly destination that has something for everyone. The town of Ocean Isle Beach (yes, Ocean Isle Beach has a town to its name as well) also offers several local attractions and even more entertainment options.
---
13. Eat At The Breakers Arcade
If you visit Ocean Isle Beach and are looking for a spot to grab some food and keep the kids occupied, then Breakers Arcade is an entertaining and economical option that will allow you to do just that!
Located on East 1st Street, this cool arcade has many classic arcade games that kids are bound to enjoy. The food here is also filling and delicious and with the kids busy you have more time to enjoy every bite.
---
14. Take A Day Trip To Southport
History buffs seeking a dose of American coastal history will find Southport to be the perfect place to get their fix. One of the oldest communities in coastal North Carolina, this small NC town has ties to almost every major event in American history.
A walk through downtown Southport is like walking back in time with plenty to see and experience. You can book walking tours that take you to all the main historical spots and enlighten you on their history and significance.
Southport also has a lot to offer in terms of entertainment, with delicious seafood restaurants, fishing, surfing, and many other outdoor activities.
21 Awesome Things to Do in Southport, NC
---
15. Get Spooked On The Ghost Walk Tour
While Southport itself offers a great deal for a day trip, try to extend your stay overnight if you can and attend the Ghost Walk Tour hosted by the Old South Tour Company.
The perfect mix of storytelling, local history, and folklore, this lantern-led tour has been a fan favorite since 2004. The tour lasts 60 minutes and only costs $10. The tour guide is very well-versed in the local history and does a terrific job of making the experience memorable and special.
---
16. Enjoy the Sunset While Kayaking and Paddleboarding
Kayaking and paddleboarding is a popular pastime in Holden Beach, and visitors will find many tour operators and kayak and paddleboard rental services. Average prices for kayak tours are about $40 for adults and $30 for children.
These prices may sound a bit steep but they will include equipment rental and life jackets and offer plenty of fun in the sun. So overall, good value for money. One popular option is the Sunset Cruise offered by Lighthouse Watersports. It's a two-hour tour that ends at sunset and stretches 25 miles. Prices are $44 for adults and $34 for children.
---
17. Visit Wilmington For The Day
Wilmington is one of the best cities in the state, and it's less than an hour drive away from Holden Beach. There are many things to do in Wilmington, but one of my favorites is stroll around Downtown Wilmington and make a reservation at one of these Wilmington restaurants. A great day can also be spent at Airlie Gardens, followed by Mayfaire, and finishing the day at Wrightsville Beach Brewery, one of the top Wilmington breweries.
Another one of the best ways to discover Wilmington is through walking tours that take you to some key spots in the town including Bellamy Mansion, the Burgwin-Wright House and Gardens, and the Basilica of St. Mary. A tour with a knowledgeable guide should cost between $15 to $25 and will last anywhere from 60 minutes to 2.5 hours.
---
18. Enjoy Some Mini-Golf
Golf is a pretty popular activity in the area, and it shouldn't be a surprise that mini-golf enjoys the same popularity. One of the best mini-golf options is Treasure Island Miniature Golf, and heading here is one of the best things to do in Holden Beach with kids.
---
19. Explore Historic Lighthouses
Holden Beach is home to several lighthouses, and lighthouse enthusiasts (yes they exist) will have a great time exploring all of them. While we've already mentioned Old Baldy on Bald Head Island, there's are a few more you should be aware of.
There's Oak Island Lighthouse which can be found on Oak Island, Price's Creek Lighthouse in Southport, and the Governor's Lighthouse, in Little Keepers Village, in Little River (South Carolina). Exploring all these lighthouses is free, and it's a great way to get familiar with the beautiful surrounding areas of the North Carolina coastline.
---
20. Party At Barefoot Landing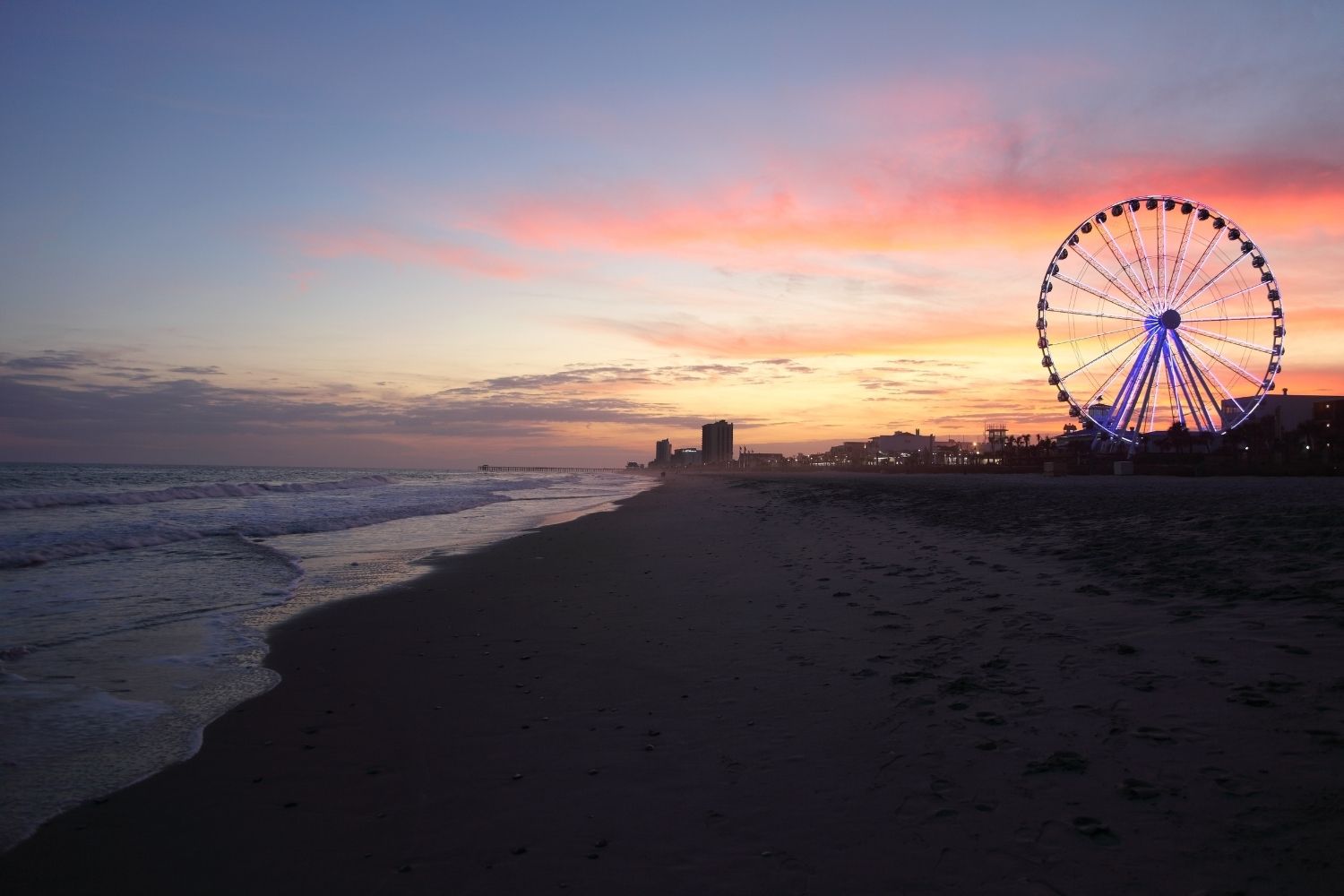 Barefoot Landing is a popular entertainment village located in North Myrtle Beach, about 45 minutes away from Holden Beach. Known as the party hotspot of the region, it is home to several restaurants, boutique shops, bars, and local attractions. The venue has its own House of Blues, and the Alabama Theatre, where concerts and live shows are held.
Then there's Alligator Adventure, a park where you can view alligators up close and personal. Many restaurants and bars make Barefoot Landing a vibrant nightlife destination and a fun place to hang out if you're feeling that Holden Beach is a little too sleepy for you.
---
21. Visit The Wild Horse Preserve at Grace Wynds
This Wild Horse Preserve is located just a short drive away from Holden Beach and one of the best things to do in Holden Beach with the family. This ministry aims to facilitate education and recreation activities that foster connections between people and the wild horses of the Eastern United States.
Here you can go on a farm tour. These tours, which last at least two hours, are scheduled at 9:30am and 4:00pm. During the tour, guests are introduced to interesting facts about wild horses, meet and feed mustang ambassadors, play in the Wild Horse Village, and visit the chicken coop.
Guests can also enjoy a tour of the farm on a hay wagon, and children can have their photo taken while sitting on a mustang. Hand-led pony rides are available upon request and require an additional donation.
Plan For Your Trip to the South!