Picture yourself enjoying the sound of crashing waves with the seagulls chirping and families flying kites. With the sand dug in between your toes and a cold drink in hand, one of the best vacations you can have in the Carolinas is at Wrightsville Beach.
In between beach outings, you'll want a comfortable VRBO to stay in at Wrightsville Beach. Of course there are hundreds of Wrightsville Beach vacation rentals, but we've narrowed down a few of our favorites on VRBO.
---
Best Wrightsville Beach VRBO Rentals
---
8th Floor Oceanfront
Beds: 1
Guests: 4
Price: $250/ night
This elegant pad provides one of the best combinations of beachfront luxury, not just in Wrightsville, but across the country.
The condo is designed for two but can sleep four, thanks to a pull-out sofa. Designed initially as a corporate retreat suite, modern fixtures define every corner of this penthouse rental.
The resort provides a heated communal pool, and the condo features its own whirlpool hot tub to unwind after a day of exploration. You'll find downtown Wrightsville beach less than two miles away, which makes everything within easy reach while still staying away from the crowds.
The combed white sand beach in front of the resort is rarely crowded, and you'll never have to worry about parking with your reserved beachfront space.
---
Caribbean Retreat
Beds: 8
Guests: 14
Price: $775 / night
Fetes, Jams, and get-togethers are Caribbean traditions, and this Salt Box Cottage allows a splash of Caribbean flavor to your next family reunion or large gathering.
Eight beds and three full baths provide space for 14, and large third-floor windows allow the whole family to check out sunset views from the included patio. You can't have a proper Caribbean party without some good food, and this retreat has gone above and beyond to supply the kitchen with everything you need to cook up a feast.
You'll find a fully stocked spice cabinet waiting for you on arrival, along with an all-new oven, stove, refrigerator, and dishwasher. Games, books, and TVs can be found across the vacation home, along with a Ping Pong table and various water sports gears. This home truly has everything you need for a large family vacation.
---
Station One Condo
Beds: 3
Guests: 6
Price: $225/ night
Centrally located and stylish, this condo is an excellent pick for young professionals or those looking to be close to the action on their vacation. One of the best beaches in North Carolina sits just beyond the dunes, and a shared pool with BBQ grills is available on sight. 
If you don't feel like grilling, the condo is just one block away from downtown Wrightsville Beach's restaurants, grocery stores, and coffee shops.
Two bedrooms and one pull-out couch make sleeping spaces for six, and 24-hour security and maintenance on sight will allow you to relax and focus on enjoying your vacation.
---
Shore Break Efficiency
Beds: 1
Guests: 2
Price: $150 / night
A comfortable space built for two that's just steps from white sandy beaches, this unit is best for couples on a romantic NC trip, who want to get into the mix spending more time out of their unit than at home.
A rooftop deck allows you to mingle with other condo owners and take a look at the crowds wandering through a day in Wrightsville.
Restaurants and grocery stores are just around the corner, and you'll have everything you need to hand once you make it back home. Best for quick trips and couples, this efficiency provides everything you need and nothing you don't for a one-of-a-kind vacation.
---
Top Floor Oceanfront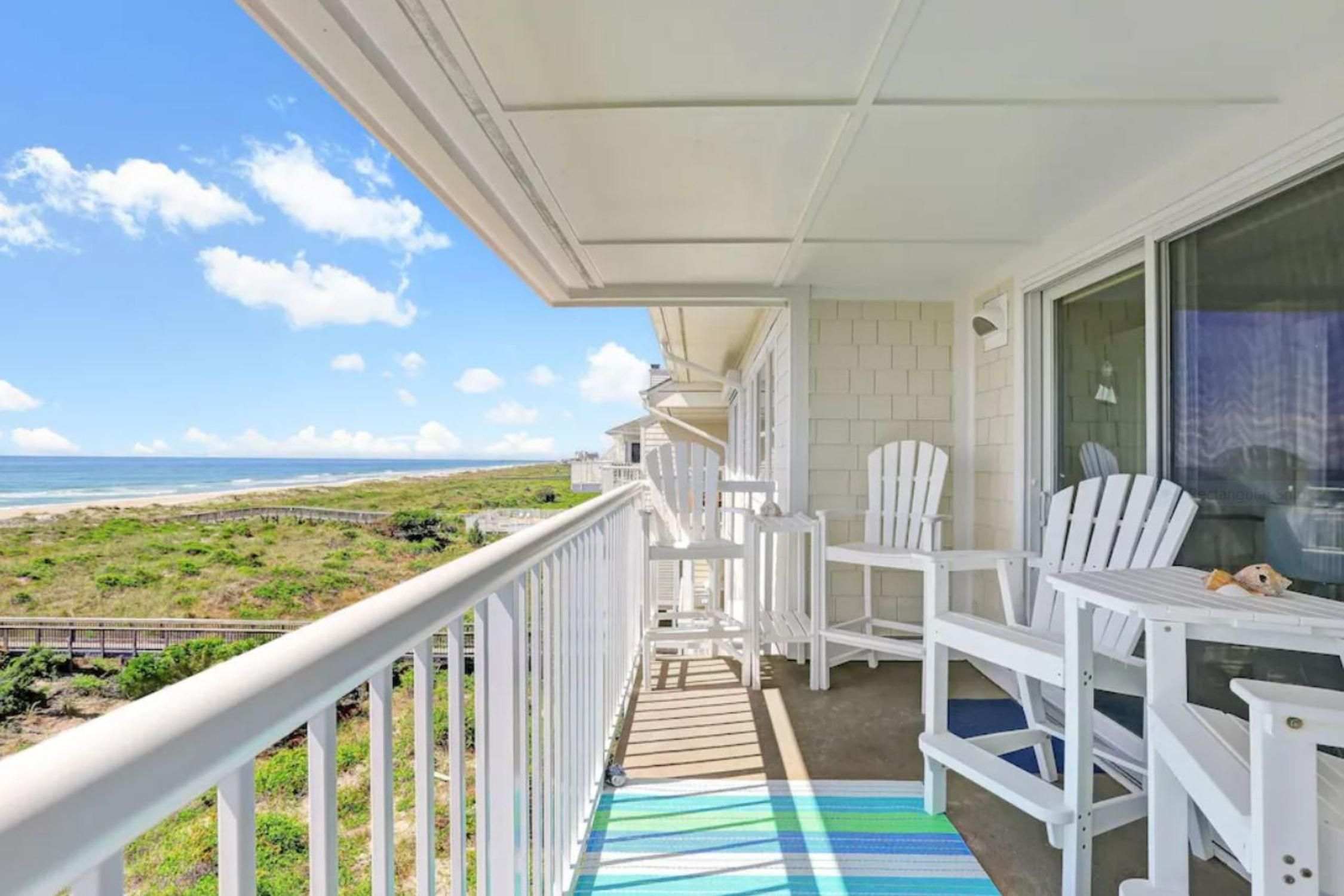 Beds: 8
Guests: 6
Price: $500 / night
A condo built for the whole family with unsurpassed views of the Atlantic Ocean was bound to make it on our list of the best vacation homes in Wrightsville Beach. Three lush bedrooms and two full bathrooms can accommodate up to six in a luxurious penthouse space.
Your top-floor views will look out over the ocean and surrounding marshes, and you can spend the sunrise searching for dolphins from your private patio.
Easy elevator access makes lugging your suitcases a breeze, and you can fall asleep with the help of the ocean air as your closest neighbor.
---
Floor To Ceiling Beach Views
Beds: 2
Guests: 4
Price: $200 / night
Shell island sits at the north end of Wrightsville Beach and serves as a quieter option for those who don't want to be in the middle of the action. This top-floor condo features floor-to-ceiling glass windows throughout the central living area.
On the other side of the condo, you'll find Intracoastal waterways views and see Figure Eight Island skylines. A private balcony and kingsize bed allow you to relax in style.
The resort area provides a fitness center, hot tub, and pool if you don't feel like getting salty, and the kitchen inside this modern option guarantees you won't have to leave your space for a gourmet meal.
---
Bring Your Own Boat
Beds: 4
Guests: 10
Price: $600 / night
A three-story palace on the sound side of Wrightsville Beach, this fantastic vacation home provides a private boat slip and immediate access to the Intracoastal waterway. Those who plan on towing their boat along for their next vacation will find everything they need at their fingertips with this lush option.
Make sure to bring the biggest boat you've got, as this four-bedroom, four-bathroom option sleeps ten and provides a large living room and deck spaces to allow everyone to stretch out. There's plenty of entertainment options, too, as the great room offers foosball, ping pong, and a pool table.
When it's time to do some exploring, the property includes four bikes and two kayaks so you can get out there by land or by sea.
---
Happiness Comes In Waves
Beds: 11
Guests: 15
Price: $900/ night
You and your 14 closest friends will find unparalleled beach and salt marsh access in this large shell island property that is more than capable of hosting your next large gathering.
The house is smack dab in the middle of North Carolina's kayak and paddleboarding heaven, and still less than 500 feet from the beach.
Bright bedrooms look out over grassy salt marshes, and the front patio with outdoor seats gives a glimpse of the sea. You can put in your kayaks right in your backyard as long as you keep track of the tides. Beach bikes, coolers, carts, and toys provide everything you need for a day out.
---
Carolina Cottage
Beds: 4
Guests: 8
Price: $200 / night
Perfect space for a family looking to get away on the Carolina Coast and enjoy views over the intracoastal. Here you can wake up in a 3 bed / 1.5 bath townhouse and enjoy your first sip of coffee with ocean views. If you're an early riser you'll be able to catch a glorious sunrise here.
There's a boat slip and deep water access in the backyard. As well as backyard barbecue and a corn hole set so you can have fun while just chilling at this Wrightsville Beach VRBO.
---
Magnificent Lagoon Oasis
Beds: 3
Guests: 6
Price: $450 / night
This is a beautiful 3 bedroom near Johnny Mercer's Pier on a quiet family street.
Cook your own meals in the full kitchen and enjoy the views from the large wrap around porch complete with rockers. Small housebroken pets are okay at this Wrightsville Beach Vacation rental (with additional $200 non refundable deposit). There's a fenced-in backyard to let your furry friends roam loose.
Each bedroom here has cable tv
---
Casa Blanca
Beds: 11
Guests: 13
Price: $1100/ night
Suitable for enjoyment year-round, thanks to a heated pool, this luxury estate is oceanfront and stylish and is easily one of the best Wrightsville Beach vacation rentals. The private pool space looks out over the sea, and vacationers will have their own front and back yards to play in. 
All four bedrooms have flat-screen TVs in this white house that can sleep 13, and two full-sized dishwashers ensure no one has to spend their entire vacation cleaning up after everyone.
---
Spacious Designer Home
Beds: 5
Guests: 8
Price: $650 / night
More than just a fresh paint job, this condo has recently undergone upgrades and renovations that firmly plant it as one of the best vacation homes in Wrightsville Beach. A newly envisioned oceanfront master suite has a new shower and king-sized bed and space for the flip-flops by the door. 
---
Ocean Perch
Beds: 10
Guests: 14
Price: $900 / night
A large family vacation home on the north side of Wrightsville, there's space for the whole family and unwind at this charming vacation home. Plenty of porch space invites morning reflection, while a comfortable living room and open kitchen make it easier for everyone to hang out together.
The property comes with a game room complete with a ping pong table and plenty of entertainment options on the big screen TV. Fourteen people can fit in this wide home that's only a few steps from the beach. 
Other amenities include WiFi, a fully stocked kitchen, and All linens, including all bedding, bath, beach towels to save you the hassle/cost of renting them separately. This Wrightsville Beach condo has all the toys like beach bikes, cooler, beach cart and beach accessories for everyone to enjoy.
---
Sea La Vie
Beds: 5
Guests: 10
Price: $450 / night
You'll feel the dulce Vida from this five-bedroom masterpiece with sunrise and sunset views. The house is stocked up from the fully equipped kitchen down to fantastic entertainment options in each room. Full of so many surprises, your family will have weeks of options at their fingertips.
Outside, the owners have provided a handy outdoor shower and bicycles for further roaming. The property can sleep 10, and it comes with a backyard big enough for touch football or volleyball fun for every guest.
---
Large Oceanfront Home
Beds: 7
Guests: 19
Price: $1500 / night
The easy access to Wrightsville beach makes the area ripe for large gatherings, and there is no house on the beach that can sleep more than this unit. You can carve out space for up to 26 (with approval) across seven bedrooms and bathrooms, so all your friends can bring a few friends along too. 
Four thousand square feet of sea views and thoughtful decor make up the pad, and underneath the living space is a garage that can fit up to eight cars. A separate upstairs lounge and kitchen provide options, and everyone on your list can find what they want in this ample modern space.
---
Beautiful And Beachy
Beds: 4
Guests: 6
Price: $360 / night
The owners of this downtown vacation home have gone through painstaking depths to ensure this rental property doesn't fall into the trap of cliche decor that plagues so many similar houses.
Quirky blankets, coverings, and throw pillow adorn this three-bedroom rental duplex that is on the precipice of downtown Wrightsville.
You can walk to Robert's grocery and the best restaurants along the beach, with quick access to larger cities an easy drive away. The hosts have provided loads of personalized recommendations and local tips to maximize your vacation.
The house itself features open concept spaces that combine the living and dining rooms with the kitchen, so the family can always be within earshot.
---
107 Mediterranean Oasis
Beds: 1
Guests: 2
Price: $100 / night
Suppose stylish accommodation is more important to your trip than being right on the water. In that case, this small inviting home feels different than the myriad beach rental options without being too far away from the sand.
Reasonably priced studio condo at the drawbridge just off the Intracoastal Waterway near Airlie Gardens. You can walk to multiple Wilmington restaurants, and Wilmington breweries, buy fresh seafood at Mott's, and enjoy all that Wilmington has to offer here.
As the property is located right at the drawbridge you'll have to drive to get to the beach from this property, but you'll be in the middle of Wilmington and close enough to Wrightsville Beach to have easy access to the sun still.
If you want a bit of city life splashed into your next beach trip, this amazing VRBO near Wrightsville Beach will give your trip the splash of flavor it needs. 
---
Islander 6B
Beds: 2
Guests: 4
Price: $212 / night
Prepare to be wowed as there is nothing like this Wrightsville Beach vacation rental on on the entire Island. The interior will certainly blow you away with its yacht like woodwork and finishes.
The interior is designed for two, with a chef's kitchen space and a private balcony for viewing beach and sound front sunsets. There's also a pool for the complex for when you don't feel like getting sand stuck between your toes.
---
Welcome Waterfront
Beds: 6
Guests: 9
Price: $350 / night
The most pet-friendly rental in Wrightsville Beach is attached to the sound to provide private waterfront access and boat slip. There's plenty of space for kids and pets to roam throughout this three-bedroom, two-bathroom property with loads of yards.
The house sits on Pages Creek tidal waters, where you can fish, swim, and boat to your heart's content. Boaters can find easy access to the Intracoastal waterways from their backyard. When it's time to play, the yard space combines with the included corn hole, badminton, lawn darts, Kam Jams, and beach balls for endless options.