As the capital city of North Carolina, this cultural hub has so much to offer. It was founded in 1792 and named after Sir Walter Raleigh. There is plenty of nature to explore here, hence its nickname the City of Oaks.
In addition, there are a plethora of museums and unique attractions awaiting an adventurous spirit. Raleigh has a rich history to discover and a thriving arts and culinary scene. There is something for everyone on this list of fun things to do in Raleigh.
---
The Best Things to do in Raleigh
---
North Carolina Museum of Art
This is one of the coolest cultural institutions in the whole state, no trip to the City of Oaks would be complete without a visit to the NC Museum of Art. They house an impressive collection of works from around the world. They offer a diverse range of perspectives and mediums which serve to expand and enlighten anyone who steps through their threshold. One of the best parts of the experience here is the grounds. Full of enchanting sculptural works, fields of sunflowers, hiking trails, and a reflecting pool, it's a pastoral paradise worth seeing on its own.
---
William B. Umstead State Park
Almost 6,000 acres of picturesque trails and tranquil lakes shrouded in dense forest, William B. Umstead State Park is an idyllic North Carolina State Park that delves into the scenic landscapes Raleigh has to offer. Although it has become a popular hotspot, it still feels like the reprieve of seclusion you desire. You can hike or bike through the wilderness, bring binoculars for birdwatching, and venture out onto the clear waters via canoe or paddle boat.
---
Raleigh Municipal Rose Garden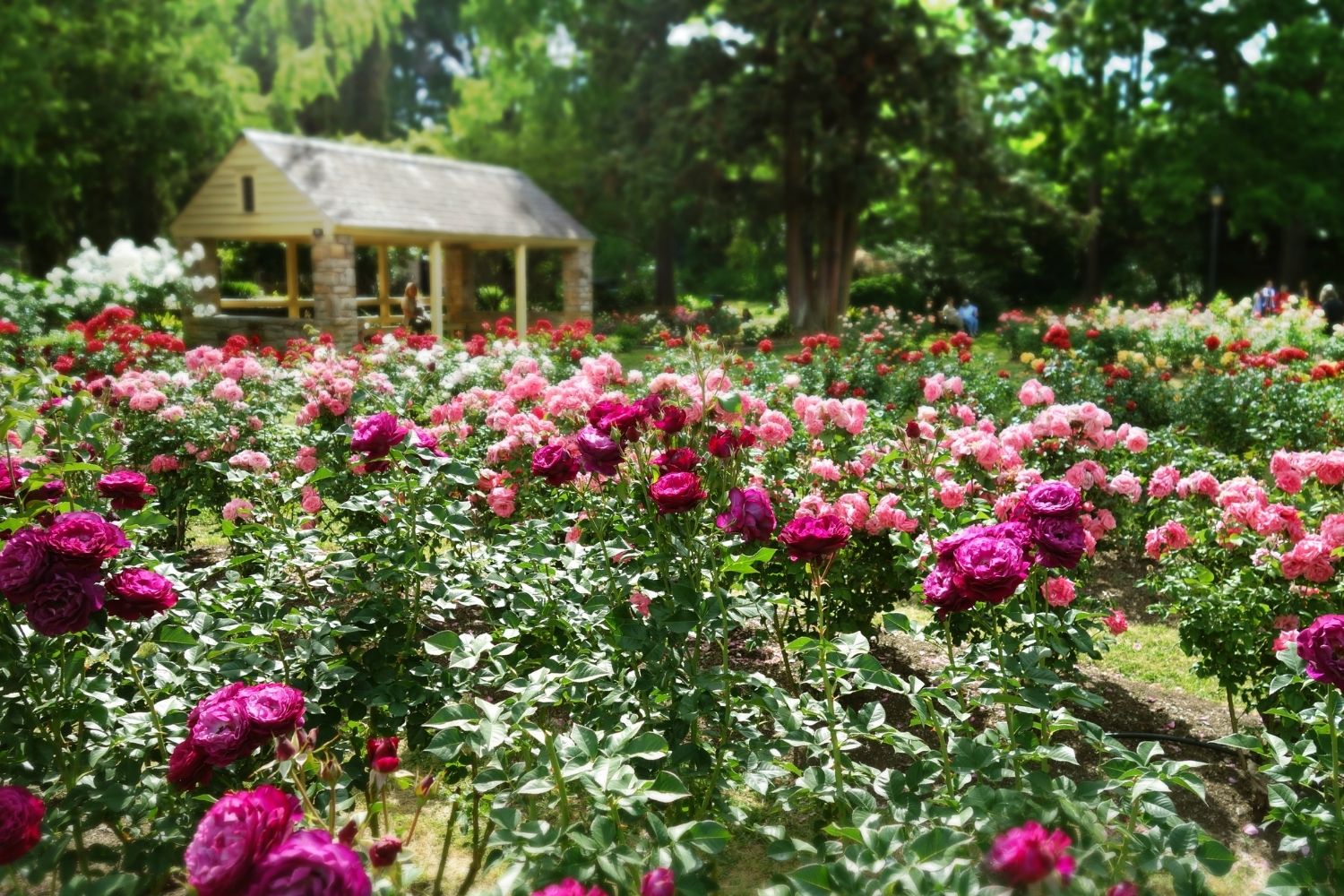 An ethereal dream to discover, the Raleigh Municipal Rose Garden offers enthralling grounds to enjoy. There are 1,200 roses here of 60 different varieties. Examine and appreciate each blossom and breathe in their intoxicating aromas. Bring a picnic and spend a quiet afternoon amongst the flowers. There will be something in bloom almost all year, but it's most spectacular from May to October.
---
Pullen Park
This historic park was first established in 1887, a first for the state of North Carolina. It offers much more than your average park, with unexpectedly charming activities, such as a quaint carousel and miniature train to ride through the terrain. Pedal boats provide a chance to leisurely enjoy the waters of Lake Howell. There is also a charming cafe, fields for sports, indoor aquatic center, outdoor tennis courts, and an arcade.
---
North Carolina Museum of Natural Sciences
The North Carolina Museum Of Natural Sciences is an expansive educational center covers a wide range of fascinating topics from dinosaurs to space exploration to DNA. It's one of the largest in all of Southeastern America. Don't miss the enchanting butterfly room where you can learn about and interact with different species.
Embrace your inner scientist and you will undoubtedly leave here with a newfound sense of wonder about our world. It's easily one of the coolest things to do in Raleigh.
---
Enjoy the Raleigh Restaurant Scene
There are so many fantastic restaurants in Raleigh to try! Poole's Diner is a popular eatery in Raleigh. The space was renovated to its current retro chic glory from the 1945 beloved establishment Poole's Pies. These days they are serving up elevated Southern comfort food. The menu is seasonal and creative and is constantly rotating, even in the course of a day.
They use all fresh and locally sourced ingredients to create delectable dishes like the famed Macaroni Au Gratin. For phenomenal vegetarian and vegan fares try Fiction Kitchen and for mouthwatering Mexican, no one does it better than Jose and Sons. And for a delicious pizza you cannot miss the small family owned Pizzeria Faulisi!
---
Juniper Level Botanic Garden
The Juniper Level Botanic Garden is a nonprofit project to preserve and promote botanic diversity through plant study, identification, education, global exploration, and propagation. They aim to be the most unique and diverse garden in the world. The ornamental offerings are carefully placed for the optimal aesthetic experience. It's also home to the Center for Mindfulness and Duality, which focuses on the study of perennial wisdom through meditations which challenge the perception of reality.
---
Raleigh Flea Market and Farmers Market
The Raleigh Flea Market is a treasure trove of everything new, both used and local. It's one of the largest around with over 500 vendors and one of the best things to do in Raleigh on weekends. Get lost amongst the vintage memorabilia, fair food stands, and specialty shops. Wander in the Carolina sunshine with an ice-cold lemonade to browse everything from high end antiques to collectible coins to handcrafted baskets to all that is unique and uncommon.
It's a thrifter and DIY decorator haven not to be missed. The Raleigh Farmers' Market is one of the best in the Carolinas. With many local growers bringing all their fresh and beautiful produce to sell, you can find anything here you may desire. Stroll the stands to discover flowers, meats, cheeses, fruits, vegetables, baked goods, and artisanal crafts.
---
Grab a drink at one of the many Breweries
There are over 25 microbreweries in the beverage crafting mecca of Raleigh. Bhavana Brewery is beloved for their creative drafts with something new and exciting always on tap. The space is bright and airy, perfect for sharing some dim sum or laughs over pints. Trophy Brewing uses fresh and local ingredients to make a range of standout beers. Their garden is glorious for sipping in the sunshine and the Trophy Wife IPA has become a cult classic throughout the city.
---
North Carolina Museum of History
North Carolina is a state steeped in rich heritage. If you're a history buff, this is the North Carolina Museum Of History is for you. Learn all about the fascinating past of the area through educational displays and artifacts. It spans across 14,000 years of stories and research on the state. You'll find rotating exhibits and permanent collections exploring everything from early native American culture to Civil War weapons to 1920s drugstores to the Sports Hall of Fame filled with favorite local athletes. There is even a life-sized replica of the iconic Wright Brothers plane.
---
Videri Chocolate Factory
Satisfy any sweet tooth cravings at this fantastic factory of flavors. Take a tour at Videri Chocolate Factory to learn about how some of the finest chocolate in the region is made. At the end you'll find yourself in a chocoholic's fantasy land, with every chocolate creation imaginable available to buy and try. They focus on using sustainable practices and produce only fair-trade goods. Everything is handcrafted from bean to bar. This is definitely one of the most delicious destinations in the City of Oaks.
---
Raleigh Little Theater
The performance space at Raleigh Little Theater began in 1936 making it one of the oldest community theater groups in the country. They've put on many memorable productions, such as the Tempest and SPAMALOT since. It's a charming outdoor venue of stone set amongst the forest and right next to the Raleigh Municipal Rose Garden. They aim to use theater to enrich, entertain, engage, and educate audiences. Be sure to check their schedule and catch one of their 11 annual shows while you're in town.
---
Contemporary Art Museum of Raleigh
CAM provides multimedia works from local, national, and international modern artists. Every exhibit here is regularly rotated, ensuring there is always something new and exciting on deck. For example, Shaun Richards Rhetoric or Alun Be's Empowering Women series. They intentionally do not collect, meaning no works here are permanent. It's a non-traditional space which explores transformation through educational programs and cultural experiences.
---
Yates Mill
Visit the last water powered gristmill left in the area. Yates Mill operated up until the 1950s and has since been restored, with the original equipment. Learn more about the operation of such mills by taking tours like the one on Corn Grinding. There is a plethora of events and exhibits as well which serve to preserve this agricultural heritage. It also sits on a vast wildlife preserve. There are several hiking trails around the stunning Mill Pond. See how many native species you can spot in your time here.
---
Food Halls
What better way to partake in the vibrant culinary scene of this North Carolina City than visiting one of their eclectic food halls. Morgan Street Food Hall is a bustling hub of dining delights. There are 17 different vendors in this hip cafeteria style space. They're serving up everything from pizza to lobster to empanadas to curries. Treat yourself and try a little bit of everything.
Transfer Co. Food Hall is located in the historic Carolina Coach Garage and boasts a beautiful outdoor space to dine in. They've got burgers, oysters, burritos, and bagels just to name a few. A smorgasbord of bites, be ready to come hungry and leave stuffed.
---
Performance Art
Raleigh is home to much of the state's premier performance art. The North Carolina Opera brings the highest level of operatic performance to the area through local and international talent. They also have an educational program to move opera into schools in the surrounding counties.
The North Carolina Symphony is nationally celebrated. This American Orchestra puts on classically haunting concerts all year round. The Carolina Ballet boasts some of the most talented ballerinas anywhere who work tirelessly to bring classic masterpieces and new expressions of passion to life through their technical and moving dances.
---
Neuse River Trail
This portion of the 28-mile path connecting North Carolina counties is also known as the Raleigh Greenway. It meanders alongside the Neuse River through wetlands and woods, for a relaxing wander in the countryside. The path is ten feet wide, so it never feels crowded or difficult to navigate. Bike, hike, or jog to experience this heavenly slice of local nature.
---
Mordecai House
Mordecai House is the birthplace of Andrew Johnson, the 17th President of the United States. It was built in 1785, and it's the oldest house around that still sits on its original foundation. You can take a guided tour of the entire estate which includes the gardens and other 19th century buildings of historical significance, such as St. Mark's Chapel. It's a fun and educational way to engage with the history of the city.
---
Marbles Kids Museum
If you're looking for a family-friendly spot to take the little ones, look no further. Marbles is home to many interactive play spaces to explore and is one of the best things to do in Raleigh with kids. Dabble in music discovery at Tree Tunes, get crafty at Art Loft, or learn about horticulture at Sun Sprouts. It's named for the one million marbles which line its surrounding wall and light up at night for a fun installation. There is also an IMAX theater on site which shows both educational and Hollywood films.
---
Go Ape
This tree top adventure park is the best thrill ride around. Take a tour of the canopies by zip lining your way through the clouds at Go Ape. Enjoy the views below as you soar like a bird. There are 50-foot-high, tree-to-tree crossings, as well as Tarzan swings that are sure to bring out the daredevil in you. There are suspended bridges as well as ropes and obstacles courses all immersed in nature for a stunning aerial experience. This is a one-of-a-kind outdoor experience in Raleigh.
---
Cloud Chamber for the Trees and Sky
This architectural art installation appears unassuming, almost as if it's a natural part of the surrounding woodlands or an enchanted home straight out of a fairytale. It's a tiny domed stone structure with a wooden door and leafy adorned rooftop. Once inside, it functions as a camera obscura using a tiny aperture up top to create an inverted image of the sky appearing on the ground of the structure you're standing in. It's one of the most unique perspective-based spaces to experience anywhere.
---
Pope House Museum
An homage to Dr. Manassa Thomas Pope, this Pope House Museum stands to educate about the brave actions of this local hero. During segregation, he ran for mayor of the city as a black activist in the Jim Crow era. The early 20th century home has been restored. It contains original furnishings and is filled with amazing artifacts from all the incredible achievements during his life. It's the only African American house museum in the state, and it's essential viewing for an accurate education on the history of the area.
---
Historic Oakwood
This neighborhood is an architectural oasis and will remind you how the moniker City of Oaks came to be. It's the largest in-tact 19th-century residential district in the state. Hundreds of homes here have been preserved and restored in all their original charm. Tucker House is an especially impressive specimen of Neoclassical Revival style. Also be sure to stop by the Historic Oak View Country Park. It's a lovely place to stroll the day away and one of the best things to do in Raleigh on a laid back day.
---
Dorothea Dix Park
The Dorothea Dix Park is an expansive and lush land in the heart of the city is a favorite of the things to do in Raleigh among locals. At over 300 acres, it's the largest city park and has so much to offer. The view of the downtown skyline from the soft grassy knoll is idyllic. There are many community events surrounding arts and sports, as well as a dog park where all the pups can play. Be sure to visit the flower field for a dreamland full of daffodils.
---
Alamo Drafthouse
A cinematic experience like no other, Alamo Drafthouse is known for its screening of new films and retro classics. They offer a full menu and local beers on tap as well as craft cocktails to be delivered right to your seat during your movie. The decor is quirky and eclectic from old school arcade games to giant VHS tapes and neon signs. There's a bar and patio space so you can even go to enjoy the ambiance and offerings without seeing a film.
The Video Vortex is the on-site video store and bar, a true blast from the past that warms the heart with nostalgia. They have one of the largest rental cinematic collections in the country, with 70,000 titles available from the beloved to the obscure all on DVD and VHS. You can even take home two at a time for free. 
---
Things to do in Raleigh Map