The time-honored tradition of beer brewing is an art that's alive and well in Raleigh. This North Carolina city hosts an upcoming craft scene with over 25 breweries in Raleigh to cure all your beer cravings and make your draft dreams come true. 
North Carolina is known as the state of Southern beer, both for the volume and quality of the hoppy, malty beverages being created. Get on the beer bandwagon and experience the Carolina craft culture firsthand. 
Below are the best breweries in Raleigh that pull exciting pints and put the City of Oaks on the map.
---
The Best Raleigh Breweries
---
Brewery Bhavana
Literally translated to "touch the heart," Bhavana has done just that for the devoted beer drinkers of Raleigh. They have created a space inspired by sharing. Sharing plates, sharing laughs, and sharing a diverse range of innovative brews. They focus mainly on Belgian beers and Chinese Dim Sum, but their range is broad and beautiful.
The space is chic, airy, and relaxed. Perfect for a dreamy sip and savor with some friends. They offer their core crafts, some provisional pints, and a selection of wood-aged beers.
You won't find any typical or boring brews here. We recommend the Glean Mango Peppercorn Saison, the Joy Rice Lager, and the Rosette Rose Ale. For us, it's tough to beat Bhavana Brewing in Raleigh.
---
Crank Arm Brewing Company
As avid mountain bikers, it's tough not to love Crank Arm Brewing. This fun-loving brewery is cranking out delicious beers with vibrant art to match their funky spirit.
Located in the heart of Raleigh's hip warehouse district, they have seamlessly combined their two passions in one place—bikes and beers. Their quality craft creations are actually unfiltered. They focus their time and energy on a slowed-down brewing process to make the best beer possible. 
They are community-driven and active in many events, such as Oaks & Spokes of Triangle Spokes Group. The Cycle Killer Sour is brewed with pineapple and habanero and is a refreshing delight with a kick. If you're a fan of cycling, craft beverages, or even better both, head over to Crank Arm quick.
---
Trophy Brewing and Pizza
If you're a fan of fun, Trophy Brewing is a barrel of laughs (12 barrels, to be exact). They have 12 taps to try, as well as a rotating cask series. They offer everyone's ideal combo, pizza, and pints! Both carefully crafted with fresh local ingredients, Trophy knows the way to our hearts. The view of the brewery from the taproom is beautiful and perfect for a peek at their technical process.
With daily food trucks that visit and patrons welcome to bring their own furry friends, this is a sweet hangout spot for sipping a brew in the sun.
The Trophy Wife is the most popular. A hoppy hero among locals, it's a bright and crisp session IPA. We always deeply admire the Pollen Count ESB offering. They have three locations to visit, so take your pick and grab a pint.
---
Big Boss Brewing Company
A stalwart staple of the scene, this is a favorite among all the Raleigh breweries. They have a diverse roster of drafts, from lagers to IPAs. All clean and well-balanced, why not sit and sample them all?
The taproom is a welcoming warehouse setting, subtly inviting you to stay as long as you like with a bright and warm ambiance. Have a game of ping pong or shuffleboard, or bask in the Carolina camaraderie while you find your favorite offering. 
The High Roller Blood Orange IPA has become a household choice, but it's hard to decide with so many tantalizing taps. The Wolf is an American barley wine with a 13% ABV if you're feeling adventurous. On the safer side, go with a Sea Bee Gose.
---
Neuse River Brewing & Brasserie
Known as a brewery and brasserie, Neuse gives you the best of both worlds. With a focus on Belgian style, they perfectly meld this with the Carolina culture to create a unique and exciting selection of beers and bites.
The atmosphere feels experimental and European, a home where the old meets the new. The handcrafted tables and on-site herb garden add a special touch, along with the stunning view of the downtown skyline. 
With everything being carefully curated just for you, this is an experience that feels thoughtful and intentional. The Saturday Morning IPA and Affluent Belgian Tripel are the standout drafts. Pair them with a Croque Monsieur or Duck Poutine for a delightful day out. It's not often you find a brewery that also serves up brunch!
---
Little City Brewing + Provisions Co.
Little City is passionate about continually evolving its practice and bringing joy to its guests through drinkable and quality handcrafted drafts. The atmosphere feels young and bright through simple and stylish decor. Each brew comes with an in-depth explanation of the process and the flavors, ideal for beginners and aficionados alike.
The Parking Ticket IPA is a hazy, hoppy pint, while the Koldbrew Kolsch is an exciting choice, a German blonde ale brewed with coffee, creating a clean malt and an all-around delicious draft.
Everything brewed here is a small batch, and they have curated cocktail and wine selections as well. Of all the Raleigh breweries, this one knows how to set itself apart.
---
Funguys Brewing
This mom and pop spot is serving up strong flavors again and again. Try their Smoothsicles series that everyone in the City of Oaks is obsessing over. They are heavily fruited smoothie-style sours that come in many forms and flavors. Each batch they brew is tweaked or improved upon and lists the specific hops used. They are passionate about making the perfect hazy IPA.
The New Components is a hazy IPA hopped with Citra, Sultana, and Simcoe. Each offering is juicier than the next. Tucked away in the city, it feels like a hidden gem as they love to keep their production and facility small, intimate, intentional, and finely crafted. Funguys ensures a fun time for all.
---
Clouds Brewing
For a beer that's German-inspired and American-made, look no further than Clouds. They love to make European lagers in their 15 barrel brewhouse. On the weekends, they host community events, such as Beats & Brews and Cause for Paws. There is something here for every taste with 40 taps to test out from their core lineup of rotating specialties.
The Midnight Delight Milk Stout is a dreamy dark ale, and the El Hefe Hefeweizen satisfies the lighter end of the flavor spectrum. The Sun's Out Nitro English Bitter is an ideal experimental beer.
They are also the home of the only Down Pour wall in the area. A station to pick and pour your own drafts with 10 taps. As with many Raleigh restaurants, they offer a menu of pub grub classics, such as fried pickles, wings, and nachos. We prefer to keep our heads in the clouds at this beauty of a brewery. 
---
Lonerider Brewing Company
Lonerider has been around the block, so to speak, in the Raleigh beer scene. Their taproom has been dubbed the Hideout, and its cozy, old-time ambiance reflects this apt nickname. They strive to serve the traveling craft beer enthusiast, along with groups who need a sanctuary to gather in their event space. The Hoppy Ki Yay IPA and the Deadeye Jack Porter are just as fun and full of flavor as their titles suggest.
For a refreshing reprieve, there are plenty of fruity sours, ales, blondes, and even seltzers to swig down. They pride themselves on making the highest quality brews with the best ingredients, and they have the accolades to prove it. They fancy themselves as the outlaws of the craft scene, always thinking outside the barrel. Tap into your inner desperado with the daring drafts on tap at Lonerider.
---
Gizmo Brew Works
You can find special small batches released only in-house and the beloved standards. They started small with a two-barrel brewhouse and have since quadrupled in size, even opening a satellite location nearby.
They are dedicated to their craft, always tinkering and innovating new and punchy drafts for their fans and frequenters. Their beer garden is an idyllic setting for sunshine sipping and gathering with other beer lovers. 
They also host plenty of events, including live music, hammered trivia, ax throwing, bingo, and more. Check their calendar or stop by and be surprised. The Kolsch Me Outside Lavender Kolsch Ale is a revelation of easy and enjoyable imbibing, and the Beekeeper Honey Wheat Ale is a delightful brew for the masses.
---
Cotton House Craft Brewers
Located in nearby Cary, Cotton House is by no means your average brewery. With a sweet little farmhouse set up, they actually grow their own hops on-site. Settle in on the front porch to relax and revel in the fruits of their handcrafted labor in the form of all your favorite drafts.
Cotton House works to highlight the area's historical heritage, always support locals, and brew sustainably. The house itself is over a century old, with much of its original architecture intact. 
The taproom features a stunning prohibition-era style bar. Photographs of life in the early 20th century adorn the walls, along with the work of local artists. The double-tiered back deck is a tranquil and charming space to enjoy a cold one.
The Lazy Daze lager is the perfect cask companion to the Carolina sunshine. The Yellow Velvet Hefeweizen is packed full of silky smooth sensations.
---
Nickelpoint Brewing
With 10 beers on tap, Nickelpoint keeps its focus on the quality of each. It's a family-friendly space with many games and activities for all. They use a traditional four-ingredient process to brew. Each beer has water, barley, hops, and yeast.
These raw materials are carefully crafted into a fine and fresh draft without additives. This brewery is detail-oriented to the max. They reduce their waste and reuse every part of the process they can. Spent grain is used to feed cattle nearby, and the yeast is grown in-house. 
You can see the brewhouse from the taproom. Peer in to see if you can guess which hops are creating the most delicious drafts on tap. If you can't get enough, feel free to take home a growler or a keg so that you may never be without phenomenal pints at your fingertips. God Save the Kween is a moderately hopped English-style IPA that always brings a smile. Bohemian Tap City Pilsner is as refreshing as it is crisp.
---
Raleigh Brewing Company
A legend among long-time locals, this brewery always exceeds expectations. With 32 taps, the sheer range of possibilities is exciting for the brewhouse novice or connoisseur. The 30 barrel system used for the flagships is state-of-the-art. The small-batch brewhouse makes tasty seasonals and specialty beers.
The First Squeeze is a fan favorite, always in the rotation as a wheat beer with hints of blood orange. The Sunswept Lemon Saison, The Brewers Brew Green Tea Lager, and the House of Clay Rye American IPA are just a few of the other brews on offer. They host food trucks, live music, trivia, and even yoga classes. They are dog-friendly inside and out, and their open industrial space feels warm and welcoming.
---
Lynnwood Brewing Concern
We can't deny how much we love a pun-filled taproom, and Lynnwood comes in hot with a whole host of them. The vibe is classic American, serving up the solid standbys for brews and bites. Hop on Top is a popular pick for most patrons.
It's a new take on the American IPA with a bitter yet fruity flavor. Their seasonals always aim to please, with options such as the Czech Yourself Pilsner. 
Lynnwood brings it all to the proverbial table and the actual taps if you want to kick back with a cold one and watch the game or relax on the rooftop with scenic views of the sunset over the city. Chow down on chicken wings, pizza, or burgers to pair with your draft of choice. It has a real neighborhood feel, creating a space for everyone to enjoy a tasty beverage.
---
The Best Breweries in Raleigh Map
---
Where to Stay in Raleigh?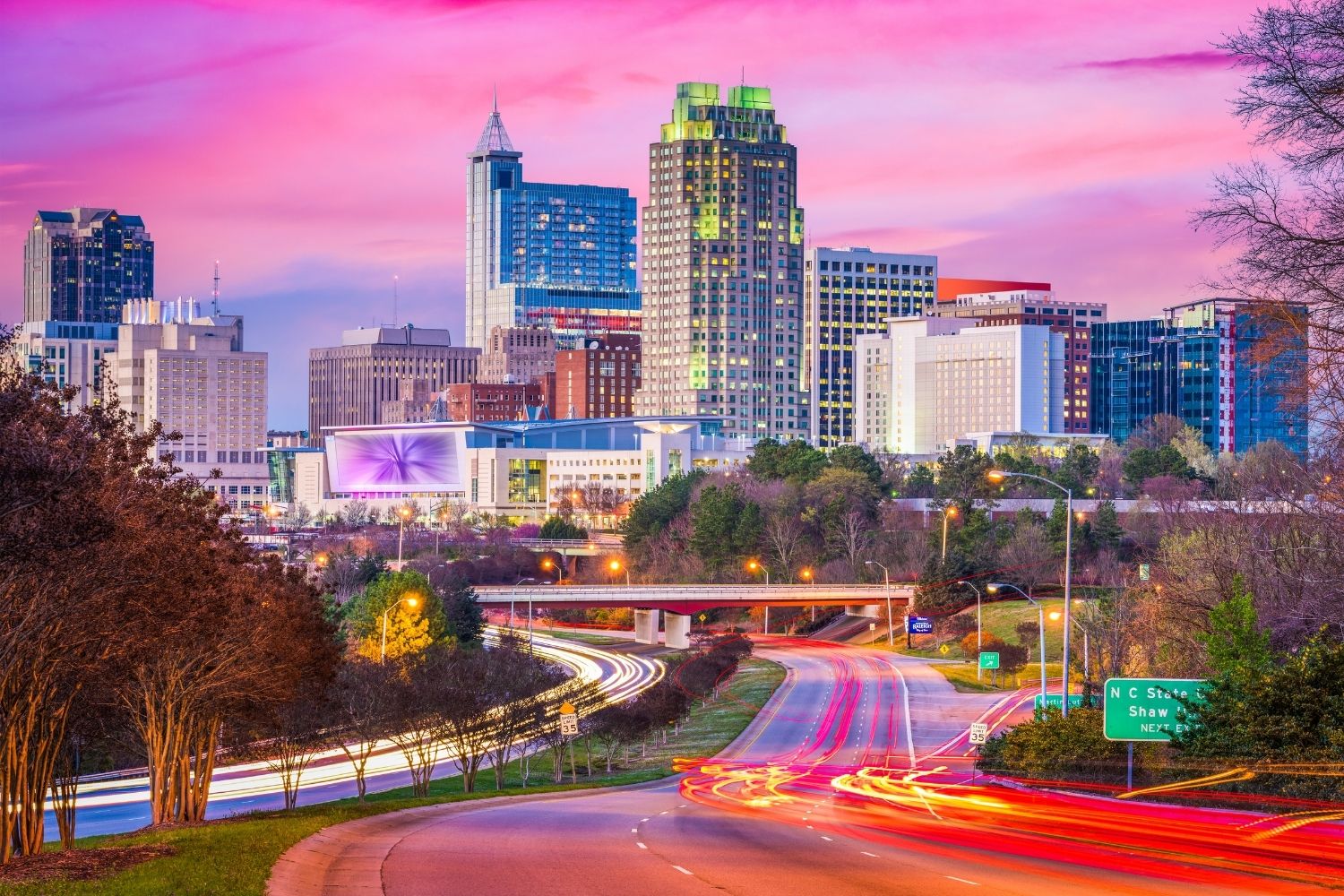 ---
Check out nearby Durham! This is just a list of the best breweries in Raleigh, but the city of Durham is just 30 minutes away and also provides plenty of fun activities for visitors!
---
TRAVEL MORE OF NORTH CAROLINA
Plan For Your Trip to the South!