There's no need to cry when fall in North Carolina has come to a close. Come December, the holiday season ramps up, and it's a time of colorful lights, festive decor through small towns, parades, and visits from Santa.
Many towns in North Carolina, most famously the ones in the Blue Ridge Mountains turn into a winter wonderland. Areas of the Blue Ridge Mountains, Piedmont Regions, and even some coastal towns provide some of the best Christmas towns in North Carolina to celebrate with family and friends.
Whether you are into skiing and tubing, a luxury weekend at the Biltmore, shopping downtown, or enjoying a festive parade, here are some of the best places to celebrate Christmas in North Carolina.
*Christmas Towns in North Carolina cover image credit to The Biltmore Company*
---
Best Christmas Towns in North Carolina
---
1. McAdenville
They don't call McAdenville "Christmas Town USA" for nothing. It's a very Christmasy place around the holidays! The town is mostly known for its elaborate light display that features over 500,000 lights that stretch for over a mile and twinkle against some equally elaborate displays with the sound of Christmas music setting the mood.
There are many other reasons that the town is one of the best places to celebrate Christmas in North Carolina, including the Yule Log Ceremony and the annual Christmas Parade.  
---
2. Saluda
It only has 700 residents but the small town of Saluda is big on Christmas. The shopping alone is a reason to visit, with a beautifully-decorated main street with century-old stores and elf stations serving complimentary treats. Mid-way through December is the town's main Christmas event, Hometown Christmas.
During this much-anticipated event, you can expect lots of lights, caroling, a visit from St. Nick himself, and roasting s'mores over an open fire.
---
3. Benson
Everyone loves lights at Christmas time, but one family in the town of Benson takes their love of lights a little further. The family hosts the oldest and biggest light show in the eastern region of North Carolina with ten acres of displays.
Admiring them from the road doesn't do them justice. Visitors are invited to walk around the property and admire the set-up and you can also embark on a train ride around the property.
On-site, you'll find an old-fashioned carousel, a Country Store selling hundreds of varieties of old-fashioned candy and perhaps even Santa. Benson also hosts its annual event Christmas on Main which features a parade, tree lighting, and entertainment.
---
4. Forest City
Another popular place to visit in North Carolina around Christmas is Forest City. With mountain allure, small-town charm, and holiday events including a tree-lighting ceremony, parade, and a main street lit up with one million lights, it's not hard to capture the spirit of Christmas!
During December, it's common to see carollers making their rounds, live music events, and random encounters with Santa. Holiday movie viewings and horse-drawn carriage rides also take place throughout the month.
But one of the most anticipated events is the one where Santa Clause shows off his climbing skills with a climb up Chimney Rock at nearby Chimney Rock State Park. 
---
5. Blowing Rock
It's a tiny mountain town in the northern part of the state, but Blowing Rock is also a place known for its lively holiday spirit. In fact, the town takes Christmas so seriously that they've made an annual holiday out of their biggest holiday event, the Christmas in the Park and Lighting of the Town Festival.
Just walking the fairytale-like streets decked out with holiday cheer is an experience in itself, but there are also many events and activities to enjoy throughout the season including the Festival of Trees, carriage rides, and hikes along the pretty Glenbury Trail. You can even take an evening ride on the Tweetsie Railroad and see beautiful Christmas displays.
Amazing Blowing Rock Restaurants to Try!
---
6. Brevard
Holiday cheer is alive and well in the town of Brevard, which is a magnificent Christmas town in North Carolina. It's especially so along Main Street where the shops buzz with activity as holiday shoppers search for those ideal gifts for their loved ones.
O. P. Taylor Toy Store is a longstanding business in the town and a favorite among locals and visitors alike. While you're exploring the town, it's worth it to check out the fascinating Aluminum Christmas Tree Museum before heading out to one of the best Brevard restaurants.
5 Amazing Breweries in Brevard to Drink at!
---
7. Dillsboro
It has an artsy mountain village feel to it when it's not Christmas, but around the holidays Dillsboro is enchanting.
The most anticipated event of the holiday season is the Dillsboro Festival of Lights and Luminaries where over 2,500 candles in white bags are placed along the streets and the shops and galleries are open later than usual to accommodate holiday shoppers.
There's just something about kicking back with a hot cocoa or cider after a shopping session and before venturing outside to enjoy some live entertainment or a good ol' fashioned wagon ride. Jolly carollers and a live nativity scene are just some of the other things you'll see as you wander the streets of Dillsboro around Christmas.
---
8. Asheville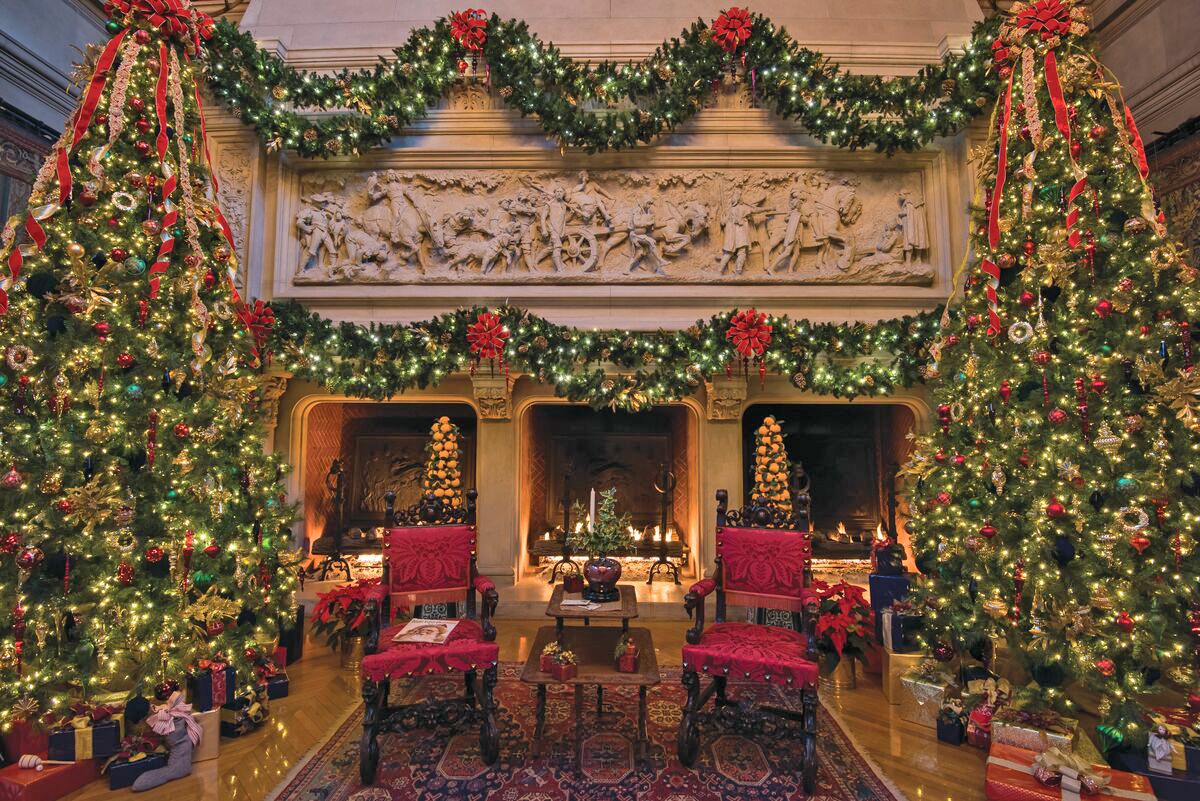 Asheville is an amazing place to spend the Christmas Holidays, and while the city itself has plenty of holiday cheer to go around, much of the season's festivities take place around its most famous property, the Biltmore Estate.
This is where you'll see over-the-top decorations, spectacular gingerbread houses, gigantic Christmas trees, and one of the most incredible light displays around. You'll even have a chance to try some red and white Christmas wines and take a carriage ride around the property!
Another popular event in Asheville is the National Gingerbread Competition, and the Botanical Gardens of Asheville are lit up for the season with both Christmas lights and fire pits where visitors can roast s'mores.
15 Dreamy Cabins in Asheville, NC to Book
---
9. Banner Elk
If winter sports are a regular part of your Christmas holidays, look no further than the cute North Carolina mountain town of Banner Elk for a combination of skiing, ice skating and snow-tubing mixed with wholesome holiday events.
This small town really does know how to do Christmas in a big way. With an annual Christmas Tree Lighting and the live entertainment featured at A Banner Elk Christmas, it's hard not to get into the Christmas spirit!
Even the Apple Hill Farm gets in on the celebrations by offering a guided tour where you'll meet the resident animals and browse a gift shop full of beautiful handmade Christmas gifts.
---
10. Waynesville
T'was A Night Before Christmas in Waynesville and all along Main Street, the shops are lit up with care, carollers are caroling, and people are gleefully touring the district on horse-drawn wagons.
It's an old-fashioned celebration of the happiest time of year! Be sure to grab a festive meal in one of the town's great restaurants and check out the Living Nativity.
---
11. Winston-Salem
Historic Winston-Salem's Christmas customs go back more than 260 years, making this little city the perfect place to head to if you want to capture that old-timey holiday ambiance.
Many of the customs come from Moravian traditions and a walk over the picturesque Old Salem Bridge or stroll through Old Salem feels like a trip in a time machine. Lose yourself in the beautiful Christmas decor along the Cobblestone streets and on ancient buildings.
Enjoy an unforgettable performance of The Nutcracker and explore the inside of some of those old buildings by candlelight – it's one of the best things to do in Winston Salem in December! You'll have plenty of opportunities to try out some time-honored Moravian holiday sweets!
16 BEST Winston Salem Restaurants to Try
---
12. Rutherfordton
If you want to stand in awe before one of North Carolina's tallest Christmas Trees, head to Rutherfordton where you'll find a massive tree towering over Main Street.
Early in December, the Historic Small Town Christmas Celebration features vendors, live music, a snowman decorating contest, and a lively parade. Be sure to take a stroll around the town and check out the live window displays at some of the shops. 
Numerous Main Street events unfold from 1 PM to 9 PM. Explore the Christmas Market with sidewalk vendors , and don't miss the live interactive displays showcased in storefront windows. However the Christmas Parade takes center stage, followed by the grand tree lighting ceremony on December 2nd at the Courthouse. Best of all, these festivities are open to all and free of charge.
---
13. Morganton
If Christmas is a time that reminds you of simpler times in a small town, bring that feeling to life in Morganton, where old-fashioned holiday traditions are still alive and well. Check out the town's courthouse decked out in its holiday best or browse the Christmas Charm Market.
Of course, the Downtown Morganton Christmas Parade is not to be missed! And nothing says "we're going to take a trip down memory lane to recapture the old-time Christmas feeling" like a ride in a horse-and-carriage.
---
14. Black Mountain
Black Mountain has that downhome, hometown atmosphere that turns Christmastime into something that can only be described as cozy and warm.
The annual Christmas parade usually has more than 100 entries so you can bet on quite the show! Other popular events during the weeks leading up to Christmas include the Dinner with Dickens dinner theater at the Red Rocker Inn, the Holly Jolly Downtown Christmas Market, and the Circle of Lights display around Lake Tomahawk.
For last-minute shoppers, many of the galleries and boutiques are open late on the weekends leading up to Christmas and as you make your way through the shopping district, you'll meet carollers and storytellers spreading yuletide cheer.
---
15. Charlotte
You've heard about Germany's famous Christmas markets and perhaps even pondered the idea of traveling there to check them out. Well, there's no need to venture overseas because the Christmas markets that spring up around Charlotte are as close to the real thing as you can get! In particular, the market held at the Charlotte Christmas Village captures that old-world feeling.
As you make your way around the stalls showcasing various items including strudels, bratwurst, mulled spice wine, toys and crafts, you'll hear live German music.
Holiday movie showings, Santa visits, dinner theaters, and an enchanting WinterFest festival with lots of lights, a 70-foot tree and rides are just some of the fun holiday events that take place in Charlotte around Christmas.
---
16. Sylva
An elaborate Christmas parade, a winter market with local crafters, live entertainmnt, visits from Santa, extended shopping hours, and a picturesque courthouse perched high above a hill of Christmas trees are just some of the highlights of a Christmas holiday spent in Sylva, North Carolina.
You'll likely also love the town's several breweries that serve up a variety of seasonal craft brews.
---
17. Beaufort
It has been said that Beaufort is one of the best towns in North Carolina for the holidays and with its beautifully-decorated downtown and great events including the annual Christmas parade and Holiday Art Walk, you can see why!
The Christmas Candlelight Tour also draws a crowd of holiday revelers who can't wait to get inside some of the most beautifully decorated homes, churches, and inns around the town. 
15 Best Beaufort, NC Restaurants to Try!
---
18. Beech Mountain
If a white blanket of freshly-fallen snow is essential to your ideal holiday scene, your best bet for a white Christmas in North Carolina is Beech Mountain in the Blue Ridge Mountains. Said to be the snowiest town in the state, Beech Mountain is also the highest which is why it snows so much there.
The town is also known for its ski resort, where you can participate in a range of winter activities such as skiing, snow tubing, ice skating, sledding, and snowshoeing.
For a true winter wonderland setting, a hike to Creekside Falls can really put one in the Christmas spirit! Leading up to the big day, many events take place in the town including the Beech Mountain Holiday Market, Beech Mountain Christmas Parade & Festival, and Santa Comes to Beech Mountain. After all your holiday cheer head to Beech Mountain Brewery, it's one of the best breweries in North Carolina!
12 Best North Carolina Ski Resorts & Snow Tube Parks
---
19. Concord
One of the largest Christmas light shows in the United States takes place at the Charlotte Motor Speedway in Concord. More than 4 million lights and hundreds of displays take over the four-mile course in the weeks leading up to Christmas.
The town also hosts its annual Christmas Tree Lighting and Parade which features a variety of activities and entertainment for all ages including a beautiful fireworks display.
---
20. Bryson City
By far, the most popular attraction in Bryson City in December is the Polar Express. Get to the Depot and hop aboard for a memorable journey to the North Pole.
The kids will be excited to meet Santa while the adults can enjoy the chance to feel like a kid again. There's storytelling, caroling, and hot cocoa while taking in the beautiful scenery outside during the journey.
Back in Bryson City, check out the holiday light displays and 50-foot Christmas tree adoring the town square, take a hayride through Darnell Farms, and check out the beautiful Christmas items sold by local artisans. If you're traveling with children, be sure to stop by the Visitor Center so they can write a letter for Santa.
15 Best Bryson City Restaurants You Need to Try! (NC)
---
What Town in North Carolina is like a Hallmark Movie?
McAdenville, known as "Christmas Town U.S.A.," hosts a mesmerizing light display that attracts hundreds of thousands of annual visitors and is often considered the perfect "Hallmark" movie town.
Where Are the Places to See Christmas Lights in North Carolina?
Does It Snow on Christmas in North Carolina?
North Carolina's climate ranges across the state from the coastal areas with milder winters to the western mountainous regions with colder temperatures. In the eastern and coastal parts of North Carolina, it would be pretty rare to experience a white Christmas, as these areas typically have milder winters with temperatures above freezing.
In the western part of North Carolina, especially in the higher elevations of the Appalachian Mountains (where many of these Christmas towns in North Carolina are) there is a better chance of experiencing a white Christmas. These areas often receive more snowfall during the winter months, and it's not unusual to have snow on the ground during the holiday season.