Beaufort is a charming hamlet on the Crystal Coast of North Carolina. One of the oldest boroughs in the state, it's also rapidly becoming one of the coolest vacation hotspots for a classic American small-town getaway in a stunning seaside setting. This spot is steeped in old-world Southern heritage and maritime history, and in between learning about that history, there are plenty of Beaufort, NC restaurants to enjoy!
The cuisine scene in Beaufort is a thing of beauty. Known mostly for serving up stellar fresh seafood and traditional Southern fares, there's something for everyone to enjoy here and so many amazing Beaufort restaurants.
The quaint downtown and scenic waterfront are home to an array of delicious dining destinations sure to cure all your cravings. Below are all the best Beaufort, NC Restaurants.
---
The Best Beaufort, NC Restaurants
---
Moonrakers
Located in the historical district, Moonrakers is a mecca for magical meals. The name is derived from the rectangular sails which are flown at the high mast on 17th-century ships, an homage to the nautical past of the coastal culture and cuisine of Beaufort.
The atmosphere is upscale yet casual, with a light and airy waterfront dining room boasting high ceilings, custom murals, and an open kitchen with a wood-fired brick oven.
The rooftop dining is especially delightful here. We recommend a sunset experience if possible. The drinks are divine with craft cocktails and plenty of specialty local beers on tap.
The wine-covered wall offers over 100 varietals for a diverse range perfect for many pairings and palettes. The simple menu features seasonal seafood. Standout dishes include the seared scallops, warm pimento cheese, blackened grouper, and wood-fired vegetables.
---
City Kitchen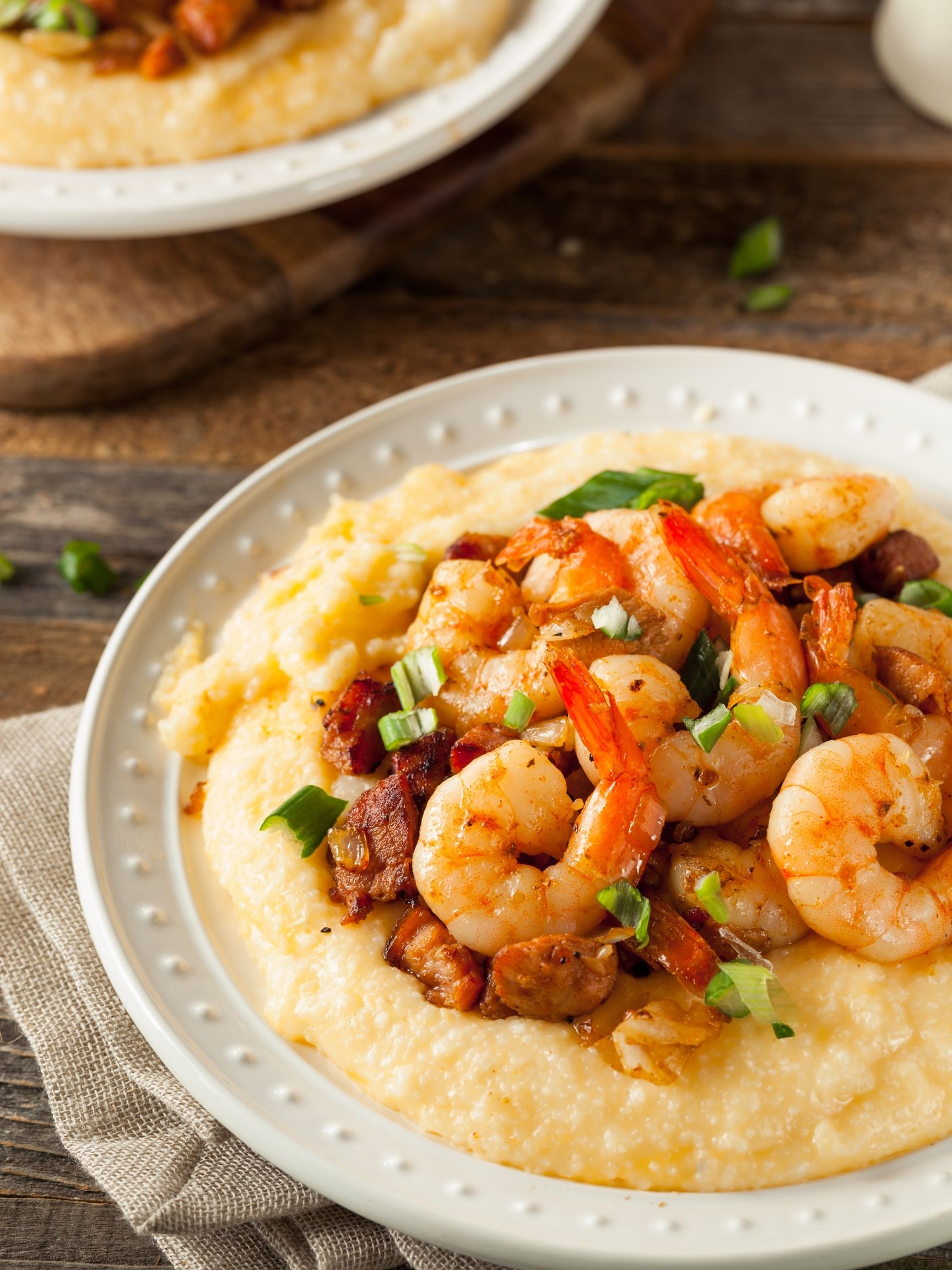 City Kitchen is set on the scenic Town Creek Marina and is open seasonally. It's an intimate and cozy spot that often offers lovely live music to accompany your waterfront dining.
You'll find this adorable eatery at the top of a two-story building that looks out over the harbor. Whether you're out on the covered porch or inside the rustic and charming dining room, the views are unbeatable. Watch fishermen return triumphant with their fresh catches of the day.
They use all fresh and local ingredients to create New American dishes from scratch, like the delectable Duck Bolognese or Curry Crab Cakes. Each dish feels thoughtful and perfectly executed at City Kitchen. Be sure to try the festive cocktails from the tiki bar as well. Save some room for desserts, as the Sticky Toffee Pudding is to die for.
---
Black Sheep
Focused on American fares and wood-fired pizzas, Black Sheep is a bastion of waterfront dining in Beaufort. As the name implies, they prefer to forage their own path ahead in the culinary world.
The menu marches to the beat of its own drum, with unique offerings that are fun and full of surprises. Try the artisanal charcuterie plates, often inspired by flavors of the local coastal culture. They are passionate about using fresh and local ingredients to create hot and cold sandwiches and salads.
The craft bar fills all your beverage needs, from coffees to cocktails to cold beer. The outdoor deck seating along the Beaufort boardwalk is scenic, to say the least. Enjoy a fresh breeze from the sparkling sea as the perfect side to any savory snack. The decor is bright and casual, ideal for a relaxed time full of great food and gorgeous surroundings.
---
Aqua Restaurant
Aqua is a favorite of the best Beaufort, NC restaurants among locals and visitors alike. They focus on fresh local flavors while serving up classic Carolina coastal cuisines.
However, they also are inspired by traditional French techniques for an added twist. They actively support all the regional farmers and fishers around. The interior offers bustling energy, while the outdoor patio provides some tranquility.
They have an array of tapas and small plates if you're in the mood for a snack or sharing. The big plates, like the Pork Porterhouse, are sure to fill you up and put a smile on your face. Treat yourself to one of the specialty martinis here, or go for wine tasting Tuesdays to try carefully curated selections. If you have dietary restrictions, don't fret, you'll find plenty of gluten-free, dairy-free, vegetarian, and vegan options here.
---
Finz Grill and Bar
Set right on the waterfront, it's a scenic spot to soak up the surroundings of Beaufort. There's even floating dock access for hungry boaters to come by. They have some of the most renowned crabcakes and shrimp and grits in Beaufort, a truly big claim to fame.
They have an eclectic menu for regional eats that capture the coastal spirit, with burgers, seafood, steaks, wraps, and more. There is something for everyone at Finz. The atmosphere is laid back and funky. The abundance of blended beverages adds a festive feel. Try the Pirate's Painkiller or the Sonny Sipper for a tropical treat.
---
Mezcalito
Mezcalito has been a much-appreciated addition to the Beaufort cuisine scene, keeping the hungry masses satisfied with spectacular Mexican meals. Everything is made in-house, from their famous margaritas to their delicious salsas and guacamoles.
They're cooking up all the Latin favorites, from tacos to enchiladas to burritos. With a back tiled bar and plenty of plants, this eatery has a vibrant and warm ambiance. Enjoy all the mouthwatering flavors of Mexico right in beautiful Beaufort. Mezcalito is a hidden gem in this quaint harbor town in North Carolina.
---
The Dockhouse
The Dockhouse has been a beloved institution of Beaufort since it opened its doors in 1978 and is definitely one of the best Beaufort, NC Restaurants! Its historic facade overlooks Taylor's Creek for some beautiful panoramas to bask in.
See if you can spy the wild ponies that live across the water on Rachel Carson Reserve. You will often find a local band performing live music on the decks here for a fun-filled ambiance.
On the menu, you'll discover classic Southern fried fares and seafood to indulge in. Ask about the special market catch that changes daily. It's an expansive eatery with many stories, so plenty of options for scenic indoor and outdoor seating.
There is a full range of festive cocktails, beers, and wines available, and it's a great place to let your hair down and enjoy the town.
---
34 Degrees North
34 Degrees features refined Eastern Carolina cuisine using fresh local seafoods, hand cut chops, and produce – a true dock-to-dish dining experience. The wrap around outdoor patio provides sweeping views of Taylor's Creek and Rachel Caron Reserve.
Sitting here on a nice day is one of the best things to do in Beaufort. The ambiance is upscale, as are the fares. The decor has a clean, elegant, and coastal flair.
They offer breakfast, lunch, dinner, and of course a divine weekend brunch. No matter the time of day, relax on the waterfront with a whiskey inspired classic cocktail, North Carolina brew, or gourmet glass of wine.
Each menu is sure to have a masterful meal, from the Beaufort Benedict to the Local Mahi Mahi. It's set inside the stunning Beaufort Hotel, a uniquely beautiful reflection of the local community. 34 Degrees North is a true oasis away in Beaufort.
---
Clawson's 1905
Clawson's is known for serving up real home cooked fares. They offer a range of elevated pub grub, including Angus Beef Burgers and Fries Shrimp Mac n Cheese. Every month they feature a different North Carolina brewery, and even kick it off with a free tasting on the first Friday.
You'll find a magnificent selection of many Outer Banks beers on tap all the time as well. You're sure to enjoy a heaping helping of Southern hospitality at Clawson's.
Clawson's began originally as a grocery store in the 1920s. It sold canned goods and fresh produce to the Beaufort community, and had a beloved bakery out back. Its current building is said to be the oldest in Beaufort, constructed in 1870. Its decor honors its history in town, with vintage photographs and newspaper clippings. The atmosphere has a very cozy neighborhood feel.
---
No Name Pizza and Subs
Family owned and operated, this eclectic eatery has been offering diverse dining options to locals since 1982. They cook up Greek, Mexican, and Italian fares all with an expert hand. This no-frills joint is a staple of the Beaufort community. The decor feels old school with dark woods and some Beaufort memorabilia sparsely displayed.
The pizza pies are perfect, and we recommend airing on this side of the menu. The Mediterranean Shrimp Pizza is a surprisingly delicious selection. It's best to come hungry, especially if ordering a submarine sandwich or gyro. If you're looking for classic comfort foods from any country, No Name takes the cake.
---
Beaufort Grocery
Set in the charming historic district of Beaufort, this quaint eatery reminds us of a French country bistro. They've been cooking up fine dining fares for over 30 years.
Their specialty is the Gougeres, a parmesan pastry filled with chicken salad, their own pimento cheese, and with shrimp, bacon or egg added in. Affectionately referred to as BeauGro by those in the know, stop in for lunch to chow down on their range of gourmet sandwiches, a truly artisan affair.
Try the Rueben Willis from Downeast, beer grilled corned beef with swiss cheese, slaw, and a remoulade sauce. Dinner offers divine dishes like roasted racks of lamb or orange duck two ways. For Sunday brunch the mini sweet potato biscuits stuffed with country ham and pepper jelly come highly recommended.
Pair your plate with coffee or a cocktail, and enjoy the quaint decor or the alfresco street seating. You're always in for a memorable meal at BeauGro.
---
Front Street Grill at Stillwater
Front Street Grill is located in the renovated Topsail Marine Boathouse on the Beaufort waterfront. The space creates a coastal ambiance, honoring the port's history at Stillwater.
You may even be able to spot the dolphins playfully swimming through Taylor's Creek here. The outdoor Rhum Bar is right on the water, and offers small bites and amazing beverages seasonally.
They serve fresh seafood dishes, such as the Ahi Tuna Tacos or the Sauteed Day Boat Flounder. The breathtaking vistas from this eatery are simply spectacular whether you're cozied up inside or soaking up the sunshine outside. We definitely recommend going for sunset if possible.
---
Parrott's on 11th
Parrott's provides simple Carolina comfort food in a comfortable country setting. It's an ideal destination for warm Southern hospitality and coastal heritage all wrapped into one. It's set in the original Phillip Bell house, a historic home technically in nearby Morehead City. They are always changing their menu to continuously offer exciting and unique fares that are fresh and seasonal. A full farm-to-table experience.
Wild caught mandarin glazed salmon is just one such showstopper that you may find here. There are plenty of fine wines to choose from as well. Enjoy some fun starters like the Scallop BLT (yes the scallops serve as the bread and it's delightful).
Relax under the twinkly lights and starry skies on the outdoor porch, or inside the intimate dining room. Save some room for dessert, with delicious creations like the chocolate cobbler.
---
Turner Street Market
Located right next to Fishtowne Brewhouse, Turner Street Market is a lovely combination cafe and shop. The decor is quaint, fresh, and modern. They make a variety of sandwiches and salads, perfect for a midday pick me up. There are treats baked fresh daily on-site, locals tend to rave about the raspberry danish.
You're sure to find the best coffee in town here and a full breakfast menu to go with it, so make sure to stop in and start the day off right in Beaufort, especially if you pick one of their homemade biscuit sandwiches. The space is filled with little gifts as well, cute and unique trinkets that are fun to browse or buy to take home as souvenirs.
---
Roland's Barbecue
Roland's has the best barbecue in Beaufort bar none. These meats are smoked to perfection right on-site and are both affordable and high quality for an enjoyable meal for all. They've been a staple in the Crystal Coast scene for the past 25 years.
It's a no frills joint, and a true down home establishment. The wall of framed dog photographs and giant rooster statue add a bit of extra fun kitsch to the walls covered in black and white photos of Beaufort.
They're all about making friends and great food, so don't be surprised if the owner starts up a chat with you. The menu is simple, exactly as it should be.
You can get plates or sandwiches of pork chops, chicken, ribs, and beef, along with a plethora of seafood as well, such as catfish, oysters, scallops, and shrimp. Of course, don't forget your fixings of slaw, orka, cornbread, and collards.
---
Best Beaufort, NC Restaurants Map