Winston Salem is a charming city near the center of North Carolina. This hamlet holds a rich history and thriving cultural scene. The extensive assemblage of eateries honors the Southern roots of Camel City while bringing a contemporary quality to the cuisine. There are many excellent Winston Salem restaurants to choose from for breakfast, lunch, and dinner.
From gourmet grub to cute cafes and everything in between, your taste buds are sure to be enticed with no shortage of delicious dishes to savor. Wine and dine to your wildest dreams at these Winston Salem restaurants.
---
The Best Winston Salem Restaurants
---
Sweet Potatoes
Exploring the downtown area is one of the best things to do in Winston Salem. While you're in the area, make sure to head to Sweet Potatoes. Sweet Potatoes is a refined dining destination in the downtown arts district of Winston-Salem.
They serve up homestyle Southern cooking in honor of the state vegetable, the sweet potato, through classic signature dishes. It's an intimate space that has been beloved in Camel City for many years.
The atmosphere is warm and inviting, giving that family neighborhood feels. The Slap Yo' Mama Ribs have gained quite a cult following around town. Be sure to start by ordering a basket of freshly fried pork rinds and end your meal with a must-have piece of pie. Sweet Potatoes define comfort food, and nothing makes us happier in Winston-Salem.
---
Ryan's Restaurant
Ryan's boasts one of the most scenic settings of all the Winston-Salem restaurants. It's nestled among a forest of old oak trees and a small sparkling stream. The intimate interior features large windows to soak up this panoramic view and an expansive outdoor deck that lets you dine directly in the idyllic natural backdrop.
They serve exclusive culinary creations and have been since 1977. Steaks and seafood are the main draws with tempting selections such as the Live Maine Lobster and the Prime Ribeye. You can add on any extras you like, for example, a bourbon demi-glace or bearnaise.
---
Cugino Forno
Set in a renovated power plant, Cugino Forno is the perfect place for a pizza in Camel City. They are serving up Neapolitan-style fares with ingredients imported from Italy for an authentic dining experience.
They view making pizza as an art form, and we are happy to enjoy every masterpiece. It's right next to Incendiary Brewing, one of the best breweries in Winston Salem, so you can even pair a local pint with your choice of pie.
They use traditional methods to create their culinary delights, with expert techniques learned in Naples and a 900-degree oven from there as well. It doesn't get much more authentic than that.
The name translates to "cousin oven," an homage to food and family. The selections are straightforward, as is the atmosphere. You can even get a frozen pizza to go or sign up for one of their legendary pizza-making classes.
---
River Birch Lodge
This local eatery offers a unique mountain-style escape. The cozy cabin doesn't even begin to describe the atmosphere inside the River Birch Lodge.
The decor comes complete with a crackling stone fireplace, large wooden rafters, and a canoe hanging from the warmly lit walls. The quaint glow about the place will make you feel comfortable and right at home.
Settle in and snuggle up for an exquisite selection of New American fares. There are over 15 craft beers on tap, and the fine wines are also in abundance. They offer fresh Carolina seafood, pizzas, sandwiches, and an assortment of pasta and meats. The Goat Cheese Ravioli and Hickory Smoked Salmon are some of the favorite fares here.
---
Mozelle's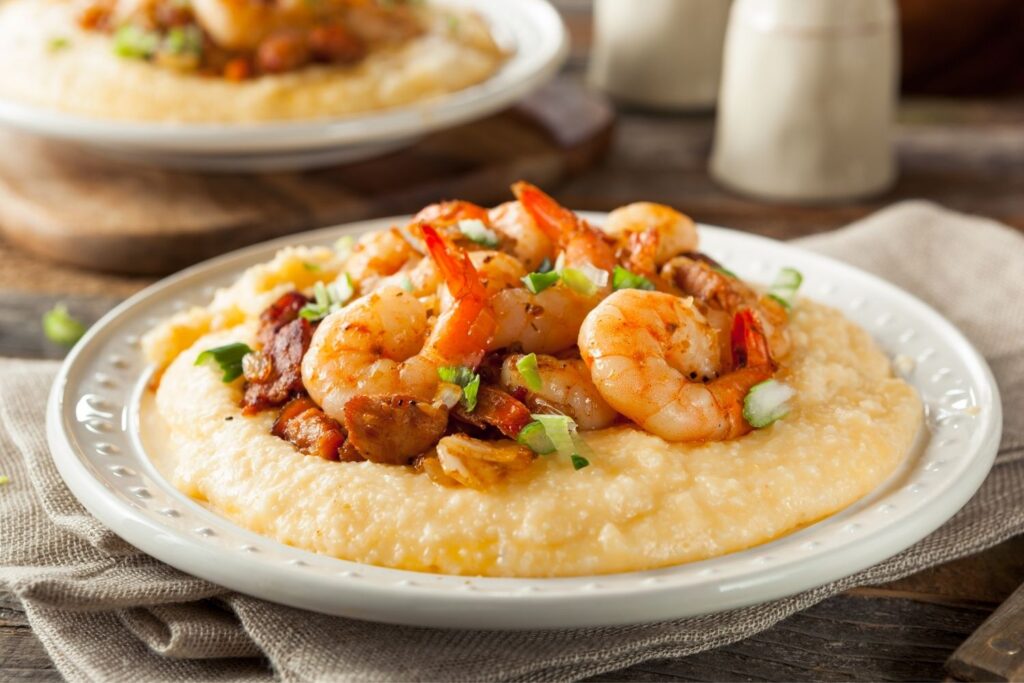 Mozelle's serves up special Southern fares in historic downtown Winston-Salem. This restaurant is charming with a bright and airy ambiance inside and a lovely cozy patio outside. Each dish is refined and created with locally sourced ingredients for a fresh farm-to-fork experience. They cook to represent the flavors of North Carolina faithfully.
The gourmet bacon-wrapped meatloaf is an iconic interpretation of a soul food favorite for the state, much like the sherry-laced shrimp and grits. Mozelle's makes mouth-watering modern takes on your mama's home-cooked meals.
There's an extensive selection of fine wines from around the world, along with craft beers and classic cocktails. Mozelle's is a must for unmissable eats in Camel City.
---
Village Tavern
Village Tavern has dispersed great food in Winston Salem for nearly four decades. It's a bit of an institution in the city and has always served up excellent food for a reasonable price. It should not be much of a surprise to see Village Tavern on our list of best restaurants in Winston Salem, as it has received numerous local awards over the years.
The menu is a diverse selection of American and Southern classics like fried oysters, bruschetta, shrimp & grits, meatloaf, pizza, steaks, and a lot more! For all they offer on the menu, it's tough to find a weak point.
Exceptional food, outstanding service, and a pleasant atmosphere combined with an extensive wine menu create a wonderful restaurant experience.
---
Di Lisio's Italian Restaurant
If you're seeking an Italian restaurant in Winston Salem Di Lisio's is the best in town. The intimate restaurant serves hearty pasta dishes and Italian classics. It's authentic American Italian cuisines with tasty favorites such as chicken parmigiana and lobster ravioli.
They're known for a lively atmosphere and wonderful service. It's also known for its eclectic selection of wines with solid showings in many categories. All pasta plates are handmade from scratch and boast a harmony of beautiful flavors.
---
1703 Restaurant
1703 is a modern eatery specializing in creative cuisine. The restaurant uses seasonal ingredients and a menu that changes regularly, which means there is always something new and exciting.
It caters to all kinds of diners, from picky to adventurous. They pride themselves on perfect plating, and each dish really does feel like a thoughtful work of art. Combining classic European and Southern-style fares seamlessly, the flavors on the plates are sure to impress.
With stand-out entrees like the grilled rack of lamb or crab cakes, you'll be savoring every expertly cooked bite. The ambiance is refined, with white tablecloths and an overall charming elegance. Enjoy al fresco dining at its finest on their charming outdoor patio.
---
Krankies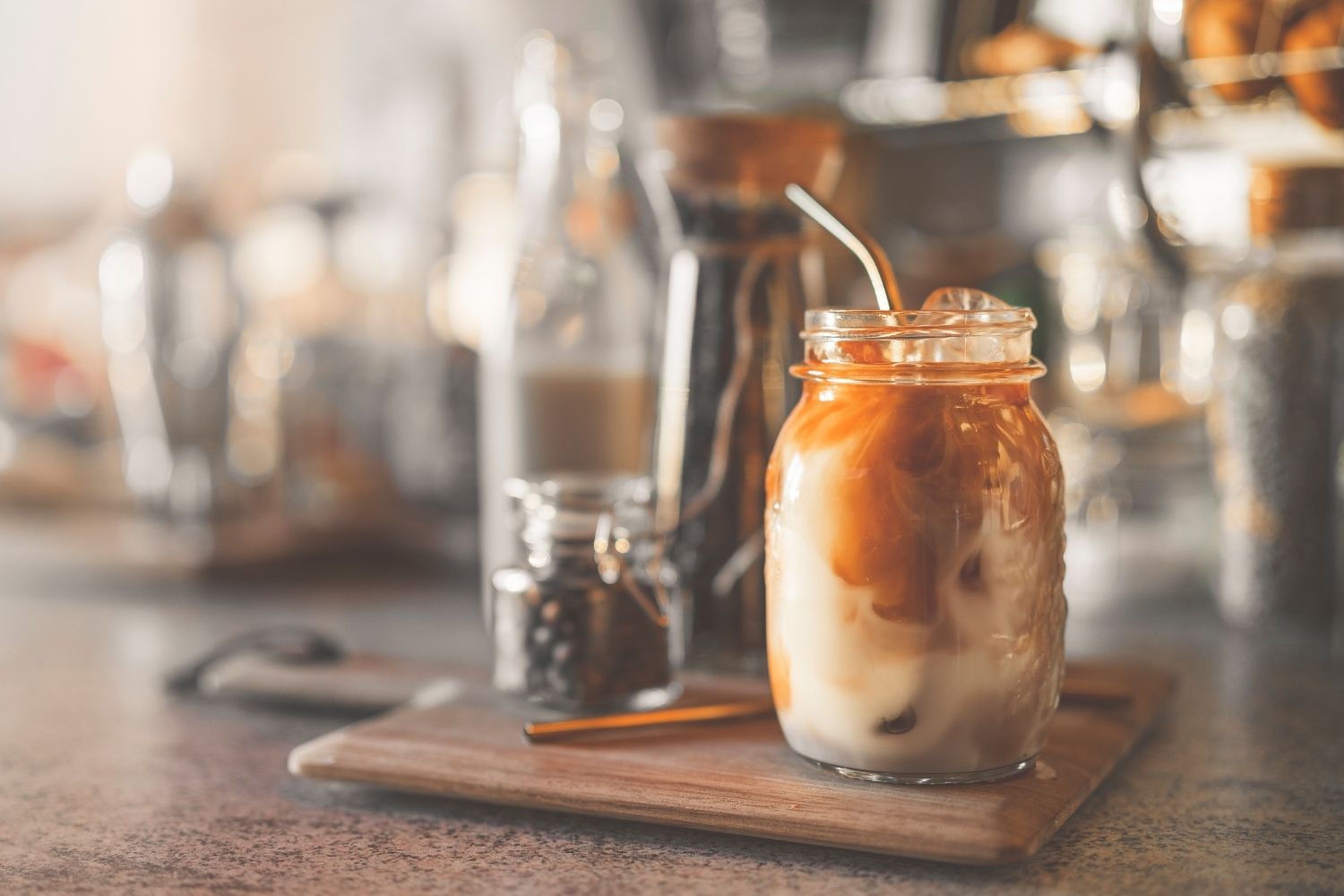 Krankies began as an adorable Winston Salem café and has since developed into a full-service eatery with a hip artistic atmosphere. It's located in a former fallout shelter and serves as an open and inclusive community space for sharing art as well as delicious dishes.
They offer breakfast, lunch, and dinner and have a full bar and weekend brunch menu as well. They still roast their own coffee on-site, so be sure to order a cup of joe along with a culinary creation.
Krankies has become known for their famous chicken biscuits, and no trip to Camel City is complete without one. We love the Texas Pete and Honey Biscuit for a classic Southern snack – all fantastic Winston Salem breakfast items.
However, some of the more inventive biscuits, like the Tofu Banh Mi or the Ham Jam, are also delectable. The interior is quaint and kitschy in a comfortable and casual way.
---
Spring House
Set in the former Bahson House, this old abode from the 1920s is the last remaining home left on the city's famous Millionaire's Row. The cuisine here is elevated New American with an ever-changing seasonal menu.
If you feel inclined to treat yourself, the tasting menu here is a superb way to enjoy these eats with three courses highlighting the chef's featured dishes of the day.
Everything is fresh and creative, with a farm-to-table flair. Imbibe a libation in the elegant Library Bar to get the full feel of the historical setting. The bartender crafts cocktails with local artisan ingredients. The Charred Filet Mignon with Crispy Fried Oysters is a fantastic favorite here. For a heaping helping of Southern hospitality, Spring House has just what you ordered.
---
The Porch Kitchen And Cantina
This cantina is a vibrant and lively space, cooking up all the creative Tex Mex favorites and one of the best restaurants in Winston Salem, NC. The balance between Mexican and Southern foods and flavors is truly a thing of beauty at the Porch.
You can get Totchos, Sweet Pete Puffy Tacos, a Back Porch Burger, and even a Dr. Pepper Trailer Pot Pie. They have a wide range of flavored margaritas, including lavender, cucumber melon, and pineapple ginger.
It's a hidden gem of the area, literally, so make sure you know exactly how to find it or you can quickly go right past it. The seating in their open garage space or shaded outdoor patio are fun ways to enjoy these fantastic fares. It's even dog-friendly, so you can bring your furry friend along to enjoy the ambiance here.
---
The Katharine Brasserie & Bar
Named after a historically prominent figure in the Winston-Salem community, Katharine Brasserie offers creative and contemporary Southern fares inspired by French cuisine. The atmosphere is that of a cozy French cafe with enchanting art deco decor. It's set inside the iconic RJ Reynolds building initially constructed in the 1920s and now home to a hip hotel.
It is a great place to go all out and order a succulent seafood feast, Le Gran Plat Katharine. It's also ideal for a small bite and expertly crafted cocktail, like the Truffle Frites and a Cheerwine Old Fashioned.
Dine al fresco or grab a seat at the stunning bar. Whatever way you choose to enjoy your time at Katharine's, we promise you're in for divine dining.
---
Meridian Restaurant
Meridian is a mecca for fine dining and world class fares in Winston-Salem. The space is elegant, and the dishes are elevated. The cuisine is inspired by Mediterranean eats, using all local, organic, and seasonal ingredients. Fall in love with the vibrant flavors here. Everything is handmade from scratch on-site, from pasta to pastries.
The Seared Sea Scallop Risotto is a vision of edible artistry. The selection of wines from around the globe is nothing short of impressive, and they offer craft beers and cocktails as well. For an upscale experience, Meridian is a magical place to get your grub on in Winston-Salem.
---
The Old Fourth Street Filling Station
Set in the historic West End, this is one of the most charming Winston Salem restaurants, promising good times and great food. The decor is trendy and upscale, and the outdoor covered terrace is a warm and inviting setting for a beautiful bite. The fares are contemporary New American with a market-driven menu.
Take your pick of enticing entrees like the Jambalaya of Eggplant Ratatouille Pasta and be transported to another world altogether. There is a full bar and a wide array of fine wines. There are new curated cuisines specials each day and a divine weekend brunch. It's certainly a neighborhood favorite in Camel City.
---
Raku Ramen and Sushi
Raku cooks up inspired Asian cuisine using all the freshest local ingredients. As huge ramen and sushi fans, this spot holds a special place in our hearts. The decor feels like a breath of fresh air, with a clean minimal and airy feel.
The front wall is made up of windows that when opened up offer a beautiful breeze and dose of the Carolina sunshine that bring the outside in for a refreshing dining experience.
The menu is extensive on both fronts offering curries, bento boxes, and hibachi grill options alongside its main savory stars of the show. Choose your sushi rolls wisely, and they may even be served in a large wooden boat for an added bit of kitsch. The Black Garlic Ramen is an authentic and awe-inspiring experience to eat. Run, don't walk, to Raku when in Winston-Salem.
---
Mojito Latin Soul Food
---
Jeffery-Adams-on-Fourth
This downtown culinary haven cooks up bold and inventive dishes time and time again. Jeffery-Adams-on-Fourth is one of the best Winston Salem restaurants set in a modern and urban setting with a warm and relaxing atmosphere and stunning city views.
They use the finest regionally sourced ingredients available, and every plate is a tribute to the farm-to-fork movement. They even have their own farm in Kings, North Carolina, where they grow most of their produce.
The menu features eclectic reiterations of classic comfort foods, from beef tenderloin risotto to southern fried chicken. The meats are cooked to perfection on a wood fired grill. There are plenty of wines to pair with your pick of dish as well as seasonal drafts and classic cocktails with a twist.
---
Best Breakfast Spots in Winston Salem
These are just the best Winston Salem restaurants, but if you are looking for a few great breakfast spots in Winston Salem we can't recommend the following enough!
Camino Bakery: Freshly baked treats every morning
Famous Toastery: Something for everyone, including vegetarians!
Young Cardinal Cafe And Co: Great Southern specialties made from fresh and local ingredients.
Moji Coffee Shop: For a great cup of coffee. Try their Nitro Cold Brew!
10 Best Breakfast Spots in Winston Salem
---
Best Breweries in Winston Salem
After trying one of these amazing Winston Salem restaurants, it may be time for a drink. Winston Salem has some pretty cool bars and exceptional North Carolina breweries.
Incendiary Brewing
Fiddlin Fish Brewing Company
Radar Brewing Company
Best Breweries in Winston Salem, NC for a craft beer
---
Best Things to do in Winston Salem
25 FUN Things to Do in Winston Salem, NC
---
Winston Salem Restaurants Map
Hope this list of amazing Winston Salem restaurants has helped you pick out your go to dining spot today. Any more restaurants in Winston Salem you would recommend?