There are plenty of restaurants in Greensboro to choose from, but only a few are the best. Greensboro is a fantastic all-around city nestled in the Piedmont triad region of North Carolina.
Although it's near Winston Salem, its quirky personality draws in visitors from all over. One such allure is all the tasty creations on the bright and burgeoning Greensboro restaurant horizon. This city has over 500 dining destinations alone, so the Greensboro restaurant options are endless!
There's an eclectic range of tastes, from authentic Italian to Asian fine dining to good old-fashioned Southern comfort classics. When we visit Greensboro, we make sure to go hungry and save room to savor as many delectable dishes as possible while in town. Below are all the best Greensboro restaurants that we can't wait for you to try.
Best Restaurants in Greensboro Quick Answers 
Best Southern Restaurants in Greensboro: Blue Denim & Lucky 32 Southern Kitchen
Best Mexican Restaurant in Greensboro: Crafted the Art of the Taco
Best Sushi Restaurant in Greensboro: Sushi Republic
Best Restaurants in Greensboro for Date Night: Undercurrent Restaurant
Best Laid Back Restaurant in Greensboro: Hops Burger Bar
---
Best Restaurants in Greensboro, NC
---
Hops Burger Bar
Hops boast some of the best burgers in the state. They sustainably source all their produce and meats, making for a super healthy and fresh-tasting product. You can pick the size of your burger, either six, eight, or twelve ounces, and exactly how you'd like it cooked. We love any eatery where we can have our meal made just so, as it always feels like a bonus.
Try the Diablo Burger with pepper jack, guacamole, and jalapeno bacon on a sriracha bun if you like spice. As the name may imply, there's a wide range of local brews on their roster, so try out a few taps to wash it all down.
There is a menu of fries to enjoy, and even the sides are never dull. They feature a new and exciting burger creation each week, so be sure to ask what the special is.
---
Print Works Bistro
Print Works serves up French-style fare in a cozy bistro atmosphere. There's a comprehensive wine list of over 75 varietals, so be sure to find the perfect pairing for your plate.
Go for any meal of the day – the menu is inventive and full of fresh and local culinary creations. The craft cocktail program churns out seasonal beverages that are always phenomenal.
You'll find choices that are both modern and traditional versions of European classics. The Seared Scallop Risotto and the Beef Bourguignon are just two superb selections. There's always a different daily plate to indulge in as well. It's one of the best restaurants in Greensboro for a splurge or celebrating a special occasion.
---
Scrambled Southern Diner
No one does it better than Scrambled Southern Diner for breakfast all day and is one of the best restaurants in Greensboro to try! The menu features all the favorite classics and some eclectic eats you may not expect. Almost all the ingredients are produced and made in North Carolina. There are seven types of benedicts, and you can build your biscuit breakfast sandwich.
The atmosphere is cozy and quaint. It's not easy, but it's wise to do your best to save some room for house-made desserts as well. The cocktails here are also impressive, so don't be afraid to get your drink on, breakfast or not. Start your day (or your dinner) off right at this delightful local diner.
---
Sushi Republic
Situated on Tate Street, Sushi Republic stands as a distinguished sushi establishment nestled within the heart of Greensboro.
Having debuted in the early 2000s, Sushi Republic finds its location adjacent to the UNCG campus, and is where you can find some of the best sushi creations like the Greensboro Roll or Mad Salmon Roll. Though you can still find classics like a Cali roll and Philly Roll.
If you don't want sushi at all don't worry! Sushi Republic has a large menu with other types of Asian cuisine like Soba and Udon!
---
Dame's Chicken and Waffles
Dame's Chicken and Waffles is an absolute must as one of the best restaurants in Greensboro. Their unique pairings of this classic Southern dish blew us away. Sometimes we still think about one of their signature creations, the Buff Brahmas, two cutlets on a classic waffle with a peach and apricot shmear, and a whiskey cream sauce drizzle.
The space has a relaxed, no-frills feel that is super friendly and welcoming. You can also create your own by choosing a world-famous waffle, a schmear of flavored butter, a drizzle and nut topping, and an a la carte protein choice. Plus, we always love to support any black-owned business when we can.
---
Blue Denim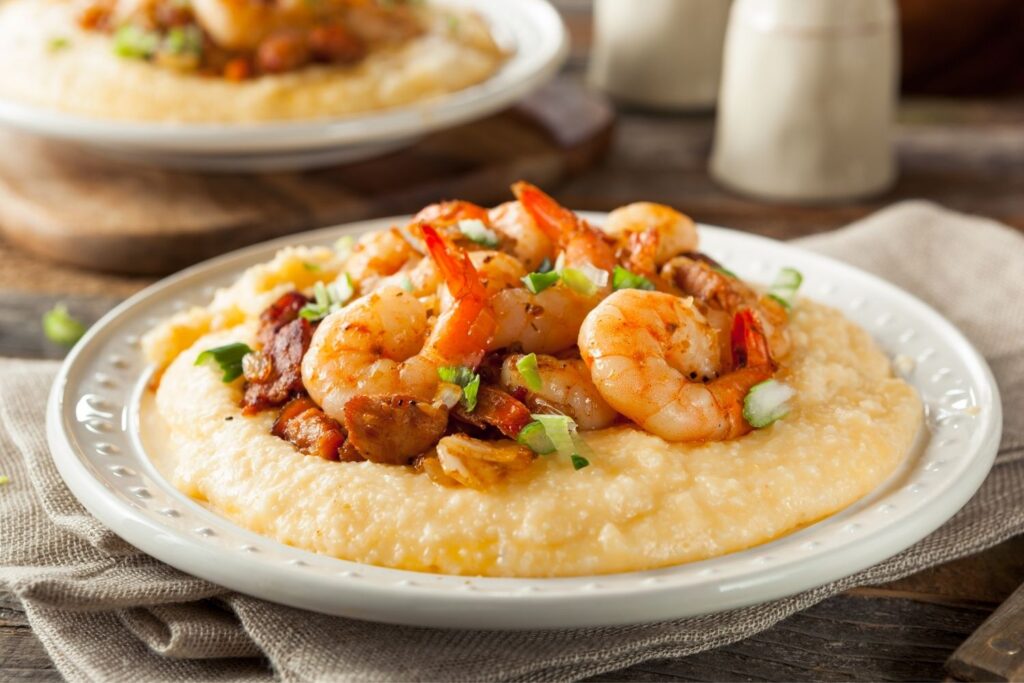 Blue Denim is a staple for Cajun creole fare on the Greensboro foodie scene. It's a fine dining affair within an intimate setting. Exposed brick and curated works of art set the stage here. The plates are all carefully presented, and each bite tastes like a mouthful of heaven.
They've brought New Orleans to this North Carolina city. Each dish feels hearty and packed with flavor in an impressively elevated way. The Etouffee and Gumbo Yaya are supreme examples. What more do we need to say than crawfish beignets? We were also pleased to find an extensive list of local craft beer and international wines available.
---
Stamey's Barbecue
Stamey's secured a spot on the North Carolina BBQ Society's Historic Barbecue Trail (yes, there is such a thing), and we can see why – it's one of the best NC bbq joints. They have one of the biggest and best pits in the entire state. Pork shoulders are smoking over hot coals for at least six hours a day at all times.
Large black and white photographs grace the walls, and the decor highlights vintage memorabilia around the down-home joint full of warm woods and exposed beams. It says old-fashioned right on the sign out front, and they're not lying in the best way possible.
You can get pork or chicken plates served with slaw and hushpuppies or chopped chicken or pork sandwiches and choose from all the favorite fixings like collard greens and mac and cheese.
---
Crafted the Art of the Taco
Using fresh local ingredients and inspiration from worldwide, you're in for so much more than just your average taco here. They've become a fast favorite of visiting and native foodies alike. When they say they aim to make affordable gourmet meals, we think they've hit a home run, a true testament to their taco art craft.
The hardest part can be which menu item to choose, so you may want to leave the room either in your tummy or itinerary to go back more than once. Try the Big Truck Tacos with pulled pork and mac and cheese or the Fedora with seared tuna and kimchi.
There are other options for any non-taco fans, like burgers and burrito bowls, but we always recommend sticking with the classics.
---
Boba House
Boba House comes highly recommended by anyone that's eaten there. It's an elegant establishment making mouthwatering Vietnamese and Thai cuisine. Everything is made in-house from scratch using all the best ingredients.
All our meat-free readers can rejoice as the menu here is one hundred percent vegetarian! Everything can be vegan or gluten-free if requested. Each dish feels fancy, healthy, and hearty, tasty foods' true trifecta.
There's a create your feel for lunch where you can pick from several bases and decide on whatever proteins you wish. For dinner, it's an upscale affair with any of the unique specialties. We love the Hula Pot, a red curry made with lemongrass, bamboo shoots, and sweet potato, and the Woking Noodle, flat rice noodles with yu choy wok-seared for a smoky flavor.
---
Green Valley Grill
The restaurant is attached to the O'Henry Hotel and has become a Greensboro institution. The Green Valley Grill always makes for a beautiful meal or afternoon tea! They serve European and Mediterranean food with the help of their wood-fired rotisserie and grill.
They pair it with a vast wine list, rotating craft beers, and artisanal cocktails to back up their excellent food. We love their crispy artichokes, wood-fired baked shrimp santorini, short rib sliders, chermoula roasted eggplant, pan-seared scallops, and the coffee & chili crusted double-smoked NY strip.
---
Lindley Park Filling Station
The food at Lindley Park Filling Station is fresh and colorful for an all-around vibrant experience. Every sandwich gets its name from a different neighborhood in Greensboro, which gives it that fun local feel you want as a first-time visitor of frequent feaster. The Brice Street and the Greenway are two of the fan favorites.
It's also one of those places where you almost want to make an entire meal out of the appetizers, with choices like Buttermilk Fried Oysters. They also have wraps, salads, hot dogs, and burgers, so every palette has a crowd-pleaser.
Whether you sit inside the adorable dining room or outside on the scenic and rustic patio, the atmosphere is super quaint. There's plenty of craft beer on tap, and it's a super spot for gathering with loved ones. You can even bring the dog!
---
Jerusalem Market on Elm
Jerusalem Market is a long-standing fixture in Greensboro and has been feeding the hungry masses for decades. It's easily the best Middle Eastern food around, family-run with authentic recipes passed down over generations. There are extensive vegetarian and vegan options available here.
Get it to go or dine in at the casual brick cafe setting. The garage door even opens up for an added bit of rustic charm. The shawarma is roasted in-house daily, and the flavors always pack the perfect punch.
Falafel, hummus, tabbouleh, and kabobs are all expertly crafted and seriously delicious. It also doubles as a market so you can stock up on snacks and supplies.
---
Liberty Oak
Liberty Oak is well known throughout the city for innovative and upscale fares. It's in the only oldest commercial building still standing in the heart of historic downtown Greensboro, which certainly adds to its charm.
The food is contemporary takes on American and European classics. The ambiance is elegant, furnished with dark woods and white tablecloths.
The Maryland-style lump crab cakes served with Texas caviar and a creole remoulade is their most famous dishes. There's a range of freshly caught seafood and gourmet cuts of meat, as well as handmade pasta. The patio out front is the perfect place to enjoy some refreshing dining outside, making it one of the best Downtown Greensboro restaurants on this list!
---
Bandito Bodega
Odds are, you'll see the Bandito Bodega food truck making its way around town while in Greensboro, but nothing beats a stop into the real deal. They seamlessly marry two of our favorite types of cuisine, Mexican and Asian, for mouthwatering creations you're sure not to find anywhere else.
We get it if you're skeptical at first, but these flavors seem to be a match made in heaven. It boasts a super modern menu and ambiance. The decor feels simple and Southwestern with a few artistic touches. We advise trying the crispy grilled tacos with Korean ground beef or the poke burrito to see what this place is all about.
---
Sticks and Stones
Knowing which place in town has that perfect pizza slice is essential, and Greensboro Sticks and Stones is always our go-to. Local and organic are more than just buzz words here. The menu is seasonal, and all ingredients are from neighboring farms. Even the flour is made at a mill nearby. The space itself is eco-friendly and charmingly rustic.
There are plenty of choices for vegetarian, vegan, and gluten-free pizzas, so all dietary restrictions are welcome here. The wood-fired clay oven is a thing of beauty and turns out pies that are just as pretty.
The Let It Ride with fried chicken, prosciutto, collards, mozzarella, and shallot cream sauce is something special. There are plenty of small plates for snacking and 16 rotating taps to pair with your pizza as well.
---
Undercurrent Restaurant
Undercurrent is one of Greensboro's best fine dining restaurants and specializes in Farm-to-Table dishes. They pride themselves in excellent service and a romantic atmosphere for special occasions or a great evening. It's not just the outstanding service, but the food too!
We love their dishes like Crisp Cauliflower, Braised Beef Turnovers, Skillet Duck Breast, and Cornmeal Dusted Carolina Trout. Their extensive wine menu does not disappoint, and that extends to the dessert wines, a perfect complement to their cordial cherry tart.
---
Agni Indian Kitchen
It may not seem like much (or the inside for that matter), but Agni Indian Kitchen brings the flavors and spice to Greensboro. The name means fire in Sanskrit, and it's very apt if you ask us. Sometimes an outstanding plate of food at a great price is enough to tempt us into trying.
Go for the lunch buffet, and you will not be disappointed. Whether you order a curry, masala, or tandoori, be sure to get extra garlic naan with it. There are plenty of tasty vegetarian options here where you won't even miss the meat. Every bite is just right at Agni Indian Kitchen.
---
Lucky 32 Southern Kitchen
Lucky 32 features farm-to-table Southern cooking at its finest and one of our favorite restaurants in Greensboro, NC. The outdoor veranda is a scenic place to enjoy a fresh breeze and sunshine with your bites. Their Cornmeal Crusted Carolina Catfish is a beloved dish of the area, and not just for its superior alliteration. Have you ever had Buttermilk Fried Chicken Livers? Well, now might be the time to try.
There's a well-curated selection of fine wines from all over the world, crafted cocktails, and locally brewed beers to round out your delightful dining experience. The ambiance is upscale without being stuffy, with dark colors and warm lighting.
It's a super seasonal menu as everything is from local and organic ingredients. They even have an adorable fresh veggie stand-out front! It runs on an honor system and feels just like stopping at a mini farmers market.
---
Best Greensboro Restaurants Map
---
EXPLORE THE REGION