South Carolina is a scenic state hiding a treasure trove of natural wonders. From mountain terrains to sandy shores, there is a landscape for all wilderness lovers to be found here, and of course, this includes some amazing waterfalls in South Carolina!
The upstate region is rich with gorgeous waterfalls galore and heading to one is one of the most romantic things to do in South Carolina. There are more than 100 South Carolina waterfalls throughout the upcountry area, each with their own enchanting allure.
Get ready for an amazing adventure of the state's secret rushing cascades, we've compiled the best waterfalls in South Carolina below.
---
Beautiful Waterfalls in South Carolina to Visit
---
Bee Cove Falls
Bee Cove Falls is located near the quaint South Carolina town of Mountain Rest in Sumter National Forest. The hike to get there is a little over four miles out and back and a bit off the beaten path in the backcountry. It's a moderate level of difficulty and the falls stand tall at 80 feet high.
The cascades themselves are multi-tiered, with a steep initial flow separating into many different streams at the base for a dramatic effect. The dense forest terrain is a wonderful way to explore the remote and pristine wilderness of South Carolina.
---
Brasstown Falls
Brasstown Falls are also found in Sumter National Park and are one of the best waterfalls in SC. This waterfall is actually divided into three different drops, offering many opportunities to enjoy their breathtaking beauty. The trek here is short but steep and the trail can be very narrow at points.
The impressive upper falls, the main namesake of the trio, are about 50 feet tall. The lower falls, while only 15 feet, end in an ethereal basin that's ideal for taking a refreshing swim.
---
Lower Whitewater Falls
These immense falls are a part of a series of cascades deemed the highest in the east of the country, set near Salem. Lower Whitewater Falls drops down 200 feet into the jaw dropping Jocassee Gorges eventually reaching Lake Jocassee. To reach the observation deck overlooking this natural marvel, it's about two miles down a spur trail each way.
The powerful rush of water plunges over the jagged rock face for a sight you won't soon forget. Its bigger brother, the Upper Whitewater Falls, actually lies across the state border in North Carolina.
---
Spoonauger Falls
An adventure to Spoonauger Falls offers minimal effort and maximum pay off, making it one of the best waterfalls in SC to visit. Nestled in a lush green hillside, the surrounding scenery of these falls is worth the journey alone. This short South Carolina hike is only about half of a mile and the falls are around 50 feet high, flowing down a stepped rocky facade.
The base culminates in shallow waters covering flat rock, perfect for wading in to cool off. It's set in Mountain Rest within Sumter National Park. You're sure to get the best photo op for your feed at Spoonauger Falls.
---
Twin Falls
These South Carolina waterfalls offer a stunning two for one special. Reedy Creek splits off to form double cascades rushing over massive granite cliffs. They are around 75 feet tall, though the left offers a slightly higher drop. The trail is easy and accessible, less than half a mile out and back.
Wander downstream a bit and discover a small natural slide empties into an idyllic swimming hole. The views here are simply spectacular as it's one of the best waterfalls in South Carolina.
---
King Creek Falls
King Creek Falls is located in Sumter National Park near Laurel Creek. It's a short and simple mile long hike to arrive. These Chattanooga River cascades are 70 feet tall and flow down mossy boulders into a semicircle covered in laurel.
One of the main draws is the small sandy beach you can enjoy at the basin for a scenic and relaxing respite. There are plenty of opportunities for more outdoor adventure here as well, from fishing to kayaking to longer treks.
---
Issaqueena Falls
The subject of many myths and mysteries, the Issaqueena Falls possesses a special type of allure. The trek is extremely short, at under a third of a mile, so this is a magnificent stop if you're short on time. The falls have a drop of over 200 feet and can be viewed from a perfectly placed pavilion above them.
If you're looking for more of an adventure, you can trek down to the base of the wondrous waterfall on a steep and narrow trail. Issaqueena Falls are truly a breathtaking sight to behold.
---
Raven Cliff Falls
It's a strenuous journey to reach Raven Cliff Falls in Caesars Head State Park an adventure not for the faint of heart to say the least. It's the tallest waterfall in South Carolina, and as such, is often a popular pick. It's over a 400-foot drop, making for a marvelous feat to see.
It's named for the notable native population of ravens that make their homes here. Over 150 species have been identified just within this region, see how many you can spot on your sojourn.
The moderate trail is a bit over two miles long one way, with a bit of elevation gain, and offers plenty of spectacular panoramas of these enormous and enchanting waterfalls in South Carolina.
---
Falls Creek Falls
Falls Creek is a fantastic haven for waterfalls, offering a chance to see three all in one spot. They're all located within the majestic Mountain Bridge Wilderness Area. Two trails traverse either side of these cascades, one shorter but much steeper and the other a bit over five miles long and still quite rugged.
The main falls are 125 feet tall, with two others along the way reaching heights of 30 and 40 feet. Be ready for a strenuous sojourn, though it's well worth it.
*This trail is currently closed for trail maintenance due to erosion, stay up to date for its reopening here.
---
Rainbow Falls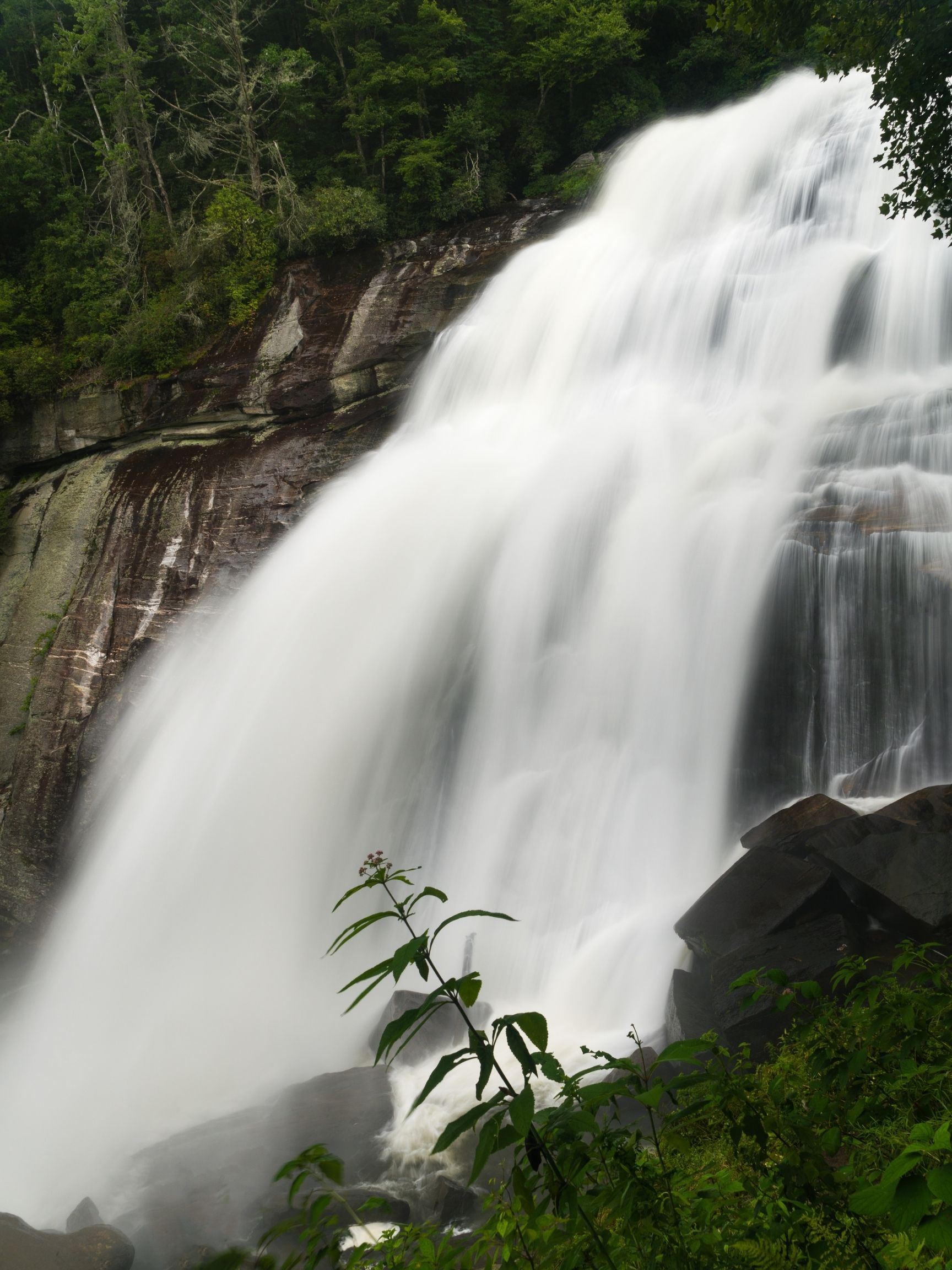 The Rainbow Falls are found in Jones Gap State Park. The elevation gain on this hike is 1,000 feet for one and a half miles. It's no joke, but enjoyable nonetheless. It's an easy day trip from Greenville, at just a about a 45-minute drive. Sparkling water plummets powerfully into a beautiful pool below over rocky steps 100 feet high.
In the lower portion of the mist radiating from the rushing falls of Cox Camp Creek, you can often spot a stunning rainbow when hit by the sunlight. It's a magical moment to experience, and a picturesque place for perfect photos. Enjoy a refreshing dip in the pools of cool water below or pack a picnic to soak up the sights.
---
Laurel Fork Falls
The best way to access the Laurel Fork Falls is by boat over the lovely Lake Jocassee. Make your way into the moon-shaped grotto behind the towering rocks for an unforgettable vista of the falls.
The alternative is an extremely strenuous eight mile hike, however it's well worth is and one of the best hikes in South Carolina. This trail traverses many wooden stairs throughout with plenty of elevation change as well.
It's ensconced in a verdant mountain side and boasts a beautiful 80 foot drop. As it can be tricky to get to, it's often less crowded than some other SC waterfalls on this list. You can even go for a swim in the cool, crystal clear waters as a much needed reward upon arrival.
---
Lee Falls
Often referred to as one of the most scenic waterfalls in Oconee County, Lee Falls is set deep in the hardwood forest of Tamasee, South Carolina. The route is three miles long out and back, on a relatively rugged path, but heading here is one of the best things to do in South Carolina. It's not an official trail, and though it starts off easily enough, it becomes steep and rocky as you get closer to the falls.
You'll likely encounter a few stream crossings as well. They're 75 feet high and a popular pick among locals and visitors alike. It's best to visit after heavy rain, as the cascade will be that much more impressive.
---
Yellow Branch Falls
These falls are located near the small town of Walhalla in Sumter National Forest, and can be reached by a three mile round trip trek. Yellow Branch Falls are a small but mighty waterfall, at 50 feet tall and showcasing immense beauty. This hike will take you through a beautiful hardwood forest and is an easy to moderate level of difficulty. Ideal for anyone of moderate fitness.
There are many vantage points from which to enjoy the scenery here, we especially recommend walking up the large boulder across from the creek for ravishing vistas. Multiple cascades stream down the jagged cliffs here, creating an enchanting experience.
---
Blue Hole Falls
Named for the deep pool at the base of the beautiful 75 foot falls, Blue Hole is a must out of all the best waterfalls in South Carolina. You will traverse dense forest that offers serene seclusion and unmatched peace and quiet.
It's a moderate hike that involves some scrambling in the gorge and a few crossing of the lazily flowing Cedar Creek. However, it's only half a mile long. Enjoy views from above and at the end of the falls, and be sure to pack a swimsuit to enjoy a dip down below.
---
Carrick Creek Falls
This is one of the most accessible falls you will find in the whole state. The trail is a mere 0.2 miles long on a paved pathway in Table Creek State Park. The cascade is 15 feet tall and offers a large swimming hole at its base.
Anyone can enjoy the serene beauty awaiting here without any strenuous activity to get there. On this short trek, you can encounter mainly oak hickory forest and a few scattered pines and hemlock.
---
Cedar Falls
The Cedar Falls come at the uniquely wide point of Reedy River where it stretches out some 200 feet across both banks. The sheer volume of water rushing over this short 15 feet tall break in the waterway is a surprisingly stunning sight to see, and it's a quick walk along a paved trail to enjoy them.
It's set just above Blue Hole Falls and it's easy enough to extend your trek about another half mile to include both of these wonderful waterfalls.
---
Wildcat Wayside Falls
Also known as Wildcat Branch Falls, this roadside stop offers some easy and exquisite viewing. Its 30-foot drop can be seen from the Cherokee Foothills Scenic Highway, but we recommend stopping to soak up the surroundings up close.
There's a short 30 minute loop trail to get closer to the upper falls section of these South Carolina waterfalls. The trail will take you to the upper and lower parts of these cascades on an easy mile-long loop.
During the rainy season of South Carolina, it's a simple but spectacular fall that has a wading pool at its base. There are three other falls to encounter in Greenville Wayside Park if you also wish to explore more.
---
Station Cove Falls
Set in the scenic Appalachian Cove Forest, this is a favorite hike among those in the know. Station Cove Falls is especially popular in the spring when all of the wildflowers begin to bloom.
Regardless of the season, the wilderness here is absolutely idyllic. It's a one and a half mile out and back trail that is great for any skill level.
It starts off at Oconee Station Historic Site, which adds a bit of extra heritage and intrigue to the adventure. The falls are about 50 feet high and a delightful destination to discover.
---
Moonshine Falls
These hidden falls can be hard to find as they're not on any marked trail; it's located in the Greenville County area, in Cleveland (here's an Alltrails guide). There are a few ways to navigate this adventure, with four different paths around the falls varying in length and difficulty, detailed here.
The upper portion provides a secret cave that still holds some surprises leftover from the moonshine era of South Carolina, hence the name. Here you can even walk behind the powerful plunging stream of falling water, a rare option for most SC waterfalls that you'll find.
---
Virginia Hawkins Falls
Double Falls, also known as Virginia Hawkins Falls, are located in the lush Laurel Park Heritage Preserve. Only 25 feet high, the surrounding landscape adds a lot to the phenomenal beauty of this small stature waterfall.
It's a three-mile round trip adventure to arrive here through an exciting array of terrains. You'll encounter rare plant species, an abundance of aquatic life within the creek, and a diverse range of bird species as well, so keep your eyes peeled for all the nature around you!
It's a fairytale forest full of streams, hardwoods, and tulip poplars. The water pours down moss-covered granite outcrops for a dreamy destination overall.
---
Beautiful Waterfalls in South Carolina map