There's no denying that there are some excellent breweries in Savannah. It's undeniable that the coastal city is full of Southern charm and enjoying a brewery is one of the best things to do in Savannah. Its historic center is a gem with colonial-era homes on cobbled streets lined by snarled oak trees draped in Spanish moss. For centuries it's been a haven of heritage in the South.
Over the years, the arts community is has found a home, in part thanks to the romanticism of low country marshland, beaches, and islands. Every visitor has something to discover, from quirky curiosities and beguiling wonders. Savannah's culinary scene has captivated visitors for decades, so naturally, the brewery scene has grown alongside.
There are a variety of breweries in Savannah, each with its low country allure. Don't be scared off by all the ghost stories of haunted attractions, just all the more reason for a bit of liquid courage. Savannah manages to blend the old and the new with a dash of quirk to form a magical mecca perfect to search for the perfect pint.
---
The Best Savannah Breweries
---
Two Tides Brewing Co.
Two Sides Brewing is a hip destination for creative craft beers in Savannah's Starland District. Everything here is a work of art, from the delectable drafts to locally made logos and the design-forward space. Minimal and light, the atmosphere is trendy and funky.
You can even play vintage pinball machines for free as you enjoy a refreshing pint. They often enjoy experimenting here, so you're sure to find some one-of-a-kind creations. The taps are constantly changing to add in some novel nifty pours, with a heavy focus on IPAs and sours.
The Foolade Cherry Limeade Sour is a Kool-Aid and soda-inspired beer with spritzy notes of sweet cherry and key lime. The Space Vacation IPA is hopped solely with Strata and brewed with oats and wheat to balance tropical and dank.
They offer a few typical bar snacks, such as pretzels and charcuterie; however, you can bring your bites or have anything delivered if you get a hankering. It's on the second floor of a hundred-year-old house, which offers a beautiful view of the streets below from the balcony. It's a great place for low-key hangouts, and their events like Vinyl Night often reflect this vibe.
Signature Beers
Sixfoot – Hazy IPA | Chromatose – Fruited Sour
---
Hop Atomica
Both a brewery and neighborhood gastropub, Hop Atomica is one of the hottest new spots in the heart of the city, and one of the best breweries in Savannah. Even if you're in Hilton Head, you may want to travel south to this fantastic place. The atmosphere is light and airy, with minimalist decor that reads trendy. Very instagrammable if we do say so ourselves.
However, they aren't just all about aesthetics. Every offering here is creative and crave-able. Masterly crafted small batch brews bring out the best and most exciting flavors. The beer and food menus constantly rotate, so there's always a delightful surprise on deck.
The featured fares are often casual Mediterranean eats, wood-fired pizzas, and charcuterie boards, perfect for pairing with a specialty pint. They have a wide-ranging roster from IPAs to sours to kombuchas. It's a great place to get a flight or order a few 4 ounces pours to try as many tasty taps as possible.
The Sunny B IPA and the Cookies and Creme Pastry Stout are sure crowd-pleasers. The patio is a lovely place to relax with a cold one, especially if your plan is a boozy Sunday brunch. They also have an in-house art gallery featuring local works, adding to the tremendous allure of the space.
Signature Beers
Cookies N' Creme – Stout | $50 4PACK – Imperial IPA
---
Service Brewing Company
This brewery holds a special place in Savannah's heart as veterans run it. It's no surprise that the military theme takes over here, but what's better than drinking a delicious brew and supporting a good cause at the same time, with an extra dose of classic Americana ambiance as well. Plus, they're dog-friendly.
Everything uses local ingredients for the authentic USA-made beer experience. They serve up year-round and seasonal selections. The limited release creations are often extraordinary, such as the Peachy Dreams and Peanut Butter Jelly Drip.
The heavenly and hoppy Compass Rose IPA brewed with Citra and Cascade hops has lovely sweet passionfruit and pine notes. The Savannah Banana Beer has become a beloved beverage for hot summer nights in this Southern hamlet. They offer many community events, so be sure to check the schedule for festive and fun finds like beer and yoga or bluegrass night.
They have food trucks come on the weekends to serve up favorite local fares. Service Brewing donates a portion of all their proceeds to support men and women who have served their country, as well as first responders. Check out their unique tap handles while you're there; local artists created them to honor the patriotic theme of the place.
Signature Beers
Compass Rose – American IPA | Lincoln's Gift – Stout
---
Moon River Brewing Company
Moon River opened its doors in 1999 and was an instant craft classic and lovable local haunt. It's in one of the oldest buildings in Savannah, said to be haunted. Folklore that's often talked about around this town. Right on Bay Street, this famous facade was many things over the years, including the first hotel in the city and the first post office.
They focus on classic beers with inventive flavor in a wide variety of styles, creating around 15 barrels at a time. It's always a popular spot for happy hour as well. They have their flagship drafts, like the Yoga Pants, a Southern-style pale ale, and specialty taps, like the R.I.P. Current, a kettle-soured tiki gose.
The atmosphere is quaint and relaxing, and you can even see the magic of the beers made behind the glass wall. The wall of garage doors opens up to a gorgeous garden area with a pergola and plenty of plants. It's over 5,000 square feet, so there's plenty of space to gather with friends in the Savannah sunshine and share a beer and a bite.
They're even dog-friendly. Be prepared if you order a flight here; it features ten beers served up on a crescent-shaped board. The kitchen is always cooking up some low country cuisine, from burgers to chicken creole. Everyone loves a Drag Brunch or Cask Night, so be sure to check out all of their entertaining events.
Signature Beers

Swamp Fox – American IPA | Wild Wacky Wit – Wheat Beer
---
Southbound Brewing Company
Southbound is Savannah's first microbrewery, set just outside its historic district. It offers an escape from the hustle and bustle of the city for a relaxing respite with a cold beer.
The atmosphere reads industrial dive bar, creating a super laid back and welcoming space for friends to hang out and relax. The decor is full of warm woods, barrels, and psychedelic murals. They offer behind-the-scenes tours to learn more about their impressive operation and exciting brews.
They have three year-round staple beers, the Mountain Jam, the Scattered Sun, and the Hop'lin IPA. Their Discography Series are limited-release brews, like the Impressionist, a dry-hopped American sour ale. There are 20 taps in total to try in this wonderful warehouse setting. The beer garden is spacious and scenic, with charming touches like fire pits for the chillier evenings.
They often host community events, like comedy shows or live music. Next door, there's even a spot for ax throwing, though you may want to stick to their handmade sodas if that's on the agenda. If you find the beers aren't filling you up enough, you can usually find a local food truck on-site here.
Signature Beers
Hop'lin IPA – American IPA | Transilience – Fruited Sour
---
Coastal Empire Beer Company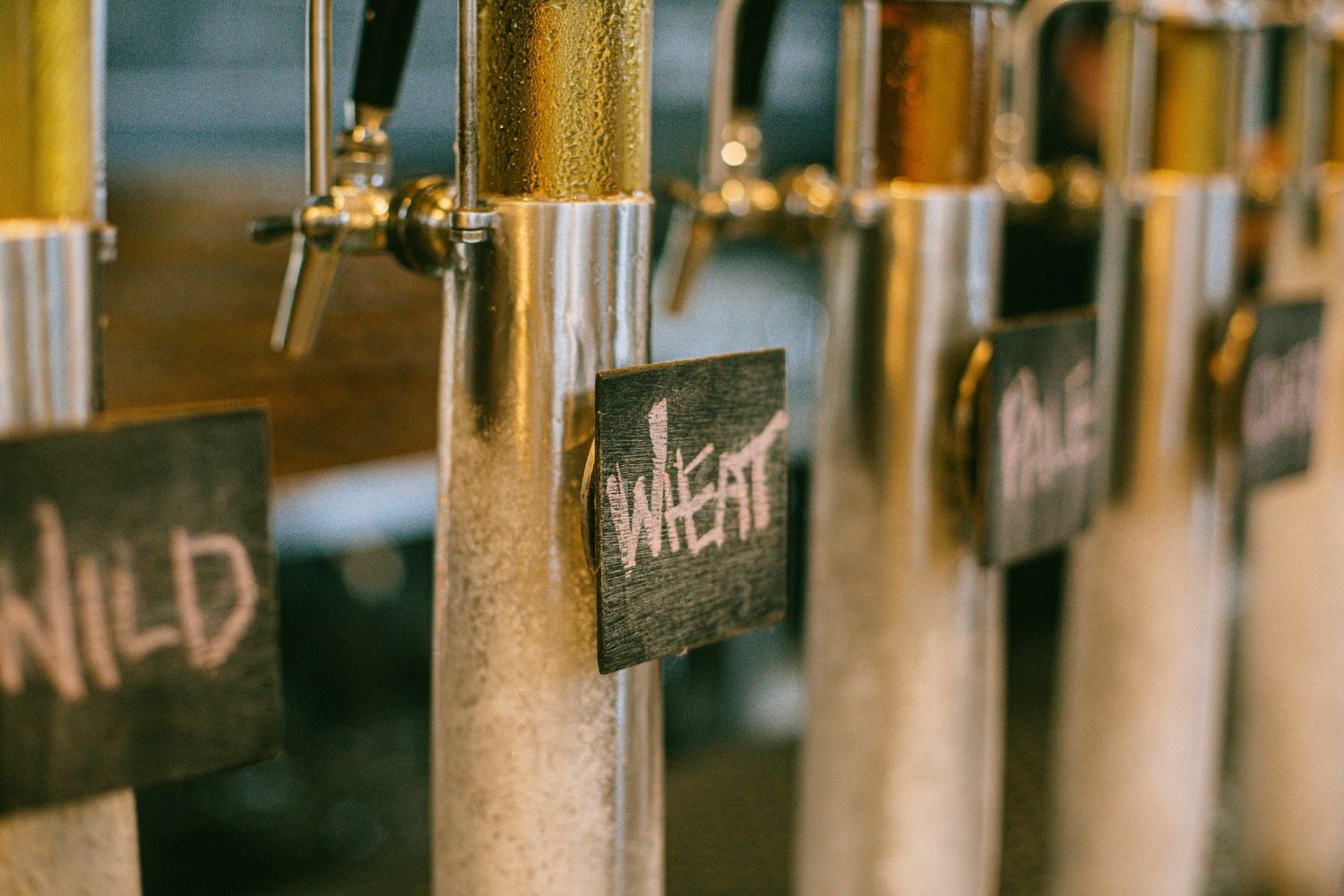 What began as a home brewing obsession has since blossomed into Savannah's most award-winning brewery. It's a bit off the beaten path but well worth the effort to find it. The ambiance is so laid back and easy-going.
There are some outdoor spaces, like decks and patios, and of course, the beer drinkers' best friend in these parts, cornhole. They offer their quirks, like being dog friendly, but all alligators must be kept on leash. Whether it's a joke or not, the Savannah style is alive and well at Coastal Empire Beer Company.
Five of these abundantly collated brews are available year-round, including the first craft creation ever on tap here, the Savannah Brown Ale. It's a no-frills joint, where the quality of the drafts speaks for itself. Many use unique ingredients from the area, like the Southern Delight Praline Amber.
The tropical Coco Pina Gose and heavily hopped Inshore Slam IPA are also popular picks. There are regular tours at the production facility available to peek into the painstaking efforts that go into each pint. There are often favorite local fares available from food trucks on hand here, or if you're lucky, the manager will barbecue up a low country feast and share with everyone around.
Signature Beers
Coco Piña Gose – Sour | Dawn Patrol Imperial Molé Stout – Spiced Stout
---
New Realm Brewing and Distilling
New Realm is new on the Savannah scene, and they've made quite a splash in a short time. It's a one-stop-shop for finely made beer, booze, and bites. The furnishings are charmingly retro, accented by archways, checkered floors, and exposed brick walls.
It's set on several floors of a refurbished historic building in the heart of the city and will soon have rooftop seating with a sweeping view over everything as well. They craft all spirits in-house, a bonus for a brewery, and the carefully crafted cocktails are out of this world. The Southern Weather stole the show with grape-infused gin, earl grey tea, simple lavender syrup, and an edible flower garnish.
We think New Realm is a soon-to-be star of the craft beer community in the city and one of the best Savannah breweries to enjoy. You'll get the complete Southern hospitality treatment at this establishment. Every week they host trivia night, bingo, and live music.
The beer selection is ever-expanding, and they're always trying out new hopping and brewing techniques to rethink tradition and bend the rules. The Hoplandia is a fan favorite here; a hop-forward west-coast-inspired IPA. The Wagyu Beef Burger comes highly hyped here for excellent eats, as does the Baked Maryland Crab Dip.
Signature Beers
Hazy Like a Fox – Hazy IPA | Lime of the Party – Sour
---
Split Fin Brewing
This small brewery is located just outside of Savannah and is a hidden gem. Only half an hour away in the quaint town of Midway, Split Fin is sure to satisfy all your beer needs. It's the first craft brewery in the county. The taps are eclectic, and they have 12 flagships available all year-round.
There's plenty of outdoor seating for sipping pints in the Southern Savannah sun, very on-brand with barrels for tables. The decor is relaxed with no frills, and the taproom uses wooden picnic tables for seating. They host many fun events like movie nights and live music. They even have some ax throwing stations outback.
Split Fin partners with local nonprofits to give back to the community so that you can enjoy a buzz for a good cause. The draft choices change regularly, and there's always something for every preference, picky or easily pleased. Their unique craft concoctions make the journey worth it. The Ghosted IPA beer features mango and ghost pepper.
The Fresh Prince of Dill Beer has salt, dill, cucumber juice, and pickle juice. The Negative Buoyancy is a New England IPA dry-hopped with citrusy hops and hints of an orange creamsicle. The fun flavors make it a great place to fill your fin flight. They offer some light bar snacks but encourage guests to order in from any local restaurants around.
Signature Beers
IPA – American IPA | Blonde – Blonde Ale
---
Before the Best Breweries in Savannah? Check out the Things to do!
Whether you have a weekend or two weeks, there are plenty of fun things to do in Savannah for everyone. A few of our favorite things to do include:
Our complete list of things to do in Savannah!