Hilton Head Island is a national treasure and beloved vacation destination off the idyllic South Carolina coast. The island is known for its pristine sandy beaches and world-class golf courses, but there is more to discover and many things to do in Hilton Head.
Surprisingly packed with possibilities, this small, quaint island town has something for everyone to discover, and it's one of the most romantic destinations in South Carolina. It all starts with the endless number of things to do in Hilton Head!
---
Where is Hilton Head?
Hilton Head Island, typically referred to as just "Hilton Head," is a small (42 square miles) island off the coast of South Carolina. It is near the Georgian border and just 20 miles northeast of the popular city of Savannah. It's known for its stunning beaches, idealistic estuaries, and world-class golf courses.
Visitors flock here year-round as it's one of the top vacation destinations in the US. The only way onto Hilton Head by car is via U.S. Route 278. Two airports service the Hilton Head Island area, the Hilton Head Island Airport (HHH) and Savannah/Hilton Head International Airport (SAV).
---
Best Things to Do in Hilton Head
---
Walk Around the Sea Pines Forest Preserve
This preserve feels like a different world. It's shrouded with dense forest, secluded swamps and lakes, and blooming meadows. Visit the Indian Shell Ring, remnants from the nomadic indigenous tribe who discovered the land.
The Sea Pines Sanctuary is ideal for spotting native wildlife, particularly birds, as you wander over charming bridle paths, bridges, and boardwalks. Sea Pines is a gated community on the Southern End of the Island and has some luxurious places to stay, golf, and restaurants.
The community is open to the public, and you can enter for $9.00 a vehicle. It's well worth the entry fee as it provides access to some of the best things to do in Hilton Head. Most notable is the resort village of Harbor Town, for some great restaurants and shopping.
---
Climb the Harbour Town Lighthouse
The iconic red and white lighthouse has been a stalwart fixture of the community for half a century. It started as a beacon to save ships from the lowcountry shores and became a symbol of the island over the decades. Now seeing it is one of the best things to do in South Carolina.
The climb to the top of Harbor Town Lighthouse requires only 114 steps and offers some pretty stellar sweeping island vistas. Learn about the museum's nautical history, and take advantage of all the stunning photo ops here. CQ's is an upscale restaurant that offers seafood and some excellent food.
---
Check out the Coastal Discovery Museum
The Coastal Discovery Center is an interactive and educational experience to explore the area's natural heritage. Learn about the local flora and fauna on the expansive acreage of the grounds.
The butterfly habitat hosts many native species, so enjoy a dreamy walk-through of their home. Engage with the ecology by exploring the landscape to identify live oaks or camellia plants. See if you can spot dolphins in the salt marshes or turtles in the lush gardens.
---
Horseback Ride at Lawton Stables
One of the great activities to enjoy in Sea Pines is horseback riding through the community nature trails. Lawton Stables are set within the community and are open to the public for horseback rides.
They offer easy one-hour trail rides for novices along the lovely nature trails surrounding the farm. Kids can also enjoy pony rides or visit the farm for free to meet some of the animals. The stables ask visitors not to feed the horses human food but are happy to sell some feed for a nominal charge to feed the ponies.
---
Play A Round of Golf
One of the most popular golfing hotspots for the pros, Hilton Head, is home to 26 private and public greens, often dotted with coastal views and live oaks. Arnold Palmer and Jack Nicklaus even designed some. It's no wonder an estimated one million games are played annually — given the island's moniker "The Golf Island."
The Sea Pines Resort hosts arguably the island's most famous course, Harbor Town Golf Links. The course hosts the RBC Heritage, one of the oldest events in the PGA tour. While Harbor Town gets all the glory, Sea Pines has two other fantastic courses.
Palmetto Dunes has fantastic courses for a slightly more affordable option, such as the oceanfront Robert Trent Jones Course. The Heritage Golf Collection is another collection of 81 holes, and Oyster Reef Golf Club is arguably the best course on the island. This is just the tip of the iceberg, and many courses exist on the island and surrounding area.
---
Lounge Around on Driessen Beach Park
Driessen Beach Park is a great place to escape the crowds of vacationers for some quiet. The shore stretches wide and long, giving plenty of room to rest and relax on your sandy spot.
It feels like a vacation and a great way to disconnect from your getaway. The shores are scenic, the ideal backdrop for any beach day away. Pack a snack, use their picnic or grill amenities, or pop into a nearby resort for a bite. 
---
Hit the Bike Trails
Hilton Head is known for its network of pathways that traverse the island. They are well-kept and easy to use, perfect for navigating your adventure here. The island is a highly bike-friendly area, and they have the accolades to prove it.
Maps are available to help you explore the landscape from every angle, top to bottom. Biking here is a fun and leisurely way to see the sights and discover all things to do in Hilton Head. The best place to rent a bike in Hilton Head is Island Life Bike Rentals; prices start at $20 daily.
---
Bird Watch at Pinckney Island National Wildlife Reserve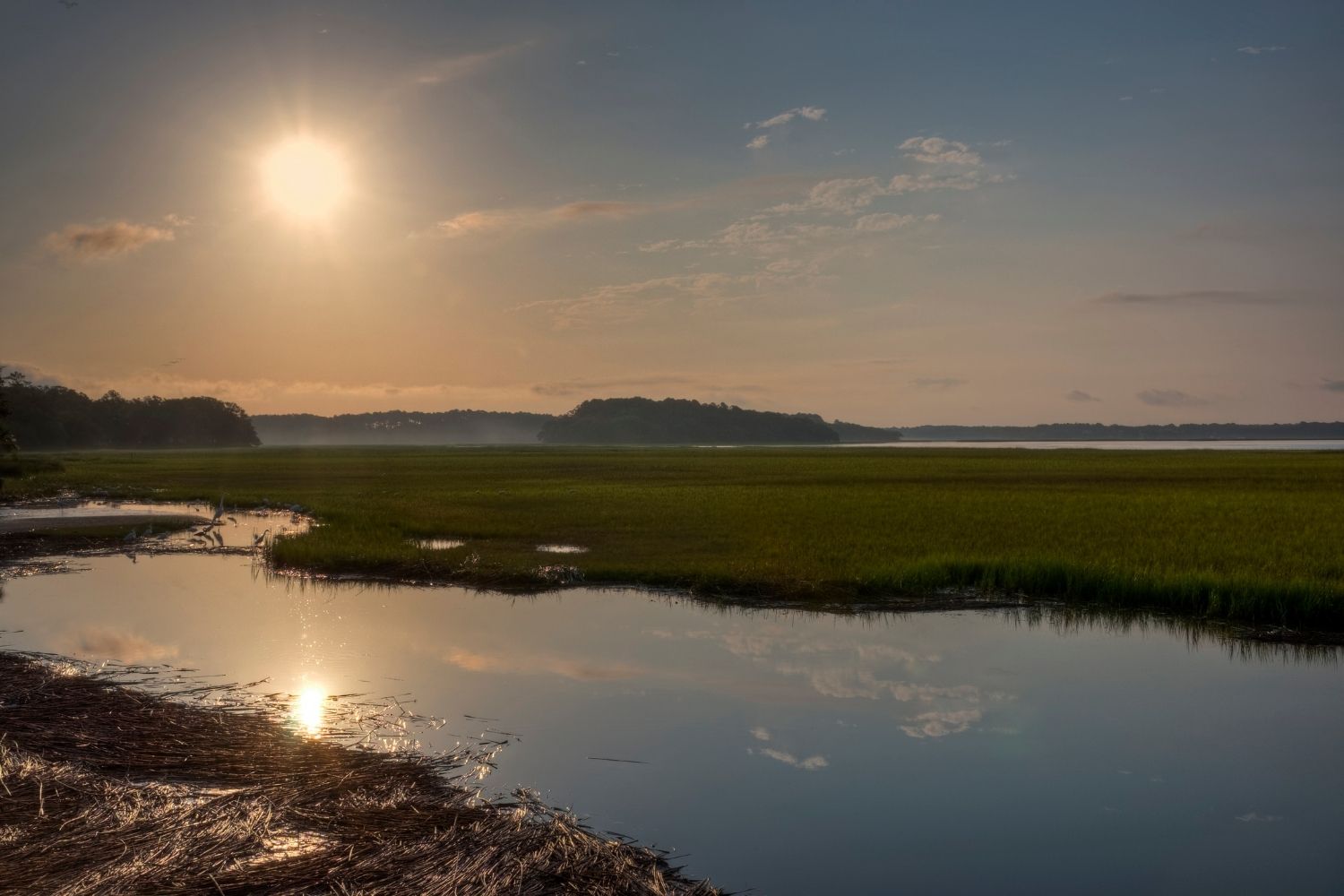 Over 4,000 acres of protected land, the Pinckney Island National Wildlife Reserve refuge is the habitat for many native species, some threatened or endangered. There are miles and miles of trails meandering through maritime forests and salt marshes. Hike or bike to explore these vast environments.
With over 200 species of birds, it's an excellent place for spotting our feathered flying friends, including the rare Painted Bunting. Several historical sites are on the grounds, ideal for any archeology aficionados. As a national wildlife reserve, please note that there is a strict "no dog" policy.
---
Enjoy Daufuskie Island
This lovely tiny island is small in stature but big in spirit. Take the ferry over for a fun ride and enjoy this secluded seascape. It appears paradisical as you've stepped back into a simpler time. It's known for some wonderful art galleries that are worth a stop to admire local artists.
There are plenty of high-end shops and fresh fares to find as well. Enjoy the white sandy scenes in peaceful privacy on Daufuskie Island. Ferries run daily, but check the schedule beforehand here.
---
Sip Sweet Wine at Island Winery
Island Winery crafts impeccable varietals from locally produced ingredients, well-known for its wines within the Palmetto State. This South Carolina winery cultivates grapes from wine regions all around the globe.
Go for a tasting in the rustic and quaint barrel room to learn more about their process and product. Treat yourself to a relaxing afternoon with an old-world red or a signature white in hand at a hidden gem of Hilton Head.
---
Mitchelville Beach
If you're searching for a wild and authentic beach-going experience, look no further than the delightful Mitchelville Beach. It's one of the best beaches in South Carolina. Natural dunes supported by seagrass and a wide sandy beach lie on the northeast side of Hilton Head. It's a wonderful spot to escape the manicured grounds and luxury homes elsewhere on the island.
The paths are unpaved, and low tide features marshes and pools to examine and enjoy. The coastal flora flourishes, covering the sandy dunes as it pleases. If it's a beach for serene scenes, more than swimming, it must be Mitchellville. 
---
Shelter Cove Harbor and Marina
At the heart of Hilton Head lies Shelter Cove for all your waterfront needs. There are many dining destinations, expensive shops, and activities with salty sea breezes and stunning views.
The marina is a great place to take a fishing charter out to sea and see what you can catch for adventures on the water. Go on a sailing excursion and find some dolphin friends; take a cruise to see the sights; rent a kayak or paddleboard to have a splash. You can even enjoy an occasional festival featuring live music and fireworks during summer!
Book a Fishing Charter!
---
Coligny Beach Park
Coligny Beach Park is the most popular park for beachcombers on the island, and it's easy to see why. It's the most famous beach around, and there are amenities galore.
Not just the usual suspects such as showers and picnic tables but shaded gazebos with swings, beach furniture ready to rent, and Wi-Fi. The nearby Coligny Plaza offers sweet treats and savory snacks to complete a delightful day in the coastal Carolina sunshine.
---
Have a Drink at Hilton Head Distillery
Everything at Hilton Head Distillery comes in small batches focusing on Carolina whiskey and West Indies Rum. Take a tour of the facilities to learn about the time-honored tradition of making aged spirits.
A visit comes with a tasting – let's be honest, sampling the goods is the best part. Mix and match flavored drinks and cocktail creations to find your favorite homemade Hilton Head libations.
---
Enjoy the Breweries after the beach
This small island is no stranger to the craft beer craze. Side Hustle Beer Co. is the smallest craft brewery in the state. They are brewing a delicious selection of beer you can take or sit outside in the sunshine sipping. They have a well-curated roster from IPAs to fruited sours to pilsners and stouts.
Hilton Head Brewing Company is locally owned and operated and was the first-ever brewhouse on Hilton Head. Grab a colorful can, or find your dream draft on tap. This community brewery is a favorite fixture, to be sure. 
---
Stoney-Baynard Plantation
This historical site has many names, including Baynard Ruins and Braddock's Point Plantation. These six acres are home to an old plantation house that fell to ruin in the post-Civil War era. It has been on the National Register of Historic Places since 1994.
The remains are fascinating to learn more about the area's local history. Folklore says that former inhabitants still roam the grounds, don't be alarmed if you encounter a spirit or two on your travels.
---
Day Trip to Bluffton
Only a stone's throw away, we love to visit nearby Bluffton for a day chock full of coastal charm and fantastic attractions. It's one of the most charming small towns in South Carolina, and most locals consider it part of the Hilton Head community. Old Town has beachy boutiques, quaint eateries, and a delightful town square to stroll around.
It's home to many festivals celebrating local cultures, such as Historic Bluffton Arts and Seafood Festival and Bluffton Village festival. Visit the Heyward House Museum to discover preserved artifacts of the area from long ago.
20 Best Restaurants in Bluffton, SC You Need to Try!
---
See a Show at the Arts Center of Coastal Carolina
The Arts Center of Coastal Carolina often hosts high-quality performances that showcase art and culture. The productions include comedies, dramas, and musicals. They host events seasonally, such as the Spring Benefit and Community Tree Lighting.
The Water Greer Gallery boasts rotating exhibits of modern visual art. There is always something new and exciting happening at the Arts Center of Coastal Carolina. Expect the unexpected in entertainment.
---
Get Out on the water!
Outdoor adventure companies help you see all that Hilton Head offers offshore. There is an abundance of marine life to observe, to spotting dolphin pods. The guides often provide a plethora of helpful knowledge about the area and know how to engage with the wildlife without negatively impacting it.
There are opportunities to try out kayaking, fishing, water skiing, wakeboarding, tubing, jet skiing, paddle boarding, or parasailing. Hilton Head is your oyster of water-based fun in the sun. Try Sea Monkey for jet ski and paddleboard rentals and Dolphin and Nature Tour for ethical sea life tours.
---
Sail & Cruise
Sail away into the sunset at Hilton Head. You can have lessons and learn to sail yourself or rent a boat if you're already a pro. Anchors Away is a great company to get a sailing charter! Charter one for a day for some of the best fishing in the Southeast.
Catamarans are a fun and unique option, even if you cruise around the island to enjoy a different perspective of the shores. Gather your friends and family for a dinner and drinks outing on the water if you're interested in more of a lively excursion.
---
Indulge in the fine Restaurants
There is quite the culinary scene happening in Hilton Head. Hudson's Seafood House on the Dock is a staple of these shores. Overlooking the Port Royal Sound, you can watch fresh seafood unloaded from the boats to the docks and straight to your plate.
Fitted with all the Southern fixings of live bluegrass and Cackalacky Punch to sip, it's easy to see why this institution has been beloved for decades.
Java Burrito Company hits the spot with locally and sustainably sourced fares. They make mouthwatering burritos with a coastal twist. For fine dining, visit Porter & Pig, Lowcountry Backyard has your Southern cravings covered, and Chow Daddy's got the best burger around.
21 Delicious Hilton Head Restaurants to Try!
---
Zipline Hilton Head
Adventure Hilton Head has over eight exciting zip lines to fly through the air. At up to 75 feet high, there are sweeping views of the ocean landscape.
Soar through the majestic oaks and pines, traverse suspended sky bridges, and ascend an aerial staircase. This canopy tour thrill ride is top of the list for one-of-kind things to do in Hilton Head with kids.
---
Learn about important history on the Gullah Heritage Trail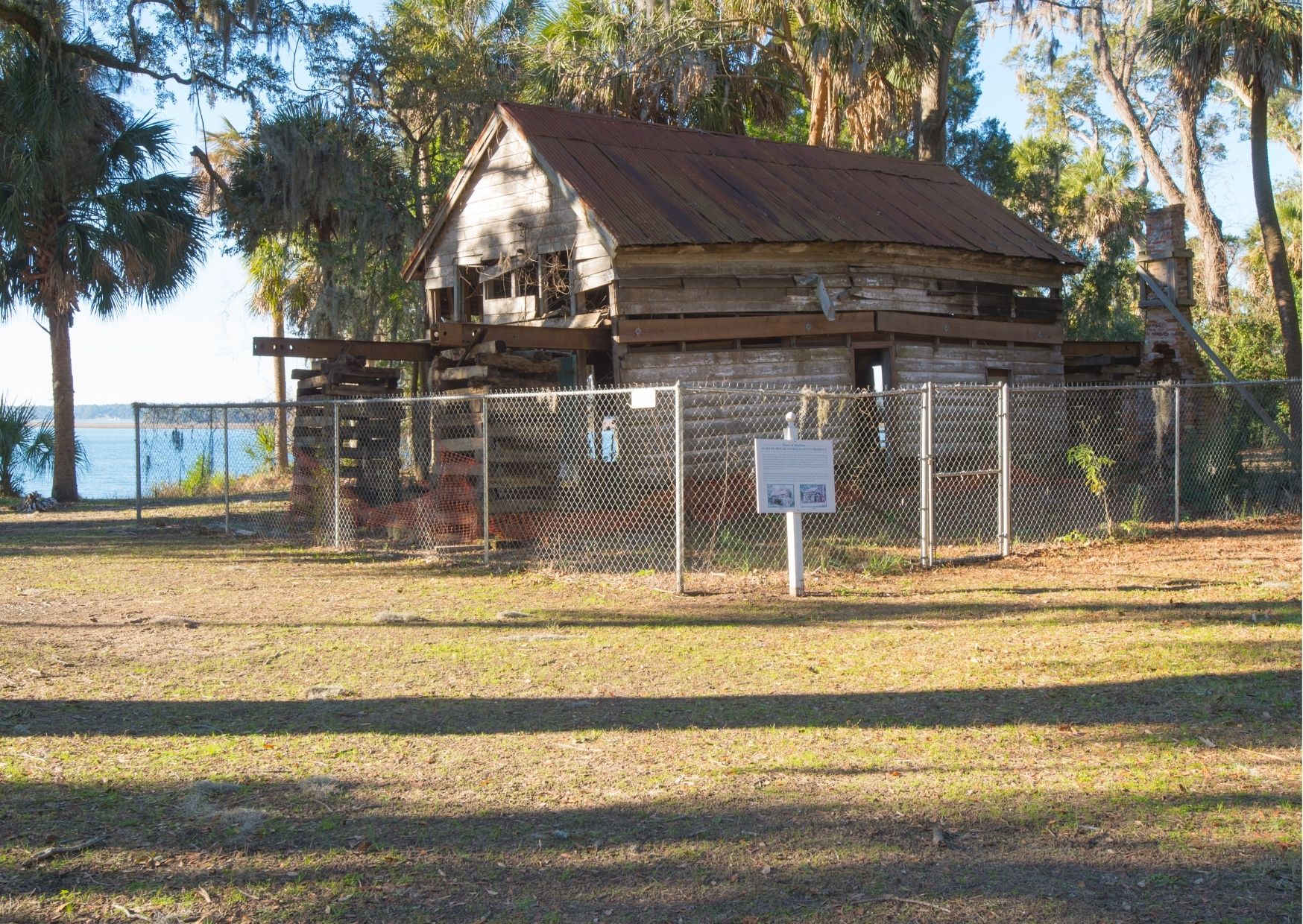 A cultural group hailing from West Africa and commonly congregating to preserve their unique heritage in South Carolina, the Gullah Heritage Trail seeks to educate others about their history and traditions that have survived centuries of slavery and more than a century of free lifestyle.
They have their language, a form of creole, born out of necessity to communicate with each other, even from different regions within Africa. The Gullah Geechee Corridor preserves the culture of the ancestors, which remains slightly more intact due to the island's isolation.
---
Shop at the local Farmers' Market
There are several farmers' markets around town. Check out the Shops at Sea Pines Center, Wexford Outdoor, or Coastal Discovery Museum for glorious local, fresh, sustainable goodies galore. There is an eclectic mix of specialty items sold by local vendors at each one.
You can find produce, meat, seafood, pastries, cheeses, arts and crafts, unique creations, prepared foods, and so much more. Live entertainment and friendly faces offer options like getting your knives sharpened as you shop. Don't miss these displays of Lowcountry delicacies.
---
Enjoy Harbour Town
Harbour Town is the high-end commercial hub for Hilton Head. It's the prime spot to shop until you drop. Browse luxury goods ranging from furniture to jewelry to clothing. Scope out the marina for some waterfront fun on yachts, eco-tours, or surfboards.
Grab yourself some gourmet grub at any number of eateries available. It's nestled within the Sea Pines resort community, surrounded by spectacular scenery. Check the Liberty Oak for the chance to see some live music. We recommend sticking around for the sunset. It's incredible here.
---
Burkes Beach
Hilton Head has many popular beaches. Burkes Beach is a beautiful, secluded option located on the south end of Hilton Head Island. This beach is perfect for those looking to avoid crowds and enjoy some peace and quiet.
It's widely considered to be a scenic spot that only the locals go to. The white sand and clear blue waters make it a perfect place for swimming, sunbathing, and simply enjoying the stunning views. It's also conveniently located right off of the William Hilton Parkway.
---
Nash Gallery
Nash Gallery is a must-see for any art lovers visiting Hilton Head. The gallery features a rotating selection of paintings, sculptures, pottery, and photographs from local artists. They represent craftsmen from all over North America as well, over 150 to be exact.
It's located at the beautiful Shelter Cove Harbour and has been a family owned staple in the creative community here since 1989. The displays are always eclectic and the expert staff is always engaging. It's also a great place to shop for that ideal island souvenir at their specialty on-site gift store.
---
Hilton Head Escape Room
In a recent nationwide craze, escape rooms have become one of the coolest things to do when visiting and exploring any new town. The Hilton Head Escape Room is a great activity for groups of friends or family looking for a fun challenge.
This escape room in particular, puts you in a themed room where you have to solve puzzles and find clues to get out within the allotted time. There are several different rooms to choose from, each with its own unique theme, such as the Conspiracy Theory Room or the Taken Room. It's best to book for this entertaining attraction in advance.
---
Folly Field Beach Park
Folly Field Beach Park is one of Hilton Head's most beloved beaches, and for good reason. The wide, sandy beach is perfect for sunbathing, playing volleyball, or simply taking a leisurely stroll. Several restaurants and cafes are nearby, making it the perfect spot to spend a day in the sun.
The charming wooden boardwalk winds its way through the rugged natural surroundings, so even the arrival to this slice of the seafront feels super scenic and it's accessible for everyone. It's one of our favorite places on the island to go for sunrise or sunset.
---
Audubon Newhall Preserve
Audubon Newhall Preserve is a nature lover's paradise. This 50-acre natural wonderland is home to a variety of beautiful birds, including ospreys, herons, and egrets. There are also several trekking trails winding through the dense woods, making it the ideal destination for exploring Hilton Head's remote beauty.
They add up to about a mile in total, so it's never too hard of a hike here. The protected ecosystem is full of enchanting flora and the preserve is open every day from sunrise to sunset.
---
Play Tennis
Tennis Centers are plentiful on Hilton Head Island, making it the perfect place to enjoy this popular sport. Whether you're a beginner or an experienced player, there's a tennis center on the island that's perfect for you. State-of-the-art facilities abound, and as such it's even been rated one of the best destinations for taking up tennis in the entire nation.
These world class surfaces include Palmetto Dunes, Port Royal, and Sea Pines Club. So why not grab a racket and don your best whites to enjoy a spirited game at any one of the island's decked out courts.
---
Shelter Cove Towne Center
Shelter Cove Towne Center is a superb spot to do some shopping while on Hilton Head Island. The bustling town center features a variety of shops, restaurants, cafes, and services. There's also a playground and a water fountain, making it the perfect place to spend an afternoon with the whole family.
They also host many community events, such as outdoor movie nights in the Summer season or live music performances. Some of our favorite stores for browsing and buying are the Island Trading Co. and Coastal Provisions Co.
---
Fort Howell
Fort Howell is one of Hilton Head's most popular historical attractions. The fort was built in 1876 and served as a significant Union Army post during the Civil War. Today, visitors can explore the fort's former hallowed grounds, learn about its rich history, and take in stunning views of the surrounding Lowcountry.
It's definitely one of the most unique structures of its kind on the Eastern seaboard. As far as ruins go, there are only a few earthen remnants left, but all the towering trees covered in Spanish moss surrounding this fascinating attraction add to its allure. Plus it's open and free all year round.
---
The Jazz Corner
The Jazz Corner is Hilton Head's premier jazz club. It's widely renowned as one of the best in the entire Southeast. It's a Lowcountry landmark that's become a legend both in the area and beyond.
The club features nightly live music, a full menu of refined Southern fares, a signature martini selection, and an extensive wine list.
Visitors can purchase tickets in advance to see world-renowned jazz musicians perform on the famous stage, located at the Village at Wexford. It boasts an all around intimate and elegant atmosphere for an always entertaining evening in Hilton Head.
---
Honey Horn Plantation
Honey Horn Plantation is a must-see for any visitor to Hilton Head Island, and one of the most memorable experiences available in the area. It's much more than just home to the Coastal Discovery Museum. The expansive and majestic plantation is home to a variety of animals, including alligators, turtles, and birds.
Visitors can also tour the plantation's historic buildings and learn about its role in the Civil War. With over 65 acres to explore, it's a great way to wander the day away and learn about the region's cultural and natural heritage.
---
Day Trip to Beaufort
Beaufort is a beautiful city located just outside of Hilton Head Island. It's a charming harbor town with so much to see and do. It also happens to be the ideal distance for a quick day trip, just 40 miles away. The city is home to many historical attractions, including the Beaufort Museum and the John Mark Verdier House.
Visitors can also take a leisurely stroll through the city's downtown area, which is filled with quaint shops, gourmet eateries, waterfront bars, fine arts galleries, and specialty boutiques.
21 Amazing Things to Do in Beaufort, SC
---
The Kazoobie Kazoo Factory
The Kazoobie Kazoo Factory is one of the quirkiest attractions of the area, and it's sure to charm despite its location in Beaufort, SC.
It explores the history of the kazoo in America and takes you on a journey through the country's history from this perspective – certainly not something you see every day. It boasts the world's most extensive publicly viewable collection, and if curiosity isn't convincing enough, maybe the Build Your Own Kazoo Station will be.
---
Comedy Magic Cabaret
Comedy Magic Cabaret is a popular attraction on the island for evening entertainment. They feature a variety of live shows, including stand-up comedy, magic shows, and musical performances. It feels very Vegas-style, with the Funny Not Filthy series being their most famous regular performance to date. It's an intimate and upscale showroom.
Visitors can also enjoy a meal at the cabaret's fine dining establishment before or after the show. You can go for the general admission tickets to save a few bucks or treat yourself to a raised booth or a VIP front row club seat. Regardless, be sure to make a reservation in advance!
---
Hilton Head Symphony Orchestra
Hilton Head Symphony Orchestra offers visitors the chance to see world-renowned musicians perform classical music. The orchestra conducts several concerts throughout the year, both on Hilton Head Island and in nearby Savannah, Georgia.
They have strived to bring harmony and wonder to the Lowcountry community through their expertly prepared performances since 1989. In the Fall and Spring they also offer an Outdoor Pops series and there's an annual International Piano Competition as well.
---
Have a Spa Day
Spas are plentiful on Hilton Head Island, offering visitors the chance to relax and rejuvenate in the scenic surroundings. Some spas offer a variety of services, such as massages, facials, and other specialty body treatments. It's the ultimate self care luxury and when in paradise it's best to ensure all your everyday stresses are kept at bay.
Get an oceanfront hot stone treatment or enjoy a blissful body wrap. Pick from Ocean Tides Spa, the Indigo Spa, the Seeds of Calm Spa, or the Arum Spa just to name a few. For a more eco-friendly experience, head over to the Ahh Green Spa which offers all kinds of sustainable wellness therapies.
---
King Neptune Sundial
King Neptune Sundial is one of the coolest, under the radar attractions in the Lowcountry. The sundial is located in Shelter Cove Park and is a replica of the original sundial that was built in England in 1675. Many have strolled right past without even stopping to admire the unique and even strange looking structure, but trust us it's well worth an examination.
It's a giant bronze man, the king of the sea to be specific, who can tell you the time with his enormous trident. It even boasts the title of being the largest one of its kind in the whole world.
---
Lowcountry Celebration Park
Set just outside of Coligny Beach, Lowcountry Celebration Park is a great place to take the family for a day of fun. The park features a variety of activities, including a playground, a picnic area, and many walking trails. It's over 10 acres altogether, so it's possible to spend a good amount of time here exploring.
It's actually the island's newest park, and is a much-appreciated addition to the gorgeous green spaces here. You'll find practical facilities as well, including Wi-Fi and fitness stations.
---
Fish Haul Creek Beach
Fish Haul Creek Beach is one of the best hidden gems in Hilton Head. This beach is perfect for those who want to avoid the crowds and enjoy a more relaxing experience. It's tucked away in Bay Gall, a historic Gullah neighborhood on the island. It's the ideal pick for an idyllic and tranquil respite, especially if you enjoy bird watching and strolling in solitude.
Fish Haul overlooks the Port Royal Sound and remains undeveloped for a more pristine and rugged beach going experience, plus there's an observation deck so you can take it all in.
---
Catch Gregg Russell
Gregg Russell is a local performer who has entertained visitors on Hilton Head Island for over 40 years. He performs at Harbor Town every evening during the summer months. This time honored tradition of regular concerts is considered an essential right of passage among locals and visitors alike.
He does all his own original songs, some of which have been featured in famous films and TV series. Be sure to catch one of his shows while you're in town under the enchanting old oak tree.
---
Visit During a Festival
Hilton Head Island is home to various festivals and events happening throughout the year. Some of the most popular community celebrations include the Sea Pines Heritage Days Festival, Rock n Ribs, the Hilton Head Jazz Festival, and the Hilton Head Island Seafood Festival.
We also always enjoy hitting up the Hilton Head Island Food and Wine Festival and the Hilton Head Island Gullah Celebration. There's a scheduled shindig for every niche interest and people come from all over to participate.
---
Hilton Head Farmers Market
You can find a few well stocked farmers markets throughout the island on varying days of the week. They mainly sell fresh produce grown nearby alongside handmade artisan crafts. It's a great way to get to know vendors in the area directly, to support independent businesses while visiting, and to savor all the authentic flavors of the Lowcountry.
The Hilton Head Island Farmers Market is a great place for local produce, baked goods, and more. The market is open every Tuesday from April through November. The Farmer and Makers Market at the Sea Pines Center is open on Tuesday mornings until afternoon. The one hosted at the Coastal Discovery Museum each week even features food trucks.
---
Where To Eat On Hilton Head?
Hilton Head has great local restaurants that present a wide range of cuisines and traditional southern staples. It's no wonder one of the best things to do in Hilton Head is to enjoy all of the fabulous restaurants. Here are a few of the best restaurants in Hilton Head.
---
Where To Stay in Hilton Head
There are numerous hotels and resorts to stay in Hilton Head. If you're traveling as a group it may be worth checking out some fantastic Hilton Head VRBO rentals.
---
Amazing Things To Do In Hilton Head Map