Hilton Head Island is a national treasure and beloved vacation destination off the idyllic South Carolina coast. It's known for its pristine sandy beaches and world-class golf courses, but there is so much more to discover and so many things to do in Hilton Head for all visitors.
Surprisingly packed with possibilities, this small, quaint town has something for everyone to discover, and heading here is one of the most romantic things to do in South Carolina. There is an endless exploration of things to do in Hilton Head!
---
The Best Things to do in Hilton Head
---
See or climb the Harbour Town Lighthouse
This iconic candy-cane colored structure has been a stalwart fixture of the community for half a century. A beacon of saving ships from wrecking on these lowcountry shores, it's become the symbol of the island itself, and seeing it is one of the best things to do in South Carolina.
The climb to the top of Harbor Town Lighthouse requires only 114 steps, and it offers some pretty stellar sweeping vistas of the island. Learn about the nautical history at the museum, and be sure to take advantage of all the stunning photo ops here.
---
Check out the Coastal Discovery Museum
The Coastal Discovery Center is an interactive and educational experience to explore the natural heritage of the area. Learn about the local flora and fauna on the expansive acreage of the grounds. The butterfly habitat hosts many native species, so be sure to enjoy a dreamy walk through of their home. Engage with the ecology by wandering through the landscape to identify live oaks or camellia plants. See if you can spot dolphins in the salt marshes or turtles in the lush gardens.
---
Walk Around the Sea Pines Forest Preserve
This natural wonderland feels like a different world. It's shrouded with dense forest, secluded swamps and lakes, and blooming meadows. Visit the Indian Shell Ring, remnants from the nomadic indigenous tribe who discovered this very land. The Sea Pines Sanctuary is well preserved, ideal for spotting native wildlife as you wander over charming bridle paths, bridges, and boardwalks.
---
Get Golfing!
One of the most popular golfing hotspots for the pros, Hilton Head is home to a whopping 24 private and public greens, often dotted with coastal views and live oaks. Some were even designed by Arnold Palmer and Jack Nicklaus. The manicured greens will offer challenges to the advanced golfers, and a space to improve for the newcomers. Palmetto Dunes, Harbour Town, Oyster Reef, and Hilton Head National are some of the fan favorite fairways on the island.
---
Driessen Beach Park
The Driessen Beach Park is a great place to escape the crowds of vacationers for some peace and quiet. The shore stretches out wide and long, giving plenty of room to rest and relax on your own sandy spot. It feels like a vacation from your getaway, a level of off-the-gridness we highly recommend. The shores are scenic, the ideal backdrop for any beach day away. Pack a snack and use their picnic or grill amenities, or pop into a closeby resort for a bite.
---
Hit the Bike Trails
Hilton Head is known for its network of pathways that traverse the island. They are well-kept and easy to use, perfect for navigating your own adventure here. The island is an extremely bike friendly area, and they have the accolades to prove it. There are plenty of maps available to help you explore the landscape from every angle, top to bottom. Biking here is a fun and leisurely way to see the sights and discover all things to do in Hilton Head. The best place to rent a bike from in Hilton Head is Island Life Bike Rentals, prices start at $20 for the day.
---
Bird Watch at Pinckney Island National Wildlife Reserve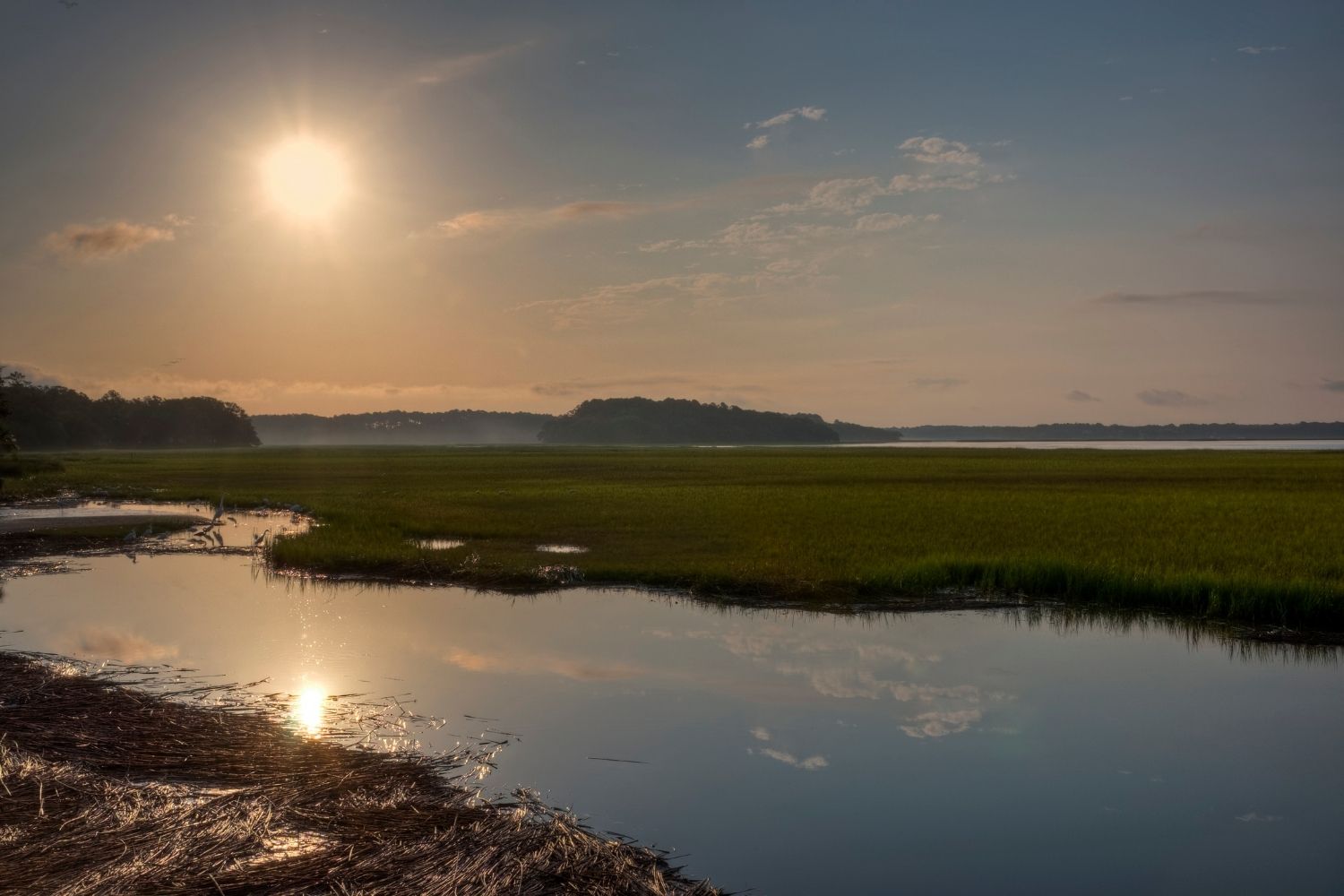 Over 4,000 acres of protected land, the Pinckney Island National Wildlife Reserve refuge is the habitat for many native species, some threatened or endangered. There are miles and miles of trails meandering through maritime forests and salt marshes. Hike or bike to explore these vast environments.
With over 200 species of birds, it's a great place for spotting our feathered flying friends, including the rare Painted Bunting. There are several historical sites on the grounds, ideal for any archeology aficionados.
---
Enjoy Daufuskie Island
This sweet little island is small in stature but big in spirit. Take the ferry over for a fun ride and enjoy this secluded seascape. It appears paradisical, like you've stepped back into a simpler time. It's known for its art galleries, so be sure to stop into studios to take a gander at some beautiful works. There are plenty of high-end shops and fresh fares to find as well. Enjoy the white sandy scenes in peaceful privacy on Daufuskie Island. Ferries run daily, but check the schedule beforehand here.
---
Sip Sweet Wine at Island Winery
Well-known for its wines within the Palmetto State, Island Winery crafts impeccable varietals from locally produced ingredients. They cultivate grapes from wine regions all around the globe. Go for a tasting in the rustic and quaint barrel room to learn more about their process and product. Treat yourself to a relaxing afternoon with an old world red or a signature white in hand at a hidden gem of Hilton Head.
---
Mitchelville Beach
If you're in search of a more wild and authentic beach going experience, look no further than the delightful Mitchelville Beach. It's one of the best beaches in South Carolina. Nested in the northeastern end, these are the rugged seashore sights from our deserted island dreams. The paths are unpaved, and low tide feature marshes and tide pools to examine and enjoy. The coastal flora flourishes, covering the sandy dunes as it pleases. If it's a beach for serene scenes, more than swimming, it must be Mitchellville.
---
Shelter Cove Harbor and Marina
At the heart of Hilton Head lies Shelter Cove for all your waterfront needs. There is a plethora of dining destinations, swanky shops, and activities to engage in, all with a side of salty sea breeze and stunning views. For adventures on the water, this is a great place to take a fishing charter out to sea and see what you can catch. Go on a sailing excursion and find some dolphin friends; take a cruise to see the sights; rent a kayak or paddleboard to have a splash. You can even enjoy an occasional festival featuring live music and fireworks during the summer months!
---
Coligny Beach Park
This is the most popular park for beachcombers on the island, and it's easy to see why. It's the biggest beach around and there are amenities galore. Not just the usual suspects such as showers and picnic tables but shaded gazebos with swings, beach furniture ready to rent, and Wi-Fi. The nearby Coligny Plaza offers all the sweet treats and savory snacks to complete a delightful day in the coastal Carolina sunshine.
---
Have a Drink at Hilton Head Distillery
Everything here at Hilton Head Distillery is finely crafted in small batches with a focus on Carolina whiskey and West Indies Rum. Take a tour of the facilities to learn about the time-honored tradition of making aged spirits. This comes with a tasting – let's be honest, sampling the goods is the best part. Mix and match flavored drinks and cocktail creations to find your favorite homemade Hilton Head libations.
---
Enjoy the Breweries after the beach
This small island is no stranger to the craft beer craze. Side Hustle Beer Co. is the smallest craft brewery in the state. Brewing up a delicious selection of beers that you can take to go or sit outside in the sunshine sipping. They have a well-curated roster from IPAs to fruited sours to pilsners and stouts.
Hilton Head Brewing Company is locally owned and operated and was the first ever brewhouse on Hilton Head. Grab a colorful can or find your dream draft on tap, this community brewery is a favorite fixture to be sure.
---
Stoney-Baynard Plantation
This historical site has many names, including Baynard Ruins and Braddock's Point Plantation. These six acres are home to an old plantation house which fell to ruin in the post-Civil War era. It was listed on the National Register of Historic Places in 1994.
The remains are a fascinating study to learn more of the local history of the area. Legend has it the site is haunted, so don't be alarmed if you come across a spirit or two on your travels.
---
Day Trip to Bluffton
Only a stone's throw away, we love to visit nearby Bluffton for a day chock full of coastal charm and cool attractions. It's one of the most charming small towns in South Carolina, and most locals consider it part of the Hilton Head community. Old Town has beachy boutiques, quaint eateries, and a delightful town square to stroll through. It's home to many festivals celebrating local culture, such as Historic Bluffton Arts and Seafood Festival and Bluffton Village festival. Visit the Heyward House Museum to discover preserved artifacts of the area from long ago.
---
See a Show at the Arts Center of Coastal Carolina
The Arts Center of Coastal Carolina often hosts high quality performances that serve to showcase art and culture. The productions include comedies, dramas, and musicals. They host events seasonally such as the Spring Benefit and Community Tree Lighting. The Water Greer Gallery boasts rotating exhibits of modern visual art. There is always something new and exciting happening at the Arts Center of Coastal Carolina, expect the unexpected in entertainment.
---
Get Out on the water!
Outdoor adventure companies help you to see all that Hilton Head has to offer offshore. There is an abundance of marine life to observe, to spotting dolphin pods. The guides often provide a plethora of useful knowledge about the area and know how to engage with the wildlife without negatively impacting it.
There are opportunities to try out kayaking, fishing, water skiing, wakeboarding, tubing, jet skiing, paddleboarding, or parasailing. Hilton Head is your oyster of water-based fun in the sun. Try Sea Monkey for jet ski and paddleboard rentals, and Dolphin and Nature Tour for ethical sea life tours.
---
Sail & Cruise
Sail away into the sunset at Hilton Head. You can have lessons and learn to sail yourself, or rent a boat if you're already a pro. Anchors Away is a great company to get a sailing charter! Charter one for a day for some of the best fishing in the Southeast. Catamarans are a fun and unique option, even if you just take a cruise around the island to enjoy a different perspective of the shores. Gather your friends and family for a dinner and drinks outing on the water if you're interested in more of a lively excursion.
---
Indulge in the fine Restaurants
There is quite the culinary scene happening in Hilton Head. Hudson's Seafood House on the Dock is a staple of these shores. Overlooking the Port Royal Sound, you can watch as fresh seafood is unloaded from the boats to the docks and straight to your plate.
Fitted with all the Southern fixings of live bluegrass and Cackalacky Punch to sip, it's easy to see why this institution has been beloved for decades.
Java Burrito Company hits the spot with locally and sustainably sourced fares. They make mouthwatering burritos with a coastal twist. For fine dining visit Porter & Pig, Lowcountry Backyard has your Southern cravings covered, and Chow Daddy's got the best burger around.
---
Zipline Hilton Head
Adventure Hilton Head has over eight exciting zip lines to fly through the air on, this eco-adventure is for the daring. At up to 75 feet high, there are sweeping views of the ocean landscape. Soar through the majestic oaks and pines, traverse suspended sky bridges, and ascend an aerial staircase. This canopy tour thrill ride is top of the list for one-of-kind things to do in Hilton Head with kids.
---
Learn about important history on the Gullah Heritage Trail
A cultural group hailing from West Africa and commonly congregating to preserve their unique heritage in South Carolina, the Gullah Heritage Trail seeks to educate others about their history and traditions that have survived centuries of slavery and more than a century of free lifestyle.
They have their own language which is a form of creole, born out of necessity to communicate with each other even if from different regions within Africa. The Gullah Geechee Corridor preserves the culture of the ancestors which remains slightly more intact due to the isolation of the island.
---
Shop at the local Farmers' Market
There are several farmers' markets around town. Check out the Shops at Sea Pines Center, Wexford Outdoor, or Coastal Discovery Museum for glorious local, fresh, sustainable goodies galore. There is an eclectic mix of specialty items being sold by local vendors at each one. You can find produce, meat, seafood, pastries, cheeses, arts and crafts, unique creations, prepared foods, and so much more. There is live entertainment and friendly faces offering options like getting your knives sharpened as you shop. Don't miss these displays of lowcountry delicacies.
---
Enjoy Harbour Town
Harbour Town is the high-end commercial hub for Hilton Head. It's the prime spot to shop until you drop. Browse luxury goods ranging from furniture to jewelry to clothing. Scope out the marina for some waterfront fun on yachts, eco-tours, or surf boards.
Grab yourself some gourmet grub at any number of eateries available. It's nestled within the Sea Pines resort community, surrounded by spectacular scenery. Check the Liberty Oak for the chance to see some live music. We recommend sticking around for the sunset, it's absolutely incredible here.
---
The Kazoobie Kazoo Factory
The Kazoobie Kazoo Factory is one of the quirkiest attractions of the area, and it's sure to charm. While it's located in Beaufort, SC it's a short drive away from Hilton Head. It explores the history of the kazoo as it was invented in America, and takes you on a journey through the history of the country from this perspective – ce rtainly not something you see every day. It boasts the world's largest publicly viewable collection, and if curiosity isn't convincing enough, maybe the Build Your Own Kazoo Station will be.