Discover the allure of Bluffton, where southern charm and natural beauty converge. This picturesque town in the Lowcountry enchants visitors with its moss-draped oak trees, historic district filled with shops and eateries, and scenic waterfront views. Whether it's a weekend trip or a full week in the area, there are plenty of things to do in Bluffton for all!
Immerse yourself in its timeless elegance as you stroll through the streets, savor local cuisine at the farmers' market, and embrace the warm hospitality of the community.
Bluffton's location on the May River offers a tranquil escape, where outdoor enthusiasts can kayak, golf, or enjoy the stunning vistas. Wondering what to do in Bluffton? Let's dig in!
---
Best Things to Do in Bluffton, South Carolina
---
1. The Church of the Cross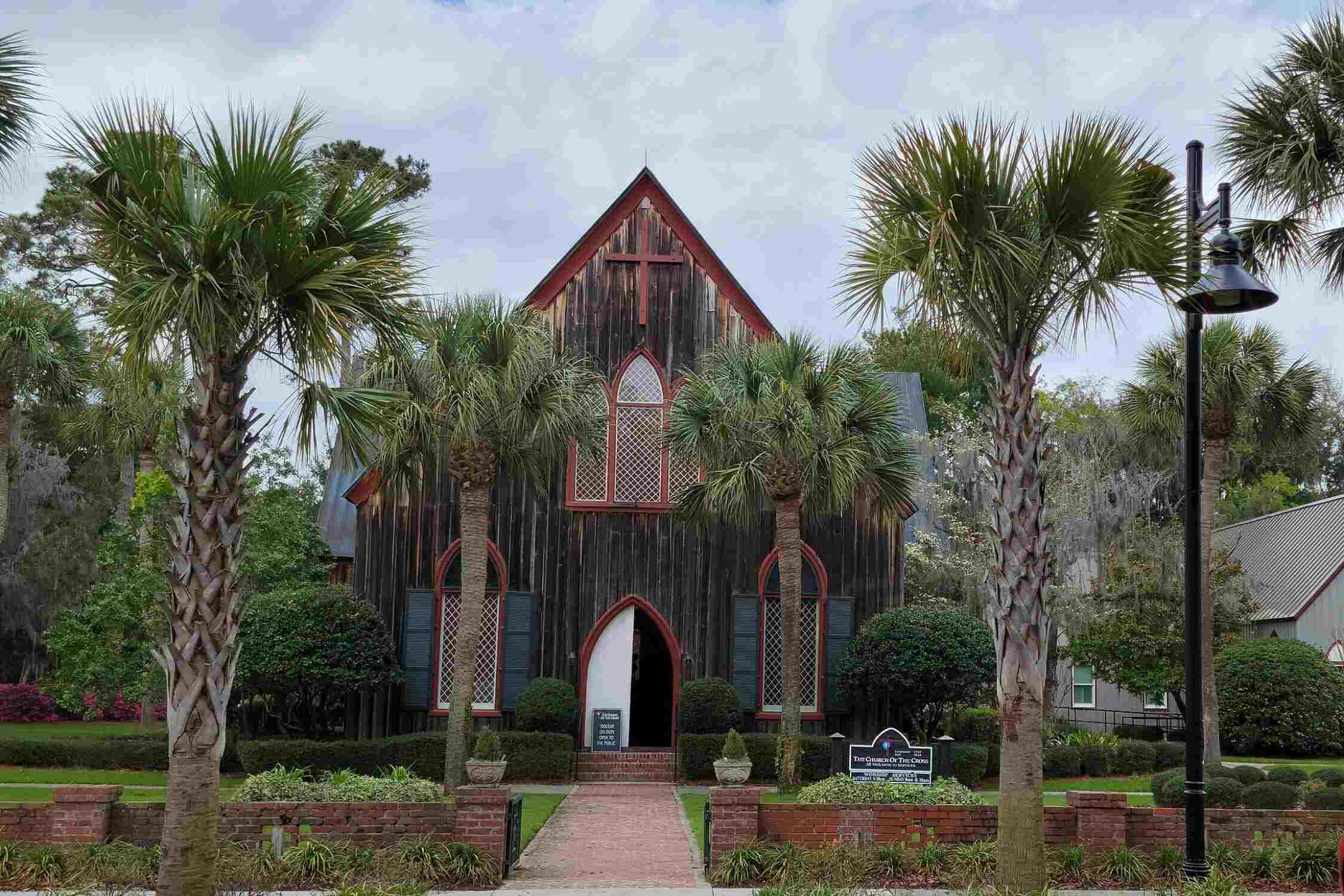 Address: 110 Calhoun St, Bluffton (GPS)
Hours: Saturdays at 5:28 pm – Gracetime Service, Sundays at 8 am – Traditional Service, Sundays at 10 am – Blended Service.
Bluffton is a historic town with lots of stories from the past, but the Church of the Cross remains its crowning jewel. Built-in 1854, the church was one of the few buildings that survived the Burning of Bluffton in 1863. Even before it was built, the location was religiously significant for the residents and vacationers who frequented the resort town.
Church of the Cross is for all the history buffs. Its weathered wooden walls take you back in time and help you imagine an 18th-century congregation listening to the hymn and enjoying views of the sparkling May River out front.
---
2. Old Town Bluffton
Address: 5759 Guilford Pl, Bluffton (GPS)
Old Town Bluffton is located on a bluff on the coast of the May River. The town itself has many attractions that will keep you occupied for days to come. However, just a stroll around the old parts of Bluffton, looking at historic antebellum homes, and enjoying the soft breeze is an enthralling experience on its own.
Adding to the mysterious and ancient beauty of the town are all the antique shops and art galleries around street corners.
---
3. La Petite Galerie
Address: 56 Calhoun St, Bluffton (GPS)
Hours: Monday – Saturday: 11: 00 am – 5:00 pm, Sunday: 12:00 pm – 5:00 pm
The old town of Bluffton is just as artistic as it is historic, and one of its top attractions is an intimate gallery that proudly displays the work of local artists. Six local artists, to be more specific. Upon the perusal of the gallery, you'll find the works of the town's favorite painters and sculptors.
The ever-growing eclectic range of art has now spilled over the adjacent garden and with artists working on their pieces in the gallery, the visitors get to see a new masterpiece every day. From paintings to fused glasses and clay sculptures, this place is a delight for anyone who appreciates art and pretty things.
---
4. Heyward House Museum and Welcome Center
Address: 70 Boundary St, Bluffton (GPS)
Hours: Monday – Saturday:
Cost of Admission: Self-guided tour costs: $5 per person.
Built in 1840, Heyward House in Old Town Bluffton is one of the 26 remaining antebellum homes from the 18th century that still stands. It now serves as a museum and the official welcome center for the Town of Bluffton.
Visitors can take a guided tour of the house with a guide or through their smartphones and learn all about the history of the house and the people who used to live here. To capture the essence of its time, the house is furnished with period antiques and artwork.
---
5. Garvin Garvey's Freedman Cottage
Address: Oyster Factory Park, Bluffton (GPS)
Hours: Tuesday, Thursday & Friday: 10:00 am – 1:00 pm. Monday – Wednesday, Saturday & Sunday: Closed
Located in the very heart of Old Town Bluffton, this 18th-century cottage serves as a poignant reminder of the remarkable life and legacy of Garvin Garvey Freedman, a man whose accomplishments exceeded those of most, despite his humble beginnings.
Although little is known about him, it's assumed that Garvin Garvey Freedman was born into slavery on a plantation and amassed many properties and statuses throughout his life. This cottage is probably one of the last ones owned by him right on the river.
You can explore the Garvin-Garvey Freedman's Cottage through guided tours, which take place at the High Bluff in Oyster Factory Park. These tours are available on Tuesdays and Thursdays from 10 am to 4 pm, and on Fridays, you can make an appointment. For guided tours on Tuesdays or Thursdays, reservations are not necessary unless you have a group of 10 or more people. Tours last around 30 minutes and cost $5 for adults.
---
6. The Red Piano Art Gallery
Address: 40 Calhoun St, Suite 201, Bluffton (GPS)
Hours: Tuesday – Friday, 11:00 am – 5:00 pm; Saturday: 11:00 am -4:00 pm,
Sunday & Monday: by appointment
The Red Piano Art Gallery is another one of the many gems hidden in Old Town Bluffton. It is one of the oldest fine art galleries in South Carolina and displays the work of some of the nation's best artists.
In this iconic gallery, you'd be able to see drawings, paintings, and sculptures created by extremely creative artists. This gallery, amongst other things, is one of the reasons Bluffton is given the title of Cultural District.
---
7. Dubois Park
Address: 67 Lawrence St, Bluffton (GPS)
Hours: Daily from 7:00 am -7:00 pm
Created in memory of Paul DuBois, Dubois Park in Bluffton is one of the top family parks in the state and one of the best things to do in Bluffton on a sunny day. Located in Old Town Bluffton, this park offers a gentle reprieve to families after their adventurous trip to the Old Town.
The park is well-maintained, offering green spaces, picnic tables, a play area, and several more amenities for families to enjoy a little bit of natural beauty and fresh air. This park is especially loved by the little tourists of Bluffton.
---
8. Wright Family Park & Calhoun Street Dock
Address: Calhoun St, Bluffton (GPS)
Cost of Admission: Per event rental prices, check here.
Wright Family Park is a breathtaking garden with a dock stretching alongside the riverbank. The family park connects the Old Town Bluffton with the May River and is ideally situated right across the street from the Church of the Cross, allowing the tourists to catch the sunset and walk through the breathtaking garden to the riverbank.
It's a popular place for riverside picnicking, exploring hidden art projects, and combing through the antebellum homestead that once belonged to the Wright Family.
---
9. Society of Bluffton Artists (SOBA)
Address: 6 Church St, Bluffton (GPS)
Hours: Monday – Saturday: 10:00 am -5:00 pm, Sunday: 11:00 am – 5:00 pm
SOBA is proof that Bluffton is one of the most art-friendly towns found in the state. SOBA is not just a gallery that displays a large variety of artwork by local and regional artists, but also a place for artists to come together.
Whether you are a professional artist or an aspiring one, there's a place for everyone in SOBA. Located in the heart of Old Town Bluffton, the gallery frequently hosts art classes, events, summer camps for kids, workshops, and much more.
The Society of Bluffton Artists keeps things interesting by exhibiting a new set of works every month.
---
10. Palmetto Oaks Sculpture Garden
Address: 11 Palmetto Beach Ln, Bluffton (GPS)
Hours: Monday-Saturday: 1:00 pm – 5:30 pm
Cost of Admission: Free
This whimsical woodland garden is a well-known gem hidden in an artist's backyard. Palmetto Oaks Sculpture Garden allows you to walk at your own pace, enjoy the greenery around you, and be in awe of the sculptured artworks of the local artist Stephen Kishel.
The garden is akin to an outdoor art studio that calls to both nature lovers and art enthusiasts. The description under every sculpture is worth reading as they all tell a story. You may even get a chance to visit the artist behind this magnum opus.
---
11. Tanger Outlets Hilton Head
Address: 1414 Fording Island Rd, Bluffton (GPS)
Hours: Monday – Saturday: 10:00 am – 9:00 pm, Sunday: 10:00 am – 7:00 pm
Who'd have thought that the small South Carolina town of Bluffton would be home to the area's biggest malls? But there are two massive Tanger Outlet malls located on the same street within walking distance of each other. It isn't just the size of the mall that draws the crowd but also all the designer brands, versatile dining options, and the occasional entertainment.
Most importantly, you'd also find locals selling handmade items, souvenirs, and homemade goodies amongst names like Michael Kors, Kate Spade New York, and Tommy Bahama.
---
12. Farmers Market of Bluffton
Address: 68 Boundary St, Bluffton (GPS)
Hours: Thursday: 12:00 pm- 5:00 pm only
To find the best seafood and produce fresh off the farm, the locals and tourists rush to the iconic Farmers Market of Bluffton every Thursday. Delicious local food and talented local artists follow the crowd, and you get great entertainment for the evening.
Located in Hilton Head, Bluffton's farmers market is named one of the best in all of South Carolina. It is so popular that some of the streets are closed off to traffic just for the occasion.
---
13. Root and Bloom
Address: 68 Boundary St, Bluffton(GPS)
Hours: Wednesday: 3:00 pm – 6:00 pm
Root and Bloom is a haven for all environmentally conscious people. This is a Natural Living & Sustainable Market where you can find all kinds of sustainable, non-toxic, and hand-made art, food, and vintage items at a great price.
Root and Bloom is the place to find pastured meats, organic produce, and all things natural and sustainable in Bluffton. Don't forget to bring your reusable shopping bags!
---
14. Maye River Gallery
Address: Calhoun Street 37, 29910 (GPS)
The art display at Maye River Gallery seems to have broken all the walls of creativity. The works of local artists in all mediums are proudly displayed in the gallery, giving them the exposure and the limelight they deserve.
In addition to being a gallery, it is also a painting studio and tourists often stumble upon an artist or two working on their next masterpiece.
---
15. Bluffton Oyster Company
Address: (GPS)
Hours: Monday – Saturday: 10:00 am – 5:00 pm, Sunday: Closed
Bluffton Oyster Company offers fresh oysters harvested and shucked by hand and is one of the best places to eat in Bluffton. Visitors can also purchase fresh clams, shrimp, mussels, fish filets, scallops, live blue crabs, and soft-shell crabs from this seafood company.
In addition to its fresh oysters, Bluffton Oyster Company is also known for being one of the oldest and most thriving seafood companies in the region.
The company stays open all week except Sundays and even caters to clients for early and late deliveries. If you are interested in soft shell crabs, make sure to find out its harvesting season beforehand.
---
16. Rose Hill Mansion
Address: 199 Rose Hill Way, Bluffton (GPS)
Cost of Admission: For ticket rates, click here.
Rose Hill Mansion is a Gothic revival building built in 1858 and known for its sprawling gardens and rich history. Tourists can book this mansion for a stay and bask in its beauty, grace, and nostalgic charm. The mansion is old, gothic, and accurately decorated to pay homage to 18th-century décor.
The surroundings of the mansion are just as breathtaking. It is located right alongside the Lowcountry marshes, and the moss-draped live oaks, giving it an almost ethereal look. The Rose Hill Plantation is highly secure and has amenities such as an Equestrian Center, Polo Fields, and twelve fenced-in areas for the guests to explore and enjoy.
---
17. May River Golf Club
Address: 350 Mt Pelia Rd, Bluffton (GPS)
Hours: Monday – Sunday: 7:00 am – 6:00 pm
May River is a private golf club that opened its doors in 2004 and soon gained popularity. Located at Palmetto Bluff, the layout of the superb May River Golf Club is designed by Jack Nicklaus and features challenging plays alongside the riverbanks.
The course features 18 holes and is par 72, with a total length of 7,171 yards from the back tees. The golf course is also breathtakingly beautiful. The flowing river, abundant wildlife, and century-old oak trees make the landscape quite dreamy.
Visitors can access the May River Golf Course with a membership invite or they can stay at the Luxury Montage Palmetto Bluff and get complimentary access to the Club.
---
18. Hilton Head National
Address: 36 Hilton Head National Dr, Bluffton (GPS)
Bluffton is legendary for its golf courses and Hilton Head National Golf Club is voted the best public course in the region. Created by well-renowned names in the golfing world, Gary Player and Bobby Weed, the course spreads over 300 acres of lush Carolina landscape and offers bunkers, water hazards, and undulating greens as course challenges.
The player designed the back 9 holes and Weed designed the front nine holes on the course. This 18-hole golf course is best suited for skilled golfers; however, the course is challenging, but not punishing. Hilton Head National is located a mile from the bridges to Hilton Head Island and many golfers come from the island and Savannah to smash around the course.
---
19. May River Excursions
Address: 81 Calhoun St, Bluffton (GPS)
Bluffton offers thrilling water adventures to sports and water lovers through its May River Excursions. These excursions include boat tours, eco-tours, fishing tours, dolphin and whale watching, inshore fishing, crabbing, shrimping, etc. Daring tourists can also try their hands at shark fishing and heart-pounding watersports rides.
You can book your choice of excursion directly through their official website. Anglers can choose inshore fishing if they are interested in baiting some speckled trout, redfish, flounder, stingrays, and sharks. They can also choose to go to the deeper waters for more options.
---
20. Calhoun Street Arts District
Calhoun Street runs from Old Town Bluffton to the Church of the Cross, and everything in between is dedicated to art, culture, and food. The street is home to all the top galleries and art studios in town and is famously known as Calhoun Street Art District. Many of the top sculptures and potters of Bluffton also reside in the arts district!
If you want to learn a few tricks of the trade, the arts district has tons of places that offer art classes and help you discover your artistic talents, however hidden they may be.
---
21. Pinckney Island National Wildlife Refuge
Address: Bluffton, SC (GPS)
Pinckney Island National Wildlife Refuge appeals to all outdoorsy tourists with its miles of scenic biking trails, hiking trails, and fishing adventures. With its 250 species of birds and wildlife, the refuge is also a popular destination for birdwatchers and wildlife photographers from around the world.
Lucky birdwatchers may occasionally catch a glimpse of the highly endangered white ibis. This refuge is in the middle of Hilton Head and mainland Bluffton and offers some great adventure to nature lovers.
---
22. Beaufort County Library
Address: 120 Palmetto Way, Bluffton (GPS)
Hours: Monday – Thursday: 9:00 am -7:00 pm, Friday -Saturday: 9:00 am -5:00 pm
At 25,000 square feet, Beaufort County Library is one of the biggest and most beautiful public libraries in Bluffton. Located in Bluffton Village, near Old Town Bluffton, the library houses a wide range of reading materials, both print and digital.
There's also a dedicated kids' section and sitting areas for those who want to enjoy their books in the serene and beautiful ambiance of the library. The library also hosts literary events to foster learning and reading in the local community.
The library also provides free Wi-Fi, computers, a massive meeting room, and a small conference room. There's also a bike rack and two outside porches.
---
23. May Fest
May Fest is an annual event in Old Town Bluffton that grows in popularity and size each year. The festival happens every May and is put together by the Rotary Club of Bluffton and offers endless family entertainment through great music, arts and crafts, delicious local food, and so much more.
It's also a pet-friendly event and people can bring along their furry friends to enjoy the festivities. Nearly 200 artworks are displayed at the festival and top and emerging artists are featured. It is the most talked-about event in the town, and no one dares miss it, not the locals and not the tourists.
---
24. Pluff Mudd Art
Address: 110 Calhoun St, Bluffton (GPS)
Hours: Monday – Sunday: 10:00 am – 4:30 pm
The Pluff Mudd Art Gallery is a contemporary art gallery in Old Town Bluffton. The gallery features work by local and regional artists in a variety of mediums, including painting, sculpture, and mixed media. The art here is especially known for drawing inspiration from Bluffton's unique culture and natural beauty.
The gallery also hosts a variety of events throughout the year, including art shows, workshops, and lectures. Visitors can also seek consultation if they are interested in an art piece for their business or personal use. You may also get expert advice on the best choice of painting for the room you have in mind.
---
25. May River Theatre
Address: 20 Bridge St, Bluffton (GPS)
The May River Theatre is a community theater in Bluffton founded in 2002 it has been entertaining audiences with high-quality productions for years. The local talent is rich and the tickets are affordable.
The May River Theatre produces a variety of shows throughout the year, including musicals, comedies, and dramas. The theater features talented local actors, singers, and dancers, and is known for its riveting and entertaining performances.
---
26. Visit Hilton Head
Hilton Head is one of the top destinations in South Carolina and is just 11 minutes from Bluffton! If you are in Bluffton, you'll definitely have to make your way to Hilton Head. Some of the best things to do in Hilton Head are climb The Harbour Town Lighthouse or spend a day lounging on Driessen Beach Park.
After a day out, hang around in Hilton Head and eat at Hudson's & Skull Creek Boathouse, one of the best Hilton Head restaurants!
---
TRAVEL THE REGION
We hope this list of best things to do in Bluffton helps you decide on a great itinerary! For more travel around the area, see below.
Plan For Your Trip to the South!