If you're a foodie searching for the best restaurants in Wilmington, North Carolina, we have got just the beach town bites for you. Besides being home to some of the best beaches in North Carolina, the town of Wilmington, North Carolina, is a haven for culinary hotspots.
As a coastal oasis, you may expect there to be a plethora of fresh seafood, and you would be right. Here you can choose the catch of the day and know that it's straight out of the sea. Of course, the Southern classics abound as well. It's the perfect spot to seek out that down-home comfort food you crave.
That's not all the Wilmington area has on deck. Be surprised by savory fares from all around the world. Try out delicious dishes at dining destinations focused on traditional Asian, Italian, and Mexican cuisines. Chow down at charming local haunts, fill up on a fine-dining feast, or tantalize your taste buds with fresh farm-to-table fares.
Come hungry, savor the flavors, and we promise your pallet will be pleased. Below are the best restaurants in Wilmington and (with a few in Carolina Beach and Kure Beach too!)
---
Best Restaurants in Wilmington
---
1. Indochine
Perhaps the most popular restaurant in all of Wilmington. Serving authentic Thai and Vietnamese cuisines, don't miss a chance to dine al fresco in one of the oriental style huts by the koi pond, complete with water lilies, at Indochine.
It's a unique and memorable setting and has become quite the cult favorite among locals and visitors alike. Seriously, ever since we went to college at UNCW 10 years ago, this place has been popping almost nightly. They don't take reservations, and if you arrive Thursday-Sunday night, there's a 99% chance you'll have to wait for a table, but it's worth it.
The exotic flavors of the Far East come alive with unforgettable dishes, such as the perfect Pad Thai, coveted Papaya Salad, and the craveable Green and Jungle Curry. The decor alone steals the show, to create a truly transportive experience.
---
2. Casey's Buffet and BBQ
Having BBQ is one of the best things to do in North Carolina, and what's better than an all-you-can-eat BBQ buffet? Fill up your plate and stomach with the best Carolina cooking around, at this family-owned paradise of soul food and Southern comfort. Go for the classics such as fried chicken, catfish, collard greens, and cornbread—all fresh and made from scratch.
For the more adventurous eaters try the pig's feet or chitlins. This Southern soul food is sure to nourish you inside and out. The atmosphere is warm and cozy, reminiscent of diner decor or a happy homestead. It's one of the best restaurants in Wilmington, and bar none the best barbecue around.
---
3. RX Restaurant
RX creates seasonally inspired Southern foods and offers a casual but refined setting to enjoy fresh fares. Working closely with local farmers and fishers, each dish feels inviting and hearty. The menu is always evolving based on what ingredients are best, even the beverages, making for an exciting surprise each visit.
The food feels familiar yet comfortable. The decor is minimal and modest, set in an old pharmacy building near Downtown Wilmington, creating an upscale mood that matches the food. The braised pork belly with smoked cheddar grits is a popular pick, however, don't discount the North Carolina duck course.
---
4. Dram Yard
Dram Yard consistently puts out that Southern coastal flavor we crave, but with a twist. If you prefer to let the experts take the dining driver's seat, opt for their three-course or four-course menu served on certain days of the week. You'll be in for a culinary treat. Each item on the menu feels carefully curated and handcrafted with thoughtful preparation of local ingredients.
The Gazebo Bar on-site is a dreamy environment for sipping a drink in serenity. This courtyard garden is cozy and refined, and we would expect nothing else from Dram in Downtown ILM. There is a separate vegan menu for those so inclined, including meat-free gems, like beet tartare.
---
5. Pop's Diner
If you're strolling along the Carolina Beach boardwalk, a stop into Pop's Diner is a must. A heavy dose of nostalgia, this 1950's diner dishes out all the favorites. We highly recommend a Cuban sandwich and the funnel cake fries.
The vintage vibes are sure to bring a smile to any beachgoer, complete with a jukebox, walls of vinyl, shiny red booths, and an occasional Elvis sighting. These decadent dishes remind us of going to the state fair and feeling free to indulge in all that is fun. Even if your beach body doesn't thank you, your inner kid sure will.
---
6. Catch
Catch is a haven of fresh coastal seafood located right on Market Street. Everything is sourced from organic growers and local fisheries that harvest sustainably from the iconic Cape Fear Coast. The crab cakes are award-winning and the Cajun fried North Carolina Oysters are beloved among seafood lovers. You can't get any fresher than Catch.
The ambiance is contemporary, with just the right amount of nautical kitsch thrown in. Pair your plate with local beer from the best breweries in Wilmington, boutique wine, or a craft cocktail. Keep your eyes peeled for their food truck as you adventure around the area. This is one of the best restaurants in Wilmington and Carolina Beach.
---
7. Tarantelli's
Tarantelli's plates up the Tuscan treats of your dreams. With a family-owned eatery, using family recipes originating straight from Italy, and serving up each fare family-style, nothing feels warmer or cozier than a night at Tarantelli's. The Parmigianino is aged for 24 months and, we can't stress this enough, put it on everything you eat here.
One of their handmade pastas may change your life, as the ravioli did ours. If you're a fan of a wood-fired pizza, you've come to the best place for it. The worst part about Tarantelli's is that the menu is packed with so many Italian delights, and you can't order every single item.
---
8. Pinpoint
A staple of the South, Pinpoint sources all the freshest, local ingredients for a menu that changes daily and is consistently infused with creative inspiration. Their dishes are a diverse array of farm-to-table fare rooted in American tradition. The raw oysters on the half shell, the smoked trout-baked oysters, and the charcuterie rockefeller baked oysters are all phenomenal offerings that won't disappoint.
Many plates will look too pretty to eat, but trust us, it's best to dig right in. It's a popular spot for brunch and for craft cocktails as well. The atmosphere is quaint and warm, with a decor of exposed brick adorned with art. On top of it all, they have a fantastic location in Downtown Wilmington.
---
9. Fork N Cork
Set in historic downtown Wilmington, Fork N Cork is a cozy scene serving even cozier comfort foods. They started as a food truck called Paddy Wagon and became such a hit in the city they had to open a brick and mortar. People still travel far and wide to partake in the poutine or the pot pies.
The Brisket Biscuit is a revelation in every bite. The confit duck wings will have you craving them for years to come. The Wellington Bites are sure to blow your mind. Visit the Wilmington or Carolina Beach locations to find finger-licking good favorites. Their claim to fame is a Fieri seal of approval, and you will see why with that first forkful.
---
10. Ceviche's
Ceviche's is a Latin American lover's dream. The cuisine is inspired by Panama, and the bar is even constructed of reclaimed wood from the same country. The courtyard is a charming spot to enjoy these outstanding offerings. Named for its signature course, there is plenty on the menu to discover here. The Panamanian Paella is our preferred pick.
The flavors are as vibrant and colorful as the cafe itself, and they partner with many sustainable efforts in the community to bring earth-conscious cuisine to the table. Get a taste of tropical paradise at Ceviche's, one of the best restaurants in Wilmington, located right at Wrightsville Beach. So make a reservation after a big beach day out!
---
11. Shuckin Shack
Responsibly sourced and seriously fun, this motto from Shuckin Shack is no joke. It's a shellfish sanctuary like no other. With many locations in the Southeast, the first was in Carolina Beach right near the Carolina Beach State Park, and the no-frills seaside setting is idyllic for these beach-themed bites.
While the crab balls, calamari, and clams may get all the well-deserved attention, we love to go for the good old fashion Lowcountry boil. Order it single, double, or family-sized and partake in this time-honored coastal Carolina tradition: a pot of succulent shrimp, sausage, potato, and corn seasoned with Old Bay, and served right out on the table cloth. We'd be remiss not to recommend the lobster roll as well.
---
12. Flaming Amy's Burrito Barn
Look no further than Flaming Amy's for authentic and out-of-the-park Mexican. The Churkeychanga has made a name for itself among the wild foods world. The godzilladilla is a close second if you ask us. Vegetarian and vegan options are abundant, you won't even miss the meat, a rare and welcome surprise for this style of meal.
The atmosphere is fun and funky and the menu is extensive, guaranteeing a good time for all at Amy's. It's a local legend of the area, so don't be surprised if there is a line when you visit. Don't fret as it does move quite fast. It's one of the most affordable places you can eat in Wilmington.
---
13. Platypus & Gnome
Not your average American bistro, Platypus & Gnome right on Front Street has more quirky fun to discover than just its name. The menu and ambiance are eclectic, creating a one-of-a-kind dining experience. The dishes rotate seasonally and feature exotic meats, along with vegetarian and vegan options. They explore the balance between modern, Southern comfort, and international foods.
The Southern fried game hen stuffed with gluten-free bacon mac and cheese and the seared ostrich steak sandwich are some major standouts to name a few. If you're in the mood to munch up something you've never tried before, Platypus & Gnome should be your go-to.
---
14. The Basics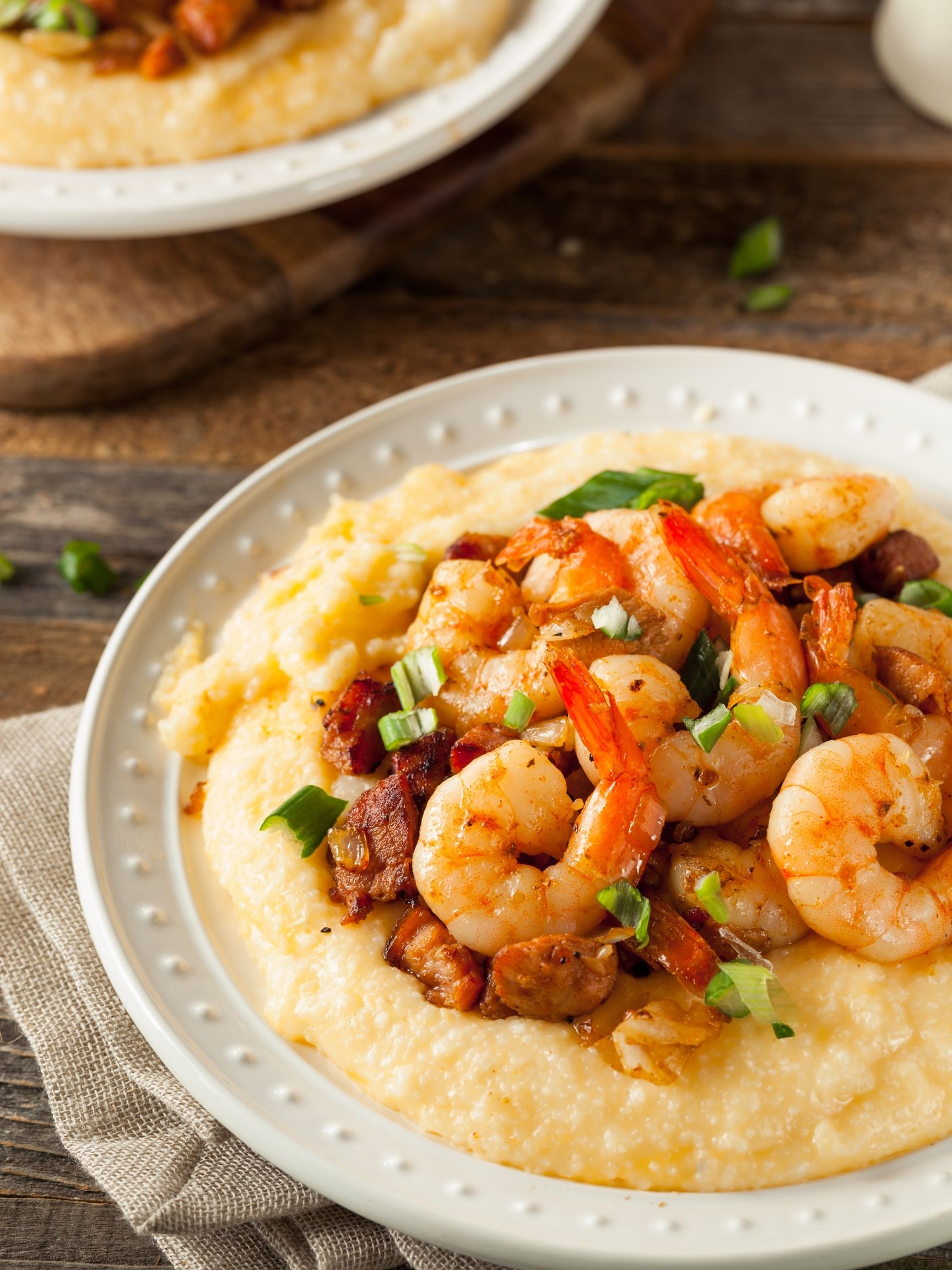 The homey brick bistro Basics boasts the best brunch in town. Order the Southern Benedict with a side of Bloody Mary and you won't be sorry. The meatloaf, and shrimp and grits, are special dishes, served just like mama used to make them. They cook up all the classic comforts and contemporary creations.
It's nestled right near the Riverwalk, perfect for moseying off all those hearty portions with a scenic view. It's certainly serving up more than just the basics if you ask us.
---
15. Savorez
You can't go wrong with a Savorez in Downtown Wilmington! They serve up some of the best Latin American food we've had outside of Latin America! Located on the corner of 4th and Chestnut St this is a small dining establishment with only enough room for a handful of groups.
The name says it all – the name Savorez comes from the Spanish word Sabores, meaning flavors. Which is precisely what you find here – plenty of vibrant flavors all sourced locally.
They are serving up simple but scrumptious fan favorites with a less is more attitude. From tapas to empanadas, you'll love all the appetizers. For dinner, we tried the Carne Con Ancho and Caliente Tuna and fell in love. We would highly recommend making a reservation on weekend nights, as mentioned the space is small and it gets busy!
---
16. Caprice Bistro
For when you fancy decadent French fares, Caprice Bistro is one of the best Wilmington restaurants. The space is elegant, matching the gourmet artistry of the food. The Waterzooi is the house special, and the Beef Bourguignon is to die for. Perfect for an intimate meal, or a cozy catch up with loved ones, Caprice feels like a Parisian dream.
Find the perfect wine pairing for your favorite French foods from the extensive and expertly curated list of vintage wines. The chef loves to cook for everyone, making the finest French dishes feel accessible and exciting.
---
17. Circa 1922
Set in a refurbished bank in downtown Wilmington, Circa 1922 provides global plates of delectable variety. They serve up everything from tapas to sushi to charcuterie, and they do it all with a fancy flair and fantastic flavors. Mix and match to make your perfect meal, pairing roasted bone marrow with burrata and oyster mushrooms or mussels mariniere with grilled artichokes.
Live piano music adds to their ambiance on the weekends. With exposed brick, white table cloths, and soft lighting, it feels nostalgic and new all at once. They've gathered quite the following in the area, so stop by to see what all the fuss is about.
---
18. Freddies
Freddies in Kure Beach is one of the most classic spots to eat in the whole area. It is loved by locals and is open year-round because of it (sometimes a rarity at the beach).
It's a small intimate restaurant with just a few tables, but get a reservation here, and you're in store for one of the best pork chops you've ever had in your life!
---
19. The Little Dipper
You've likely heard of the chain restaurant "The Melting Pot," but I can bet you haven't heard of The Little Dipper. This is one of the best Wilmington restaurants and where I ate all the time while going to school at UNCW. Here you can get superb fondue in Downtown Wilmington.
It's perfect for a date night, for family celebrations, or with a group of friends. Their specialty is cheese and chocolate fondue. Head here on a Wednesday evening for Ladies Night – $10 fondues for the table!
---
20. Slice of Life
For the absolute best pizza in Wilmington, you cannot miss Slice of Life. There are a few locations to enjoy in Wilmington, and trust me you won't be disappointed! They have some of the best pizza I've had!
Get it by the slice in Downtown Wilmington or have a whole pie with some friends! The ambiance is fantastic and the food is even better!
---
Best Restaurants in Wilmington, NC Map