Home to over 1,500 eateries, the culinary scene of this coastal city is vast, with an array of diverse dining destinations everywhere. The amount of Myrtle Beach restaurants is astounding!
For a town full of classic beach kitsch and tourist trends, there are so many palate-pleasing plates for each and every preference – from fresh seafood and Southern-style fare to authentic Italian eats to traditional Thai dishes. Savor the flavors and the scenery at any one of these best Myrtle Beach restaurants. 
---
The Best Myrtle Beach Restaurants – Quick Answers
Best Myrtle Beach Restaurant for Date Night: Fowler Dining Room
Best Myrtle Beach Restaurant for Pizza: Crave
Best Myrtle Beach Restaurant for Cheap Eats: Big Mike's Soul Food
Best Myrtle Beach Restaurant for Mexican: Banditos Cantina
Best Myrtle Beach Restaurant for Seafood: Captain Benjamin's Calabash Seafood
Best Restaurant in Myrtle Beach for Views and Vibes: Gulfstream Cafe
Best Restaurant in Myrtle Beach for Breakfast: Blueberry's Grill
---
Best restaurants in myrtle beach
---
Fowler Dining Room
A true adventure in international dining, as you never know what's being plated up at Fowler. As part of the International Culinary Institute, the director will instruct the students running the space to try out inventive food from all around the world!
The techniques used by the chefs in training focus on taste, texture, color, and creativity. It's such a fun way to eat gourmet at a discount with the added excitement of a savory surprise. Be sure to make a reservation in advance.
---
Punta Cana Dominican Grill
This Dominican Grill is cooking up all the Caribbean comfort food you've been craving and is one of the best Myrtle Beach restaurants you can find. The atmosphere feels vibrant and tropical, perfect for enjoying the staple dishes from this lush land. 
They offer sancocho, pescado con coco, mofongo, and morir sonando. Everything is made fresh in house and served up on a charming wooden plank. These hearty dishes full of flavor fit in perfectly with the coastal paradise of Myrtle Beach.
---
Captain Benjamin's Calabash Seafood Buffet
Heading to Myrtle Beach is one of the best things to do in South Carolina. What's the next best thing? Seafood. Come hungry to this all-you-can-eat Southern seafood staple. Captain Benjamin's has been busting the bellies of the area with authentic Calabash-style creations for decades. The array of seafood is lightly battered, fried, and seasoned to perfection – a mouthwatering sight for many.
There's also a raw bar with shrimp, oysters, and clams. The crab legs are often the crowd pleaser, and they serve around a ton of them every night. With a wide range of fare to fill your plate(s), you're in store for the epitome of delicious decadence.
---
Peaches Corner
Having a quick bite at Peaches Corner is one of the best things to do in Myrtle Beach! This family-owned diner is the quintessential greasy spoon of the boardwalk.
It's been around since 1937 and retains all of its original kitschy charm. The menu honors the classics with hot dogs, hamburgers, onion rings, and ice creams. 
If you're up for a challenge, order the Bruiser, a local dish of legendary proportions. Many have tried and few have finished – it's a beer-battered foot long hot dog wrapped in bacon and topped with cheese and chili. Get all the delicious seaside dishes of your dreams at Peaches.
---
Big Mike's Soul Food
For easy Myrtle Beach food check out Big Mikes. This is down home classic country cooking at its finest. Soul food that is sure to nourish your body and your heart, you can't be any more comforted than from these heaping plates of Southern staples just the way Big Mike's mama used to make them.
The succulent special is the meat-and-three, complete with a hunk of cornbread. You can choose between fried chicken, barbeque ribs, meatloaf, pork chops, and more for the meats.
For the fixings, they offer everything from mashed potatoes to collard greens to fried okra, and mac n cheese. This is one of the best Myrtle Beach restaurants for a Southern Soul Food feast.
---
Banditos Cantina
If you're looking for a Mexican restaurant Myrtle Beach, head to Banditos Cantina.This upscale cantina gives the festive flavors of Mexico with the feel of fancy coastal food. The food is authentic, the atmosphere modern, and the tequila is flowing. The mason jar margarita with the Baja Shrimp Burrito may just be our favorite meal around Myrtle.
The view from the rooftop of the sparkling sea is enough of a reason to frequent this space, as if the nachos weren't constantly calling our name.
---
Fire and Smoke
This gastropub focuses on gourmet fusion fares. They create cutting edge dishes using local, fresh ingredients and inspired by classic American styles and the Southern comfort foods of coastal Carolina. The cocktails are crafted to perfectly pair with the meals.
Alternatively, you can choose from a selection of small batch brews. Each dish feels thoughtful and creative. You don't have to say truffle fries to us twice before we're on the way. With everything from jambalaya to wagyu beef to duck confit nachos, your taste buds are in for a treat at Fire and Smoke.
---
Little Pigs Bar-B-Q
This small, no frills joint is putting out some of the best barbecue around. For over 20 years, Little Pigs has been the epitome of hickory smoked Carolina meats in Myrtle Beach. The sauce alone here will turn anyone into a die-hard fan.
Try a chopped pork plate served with beans, slaw, and hush puppies or a beef brisket sandwich where everything is smothered together between two fluffy buns. It's owned by a local family using their own recipes that have been proudly passed down for generations.
---
Blueberry's Grill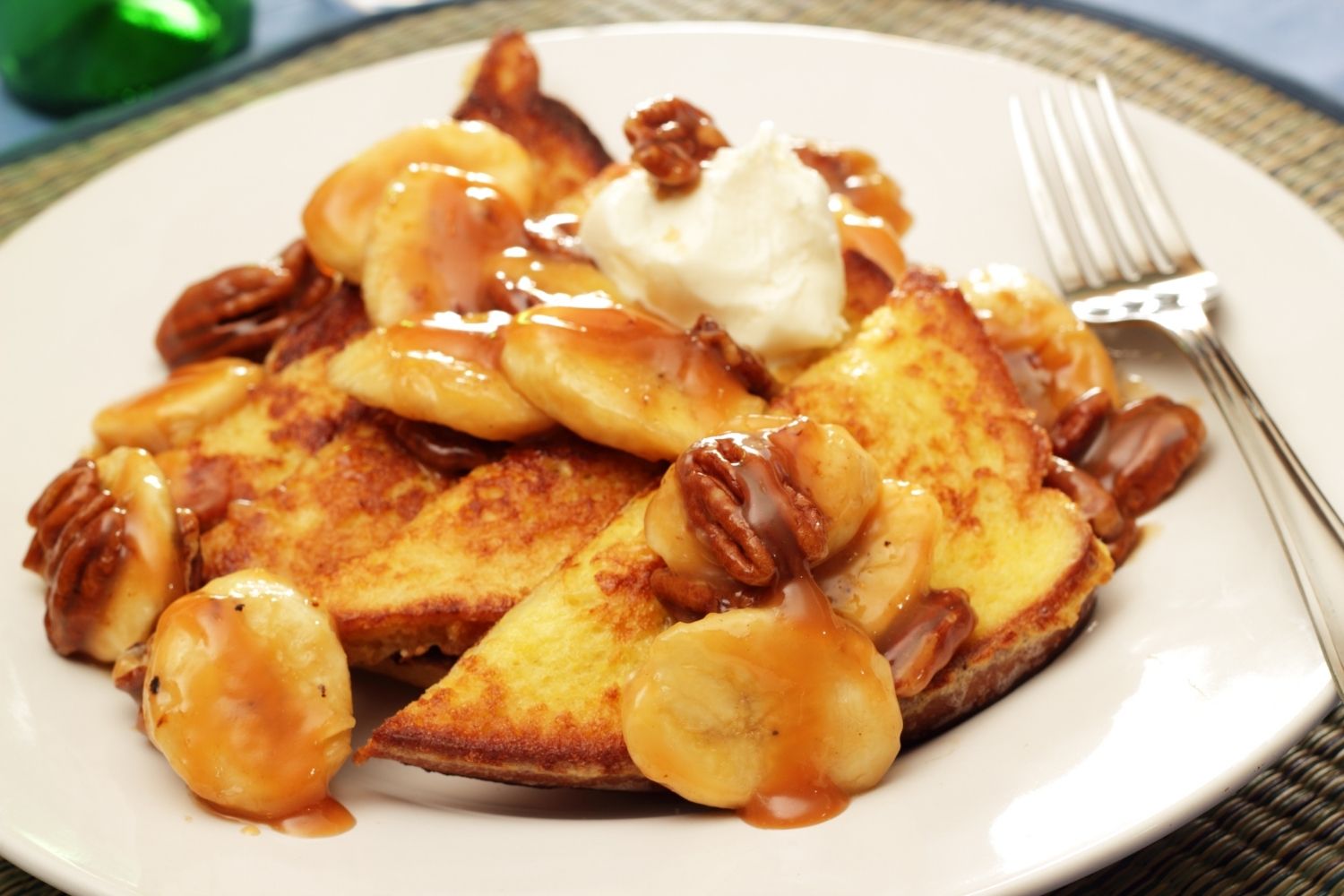 If you're on the prowl for fresh local and organic plates and a great Myrtle Beach breakfast, Blueberry's Grill is providing just that. A passionate team in the kitchen who loves to get creative and inventive with their dishes, these breakfast favorites all get a nice little spruce up.
There's lactose-free cheese, gluten-free bread, and GMO-free everything – the food is as healthy as it is delicious. Try the Chorizo Benedict or the Wild Smoked Salmon Croissant. Sit on the patio and savor these special breakfasts in the warm Carolina sunshine.
---
Hook & Barrel
Easily one of the best seafood restaurants in Myrtle Beach! If you are having a romantic weekend getaway in South Carolina, head here. This beloved establishment is one of the best restaurants in Myrtle Beach.
The seafood is sustainable, so you can chow down on delectable dishes like the pan-seared scallops guilt-free. The space feels elevated, with simple touches like prosecco on tap. 
It sports a nautical theme but in a way that feels simultaneously elegant and effortless. They work to minimize their impact on the earth at every angle possible, from low energy cooking practices to locally sourcing ingredients. The specialty cocktail list is filled with winners top to bottom, the Possums on the Stump is especially delightful.
---
The Library
The Library is French-inspired fine dining that will transport you to a European villa with the first bite. The Steak Diane is prepared tableside for an added flair to the fare, because who doesn't like their gourmet grub with a side of drama? The Duck L'Orange is to die for. This is one of the best places to head in this South Carolina city.
The tuxedoed team of servers adds an extra air of elegance, sweeping us right off our feet. The bar is a speakeasy theme, and their upscale piano bar is the only one of its kind in the area. For a fancy night full of fabulous foods, the Library steals the show.
---
Rockefeller's Raw Bar
One of the best kept seafood secrets around, Rockefeller's Raw Bar is one of the best North Myrtle Beach restaurants and serves up delicious cuisines cooked in steam kettles. It's a casual eatery, perfect for a round of oysters and a martini.
They also serve up shrimp, scallops, or mussels in old bay and beer, garlic and wine, or spicy marinara. 
If you're more in the mood for a full meal, there's lobster, tuna, and steak. Everything is fresh and served to perfection without the pretense. There's always a crowd of locals or visitors having a blast and making friends over scrumptious seafood and spectacular happy hour deals.
---
Le Bon Cafe
Le Bon Cafe combines the worlds of curated cuisine and curated art to create a beautiful space for beautiful food. In the style of a French coffee house and patisserie, it offers a laid back yet elegant ambiance.
The Myrtle Beach cafe is fully functional, and will literally make you feel as if you are away from the Carolina Coast on soaking up the sun on the French Riviera. The menu is unique with plenty of crepes, sandwiches, and even a pate plate!
Leave room for delicious fresh-baked pastries and other desserts as everything is baked fresh daily. 
---
Frank's Outback
Located on the nearby paradise of Pawleys Island, Frank's Outback has been around for almost 20 years. Originally a supermarket, the atmosphere at Frank's is warm and welcoming. You even get to stroll through the open kitchen on the way in. Inside, you'll find white tablecloths and candlelight leading out to a canopy-covered garden space.
The dishes are inspired by flavors from around the world – from the lowcountry to the pacific rim, you'll always find something interesting and inventive on this menu. The Bowl of Soul and Pan Fried Pork Schnitzel are scrumptious shining stars on a roaster full of stand outs.
---
The Parson's Table
Set in a former church, Parson's Table is chock full of charm and one of the best restaurants in Myrtle Beach for a special evening. The history of the building itself shines through, creating a uniquely antique atmosphere accented by stunning stained glass and original floor to ceiling woods.
The culinary masterpieces here have won many awards over the years, so be ready for a meal you won't soon forget.
The seafood is fresh, and the steaks are juicy. Don't sleep on the extensive selections of wines as well. It offers a special slice of lowcountry life as the preserved church is over 150 years old. It functioned as a Methodist mecca from 1885 to the 1950s. It's been cooking up cuisines for the hungry masses of Myrtle for over 50 years.
---
Sea Captain's House Restaurant
Myrtle Beach dining doesn't get much better than this. This Grand Strand staple is committed to the old school, and that's just the way we like them.
One of the best restaurants in Myrtle Beach, Sea Captain's is no stranger to coastal cuisines. They create the tried-and-true traditional fare of the area, all in a quaint and cozy cabin from the 1930s. 
The she crab soup has developed quite the fan following. The ocean view is the ideal dining companion, second only to the warm Southern hospitality you feel as soon as you enter. Go for the classics here, the Shrimp and Grits or the Filet and a Crab Cake, they do not disappoint.
---
Crave Italian Oven & Bar
Crave is a hip Italian eatery offering authentic bites. The imported wood burning, red brick oven is the main draw here, cooking classic pizzas to perfection. You can even sit outside and enjoy watching them be made in the true Italian tradition.
The Chenel is a mouthwatering mix of fresh toppings, including Italian goat cheese, prosciutto, and a balsamic glaze. The meatballs are really a must here as well. The cocktail selection is spot on, with a constantly rotating roster of creative concoctions.
The atmosphere has an old-world feel which matches the flavors of the fares well. This is simply one of the best Italian restaurants in Myrtle Beach!
---
Gulfstream Cafe
Gulfstream Cafe is most known for its dreamy and dramatic overlook of Murrells Inlet. It's easily one of the best places to eat in Myrtle Beach. The atmosphere is relaxed, and the food is upscale. Perfectly positioned for the ideal panorama of the ocean and the inlet, the beautiful scenery is spectacular on all sides. Have a seat on the rooftop deck for the best view in town.
If you're looking for that perfect Instagram pic, we recommend timing your meal with the sunset as the sky puts on quite a show here.
It's been a popular haunt for over 30 years, serving up all the favorite Southern seafood fares. The Jumbo Lump Crab Cakes and Southern Fried Seafood Platter is the stuff of local legends. You can stop by for their weekly Oyster Roast and partake in their infamous bloody Marys as well.
---
Cafe Old Vienna
This German-Austrian Restaurant and Beer Garden is a gem of the Grand Strand and one of the best restaurants in Myrtle Beach for a good time.
Serving up traditional German soul food in an authentic Alpine Lodge, this is the spot to experience true Gemuetlichkeit. You will be transported back to old world Vienna as soon as you enter. Savor the Schnitzel and wax poetic about the Weis-Wurst and Sauerkraut.
The beer garden is dog friendly, so feel free to bring a cute companion along. The German draft selection has all the hits, such as Hirter Pils and Paulaner Hefeweizen. An unexpected underdog of the Myrtle Beach restaurant scene, Cafe Old Vienna has made Germanophiles of us all.
---
Blue Elephant Thai Cuisine
Still wondering where to eat in Myrtle Beach? How about Thai! Tucked away on the main strip of Myrtle Beach, Blue Elephant has the most authentic Asian cuisine around. The traditional Thai dishes revolve around balancing the spicy, subtle, sweet, and sour qualities of the flavors. All the ingredients are fresh, and the spices used come directly from Thailand.
There are four choices of curries available – Spicy Green, Spicy Yellow, Spicy Red, and Musaman. The soups are savory delights, especially the Tom Yum Goong. The Pad Ka-Prow is a mouthwatering meal, but you really can't go wrong with any dish here.
The presentation is phenomenal as well, often almost too pretty to eat. The atmosphere is intimate, and the walls are adorned with exotic art. The passion for every plate served is apparent at Blue Elephant.
---
The Best Things to do in Myrtle Beach
Beyond eating at these fantastic restaurants in Myrtle Beach, there is plenty to do. Take a ride on the SkyWheel, stroll around Myrtle Beach State Park, play a game of golf, or watch the Myrtle Beach Pelicans.
---
TRAVEL AROUND MYRTLE BEACH
We hope this guide on the best Myrtle Beach restaurants helps you pick somewhere delicious to eat. For more travel around Myrtle Beach see below.